Building cohesive societies: Southeast Asian states take on gargantuan challenge
Several Southeast Asian governments and social movements are seeking to counter mounting polarization and inter-communal strife across the globe fuelled by the rise of civilizationalist leaders who think in exclusionary rather than inclusionary terms.
In the most high-brow of various initiatives, King Abdullah of Jordan is scheduled to deliver a keynote address at the inaugural International Conference on Cohesive Societies organized by the S. Rajaratnam School of International Studies (RSIS) with support from the Singapore government.
Singapore president Halimah bint Yacob has mooted the conference as a high-level forum involving religious leaders akin to the annual Shangri-La Dialogue that for the past 17 years brings together annually senior Asian, European and US government officials in what is Asia's foremost security forum.
In what amounts to a timely strategic effort to tackle what may be one of the most fundamental threats to peace and security, the conference reflects a growing concern that global polarization and civilisationalism could fuel inter-communal tensions and militancy in Southeast Asian societies.
It crowns a separate Indonesian initiative that targets religious reform and Malaysian willingness to speak out on controversial or sensitive issues.
Southeast Asian concerns include fear that Rohingya lingering in refugee camps in Bangladesh with no prospects could radicalize, the possibility of extremists capitalizing on the fact that reconstruction of the devastated southern Philippine city of Marawi has stalled two years after it was overrun by jihadists, and the danger that suspected sleeper cells of groups like the Islamic State will seek to disrupt the region's social fabric.
"The social fabric of many communities is stressed by extremism, exclusivism and polarisation. It is important for us to grow trust across communities. This will always be a work in progress, so it is an effort we must constantly invest in," Ms. Yacob said on the eve of the Singapore conference.
King Abdullah, in a separate statement, warned that "attacking and excluding others, insulting other peoples and their faiths and convictions – this is no way forward. The future lies in unity and respect, not division and stereotypes."
Ms. Yacob and King Abdullah's warnings were designed to be an anti-dote to rising prejudice and racism fuelled by the rise of supremacism of various stripes and Islamophobia as well as increased anti-Semitism that often is encouraged by world leaders for ideological or opportunistic reasons.
For Ms. Yacob and King Abdullah, the concern is not a far-from-my-bed show.
Human rights activists were taken aback when Myanmar leader, Nobel peace prize winner and one time human rights advocate Aung San Suu Kyi agreed earlier this month during a visit to Hungary with far-right, staunchly anti-immigrant prime minister Viktor Orban that both Southeast Asia and Europe were struggling with the "emergence of the issue of coexistence with continuously growing Muslim populations."
Southeast Asia and its Association of Southeast Asian Nations (ASEAN) are home to the world's most populous and foremost Muslim democracy, Indonesia, as well as Malaysia that has been among the most outspoken in criticizing Myanmar's repression of the Rohingya and one of the few Islamic countries to speak out about China's crackdown on Turkic Muslims in the troubled north-western province of Xinjiang.
To King Abdullah, Ms. Yacob's backyard must look like something approaching paradise. Conflict characterizes all of his kingdom's borders.
Moreover, the Middle East, beyond Jordan's immediate borders, is wracked by civil wars, national conflicts and regional rivalries that all involve aspects of prejudice, right-wing nationalism, militancy and sectarianism.
Add to that, the world is holding its breath as the United States, Saudi Arabia and Iran square off in the Gulf in a dangerous dance that threatens to spiral out of control.
Less highbrow but no less ambitious, Nahdlatul Ulama, the world's largest Sunni Muslim movement, has launched a campaign with Indonesian government backing to "reinterpret and recontextualize" Islam.
The campaign amounts to more than simply confronting ultra-conservatism and militancy. It is a pushback against the notion that secularism and pluralism are expressions of a Western conspiracy to undermine Islam.
If successful, Nahdlatul Ulama's strategy could have far-reaching consequences. For many Middle Eastern autocrats, adopting a more tolerant, pluralistic interpretation of Islam would mean allowing far greater social and political freedoms and embracing concepts of pluralism. That would likely lead to a weakening of autocrats' grip on power.
Similarly, political scientist and Islam scholar Ahmet T. Kuru throws down a gauntlet in a forthcoming book by arguing that the notion of Islam rejecting a separation of religion and state is based on "a fabricated hadith" or saying of the Prophet Mohammed that has since been perpetuated.
Singapore's conference like Nahdlatul Ulama's initiative constitute accepting a gargantuan but critical challenge posed by civilizationalist leaders who reflect deeply rooted currents in societies irrespective of their political systems and/or notions and myths that have been nurtured over centuries.
Inclusiveness is the magic wand touted by all seeking to halt a slide toward societies characterized by fragmentation, political polarization and inter-communal discord. Yet, the enormity of the challenge lies in addressing deep-seated grievances and challenging taboos.
Discussing the rise of populism in the West, politics scholar Matthew Goodwin identifies what he terms the four Ds that drive democracy's turmoil: distrust of political institutions that have become less representative; the destructive impact of fear of loss of national identity, culture and way of life; ethno-national deprivation fuelled by liberal elites' focus on migrant and minority rights; and the dealignment of significant segments of the electorate with the traditional parties they long supported.
Mr. Goodwin's four Ds are likely to challenge cohesiveness even if, as Financial Times columnist Simon Kuper notes, their foremost political beneficiaries are being sucked into the swamp they vowed to drain.
US president Donald J. Trump, Brexit party leader Nigel Farage, Israeli prime minister Benyamin Netanyahu, former Austrian vice-chancellor Heinz-Christian Strache, and billionaire Czech prime minister Andrej Babis are all fighting off allegations of wrongdoing.
The allegations and their legal entanglements mean that they risk losing the high ground on issues of corruption, alongside immigration and security, a key pillar of their recent success.
Putting forward an optimistic argument, Mr. Kuper notes that concerns about migration and security no longer top Europeans' agenda with younger voters mobilising around climate change.
Polls, however, suggest that the popularity of leaders accused of illegitimately benefitting from wrongdoing or questionable practices and their political parties have lost little of their allure despite climate change increasingly becoming a major concern.
Populists' current Teflon effect means that building cohesive societies will have to involve finding a middle ground between majoritarian concerns and concepts of diversity, multiculturalism and minority rights.
It amounts to manoeuvring minefields and treading on uncharted territory irrespective of culture and political system.
In the absence of the perfect blueprint, countries like Singapore, New Zealand and Norway have in their own ways taken a lead in attempting to make inclusion a pillar of policy.
While inter-communal harmony has long been a driver of Singapore's social and economic policies, New Zealand and Norway responded to traumatic acts of political violence by bucking the trend towards polarization, profiling and concepts of us and them by saying not me instead of me too.
The proof is in the pudding.
New Zealand prime minister Jacinda Ardern, who became an icon of compassion and inclusivity with her response to the killing of 50 people in March in two Christchurch mosques, recalled a Muslim woman reacting to the government's response by telling her that, despite having been a target, she had "never felt more at home (in New Zealand) than she had in the last 10 days" since the attacks.
Singapore's creation of a global forum in which opposing views and grievances are aired constitutes a vital contribution towards creating the environment for the building of more cohesive societies. It is a vital cog in a mesh of attempts to achieve legal reform and call out abuse and violations of human rights.
Taken together, they hold out the promise of a concerted effort to counter debilitating prejudice and bias even if a truly cohesive, harmonious society may prove to be a utopia.
Indonesian G20 presidency promises to put a 'battle for the soul of Islam' on the front burner
Indonesian religious affairs minister Yaqut Cholil Qoumas set the bar high for President Joko Widodo as well as Nahdlatul Ulama, the religious backbone of Mr. Widodo's government when he laid out the agenda for his country's presidency of the Group of 20. The G20 groups the world's largest economies.
Speaking to the G20 Interfaith Forum in Bologna as Italy prepared to handover its presidency to Indonesia, Mr. Qoumas also threw down a gauntlet for Indonesia's Middle Eastern competitors in a battle to define the degree to which Islam incorporates principles of tolerance, pluralism, gender equality, secularism and human rights as defined in the Universal Declaration of Human Rights.
The battle, which is likely to likewise determine which Muslim-majority country or countries will be recognized as leaders of the Islamic world, takes on added significance with the Taliban takeover of Afghanistan and concerns about Taliban policy towards militants on Afghan soil.
Meanwhile, uncertainty about US reliability as a security guarantor in the Gulf is prompting regional foes to contain their differences to ensure that they don't spin out of control, increasing their emphasis on the projection of soft power.
Turkey's 2022 budget appears to signal the shift and the importance President Recep Tayyip Erdogan attributes to this particular challenge.
The budget of the powerful Directorate of Religious Affairs or Diyanet is expected to increase by 20 per cent for fiscal 2022, giving it greater financial flexibility than the ministries of interior, foreign affairs, trade, industry and technology, environment and urbanization, energy and natural resources and culture and tourism.
These ministries are key for enabling Turkey to resolve its economic problems, compensate for the fallout of the pandemic and enhance its appeal as a potential leader of the Muslim world.
The Diyanet, in another sign of Mr. Erdogan's emphasis on religious rather than national identity, recently urged Turks to use the religiously framed greeting Peace Be Upon (Selamün aleyküm) You rather than phrases like Good Morning (Gunaydin), prevalent in Turkey since its founding as a republic almost a century ago.
Diyanet president Ali Erbas argued in a recently published Turkish-language book, Human Religion and Religion in the Information Age, that the greeting 'Good Morning' traced its origins to the pre-Islamic era.
These latest moves suggest that Mr. Erdogan is taking his country, also a member of the G20, down a path diametrically opposed to what Mr. Qoumas was arguing in Bologna.
The minister contended in contrast to Mr. Erdogan's policies that religion "has the potential to help block the political weaponization of identity; curtail the spread of communal hatred; promote solidarity and respect among the diverse people, cultures and nations of the world; and foster the emergence of a truly just and harmonious world order, founded upon respect for the equal rights and dignity of every human being. Yet to realize this potential, we must wisely manage the inevitable struggle between competing values, as globalization brings highly diverse peoples, cultures, and traditions into ever closer contact."
Mr. Qoumas made his remarks as an Islamist journalist called on Mr. Erdogan to avoid the weaponization of religion.
Writing in Karar, a Turkish publication believed to be close to Mr. Erdogan's erstwhile prime and foreign minister, Ahmet Davutoglu, who left the ruling Justice and Development Party (AKP) to found a party of his own, journalist Ahmet Tasgetiren, warned that the president appeared to be politicizing the Diyanet.
Drawing a comparison to Mr. Erdogan' politicization of Turkey's judiciary, Mr. Tasgetiren noted that it "weakens people's confidence in it." Pleading with Mr. Erdogan, Mr. Tasgetiren cautioned that "the politicization of the religion and the Diyanet ruins people's relationship with religion… I think you would never want this for the religion. For the religion's sake, please."
Mr. Qoumas, the scion of an influential Nahdlatul Ulama family and the former head of the group's powerful youth wing, GP Ansor, went on to say in his speech that "one major task that lies before us is to identify, and conscientiously observe, those universal values that a majority of the world's inhabitants already acknowledge, such as the virtues of honesty, truth-seeking, compassion and justice. Another parallel task is to develop a global consensus regarding shared values that the world's diverse cultures will need to embrace if we are to co-exist peacefully."
Implicitly, the minister noted that in contrast to its competitors – Saudi Arabia, the United Arab Emirates, Turkey, and Iran – in the battle to reshape mainstream Islam, Nahdlatul Ulama, one of, if not the world's largest Muslim civil society organization, has put its money where its mouth is.
Mr. Qoumas noted that a gathering in 2019 of more than 20,000 Muslim religious scholars associated with Nahdlatul Ulama ruled that the legal category of infidel was "neither relevant to nor applicable within, the context of a modern nation-state." In doing so, Nahdlatul Ulama became the world's first major contemporary Sunni Muslim religious entity to seek to update and modernize Islamic jurisprudence.
Mr. Qoumas stopped short of laying out an agenda for dealing with other concepts in Islamic law that Nahdlatul Ulama clerics have identified as either problematic or obsolete such as blasphemy. Nahdlatul Ulama has argued that concepts like the dhimmi or people of the book who are recognized in classical Islamic jurisprudence but not granted equal status before the law, and apostasy, had been invalidated by the ruling on infidels.
To be sure, countries like Saudi Arabia and the UAE, where Islamic law is at the least recognized constitutionally as a main source of legislation if it does not constitute the main fountain of legislation, have significantly liberalized social rights.
Saudi Arabia has significantly enhanced women's rights in recent years by lifting a ban on women's driving, liberalizing gender segregation, reducing men's control over women's lives, and expanding professional opportunities.
Similarly, the UAE announced last November a major overhaul of the country's Islamic personal laws, allowing unmarried couples to cohabitate, loosening alcohol restrictions and criminalizing "honour killings," a widely criticized religiously packaged tribal custom that allows a male relative to kill a woman accused of dishonouring a family.
Liberalization of social mores in Saudi Arabia and the UAE were anchored in civilian law, rules, and regulations but neither country, in contrast to the process initiated by Nahdlatul Ulama, adopted Islamic jurisprudence accordingly.
That way, the two Gulf states, in contrast to Indonesia, seek to keep tight state control of their interpretation of Islam with no input by civil society.
The dichotomy raises fundamental questions, including whether what Nahdlatul Ulama calls the "recontextualization" of Islam can be achieved by autocratic or authoritarian regimes that are seeking to ensure their survival and project themselves internationally in a positive light or whether religious reform needs to be popularly anchored and driven by civil society.
Despite being in government, Mr. Qoumas implicitly provided his answer to the question by quoting a poem by Kyai Haji Mustofa Bisri, a prominent Nahdlatul Ulama spiritual leader. The poem, titled 'Religion' focuses on the behaviour of the individual rather than the role of the state.
"Religion is a golden carriage prepared by God to convey you along the path to His Divine Presence.
Don't become mesmerized by its beauty, much less enchanted to the point that you come to blows with your own brothers and sisters over who occupies the front seat.
Depart!" the poem reads.
Visit of Chinese Foreign Minister to Southeast Asia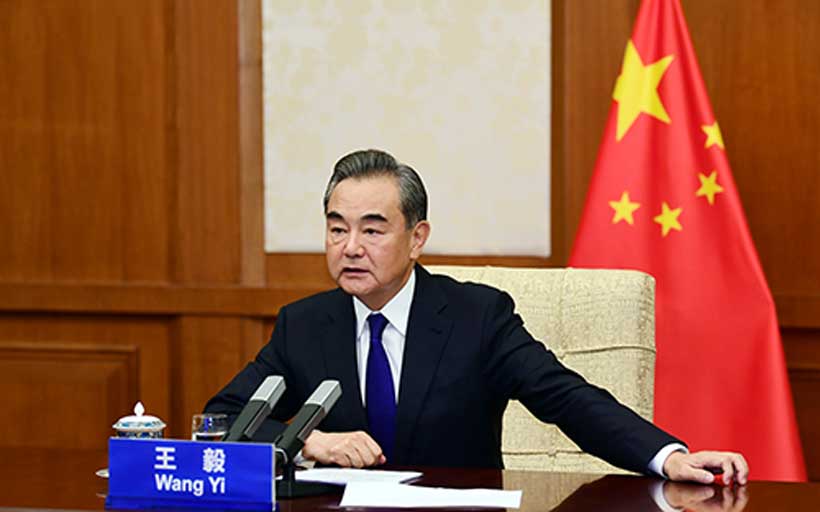 Following the visit of Kamala Harris, the vice president of the USA to Vietnam and Singapore, the Chinese foreign minister Wang Yi visited the two countries as well as Cambodia to engage the regional players. Vietnam has become the cynosure of major powers such as the US, Japan, and China. The visit of Japanese Defence minister and the US defence secretary happening within a period of three months. US defence secretary visited Vietnam in July 2021 while the Japanese defence minister visited Vietnam in September 2021.
Given the hyper activism which was shown by the two members of the Quad, the Chinese foreign minister sensing these strategic dynamics choose to visit Vietnam to comfort the ideological partner that China would be acting constructively. The Chinese foreign minister during the visit to the country clearly stated that Vietnam should stop entertaining extra regional powers in South China Sea and resist from complicating the situation while magnifying the maritime territorial disputes. This clearly shows that China was rattled by the very fact that US has been undertaking extra efforts in engaging Vietnam through vaccine and health diplomacy as well as creating favourable conditions for Vietnam to enhance trade relations with the US. As part of a reassurance strategy, China has committed to donating 3 million doses of COVID-19 vaccine and is willing to support Vietnam in their fight against COVID-19 pandemic.
In the last two years the Vietnam foreign ministry has been criticising Chinese manoeuvres in South China Sea and threatening legitimate activities of Vietnam in its Exclusive Economic Zone. The illegal activities undertaken by Chinese survey ships and fishermen militia in Vanguard bank, Reed Bank and Whitsun Reef were a manifestation of Chinese hyper activism. This has been criticised by the US state department as well as members of international community.
In the second leg of the visit, the Chinese foreign minister visited Singapore and had fruitful interactions with his counterpart Vivian Balakrishnan. Given the fact that Singapore is slowly emerging as a critical lynchpin in the larger Quad objectives in the region. Therefore, for China, engaging the city state is critical for securing its strategic periphery and engaging Singapore for its trade and economic interests. The proposal of development cooperation proposal by the Chinese foreign minister is to get assurance from the Southeast Asian neighbours regarding good neighbourliness and commitment to the Belt and Road Initiative (BRI) undertaken by the China in the maritime domain.
The Chinese foreign minister had visited almost nine countries in the last one year when Vietnam was the Chair of ASEAN. This was primarily to counter the efforts which have been made by the high-level delegations of the United States government which included the visit by the United States vice president Kamala Harris, US defence secretary, the US deputy Secretary of State and the visit of armed forces officials to the Southeast Asian countries. China's neighbourhood diplomacy clearly shows the anxieties from the point of view of China after US has intensified surveillance and intelligence activities as the latest Malabar defence exercises(25th edition) which concluded recently near Guam. Chinese assertive activities have been operationalised by the Chinese naval ships, Chinese Coast Guard, Chinese hydrographic survey ships, and the Chinese maritime boat militia which has been threatening navies and fishermen of littoral countries in South China Sea. The military exercises undertaken by China closer to the contested waters in South China Sea, particularly in the Paracel islands, which belongs to Vietnam, and strengthening the illegal structures built on those islands is primarily aimed to counter the group sails undertaken by the US and its alliance partners as well as any concerted activity undertaken by the Quad countries.
The visit to Cambodia was expected given the fact that the politics in Cambodia is heating up because of the Hun Sen political ambitions of placing his son at the helm of power and helping Chinese to set up a full-fledged Chinese naval base at Ream naval base. The US projects in that region has been stopped and relocated to other areas which was not liked by the US agencies.
The vaccine diplomacy which has been adopted by the Chinese foreign minister to address the deficit of vaccines in countries such as Cambodia and Vietnam is symbolic.
In this context it is also important to investigate the Japanese overtures in this regard. The Japanese have signed a defence partnership agreement with the Vietnamese which assures the exports of Japanese defence equipment to the socialist country. Under the partnership it is expected that not only arms and equipment, but also technological support and training of the technicians will be undertaken by the Japanese forces. This is the first of its kind defence partnership agreement between Japan and Vietnam showcasing the growing trust between the two countries. There have been certain writings which allude to the fact that a trilateral between India, Vietnam and Japan might be in the offing. Scholars such as Gitanjali Sinha Roy feel that Japan with its technological supremacy, and India with its large armed forces along with Vietnam's strategic location will act as a common platform to address regional security concerns in the Indo -Pacific region. India being a regional player in the Indian Ocean region and Japan being a formidable power in the Pacific would add heft to the larger maritime security objectives.
The involvement of the European powers in the security of indo Pacific region with reference to the UK, France and Germany showcases that many players would be involved in ensuring maritime security in the region for trade and commercial aspects.
This visit of Chinese foreign minister should be seen from the point of view of reassuring Chinese commitment to the regional peace while at the same time giving a veiled warning to the neighbours that China is still a very potent power in South China Sea, and it would not allow any intervention by the extra territorial powers which tries to intervene in the South China Sea dispute. This visit clearly highlights that China has been startled by the active diplomacy undertaken by countries such as Japan and US and why keeping countries such as Singapore and Vietnam in good humour is critical for Chinese interests.
Vietnam's ingenuity in handling diplomatic relations with the US, China and Japan and maximizing national strategic interests is appreciated. Through skilful handling of relations with these three countries, Vietnam has become a partner contributing to the peace and security of the region and affirming its central role in Southeast Asia.
The new AUKUS partnership comes at the cost of sidelining France, a key Indo-Pacific player
Here is my quick take on the new AUKUS security partnership announced on Wednesday (September 15), by the leaders of three key English-speaking countries – Australia, the United Kingdom, and the United States. But, the move has invited displeasure from France, a key player and partner in the Indo-Pacific with permanent presence in the region.
***
US President Joe Biden, UK Prime Minister Boris Johnson and Australian Prime Minister Scott Morrison – leaders of three key English-speaking countries – have announced a new trilateral security partnership in the Indo-Pacific on Wednesday, abbreviated as AUKUS. This came a week before the in-person Quad summit, aimed at deepening cooperation in a range of defence arenas such as artificial intelligence, cyber and quantum technologies and undersea capabilities. It is the latest in a series of moves taken by the Biden administration to engage proactively in the Indo-Pacific, keeping China in mind.
A key initiative of the new AUKUS partnership is to support Australia in acquiring nuclear-powered submarines within the next 18 months. But, this comes at the cost of Canberra putting a halt on the ocean-class submarine development programme agreed with France known as the "Future Submarine Programme". As Australia strengthens its age-old alliance with the United States and welcomes a deeper British presence in the region, the stakes are at an all-time high for Canberra.
The French Response
When China denounced the new trilateral partnership by referring to "Cold-War mentality and ideological prejudice", it was expected. However, what stood out was the French response. A joint statement by the French Defence and Foreign Ministers following the announcement of AUKUS stated that it was 'contrary to the letter and the spirit of the cooperation which prevailed between France and Australia', and that the American choice reflects 'an absence of coherence that France can only observe and regret'.
Australia is also a member of the Quad and the 'Five Eyes' intelligence-sharing alliance that includes Canada and Australia as well. With AUKUS, Australian military will be closely linked with that of the United States. However, the UK has not had a permanent presence in the Indo-Pacific for decades now. On the other hand, France is the only European power currently present in the region with nearly two million of its citizens and more than 7,000 military personnel, spread across a vast maritime stretch from the Réunion Island in the Western Indian Ocean to French Polynesia and New Caledonia in the South Pacific.
In a catchy tweet, the Ambassador of France to the United States, Philippe Etienne noted,"Interestingly, exactly 240 years ago the French Navy defeated the British Navy in Chesapeake Bay, paving the way for the victory at Yorktown and the independence of the United States".He was just reminding the Americans of their historical ties with the French that goes beyond the Statue of Liberty.
'Global Britain' to align with the Indo-Pacific vision
The AUKUS is specifically hurting French sentiments at multiple levels. Being a reliable partner in the region that proactively engages in a broad network of trilaterals and minilaterals involving Quad partners Japan, India, Australia and other regional players, France was much better suited than the UK to form a defence partnership, in my view, when the region needs timely action. The concept of 'global Britain' has made its entry into public discourse only recently. The way ahead for the re-emergence of the UK from its post-war decline seems a long one, vis-à-vis dealing with a rising China.
In contrast, the French and their military installations are already in the region. It could've been considered better for amplifying collective defence capability and interoperability in the region and to empower the Australian military, rather than partnering with a dormant and erstwhile regional power in Asia and the Pacific like the UK, at a time when the region faces 'unprecedented challenges', as noted in the French statement of response.
Washington has shared the technology of nuclear submarines only once before with the UK, almost seven decades ago. Australia's geographic advantage and deteriorating ties with China makes it a rightful next choice. It seems the new Anglophone trilateral partnership is a systematic US-led attempt to involve the UK, particularly in a post-Brexit scenario, to play a bigger role in the Indo-Pacific.
A new addition to the regional architecture
In the context of the disruptive rise of an increasingly assertive China, it is understandable to have a variety of partnerships and minilaterals among maritime democracies that could complement the Quad and the ASEAN-led regional institutions in the Indo-Pacific. Instead of inviting the UK to the Quad itself, the Biden administration chose to form a new sister grouping in the region, perhaps with the intention of being more flexible. In the present geopolitical scenario, empowering Australia's defence capabilities is understandably a timely move, but the choice of partners is the real issue here.
It is reasonable that not every ally or partner needs to be in every alliance or coalition, however, time-tested regional players should not be ignored in a way how the US and Australia did to France with the underlying intention of bringing the UK back into the region's newly evolving geopolitical equation.
What Australia should be careful about?
No matter how the US chooses to hedge the situation with France, Australia should deepen its bilateral partnership with France, being a key Indo-Pacific player with permanent regional presence. The '2+2' ministerial consultations between the two countries, which was inaugurated last month, needs to be built upon.
Nuclear-powered submarines could definitely boost Australia's maritime deterrence capabilities. However, handling and operating them is a highly-complex and risky manoeuvre. So, it is important that the move should not be given the impression of being escalatory. Moreover, Australia, being a non-nuclear weapon state, should reinforce its commitment to the global non-proliferation regime and the rules-based order.