MDB Climate Finance Hit Record High of $43.1 Billion in 2018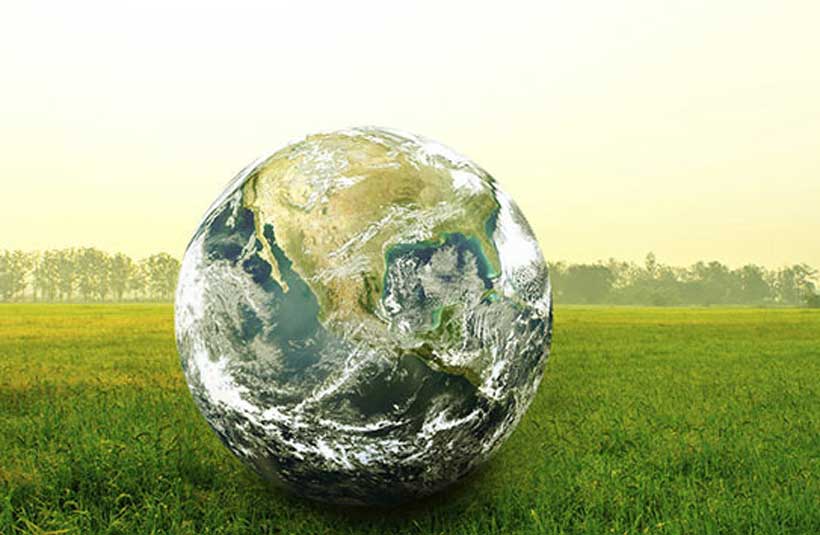 Climate financing by the world's largest multilateral development banks (MDBs) in developing countries and emerging economies rose to an all-time high of $43.1 billion in 2018, boosting projects that help developing countries cut emissions and address climate risks. This represents an increase of more than 22% from the previous year, where climate finance totaled $35.2 billion. The sharp increase came in response to the ever more pressing challenge of climate change, which disproportionately affects the poorest and most vulnerable, after the adoption in 2015 of the Paris Agreement.
The latest MDB climate finance figures are detailed in the 2018 Joint Report on Multilateral Development Banks' Climate Finance, which combines data from the African Development Bank (AfDB), the Asian Development Bank (ADB), the European Bank for Reconstruction and Development (EBRD), the European Investment Bank (EIB), the Inter-American Development Bank Group (IDBG), and the World Bank Group (WBG). These banks account for the vast majority of multilateral development finance globally. The 2018 report also summarizes information on climate finance from the Islamic Development Bank (IsDB), which joined the MDB climate finance tracking groups in October 2017.
The report shows that $30.2 billion, or 70%, of the total financing for 2018 was devoted to climate change mitigation investments that aim to reduce harmful greenhouse gas emissions and slow down global warming.
The remaining $12.9 billion, or 30%, was invested in adaptation efforts to help address mounting impacts of climate change, including worsening droughts and more extreme weather events from extreme flooding to rising sea levels.
Since 2011, when the six MDBS initiated joint reporting, they have committed nearly $237 billion in climate finance for developing and emerging economies. Climate funds such as the Climate Investment Funds (CIF), the Global Environment Facility (GEF), the Global Energy Efficiency and Renewable Energy Fund (GEEREF), the European Union's funds for Climate Action, and the Green Climate Fund (GCF) also play an important role in boosting MDB climate investment through concessional financing. In addition to the $43.1 billion of MDB finance in 2018, MDBs reported another $68.1 billion in net climate cofinancing—investments from the public and private sector—adding up to total climate finance for the year of $111.2 billion.
"The continued collaboration among MDBs to report on climate financing has clearly shown the joint resolve for transparency and accountability in supporting the delivery of our commitments," said the Director General of ADB's Sustainable Development and Climate Change Department Mr. Woochong Um. "At ADB, we have committed to ensure 75% of our operations support climate change mitigation and adaptation efforts by 2030, while committing $80 billion in investments for the period 2019–2030 in low-carbon and climate-resilient development in the Asia and Pacific region."
The regions of Sub-Saharan Africa, Latin America and the Caribbean, and South and East Asia were the top three to invest MDB climate finance. The report also breaks down climate finance by MDB, economy size, sector, type of recipient, and type of financial instrument.
MDBs' provision of climate finance helps to ensure that global financial flows are consistent with development with low greenhouse gas emissions and are resilient to climate change, in line with the Paris climate agreement's aim to limit the increase in global temperatures to well below 2°C, pursuing efforts for 1.5°C. The MDBs have reported on climate finance since 2011, based on the jointly developed methodology for climate finance tracking, and in 2015 set their climate targets looking ahead to 2020.
More Companies and Government Ambition Required to Meet the "Net Zero" Challenge
Four years after the Paris Climate Agreement, tangible action from governments is falling short of trajectories needed to restrict global warming to 1.5° Celsius. This is well documented in the recently released UN Environment Closing the Gap report. To date, however, a minority of businesses are taking the necessary steps to reduce emissions and of those who are, much more ambition will be required based on the findings of a new report, The Net Zero Challenge, published today by the World Economic Forum.
The report is released as negotiators gather in Madrid at COP25 to discuss the finer details of the Paris Agreement which called for emissions reductions of 3-5% per year. This is a long way off the annual increase in emissions of 1.5% that we are seeing today.
"2020 is a crucial year for delivering on climate action ambition and it is vital that governments and businesses now work together. For both the public and private sector, collaborative action on climate can spur rapid innovation, growth and jobs in a sluggish economic outlook; what the world needs is a combination of public ambition, policy certainty and company leadership to create a tipping point," said Dominic Waughray, Managing Director at the World Economic Forum.
Governments: from a slow start, climate action ambitions are growing to address the challenge
67 countries have to date stated an ambition to reach net zero emissions by 2050. These countries account for c.15% of global GHG emissions. Of these countries, sixteen (accounting for less than 6% of emissions) have developed roadmaps and intermediate targets; and even fewer – seven – countries have instituted policy frameworks that could realistically support reaching a net zero emission goal. These countries – Bhutan, Costa Rica, Denmark, Iceland, The Netherlands, Suriname, Sweden, – account for just 2% of global GHG emissions.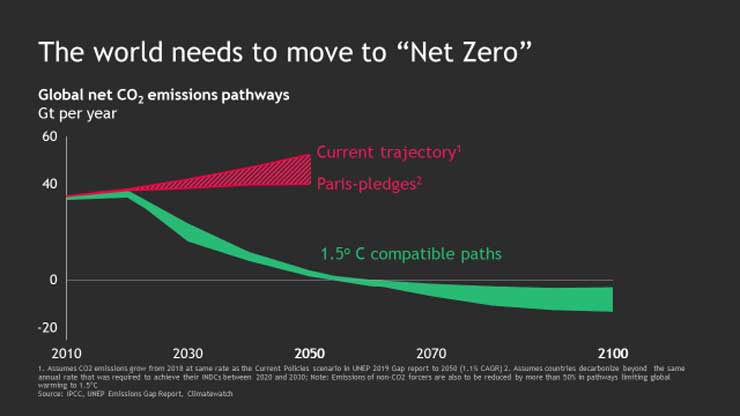 The report does, however, find signs of progress that some governments are beginning to set ambitious climate targets. For example, Morocco has developed the world's largest concentrated solar farm with a goal of sourcing 50% of its electricity from renewable sources in just 10 years. India is currently implementing the largest renewable power programme in the world, targeting 175 GW of installed capacity by 2022.
The report, done in collaboration with Boston Consulting Group (BCG), also finds signs of action at the sub-national level. For example, the state of South Australia is targeting 50% renewable power by 2025. In the United States, meanwhile, seven states are targeting zero-carbon energy systems by 2050.
Overall, the report adds to the evidence that there is much political work to be done to raise ambition levels for climate action ahead of when the Paris Agreement is due to begin in November 2020.
Companies and Climate Action: A New Impetus is Required
When it comes to companies and emissions, the report highlights the gap in corporate ambition that must be closed. While 7,000 businesses disclose their emissions to CDP, a non-profit organization that monitors global emissions, the report finds that only a third provide full disclosure, only a quarter set a specific emissions reduction target and only one in eight are so far reducing their emissions year-on-year.
The report also finds that, on average, both short-term and long-term targets are about half of what are needed for a 1.5°C world; on average, short-term targets currently aim for minus 15% instead of minus 30% reductions; while longer-term targets on average currently aim for 50% reductions instead of net zero by mid-century.
There is, however, some variation across industries. Financial and energy companies, are the most advanced when it comes to disclosing, setting targets and reducing emissions; and emissions reductions in the power sector provide a good case on how other sectors might respond to a mixture of smart policies and demand signals. In each sector there are examples of corporations acting decisively to build a first-mover competitive advantage through higher efficiency, lower risks and new green revenues.
The report identifies two major reasons why corporate climate action has so far not reached a tipping point. One is that chief executive officers still find themselves under greater pressure to deliver short-term returns than to demonstrate progress against climate goals. A plethora of ESG (environmental, societal and corporate governance) guidelines is not helping to create clarity or a clear benchmark to judge performance, leading – in the words of one banking CEO – to "real confusion and little action" in the investment world. The other is the lack of reliable policy frameworks at national and international level. All 25 CEOs interviewed as part of the project confirmed, for example, that without a meaningful price on carbon the transition cannot be accelerated at the speed and scale needed.
A call to action from the World Economic Forum
Whilst diplomatic and multilateral political efforts during 2020 will focus on raising ambition levels among governments, the World Economic Forum will use its platforms to promote a complimentary call to action for higher ambition levels among companies and the finance community and for more partnerships. This call for action, which will start in Davos 2020, includes:
An updated Davos Manifesto for 2020 on the universal purpose of a company, which notes that a company is more than an economic unit generating wealth, will be presented to all CEOs to consider. The Manifesto calls for performance to be measured not only on the return to shareholders but also on how it achieves it environmental, social and good governance objectives.
An initiative underway with the Forum's International Business Council to develop a definitive methodology for standard ESG principles that companies can adopt as a complement to standard financial metrics with support from the "Big Four" accounting firms, which will include common approaches on climate emissions target setting and tracking
The release of a catalogue of "Lighthouse Projects" that show concrete examples of how many leading companies are setting and implementing bold emissions reduction strategies in line with net zero by mid-century, and how other companies can join or replicate these efforts. Such Lighthouse Projects include the Mission Possible Platform, RE100, the UN-convened Net Zero Asset Owners Alliance, the CDSB and over 50 other specific examples of company actions and public-private collaborations in the climate and wider environmental agenda.
To support these efforts, the Forum has also convened a community of CEO Climate Leaders; these are leaders of some of the world's largest businesses that are committed to support assertive climate action.
"Climate change is the single greatest threat that humanity faces. Businesses that don't take climate action will be punished by their stakeholders as well as by the planet," said Alan Jope, CEO, Unilever.
Colombia to host 2020 World Environment Day on biodiversity
On the eve of a critical year for environmental decision-making, Colombia, Germany and UN Environment Programme (UNEP) today announced that Colombia will host World Environment Day 2020 in partnership with Germany and that it will focus on biodiversity.
World Environment Day takes place every year on 5 June. It is the United Nations' flagship day for promoting worldwide awareness and action for the environment. Over the years, it has grown to be the largest global platform for environmental public outreach and is celebrated by millions of people in more than 100 countries.
Making the announcement on the margins of the UN Climate Change Conference (COP25) in Madrid, Spain, Ricardo Lozano, Colombia's Minister of Environment and Sustainable Development, Jochen Flasbarth, Germany's State Secretary for Environment, and Inger Andersen, Executive Director of the UN Environment Programme, stressed that with one million plant and animal species facing extinction, there has never been a more important time to focus on the issue of biodiversity.
"2020 is a year for urgency, ambition and action to address the crisis facing nature; it is also an opportunity to more fully incorporate nature-based solutions into global climate action," said Inger Andersen, Executive Director of the UNEP. "Each year, World Environment Day is a powerful platform to accelerate, amplify and engage people, communities and governments around the world to take action on critical environmental challenges facing the planet. We are grateful to Colombia and Germany for demonstrating leadership in this effort."
2020 is a critical year for nations' commitments to preserving and restoring biodiversity, with China hosting the 15th meeting of the Conference of the Parties (COP15) to the UN Convention on Biological Diversity in Kunming. Next year also provides an opportunity to ramp up to the start of the UN Decade on Ecosystem Restoration (2021-2030), intended to massively scale up the restoration of degraded and destroyed ecosystems to fight the climate crisis and enhance food security, water supply and biodiversity.
"In Colombia we will face an important challenge in 2020, and it is to host the 3rd and last OEWG [open-ended working group] meeting of the post-2020 global biodiversity framework before the COP in China. In Colombia, we are willing to work together to reach an agreement that allows us to move forward positively towards ambitious results in the COP that will meet us in China; we welcome Germany's gesture of support in this global effort and look forward to a successful collaboration," said Ricardo Lozano, Colombia's Environment Minister.
Listed as one of the world's "megadiverse" countries and sustaining close to 10 per cent of the planet's biodiversity, Colombia ranks first in bird and orchid species diversity and second in plants, butterflies, freshwater fish and amphibians. The country has several areas of high biological diversity in Andean ecosystems, with a significant variety of endemic species. It also has part of the Amazon rainforest and the humid ecosystems of the Chocó biogeographical area.
"There is no better time to come together for the planet than now," said Jochen Flasbarth, Germany's State Secretary for the Environment. "Climate action and biodiversity conservation are two sides of the same coin. We need to develop policies that stop the extinction of plant and animal species. Germany is pleased to support Colombia and other member states in making 2020 a year that kicks off action for biodiversity."
According to a landmark report this year by the Intergovernmental Science-Policy Platform on Biodiversity and Ecosystem Services (IPBES), current negative trends in biodiversity and ecosystems are projected to undermine progress towards 80 per cent of the assessed targets of the Sustainable Development Goals related to poverty, hunger, health, sustainable consumption and production, water, cities, climate, oceans and land.
Are Nature Based Solutions the key to Africa's climate response?
While the UN climate talks are celebrating their 25th year, carbon emissions around the world have continued to climb. For many, that is where natural solutions could play a key role in managing a dramatic climate transition.
Nature-based solutions or the process of working with and around natural ecosystems to deliver real-world benefits for climate resilience and sustainable development, took center stage on day 4 of COP25 in Madrid).
The African Development Bank has three main approaches to nature-based solutions; namely, restoring damaged ecosystems (land, forests and water bodies), conserving biodiversity, and integrated natural resources management.
Vanessa Ushie, Manager of the Policy Analysis Division at the Bank's African Natural Resource Centre, briefed delegates at COP 25 about the Centre's work during a panel discussion on Tuesday.
"Nature-based solutions are easy to use, and very effective in improving community livelihoods and resilience to climate change. The AfDB is scaling up the use of nature-based solutions to address climate impacts on critical ecosystems and biodiversity in Africa," Ushie said.
UN biodiversity expert Valerie Kapos described a range of natural solutions being implemented across Africa, and around the world. These included protecting rivers, forests, and marine solutions, to benefit local economies.
"We need to be applying that argument to whichever solutions we are choosing," said Kapos, Head of Climate Change and Biodiversity at the UN Environment Programme World Conservation Monitoring Centre (UNEP-WCMC).
This is definitely true for the Seychelles, which has been appointed by the African Union to be the champion of the blue or ocean economy across the continent. While the continent is known for its deserts and jungles, a blue economic transition will be essential for the 48 coastal states that collectively make up the world's longest coastline.
"We have protected 47% of our land, and are moving toward 50%. But our ocean territory is 3,000 times bigger than our land territory, and we are on track to protect 30% of that area," said Ronald Jumeau, Permanent Representative of the Seychelles at the UN.
This was made possible by one of the world's biggest debt-swap programs. The debt-for-nature deal was made possible through The Nature Conservancy, which bought the island nation's $400 million sovereign debt at a discount. That money will be re-invested in nature conservation programmes.
"Through this program we have funded mangrove restoration and climate education programmes," said Angelique Pouponneau, who runs a Seychelles-based trust fund focusing on climate adaptation and conservation.
Ushie from the African Development Bank pointed out that "one thing we are looking at is changing the way in which lending is being channeled to Africa, and how nature can be integrated in the measurement of national wealth and sovereign credit ratings for African countries."