IEA and African Union hold first ever ministerial meeting on development of Africa's energy sector
The International Energy Agency co-hosted a joint ministerial summit with the African Union Commission (AUC) on Wednesday that brought together high-level representatives from government and industry to discuss the development of Africa's energy sector.
The event, titled "The Future of Africa's Energy," is the first of its kind and reflects the IEA's significant expansion of its engagement in Africa.
Wednesday's discussions will help to inform a special report on Africa in the 2019 edition of the World Energy Outlook, the IEA's flagship publication. They will also help the IEA to determine the next steps in its engagement with African Union members and in its work on several key Africa programmes in the years ahead.
"This historic meeting is a milestone for the IEA's cooperation in Africa, a continent that is of critical importance in the global energy arena," said Dr Fatih Birol, the IEA's Executive Director. "I'm honoured to have been able to participate in such rich and fruitful discussions with major energy stakeholders from across the continent. African Union Commissioner Dr Amani Abou-Zeid has been a good friend and strong supporter of the IEA, and we are grateful to her and her team for working with us to deliver such a productive event."
Dr Birol opened the event alongside Dr Abou-Zeid, Egyptian Minister of Electricity & Renewable Energy Dr Mohamed Shaker El-Markabi, and US Under Secretary of Energy Mark Menezes. Speakers at the conference included Ethiopian Minister of Water, Irrigation and Electricity Dr Seleshi Bekele.
The IEA and the AUC plan to hold a second ministerial forum on Africa's energy sector in Paris next year.
The IEA has been working on Africa-related issues for many years, including capacity building for energy statistics as well as focusing on energy access, clean cooking and energy efficiency. The agency has been collecting country-by-country data and developing a long-term pathway for achieving universal energy access by 2030.
"Investment, innovation and access to education and training will be vital for Africa's energy future," Dr Birol said. "The IEA is fully committed to providing support and advice to help achieve positive, sustainable and prosperous transitions across the continent."
This week, the IEA announced that Dr Kandeh Yumkella, a former United Nations Under-Secretary-General, will become an advisor on Africa and energy access issues.
The IEA is also launching two 3-year projects in Africa in 2019 that will focus on energy statistics and modelling, as well as energy policy advice. In the past few years, Morocco and South Africa have joined the IEA family as Association countries.
This year, the IEA chaired the latest edition of the inter-agency Tracking SDG7 report, which it co-authored with four other international organisations. The United Nations Sustainable Development Goal (SDG) 7 aims to ensure affordable, reliable, sustainable and modern energy for all by 2030.
This year's tracking report found that without more sustained and stepped-up actions to meet those targets, 650 million people around the world will be left without access to electricity in 2030. Nine out of 10 of them will be living in sub-Saharan Africa.
ADB Finances Largest Private Gas Power Plant to Improve Access to Energy in Bangladesh
The Asian Development Bank (ADB) has signed a $200 million financing package with Reliance Bangladesh LNG and Power Limited (RBLPL) to build and operate a 718-megawatt (MW) combined-cycle gas-fired power plant in Bangladesh. The project will ease ongoing energy shortages and drive further private sector investments in the country's power sector.
The assistance comprises a $100 million loan from ADB and a further $100 million loan from the Leading Asia's Private Infrastructure Fund (LEAP), which will be administered by ADB. The financing agreement was signed by the Director of Infrastructure Finance, South Asia, Central Asia, and West Asia at ADB's Private Sector Operations Department Shantanu Chakraborty, and Chief Executive Officer of RBLPL, Ranjan Lohar. The project is cofinanced by the Japan Bank for International Cooperation as well as four commercial banks, with insurance for the commercial banks provided by Nippon Export and Investment Insurance.
"This highly energy efficient project will help address a widening gap between the demand and supply of electricity in Bangladesh, which is critical for continued industrial and economic growth," said Mr. Chakraborty. "ADB has been instrumental in mobilizing crucial commercial financing, incorporating best practices in environmental and social standards, and establishing precedents for future financings of similar large scale projects in Bangladesh by boosting investor and lender confidence."
"RBLPL is privileged to have the support of international development banks including ADB for this power plant project in Bangladesh," said Mr. Lohar. "Through the project, RBLPL aims to contribute towards the country's robust economic growth."
Despite a significant increase in installed generation capacity in Bangladesh over the past decade, demand for electricity is not yet fully met through domestic supply. To help close the gap, the Government of Bangladesh continues to emphasize greater private sector investments in power generation. The plant will be located on the banks of the Meghna River, southeast of Dhaka. It will boost national generation capacity by about 4%, reducing the need for electricity imports and the use of environmentally harmful and expensive fuels like coal and oil. ADB has been involved in this project as a leading anchor lender since the early stages of its development.
LEAP was established in 2016 with a $1.5 billion capital commitment from the Japan International Cooperation Agency. It is focused on delivering high quality and sustainable private sector infrastructure projects that reduce carbon emissions, improve energy efficiency, and offer accessible and affordable health care, education, and communication services to ADB's developing member countries.
Electricity Trade to Unlock Affordable and Reliable Electricity in West Africa
The World Bank Board of Directors approved today a total of $300 million in International Development Association (IDA)* credits and grants to support reforms that will help promote electricity trade in West Africa.
The West Africa Regional Energy Trade Development Policy Financing Program (West Africa Energy DPF) seeks to remove barriers to electricity trade, which will lower electricity costs for consumers, support the competitiveness of firms and improve resilience and reliability of supply. Currently, only 50 percent of the population in West Africa have access to electricity, and those who do, pay among the highest prices in the world – more than double those of consumers in East Africa. In addition, due to operational deficiencies, electricity services are unreliable, with an average of 44 hours of outages per month.
Over the past decade, member countries of the Economic Commission of West African States (ECOWAS) have been working — through the West Africa Power Pool (WAPP) — towards a fully integrated power market. Within a few years, they will have completed the primary interconnectors that will link them together. The West Africa Energy DPF supports a policy reform program being implemented by Burkina Faso, Côte d'Ivoire, Guinea, Liberia, Mali and Sierra Leone, to facilitate trade in cleaner low cost electricity generated from gas, hydropower and renewable energy across borders. This will replace the more expensive electricity generated from inefficient small-scale oil-fired and diesel generation and improve the reliability of electricity services.
"West Africa has huge potential for clean and green energy generation, which countries can unlock and pool together to bring lower cost electricity to communities and help create jobs," says Ousmane Diagana, the World Bank Vice-President for Western and Central Africa. "The West Africa Power Pool has done the fundamental work of interconnecting national grids, and it is now time to realize the full strength of the regional power market. Coordinated policies paired with effective institutions and regulatory frameworks will help improve trust in the electricity trade and usher in a new era of affordable and reliable energy in West Africa."
The new operation supports a regional energy reform program set out in three pillars. The first aims to increase confidence in the enforcement of commercial arrangements by supporting payments and enforcement mechanisms relating to energy trade. The second supports the implementation of least cost investment decisions that consider regional options and that promote competition. The third supports transparency, by addressing creditworthiness of national power utilities and keeping the market informed on key investment decisions that impact demand and supply.
"This is a landmark program for achieving our goal of having a regional energy market and I want to thank the World Bank support," says Jean-Claude Kassi Brou, President of the ECOWAS Commission. "The West Africa Power Pool will continue to make strides and with this support, it can help member countries work together on the key coordinated policy reforms needed to deliver regional electricity trade – and therefore access more affordable and reliable electricity. By better using energy resources in the region, we expect the resulting efficient and resilient power systems to make our economies much more productive and inclusive. ECOWAS will continue to be a strong partner in realizing this goal."
The West Africa Regional Energy Trade Development Policy Financing Program is the first World Bank operation to use the IDA Regional Window for a DPF program. It allows the World Bank to support reforms in order to reach a common objective across several countries in a coordinated manner. It represents a watershed on the regional integration agenda in West Africa by supporting the operationalization of the ECOWAS Directive on the Securitization of Cross-Border Power Trade, which was adopted in December 2018 and aimed at creating a regional power market. Across the ECOWAS region, the economic benefits of the regional power market are evaluated at $665 million per year with a reduction of one third in the average cost of electricity generation in the region.
* The World Bank's International Development Association (IDA), established in 1960, helps the world's poorest countries by providing grants and low to zero-interest loans for projects and programs that boost economic growth, reduce poverty, and improve poor people's lives. IDA is one of the largest sources of assistance for the world's 76 poorest countries, 39 of which are in Africa. Resources from IDA bring positive change to the 1.6 billion people who live in IDA countries. Since 1960, IDA has supported development work in 113 countries. Annual commitments have averaged about $21 billion over the last three years, with about 61 percent going to Africa.
Global Gas Flaring Jumps to Levels Last Seen in 2009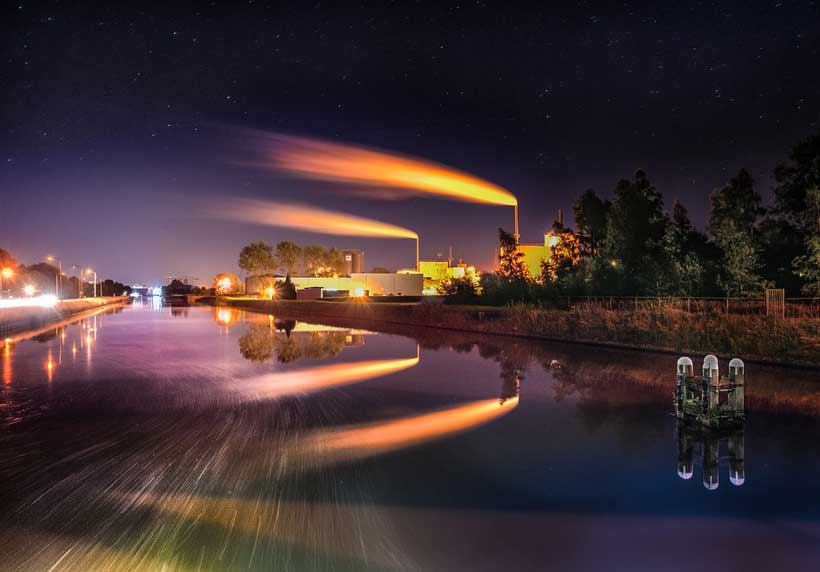 Estimates from satellite data show global gas flaring increased to levels not seen in more than a decade, to 150 billion cubic meters (bcm), equivalent to the total annual gas consumption of Sub-Saharan Africa.
The 3% rise, from 145 billion cubic meters (bcm) in 2018 to 150 bcm in 2019, was mainly due to increases in three countries: the United States (up by 23%), Venezuela (up by 16%), and Russia (up by 9%). Gas flaring in fragile or conflict-affected countries increased from 2018 to 2019: in Syria by 35% and in Venezuela by 16%, despite oil production flattening in Syria and declining by 40% in Venezuela.
Gas flaring, the burning of natural gas associated with oil extraction, takes place because of technical, regulatory, and/or economic constraints. It results in more than 400 million tons of CO2 equivalent emissions every year and wastes a valuable resource, with harmful impacts to the environment from un-combusted methane and black carbon emissions.
"Our data suggests that gas flaring continues to be a persistent problem, with solutions remaining difficult or uneconomic in certain countries," said Christopher Sheldon, Practice Manager in the Energy & Extractives Global Practice, World Bank. "The current COVID-19 pandemic and crisis brings additional challenges, with sustainability and climate concerns potentially sidelined. We must reverse this worrying trend and end routine gas flaring once and for all."
The top four gas flaring countries (Russia, Iraq, the United States, and Iran) continue to account for almost half (45%) of all global gas flaring, for three years running (2017-2019). When looking at all oil-producing countries, excluding the top four, gas flaring declined by 9 bcm (or 10%) from 2012 to 2019. In the first quarter of 2020, global gas flaring fell by 10%, with declines across most of the top 30 gas flaring countries.
"The World Bank and GGFR are committed to working with governments and industry to end this 'sticky' problem. We are working in many of the highest gas flaring countries in the world, helping them develop policies, regulations and practices to end routine flaring. At the same time, we are garnering more commitments from governments and companies to end routine flaring through the Zero Routine Flaring by 2030 initiative. Now over 80 governments and companies, accounting for over half of the world's routine flaring, have pledged to end this 160-year-old practice," said Zubin Bamji, Program Manager of the World Bank-managed GGFR Trust Fund.
The data was released by the World Bank-managed Global Gas Flaring Reduction Partnership (GGFR), which is composed of governments, oil companies, and international institutions working to end routine gas flaring at oil production sites around the world. GGFR, in partnership with the U.S. National Oceanic and Atmospheric Administration (NOAA) and the Colorado School of Mines, has developed global gas flaring estimates based upon observations from a satellite launched in 2012. The advanced sensors of this satellite detect the heat emitted by gas flares as infrared emissions at global upstream oil and gas facilities. A new and improved web-based application will map global gas flaring data in a reliable, standardized way, and will be publicly available in 2022, with the support of the Oil and Gas Climate Initiative (OGCI).