IRENA to Present Innovation Pathway to Renewable Energy Growth at G20
The G20 group of countries, whose members represent nearly 80 per cent of global energy consumption and hold 75 per cent of global renewables deployment potential by 2030, are well positioned to lead the global energy transformation.
The group has shown a growing commitment to collaborate on climate and energy issues, and to address challenges regarding energy security and productivity, environmental protection, and economic growth underpinned by the transition to renewables.
To further support and accelerate the shift, IRENA's Director-General Francesco La Camera will present G20 ministers with a series of innovation-led solutions to integrate higher shares of renewable energy into power systems. During its 'Ministerial Meeting on Energy Transitions and Global Environment for Sustainable Growth' in Karuizawa, Nagano Prefecture, Japan on June 15-16 IRENA will build on its well established position as an important contributor to the G20 decarbonisation discussion, by further championing the growing environmental and economic cases for the widespread adoption of renewable energy, a sector which now employs over 11 million people globally.
In a keynote address to the meeting's discussion on 'Energy Innovation and Cross-Cutting Issues – Energy Innovation / Energy Security / Energy Access and Affordability', IRENA Director-General Francesco La Camera will highlight that the case for renewable energy has never been stronger. IRENA's new cost data shows that by next year, onshore wind and solar PV will be a less expensive source of new electricity than the cheapest fossil fuel alternative.
The Director-General will outline to G20 ministers that renewables, together with energy efficiency, can deliver 90 per cent of energy related emissions reductions needed to keep global temperature increases well below 2° Celsius in line with the Paris Climate Agreement goals. To do so, electricity must become the dominate energy carrier Mr. La Camera will stress, highlighting that electricity must supply half of total final energy by 2050. Renewable electricity accounting for 86 per cent of that.
IRENA's Solutions to Integrate High Shares of Variable Renewable Energy report, published and presented at the request of this year's G20 president, highlights key action areas to scale up variable renewable energy power generation in G20 countries. Three key areas include the need for:
Enabling frameworks for long-term energy system planning, holistic policy-making, and co-ordinated approaches across sectors and countries.
Fostering systemic innovation, both in technologies, and market design, operational practices and business models.
Unlocking investments and strengthening partnerships with the private sector.
Increasing cooperation
In cooperation with the previous G20 presidencies of Turkey, China, Germany and Argentina during the last four years, IRENA has provided targeted analysis and recommendations for the group's energy discussions. At the first G20 Energy Ministers Meeting in October 2015, ministers adopted the G20 Toolkit of Voluntary Options for Renewable Energy Deployment, which presented a set of voluntary options for G20 countries to accelerate the scale-up of renewable energy. IRENA was a central coordinator of the Toolkit's implementation, in co-operation with other international organisations.
In June 2016, progress on work completed under the toolkit was reviewed with the aim to mobilise more finance, reduce costs and chart renewable potential.
In the context of Argentina's G20 Presidency last year, IRENA was asked to elaborate opportunities for the accelerated deployment of renewables, using a systemic and holistic approach, and to present relevant lessons learnt from implementing policy and investment frameworks. Building on this work, IRENA developed an overview of Opportunities to Accelerate Energy Transitions through Enhanced Deployment of Renewables.
IRENA Puts Renewables Centre-Stage at UN High- Level Meeting
'There can be no sustainable development without renewables' – that was the takeaway from the 17th IRENA Council which concluded recently in Abu Dhabi. It was a message the Agency's Director-General Francesco La Camera reinforced at every opportunity and a message that will once again take centre-stage during the United Nations High-Level Political Forum (HLPF) on Sustainable Development in New York this and next week.
The UN High-Level Political Forum takes place at the UN Headquarters in New York from 09–18 July 2019. Progress on six of the seventeen Sustainable Development Goals (SDGs) will be reviewed. Renewable energy plays a prominent role in goals being discussed this year, particularly those promoting sustained, inclusive and sustainable economic growth (SDG8); taking urgent action to combat climate change and its impacts (SDG13); and promoting peaceful and inclusive societies for sustainable development (SDG16).
Director-General Francesco La Camera will attend the Forum to engage dignitaries and IRENA members and partners. Mr. La Camera will also participate in a series of high-level discussions on topics including scaling-up climate action through the energy transformation and accelerating the energy transition in small island developing states.
Mr. La Camera will highlight the inter-linkages between the goals under review and access to affordable, reliable and modern energy for all (SDG7), a focus of the last year's HLPF. The essential role of renewable energy in powering growth, empowering people, and taking climate action will also be emphasised.
IRENA at HLPF
On 16 July, IRENA's High-level side event on 'Scaling up climate action through clean energy transitions: Delivering on the Paris Agreement and the SDGs' will be co-convened by UN DESA, the European Union, and the Permanent Mission to the UN of the Federal Democratic Republic of Ethiopia. Building on findings and outcomes from reports and meetings, including the 2019 Tracking SDG7 Energy Progress Report and Climate Summit preparatory meeting in Abu Dhabi, outcomes from this discussion will feed into the UN Secretary-General's Climate Action Summit and the SDG Summit in September 2019.
On 17 July, the High-level Side event on Scaling-Up Energy Transition in Small Island Developing States, will mark the launch of the policy brief on 'Achieving SDG 7 in Small Island Developing States' and pave the way for the Mid-term Review of the SAMOA Pathway taking place in September 2019. Organised by Saint Lucia, Samoa, Maldives, UN-OHRLLS and IRENA, the event will take stock of energy transition developments and renewable energy uptake in SIDS and explore the vital elements in making progress in the area of sustainable energy.
IEA hosts high-level meeting on technologies for a clean energy future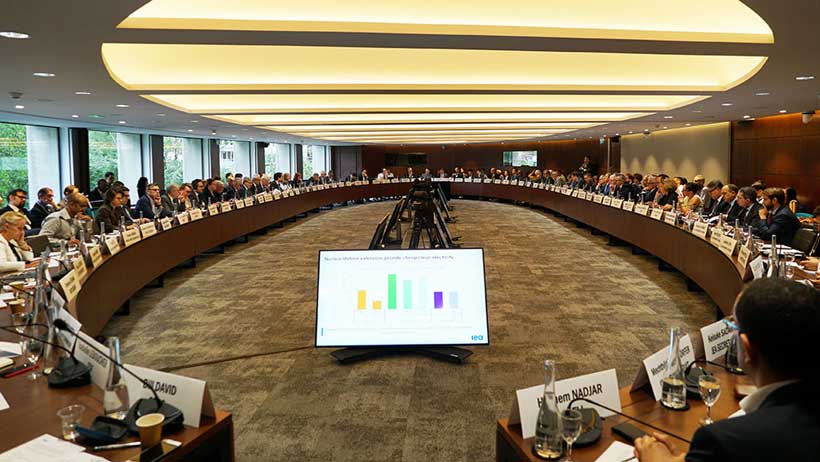 The International Energy Agency on 11 July hosted a discussion among leading global energy sector figures about technologies that can help to bring about a clean energy future, including hydrogen and nuclear power.
The main speakers at the event were Dan Brouillette, Deputy US Energy Secretary; Jean-Bernard Lévy, Chairman and CEO of EDF; Hiroshi Oe, Japanese Ambassador to the OECD and Chair of the IEA Governing Board; and Dominique Ristori, Director-General Energy at the European Commission.
The discussion at the IEA's headquarters in Paris was informed by two recent major reports from the IEA: Nuclear Power in a Clean Energy System and The Future of Hydrogen: Seizing Today's Opportunities.
At a time of profound change in the global energy sector, countries will require all the tools at their disposal to meet their commitments to tackling emissions and air pollution while maintaining energy security.
"I'd like to thank our speakers for the robust and rewarding conversation," said Dr Fatih Birol, the IEA's Executive Director, who hosted the event. "There is no miracle technology that will solve the daunting environmental challenges the world faces. We need continued innovation across a range of technologies, including renewables, energy efficiency, batteries, carbon capture and more. The IEA sees hydrogen and nuclear power as important parts of clean energy transitions in many countries, but they need help from governments to overcome significant obstacles."
Nuclear power is by far the largest source of low-carbon electricity in both Europe and North America, but many of their plants are aging. Without effective policies to spur new investment, advanced economies could lose as much as two-thirds of their nuclear capacity in the next 20 years, threatening global climate goals and energy security.
Hydrogen, which is currently enjoying unprecedented momentum, can help tackle various critical energy challenges. It offers ways to decarbonise a range of sectors where it is proving difficult to meaningfully reduce emissions, including long-haul transport, chemicals, and iron and steel. Hydrogen's ability to store and transport energy could enable renewables to make a greater contribution to the global energy system. But it has experienced false starts in the past and still faces big challenges to scale up infrastructure and bring down costs.
The meeting on 11 July to discuss these important energy issues highlights the IEA's role as the world's leading energy authority and its commitment to covering all fuels and all technologies. Guests included Lithunia's Minister of Energy Žygimantas Vaičiūnas. Lithuania has requested to join the IEA as a member country and the accession process has begun.
IEA unveils global high-level commission for urgent action on energy efficiency
The International Energy Agency has established an independent high-level global commission to examine how progress on energy efficiency can be rapidly accelerated through new and stronger policy action.
Prime Minister Leo Varadkar of Ireland will be the honorary chair of the IEA Commission for Urgent Action on Energy Efficiency, composed of government ministers, top business executives and thought leaders from around the world.
The members include current and former ministers for energy and environment from Denmark, Germany, Ireland, Japan, Luxembourg, Morocco, New Zealand and Spain. Dr Amani Abou-Zeid, the African Union Commissioner for Energy and Infrastructure, and Dr Wan Gang, the previous Chinese Minister of Science and Technology, who is known as the "father of electric vehicles" in China, have also agreed to take part.
Mr Richard Bruton, Ireland's Minister of Communications, Climate Action and Environment, will chair the commission's ongoing work. Business leaders taking part include Mr Ben van Beurden, the Chief Executive Officer of Royal Dutch Shell; Ms Lisa Davis, the Chief Executive of gas and power at Siemens; and Mr Gil Quiniones, the President of the New York Power Authority.
More than any single fuel, energy efficiency has a central role to play in meeting global sustainable energy goals. The IEA calculates that with the right policies, the global economy could double in size by 2040 while still maintaining broadly the same level of energy use as today. Those policies alone would enable the world to achieve more than 40% of the emissions cuts needed to reach international climate goals using cost-effective technologies already available, according to IEA analysis.
But policy implementation has slowed and efficiency progress is weakening. Global energy-related CO2 emissions increased last year at their highest rate since 2013, and air pollution continues to be linked to millions of premature deaths each year.
"It is imperative that we get global energy efficiency progress back on track," said Dr Fatih Birol, the IEA's Executive Director. "I'm delighted that Prime Minister Varadkar and other eminent figures from around the world have agreed to commit their energy and ideas to this vital project."
If countries implement all the economically viable energy efficiency potential available today, consumers around the world could save more than half a trillion US dollars through lower energy bills by 2040, while greenhouse gas emissions, air pollution in cities and dependence on energy imports could all be reduced. But this will require firm and rapid action from governments.
"The IEA sees energy efficiency as critical for successful clean energy transitions," Dr Birol said. "It has huge potential to start making an immediate difference if governments act now and act decisively."
The focus of the new energy efficiency panel will be on key policy actions that can be taken by countries across the globe. It will produce a concise list of clear, actionable recommendations next year. Plans for the commission were announced last week at the IEA's largest ever Global Conference on Energy Efficiency in Dublin.
THE COMMISSION
Honorary Chair
H.E. Mr Leo VARADKAR, Prime Minister, Ireland
Members
Dr Amani ABOU-ZEID, Commissioner for Infrastructure and Energy, African Union Commission
H.E. Mr Richard BRUTON, Minister of Communications, Climate Action and Environment, Ireland
Mr Nick BUTLER, Visiting Professor, King's College London
Ms Lisa DAVIS, Chief Executive Officer, Gas and Power, Siemens AG
Ms Connie HEDEGAARD, Former Commissioner for Climate Action, European Union
Mr Michael LIEBREICH, Chairman and Chief Executive Officer, Liebreich Associates
Dr Ajay MATHUR, Director General, The Energy and Resources Institute, India
H.E. Mr Aziz RABBAH, Minister of Energy, Mines and Sustainable Development, Morocco
H.E. Ms Teresa RIBERA RODRIGUEZ, Minister for Ecological Transition, Spain
Mr Gil C. QUINIONES, President and Chief Executive Officer of the New York Power Authority
Mr Adam SIEMINSKI, President, King Abdullah Petroleum Studies and Research Center, Saudi Arabia
Mr Masakazu TOYODA, Chairman and Chief Executive Officer, Institute of Energy Economics, Japan
Mr Jürgen TRITTIN, Member of the Bundestag and Former Federal Minister for the Environment, Nature Conservation and Nuclear Safety, Germany
H.E. Mr Claude TURMES, Minister for Energy and Minister for Spatial Planning, Luxembourg
Mr Ben van BEURDEN, Chief Executive Officer, Royal Dutch Shell
H.E. Dr WAN Gang, Previous Minister of Science and Technology, China
H.E. Dr Megan WOODS, Minister of Energy and Resources, New Zealand
Dr Kandeh YUMKELLA, Former Special Representative of the UN Secretary-General for Sustainable Energy for All