Why People Run: Motivation Theory Applied to Diverse Migration
According to a United Nations report, 3.2% of world population or 258 million people, live in a country other than their country of birth. Between 1990 and 2017,the number of international immigrants increased by 69% or 105 million, with the majority of immigration taking place between 2005 to 2017. The phenomenon of cross-border immigration is an important aspect of international relations and modern life. People migrate from their country of origin for a variety of reasons: to avoid conflicts or violence, or distressed environmental challenges; to escape poverty, to provide better opportunities for their children, to reunite with families, to obtain a better education and to find employment. They face tough and challenging decisions and take life-threating risks to make a move domestically or across the borders.
Why do people migrate from their home country and what are the motivational factors that lead to such an unforeseeable journey? How do they choose their destination? This paper applies motivational theory to this migration. I investigate the personal, social, economic, and cultural variables that are the critical basis of these motivations. Europe, with 78 million immigrants, holds the 2nd place in the world, and Germany, with the most immigrants, holds the 1st place among European countries. More than 1.6 million new immigrants arrived in Germany in 2014 .I have employed motivation theory to immigrants in Germany in order to determine why people emigrate to other countries.
Motivation Theory
Abraham Maslow believes that a person's needs are the primary motivators for migration and categorized the need into the following five levels—physiological needs, safety needs, social needs, esteem needs, and self-actualization needs. I have used the typology of motivational theory developed by Tartakovsky and Schwarts, who validated their theory by applying it to a sample of 158 potential Jewish emigrants from Russia to Israel .They investigated three different theoretical motivations:"preservation (physical, social, and psychological security), self-development (personal growth in abilities, knowledge, and skills), and materialism (financial wellbeing, wealth)"2 to validate the theory.
They described preservation as the physical, social, and psychological security for them and their family. The psychological aspect of this theory is the motivation to protect the social identity of the self or family in the face of a threat. Preservation motivation expresses that when people fear that they no longer have appropriate security to protect their social identity in their home country, they are motivated to move somewhere else. Self-development motivation refers to the stimulation of personal growth, learning new skills, and acquiring new knowledge. The authors described "Self-development motivation to emigrate as the higher-order openness to change value type that emphasizes self-direction, creativity, challenge, and adventure in all aspects of life"(Tartakovsky and Schwartz. 2001). When people are faced with economic hardship, eager to advance their career or learn new skills, or want to obtain a higher level of education, they get motivated to move elsewhere to achieve their goals. Materialism motivation theory of emigration deals with financial wellbeing, wealth, and control over material resources. This motivation stimulates one's self-desire to enhance the economic and/or job situation. The authors stated that "Materialism motivation expresses the higher-order self-enhancement value type in the context of emigration. This value type emphasizes the pursuit of self-interest through attaining socially approved status, achievement, and control over resources.
People give great importance to more than one of the higher-order values expressed by motivation and may get induced by one of these motivations to emigrate. Additionally, millions of immigrants have arrived in Germany in search of a better life and to escape instability, insecurity, terrorism, poverty, and climate change in other European countries, Africa, Asia, and the Middle East. They risked their lives, and many spent their savings to reach the borders in Europe and then made their way to Germany.I have utilized motivational theory to determine the needs that drive people to migrate.
Application of Motivational Theory of Preservation
According to a report by the BBC, more than a million emigrants and refugees have crossed European borders either by sea or by land in the last decade from different parts of the world. Conflict and wars were the main drivers of a huge wave into Europe from Syria, Afghanistan, Iraq, Kosovo, Albania, Pakistan, Eritrea, Nigeria, Iran, and Ukraine (BBC, 2016).I have collected data from immigrants from Syria and Afghanistan to test the theory.
Yazgan, Utku, and Sirkeci in their article "Syrian Crisis and Migration "defined conflict as " a very broad sense which includes latent tensions and disagreements on the one end and goes to armed and violent clashes (e.g., wars) on the other"(Yazgan, Utku, and Sirkeci 2015). Their view is that migration takes place when there are discomforts, difficulties, restrictions, clashes, and, finally, violence and wars in the home country. In addition, when people face a threat or an environment of insecurity, they decide to move elsewhere.
More than 400,000 people have died from the conflict in Syria According to an article in The Washington Post, the Syrian government has launched numerous chemical weapon attacks against its citizens (Loveluck 2019). The security condition remains fragilein Deir ez-Zor region held by the Islamic State in Iraq and the Levant in Syria, and the lack of basic human needs has motivated people to flee. Similarly, the conflict in Afghanistan has cost the lives of more than 32,000 people since 2008 according to the United Nations. Furthermore, 2018 was the deadliest year with 3804 civilians killed in suicide bombings, targeted killings, and other operations. In addition, a weak central government, corrupt police and army, and increased crime rate are responsible for many un-recorded civilian casualties ("Civilian Deaths from Afghan Conflict in 2018 at Highest Recorded Level – UN Report" 2019). The situation in Afghanistan mostly impacts young educated adults, who are unemployed and don't feel safe in Afghanistan and, thus, are motivated to emigrate abroad.
I have collected data from several interviews with Afghan and Syrian refugees to validate the motivation for leaving their home countries. Of the refugees we spoke to, eight out of 10 fled Syria following an incident that made them fear for their safety. Many described arbitrary arrests by Syrian forces, the death of family or friends and the deteriorating security conditions in their neighborhoods.
•Tareq, a young refugee from Homs, told us he had no trust in the idea that Syria is safe to return to and spoke of his fears about the actions of Syrian military officers.
"I used to work as an undertaker in Syria. My job was to bury the martyrs," he said."When I saw what they had done to them, how they were cut up with knives—no way, there is no trust. Even if they secure everything we need, there is no trust," he added(Yahya 2018).
•Sana and her sisters were forced to live in one room for two weeks, as their home was destroyed around them. She says,"We left Syria one week ago. There were so many explosions…so we had to leave Syria. What do I remember of Syria? I remember two things—our house being bombed and not having any bread. Most of the houses were being hit. We had to stay in one room, all of us. The other rooms were being hit—(…). The bombs were hitting constantly, I was very scared."
•Yasmine talks of her fear:"I felt so afraid; I knew we could not move from that one room. There were 13 of us in total. We did not leave that room for two weeks. It was always so loud."All the sisters were gathered at home one day and they witnessed their father's killing. "My father left the room. I watched as my father was shot outside our home. I started to cry; I was so sad. We were living a normal life. We had enough food, now we depend on others. Everything changed for me that day," she says., ("Stories of Syrian Refugees" n.d.).
•Farah and Adnan led a comfortable, successful life in Syria. They had a large house overlooking the city, where they lived with their two children, Fathi, 3, and Zeinah, 1. Farah was hoping to return to school to continue her education, which she had put on hold after having her first child, and Adnan, an Arabic teacher, was pursuing a law degree. Their large, tight-knit family—Adnan has 8 sisters and 5 brothers and Farah has a large family as well—all lived nearby.Then, their house was seized by fighters because of its location. Soon after,it was destroyed. They were homeless, and the nearby cities were under attack as well. Before the bombings could start in their city, Farah and Adnan made the choice to leave their home in order to keep their children safe."My children were born in the city, and my whole family lived there, but we had to flee to Turkey during one of the outbreaks of fighting," said Farah. "If we hadn't left when we did, we would have been killed along with so many other people."
Farah, Adnan, and their children stayed in Turkey for one year before making the short but treacherous journey to Kos, Greece. Farah thought they would die on the boat crossing, and in Greece, hotels mistreated them, and they had to keep moving around. Farah estimates that they spent almost $1,400 on hotel rooms their first week in Kos. However, spending money on hotels is not their only worry. Both their children desperately needed to see a doctor. Save the Children is giving Fathi and Zeinah the emotional and psychical support they need, but their journey is far from over. Farah and Adnan are soon leaving Greece to make their way to Germany, a nearly 2,000 mile trek. Farah craves a place to call home."I want to believe we can have a secure and peaceful life again," she says.
The conditions in Syria and Afghanistan and the data collected from the interviews validate motivation theory of preservation, which expresses that when individuals fear that they no longer can protect themselves, their families, and their social identity in their home country, they are motivated to move to find security for their families.
Application of Motivational Theory of Self-development
Germany introduced a new immigration bill in 2001 with attractive economic elements when other European countries were contemplating to further restrict their immigration policies in the face of increased terrorism. After four years of intense negotiation between the different political parties in Germany, a law was passed that allows legal immigration of exceptionally skilled workers and self-employed people. In addition to attractive economic elements, the law would empower responsible officials to deport hate preachers and terror suspects. The law was mainly focused on addressing the shortage of highly skilled labor requested by many employers in Germany. This opportunity attracted hundreds of thousands of people from countries where economic opportunities were scarce and unemployment rates were high.
As many as 1.2 million people immigrated to Germany in 2013,with 755,000 or 62% of the total immigrants coming from the European Union (EU) itself to find better jobs, master their skills, or get higher education. Most of the 62% of immigrants were from Poland, where safety was not an issue. Poland had an unemployment rate of over 14% between 2010 and 2015, and the Polish considered Germany's new immigration law as an excellent opportunity to improve their economic situation.
Another immigration trend is the immigration of job seekers coming to Germany from the south of Europe. Due to high unemployment, especially amongst younger people, more and more qualified professionals are entering Germany. The number of Greek, Spanish, and Portuguese immigrants rose, with most having at least a college degree. The security situation in both East and South Europe is stable, and there is no evidence that people are leaving due to security issues. Data collected from the European immigrants in Germany shows that the motivation behind their decision was personal growth, knowledge, and higher skills. The motivation of the immigrants from Poland, Greece, Spain, and Portugal validates motivation theory of self-development. The theory states that self-development motivation to emigrate expresses the higher-order openness to change the value type that emphasizes self-direction, creativity, challenge, and adventure.
Motivation Theory of Materialism
Many European countries have created a special visa for those who would invest a significant amount in the country's economy. Germany's investor visa program provides incentives to encourage foreign investors to either start up a new business or invest in established businesses. Their reward would be citizenship as well as a passport that would allow them to travel, work, or live anywhere in Europe. Concerning Chinese investors emigrating to Europe, Wong and Primecz wrote, "We argue that these 'new migrants' are active entrepreneurs seeking new market opportunities, and many have served local market needs. It explores the development and nature of newly created Chinese enterprises by examining the opportunities arising from 'structural holes' in the economy."Additionally, they drew on the concept of mixed embeddedness as the crucial connection between social, economic, and cultural contexts, from which migrant enterprises emerge and into which they are embedded(Wong and Primecz 2011).
An estimated 200,000 Chinese immigrants live in Germany. While most of them came to Germany with labor visas, a large number of them are business owners who emigrated to Germany to expand their local businesses based in China. "The small but growing crop of newcomers is nothing like the immigrants who worked in restaurants in the 1980s and 1990s. They wear fine leather shoes, banter in German, shuttle between Europe and China, and hold MBAs and accounting and legal qualifications, said Rainer Gehnen, executive director of the German-Chinese Business Association." Numerous investments have been coming from China to Germany, and they need locally experienced legal, tax and management consultants and advisers. "Many service providers in Germany hire Chinese professionals to facilitate efficient communication with their Chinese business partners" ("Chinese Professionals Make Their Mark in Germany" 2013).The immigration of Chinese investors in Europe, in particular, Germany, validates the motivational theory of materialism, which deals with financial wellbeing, wealth, and control over material resources.
Conclusion
Data from Syrian, Afghans, Polish, and Chinese immigrants in Germany were critical to the investigation of general motivational theories of migration. I have applied three different theoretical motivations—motivational theory of preservation, motivational theory of self-development, and motivational theory of materialism—to the data and have confirmed the validity of all three theories. It means, moving forward, that ever more attention needs to be paid to motivation theory, across many other cases and diverse global regions, as it seems to have that magical intellectual quality of being both flexible and accurate.
Finally diagnosed with Bipolar and understanding God's purpose for my life
I've outlasted a lot of things. I'm over 35. I am nearing 40 years of age. I've made mistakes and lived with regret but I don't anymore. And I'm finally able to make peace with the mistakes I've made in my past.
I can forgive someone who brought me pain. The suicidal thoughts that I've manages to overcome. I think of our happy my parents were in my childhood. I think of every childhood experience as happy except the memories brought back to me of apartheid. I don't have to tell myself anymore, you can make it. By the grace and mercy of God, I've survived. And it is God that has outlasted my storms.
So for the millions of people out there who have been diagnosed with a mental illness or have a loved one living with a mental illness, be brave. You are going to get through this storm. You're a fighter.
You're going to make it and when you come out on the other side, talk about it, or write about your survival, tell someone about it, become a storyteller, or give your testimony. You might save a life in the same way yours was saved.
As I write this I think of Robert Lowell, Anne Sexton, Sylvia Plath and being fake-happy. Pretending to love being alone and not being the proper example of a good daughter. You want someone to love you until the end of time. I want someone to love until the end of time. I want people to love me. To remember me. In some way I want to belong to the world. I grew up with a narcissistic mother who passed this trait to her only son and middle daughter. That and beauty. That and arrogance.
But beauty fades like fast cars. It's just tears I tell myself.
Tomorrow I'd have forgotten about them. Anticipating waves or the vibrations of depression does nothing for the way you look on the outside. It is all for you. I do it, I write it for you. I don't know who you are. I just know that you accept me for who I am. I'm growing older and in the blue-dark I can't see that I am growing older. All I do, the poetry, the writing is for you. I'm selfish that way, I guess.
I don't want happiness. I just want a brave personality. That and the writing is what gets me through the hours, the day, the night. And sometimes I try very hard through the tears not to even think of going there. Of letting go. Sometimes I think I love this world too much. I love you, the Reader. I do love you. Perhaps in the end you're the only thing that's keeping the chemicals from balancing me the right way up. It's all for you the Reader. Everything that I've ever written. You're the assignment. Perhaps you're the mission.
I was finally diagnosed with bipolar mood disorder after Tara. I spent
6 months in a mental institution in Johannesburg. Mental illness stamped on my forehead for all to see, alongside a stigma, a family (and paternal and maternal family) that saw to it that I quickly became an outcast, felt like an interloper when spoken to. I was ignored, and sat quietly by myself at family functions. It was as if I was in high school again. I never cried about it, but I don't think that made me brave.
I was half-mute like Princess Diana, and Maya Angelou as a child.
Something had happened to me. Somehow I had been transformed intrinsically in childhood (it was because of my mother's mental, verbal, and emotional abuse), but was it the environment that changed, no, no. It was human nature. All the humans around me. Bright children, no matter how bright they might seem even if adult words come out of their mouths, all children are still innocent. And all children want is the mother-love, and I felt the lack of mother-love acutely with an acumen and focus beyond my years.
I was called insubordinate by a male teacher once. Years later when we met at a prayer meeting, he spontaneously embraced me. In that moment, I forgave him. For the corporal punishment he had meted out to me for letting someone else, a popular girl, copy out my answers in a test. I thought I would be liked. But I wasn't. I was still a goody two shoes.
I still sometimes would spend break in a bathroom stall.
As a moony-moody teenager I would read. I was mostly withdrawn, serious, never smiling (I never smiled once at Collegiate, it hurt too much to smile, my mother would go on rampages then, hurling mental abuse at me in the morning for breakfast, afternoon tea, and supper which my sister made for us. My mother was depressed too in a sinister and deceptive way). Now let me get back to never smiling, and never playing team sports.
Let me talk about the (good) old days. Collegiate High School for Girls in Port Elizabeth (a Model C school). That year, 1995, I was of course a perfectionist. A bipolar perfectionist who only ever understood the world of achievement, achievement. It had nothing and everything to do with having a Khoi-ego, Khoi-identity, Khoi-personality. But I would only understand the knowledge of Khoi-anything later on.
In those days I relaxed my hair. My hair was so straight it made no curls or waves, and I wore it in a ballerina bun. I was skinny, not voluptuous or buxom like the other girls. Late to bloom, as the saying goes. At 17 years old, or 16, I forget, all I could think of was my shame. My shame that I was not White. The shame of not having straight hair. The mortifying shame of not being athletic, not being able to play sports, not being able to be singled out first for a game during P.E. period I did not play hockey, or tennis (my mother got her Transvaal colours for tennis in high school).
I did not have blonde hair, and freckles on my face, forehead, knees, and the rest of my body. I did not have freckles in secret places.
But I learned quick, and I also learned very slowly that people don't easily forgive, and forget if you live with a mental illness. This made me withdraw even more into my mute-self. For most of my life I lived like this with a mute voice inside of me until one day I began to write. I was 8 years old.
In later years cousins on both sides of the family despised me (because I was mentally ill). I could see it there in there eyes, as they did not meet my gaze whenever I spoke. Family despised me (because I was mentally ill). I was not invited to weddings, or kitchen teas. Women-fold women-folk kind of things. They despise you (this I told myself) because society despises lunatics, and for a long time I was happy encompassing whatever this word meant. Lunatic. It was me who was more in touch with reality than the ones who thought I was mad, I have come to accept this now. I have other much more important, and significant things on my mind, and I am about to begin to write my first novel. This is what moves me to write this for other people suffering in silence, people who are being told to pull their socks up (or that they 're beginning to be too big for their britches). Don't live a half-life. Don't live a half-lie.
Thoughts after reading Kiran Desai's "The Inheritance of Loss"
You will experience happiness, I was the one who told myself this. No one else. The museum has invited me again to one of their lectures, but I never go. They will stop inviting, like they my father, one of these fine days, and then where will that leave me, and the fine museum built with my father's hands. The South End Museum in Port Elizabeth, at the cusp of the Eastern Cape where in 1820 the English arrived. Sir Rufane Donkin who was to be the governor of the Cape (did he plunder, steal, rape, colonialise I thought to myself or was it kismet, fate, destiny written in the stars. Sir Donkin came with a mad wife in tow. Was she a Mrs Rochester, like me, like me, like me.
Bipolar, mosaic, atlas that it is, well for me it did the impossible with its overpowering (aplomb), uplifting gift that it gave me.
Sometimes the day itself is perfumed with good thoughts of T.S. Eliot, Hemingway, Fitzgerald, Pound, Nabokov, the Russian writers, the Russian poets, the Russian masters, Isobel Dixon, Ingrid Jonker, Plath and Sexton. To me the women had superpowers, and the men, intelligence seeping through their every pore, I wanted them to talk to me, pull me into their arms and hug all my sadness, grief, loss, loneliness, frustration away from the secret chasms of my heart. I wanted them to lull and pull the self-pity that looped itself like cobwebs about my self-worth. Beautiful people, the beautiful women, that beautiful lady that was my mother that smelled just like Yves Saint Laurent's Algeria, the beautiful men, seemed on the surface tension of things to get everything. They were rewarded. I was not.
I have this imperfect list of thoughts when I was reading Kiran Desai.
Oh, how I hope to be a respected and wonderful writer as she and Anuradha Roy is. Arundhati Roy, the writer of "The God of Small Things". Sometimes I feel like a guardian, or rather a guardian angel when I write. I am hidden subtly, but also at the same time beyond opinion, and I also find that I am beyond caring for the approval of others. And by that of course I mean my sly and beautiful mother. Hair attractive as it falls about her face, hairpins/hair scarf/hair band loosened by her movements during the day and I try not to think of her telling me to make up my bed, or how they laugh at me, and look at me with this infuriating smile on their faces as if they know better.
Sometimes I think to myself who is the enemy now. Is it me, is it me who has to every year be put away for a week for my own good, to recover from ill health
I was sixteen years old when my mother dragged me to the Indian-looking psychiatrist who had studied in Vienna. And as I think back to that year I think of my identity coined now. That "term" on the inhale, and exhale of every breath that I take. That of a Khoi-female identity. Khoi-writer of prose, and poetry.
Young women learn government fundamentals in nationwide leadership program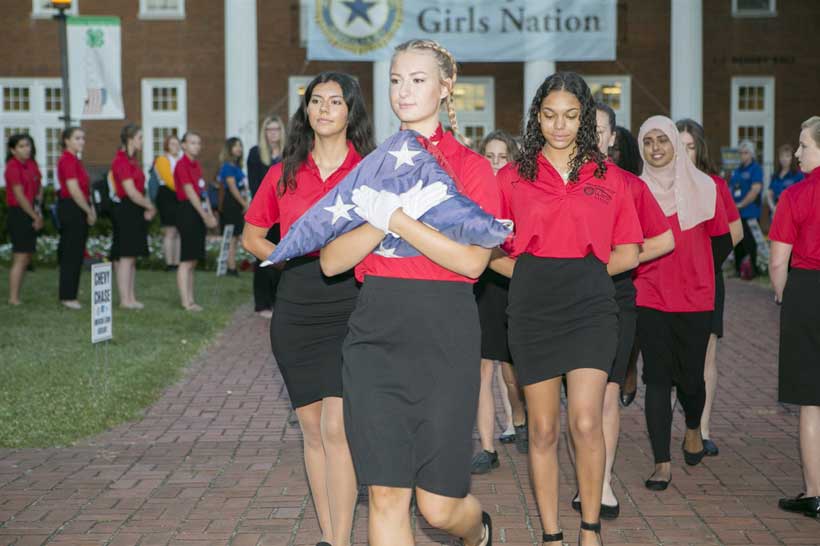 This July, two teenage girls from every state in the country met in Washington, D.C., for the 73rd annual American Legion Auxiliary Girls Nation. This one-week government-in-action leadership development program is designed to educate future leaders on U.S. government fundamentals and the rights, privileges and responsibilities of citizens.
The girls selected to go to ALA Girls Nation are chosen from week-long ALA Girls State programs in each state. The young women become "senators" for a week and participate in mock political campaigns and debates, visit historical sites, and meet their real-life counterparts on Capitol Hill. For a number of the participants, the program's impact extends beyond the weeklong event: Many go on to serve in the military and credit ALA Girls Nation as their source of inspiration.
New ALA member and U.S. Army Capt. Virginia Clark, stationed at Fort Benning in Georgia, is an ALA Girls Nation alumna. Though she says she has always been patriotic, her experiences at ALA Girls State and ALA Girls Nation helped her realize she wanted to serve her country. "Being around really motivated people made me realize I wanted to be around people who were spending their time doing things rather than looking for the next great party," Clark said.
Reflecting on where she has been and where she is going, Clark says she owes it all to the American Legion Auxiliary. "I wouldn't have gotten into West Point without ALA Girls State and ALA Girls Nation … I 100 percent owe, I think, my current life and my career — I met my husband at West Point — to the fact that I went to ALA Girls State and ALA Girls Nation."
For some girls, the Washington, D.C., leadership program is their first opportunity to connect with peers with common interests. For others, it is the first time they encounter students whose perspective differs from their own. For all, it is a moment in time where similarities and differences come together to symbolize strength, democracy and freedom.
Former ALA Girls State and ALA Girls Nation attendee Allyson Snelling, who is attending the U.S. Military Academy at West Point, chose a career in the military because she "loves everything it represents." She adds, "The values and lessons I've learned during my short time at West Point have made me a better person and leader." Snelling said the program taught her the power of one voice and the importance of communicating with others. "Being able to communicate with someone you may completely disagree with is becoming a lost art," she said. "ALA Girls Nation taught me that it doesn't matter if you agree; it matters that you understand."
ALA Girls Nation alumnae have gone on to hold leadership roles in industries spanning government, media, education and law, and many have become high-ranking members of the military.
Notable alumnae include Jane Pauley, national media personality; Susan Bysiewicz, lieutenant governor of Connecticut; retired Lt. Gen. Michelle D. Johnson, former superintendent of the U.S. Air Force Academy and former Air Force aide to the President; Ann Richards, former governor of Texas; and Susan Porter-Rose, former chief of staff to First Lady Barbara Bush, among many others. ALA Girls Nation is proud to be a foundation of support to the future strong women of this great nation.
The American Legion Auxiliary (ALA) is a nonpartisan organization committed to advocating for veterans' issues, mentoring America's youth and promoting patriotism. They advance the mission of The American Legion, incorporated by Congress in 1919 as a patriotic veterans organization founded on four pillars: Veterans Affairs & Rehabilitation, National Security, Americanism and Children & Youth.