11 Million People Employed in Renewable Energy Worldwide in 2018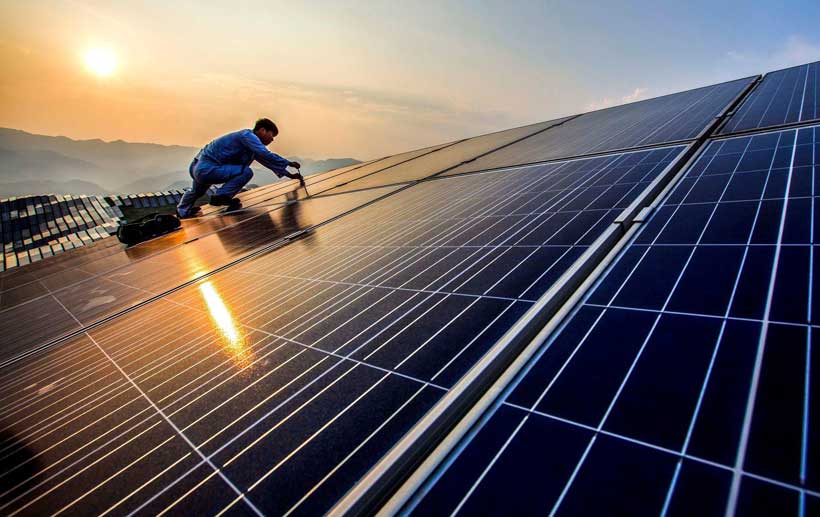 Eleven million people were employed in renewable energy worldwide in 2018 according to the latest analysis by the International Renewable Energy Agency (IRENA). This compares with 10.3 million in 2017 . As more and more countries manufacture, trade and install renewable energy technologies, the latest Renewable Energy and Jobs – Annual Review finds that renewables jobs grew to their highest level despite slower growth in key renewable energy markets including China.
The diversification of the renewable energy supply chain is changing the sector's geographic footprint. Until now, renewable energy industries have remained relatively concentrated in a handful of major markets, such as China, the United States and the European Union. Increasingly, however, East and Southeast Asian countries have emerged alongside China as key exporters of solar photovoltaic (PV) panels. Countries including Malaysia, Thailand and Viet Nam were responsible for a greater share of growth in renewables jobs last year, which allowed Asia to maintain a 60 per cent share of renewable energy jobs worldwide.
"Beyond climate goals, governments are prioritising renewables as a driver of low-carbon economic growth in recognition of the numerous employment opportunities created by the transition to renewables," said Francesco La Camera, Director-General of IRENA. "Renewables deliver on all main pillars of sustainable development – environmental, economic and social. As the global energy transformation gains momentum, this employment dimension reinforces the social aspect of sustainable development and provides yet another reason for countries to commit to renewables."
Solar photovoltaic (PV) and wind remain the most dynamic of all renewable energy industries. Accounting for one-third of the total renewable energy workflow, solar PV retains the top spot in 2018, ahead of liquid biofuels, hydropower, and wind power. Geographically, Asia hosts over three million PV jobs, nearly nine-tenths of the global total.
Most of the wind industry's activity still occurs on land and is responsible for the bulk of the sector's 1.2 million jobs. China alone accounts for 44 per cent of global wind employment, followed by Germany and the United States. Offshore wind could be an especially attractive option for leveraging domestic capacity and exploiting synergies with the oil and gas industry. Renewable energy jobs highlights:
The solar PV industry retains the top spot, with a third of the total renewable energy workforce. In 2018, PV employment expanded in India, Southeast Asia and Brazil, while China, the United States, Japan and the European Union lost jobs.
Rising output pushed biofuel jobs up 6% to 2.1 million. Brazil, Colombia, and Southeast Asia have labour-intensive supply chains where informal work is prominent, whereas operations in the United States and the European Union are far more mechanised.
Employment in wind power supports 1.2 million jobs. Onshore projects predominate, but the offshore segment is gaining traction and could build on expertise and infrastructure in the offshore oil and gas sector.
Hydropower has the largest installed capacity of all renewables but is now expanding slowly. The sector employs 2.1 million people directly, three quarters of whom are in operations and maintenance.
ADB, Gulf PD Sign Deal to Build 2,500 MW Power Plant in Thailand
The Asian Development Bank (ADB) and Gulf PD Company Limited (Gulf PD) today signed a $180 million agreement to build and operate a 2,500-megawatt (MW) combined cycle gas turbine power plant in the Rojana Rayong 2 Industrial Park of Thailand's Rayong Province, about 150 kilometers southeast of Bangkok.
Gulf PD is owned by Independent Power Development, a joint venture between Gulf Energy Development Public Company Limited (GED) and Mitsui & Co., Ltd. (Mitsui).
ADB's support is composed of a regular loan of $50 million and a B loan of up to $85 million. ADB will also mobilize $45 million through the Leading Asia's Private Infrastructure Fund (LEAP), established in 2016 and supported by the Japan International Cooperation Agency. ADB signed the loan agreement with its cofinanciers—the Japan Bank for International Cooperation and 12 other international and local commercial banks—playing an anchor lender role in the project by catalyzing up to $764 million in commercial cofinancing. The B loan will be funded by Singapore's Oversea-Chinese Banking Corporation and Germany's DZ Bank.
The agreement for the Eastern Economic Corridor Independent Power Project was signed by ADB Deputy Director General for Private Sector Operations Mr. Christopher Thieme and the CEO of GED Mr. Sarath Ratanavadi at a ceremony in Bangkok.
"The project will build the fourth-largest power plant and one of the largest combined cycle gas turbine power plants in Thailand, which will be key in the Eastern Economic Corridor (EEC) development plan, considered as the prime economic growth driver for the country until 2028," said Mr. Thieme. "ADB is proud to play an essential role in this transaction, which will help provide reliable power to industry and households and boost Thailand's economic growth and development prospects. We are particularly pleased to bring in additional cofinanciers to this transaction through our B loan program and LEAP, since the financing gap will be one of the major challenges for the success of the EEC development plan."
The plant will be fully operational by 2024, delivering at least 16,000 gigawatt-hours of electricity to users. With the state-of-the-art combined-cycle gas turbine technology to be used at the plant, the project will mean 1 million fewer tons of carbon dioxide is emitted every year compared with current electricity grid emissions. The plant will be integral to sustaining Thailand's energy security given that more than 8,500 MW of generating capacity—equivalent to about 20% of current national energy capacity—of aging power plants will be retired between 2020 and 2025.
Gulf PD was established in 2012 to develop, construct, own, and operate the 2,500 MW power plant. GED is a leading power generation company with the largest portfolio of contracted power purchase agreements in Thailand. Mitsui, established in 1947, is one of Japan's largest trading companies involved in the development of more than 74 power projects globally.
Latin America and Caribbean on the Brink of Massive Solar Power Growth
Latin America and the Caribbean could grow their installed solar capacity by a factor of 40 by 2050, a new report by the International Renewable Energy Agency (IRENA) shows. Annual investmens exceeding seven billion would see the region's solar PV capacity rise from 7 gigawatts (GW) today, to more than 280 GW by mid-century. While solar energy remains the highest in Asia, North America and Europe, market growth is set to shift to other regions in the world.
By that time, solar PV would represent the second-largest power source behind wind, generating a quarter of the world's power, "Future of Solar Photovoltaic" launched today at "Sun World 2019" in Lima finds. In total, global solar power capacity would rise from 480 GW in 2018 to over 8000 GW by 2050, growing by nearly 9 per cent every year.
"Solar PV and other renewables sources represent the most effective and ready solution for addressing growing energy demand and limiting carbon emission at the same time," said IRENA's Director-General Francesco La Camera. "Renewables are practical, affordable and climate-safe. They are key to sustainable development, enabling energy access, spurring economic growth, creating employment and improving health. Particularly solar energy is set to become one of the most prominent power sources in 2050. Projected growth rates in markets like Latin America showcase that we can extend the energy transition to all countries. It's possible."
If accompanied by sound policies, the transformation driven by renewables such as solar can bring substantial socioeconomic benefits, IRENA's new report finds. The global solar industry has the potential to employ over 18 million people by 2050, four times more than the 4.4 million jobs today.
Over the last decade, installed capacity of off-grid solar PV has grown more than tenfold, from roughly 0.25 GW in 2008 to almost 3 GW in 2018 around the world. With its modular and flexible nature, solar PV technology can be adapted to a wide range of off-grid applications and to local conditions. Indeed, off-grid solar PV is a key technology for achieving universal electricity access, in line with the UN Sustainable Development Goals.
Similarly, the deployment of rooftop solar PV systems has increased extensively, which today makes solar PV in some markets more attractive than buying electricity from the grid. The competitiveness of distributed solar power is clearly raising deployment in large markets, including Brazil, China, Germany and Mexico.
Statistical highlights:
Accelerating solar PV can cut energy-related CO2 emissions by 21 per cent in 2050.
With over 50 per cent of installed capacity in 2050, Asia (mostly China) would continue to dominate solar PV power, followed by North America (20%) and Europe (10%). The Latin American market would grow from 7 GW in 2018 to over 280 GW.
Annual solar PV investment would have to increase by 68 per cent on average globally, from USD 114 billion in 2018 to USD 192 billion in 2050.
Global levelised cost of electricity (LCOE) for solar PV will continue to fall from an average of USD 85 cents per kilowatt-hour (kWh) in 2018 to between USD 5-14 cents per kWh by 2050. A recent solar and wind power auction in Colombia was awarded for an average electricity price of USD 27 cents per kWh.
Due to innovations, solar PV remains a fast-evolving industry. Floating PV is one of the most prominent examples with global cumulative installed capacity exceeding 1 GW in 2018. Battery storage and electric vehicles are key solutions to support the grid and manage high shares of solar PV as well as to guarantee the flexibility of the power system.
The full report "Future of Solar Photovoltaic. Deployment, investment, technology, grid integration and socio-economic aspects" can be found here.
IRENA Facilitates Investment and Renewable Projects on Ground in Africa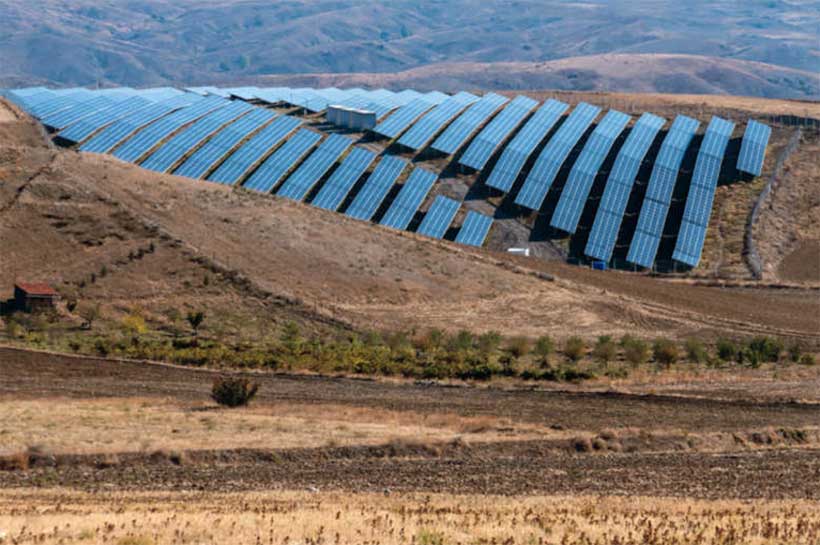 Boosting renewable energy projects on the ground requires scaling up investment. IRENA's state-of-the-art analysis of enabling policy frameworks and finance mechanisms channel public and private investment in markets like Africa, Latin America, Asia, South-East Europe and the Small Island Developing States (SIDS). Now, IRENA is taking its work one step further by increasing the Agency's on-ground impact with 15 regional and sub-regional platforms which aims at scaling up renewables deployment and investments.

One step in this new direction is the event that took place in Johannesburg as part of the Africa Investment Forum hosted by the African Development Bank. It facilitated renewable energy deal-making in Sub-Saharan Africa in partnership with Power Africa and the African Trade Insurance Agency. The event corresponds to IRENA's new direction and way forward ensuring an acceleration of the renewable energy transformation globally.
Speaking at the Investment Forum in South Africa, IRENA's Director-General Francesco La Camera underlined the importance of renewable energy to meet sustainable economic growth and Africa's climate and development ambitions. "Now more than ever, renewables have become a compelling investment proposition", said La Camera. "With renewable energy technology prices set to decline, the cost-competitiveness of renewables will strengthen further. IRENA's analysis shows that nearly a quarter of Africa's energy needs could be met from indigenous and clean renewable energy sources by 2030. This would result in a wide array of socio-economic benefits in terms of economic growth, welfare, employment and energy access. It's Possible".

IRENA has been committed to supporting African governments in their quest for a sustainable energy future. The Agency has supported countries in building attractive investment frameworks for renewables to strengthen institutional and technical capacity. It has also supported the development and financing of renewable energy projects through project facilitation tools.
"A lot remains to be done to address the key risks and barriers that hinder the scale-up of renewable investment in the region", La Camera continued. "There is no shortage of renewable energy project proposals which are competing for investor capital. But they are not always financially viable. Many proposals fail to materialize due to high cost of capital, limited access to risk mitigation solutions and long delays in projects".

By building on its extensive project pipeline in Sub-Saharan Africa with over 90 renewable energy projects, the Agency has showcased 10 renewable energy projects at the Investment Forum. Projects from Cameroon, Cote D'Ivoire, Kenya, Mali, Senegal, Sierra Leone and Togo which have a total capacity ranging from 6 MW to 70 MW – covering technologies like wind, solar, bioenergy and hydropower – were presented.

IRENA's project facilitation platform provides project owners and developers with increased visibility for their projects among financiers and other market players. Project owners have access to wide range of financial instruments provided by multiple investors from development finance institutions, private companies, utilities, private equity funds, donor and multi-donor facilities, commercial banks and more, as well as access to different services for example legal and financial advisory, environmental, project development and Engineering Procurement and Construction contracting.
More information about IRENA's project facilitation.