Marriott International Opens Second Four Points by Sheraton in Tanzania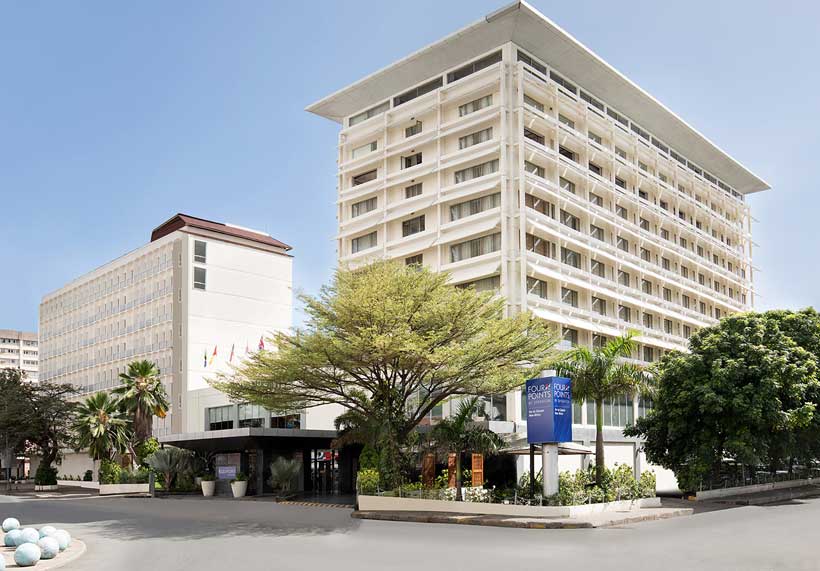 Marriott International, Inc. announced the opening of its second Four Points by Sheraton hotel in Tanzania, Four Points by Sheraton Dar es Salaam, New Africa Hotel. The original New Africa Hotel was built as the official residence of Kaiser Wilhelm II in 1896. It was used as a hospital during World War I before being converted into a hotel during the British Empire. Sitting at the heart of the central business district of the city, overlooking the Harbor the hotel has since emerged as a landmark and an integral part of the burgeoning city. With the renovation and the rebrand the hotel continues to retain its unique charm, while delivering on the brand's promise to provide what matters most to today's independent travelers.
"Four Points by Sheraton Dar es Salaam, New Africa Hotel, is a great addition to our rapidly growing footprint in Africa and further consolidates the brands presence in Tanzania. We are confident that with its blend of stylish comfort and genuine service at a great value, the hotel will meet the rising demand for high-caliber lodging in this fast-growing market and soon emerge as a leading choice among business and leisure travelers," said Alex Kyriakidis, President and Managing Director, Middle East and Africa, Marriott International.
Designed for the modern traveler with an emphasis on approachable design, the 174 room Four Points by Sheraton Dar es Salaam, New Africa Hotel, features spacious and contemporary rooms including suites. It also offers an all-day dining, a coffee shop and a lounge-bar where guests can experience the brand's signature Best Brews™ program and watch their favorite sports matches. The hotel also features The Spice Route, a signature restaurant overlooking the Harbor showcasing Pan Asian fine dining.
Other facilities include an outdoor pool and a state-of-the-art fitness center. With 1000 square feet of indoor meeting and banquet space spread across 12 flexible meeting rooms, the hotel is an ideal venue for gatherings of any size including elaborate social events and weddings.
The hotel offers the brand's defining touches, including the Four Comfort Bed, complimentary bottled water in all rooms, fast and free Wi-Fi throughout the hotel and an energizing breakfast with freshly brewed coffee that helps guests start the day right.
"Our vision is to offer an uncomplicated travel experience for both business and leisure. Perfectly situated in the heart of the city, the hotel is at the epicenter, steeped in history and surrounded by local attractions," said Siddharth Chaudhry General Manager, Four Points by Sheraton Dar es Salaam, New Africa Hotel. "We look forward to welcoming our guests with the brand's signature warm and uncomplicated yet comfortable service."
Four Points has proven to be a global hit with its distinctive identity and ability to meet the increasing demands of the modern, everyday traveler. The brand is experiencing incredible growth momentum having surpassed the 250th hotel milestone globally. Over the past two years in East Africa alone, the brand has opened Four Points by Sheraton Hurlingham, Four Points by Sheraton Nairobi Airport and Four Points by Sheraton Arusha with Four Points by Sheraton Dar es Salaam becoming the fourth property to open in the region.
Andaz Brand Debuts in Dubai With the Opening of Andaz Dubai The Palm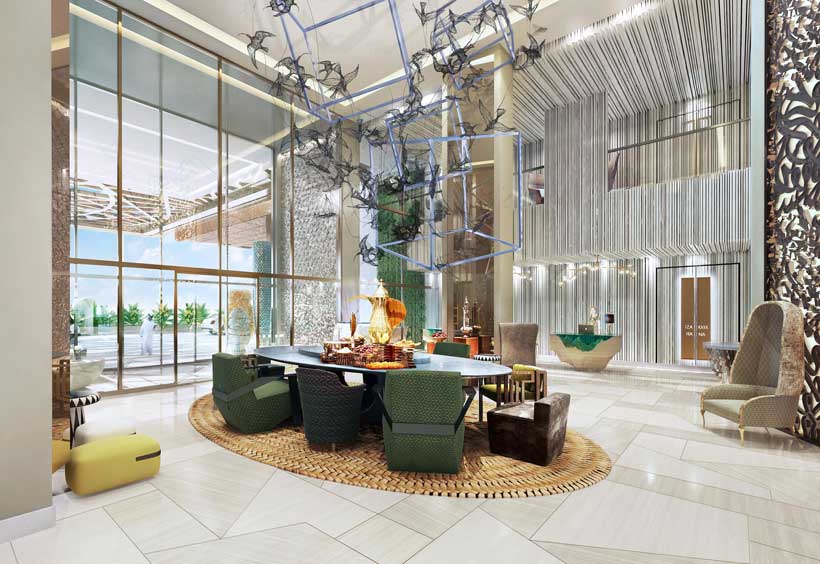 Hyatt Hotels Corporation announced today the official opening of Andaz Dubai The Palm. Joining Andaz hotels in top destinations around the world, such as Amsterdam, London, New York, Tokyo, Seoul and Shanghai, the latest addition marks the first Andaz-branded hotel in Dubai and the second in the United Arab Emirates, following the opening of Andaz Capital Gate, Abu Dhabi in 2018.
Andaz, Hyatt's luxury lifestyle brand, is rooted in local culture, immersing guests in elevated sensory experiences that celebrate the uniqueness of each property and its surroundings. Located in the heart of Palm Jumeirah, the hotel rests on the world's most iconic man-made island and offers travelers inspiring local programming, reflecting Dubai's rich culture and heritage. Andaz Dubai The Palm gives guests access to a private beach, as well as to several of Dubai's attractions, including the Nakheel Mall, Dubai Mall, Dubai Marina, Jumeirah Beach and Mall of the Emirates.
"The bustling Palm Jumeirah island serves as the ideal location for guests to immerse themselves in the sights and sounds of Dubai," said Kifah Bin Hussein, general manager, Andaz Dubai The Palm. "The hotel is created for the inquisitive traveler. Set in a vicinity known for luxury and exclusivity, Andaz Dubai The Palm reflects the city's eclectic style, showcased through local artist exhibitions and unique culinary offerings."
Concept & Design
Andaz Dubai The Palm is home to local art, embellished on the walls of the hotel in pop-up style exhibitions. The property breaks the mold with its unscripted check-in and check-out experience, without the barriers of a front desk or a queue. The journey of modern refinement commences from the moment guests arrive and transcends into every service offered.
Rooms & Suites
Encompassing 217 guestrooms, including 34 suites, and 116 residences, the property incorporates the sights, scents and textures of Dubai into every aspect of the room design. The ideal space to relax, unwind and entertain, the guestrooms are inspired by the Emirati culture with bespoke artwork and luxury amenities.
The hotel features 31 Andaz Suites, one Terrace Suite, one Prince Suite and one Royal Suite, each made with modern, minimalistic interiors and fitted with premium amenities, including separate living and dining areas, a terrace, a rain shower and a deep soaking tub.
Dining & Drinking
Home to five distinct dining venues that offer an abundance of local flavors and sensory experiences, Andaz Dubai The Palm creates a vibrant social scene through a medley of global and traditional Middle Eastern influences.
The Locale, a neighborhood eatery on the hotel's ground floor featuring an alfresco terrace, combines culinary stories from around the city and weaves a blanket of flavors that only Dubai has to offer. The restaurant is open daily for breakfast, lunch and dinner.
The sleek and stylish Hanami is a contemporary take on Japanese Izakaya, inspired by cherry blossom-gazing parties popular in Japan during Sakura season. Artfully crafted cocktails and sharing plates can be enjoyed against a backdrop of inspiring music and unobstructed skyline views from the 15th floor.
For the discerning guest, Knox is an underground speakeasy bar that challenges the status quo with a heady mix of contemporary mixology in an industrial-esque space with vintage rugs and vibrant furniture.
Expected to open in the second half of 2020 and taking its name from the friendly Macaw parrot, La Coco is a neighborhood beach club and lounge that offers casual bites and drinks poolside, so guests can enjoy a leisurely day, be it families on a fun day out or couples enjoying a sunset moment.
Guests can seek solace at The Andaz Lounge, the 'anti-office' that evokes the coziest of dens with plush seating, large tables, a library of books and a full-service bar. Decked in loud colors and featuring striking art pieces, the space stimulates engaging conversations over coffee or cocktails.
Wellness
Nestled on the 14th floor is the hotel's spa, Ora, a tranquil haven of relaxation with a carefully curated menu of facial and body treatments. On the same floor, guests will discover the adults-only Cabana pool area and state-of-the-art fitness center that completes the wellness experience.
Events
Offering approximately 6,350 square feet (590 square meters) of fluid, eclectic studio spaces, Andaz Dubai The Palm is a vibrant setting for both stylish social and corporate events.
The Luxury Collection Unveils Debut Property in the Seychelles
The Luxury Collection today announced the arrival of North Island, Seychelles into their portfolio of world-renowned hotels and resorts. With just 11 villas, Africa's most exclusive private island is located 30 kilometres from the mainland and is accessible by a scenic helicopter flight or an hour boat ride, giving guests an immediate sense of escapism.
Following its history as a coconut plantation, the granitic island is now a sanctuary for endangered species; luminous beaches and clear blue seas welcome nesting sea turtles, and the Palm forests are home to giant Aldabra tortoises and rare Seychelles white-eye birds. The island has been expertly designed and with pioneering conservation programs, offers the highest standards of hospitality, earning them status as an award-winning sustainable travel destination. With a mission to demonstrate that luxury with a conscience can co-exist, sustainability lies at the heart of North Island's philosophy and will be further embraced and supported with The Luxury Collection. The operational responsibility of the resort will remain with ASMALLWORLD, the world's leading travel & lifestyle community.
"North Island has always skilfully combined a sustainable and environmentally conscious management philosophy with the ambition to provide a truly immersive, barefoot-luxury experience. Whilst maintaining our identity and ethos, our work with The Luxury Collection will allow us to maximise our awareness in our continued efforts in pioneering sustainable luxury travel." – Jan Luescher, CEO of ASMALLWORLD
Eleven private guest and family villas line the island; each villa has been created using local materials harvested during the island's rehabilitation process, expertly balancing luxury and simplicity. An haute-couture Robinson Crusoe aesthetic has been applied through interiors celebrating the sheer indulgence of volume and space.
"North Island is one of the most rare and luxurious destinations in the world, making it a natural fit for The Luxury Collection and our global explorers who seek authentic experiences and connections to both pristine nature and elevated personalization," said Anthony Ingham, Global Brand Leader, The Luxury Collection. "This is the first private island within The Luxury Collection portfolio, and we're delighted to be expanding our footprint of captivating destinations with storied pasts and protected futures."
The island not only offers a calming refuge from the modern world, but also an invigorating, refreshing getaway connected to the island's natural beauty. Aquatic explorers can take part in snorkeling, diving, fishing, sunset cruises, kayaking, paddle boarding and surfing. Bespoke guided excursions for those looking to explore the granite peaks or coral reefs are also available. Whilst on land, forest trails can be explored by foot, bicycle or private buggy, or guests can simply relax on one of the island's four pristine beaches located at each end of the compass. The island is also the ultimate playground for families and children, with a Beach Buddy program tailormade to interests and hobbies. Parents are invited to take part, or can find their own relaxation whilst children remain supervised.
As part of a new culinary concept, Michelin-Star Chef Akira Back, brings his fine dining concept to the Piazza at North Island. The various dining venues lend themselves to a range of outstanding epicurean experiences with menus changing daily according to the latest island harvest. The Piazza is situated on the ocean front and offers candlelit, private dining utilizing the freshest ingredients from both land and sea. The more relaxed Sunset Beach Bar offers tapas and cocktails during sunset. In-villa dining centers on a comfort food menu featuring local Creole curries or classic dishes, complemented by a generously stocked villa pantry.
The North Island Spa is dwarfed by giant granite peaks, enjoys an open sea breeze and overlooks turquoise waters. Guests are invited to the spa on arrival where they are immediately immersed in 'island life' with each tailor-made treatment starting with a 'barefoot ritual'. A private consultation to create a bespoke spa experience is then formulated as part of a holistic journey of visual and textural contrasts, arousing the senses and rejuvenating mind, body and soul.
With2020 rates from US$6000 per night, North Island offers an inimitable experience that seeks to offer a contrasted way of life; rough and smooth, old and new, wet and dry, casual and refined, where footprints are the only evidence on the island's vast, untouched beaches.
The Park Hyatt Brand Celebrates the Debut of Park Hyatt Doha
Hyatt Hotels Corporation today announced the opening of Park Hyatt Doha in Qatar. The hotel occupies a prime location within the heart of Doha's new commercial and residential downtown district, Msheireb, and integrates the best elements of Doha's heritage with refined accommodations that provide a luxurious oasis amidst the pulsating capital.
"We are delighted to bring the Park Hyatt brand to the culturally and creatively rich city of Doha," said Kurt Straub, Hyatt's vice president of operations for the Middle East, Africa, and South West Asia. "The Park Hyatt brand is dedicated to creating exceptional and memorable experiences, and we are thrilled to welcome guests from around the world to this very unique location. The introduction of Park Hyatt Doha in Qatar strengthens Hyatt's vision of being the preferred brand for global travelers and enhances the brand footprint of Hyatt's luxury portfolio in the Middle East."
Located in Msheireb Downtown Doha, the hotel is less than 10 miles (16 km) from Hamad International Airport, and a stone's throw away from a Light Rail stop that runs through the development, as well as a short walk from the city's points of interest, including the Museum of Islamic Art and the National Museum of Qatar, Souk Waqif.
"We are thrilled to be part of the Msheireb development, Doha's first sustainable regeneration project," said Stefan Gaessler, the hotel's general manager. "Sustainability runs throughout the design of the project and all its buildings to reduce the project's carbon footprint and generate less waste, aligning with Hyatt's sustainability efforts to use resources thoughtfully, build smart, and innovate and inspire for a more sustainable future."
Guestrooms
The hotel features 187 elegant guest rooms, including 28 Park Suites, three Park Executive Suites, one Diplomat Suite, and one Presidential Suite. All rooms artfully combine a residential quality and understated luxury with the mystique of Qatari-inspired details; featuring floor to ceiling windows, luxury window seats, and a designer marble bathroom with deep soaking tub, rain shower and double vanity sink. The Presidential Suite, an extraordinary 4,305-square-foot (400-square-meter) two-bedroom space, and the Diplomat Suite, a capacious 2,690-square-foot (250-square-meter) one-bedroom space, both offer guests a private terrace with magnificent views over the Doha Corniche.
Dining
Home to rare and immersive culinary experiences, Park Hyatt Doha offers a world-class culinary journey. Sora, a stylish Japanese restaurant and lounge, offers magical views of Doha's skyline and boasts an ultra-modern space where guests can share small plates and enjoy the distinctive art of Robata. In Japanese cuisine, Robata refers to a method of cooking, similar to barbecue in which food items are cooked at varying speeds over hot charcoal.
The open-kitchen concept of Opus offers the freshest in local ingredients and a mix of Qatari and French cuisines with menus curated by Qatari celebrity chef, Shams Al Qassabi, and Park Hyatt Paris-Vendôme's Michelin-starred chef, Jean-François Rouquette.
With meals that please the eye and the soul, Anis is an all-day eatery serving as a social hub for health-conscious locals, passers-by and in-house guests to enjoy healthy to-go options, a variety of coffee, fresh juices and smoothies.
Events
A premier location to host inspiring and sophisticated corporate and social events, Park Hyatt Doha boasts a range of elegantly presented spaces, from a 376-square-foot (35-square-meter) intimate study lounge to a luxurious 3,196-square-foot (297-square-meter) pillarless ballroom.
For wedding celebrations, the hotel's in-house events manager offers expert consultation to make guests' dream weddings come true with meticulous attention to detail. Event and meeting spaces include a private entrance where guests are welcomed into a luxurious and intimate, apartment-style reception. Menus are also curated to satisfy every taste with the eloquent matching of culinary delights and the finest of drinks.
Wellness
Park Hyatt Doha's luxurious spa covers two floors, with one floor dedicated to women and another for men. Here, guests are greeted to a tranquil space, thoughtfully curated mood-inducing treatments, and a luxurious wet area featuring mood showers, a whirlpool, sauna, a steam room and an ice room. The spa also offers a post-treatment virtual reality headset which will leave guests with a carefully designed experience to complete their wellness journey.
The fitness center provides separate facilities for ladies and gentlemen with ample space and panoramic views over the Doha Corniche, coupled with the latest in weight training and cardiovascular equipment.
The year-round, semi-covered pool offers magical views over the city from the sixth floor, and is perfect for both business and leisure guests to catch up on work or unwind with a book, while enjoying hand-crafted healthy beverages.