Same old Modi puts himself in throne again but with different mandate this time. This time he came with much force and appeared more vigilant. Sweeping an electoral win with more than 300 seats out of 543 and restricting Indian National Congress to mere 52 seats. This clearly shows that India gave priority to nationalism over any other set of idea. Prior to previous electoral year i.e. 2014,Modi lured with promises of social and economic reforms and upheaval. Which sunk badly as some of the predicaments are still in the society. From being miserable in improving the job sector that gave rise to unemployment rate to the inducing grieves to the farmers, Modi bagged some failures as well in his previous tenure.
Whereas this time bait was the Hindu nationalistic sentiments, which Mr. Modi and his members of the den enjoyed the feast by winning the election. By using hate mandate, Modi successfully maneuvered himself and his party in to the realms of Delhi. Before elections, his unfortunate adventurous voyage with its neighbor and rival Pakistan made a lucid chance to portray himself as heroic figure. Modi flaunted anger and hate towards its immediate neighbor. It profited him in shape of getting a majority in the lower house of the Indian political saga. Hate sentiments were provoked and inducted in common minds. Question herby rises that how Hindu nationalism can or will transform India?
During previous reign of Mr. Modi, clear social and religious divisions were drawn onto the Indian society. This was mechanized in recent elections as well by promoting nationalism or more likely Hinduism. One of the tactics that was opted by BJP and Modi is persuasion of fears of Indian society and Hindu ideology and presenting himself as the only savior. Modi portrayed himself as the only option for Hindu caste to save Hindu ideology from external threats.
Modi has always been fond of shifting Indian secular discourse towards a Hindu nationalist sermon. His previous tenure and the plight minorities faced during that time testifies his aims. Now he has been elected for another five years. This time he has secured almost 56% of the lower house that clearly means that Mr. Modi will have to face no hurdle in his way towards passing a legislation.
Media and Modi has always been close aides to each other. This nexus was also prominent in the recent elections as Social and Electronic media, both were eminent in glaring Modi-ism. It ultimately cultivated his ideology in the minds of a common viewer hence reflecting it in the election results. His election campaign was given more coverage than any other thing on TV. The election soap series continued feeding the people of the India. Without any doubt, there have been immense flow of monetary funds in the veins on Indian media during the election time.
Modi's Bharatya Jantya Party or BJP's Modi have already drawn a plan to be executed in the society. Selection of candidates that were given tickets and won were some of the most extremist in nature. Shakshi Mahraj, a newly elected member of parliament on BJP's seat already has more than 30 criminal cases against him. Another newly elected BJP's Member of Parliament, Pragya Singh Thakur remarked Mahatma Gandhi's assassin as "a patriot". Not only this, selections for new cabinet members clearly indicated where Mr. Modi would be leading Indian society. Amit Shah who is also a president of BJP has ironically been selected as India's Home Minister. There is a clear chance thatnew reforms might be religion centric rather than being focused on governance. BJP will clearly exhibit the Hindu ideology in governance that would further raise concerns for the minorities in India.
The Indian future and the question of Indian minorities seems bleak. Modi created a narrative on abhorrence and nationalism, he won elections on this mandate but now he has to defend it and every word of hatred that came out of his mouth may be realized through his actions. It puts Indian society in a dismal situation.
It is arduous to analyze that how large populous has voted in favor of hate mandate prompted by Modi. But there is a chance that Indian society might be falling prey to reverse psychology. It indulged itself so deep and intense in criticizing and accusing its neighbor, Pakistan, for being extremist and conservative society that it itself is becoming one.
Not very long ago (Sept 2, 2019), India launched a rocket to the far side of the moon. It carried a lunar lander that fell silent following the landing attempt four days later. Had it survived, India would have become the fourth country in the world to accomplish the feat. Still, the partial success was a matter of pride. There have been other signal achievements including a doubling of GDP in the past decade. Then, why are Indians unhappy?
The World Happiness Report for 2018 ranks Pakistan and Portugal respectively at numbers 75 and 77 while India is far behind at 133 adjacent to Congo at 132 and Niger 134. Bangladesh at 115 is also happier than India. On the other hand, India's per capita GDP ($2036 — IMF) is now higher than Pakistan ($1555). So again, the question: Why are Indians unhappy?
Could it be the answer lies not in absolute but relative wealth? The Gini Index is a measure of wealth inequality where 100 represents the most inequality possible and zero perfect equality i.e. when everyone has the same wealth. On the subcontinent for 2018, Pakistan's index at 30.7 beats many first world countries while India's (35.7) is way behind. Pakistanis are also higher in generosity (0.216), whereas for India this variable is much lower at 0.172. Generally, charitable giving is found to improve self-image and well-being.
India is seeking another way as archeologists are busy trying to dig up evidence of events described in the Hindu religious texts — ancient civilization becoming a tool for expressing Hindu superiority and raising self-esteem. Yet India does not really have to; it can bask in the architectural glory and beauty of the Taj Mahal. The Bharatiya Janata Party (BJP) might have kept count of who were Hindu artisans and laborers and who Muslim, not the Mughals. Perhaps the BJP can find vindication and gratification in the fact that Shah Jahan's mother (Manmati Bai) was Hindu.
Mr. Modi might also glance westward at Egypt and its pyramids to observe that magnificent ancient civilizations do little to enhance stature in the present. A better focus for him could be on the 800 million of his own people trying to earn enough each day to get a meal; indeed, while his staff are proud to announce, he changes his clothes three times a day. Vainglorious and narcissistic may be, but it is difficult to forget Mr. Modi's chalk stripe suiting with his name woven into the stripes. Extreme penury and inequality are unlikely to make a people happy.
Add to that the caste system and its unbelievable (for the modern world) treatment of untouchables — who are not a negligible minority when every sixth Indian is one. The chronicle of a family, Untouchables by Narendra Jadhav is an enlightening but painful read. Imagine not being able to drink from the village well because of birth and heritage. Most humans are proud of their heritage, but like the Nazis earlier, the BJP tries to restrict it to the three upper castes among Hindus.
Recurrent lower-caste humiliation and threat of violence draws rancor turning to disguised hostility, not the best ingredients for a happy homogenized society. To this can be supplemented the newly-formed notion of Hindu superiority — a bald-faced conceit when the country had been ruled by Muslims and the British for 800 years, not forgetting the Sikhs in the Punjab.
There could be another marker for happiness: a low suicide rate. Science magazine's cover topic in vol 365 (23 Aug 2019) was devoted to the tragedy of suicide. The global average rate is 10.5 per 100,000 of population. On the subcontinent, Pakistan's is less than a half at 4.5; India's a whopping 15.6 (pp 736-7). Yet it is possible the rate is even higher as the notorious farmer suicide figures are manipulated by the states according to Wikipedia. The para on the number of farmers cites researchers' claims that "… official data may be overestimating the number of total farmers in India, and undercounting the total number of farmer suicides every year."
Worth a brief mention, Japan's tradition of harikari leads to the very high rate of 15.7; India with a comparable figure has no such tradition.
One surprise is that six of the top seven countries with the lowest suicide rates are not necessarily rich … just Muslim, so Pakistan is not an anomaly. Perhaps it is the Islamic emphasis on equality, brotherhood andmandatory charitable giving that facilitates societal cohesion. Islamic countries also average a rate so low as to be about a third of that for wealthy Europe and North America.
If it appears contradictory because the Scandinavian countries in Europe are also at the top of the happiness report, there are other issues to consider like the dark of winter leading to depression. Among the top ten in the world, the suicide rate in Greenland is 51.1, Lithuania 28.0, Russia 25.1. It seems the major reason Scandinavian countries are happier is due to the broad social welfare net covering healthcare, unemployment, pensions, and so on. It frees the populace from the usual worries about old age security or of paying large hospital and drug bills as in the US. Bangladesh, India and Pakistan are, however, comparable on the social welfare scale.
Then there is the serious issue of insurgencies. While mostly confined to the northeast and east, the battles are more common than is commonly realized. Thus the Armed Conflict Location and Event Data (ACLED) project reports that in 2016 (the latest figures) there were 186 violent events (about every second day) of which 52 percent were battles. Bomb blasts targeting security forces accounted for 19 percent and another 9 percent sought to destroy infrastructure. Violence against civilians hurt by both sides constituted the remaining 20 percent. These conflicts are ongoing since the early sixties with thousands of lives lost, as a quick glance at Wikipedia confirms. Of course, violence in Kashmir is on a different scale altogether for the lives lost number in the tens of thousands.
India is a fractious country divided by caste, religion, ethnicity, language; wracked by political and administrative corruption; stymied by bureaucratic incompetence; and yet producing brilliant engineers and scientists capable of world-quality research and space exploration. It is cause for hope, although slim, unless the country pulls itself up by its bootstraps socially and economically.
Author's Note: This article appeared first on counterpunch.org
Kashmir: The Unconquerable Will of Kashmiris is still Alive
Every dictatorship flourishes more on the continuing incapacity of the public to examine and evaluate reality in the way that a scientist does in a practical manner; and that's the reason why these skills, are not being taught in public education in order to keep them ignorant of the truth. In India, the children are reinforced with hatred for minorities especially Muslims, which develops into uncontrollable animosity, instilled in the minds of the masses by the dictators, without logical grounds. This is what has been happening in India since decades and now transformed into the genocidal agenda of RSS. The actual issue is actually with the Muslim identity that the people of Kashmiri have.
Kashmir, at the moment, is a prison under military control, not because of any rebellion which had happened there (none did); rather it is simply because of a senseless unconstitutional invasion, on August 5th, to conquer the valley (Muslim majority state) totally by Hindu Indian troops, to practice the nefarious designs of Hindu-totalitarian BJP government. Thus, turning India itself into an apartheid-supremacist regime, much like Israel is over Palestine. India has made this abrupt move to turn Kashmir into India's own Palestine, grabbing the lands of Kashmiris by revoking Article 35A and turning it into a huge prison for Muslims.
Decades have passed, however, and the plebiscite promised was never held. Kashmir is the most militarized region in the world, with armed Indian troops deployed in the Indian-administered Kashmir for more than three decades. They have occupied Kashmir through the use of colonial war measures acts, including the Armed Forces Special Powers Act and the Public Safety Act that have given Indian troops complete impunity. The Genocide Watch, which keeps an eye on disputes across the world, gave a brief history of Kashmir in its alert while detailing the reasons which led it to issue the warning. The report was issued for Occupied Kashmir in the wake of India's ongoing suppression in the Muslim majority region following revocation of its special status.
While explaining the reasons behind issuing the alert, the organization also recalled the Indian atrocities in Kashmir where occupation forces have carried out genocide and massacres, killing people mercilessly. The people of Kashmir have been suffering the human rights violations which include gang rapes and mass disappearances of thousands of people. As many as 100,000 Kashmiris have been killed and several thousand wounded, blinded with pellet guns and maimed, including through torture tactics in custody.
Though the imperialistic forces have tried their best to silence and suppress the Kashmiris, yet they have been fighting for self-determination for hundreds of years. Today, the Hindutva ideology disguised in the mask of nationalism to control the valley continue crushing the Muslims without any ignominy. Hence, India's decision to revoke Jammu and Kashmir's special status, is nothing other than yet another act of shameless imperialist aggression.
There can be no legal justification of Modi's traitorism to the Indian Constitution which he has been doing to J&K ever since August 5th. The only real question is instead whether Indian media will start to publicize this important fact or will it follow the path of yellow journalism as ever. Meanwhile, the Indian government races forward with its rape of India's Constitution, in the hope that the Muslims of J&K will evacuate that land so as to enable Hindus 'democratically' to enforce some sort of apartheid anti-Muslim regime there, which is a clear violation of Indian law merely to implement the RSS wicked strategies to achieve the Hindu control there.
There is no denying the fact that fascists everywhere are traitors to their country, and this is now being made manifestly clear in India where Modi seems to be like Hitler. Hence, the status of India as a democracy has been badly derailed because a country where the constitution is illegally exploited does not deserve to be called a democratic country. There is a procedure to be followed (to amend) any constitution i.e., an amendment bill must be passed by each house of Parliament by a two-thirds majority of its total membership when at least two-thirds are present and vote.
Therefore, Modi's hold of Kashmir is unconstitutional, at least unless and until India's Constitution is amended. Moreover, if Indian military continues its occupation there, then it is likely to spark a war in Kashmir, which could quickly become a war between Hindu-majority India and Muslim-majority Pakistan, next door to India.
Pakistan is the loudest to voice its opinion against change. Pakistan has always responded promptly when it comes to Kashmir and stated, ''Pakistan will exercise all possible options to counter the illegal steps. Kashmir is the jugular vein of Pakistan, and anyone laying a hand on our jugular vein will meet a frightful end."
In a nutshell, the BJP government is openly violating the international humanitarian law by means of this brutal and entirely unjustifiable military crackdown. The attempt to change demography of Kashmir through ethnic cleansing by India is being watched by the world and the international organisations are helpless in playing their role on Kashmir issue. Furthermore, it is unfortunate that the important Muslim countries including Saudi Arabia and UAE have not condemned Indian atrocities in IHK. It is only Pakistan which has always played a positive role and made constructive efforts to resolve Kashmir issue, where India has always responded back with aggression. But India should keep in mind that Pakistani forces are fully prepared to respond any Indian aggression in a befitting manner.
'Six weeks of Indian Disinformation in Kashmir Lockdown'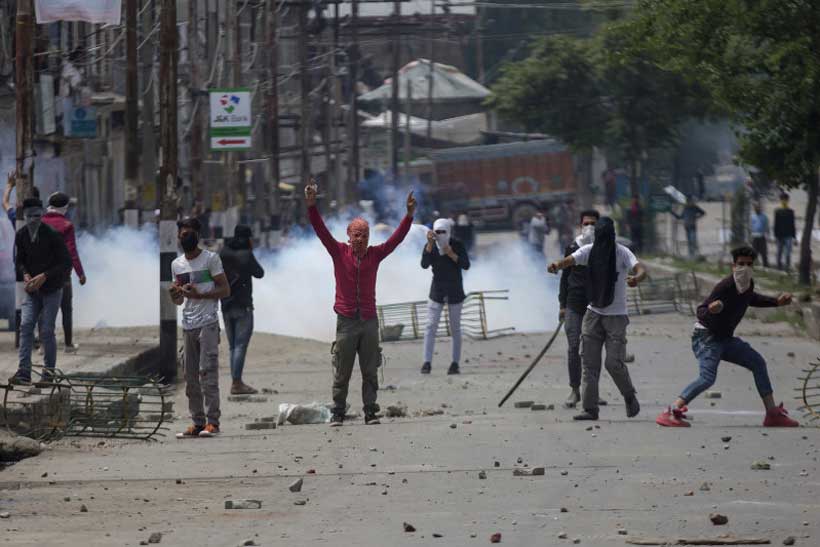 The Indian curfew in Srinagar, capital to Jammu and Kashmir territory climbs to six weeks. Not only are the roads concealed with military troops but the reality and misery of eight million people remains unexposed plus disinformed to the world. Despite of all international media spelling in unison the perturbed lifestyle of Kashmir, alas New Delhi's state media still presents a rare tranquil plot of the region. Only state centric news is transmitted with favorable changes and molds. Kashmir crisis is not an Indian debut with disinformation operations instead the Modi dominion is today termed a pro in this regard. The 'Bharatiya Janata Party (BJP) landslide' in 2019 electoral is largely credited to his 'bundle of lies' which induced the Indian general public to vote on the ideological lines of Rashtriya Swayamsevak Sangh (RSS).As supported by the popular American magazine 'The Atlantic'- many of India's misinformation campaigns are developed and run by political parties. Another Washington based institute labels 'What's more alarming is that political parties, including Prime Minister Narendra Modi's BJP, are behind most of these disinformation campaigns'. The critique and accounts of Pakistani leadership are pronounced as a tool of forged propagandaby Indian press -Zee TV and 'The Economic Times'.
Repression of truth with oppression
Discrete vistas have appeared between the on aired news from international broadcasting and New Delhi. The normalcy and ease of restrictions has been claimed in Srinagar since August as mentioned by 'The Economic Times' – Restrictions eased in J-K; life returning to normal. whereas AI Jazeera – the leading Qatar pay television channel repetitively discusses the torment of stranded people in lockdown. Al Jazeera, identifies back to back ' average 20 protests each day' which explicitly notifies that the curbing termed curfew is alive.
According to DW, a German news network the 'truth cannot be verified' as the security forces turn the camera away, 'the right to speak freely will not simply be restored when the phones start ringing again' as the newspaper editors in Srinagar complain being dictated what to write and what not to. Under the fascist policies of Narender Modi people are detained from speaking actual situation on media and are facing harassment from Indian troops resting all over the roads since August 5,2019. The few days back episode of Dr. Omer Salim is an exemplar who on spot during his interview to a BBC reporter was captured by Indian police. The video clip is a vivid demonstration that how the truth is delayed from reaching world. The doctor had merely requested the government to reopen the communication infrastructure and treatment facilities for chemotherapies and patients who needed urgent dialysis sessions. Another broadcasted report by DW television identifies untreated patients due to closed operation theaters.
The fingers are raised on Indian ideals of democracy by the foreign media. New Delhi can dub the Islamabad news sources as self-fabricated so lets take in the statement of Urmila Matondkar, an Indian actress converted politician: "The question is not only about abrogating Article 370. It was done in inhuman manner,". IAS Officer Kannan Gopinathan, resigned from his reputed post last month with his utterance on India Today, "I joined civil service with the hope that I can be the voice of those who have been silenced. But here, I lost my own voice."
Concealed tragedy of Kashmir
'The Times of India' mentions "not a single bullet has been fired" in the state since August 5″. Al Jazeera in its September apprise jots 'Electric shocks, beatings': Kashmiris allege abuse by India army. New York Times registers 'Asrar was known as a smart young boy who stayed away from protests, hedied after security officers hit him in the face with buckshot. As stated by 'The Guardian',the 16-year-old, Asrar Ahmed Khanwas fired with a pellet gun on 6 August and due to severe injury deceased in the following month. The news remained uncovered by any prominent channels in New Delhi. According to TRT World, Turkish press network, Lieutenant of Indian army Jeet Singh Dhillon has denied to use any weapon despite of medical verification his conference professed that a stone was hit to the young teen.
The criterion of justice
Under the present adopted stratagem of New Delhi against the Muslim community in Kashmir, Modi government is highly defamed at various platforms except in India which still nominates it as a hero of nation. The world needs to define its justice criterion with exception of caste creed and color. Unfortunately the ethical code remains absent throughout the globe.