Jaeger LeCoultre Presents the New Dazzling Rendez-Vous Red
Capturing the pure essence of femininity, the Rendez-Vous collection has been reimagined this year as part of The Art of Precision theme. With a prong setting brought to life with the most meticulous and striking jewellery techniques, the new Dazzling Rendez-Vous pay tribute to the highest form of precision, both in craftsmanship and creative passion.
In addition to the Dazzling Rendez-Vous Night & Day (available in white gold or in pink gold) and the Dazzling Rendez-Vous Moon (in white gold) launched at SIHH, Jaeger‑LeCoultre is delighted to present the new Dazzling Rendez-Vous Red at the occasion of the 22nd Shanghai International Film Festival.
Red: the colour of nobility, energy, passion, wisdom and good fortune. The colour of confident femininity – extroverted and undeniably glamorous.
With Dazzling Rendez-Vous Red, Jaeger‑LeCoultre presents its emblematic Night & Day function in a radiant new setting that combines pink gold, white mother-of-pearl, white diamonds and the rich glow of rubies – a natural
Created in the spirit of jewellery watches, Dazzling Rendez-Vous Red showcases La Grande Maison's uncompromising attention to detail. To highlight the impressive rubies that encircle the watch case, its master jewellers have opted for a prong setting, one of the most demanding of jewellery techniques. Requiring extreme precision, each of the 36 rubies is held in place by tiny gold spikes. The master gem-setters spend hours meticulously positioning the stones one by one, mounting them high, to minimise the presence of the metal and allow light to pass through the stones from all angles. This creates an impression that the rubies could almost be floating, and intensifies their crimson-red glow.
A circle of brilliant-cut diamonds completes the bezel and within it, gleaming like moonlight, is the silvery-white mother-of-pearl dial – a perfect foil for the Night & Day display. Visible through an opening at 6 o'clock, a golden crescent moon alternates with a shining sun, as night turns to day in an endless dance of time.
The row of 72 diamonds on the bezel is echoed by a ring of 47 smaller diamonds on the inner dial. Set between these diamond circles, the pink gold Floral numerals stand out in warm contrast to the iridescent white dial. Adding a final flourish, 12 diamonds are set in the lugs and a further diamond in the crown.
As with the dial and case, Jaeger‑LeCoultre allows no compromise inside the watch. Visible through the transparent sapphire case-back, Calibre 898B/1 is a self-winding mechanical movement entirely developed and produced within the Jaeger‑LeCoultre Manufacture.
This sumptuous timepiece is completed by a strap in ruby-red alligator leather with a subtly shiny finish, fastened with a pink gold pin buckle.
Breitling Launches Wheels and Waves Limited Edition in Biarritz
Breitling took to the Wheels and Waves festival in Biarritz for the launch of its Premier Wheels and Waves Limited Edition watch, which comes in two versions: 18 k red gold and stainless steel. The brand also celebrated its powerful links to two thrilling sports – motorcycling and surfing. Since 2012, Wheels and Waves, the world's leading motorcycle, surfing, and skateboarding festival, has attracted visitors from all over the world – who are drawn to the festival's dynamic yet cool atmosphere – to the popular resort town.
Wheels and Waves is a festival like no other. Each June, thousands of visitors find their way to Biarritz, where they are treated to displays of world-class surfing, motorcycle racing, and skateboarding. This year, as Official Timekeeper, Breitling was on hand throughout the festival, which proved once again to be a platform that authentically embodies the Swiss watch manufacture's Land and Sea brand worlds. The third world, Air, was well represented on Friday night as the Breitling Jet Team dazzled festivalgoers, flying through the skies above Biarritz.
The Wheels and Waves organizers are very excited about Breitling's active role at the festival. Jérôme Allé said, "We've completely enjoyed working with Breitling and are thrilled by the support we've had from Georges Kern and his Squads. They share our passions and our commitment to engaging with our community. Breitling lives up to its reputation as a cool, inclusive brand, and the Squad brought those values to this year's Wheels and Waves."
Breitling CEO Georges Kern said, "At Wheels and Waves, we highlighted the passions we share with the festival: a cool, laid-back surfing lifestyle and sporty, elegant motorbikes. It also gave us a chance to introduce ourselves to people who, like us, are driven by action, purpose, and style – and we launched a watch that celebrates the festival that expresses those values."
The Breitling Premier B01 Chronograph 42 Wheels and Waves Limited Edition
One of the festival's highlights was the launch of the Breitling Premier Wheels and Waves Limited Edition on Thursday, June 13. It has been produced in both an 18 k red gold version, limited to 100 pieces, and a stainless-steel version issued in a series of 500 pieces. The cases in both metals feature an engraved plate with a Breitling SPECIAL inscription on the left side.
These watches are set apart by their unique anthracite dial with golden hour markers, hour and minute hands, and a red central seconds hand. The dial features a black tachymeter scale on a white inner bezel, with a red tachymeter inscription. These COSC-certified chronometers have contrasting black subdials (a chronograph minute counter at 3 o'clock and a small seconds subdial at 9 o'clock) – a mark that they are powered by Breitling's flagship Manufacture Caliber 01.
The in-house mechanical movement, which offers a power reserve of about 70 hours, is visible through a transparent caseback. The caseback for the 18 k red gold version is engraved with a "ONE OF 100" inscription; the stainless-steel model is engraved "ONE OF 500".
The red gold and the stainless-steel versions are presented on a brown nubuck leather strap.
Breitling CEO Georges Kern points out how the Premier Wheels and Waves Limited Edition watch brilliantly reflects his brand's partnership with the festival: "With this chronograph, we have created a very special version of our Premier, which is Breitling's most elegant watch family. At the same time, they reflect the things we love about Wheels and Waves: the energy, the lifestyle, and, as I've said before, the coolness."
Breitling and the sports showcased at Wheels and Waves
Some special guests were on hand to help Breitling celebrate Wheels and Waves. The brand was joined by celebrated French actor, director, screenwriter, and motorcycle enthusiast Guillaume Canet, Swiss top model Ronja Furrer, and WSL surfer Jérémy Florès, who is a member of Breitling's French Squad.
On Thursday evening, a graffiti wall, with a Wheels and Waves-themed painting by artist Tristan Barroso, was unveiled at the Artride event. Georges Kern welcomed his guests and introduced the Premier Wheels and Waves Limited Edition watch.
On Friday, there was a Breitling Surfers Squad lesson with Jérémy Florès, who generously shared tips with participants of all levels. Some of Breitling's guests were involved not only with the surfing tutorial, but also in the Deus Swank Rally Enduro Race on Friday, along with Breitling CEO Georges Kern and Guillaume Canet. A dedicated Breitling ride was followed by the main race, whose winner was presented with a Breitling watch.
The Wheels and Waves festival, with its unique focus on surfing and motorcycling, represents an ideal opportunity for Breitling to showcase its close links to both sports. Breitling already enjoys a partnership with Norton Motorcycles, the world's oldest motorcycle brand, and it has a long and strong association with motor sports, including a link to Bentley. In fact, the partnership between Breitling and Bentley is the world's longest-standing partnership between a watch brand and an automobile manufacturer.
Meanwhile, the Breitling Surfers Squad, which consists of world stars Kelly Slater, Stephanie Gilmore, and Sally Fitzgibbons, has elevated Breitling's profile on the surfing scene. Indeed, Breitling is also set to serve as Official Timekeeper at the 2019 World Surf League's Freshwater Pro in Lemoore, California.
Wheels and Waves – a new Breitling tradition
Breitling has always been a luxury watch brand, but in terms of its attitude, style, and the sports it supports, it is truly inclusive. At Wheels and Waves, thousands of visitors had a chance to interact with the brand and they were able to identify with Breitling, its stories, and its Squads. In Biarritz, Breitling took its message directly to the people, engaging men and woman of action, purpose, and style.
Jaeger LeCoultre Presents Three New Rendez-Vous Sonatina Dedicated To Peaceful Nature
Jaeger‑LeCoultre is delighted to present three exquisite variations of Rendez-Vous Sonatina celebrating "Peaceful Nature", each offered in a limited edition of eight pieces. These supremely elegant timepieces embody three distinct expressions of refined and delicate femininity.
Testament to the rare talent of Jaeger‑LeCoultre's craftsmen, they unite the codes of fine watchmaking and the delicacy of Métiers Rares™ (Rare Handcrafts), celebrating the Art of Precision in both technical execution and aesthetic expression.
Orchids: a symbol of beauty, grace and charm, cultivated and appreciated in China for more than 3,000 years. Butterflies: believed to represent metamorphosis, hope and life itself – their almost weightless fluttering evoking a sense of lightness and joy.
Elegant yet delicate, fragile yet strong, orchids and butterflies unite on the dials of this new edition of the Rendez-Vous Sonatina, expressing the most enchanting facets of the feminine character.
Giving full rein to the skill of the Maison's artisans, these new timepieces call on three of the Métiers Rares™ (Rare Handcrafts) that Jaeger‑LeCoultre has so thoroughly mastered: guillochage, micro-painting on mother-of-pearl, and gem-setting.
The dials are engraved with a wavy guilloché motif that enhances the tonal variations of the mother-of-pearl, then a delicate tint of pink, green or purple is added. Onto this gleaming background the exquisite composition of orchids and butterflies is brought to life by the artisan, one tiny brushstroke at a time. Lifelike in their detail, with a remarkable sense of visual depth, each of these miniature works of art is subtly different, imbued with the artisan's personality and passion. A fine oval-shaped ring of diamonds draws the eye to the painted image where, set among the blooms, in a free-form, flower-shaped aperture, the Night & Day indicator is visible.
Set on the edge of the dial, a delicate gold star marks the time of a special rendezvous, moved into position by a second crown. When the time comes, the watch releases a single, melodious chime to remind the owner of her appointment.
This poetic and whimsical expression of femininity is brought to life by the technical sophistication of Jaeger‑LeCoultre's Manufacture Calibre 735, a self-winding movement developed specially for the Sonatina, which is displayed beneath the transparent sapphire case-back.
To complete these watchmaking treasures, an alligator leather strap, matched to the dial colour and given a glowing, shiny finish, is fastened to the wrist by a pink gold buckle.
Conceived as a joyful expression of femininity, these special editions of Rendez-Vous Sonatina are limited to eight examples of each variation, and are available exclusively from Jaeger‑LeCoultre boutiques.
Breitling Celebrates a Powerful Partnership with the Premier Norton Edition
The Breitling Premier Norton Edition is a potent representation of a partnership between two iconic brands that share intriguingly similar timelines and powerful legacies. The watch expresses the style and performance expect­ed from a maker of refined Swiss watches and a motorcycle brand renowned for its exclusive British engineering.
The Breitling Premier B01 Chronograph 42 Norton Edition celebrates the partnership between the prestige watch brand Breitling and British motorcycle company Norton, known worldwide for its high-performance motorcycles. The watch is part of Breitling's Premier collection, a family of elegant watches defined by their fashionable flair. The new Norton Edition is a distinctive interpretation of the Premier that makes a bold urban chic style statement. Willy Breitling was famously quoted as saying: "When a man puts on his Breitling, there is the unmistakable stamp of impeccable taste." A Norton motorcycle is a similar sign of its owner's personal flair.
Breitling CEO Georges Kern says that his brand has striking parallels with Norton Motorcycles: "Breitling and Norton are both innovative and entrepreneurial and have powerful legacies. This new watch honors the great partnership between these two aspirational brands." He smiles and adds, "I think that anyone who puts one on might suddenly imagine 'Born to be Wild' playing somewhere in the background."
Stuart Garner, CEO of Norton, agrees: "Breitling's new Premier Norton Edition incorporates DNA elements from both brands, offering wristwatch and motorcycle fans the opportunity to express their individuality, and perfectly embodies the nature of our brands."
A Watch That Reflects Two Great Brands
Breitling and Norton Motorcycles share a strong heritage. Both were founded in the nineteenth century by visionaries who gave their names to their companies and, to a large extent, defined their industries. When James Lansdowne Norton set up his company – a manufacturer of "fittings and parts for the two-wheel trade" – in 1898 and produced his first motorcycles in 1902, Léon Breitling had already been making watches in the Swiss Jura Mountains for more than a decade. And both brands have also been featured in James Bond films – 007 wore a Breitling Top Time in 1965's Thunderball and a Norton Dominator SS had a supporting role in Spectre (2015).
The Breitling Premier B01 Chronograph 42 Norton Edition reflects the cultures and values of these two great brands. Its 42-millimeter stainless-steel case, water-resistant to 10 bar (100 meters) is distinctive: a "Norton" logo is engraved on a plate on the left side of the case, and the transparent caseback features a printed Norton motorcycle and logo.
The elegant black dial with golden numerals and hour and minute hands offers an intriguing contrast to the brown vintage raw-leather strap that will appeal both to watch enthusiasts and serious motorcyclists. The model is also available with a stylish stainless-steel bracelet. The silver subdials – a chronograph minute counter at 3 o'clock and a small seconds subdial at 9 o'clock – against the black dial indicate the Breitling Manufacture Caliber 01 at the heart of this watch, which delivers an impressive power reserve of approximately 70 hours.
The COSC-certified chronometer features a black tachymeter scale on a white inner bezel around the dial, with "TACHYMETER" inscribed in red. The hour and minute hands are coated with Super-LumiNova®, which makes them highly legible on any route a biker might choose, from a city street to a remote back road.
The Premier B01 Chronograph 42 Norton Edition is just the beginning of a special partnership between two extraordinary brands. Some new surprises will be announced throughout the year.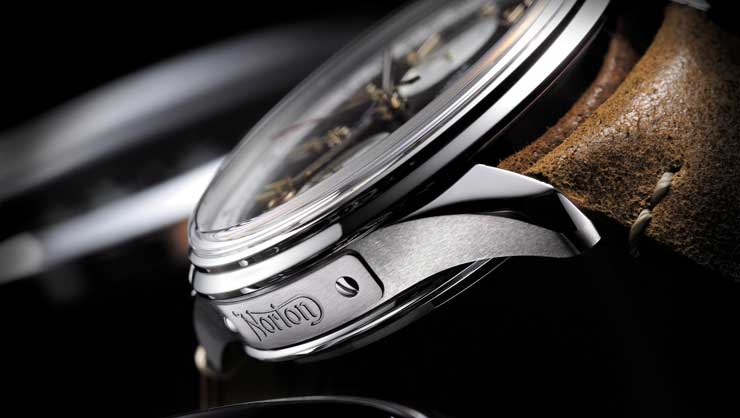 The Ultimate Accessory for Your Premier B01 Chronograph Norton Edition: The Norton Commando 961 Café Racer MKII Breitling Limited Edition Motorcycle
When you slip on your Premier Norton Edition watch, you will be wearing a timepiece that reflects a partnership between two great brands. And you might find yourself longing for a powerful, stylishly iconic motorcycle worthy of the watch. Our friends at Norton have created the perfect solution. The Commando 961 Café Racer MKII Breitling Limited Edition recalls the classic appearance and style of the great old style café racers but offers modern state-of-the-art components and engineering. Its 961 cc engine was developed in-house by Norton and delivers the performance you would expect from one of the world's great motorcycle brands. This special Breitling Limited Edition is being created in a series limited to 77 motorcycles. It is distinguished by a vintage Breitling "B" engraved on the clutch box, Breitling-designed speedometer and tachometer dials, and a black-on-black vintage "B" stitched into the saddle. This incredible statement-making motorcycle is available for purchase through Norton's distribution network.
Breitling Premier: Style, Purpose, and Action
In the 1940s, Breitling introduced the first Premier watches, its first collection of truly elegant timepieces, which were defined by their fashionable flair. The new Breitling Premier collection, launched in 2018, combines purpose with style, delivering quality, performance, and timeless design that are worthy of Breitling's proud legacy.
The original Breitling Premier watches made powerful fashion statements and were perfect accompaniments to the remarkable changes taking place all over the world in the 1940s. The models in the new collection extend and renew that legacy – they reflect the heri­tage and the historic design codes of a great brand, but they also express an urban flair and a passion for excellence. They reflect a proud history, yet will never go out of style. Further, their elegance, performance, and quality are everything you would expect from Breitling, which now, more than ever, is an authentic brand for individuals of style, purpose, and action.