5 Reasons to Stay at Four Seasons Hotel One Dalton Street, Boston
Since the all-new Four Seasons Hotel One Dalton Street, Boston opened its doors for the first time on May 28, 2019, guests and staff alike have been falling in love with the property. Four Seasons veteran and Hotel Manager Jerome Arribas outlines five standout aspects of Boston's newest skyscraper luxury hotel in the heart of the Back Bay neighbourhood.
1. The Building
"Before even stepping foot inside the hotel, you have to take a moment to appreciate the building itself," explains Jerome. "The design is sleek, modern and elegant. It gives our guests a hint of what to expect when they come inside," he reveals. The elliptical "guitar pick" shaped building – now the city's third tallest building and its highest residences at 724 feet or 220 metres – was designed by Henry Cobb of Pei Cobb Freed & Partners in collaboration with Gary Johnson of CambridgeSeven Associates.
2. The Guest Rooms and Suite
"I'm simply in love with the rooms!" smiles Jerome, clearly proud of the Hotel's 215 hotel rooms and suites. "The overall layout of the rooms gives a lot of flexibility and gives a graceful shape. We are thrilled to offer a hotel room that is so unique," says Jerome. Floor-to-ceiling windows allow for a light filled guest room, perfect for the business & leisure traveller alike thanks to the thoughtful use of space, with every detail anticipating the needs and wants of modern guests, from soundproofing between floors and rooms to cutting-edge in-room technologies. Bill Rooney of Bill Rooney Studio Inc was commissioned to drive the design aesthetic of the Hotel's guest rooms and public spaces.
3. The Art Collection
Commenting on the Hotel's collaboration with notable Art Curator Kate Chertavian, Jerome makes the connection between the pieces and the hotel's location. "It's no coincidence that many of our art pieces pay homage to the rich history of Boston, and our location is in the arts and music district of the city," he explains. The lobby at Four Seasons Hotel One Dalton Street, Boston prominently displays Duke Riley's mosaic "They Say, On A Really Hot Day", depicting the very local story of the Great Molasses Flood of 1919. Original works selected from the Hotel's extensive art collection curated by Kate Chertavian are in every room and suite, as well as public spaces throughout Four Seasons Hotel One Dalton Street, Boston.
4. The Wellness Floor at One Dalton
"This is by far my favourite area of the hotel – it's stunning and I am so proud of the what we are offering on The Wellness Floor," explains Jerome. The Wellness Floor at One Dalton very consciously presents itself as much more than just a spa. Offering guests the perfect environment to focus upon rebalancing both body and mind, The Wellness Floor combines five treatment rooms, a state-of-the-art fitness facility, and an indoor swimming pool with a diverse, thoughtfully designed "Wellness Experiences", all grounded in Wellness Manager McKenzie Cassidy's holistic approach to wellbeing.
5. Zuma
"The partnership with Zuma fits so well with the kind of experience we are offering guests," says Jerome. "Zuma has a great pulse. An energy you can feel from the bar and all the way through the dining room," he explains. Zuma's award-winning dining concept opened its 12th restaurant at Four Seasons Hotel One Dalton Street, Boston, and has given a new drinking and dining experience to the city, all inspired by the informal and traditional Japanese concept of izakaya, where dishes are shared on the table."The hotel has a modern, vibrant beat to it too, so we're thrilled to have Zuma alongside us," says Jerome.
Marriott International Signs Landmark Deal To Open World's Largest Fairfield By Marriott Hotel In Makkah
Marriott International, Inc. announced that it has signed a landmark agreement with Nahdet Al-Mashaer to open a 2,600-room Fairfield by Marriott property in Makkah. The agreement is expected to deliver the first Fairfield by Marriott property to the Middle East and Africa region, create the largest Fairfield hotel in the world and bring one of the largest hotels to the growing religious destination of Makkah. Construction for the Fairfield by Marriott Makkah Al Naseem has already commenced and the hotel is slated to open in 2023.
"We are thrilled to be working with Nahdet Al-Mashaerto create a distinctive Fairfield by Marriott that will serve Makkah, the sought-out destination for rising numbers of religious pilgrims," said Jerome Briet, Marriott International, Chief Development Officer, Middle East and Africa. "We expect this hotel will become a popular destination, especially given the strong demand for high-quality lodging in the Holy City."
The Fairfield by Marriott Makkah Al Naseem is set to rise in five towers in the Al Naseem district and in close proximity to the Grand Mosque. Plans call for 2,600 well-appointed spacious, modern suites that would separate areas for working and sleeping. The property's public spaces and lounge areas are expected to feature the Fairfield brand's "Modern Calm" aesthetic, which embraces open layouts, multi-functional space and natural light. Plans also call for signature amenities such as complimentary hot breakfast and coffee, fitness center and a lobby market open 24/7.
When it opens, the property is expected to welcome guests visiting on pilgrimage or business with friendly service and comfortable spaces that offer the flexibility to work and rest while staying productive on the road. The brand's Fairfield Guarantee delivers a simple promise to provide each guest with an inviting and effortless experience all at a great value. The Fairfield by Marriott brand currently has more than 1,000 open hotels in the U.S., as well as Latin America, Mexico and Asia.
"As a company, we remain focused on developing projects that further enhance Makkah as one of the most important destinations in Saudi Arabia while supporting the overall growth and development of the Kingdom," said Emad Hejazi, Chairman of Nahdet Al-Mashaer. "We are excited to collaborate with Marriott International to open the Fairfield by Marriott Makkah Al Naseem, which will be one of the largest hotels in the Holy City. The reliability of the Fairfield by Marriott brand, Marriott's world-class service standards and the central location of the property, will make it an ideal hotel destination for those visiting for Umrah and Haj when the property opens in 2023."
Saudi Arabia is currently Marriott International's second-largest market in the Middle East, with a portfolio that consists of 29 properties and over 8,000 rooms across nine brands and nine cities. The company expects to add 20 properties and more than 6,500 rooms across the Kingdom by 2024. Marriott's development pipeline is expected to generate 6,000 new jobs in the country.
5 Thrilling Reasons to Visit Four Seasons Hotel Montreal This Winter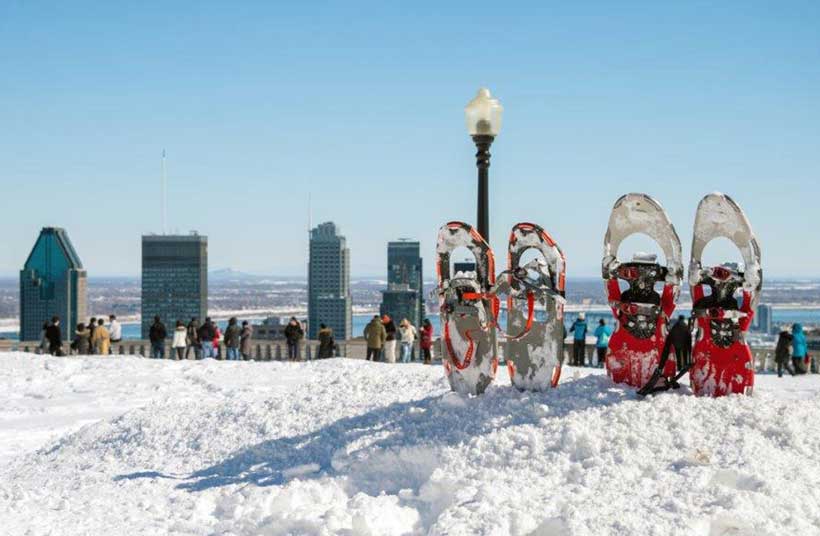 When it comes to winter destinations, Montreal tops the lists of many travellers from all corners of the world. The Canadian metropolis and its surroundings were made for winter, and Montrealers have packed the coldest season with the hottest attractions. With the opening of the award-winning new Four Seasons Hotel Montreal and MARCUS Restaurant, the first Canadian outpost by celebrity Chef Marcus Samuelsson, the city is now more desirable than ever.
Here are 5 thrilling reasons to visit Montreal between January and April:
Winter Festivals
Igloofest(January 16 to February 8, 2020) turns January's cold weather into an excuse to dance with thousands of Montrealers in the Old's Port's Jacques-Cartier pier every Thursday, Friday and Saturday night. Dance to electronic music by top international and local producers, DJs, hip hop artists and more in an electro winter wonderland. Montréal en Lumière(February 20 to March 1, 2020) is the city's biggest winter festival, merging gourmet food and drink events with arts, culture and an exciting outdoor activity site at Place des Festivals, located close to the Hotel. Enjoy themed restaurant meals and feasts by international celebrity chefs, outdoor music, ice slides and Nuit Blanche, an all-night celebration of art, culture and urban life.
Art Souterrain (Underground Art)
Expect a creative surprise around every corner in Montreal's underground city during this annual visual arts and design festival. Spread over 33 kilometres (20 miles) of warm and cosy underground pedestrian walkways, the festival's 11th edition features artwork under the theme "True or False" and offers visitors guided tours and other activities. February 20 to March 22, 2020.
Imagine Van Gogh
Montreal hosts a spectacular and immersive exhibition of the works of Vincent Van Gogh. The exhibition, presented by Paul Dupont-Hébert and Tandem, is on display in a sprawling former shipyard converted into Arsenal Contemporary Art Montreal, located in Montreal's Griffintown. It takes viewers on a creative and utterly original journey inside the artist's paintings. Through February 2, 2020.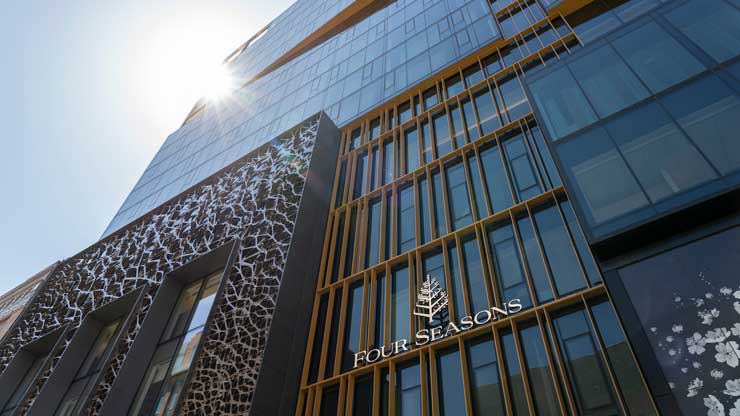 Mount-Royal Park
Designed by Frederick Law Olmsted (New York's Central Park) and inaugurated in 1876, Mount-Royal Park is a breath-taking urban green space featuring 200 hectares (400 acres) of biodiversity and natural beauty. Rising in the heart of the city, minutes away from Four Seasons Hotel Montreal, the mountain is stage to a host of recreational winter pursuits, including snowshoeing, cross-country skiing, tobogganing, and skating on Beaver Lake.
Montreal Canadiens
Founded in 1909, the Canadiens are the longest continuously operating professional ice hockey team worldwide, and the only existing NHL club to predate the founding of the NHL. The Canadiens have won the Stanley Cup more times than any other franchise, with a grand total of 24. Take in the heart-thumping action of a hockey game at the Bell Centre, one of the world's most electrifying sports arenas.
Mandarin Oriental Ritz, Madrid to Open in Summer 2020
The iconic Hotel Ritz, Madrid is set to open in Summer 2020 as Mandarin Oriental Ritz, Madrid, following the most extensive restoration in its 110-year history.
The hotel, which was designed and built under the supervision of legendary hotelier César Ritz, first opened its doors in 1910. The restoration will significantly enhance the hotel's facilities and services, while maintaining its unique character, encapsulated in the Belle Époque style of the original building. Spanish architect, Rafael de La-Hoz, has been instrumental in providing the context for the historical restoration, while French designers, Gilles & Boissier, have overseen the interiors with the aim of increasing the property's appeal to local and international guests alike while celebrating César Ritz's pioneering spirit. The re-design of the public spaces has focused on restoring the hotel's many fine interior architectural features, while incorporating a number of valuable artistic pieces from the property's collection, including crystal chandeliers, antique paintings and sculptures.
The hotel has always been an intregral part of society in Spain's capital, and has been host to royalty, politicians, corporate leaders and celebrities. It is situated within the 'Golden Triangle of Art', an area defined by the most important museums in the city – the Prado, the Thyssen-Bornemisza and the Reina Sofía Museum of Modern Art. The property's location within a prestigous residential area close to Madrid's financial and commercial district and to El Retiro Park, adds to its appeal.
"We are proud and excited to be opening Mandarin Oriental Ritz, Madrid this summer, our second hotel in Spain. The meticulous restoration is designed to ensure that this legendary property is once again recognised as one of Europe's greatest hotels," said James Riley, Group Chief Executive of Mandarin Oriental Hotel Group. "We are confident that the local community will be even more proud of this historic landmark, and we look forward to providing our guests with memorable experiences, in majestic surroundings, all underpinned by Mandarin Oriental's exceptional service," he added.
Guestrooms and Suites
Gilles & Boissier have created a sophisticated design for the hotel's new guestrooms, encapsulating a classic but contemporary residential style for the 153 rooms including 53 suites. Within the suite inventory, there are several one-of-a-kind speciality suites, featuring unique design elements inspired by the hotel's historic connections to the city, Spanish culture and art. A spacious Royal Suite and the Presidential Suite feature magnificent views over the Prado museum. Located in the top floor turrets are two new suites, each with private balconies and views over the Prado Museum and Lealtad Square.
Restaurants and Bars
Chef Quique Dacosta, one of the most celebrated chefs in Spain, has been appointed to design, develop and oversee all culinary operations at the hotel's five restaurants and bars. The award-winning chef is renowned for the three Michelin starred restaurant, Dénia, in Alicante, and the two Michelin starred El Poblet restaurant in Valencia. At Mandarin Oriental Ritz, Madrid, a signature Quique Dacosta restaurant, overlooking the famous hotel garden, is set to be a destination in its own right. All day dining and traditional afternoon tea will be served in the elegant surroundings of The Palm Court, under a spectacular glass canopy ceiling that formed an integral part of the original building but had been lost for 80 years and will be reconstructed. Guests will also be able to dine in the Ritz Garden or enjoy the charm of the Ritz Bar. Finally, the Champagne Bar will offer an ever-changing selection of exclusive champagnes paired with a signature tapas menu.
"I am very excited to work on the culinary offering of Mandarin Oriental Ritz, Madrid to provide unique gastronomic experiences across all restaurants, bars and banquet facilities," said Quique Dacosta.
"We look forward to welcoming Quique Dacosta to Mandarin Oriental Ritz, Madrid. His desire to deliver more than a culinary experience, with his sense of creativity and his unique character, matches perfectly our mission to delight and satisfy our guests," said Gérard Sintès, General Manager of Mandarin Oriental Ritz, Madrid.
Leisure & Wellness
The hotel's new leisure and wellness facilities include a heated indoor swimming pool, a vitality pool, experience showers, a steam room and a contemporary fitness centre. A dedicated treatment room has been designed as a hidden sanctuary, providing a range of exclusive local and signature beauty and massage treatments.
Event Spaces
As one of the most iconic buildings in the Spanish capital, Mandarin Oriental Ritz, Madrid is ideally placed for memorable social events. The ballroom and functions spaces, with their large windows facing the Prado Museum will be beautifully restored and designed to ensure the hotel is once again the venue of choice for weddings, private dinners and parties.