Guterres: New technology a 'vector of hope' but also 'a source of fear'
Technological innovation is continuing to transform the world, with the potential to propel us all towards reaching the 2030 Sustainable Development Goals (SDGs) said the UN Secretary-General António Guterres on Friday, at the Saint Petersburg International Economic Forum in Russia.
But as much as it is a "vector of hope, it is also a source of fear", that will cause massive disruption to labour markets as they adapt with an "enormous amount of jobs both created and destroyed by artificial intelligence", added the UN chief.
Sharing the stage with Russian President Vladimir Putin, and Chinese President Xi Jingping, along with other national leaders, Mr. Guterres highlighted the publication this coming Monday of his High-Level Panel on Digital Cooperation, co-chaired by China's Jack Ma, founder of the Ali Baba conglomerate, and Melinda Gates of the Gates Foundation; a leading former Microsoft executive, before she and her husband Bill devoted their energies fulltime to running the world's largest philanthropic organization.
Their report will issue recommendations on the way forward for the so-called Fourth Industrial Revolution, with Panel members having spent months listening to input from industry, the private sector, governments, academia, civil society and inter-governmental organizations across the world. It was set up almost a year ago.
"We need a massive investment in education – but also a different kind of education" said Mr. Guterres in Saint Petersburg, "not just learning things, but learning how to learn, and learning across the lifetime. And we also need a new generation of safety nets, for effective social protection for the people negatively impacted."
He noted other major risks, such as the "crippling impact of cyber-attacks, as well as the threats to privacy and violations of human rights. And the internet is simultaneously a remarkable vehicle for connecting people and a weapon for dividing them through hate speech", he added, noting that still only half the world was even online.
"Our shared challenge is to reduce digital inequality, to build digital capacity and ensure that new technologies are on our side and are a force for good".
Mr. Guterres told world leaders that "our shared duty…is to show that we care and that international cooperation can deliver", noting this was the driver behind his UN reform agenda, a new disarmament agenda, strengthened counter-terrorism efforts and the forthcoming plan of action against hate speech.
Guterres underlines Russia's 'important role'
After meeting President Putin on Friday, the UN chief said the event in the historic Russian city was an "important opportunity" to address issues vital to the Organization "and in particular, in this Forum's context, the Sustainable Development Goals and the possibility of a fair globalization."
I would also like to underline the very important role that Russia plays in support of multilateralism and the UN – support that is even more important, in (the) difficult times we are living in", he told reporters.
"As a founding member, permanent member of the Security Council, Russia is an absolutely indispensable actor in the international scene today if we want a more balanced world," he concluded.
How can digital technology support gender equality in the MENA Region?
In line with the European Development Days 2019's overarching title 'Addressing inequalities: building a world which leaves no one behind', UNIDO organized a LAB Debate on 19th of June on "How can digital technology support gender equality in the MENA region?", in cooperation with the Food and Agriculture Organization (FAO) and UN Women. Tackling gender inequality is an intricate and lengthy process, but digital technology can help fast-track progress. Digital transformation gives women the possibility to access finance, integrate into national and even regional and global value chains, as well as access knowledge. Although bridging the digital gender divide cannot solve all the challenges that women in the MENA region face, it carries significant potential towards gender equality.
"Now is the time to upgrade the engagement model and move from enablement to the power of role models to unlock the full potential of the talented women of the MENA region", said Ms. Liat Shentser, Director of Systems Engineering Sales at Cisco Systems International.
Moderated by Ms. Monica Carcò, Chief, Rural Entrepreneurship, Job Creation and Human Security Division, the session discussed and showcased i) how can policy and regulation best optimize incentives for market players to innovate, compete and invest along gender-sensitive technologies in the MENA, ii) the role of ICTs in facilitating women integration in value chains and iii) the type of partnerships that have proven effective in engaging women both as consumers and producers of digital technologies. Ms. Carcò said, "To support women-led businesses in taking full advantage of ICT, well-informed programs and policies addressing their specific challenges and needs are a prerequisite. To this end, UNIDO is soon to launch a survey on women entrepreneurs' access to and use of ICT and digital technology in the MENA region."
The insightful panel discussions resulted with numerous recommendations, including the necessity for well-informed policies, data collection and monitoring of created impact. Equally important, making women part of the decision making process, having more investments in technologies that are targeting women, and promoting women role models, particularly those in middle to top management positions, will play a significant role in limiting the gender-blind approach in innovation. Finally, designing and building up impact-driven public private partnerships remain a key enabling modality to deliver concrete results.
5G is here. What does it mean for you?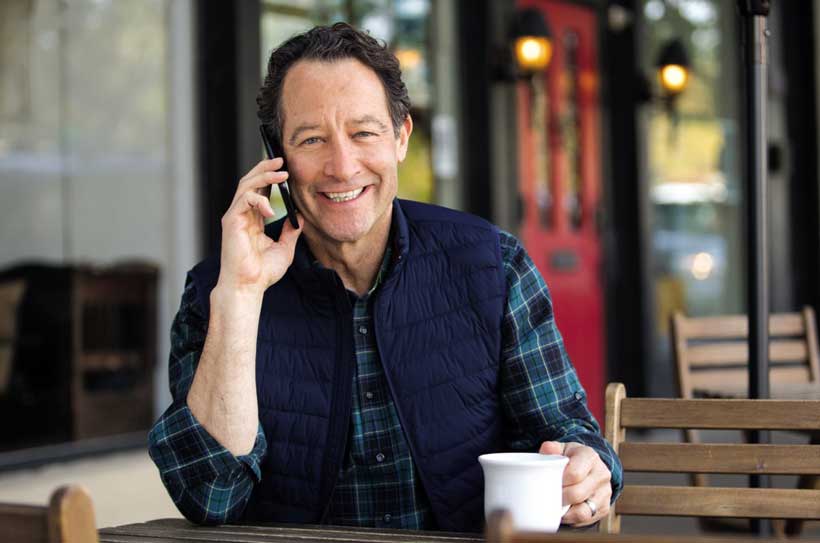 By now, you've probably heard about the coming launch of 5G. Rolling into the marketplace for the first time this year, it's the next (fifth) generation of cellular technology, and promises to significantly enhance the speed, coverage and responsiveness of wireless networks.
It's a major upgrade, and has wireless carriers excitedly rushing to promote the arrivals of their 5G networks and compatible products. As a result, the average cellphone user may well be wondering: How and when will 5G really make an impact on me?
Well, before you feel compelled to rush out and upgrade your phone, consider the following.
A limited rollout
Ever since the first field tests of 5G were deployed in 2015, hype for the technology has been building. Tests have delivered responses 10 to 100 times speedier than current 4G cellular connections. The arrival of 5G is predicted to bring phenomenal advancements to the digital landscape, supercharging marvels like self-driving cars, virtual and augmented reality, and even newly emerging medical services like remote surgery.
But that magnificent future is just that: the future. Initially, 5G is only being made available in a small number of launch cities, and even there only to those who've already laid out upwards of $1,200 for the first generation of 5G-compatible phones.
The rest of us will still be connected to the reliable 4G service we've grown used to — and 4G won't be going away anytime soon.
Check the expiration date
It's estimated that most wireless networks won't be providing widespread 5G coverage until the end of 2020, at the very earliest. And even when they do, you can expect the technology supporting 4G to remain in place indefinitely. In fact, unless you're actively seeking to change, you may not even notice that 5G has been turned on in your area for a long time.
How long? Let's use history as a guide. Just this year, major network providers have begun the final phase-out of 3G technology, which launched in 2001, meaning it's had a productive lifespan of almost 20 years. 4G launched in 2010, so it will likely still be supported for as much as another decade.
The bottom line is, if you're comfortable with your current network speeds and performance, you won't need to change a thing for a long time to come.
Going down a familiar road
The best approach for upgrading to 5G may very well be: Wait and see. If you trust your wireless provider, remember that they've been through these changes for each successive generation, and have plans in place to make sure customers stay "up to speed," so to speak.
A good example is Consumer Cellular. Focusing largely on customers ages 50 and up, the company recognizes that its users may be less tech-savvy than other segments of the market. As a result, they've helped steer them through transitions all the way from 2G by proactively reaching out to alert customers as to what changes to expect, and when, with each succeeding upgrade. The result has been millions of customers making seamless transitions, whether that required simply changing a setting on a cellphone or upgrading to an entirely new device.
5G offers a bright future for wireless, and opens an almost unlimited range of technological possibilities. Yet for the average user, and for the foreseeable future, it will be a "nice to have" rather than a "need to have" upgrade, meaning there's really no rush to decide.
AI summit focuses on fighting hunger, climate crisis and transition to 'smart sustainable cities'
Artificial intelligence, or AI, is at the forefront of fighting hunger, mitigating the climate crisis and facilitating "the transition to smart sustainable cities", said the chief of the UN agency which specializes in information and communication technologies, Houlin Zhao, kicking off the third AI for Good Global Summit in Geneva.
"This summit is the leading United Nations platform for dialogue on artificial intelligence", explained the Secretary-General of the International Telecommunication Union (ITU) on Tuesday, adding that it "also raises complex questions about privacy and trust and poses other challenges, from job displacement and potential bias in algorithms, to autonomous weapons and social manipulation".
More than 2,000 participants from over 120 countries joined AI leaders and humanitarian actors to highlight its potential for advancing education, healthcare and wellbeing, social and economic equality and space research.
Unable to attend in person, Secretary-General António Guterres sent a message lauding "the promise" of AI while also warning against its potential dangers.
"If we are to harness the benefits of artificial intelligence and address the risks, we must all work together – Governments, industry, academia and civil society – to develop the frameworks and systems that enable responsible innovation", he said. "These systems must be nimble and adaptable, capable of developing norms and self-regulation standards alongside legally binding laws and instruments when needed, as in the case of lethal autonomous weapons".
Noting that the UN is "well placed" as a forum on "how best to guide progress to better serve humanity," Mr. Guterres underscored that "we must seize the moment, in partnership, to deliver on the promise of technological advances and harness them for the common good".
In his opening address, Petteri Taalas, Secretary-General of the World Meteorological Organization (WMO) spelled out that climate change is accentuating the need for tailored information to improve resilience to extreme weather events.
"WMO deals with big data every day, running a 24/7 operational prediction system based on a huge amount of data gathered around the world," he said, identifying AI as a potentially valuable tool to help meet this challenge.
Guided by its inter-disciplinary audience, this year's summit aims to generate 'AI for Good' projects and ensure that associated technologies will be developed safely, allowing equal access for all.
Francis Gurry, Director General of the World Intellectual Property Organization (WIPO) said that 340,000 AI patent applications have been filed since the 1950s: "Artificial intelligence is one of the most important of the technologies that are currently transforming our economy and society."
He acknowledged there were pressing economic, social and ethical questions surrounding AI, saying that "we are at an extremely early stage, but the common characteristic is that the underlying technological activity…is occurring at a much more rapid speed than our capacity to formulate" responses.
Organized by the International Telecommunication Union (ITU) – in partnership with the XPRIZE Foundation, the Association for Computing Machinery (ACM) and 37 UN entities – the summit, which will run from 28-31 May, aims to identify practical applications of AI to accelerate the UN Sustainable Development Goals.
Conversation centered around how to use AI and data to help find scalable solutions to the biggest challenges facing humanity," XPRIZE CEO Anousheh Ansari said.
It will also debate unintended consequences of the AI revolution, and propose actions for high-potential solutions in achieving global scale, along with a so-called "learning day" to offer an audience with leading AI experts and educators.
"By bringing together AI technologists with leaders in government, industry, and humanitarian initiatives, new ways to apply AI to pressing world challenges are imagined and realized," stressed Vicki L. Hanson, ACM CEO.
What is clear to ITU chief Zhao is that "no one nation, no one organization, no one company and no one community can meet these challenges alone".
"The path to a transformative but also a safe, trusted and inclusive AI will require unprecedented collaboration between government, industry, academia and civil society", he concluded.