Clerics and entertainment seek to bolster MbS's grip on power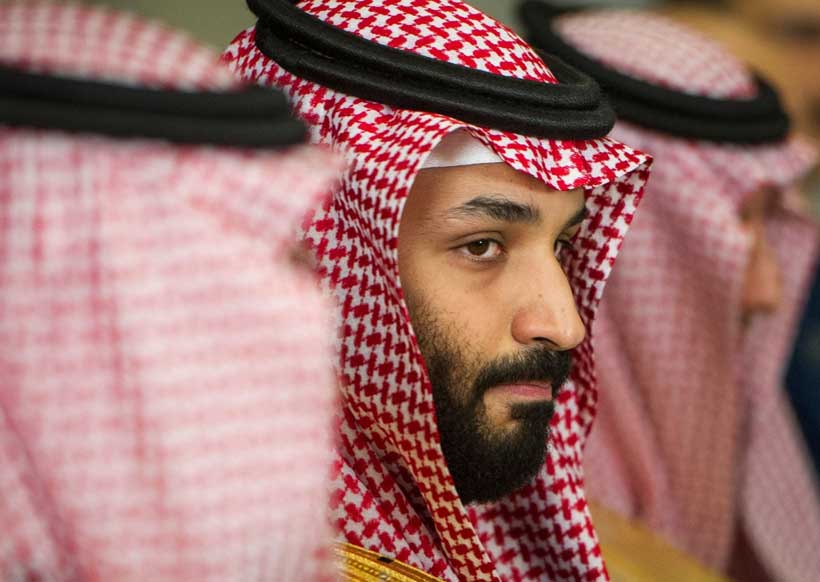 A public apology by a prominent Salafi scholar sheds a light on Saudi crown prince Mohammed bin Salman's version of 'moderate Islam,' his effort to shape the Middle East and North Africa in his mould, and the replacement of religion with hyper-nationalism as the source of his legitimacy.
Claiming to speak in the name of the Sahwa or Awakening movement, Aidh al-Qarni, one of the kingdom's most popular religious scholars, broke with the Muslim Brotherhood-linked group's past call for political reform and instead wholeheartedly endorsed Prince Mohammed's undefined notion of an Islam that would be free of extremism.
"I would like to apologize to Saudi society for…the extremism, the violation of the Qur'an and the Sunnah, the violation of the tolerance of Islam, the violation of the moderate and merciful nature of Islam. I support today the moderate and open-to-the-world Islam that has been called for by crown prince Mohammed bin Salman," Mr. Al-Qarni said, wearing a Salafi-style chequered red and white headdress.
More than simply a declaration of support for the Saudi leader, Mr. Al-Qarni's apology provided ideological justification for Prince Mohammed's so far only partially successful efforts to ensure that regional states are ruled by governments of his liking, refusal to condemn assaults on Islam like in China's north-western province of Islam, and crackdown at home that potentially has put some of his past colleagues on death row.
Mr. Al-Qarni was not among Islamic scholars that have been detained, many of them in a crackdown in September 2017. Those arrested and potentially facing execution included some of the kingdom's other most popular reformist preachers such as Salman al-Audah and Mr. Al-Qarni's namesake, Awad al-Qarni.
Charges against the two men, as well as author and broadcaster Ali al-Omari, include stirring public discord, inciting people against the ruler, public support for imprisoned dissidents and alleged ties to the Brotherhood and Qatar. A Saudi-United Arab Emirates-led alliance has been boycotting Qatar economically and diplomatically for the past two years.
Mr. Al-Omari, a former United Nations Goodwill Ambassador for Youth and Humanity, is a member of the Qatar-based International Union of Muslim Scholars founded by controversial scholar Yusuf al-Qaradawi. Mr. Al-Qaradawi is widely believed to be a major spiritual influence within the Brotherhood.
Mr. Al-Qarni's endorsement of Prince Mohammed and reports that two of his colleagues may be executed came as Human Rights Watch rang alarm bells about the fate of Murtaja Qureiris, an 18-year old who could face a similar fate.
Mr. Qureiris was arrested when he was 13 for participating in 2011 in a bike protest in eastern Saudi Arabia three years earlier when he was 10 years old.
Mr. Qureiris was charged with belonging to a terrorist group, helping to construct Molotov cocktails, shooting at security forces and participating in a protest at the funeral of his brother, who was killed in an allegedly violent demonstration.
Mr. Al-Qarni didn't do his former colleagues any favours by asserting that Qatar was funding Saudi scholars. "Of course, people get money… Saudis went there (Qatar)," Mr. Al-Qarni said, refusing to identify who he was referring to.
'Qatar Papers,' a recently published book in France, purportedly based on hitherto unpublished documents, asserted that the Gulf state was funding numerous mosques and individuals in Europe associated with the Brotherhood.
A TV series broadcast during this year's Ramadan, when programs get their highest ratings, provided background music for Mr. Al-Qarni's apology.
Rewriting history through the eyes of a Saudi family, Al-Asouf (Winds of Change) blames the Sahwa for some of the region's most momentous events, including the 1979 Iranian revolution, the occupation by militants of the Grand Mosque in Mecca that same year, and the 1981 assassination of Egyptian President Anwar Sadat because of his signing of a peace treaty with Israel.
In line with Prince Mohammed's assertion that Saudi Arabia embraced a more moderate form of Islam prior to the events of 1979, Al-Asouf suggests that Sahwa's ultra-conservatism bolstered by its hostility towards the West, misogynist attitudes towards women and intolerance, influenced a generation of Saudis.
Adding to Mr. Al-Qarni's apology and Al-Asouf's messaging, Adil al-Kalbani, a former imam of the Grand Mosque and often straight-talking member of the kingdom's ultra-conservative religious establishment, who has seven million followers on Twitter, made a 180 degrees U-turn on his past statements that supported severe restrictions of women's rights and denounced Shiites as apostates.
Challenging one of the kingdom's major taboos, Mr. Al-Kalbani denounced gender segregation in mosques as "a kind of phobia," arguing that in the era of the Prophet Mohammad, men and women prayed together.
"Now unfortunately we've become paranoid to the level that in a mosque, a place of worship, it's as if women are in a fortress," he said. "They're completely isolated from the men, not seeing or hearing them except through microphones or speakers."
Drawing red lines, Mr. Al-Qarni sought to provide religious justification to Prince Mohammed's policies. The crown prince's concept of moderate Islam, involving absolute obedience to the ruler, was one red line. The interests of Saudi Arabia as defined by Prince Mohammed was another.
"I went and pledged allegiance to the King and swore on the Qur'an and the Sunnah. I went on the night of the 27th (of May) to Mecca and pledged allegiance to Mohammed bin Salman. You pledge allegiance for better or for worse… I declare here that I am now one of the swords of the state," Mr. Al-Qarni said.
Asserting that Saudi Arabia was being targeted by Iran, Turkish president Recep Tayyip Erdogan and the Muslim Brotherhood, Mr. Al -Qarni's definition of the kingdom as a red line appeared to break with Sahwa and the Saudi past religious embrace of Islam's concept of the ummah, the global community of the faithful.
In the words of Saudi Arabia scholar Raihan Ismail, Mr. Al-Qarni was rejecting the notion of the ummah because it "undermines the primacy of the nation-state."
In doing so, Mr. Al-Qarni was attempting to provide religious cover for Prince Mohammed's apparent endorsement during a visit to Beijing earlier this year of China's crackdown on Turkic Muslims and his apparent support for a US plan to resolve the Israeli-Palestinian conflict that is widely believed to favour Israel and deny Palestinian aspirations.
Anwar Gargash, the minister of state for foreign affairs of Saud Arabia's closest ally, the United Arab Emirates, hailed Mr. Al-Qarni's apology as an important step "as we close the door to the stage of extremism and the employment of religion for political purposes."
Mr. Gargash's comments put a finger on differences in the approaches towards Islam of Emirati crown prince Mohammed bin Zayed and his Saudi counterpart.
Viscerally opposed to political Islam, UAE Prince Mohamed rather than the Saudi crown prince has been the driver in support by the two Gulf states of anti-Islamist forces across the Middle East and North Africa.
In fact, Prince Mohammed's notion of moderate Islam, although projected as a break with Saudi Arabia's past propagation of ultra-conservative strands of Islam that critics charged contributed to breeding grounds of violence, amounts to a form of conservative political Islam that is designed to bolster his autocratic regime rather than reform the faith.
Similarly dissident Saudi scholar Madawi al-Rasheed asserted that the kingdom's decision to recently convene three Gulf, Arab and Islamic summits during Ramadan in the holy city of Mecca was "nothing but utter Islamism."
Ms. Al-Rasheed argued that the summits exposed "the contradiction in the recent Saudi push to ban and criminalise Islamism. The three conferences are not being held to discuss theological matters, but to seek support for Saudi Arabia's king over serious, controversial and divisive political crises," she said.
The Muslim world's changing dynamics: Pakistan struggles to retain its footing
Increasing strains between Pakistan and its traditional Arab allies, Saudi Arabia, and the United Arab Emirates, is about more than Gulf states opportunistically targeting India's far more lucrative market.
At the heart of the tensions, that potentially complicate Pakistan's economic recovery, is also India's ability to enhance Gulf states' capacity to hedge their bets amid uncertainty about the continued US commitment to regional security.
India is a key member of the Quad that also includes the United States, Australia and Japan and could play a role in a future more multilateral regional security architecture in the Gulf.
Designed as the backbone of an Indo-Pacific strategy intended to counter China across a swath of maritime Asia, Gulf states are unlikely to pick sides but remain keen on ensuring that they maintain close ties with both sides of the widening divide.
The mounting strains with Pakistan are also the latest iteration of a global battle for Muslim religious soft power that pits Saudi Arabia and the UAE against Turkey, Iran, and Asian players like Indonesia's Nahdlatul Ulama, the world's largest Islamic movement.
A combination of geo- and domestic politics is complicating efforts by major Muslim-majority states in Asia to walk a middle line. Pakistan, home to the world's largest Shiite Muslim minority, has reached out to Turkey while seeking to balance relations with its neighbour, Iran.
The pressure on Pakistan is multi-fold.
Pakistani Prime Minister Imran Khan charged recently that the United States and one other unidentified country were pressing him to establish diplomatic relations with Israel.
Pakistani and Israeli media named Saudi Arabia as the unidentified country. Representing the world's second most populous Muslim nation, Pakistani recognition, following in the footsteps of the UAE and Bahrain, would be significant.
Pakistan twice in the last year signalled a widening rift with the kingdom.
Mr. Khan had planned to participate a year ago in an Islamic summit hosted by Malaysia and attended by Saudi Arabia's detractors, Turkey, Iran and Qatar, but not the kingdom and a majority of Muslim states. The Pakistani prime minister cancelled his participation at the last moment under Saudi pressure.
More recently, Pakistan again challenged Saudi leadership of the Muslim world when Foreign Minister Shah Mahmood Qureshi complained about lack of support of the Saudi-dominated Organization of Islamic Cooperation (OIC) for Pakistan in its conflict with India over Kashmir. The OIC groups the world's 57 Muslim-majority nations. Mr. Qureshi suggested that his country would seek to rally support beyond the realm of the kingdom.
Turkish President Recep Tayyip Erdogan, on a visit to Pakistan earlier this year, made a point of repeatedly reiterating his country's support for Pakistan in the Kashmir dispute.
By openly challenging the kingdom, Mr. Qureshi was hitting Saudi Arabia where it hurts most as it seeks to repair its image tarnished by allegations of abuse of human rights, manoeuvres to get off on the right foot with incoming US President-elect Joe Biden's administration, and fends off challenges to its leadership of the Muslim world.
Pakistan has not helped itself by recently failing to ensure that it would be removed from the grey list of the Financial Action Task Force, an international anti-money laundering and terrorism finance watchdog, despite progress in the country's legal infrastructure and enforcement.
Grey listing causes reputational damage and makes foreign investors and international banks more cautious in their dealings with countries that have not been granted a clean bill of health.
Responding to Mr. Qureshi's challenge, Saudi Arabia demanded that Pakistan repay a US$1 billion loan extended to help the South Asian nation ease its financial crisis. The kingdom has also dragged its feet on renewing a US$3.2 billion oil credit facility that expired in May.
In what Pakistan will interpret as UAE support for Saudi Arabia, the Emirates last week included Pakistan on its version of US President Donald J. Trump's Muslim travel ban.
Inclusion on the list of 13 Muslim countries whose nationals will no longer be issued visas for travel to the UAE increases pressure on Pakistan, which relies heavily on exporting labour to generate remittances and alleviate unemployment.
Some Pakistanis fear that a potential improvement in Saudi-Turkish relations could see their country fall through geopolitical cracks.
In the first face-to-face meeting between senior Saudi and Turkish officials since the October 2018 killing of journalist Jamal Khashoggi in the kingdom's consulate in Istanbul, the two countries' foreign ministers, Prince Faisal bin Farhan and Mevlut Cavusoglu, held bilateral talks this weekend, on the sidelines of an OIC conference in the African state of Niger.
"A strong Turkey-Saudi partnership benefits not only our countries but the whole region," Mr. Cavusoglu tweeted after the meeting.
The meeting came days after Saudi King Salman telephoned Mr. Erdogan on the eve of a virtual summit hosted by the kingdom of the Group of 20 (G20) that brings together the world's largest economies.
"The Muslim world is changing and alliances are shifting and entering new, unchartered territories," said analyst Sahar Khan.
Added Imtiaz Ali, another analyst: "In the short term, Riyadh will continue exploiting Islamabad's economic vulnerabilities… But in the longer term, Riyadh cannot ignore the rise of India in the region, and the two countries may become close allies – something that will mostly likely increase the strain on Pakistan-Saudi relations."
Assassination of top Iranian Nuclear Scientist: A big Tragedy
On the sad incident of the assassination of a top Iranian nuclear scientist, the UN spokesman said, "We urge restraint and the need to avoid any actions that could lead to an escalation of tensions in the region." Turkey termed the assassination of Mohsen Fakhrizadeh as an 'act of terrorism' while the EU calls it 'criminal' and urges 'maximum restraint.' Anger can be seen in Iran and the region. The whole region is worried and mourning.
Masses are demanding to investigate the assassination act thoroughly and punish the responsibles. It is a straight forward criminal act and a direct threat to Iran's sovereignty. The whole world is upset and can not forgive.
It was well-known that the US assassinated General Qasim Sulymani in Baghdad just a few ago. The retaliation from Iran was just appropriate, and the US could not digest it yet. Top nuclear Scientist's assassination is not accepted under any circumstances, and any retaliation will be justice.
Iran has the capability and will to retaliate. Although we all – peace-loving people request Iran to cool down and observe restrains, at the same time, we understand, if the aggressors are not checked, it will happen again and again, and maybe in more intensity and frequency. If the retaliation is severe, then the aggressor may not dare to attempt again in the future. A minimum level of deterrence is required to maintain. Otherwise, further assassinations are encouraged.
The ruthless assassination of Dr. Fakhrizadeh on Friday 27 November is not just 'another' routine incident—it's causality is more significant than it's aftermath. The Western world engaged Iran under JCPOA in October 2015. Things were smooth, and Iran was in full compliance with the deal. Internation Atomic Energy Agency (IAEA) was regularly monitoring Iran's nuclear facilities and confirmed the fullcompliance. All the signatories of JCPOA were also satisfied, except President Trump. Even his administration has not noticed any deviation from Iran, but after having a close presentation from the Israeli prime minister Netanyahu, President scrapped the JCPOA in 2018. The unilateral withdrawal of President Trump from the nuclear deal was widely criticized but was celebrated by Israel. Since then, Iran was under immense pressure from the US as well as Israel.
Highly classified speculations are that the final decision to eliminate Fakhrizadeh was perhaps taken last Sunday 22 November, in a semi-secretive meeting in the Saudi coastal resort of Neom—attended by Mike Pompeo, Benjamin Netanyahu, Yossi Cohen, and Prince MBS.
There are other views that Fakhrizadeh's assassination is another big conspiracy to destabilize global peace and stability, which might hinder the transition of power to newly elect-president Joe Biden. As a result, President Trump remains in control. Strong possibilities are that the outgoing President Trump will make the most of the power transfer transition period—taking big decisions to please his external partners/friends (Isreal and anti-Iran Arab states). Some say this killing will reduce Iran's negotiating powers—should Joe Biden/Tony Blinken revive the JCPOA. Some global security pundits comment, this assassination was aimed at infuriating Iran, instigating it to react with military force against Israel, prompting the US and its regional allies (Israel, KSA, UAE, and Bahrain) to declare an all-out direct war on Iran.
It is relatively early to say something precisely, that what happen? How happened? And What will happen next? All are view points, and no authentic opinion is concluded. But one thing is very much clear, the region is a cooked volcano and may burst any moment.
It may destabilize the whole region; the oil-rich region may halt oil supply to the Western world. The Oil prices may shoot up; Industrial growth may be harmed, inflation may hike up, the global economy may suffer adversely.
It is also possible that the Arab and non-Arab Muslim world be divided visibly and further harm the Muslim world. Irrespective of any country or nation, or religion, humankind will suffer at the end of the day. Irrespective of race, religion, ethnicity, we must urge the safety of human lives.
The world community must proactively play a positive role in saving humankind and the loss of precious lives. Bloodshed is not permissible in any religion, society, or law, especially because we claim to be a civilized world and should act as civilized.
Libya: Lights and shadows of the peace process
After six days of intense closed-door talks between the 75 delegates of the various Libyan factions summoned to Tunis by the Acting Special Representative of the UN Secretary-General (SRSG), Stephanie Williams, the first round of negotiations that ended on November 15 confirmed the "ceasefire", but failed to reach an agreement on the mechanisms and criteria for selecting the candidates for a new "national unity" government.
Acting SRSG Stephanie Williams has decided to reconvene in the coming days – via video conference – a second round of what has been called the "Libyan Political Dialogue Forum" (LPDF), with the ambition of succeeding in forming a government able to manage the national elections scheduled for December 24, 2021.
While admitting the partial failure of the Tunis talks, the U.S. diplomat declared frankly that it was not "realistically possible to find solutions to a ten-year conflict in a simple round of negotiations". Nevertheless, Acting SRSG Stephanie Williams has stressed that "there seems to be the possibility of an agreement on three important sensitive aspects of the negotiation, i.e. the tasks and duties of the new government; the criteria for appointing those who will take up the government posts and the roadmap for the peace process.
She added that "Libyan politicians now have the opportunity to effectively occupy centre stage or end up going extinct as dinosaurs".
Tough words that convey the disappointment for a negotiation that sees the parties involved (the Tripoli government led by Fayez al-Sarraj; the Tobruk faction commanded by General Khalifa Haftar and the Fezzan independent tribes) willing to respect the armed truce, but little inclined to make political concessions to their counterparts.
Certainly it was not easy to make the Libyan stakeholders – who, until last summer, had been fighting one another in open field -converge on a political dialogue path
It was not easy also due to the behind-the-scenes activism of the international sponsors of the opposing factions: Turkey and Qatar in favour of al-Sarraj; Saudi Arabia, the Gulf States, Egypt and Russia supporting the "Libyan National Army" led by General Haftar, while President Macron's France is openly siding with the Fezzan tribes.
During the Tunis talks, all delegates systematically leaked to the press fake drafts of possible agreements, in view of thwarting the proposals of their counterparts.
According to "Agenzia Nova", apparently official documents were circulated containing references to the topics actually under discussion, "polluted" by totally invented parts: "real poisoned drafts received from Libyan sources close to General Haftar".
Malicious rumours have also spread about the possible corruption of some delegates, bribed with many dollars to favour the appointment of Abdullh al-Dabaiba -the powerful "warlord" of Misrata and founder of the "Future for Libya" movement – to the new government. It should be recalled that, thanks to Turkish weapons and Islamist mercenaries brought by President Erdogan to Libya from Syria, Misrata's militias rescued al-Sarraj's government from collapse when last April General Haftar's militias had arrived at Tripoli's gates.
However, despite the difficulties, in her report to the UN Security Council, Acting SRSG Stephanie Williams also highlighted some positive aspects of the situation on the ground.
First of all, the military truce is holding out: there are no significant violations of the "ceasefire", while "the exchange of prisoners continues, facilitated by the Council of Elders, with the support of the Joint Military Commission.
Another important result has been achieved in the oil sector: with the agreement of all the parties involved, the National Oil Company has resumed oil production in full swing, which has quickly returned to last year's level of 1.2 million. However, the transparent distribution of oil revenues must be postponed until an agreement is reached between all the parties involved, pending which the National Oil Company shall set aside the proceeds from oil sale in a special UN-controlled account.
This is a sensitive aspect regarding directly Italy: the resumption of crude oil extraction means much for ENI which – albeit left alone by national institutions to operate in the dangerous situation of tension between the opposing Libyan factions – has managed to establish itself as a credible and reliable counterpart and to maintain its extraction, production and refining activities in Libya.
While concluding her briefing to the UN Security Council, Acting SRSG Stephanie Williams underlined: "Seventy-five Libyans came together in Tunis …in a good faith effort to start the process of healing their nation's wounds. …they extended their hands, if not their hearts, to each other".
"Not their hearts": this is the deepest shadow hanging over the Tunis talks, casting uncertainty over a peace process in which the role of the national players is often influenced and manipulated by the various international sponsors – and the sponsors certainly do not act for "heart" reasons.
On the Tripoli government's front, the two key allies are President Erdogan's Turkey and Qatar ruled by young Emir Tamin bin Hamad Al Thani.
Despite the accession of the former to NATO and of the latter to the Gulf Cooperation Council (GCC), the two countries have embraced the cause of Muslim extremism by more or less openly supporting jihadist militias during the civil conflicts in Syria, Iraq and, most recently, Libya.
At the side of these awkward travel companions, in a quiet and secluded corner, we can find Italy which, in 2016, with an undoubtedly politically correct move, followed the United Nations, which imposed a neo-colonialist governmental solution on Libya, by establishing al-Sarraj's "Government of National Accord" (GNA), at first in Tunis and later in Tripoli. A "neo-colonialist" solution because the GNA has not been recognised by any of Tripoli's and Tobruk's Parliaments and has never been legitimized by elections or supported by the people.
Over the last four years, while al-Sarraj barely controlled the capital, the Italian diplomacy has not seemed able to find a clear policy and line of action, in a region of vital importance for the country, other than that of "respect for UN resolutions", a formal pretext used also by the European Union to justify its inaction.
As said above, faced with Turkey's and Qatar's political and military commitment to support al-Sarraj, but above all the Islamist militias of Tripoli and Misrata, the Gulf States have broken diplomatic relations with Qatar, accusing its Emir of an adventurous conduct in favour of the "Muslim Brotherhood" throughout the region.
Furthermore, together with Egypt, France and Russia, the Gulf States have actually established an alliance to protect two of the three Libyan political-military components, i.e. General Haftar's"Libya Liberation Army" and the militias linked to the Fezzan tribes with whom France has established an almost exclusive partnership.
While the diplomacies interested in the Middle East are playing on several tables – just think of the new relations between the Arab Emirates, Bahrain, and above all Saudi Arabia, with Israel-Italy and Europe – probably also because of the pandemic – seem to be immobilized and bogged down into passive positions of principle on the positive aspects of "multilateralism".
Indeed. the other countries are taking action also in view of possible political and economic dividends in the future, while Italy and Europe, with their wait-and-see attitude, remain on the sidelines to watch – as mere spectators – the development of events that will have a decisive impact on the new Mediterranean equilibria of the near future.
Nevertheless, there seem to be no good news about U.S. international commitments in the "after-Trump era".
The new President, Joe Biden, has appointed Antony Blinken as the new Secretary of State.
Despite his being an educated, cosmopolitan and polite person, we cannot forget that, during Obama's Presidencies, Blinken was a close aide of Hillary Clinton, at first, and of John Kerry, later, i.e. two negative protagonists of international relations and foreign policy who, with their naïve support for the fake "Arab Springs", contributed to upset North Africa and the Middle East in the name of a mirage that saw an unattainable goal of Western democracy for the countries experiencing Islamist civil uprisings and unrest.
After having fomented and militarily supported the revolt against Colonel Gaddafi, the U.S. Department of State led by Hillary Clinton, had to face the sacrifice of its ambassador in Libya, Chris Stevens, who was killed on September 11, 2012 in Benghazi, where he had been sent for a confused and botched negotiation with the Islamists of Ansar Al Sharia.
Under Kerry's leadership, with Blinken at his side as Deputy Secretary of State, the United States managed the Syrian crisis in a politically and militarily unwise manner, thus finally leaving the field open to Russia and Turkey.
Against this backcloth, the prospects for a return to action of U.S. diplomacy (partly put to rest by Donald Trump) are not particularly fascinating, in an area such as Libya where Italy, in its own small way, is not even able to sketch out a credible negotiation for the release of the eighteen fishermen from Mazara del Vallo, kidnapped by General Haftar's forces for over two months.