Clerics and entertainment seek to bolster MbS's grip on power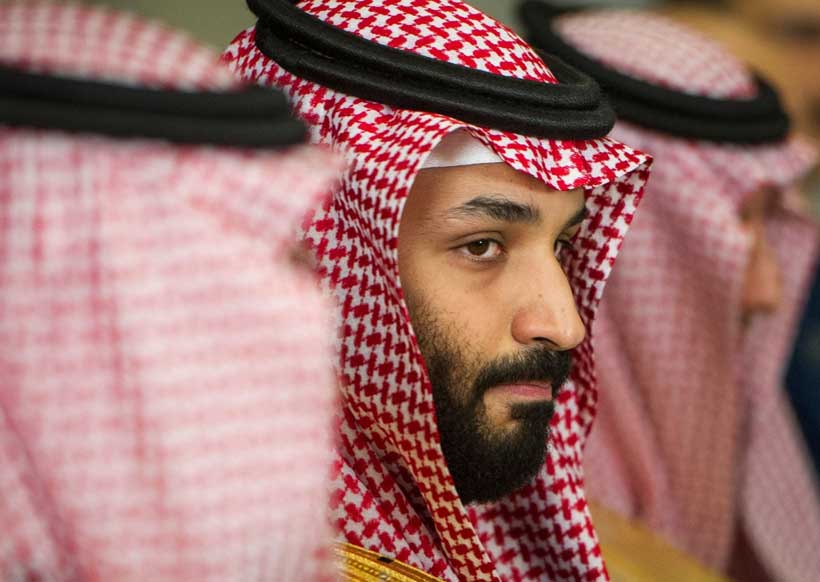 A public apology by a prominent Salafi scholar sheds a light on Saudi crown prince Mohammed bin Salman's version of 'moderate Islam,' his effort to shape the Middle East and North Africa in his mould, and the replacement of religion with hyper-nationalism as the source of his legitimacy.
Claiming to speak in the name of the Sahwa or Awakening movement, Aidh al-Qarni, one of the kingdom's most popular religious scholars, broke with the Muslim Brotherhood-linked group's past call for political reform and instead wholeheartedly endorsed Prince Mohammed's undefined notion of an Islam that would be free of extremism.
"I would like to apologize to Saudi society for…the extremism, the violation of the Qur'an and the Sunnah, the violation of the tolerance of Islam, the violation of the moderate and merciful nature of Islam. I support today the moderate and open-to-the-world Islam that has been called for by crown prince Mohammed bin Salman," Mr. Al-Qarni said, wearing a Salafi-style chequered red and white headdress.
More than simply a declaration of support for the Saudi leader, Mr. Al-Qarni's apology provided ideological justification for Prince Mohammed's so far only partially successful efforts to ensure that regional states are ruled by governments of his liking, refusal to condemn assaults on Islam like in China's north-western province of Islam, and crackdown at home that potentially has put some of his past colleagues on death row.
Mr. Al-Qarni was not among Islamic scholars that have been detained, many of them in a crackdown in September 2017. Those arrested and potentially facing execution included some of the kingdom's other most popular reformist preachers such as Salman al-Audah and Mr. Al-Qarni's namesake, Awad al-Qarni.
Charges against the two men, as well as author and broadcaster Ali al-Omari, include stirring public discord, inciting people against the ruler, public support for imprisoned dissidents and alleged ties to the Brotherhood and Qatar. A Saudi-United Arab Emirates-led alliance has been boycotting Qatar economically and diplomatically for the past two years.
Mr. Al-Omari, a former United Nations Goodwill Ambassador for Youth and Humanity, is a member of the Qatar-based International Union of Muslim Scholars founded by controversial scholar Yusuf al-Qaradawi. Mr. Al-Qaradawi is widely believed to be a major spiritual influence within the Brotherhood.
Mr. Al-Qarni's endorsement of Prince Mohammed and reports that two of his colleagues may be executed came as Human Rights Watch rang alarm bells about the fate of Murtaja Qureiris, an 18-year old who could face a similar fate.
Mr. Qureiris was arrested when he was 13 for participating in 2011 in a bike protest in eastern Saudi Arabia three years earlier when he was 10 years old.
Mr. Qureiris was charged with belonging to a terrorist group, helping to construct Molotov cocktails, shooting at security forces and participating in a protest at the funeral of his brother, who was killed in an allegedly violent demonstration.
Mr. Al-Qarni didn't do his former colleagues any favours by asserting that Qatar was funding Saudi scholars. "Of course, people get money… Saudis went there (Qatar)," Mr. Al-Qarni said, refusing to identify who he was referring to.
'Qatar Papers,' a recently published book in France, purportedly based on hitherto unpublished documents, asserted that the Gulf state was funding numerous mosques and individuals in Europe associated with the Brotherhood.
A TV series broadcast during this year's Ramadan, when programs get their highest ratings, provided background music for Mr. Al-Qarni's apology.
Rewriting history through the eyes of a Saudi family, Al-Asouf (Winds of Change) blames the Sahwa for some of the region's most momentous events, including the 1979 Iranian revolution, the occupation by militants of the Grand Mosque in Mecca that same year, and the 1981 assassination of Egyptian President Anwar Sadat because of his signing of a peace treaty with Israel.
In line with Prince Mohammed's assertion that Saudi Arabia embraced a more moderate form of Islam prior to the events of 1979, Al-Asouf suggests that Sahwa's ultra-conservatism bolstered by its hostility towards the West, misogynist attitudes towards women and intolerance, influenced a generation of Saudis.
Adding to Mr. Al-Qarni's apology and Al-Asouf's messaging, Adil al-Kalbani, a former imam of the Grand Mosque and often straight-talking member of the kingdom's ultra-conservative religious establishment, who has seven million followers on Twitter, made a 180 degrees U-turn on his past statements that supported severe restrictions of women's rights and denounced Shiites as apostates.
Challenging one of the kingdom's major taboos, Mr. Al-Kalbani denounced gender segregation in mosques as "a kind of phobia," arguing that in the era of the Prophet Mohammad, men and women prayed together.
"Now unfortunately we've become paranoid to the level that in a mosque, a place of worship, it's as if women are in a fortress," he said. "They're completely isolated from the men, not seeing or hearing them except through microphones or speakers."
Drawing red lines, Mr. Al-Qarni sought to provide religious justification to Prince Mohammed's policies. The crown prince's concept of moderate Islam, involving absolute obedience to the ruler, was one red line. The interests of Saudi Arabia as defined by Prince Mohammed was another.
"I went and pledged allegiance to the King and swore on the Qur'an and the Sunnah. I went on the night of the 27th (of May) to Mecca and pledged allegiance to Mohammed bin Salman. You pledge allegiance for better or for worse… I declare here that I am now one of the swords of the state," Mr. Al-Qarni said.
Asserting that Saudi Arabia was being targeted by Iran, Turkish president Recep Tayyip Erdogan and the Muslim Brotherhood, Mr. Al -Qarni's definition of the kingdom as a red line appeared to break with Sahwa and the Saudi past religious embrace of Islam's concept of the ummah, the global community of the faithful.
In the words of Saudi Arabia scholar Raihan Ismail, Mr. Al-Qarni was rejecting the notion of the ummah because it "undermines the primacy of the nation-state."
In doing so, Mr. Al-Qarni was attempting to provide religious cover for Prince Mohammed's apparent endorsement during a visit to Beijing earlier this year of China's crackdown on Turkic Muslims and his apparent support for a US plan to resolve the Israeli-Palestinian conflict that is widely believed to favour Israel and deny Palestinian aspirations.
Anwar Gargash, the minister of state for foreign affairs of Saud Arabia's closest ally, the United Arab Emirates, hailed Mr. Al-Qarni's apology as an important step "as we close the door to the stage of extremism and the employment of religion for political purposes."
Mr. Gargash's comments put a finger on differences in the approaches towards Islam of Emirati crown prince Mohammed bin Zayed and his Saudi counterpart.
Viscerally opposed to political Islam, UAE Prince Mohamed rather than the Saudi crown prince has been the driver in support by the two Gulf states of anti-Islamist forces across the Middle East and North Africa.
In fact, Prince Mohammed's notion of moderate Islam, although projected as a break with Saudi Arabia's past propagation of ultra-conservative strands of Islam that critics charged contributed to breeding grounds of violence, amounts to a form of conservative political Islam that is designed to bolster his autocratic regime rather than reform the faith.
Similarly dissident Saudi scholar Madawi al-Rasheed asserted that the kingdom's decision to recently convene three Gulf, Arab and Islamic summits during Ramadan in the holy city of Mecca was "nothing but utter Islamism."
Ms. Al-Rasheed argued that the summits exposed "the contradiction in the recent Saudi push to ban and criminalise Islamism. The three conferences are not being held to discuss theological matters, but to seek support for Saudi Arabia's king over serious, controversial and divisive political crises," she said.
Papal visit to Iraq: Breaking historic ground pockmarked by religious and political minefields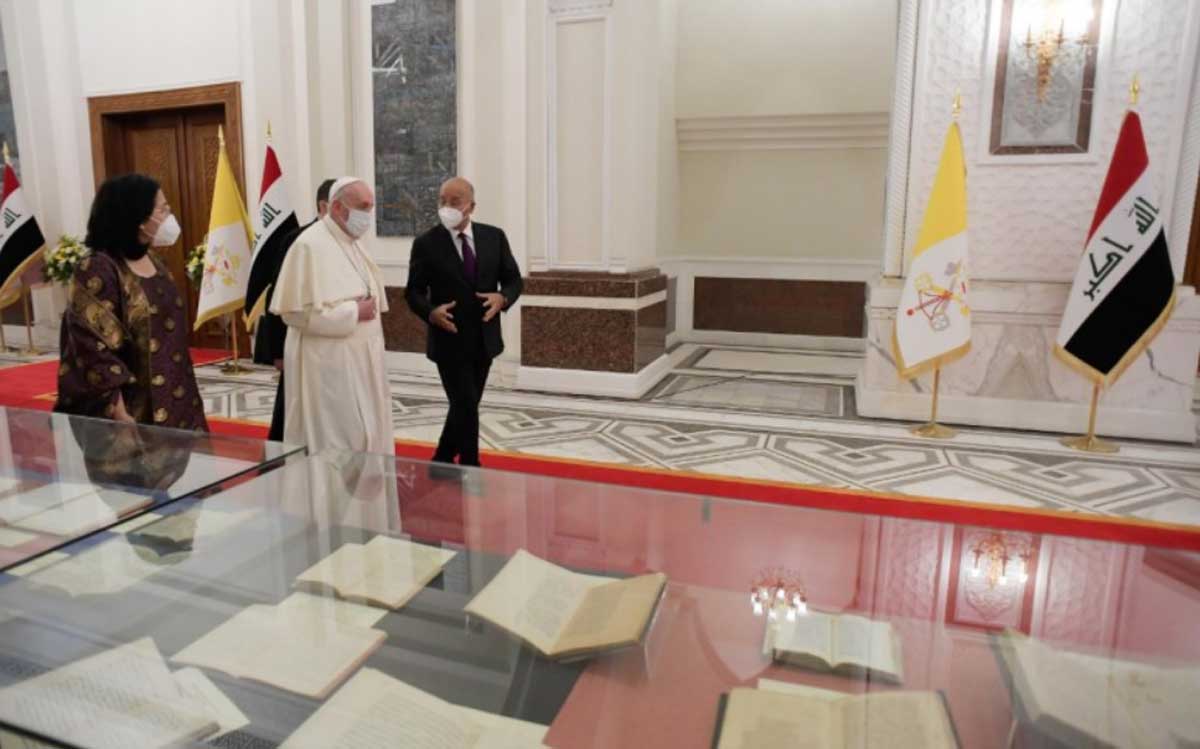 When Pope Francis sets foot in Iraq on Friday, he will be breaking historic ground while manoeuvring religious and political minefields. So will his foremost religious counterpart, Grand Ayatollah Sayyid Ali al-Husayni al-Sistani, one of the Shia Muslim world's foremost scholars and leaders.
The three-day visit contrasts starkly with past papal trips to the Middle East that included Turkey, Egypt, Morocco, the United Arab Emirates and Azerbaijan, states that, unlike neighbouring Iran, are more accustomed to inter-faith interactions because of their Sunni Muslim history and colonial experience or in the case of Shia-majority Azerbaijan a modern history of secular and communist rule.
Unlike in Azerbaijan, Pope Francis is venturing in Iraq into a Shia-majority country that has been wracked by sectarian violence in which neighbouring Iran wields significant religious and political influence and that is home to religious scholars that compete with their counterparts in the Islamic republic. As a result, Iraqi Shiite clerics often walk a tightrope.
Scheduled to last 40 minutes, Ayatollah Al-Sistani's meeting with the pope, a high point of the visit, constitutes a double-edged sword for a 90-year-old religious leader born in Iran who has a complex relationship with the Islamic republic.
Ayatollah Al-Sistani has long opposed Iran's system of direct rule by clerics. As a result, he has eschewed executive and political authority while playing a key role in reconciling Iraqi Shiites and Sunnis, promoting inter-tribal and ethnic peace, and facilitating the drafting and ratification of a post-US invasion constitution.
Ayatollah Al-Sistani's influence, however, has been evident at key junctures in recent Iraqi history. Responding to an edict by the ayatollah, Iraqis flocked to the polls in 2005 despite the risk of jihadist attacks. Large numbers enlisted in 2017 to fight the Islamic State after Ayatollah Al-Sistani rallied the country. The government of Prime Minister Adel Abdul Mahdi resigned in 2019, four days after Ayatollah Al-Sistani expressed support for protesters demanding sweeping reforms.
To avoid controversy, Ayatollah Al-Sistani is likely to downplay the very aspects of a meeting with the pope that political and religious interlocutors of the head of the Catholic church usually bask in: the ability to leverage the encounter to enhance their legitimacy and position themselves as moderate and tolerant peacemakers.
With state-controlled media in Iran largely refraining from mentioning the visit and Iranian Spiritual Leader Ayatollah Ali Khamenei claiming the mantle of leadership of the Muslim world, Ayatollah Al-Sisi is likely to avoid projecting the encounter as a recognition by the pope that he is Shiite Islam's chief interlocutor or that the holy Iraqi city of Najaf, rather than Iran's Qom, is the unrivalled capital of Shiite learning.
Sources close to Ayatollah Al-Sistani, who rarely receives foreign dignitaries, have described his encounter on Saturday with the pope as a "private meeting."
"Khamenei will not like it," said Mehdi Khalaji, an Islamic scholar who studied in Qom and is a senior fellow at The Washington Institute for Near East Policy.
Critics are likely to note that Ayatollah Al-Sistani was meeting the pope but had failed to receive in December Iranian Chief Justice Ebrahim Raisi, who is touted as a potential presidential candidate in elections scheduled for June and/or successor to Ayatollah Khamenei.
Mr. Khalaji noted that Iran has long downplayed Ayatollah Al-Sistani's significance that is boosted by the fact that he maintains a major presence not only in Najaf but also in Qom where he has a seminary, a library, and a clerical staff.
Shiite scholars suggest that is one reason why Pope Francis and Ayatollah Al-Sistani are unlikely to issue a Shiite-Christian equivalent of the Declaration of Human Fraternity that was signed in Abu Dhabi two years ago by the pontiff and Sheikh Ahmed el-Tayeb, the Grand Imam of Al-Azhar, the Cairo-based historic cathedral of Islamic learning.
"Al-Sistani does not want to provoke Khamenei. There is no theological basis to do so. Muslims cannot be brothers of Christians. Mainstream Islamic theological schools see modern Christianity as inauthentic. They view Jesus as the divine prophet, not as the incarnation of God and his son. In short, for official Islam, today's Christianity is nothing short of heresy," Mr. Khalaji said, referring to schools of thought predominant in Iran. "Sunnis are a little bit more flexible," he added.
Mr. Khalaji noted further that Shiite religious seminaries have no intellectual tradition of debate about inter-faith dialogue nor do any of the offices of religious leaders have departments concerned with interacting with other faith groups. "The whole discourse is absent in Shia Islam," Mr. Khalaji said.
That has not stopped Ayatollah Al-Sistani from maintaining discreet contacts with the Vatican over the years.
In a bid to popularize the concept of inter-faith dialogue, Pope Francis is scheduled to hold a multi-religious prayer meeting in Ur, the presumed birthplace of Abraham, revered as the father of Judaism, Christianity, and Islam.
By the same token, Pope Francis, concerned about the plight of Christians in the Middle East and particularly Iraq that has seen the diverse minority shrink from 1.2 million before the 2003 US invasion to at most 300,000 today, will want to build on the Shiite leader's past calls for protection of the minority faith group from attacks by militants and condemnation of "heinous crimes" committed against them.
The pope hopes that a reiteration by Ayatollah Al-Sistani of his empathy for the plight of Christians would go a long way in reducing pressure on the community from Iranian-backed militias that has stopped many from returning to homes they abandoned as they fled areas conquered by the Islamic State.
The pope's visit, little more than a month after a bomb blast in Baghdad killed 32 people and days after rockets hit an airbase housing US troops, has sparked hope among some Iraqis that it will steer the country away from further violence.
That hope was boosted by a pledge by Saraya Awliyat Al-Dam (Custodians of the Blood), the pro-Iranian group believed to have attacked the airbase, to suspend its operations during the pope' visit "as a sign of respect for Imam Al-Sistani."
Said Middle East scholar Hayder al-Khoei: "There will be no signing of a document, but both (Pope Francis and Ayatollah Al-Sistani) are advocates of interfaith dialogue and condemn violence committed in the name of religion. The meeting will undoubtedly strengthen the voices and organizations who still believe in dialogue."
Iraq Opens Hands to the Pope Francis' Historic Visit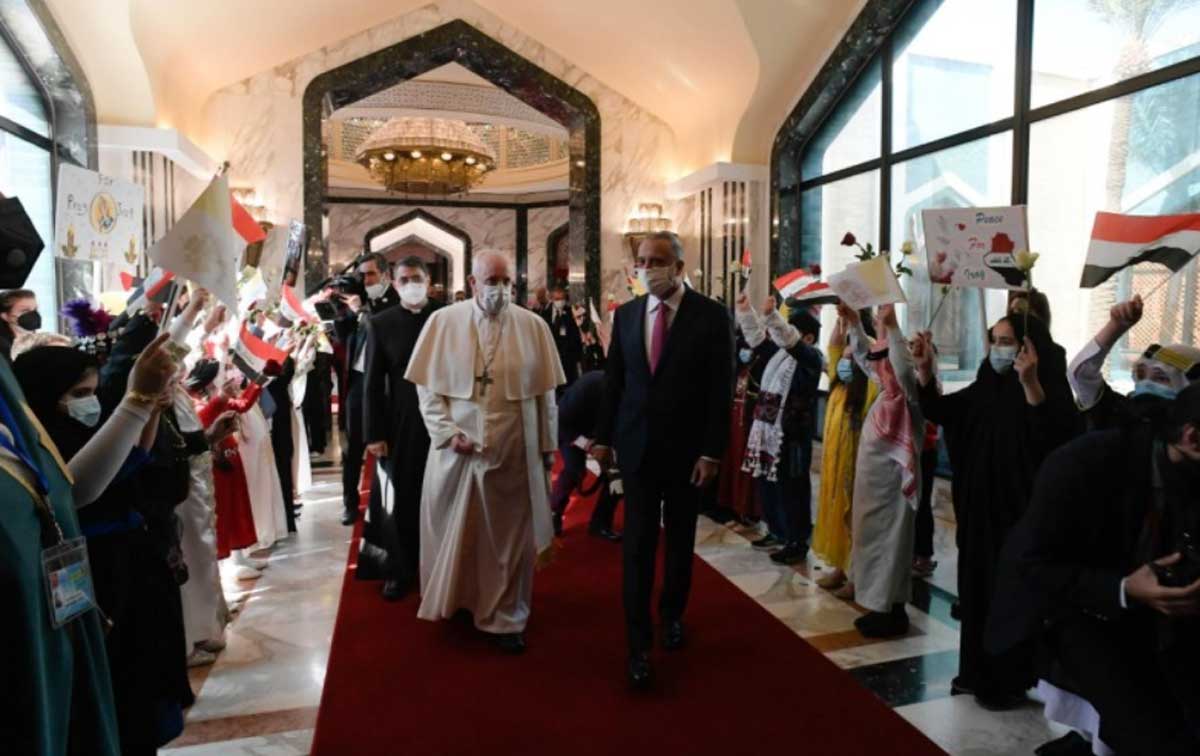 The world looks forward to Pope Francis' historic visit to Iraq which is considered the first papal trip represented by the Roman Catholic Church to the cradle of civilization, Mesopotamia, despite spreading the second wave of COVID-19 and the security situation in Iraq. This expected visit has an important impact on highlighting the challenges and disasters of humiliation, the sectarian war and displacing people, Yazidis persecution, and fleeing the Christian minorities that faced Iraq during all these past years after the US invasion occurred in 2003.
The three-day-visit is considered as the message of peace after years of war and violence, referring that the Pope's visit is as a pilgrim to the cradle of civilization. The papal visit includes Baghdad, Erbil, Mosul- Qaraqosh, and Ur city. The trip comes after 18 months as the pandemic restricts his movement, and it is the first visit to the Middle East when he visited the U.A.E in February 2019 where he met and celebrated in front of 180,000 people at the Zayed Sports City stadium in Abu Dhabi.
The papal visit was intended to occur twenty years ago when St. John Paul II tried to visit Mesopotamia during Saddam's regime, but the endeavors failed to complete that proposed trip. "The people of Iraq are waiting for us. The people waited for St. John Paul II who was not permitted to go. We cannot disappoint them twice", said the Pope.
In a video message addressed by the Pope to the people of Iraq, he expressed his happiness and longing to meet the people who suffered from war, scourges, and death during all these years. "I long to meet you, to look at your faces and to visit your blessed ancient land and the cradle of civilization," the Pope said.
It is expected that the purpose of the Pope's visit is to preserve the rest of the Christians in Iraq. According to the estimation of the charity aid of the Church in Need, the numbers of Christians have decreased from 1.4 million to under 250,000 since the American invasion of Iraq in 2003, especially in the cities of northern Iraq. Many Christians were killed and fled from 2014 to 2017 due to the Islamic State occupation and due to their atrocities, persecution, and violence against the Christian areas. The Pope yearns for meeting the dwindling Christian communities in Mosul, Qaraqosh, and Nineveh plains where these regions had suffered from the atrocities of ISIS in 2014 and people had been compelled to flee.
The world is waiting for the most significant historic meeting between the 90-year-old Shia Muslim cleric, the Grand Ayatollah Ali al-Sistani, and the 84-year-old Pope Francis in the Shiite shrine city of Najaf. The expected meeting is seen as a real chance to enhance the bonds of fraternity between the Muslims and Christians and to lighten the impact of the islamophobia concept that swept Europe and America due to the terrorism actions that happened in Europe. This expected meeting that will be by Saturday signifies a historic moment when the Grand Ayatollah Ali al-Sistani meets Pope Francis, illustrating the fraternal bonds to make people live in peace and tranquility.
Back in February 2019, the Pontiff Francis and Sheikh Ahmed al-Tayeb, the Grand Imam of Cairo's al-Azhar mosque and the most prestigious leader in Sunni Islam, agreed and signed the declaration of fraternity, affirming peace among all nations. The two parties in this document adhere to fight extremism in every place in the world. If the Pontiff and the Grand Ayatollah sign a document like the declaration of fraternity, this will give Najaf's Marjiya a very great impact, and this move will be seen as the first step to decrease the religious tensions and fill the gap of the clash of civilization. This document, if it is enacted, will have a great impact to make peace prevailing and encouraging Muslims and Christians to live in peaceful coexistence.
Ur, which is the oldest city in the world, is to be visited by the pontiff. It is considered the biblical birthplace of Ibraham, the common prophet to the Christians, Muslims, and Judaism and the father of Judaism, Christianity, and Islam. It is expected that there will be prayers in Ziggurat where this place is one of UNESCO world heritage sites. This visit to this historic site will help the landmark to polarize people from Iraq and outside to visit it after years of negligence and ignorance attention to its importance and the vital role that can help Iraq to increase the public income.
The papal visit has many different messages to the people of Iraq. Firstly, the expected meeting with the Grand Ayatollah Ali al-Sistani reflects the fraternal and human stances, and this meeting underlines the important role played by the Grand Ayatollah Ali al-Sistani after the US-led-invasion in 2003. Secondly, his visit to Ur to pray there is a message of the peaceful coexistence between Islam, Christianity, and Judaism, trying to point out that all these three religions emerged from one source. Thirdly, the Pope endeavors to be with the Christians who suffer from the past events of persecution, humiliation, and atrocities. His presence among them is a message of tranquility, serenity, peace, and contentment to live in Iraq with the Muslims and to abandon fighting against others. Finally, the Pope's visit to Iraq pays the world's attention to the religious importance of Iraq and the significant role that can be played by Iraq.
Restart Iran Policy by Stopping Tehran's Influence Operations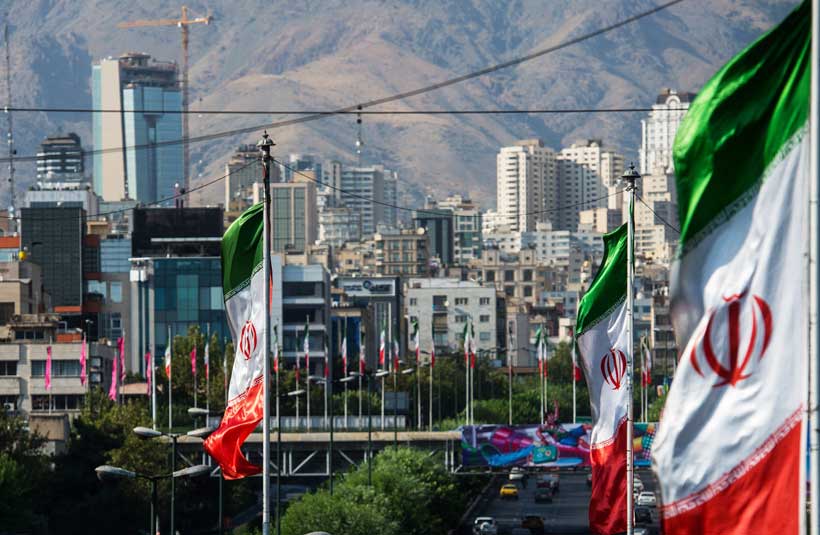 Another US administration is trying to figure out its Iran policy. And, as always, the very regime at the core of the riddle is influencing the policy outcome. Through the years, the clerical rulers of Iran have honed the art of exploiting America's democratic public sphere to mislead, deceive, confuse, and influence the public and government.
Yet Washington still does not have a proper taxonomy of policy antidotes when it comes to Tehran's influence operations.
Arguments dictated by Iranian intelligence services echo in think tanks and many government agencies. These include the extremely misguided supposition that the murderous regime can be reformed or is a reliable negotiating partner for the West; or that there is no other alternative but to deal with the status quo.
How has Tehran been able to deceive some in the US into believing such nonsense? First, by relying on the policy of appeasement pursued by Western governments. And second, through its sophisticated influence operations facilitated by that policy.
Consider three recent instances.
First. Just last month, an Iranian "political scientist" was charged by the Justice Department for acting as an unregistered agent of Iran and secretly receiving money from its mission in New York. "For over a decade, Kaveh Afrasiabi pitched himself to Congress, journalists, and the American public … for the benefit of his employer, the Iranian government, by disguising propaganda as objective polic1y analysis and expertise," the Justice Department noted.
Afrasiabi has an extensive body of published work and television appearances. In July 2020, according to the Justice Department, he linked many of his books and hundreds of articles in an email written to Iran's Foreign Minister, Javad Zarif, saying: "Without [Zarif's] support none of this would have been possible!"
Second. Across the Atlantic, one of Zarif's official diplomats in Europe, Assadollah Assadi, was convicted and given a 20-year prison sentence by a Belgian court on February 4 for trying to bomb an opposition rally in the outskirts of Paris in June 2018.
Court documents revealed that Assadi crisscrossed Europe as Tehran's intelligence station chief, paying and directing many agents in at least 11 European countries.
Assadi's terrorist plot in 2018 was foiled at the last minute. The main target was Maryam Rajavi, the President-elect of the National Council of Resistance of Iran (NCRI). Hundreds of Western lawmakers and former officials were also in attendance.
Third. Unable to harm its opposition through terrorism, the regime has expanded its influence operations against NCRI's main constituent organization the Mujahedin-e Khalq (MEK), which Tehran considers its arch nemesis.
For decades, the mullahs have misled, deceived, and confused America's Iran policy by disseminating considerable disinformation about the democratic opposition. This has in turn resulted in bungled American responses to Tehran's threats.
In a breaking revelation this month, a former Iranian intelligence operative wrote a letter to the UN Secretary General, outlining in glaring detail how the regime's Ministry of Intelligence and Security (MOIS) recruits, pays, and controls dozens of agents across Europe to influence policy.
Forty-one-year-old Hadi Sani-Khani wrote that he was approached by intelligence agents who lured him into the Iranian embassy in Tirana, Albania (MEK's headquarters). He said he wants to go back to Iran. On one condition, the embassy responded: Cooperate with the regime's intelligence against the MEK. He subsequently met with the regime's intelligence chief, Fereidoun Zandi, who coordinated a network of paid agents in Albania since 2014. The intelligence chief was later expelled by Albanian authorities along with the regime's ambassador.
Khani was paid 500 euros per month to write and publish anti-MEK articles and also send copious amounts of similar propaganda to members of the European parliament. Dozens of websites are operated by Tehran's intelligence, some of which are, astonishingly, undeclared sources for unsuspecting Western journalists, think tanks and government agencies when it comes to the MEK.
In many cases, reporters have met directly with the regime's intelligence agents for their stories. In September 2018, for example, according to Khani, a reporter from German newspaper Der Spiegel traveled to Albania. Khani recalls: "We met the Der Spiegel reporter in a Café in Ramsa district in Zagozi square. Each of us then told her lies about the MEK which we had been given in preparation of the meeting. … [Later on,] she occasionally asked me questions about the MEK which I then raised with the embassy and provided her the response I received."
Der Spiegel published the story on February 16, 2019, parts of which were copied from websites affiliated with Iran's intelligence service. Following a lawsuit, a court in Hamburg ordered Der Spiegel to remove the defamatory segments of its article.
These same agents also met with a New York Times correspondent at the same Café, who subsequently wrote a piece against the MEK, regurgitating the very same allegations.
The mullahs' influence operations are a serious obstacle to formulating an effective US policy toward Tehran. As long as the regime's agents are allowed to exploit America's public sphere, cultivate important relationships, infiltrate the media and think tanks, and influence serious policy deliberations in Washington through a flood of falsehoods, America will be at a substantial disadvantage.