Scandinavia Veers Left plus D-Day Reflections as Trump Storms Europe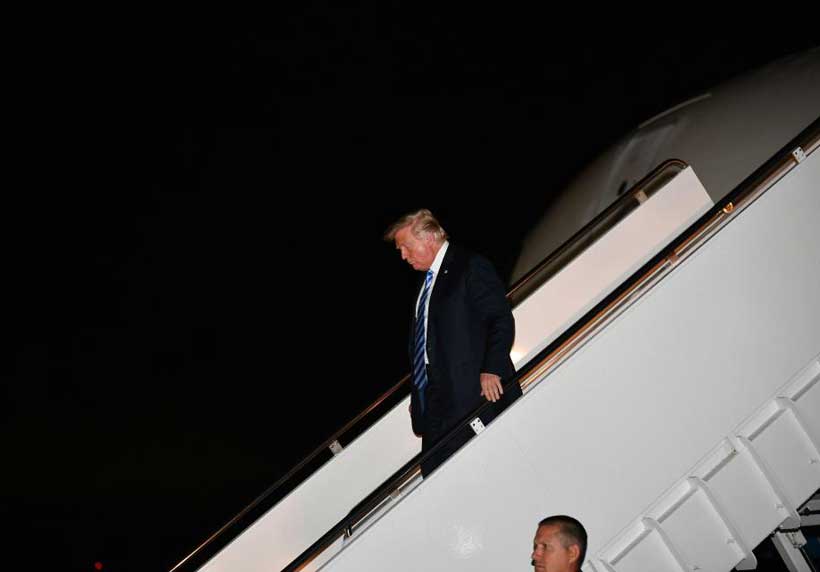 Mette Frederiksen of the five-party Social Democrat bloc won 91 of the 169 seats in the Danish parliament ending the rule of the right-wing Liberal Party group that had governed for 14 of the last 18 years. The election issues centered on climate change, immigration and Denmark's generous social welfare policies. All parties favored tighter immigration rules thereby taking away the central issue dominating the far-right Democrat Freedom Party which has seen its support halved since the last election in 2015.
Ms Frederiksen promised more spending to bolster the much loved social welfare model and increased taxes on businesses and the wealthy. A left wave is sweeping Scandinavia as Denmark becomes the third country, after Sweden and Finland, to move left within a year. Mette Frederiksen will also be, at 41, the youngest prime minister Denmark has ever had.
Donald Trump has used the 75th anniversary of D-Day commemorations to garner positive publicity. The supreme promoter has managed to tie it in with a "classy" (his oft-chosen word) state visit to the UK spending a day with royals. It was also a farewell to the prime minister as her resignation is effective from June 7. Add a D-Day remembrance ceremony at Portsmouth and he was off to his golf course in Ireland for a couple of days of relaxation disguised as a visit to the country for talks — he has little in common with the prime minister, Leo Varadkar, who is half-Indian and gay.
Onward to France where leaders gathered for ceremonies at several places. It is easy to forget the extent of that carnage: over 20,000 French civilians were killed in Normandy alone mostly from aerial bombing and artillery fire. The Normandy American cemetery holds over 9600 soldiers. All in all, France lost in the neighborhood of 390,000 civilian dead during the whole war. Estimates of total deaths across the world range from 70 to 85 million or about 3 percent of the then global population (estimated at 2.3 billion).
Much has been written about conflict resolutions generally from a cold rational perspective. Emotions like greed, fear and a sense of injustice when unresolved lead only in one direction. There was a time when individual disputes were given the ultimate resolution through single combat. Now legal rights and courts are available — not always perfect, not always fair, but neither are humans.
It does not take a genius to extrapolate such legal measures to nations and international courts … which already exist. Just one problem: the mighty simply ignore them. So we wait, and we honor the dead of wars that in retrospect appear idiotic and insane. Worse is the attempt to justify such insanity through times like the "good war", a monstrous absurdity.
It usually takes a while. Then we get leaders who have never seen the horror of war — some have assiduously avoided it — and the cycle starts again.
The Russiagate hoax is now fully exposed
The last leg of the Russiagate hoax to become exposed was on August 16th, when Gareth Porter bannered at The American Conservative, "U.S. States: We Weren't Hacked by Russians in 2016". He revealed there that, "A 'bombshell' Senate Intelligence Committee report released in July repeated the familiar claim that Russia targeted the electoral websites of at least 21 states — but statements from the states themselves effectively undermine that narrative," and NONE of the states was claiming that even a possibility had existed that its vote-counts had been affected, at all, by any hacker, anywhere. However, in one case, that of Illinois, there actually had been a hack; but it might have been by a criminal in order to sell the information, and not by any politically involved entity.
Porter reported:The states' own summary responses contained in the report show that, with one exception, they found either no effort to penetrate any of their election-related sites or merely found scanning and probing associated with an IP address that the FBI had warned about ahead of the 2016 election. Hardly a slam dunk.
Federal authorities, including Independent Counsel Robert Mueller, later claimed that the Russians used that IP address to hack into the Illinois state election systems and access some 200,000 voter records, though Mueller provided no additional evidence for that in his report. Nor was there any evidence that any data was tampered with, or a single vote changed.
About the same time, in August 2016, it was reported that Arizona state election systems were also breached, and it was widely speculated afterward that the Russians were behind it. But the Senate committee itself acknowledged that it was a criminal matter, and didn't involve the Russians.
The "Russian" hack on the Illinois website, however, eventually became part of conventional wisdom, mainly because of Special Counsel Robert Mueller's indictment of 12 GRU (Russia's foreign intelligence agency) officers for allegedly carrying it out.
But the overarching reality here is that there was no real penetration anywhere else. As for outside "probing" and "testing of vulnerabilities" (which, when closely read, makes up the vast majority of the "targeting" cited in the Senate report), that is something that states contend with every day at the hands of an untold number of potential hackers, including, but not limited to, foreign actors.
As Lisa Vasa, Oregon's chief information security officer, explained to The Washington Post, the state blocks "upwards of 14 million attempts to access our network every day." And Colorado Secretary of State Wayne Williams told the Post that the kind of scanning that was discussed by DHS "happens hundreds, if not thousands, of times per day."
Furthermore, not all federal officials buy into the theory that the Illinois intrusion was political — rather than criminal — in nature. In fact, DHS Assistant Secretary for Cyber Security and Communications Andy Ozment testified in late September 2016 that the aim of the hackers in the Illinois case was "possibly for the purpose of selling personal information," since they had stolen the data but made no effort to alter it online.
The Senate Intelligence Committee, DHS, and the intelligence community nevertheless chose to omit that reality from consideration, presumably because it would have interfered with their desired conclusion regarding the Russian cyber attacks on the 2016 election.
Prior to that revelation, here were highlights from the major news-reports which had exposed other fraudulent aspects of the "Russiagate" accusations:
Robert Mueller is either a fool, or deeply corrupt. I do not think he is a fool.
I did not comment instantly on the Mueller Report as I was so shocked by it, I have been waiting to see if any other facts come to light in justification. Nothing has. I limit myself here to that area of which I have personal knowledge – the leak of DNC and Podesta emails to Wikileaks. On the wider question of the corrupt Russian 1% having business dealings with the corrupt Western 1%, all I have to say is that if you believe that is limited in the USA by party political boundaries, you are a fool.
On the DNC leak, Mueller started with the prejudice that it was "the Russians" and he deliberately and systematically excluded from evidence anything that contradicted that view.
Mueller, as a matter of determined policy, omitted key steps which any honest investigator would undertake. He did not commission any forensic examination of the DNC servers. He did not interview Bill Binney. He did not interview Julian Assange. His failure to do any of those obvious things renders his report worthless.
There has never been, by any US law enforcement or security service body, a forensic examination of the DNC servers, despite the fact that the claim those servers were hacked is the very heart of the entire investigation. Instead, the security services simply accepted the "evidence" provided by the DNC's own IT security consultants, Crowdstrike, a company which is politically aligned to the Clintons.
That is precisely the equivalent of the police receiving a phone call saying:
"Hello? My husband has just been murdered. He had a knife in his back with the initials of the Russian man who lives next door engraved on it in Cyrillic script. I have employed a private detective who will send you photos of the body and the knife. No, you don't need to see either of them."
There is no honest policeman in the world who would agree to that proposition, and neither would Mueller, were he remotely an honest man.
Two facts compound this failure.
The first is the absolutely key word of Bill Binney, former Technical Director of the NSA, the USA's $14 billion a year surveillance organisation. Bill Binney is an acknowledged world leader in cyber surveillance, and is infinitely more qualified than Crowdstrike. Bill states that the download rates for the "hack" given by Crowdstrike are at a speed – 41 Megabytes per second – that could not even nearly be attained remotely at the location: thus the information must have been downloaded to a local device, eg a memory stick. Binney has further evidence regarding formatting which supports this. …
"US Govt's Entire Russia-DNC Hacking Narrative Based On Redacted Draft Of Crowdstrike Report"
17 June 2019
It's been known for some time that the US Government based its conclusion that Russia hacked the Democratic National Committee (DNC) on a report by cybersecurity firm Crowdstrike, which the DNC paid over a million dollars to conduct forensic analysis and other work on servers they refused to hand over to the FBI.
CrowdStrike's report made its way into a joint FBI/DHS report on an Russia's "Grizzly Steppe", which concluded Russia hacked the DNC's servers. At the time, Crowdstrike's claim drew much scrutiny from cybersecurity experts according to former Breitbart reporter Lee Stranahan.
Now, thanks to a new court filing by longtime Trump adviser Roger Stone requesting the full Crowdstrike analysis, we find out that the US government was given a redacted version of the report marked "Draft," …
"CrowdStrikeOut: Mueller's Own Report Undercuts Its Core Russia-Meddling Claims"
5 July 2019 By Aaron Maté,
Mueller's other "central allegation" regards a "Russian 'Active Measures' Social Media Campaign" with the aim of "sowing discord" and helping to elect Trump.
In fact, Mueller does not directly attribute that campaign to the Russian government, and makes only the barest attempt to imply a Kremlin connection. According to Mueller, the social media "form of Russian election influence came principally from the Internet Research Agency, LLC (IRA), a Russian organization funded by Yevgeniy Viktorovich Prigozhin and companies he controlled."
After two years and $35 million, Mueller apparently failed to uncover any direct evidence linking the Prigozhin-controlled IRA's activities to the Kremlin. …
W. 31 July 2019 by Eric London
US federal court exposes Democratic Party conspiracy against Assange and WikiLeaks
In a ruling published late Tuesday, Judge John Koeltl of the US District Court for the Southern District of New York delivered a devastating blow to the US-led conspiracy against WikiLeaks founder Julian Assange.
In his ruling, Judge Koeltl, a Bill Clinton nominee and former assistant special prosecutor for the Watergate Special Prosecution Force, dismissed "with prejudice" a civil lawsuit filed in April 2018 by the Democratic National Committee (DNC) alleging WikiLeaks was civilly liable for conspiring with the Russian government to steal DNC emails and data and leak them to the public.
Jennifer Robinson, a leading lawyer for Assange, and other WikiLeaks attorneys welcomed the ruling as "an important win for free speech."
The decision exposes the Democratic Party in a conspiracy of its own to attack free speech and cover up the crimes of US imperialism and the corrupt activities of the two parties of Wall Street. Judge Koeltl stated:
If WikiLeaks could be held liable for publishing documents concerning the DNC's political financial and voter-engagement strategies simply because the DNC labels them 'secret' and trade secrets, then so could any newspaper or other media outlet. But that would impermissibly elevate a purely private privacy interest to override the First Amendment interest in the publication of matters of the highest public concern. The DNC's published internal communications allowed the American electorate to look behind the curtain of one of the two major political parties in the United States during a presidential election. This type of information is plainly of the type entitled to the strongest protection that the First Amendment offers. …
"In the World of Truth and Fact, Russiagate is Dead. In the World of the Political Establishment, it is Still the New"
4 Aug, 2019
Douglas Adams famously suggested that the answer to life, the universe and everything is 42. In the world of the political elite, the answer is Russiagate. What has caused the electorate to turn on the political elite, to defeat Hillary and to rush to Brexit? Why, the evil Russians, of course, are behind it all.
It was the Russians who hacked the DNC and published Hillary's emails, thus causing her to lose the election because… the Russians, dammit, who cares what was in the emails? It was the Russians. It is the Russians who are behind Wikileaks, and Julian Assange is a Putin agent (as is that evil Craig Murray). It was the Russians who swayed the 1,300,000,000 dollar Presidential election campaign result with 100,000 dollars worth of Facebook advertising. It was the evil Russians who once did a dodgy trade deal with Aaron Banks then did something improbable with Cambridge Analytica that hypnotised people en masse via Facebook into supporting Brexit.
All of this is known to be true by every Blairite, every Clintonite, by the BBC, by CNN, by the Guardian, the New York Times and the Washington Post. "The Russians did it" is the article of faith for the political elite who cannot understand why the electorate rejected the triangulated "consensus" the elite constructed and sold to us, where the filthy rich get ever richer and the rest of us have falling incomes, low employment rights and scanty welfare benefits. You don't like that system? You have been hypnotised and misled by evil Russian trolls and hackers.
Except virtually none of this is true. Mueller's inability to defend in person his deeply flawed report took a certain amount of steam out of the blame Russia campaign. But what should have killed off "Russiagate" forever is the judgement of Judge John G Koeltl of the Federal District Court of New York.
In a lawsuit brought by the Democratic National Committee against Russia and against Wikileaks, and against inter alia Donald Trump Jr, Jared Kushner, Paul Manafort and Julian Assange, for the first time the claims of collusion between Trump and Russia were subjected to actual scrutiny in a court of law. And Judge Koeltl concluded that, quite simply, the claims made as the basis of Russiagate are insufficient to even warrant a hearing.
The judgement is 81 pages long, but if you want to understand the truth about the entire "Russiagate" spin it is well worth reading it in full. Otherwise let me walk you through it. …
The key finding is this. Even accepting the DNC's evidence at face value, the judge ruled that it provides no evidence of collusion between Russia, Wikileaks or any of the named parties to hack the DNC's computers. It is best expressed here in this dismissal of the charge that a property violation was committed, but in fact the same ruling by the judge that no evidence has been presented of any collusion for an illegal purpose, runs through the dismissal of each and every one of the varied charges put forward by the DNC as grounds for their suit.
Judge Koeltl goes further and asserts that Wikileaks, as a news organisation, had every right to obtain and publish the emails in exercise of a fundamental First Amendment right. The judge also specifically notes that no evidence has been put forward by the DNC that shows any relationship between Russia and Wikileaks. Wikileaks, accepting the DNC's version of events, merely contacted the website that first leaked some of the emails, in order to ask to publish them.
Judge Koeltl also notes firmly that while various contacts are alleged by the DNC between individuals from Trump's campaign and individuals allegedly linked to the Russian government, no evidence at all has been put forward to show that the content of any of those meetings had anything to do with either Wikileaks or the DNC's emails.
In short, Koeltl dismissed the case entirely because simply no evidence has been produced of the existence of any collusion between Wikileaks, the Trump campaign and Russia. That does not mean that the evidence has been seen and is judged unconvincing. In a situation where the judge is duty bound to give credence to the plaintiff's evidence and not judge its probability, there simply was no evidence of collusion to which he could give credence. The entire Russia-Wikileaks-Trump fabrication is a total nonsense. But I don't suppose that fact will kill it off. …
And in conclusion, I should state emphatically that while Judge Koeltl was obliged to accept for the time being the allegation that the Russians had hacked the DNC as alleged, in fact this never happened. The emails came from a leak not a hack. The Mueller Inquiry's refusal to take evidence from the actual publisher of the leaks, Julian Assange, in itself discredits his report. Mueller should also have taken crucial evidence from Bill Binney, former Technical Director of the NSA, who has explained in detail why an outside hack was technically impossible based on the forensic evidence provided.
The other key point that proves Mueller's Inquiry was never a serious search for truth is that at no stage was any independent forensic independence taken from the DNC's servers, instead the word of the DNC's own security consultants was simply accepted as true. Finally no progress has been made – or is intended to be made – on the question of who killed Seth Rich, while the pretend police investigation has "lost" his laptop.
Though why anybody would believe Robert Mueller about anything is completely beyond me.
So there we have it. Russiagate as a theory is as completely exploded as the appalling Guardian front page lie published by Kath Viner and Luke Harding fabricating the "secret meetings" between Paul Manafort and Julian Assange in the Ecuadorean Embassy. But the political class and the mainstream media, both in the service of billionaires, have moved on to a stage where truth is irrelevant, and I do not doubt that Russiagate stories will thus persist. They are so useful for the finances of the armaments and security industries, and in keeping the population in fear and jingoist politicians in power.
"Did Russian Interference Affect the 2016 Election Results?"
8 August 2019 Alan I. Abramowitz, Senior Columnist, Sabato's Crystal Ball
KEY POINTS FROM THIS ARTICLE
— Special Counsel Robert Mueller's recent testimony was a reminder that Russia attempted to influence the outcome of the 2016 election and very well may try to do so again in 2020.
— This begs the question: Is there any evidence that Russian interference may have impacted the results, particularly in key states?
— The following analysis suggests that the 2016 results can be explained almost entirely based on the political and demographic characteristics of those states. So from that standpoint, the answer seems to be no.
What explains the 2016 results?
Special Counsel Robert Mueller's recent testimony before the House Judiciary and Intelligence Committees, and the Mueller Report itself, make it very clear that the Russian government made a major effort to help Donald Trump win the 2016 U.S. presidential election. What the Mueller Report did not determine, however, was whether that effort was successful. In this article, I try to answer that question by examining whether there are any indications from the 2016 results that Russian interference efforts may have played a clear role in the outcome. One such indication would be if Trump did better in key swing states than a range of demographic, partisan, and historical factors would have predicted.
We know from the Mueller Report that Trump campaign manager Paul Manafort briefed a longtime associate who the FBI believes had ties with Russian intelligence about campaign strategy and, according to Manafort deputy Rick Gates, discussed decisive battleground states such as Michigan, Pennsylvania, and Wisconsin. Manafort also directed Gates to share internal polling data, which may have influenced Russian operations.
In order to address the question of whether the Russian interference effort worked, I conducted a multiple regression analysis of the election results at the state level. The dependent variable in this analysis was the Trump margin. My independent variables were the 2012 Mitt Romney margin, to control for traditional state partisanship, state ideology measured by the Gallup Poll (the percentage of conservatives minus the percentage of liberals), the percentage of a state's population made up of whites without college degrees, the estimated turnout of eligible voters in the state, the state unemployment rate in November 2016 (to measure economic conditions), the number of Trump campaign rallies in the state, the number of Clinton campaign rallies in the state, a dummy variable for the state of Utah to control for the large vote share won by an independent conservative Mormon candidate from that state, Evan McMullin, and, finally, a dummy variable for swing states. The swing states included Arizona, Colorado, Florida, Iowa, Minnesota, Nevada, New Hampshire, Ohio, and Virginia, in addition to Michigan, Pennsylvania, and Wisconsin. The results of the regression analysis are displayed in Table 1 along with a scatterplot of the actual and predicted results in Figure 1.
Table 1: Results of regression analysis of Trump margin in the states
Source: Data compiled by author.
Figure 1: Scatterplot of actual Trump margin by predicted Trump margin in the states
Note: Alaska and District of Columbia omitted due to lack of state ideology data.
Source: Data compiled by author.
The regression equation proved to be extremely successful in predicting the election results, explaining a remarkable 98% of the variance in Trump vote margin in the states. Several of the independent variables had very powerful effects including the 2012 Romney margin, state ideology, and the percentage of non-college whites in the state. Even after controlling for traditional state partisanship and ideology, the size of the non-college white population in a state was a strong predictor of support for Donald Trump. The data in Table 1 also show that Evan McMullin's candidacy dramatically reduced Trump's vote share in Utah — although Trump still carried the state easily. In addition, the results show that voter turnout had a modest but highly significant effect on the results — the higher the turnout in a state, the lower the vote share for Trump. These results seem to confirm the conventional wisdom that higher voter turnout generally helps Democrats.
In addition to showing what mattered in explaining the results of the 2016 presidential election in the states, the data in Table 1 also show what did not matter. Economic conditions at the state level, at least as measured by state unemployment, did not matter. The number of campaign rallies held by the candidates in a state did not matter. Finally, and perhaps most importantly from the standpoint of estimating the impact of Russian interference, Donald Trump did no better than expected in the swing states. The coefficient for the swing state dummy variable is extremely small and in the wrong direction: Trump actually did slightly worse than expected in the swing states based on their other characteristics.
Table 2: Predicted and actual Trump margin in key swing states
Source: Data compiled by author.
This can also be seen in Table 2, which compares the actual and predicted results in the three swing states that ultimately decided the outcome of the election: Michigan, Pennsylvania, and Wisconsin. What is most striking about the data in this table is that Donald Trump actually slightly under-performed the model's predictions in all three states. He did about one point worse than predicted in Michigan, about two points worse than predicted in Pennsylvania, and between two and three points worse than predicted in Wisconsin. There is no evidence here that Russian interference, to the extent that it occurred, did anything to help Trump in these three states.
Conclusions
I find no evidence that Russian attempts to target voters in key swing states had any effect on the election results in those states. …
"Overstock CEO Turned Over Docs To DOJ 'In Greatest Political Scandal In US History'"
12 August 2019
Overstock CEO Patrick Byrne delivered to the Department of Justice a number of documents, including emails and text messages, in April, regarding both the origins of the Russian investigation, and an FBI operation into Hillary Clinton with which he was personally involved during the first months of 2016, according to a U.S. official who spoke SaraACarter.com.
Byrne has also confirmed the account.
Byrne claims the documents, which have not been made public and are currently under investigation by the DOJ, are allegedly communications he had with the FBI concerning both the Clinton investigation and the origins of the Russian investigation. …
"I gave to the DOJ documents concerning both the origin of the Russian probe and the probe into Hillary Clinton, both of which I was involved in, and both of which turned out to be less about law enforcement than they were about political espionage," Byrne told SaraACarter.com Monday. …
"This is going to become the greatest political scandal in US history," he said. …
Byrne said the investigation into Clinton was one of the main reasons he came forward. …
"Here's the bottom line. There is a deep state like a submarine lurking just beneath the waves of the periscope depth watching our shipping lanes. …
"I think we're about to see the biggest scandal in American history as a result. But it was all political. …
"It's all a cover-up. It was all political espionage." …
The Russiagate hoax was used by Obama's successor, Trump — who, of course, had been one of the two targets of the Obama-initiated hoax — in order to step up actions against Russia. Here is one example of that:
"U.S. Escalates Online Attacks on Russia's Power Grid"
By David E. Sanger and Nicole Perlroth June 15, 2019 front page Sunday 16 June 2019
WASHINGTON — The United States is stepping up digital incursions into Russia's electric power grid in a warning to President Vladimir V. Putin and a demonstration of how the Trump administration is using new authorities to deploy cybertools more aggressively, current and former government officials said.
In interviews over the past three months, the officials described the previously unreported deployment of American computer code inside Russia's grid and other targets as a classified companion to more publicly discussed action directed at Moscow's disinformation and hacking units around the 2018 midterm elections.
Advocates of the more aggressive strategy said it was long overdue, after years of public warnings from the Department of Homeland Security and the F.B.I. that Russia has inserted malware that could sabotage American power plants, oil and gas pipelines, or water supplies in any future conflict with the United States.
But it also carries significant risk of escalating the daily digital Cold War between Washington and Moscow.
The administration declined to describe specific actions it was taking under the new authorities, which were granted separately by the White House and Congress last year to United States Cyber Command, the arm of the Pentagon that runs the military's offensive and defensive operations in the online world.
But in a public appearance on Tuesday, President Trump's national security adviser, John R. Bolton, said the United States was now taking a broader view of potential digital targets as part of an effort "to say to Russia, or anybody else that's engaged in cyberoperations against us, 'You will pay a price.'"
Power grids have been a low-intensity battleground for years. …
MY CONCLUSION: Both the liberal (Democratic) and conservative (Republican) wings of the U.S. aristocracy hate and want to conquer Russia's Government. The real question now is whether that fact will cause the book on this matter to be closed as being unprofitable for both sides of the U.S. aristocracy; or, alternatively, which of those two sides will succeed in skewering the other over this matter. At the present stage, the Republican billionaires seem likelier to win if this internal battle between the two teams of billionaires' political agents continues on. If they do, and Trump wins re-election by having exposed the scandal of the Obama Administration's having manufactured the fake Russiagate-Trump scandal, then Obama himself could end up being convicted. However, if Trump loses — as is widely expected — then Obama is safe, and Trump will likely be prosecuted on unassociated criminal charges. To be President of the United States is now exceedingly dangerous. Of course, assassination is the bigger danger; but, now, there will also be the danger of imprisonment. A politician's selling out to billionaires in order to reach the top can become especially risky when billionaires are at war against each other — and not merely against some foreign ('enemy') aristocracy. At this stage of American 'democracy', the public are irrelevant. But the political battle might be even hotter than ever, without the gloves, than when the public were the gloves.
Author's note: first posted at The Saker
Empathy, Survival and Human Oneness: Informed Reflections on Trump's Atavistic Worldview
"Each of us is both the subject and the protagonist of his own nontransferable life." José Ortega y Gasset, Man and Crisis
America First, the most conspicuous mantra of Donald Trump, makes no logical or diplomatic sense. Indeed, contrary to the American president's narrowly imagined expectations, Americans, both individually and collectively, will soon need to identify more broadly with the world as a whole. In essence, to survive and prosper, the United States must quickly change direction from such plainly refractory political mantras, and prepare instead for greatly expanded patterns of international cooperation.
Before we can all become true beneficiaries of modern diplomacy, we will first finally have to acknowledge that we inhabit a single and indissoluble global habitat.
Even from an expressly American standpoint, there is nothing unpatriotic about articulating any such universalizing prescription. To wit, the alternative Trump vision can lead the United States only toward an endlessly Darwinian global struggle. Inter alia, this would mean a fully consuming and retrograde conflict in which the corrosive principles of "every man for himself" would produce further chaos and perpetual suffering.
Significantly, especially for those concerned with modern diplomacy and international law, the attendant and sometimes reciprocal problems are not "merely" spiritual. Above all, they are profoundly intellectual. Back in the nineteenth century, the American Transcendentalist philosopher, Ralph Waldo Emerson, had counseled "plain living and high thinking."
For this American president, there is a timeless message here. Currently, however, it is anything but closely heeded. To impresario extraordinaire Donald Trump, the best path, going forward, is to "circle the wagons," to huddle together as an endlessly fighting nation and then do whatever it must againstall others.
Always, "against" is the operative word in the White House. Curiously, for US President Trump, world politics is always reassuringly reducible to bitter struggle against one despised "enemy" or another, or perhaps even a sinister coalition of "enemies."
There is more. Any such primordial or "zero sum" advice is not merely harsh or needlessly adversarial. It is also deeply immoral, manifestly contra to elementary codes of civilized human interaction.
Unsupported by any defensible reason or scintilla of logic, it is starkly incorrect.
To be sure, there are much better paths to human salvation, secular as well as spiritual. It follows that to help rescue America from a myriad configuration of mortal dangers, Trump will first need to assist the imperiled earth in general. Inevitably, the American president should avoid having to deal piecemeal with the next foreseeable eruptions of genocide, war and terror.
Everything, he will very quickly need to appreciate, is interrelated.
By embracing "high-thinking" instead of demeaning rally slogans and vacant banalities, US President Trump could finally have to recognize that American well-being and security are inextricably linked with the much wider "human condition." Assuredly, this reluctant recognition will take him some time. He will also need to embrace another even more subtle kind of understanding.
It is that pertinent human social and governmental linkages may not always present themselves in readily decipherable historical, social or economic terms.
Now is the only suitable moment for Mr. Trump to recall the essentially "Buddhist" wisdom of Jesuit philosopher Pierre Teilhard de Chardin: "The egocentric ideal of a future reserved for those who have managed to attain egoistically the extremity of `everyone for himself','" explains his The Phenomenon of Man, "is false and against nature. No element can move and grow except with and by all the others with itself."
The high-thinking Teilhard was right on the mark. At their very deepest level, genocide, war, and terror are not just the hideous product of an ordinary world politics and diplomacy gone awry. Rather, they stem from the unbearable apprehensions and persistent loneliness of individual human beings.
Normally unable to find either meaning or safety outside of certain available group memberships, billions of individuals across the globe will still often stop at nothing in order to acquire some comfortingly recognizable acceptance within a presumptively protective "crowd."[1]
All such crowds, whether at Trump rallies, prizefights or earlier gladiatorial competitions, love to chant in chorus. Absolutely. What is injurious and even potentially grotesque about such orchestrated mutterings is not the content being chanted (which is usually incoherent, and sometimes also insidious), but rather the corollary disappearance of personal empathy and residual individual responsibility.
Whether it is as a nation, a social organization, a terrorist band, or a new political movement, the crowd tempts "all-too-many" (a favored Nietzschean term in Zarathustra) with the false succor of group communion. Always, this temptation lies at the heart of its ritually compelling and possibly incomparable attractions. Typically, though rarely identified or understood, it is the generally frantic human search to belong that most assiduously shapes national and international affairs.
Both national and international affairs.
Unsurprisingly, as the seventeenth-century English philosopher Thomas Hobbes concluded in Leviathan, about "state of nature" crowds, they portend a lamentable life that is "solitary, poor, nasty, brutish, and short."
Once again, for the sake of both America and the wider world, it is time to situate "high thinking" in the White House. The irrepressible search to belong, to draw a pertinent term from Swiss psychologist Carl G. Jung's The Undiscovered Self, represents "the sum total of individual souls seeking redemption." Jurisprudentially and diplomatically, the most tangible expressions of our incessant human search for rescue in groups can be found in the utterly core legal principles of sovereignty and self-determination.
Alarmingly, the celebrated "self" in all such traditional jurisprudence and diplomacy refers to entire peoples, never to singular individuals.
Too often, as US President Trump ought finally to understand, the ironic result of such hegemonic thinking is a measureless orgy of mass killing and ever-expanding human exterminations.
This conclusion is self-evident and incontestable.
Divided into thousands of hostile tribes, almost two hundred of which are called "nation-states," many human beings still find it easy and pleasing to slay "others." As for any remediating considerations of empathy, these are typically reserved for those who happen to live within one's own expressly delineated "tribe." It follows, and crucially, that any expansion of empathy to include "outsiders" must represent a basic condition of authentic peace and modern diplomacy.
Without such an indispensable expansion, our entire species would remain stubbornly (and suicidally) dedicated to its own incremental debasement and eventual disappearance.
Understanding this particular wisdom should already have become an indispensable corrective to the presidential nonsense of "America First." This grievously resurrected political mantra is eerily reminiscent of American "Know Nothing" history, and also the incomparably destructive slogans of the Third Reich. Let us be candid.
In brief, and however well-intentioned, America First now represents Trump's specifically Americanized version of "Deutschland uber alles."
Nothing less; nothing more.
But what must Americans and others actually do to encourage a wider empathy, and thereby to foster aptly caring feelings between as well as within "tribes"? Correspondingly, how can a US president meaningfully improve the state of our dissembling world so as to best ensure a dignified future for the American Republic? These are not easy questions.
Nonetheless, they are the ones that need to be faced by Americans and (ultimately) by all others.
Already, soberly and ironically, we must concede that the essential expansion of empathy for the many could become "dreadful," improving human community, but only at the intolerable cost of private sanity. This imperative concession stems from the way we humans are "designed" or "hard wired," that is, with very particular and largely impermeable boundaries of feeling. Were it otherwise, an extended range of compassion toward others could quickly bring about each cooperating individual's own emotional collapse.
A paradox arises. Planning seriously for national and international survival, Americans in particular must first learn to accept an unorthodox understanding. It is that an ever-widening circle of human compassion is indispensable to civilizational survival, but is also a potential source of insufferable private anguish.
How, then, shall human union and American politics now deal with a requirement for global civilization that is simultaneously essential and unbearable? Newly informed that empathy for the many is a precondition of a decent world union, what can actually create such obligatory caring without producing intolerable emotional pain? In essence, high-thinkers must duly inquire: How can such a stunningly anti-intellectual US president correctly deal with ongoing and still-multiplying expressions of war, terrorism, and genocide?
By building walls, or instead, by solidifying wide-ranging and always-pertinent human bonds of interrelatedness and connectedness?
The answer is obvious. It can never be found in ordinary speeches and programs, especially in the cravenly shallow rhetoric and embarrassingly empty witticisms of American presidential politics. It is only discoverable in a consciously resolute detachment of individuals from lethally competitive "tribes," and from certain other collective "selves."
In the final analysis, a more perfect union, both national and international, must lie in a fully determined replacement of "civilization" with what Teilhard de Chardin calls "planetization."
The whole world, Mr. Trump should promptly acknowledge without fear of contradiction, is a system.[2] He must finally understand that the state of America's national union can never be any better than the state of the wider world. He will also need to realize that the condition of this entire world must itself sometimes depend upon what happens inside the United States.
Ideally, in fully acknowledging such a plainly misunderstood mutuality, this vital human reciprocity, the overarching US presidential objective should become the sacred dignity of each and every individual human being. It is precisely this high-minded goal that should now give specific policy direction to President Donald Trump, not his continuously specious and universally destructive commitment to "America First."
It will be easy to dismiss any such seemingly lofty recommendation for human dignity as silly, ethereal or fanciful. Still, in reality, there could never be any greater American presidential naiveté than championing the patently false extremity of "everyone for himself" in world politics and diplomacy.
More than anything else, "America First" is a grievously misconceived presidential mantra. Devoid of all empathy, intellect and human understanding, it can only lead America as a nation toward distressingly new depths of strife, disharmony, and collective despair. Individually, "America First," left unrevised, would point everyone to an insufferable and potentially irreversible vita minima, that is, toward a corrupted personal life emptied of itself.
By definition, such a life would be meaningless, shattered, unfeeling and radically unstable.
Only by placing "Humanity First" can US President Donald Trump make America First. The latter is simply not possible without the former. Not at all.
---
[1] "The crowd," says the great Danish philosopher, Soren Kierkegaard, "is untruth."
[2] "The existence of system in the world is at once obvious to every observer of nature," says Jesuit philosopher Teilhard de Chardin, " no matter whom….Each element of the cosmos is positively woven from all the others…."
Remembering JFK – The Short Lived President: His Life and Achievements
John Fitzgerald Kennedy (JFK) was the 35th President of the United States of America (USA) during the heightened time of the Cold War. "The youngest man ever elected to the presidency, succeeding the man who… was the oldest. He symbolized anew generation, a coming-of-age. The first president born in the 20th century, the first young veteran of World War II to reach the White House."
A number of events of international significance took place during his presidency, including the Cuban Missile crisis, Bay of Pigs invasion and the initiation of US involvement in Vietnam. He is remembered for carefully handling crisis over Cuba when 'the world was brinks away from nuclear war.' with Union of Soviet Socialist Republic (USSR) when the latter deployed missiles on the island. 'Containment' continued to be the official policy; however the Kennedy administration undertook a modest approach, moving from his predecessors 'Massive Retaliation' to a more 'Flexible Response.' Having served overseas as a navy man provided him the necessary exposure and knowledge, with which he was able to negotiate well with competitors and adversaries alike on a number of occasions. It was this background that allowed him to bring reforms at local domestic arena, particularly at the societal level and in the armed forces. A number of legislation pertaining to Civil Rights Movement were enacted during his tenure. He is credited with the creation of US Navy Seals and Special Services Group (SSG) which form the backbone of the country's military. It was his vision and plan that later allowed Neil Armstrong of the Apollo 11 to be the first man on moon. Kennedy served a period of three years in the White House, which were cut short by his assassination in 1963. Robert Dallek has titled his award winning biography 'An Unfinished Life' calling the president a great statesman who achieved so much in such a short span of time.
Early Life and Career
JFK was born to an influential Irish immigrant family who were big names in business and politics. His grandfathers were seasoned politician, one of whom, John F. Fitzgerald ascended as the Mayor of Boston. Joseph P. Kennedy, his father was the Ambassador to England. His upbringing greatly influenced him, according to his colleagues from an early age he was more interested in current affairs than his studies. His college professors greatly resented this as he seldom read the course assigned text books and was mostly seen with books on leadership and international affairs. He greatly admired Winston Churchill from a tender, whose book 'Marlborough: His Life and Times' remained his all-time favourite.
Kennedy was not always the charismatic and leading figure during his early career. According to biographer, Robert Dallek, he was a substantiated figure in the household being overshadowed by the personality of his elder brother, Joe Jr. He greatly resented that he always had to live up to mark set by him. This was shown by his anger and rebellious due to which he was chastened a number of time during his years at Choate College. It was only after tragic accident of Joe Jr. while serving overseas in the Second World War, did Jack Kennedy came into the spotlight. Dallek argues that it was in fact Joe Jr. whom their father wanted to be the President, only when he was no more did Kennedy being next in line, ascended to the office.
Kennedy leadership skills were recognized from his early youth days. He was nominated the business manager of his school yearbook. During a college voting, he was voted by his peers as "most likely to succeed" in whatever future career he undertook. His skills were further sharpened after his graduation from Harvard and Princeton.
"The reasons that I have for wishing to go to Harvard are several. I feel that Harvard can give me a better background and a better liberal education than any other university. I have always wanted to go there, as I have felt that it is not just another college, but is a university with something definite to offer….. I would like to go to the same college as my father. To be a 'Harvard man' is an enviable distinction, and one that I sincerely hope I shall attain."
Kennedy during his academic career was a popular figure. He was likewise good in sports, joining the college football, golf, and swimming, for which he won 1936 Nantucket Sound Star Championship Cup. However his family greatly hid all the health problems, Jack faced from his early to his times at the White House. He had to undergo emergency hospitalization a number of times. However to this day it remains a mystery as to which disease he actually had.
In the days preceding the Second World War, Kennedy toured Europe, Soviet Union, the Balkans, and the Middle East in preparation for his Harvard thesis. He returned to London from Czechoslovakia, on the very day when Germany invaded Poland which culminated World War II. His thesis, "Appeasement in Munich", became a bestseller under the title Why England Slept. Kennedy's far sightedness can be seen by his writing which proposed for an Anglo-American alliance believing only it could save the day.
Kennedy Doctrine
President J.F Kennedy is remembered for orchestrating a political ideology and belief that the pundits dubbed as the "Kennedy Doctrine". It is attributed to the year 1961, in a speech that summed up the administration beliefs and course of action during the heightened time of the Cold War.
"Let every nation know, whether it wishes us well or ill, that we shall pay any price, bear any burden, meet any hardship, support any friend, oppose any foe, in order to assure the survival and the success of liberty."
The Kennedy Doctrine was an expansion from the foreign policy initiatives of his predecessors. His predecessors "Eisenhower Doctrine" was focused more towards Middle East whereas the "Truman Doctrine" consisted of containing Soviet influence in Europe. JFK being the 'far-sighted' politician extended similar objectives to area of Latin America following the left-wing aspirations following Fidel Castro's revolution. He was involved and well committed when it came to foreign policy initiatives on a number of occasions, particularly after the failed Bay of Pigs invasion for which the President blasted the then Joint Chief of Staff for providing him with 'an unworkable plan.' W. Averell Harriman, served in various administrations was considered one of the foreign policy elders as 'Wise Men', called him:"The first President, that I know of who was really his own secretary of state. He dealt with every aspect of foreign policy, and he knew about everything that was going on."
Cuban Missile Crisis
The Cuban Missile Crisis reflected the pragmatic leadership style of President Kennedy. It was what experts termed as 'Flexible Response." One of the great qualities of JFK, who to this date remains the only President of UShaving a catholic faith, knew how to challenge the advice and assumption of the experts. This was exactly the case during the Cuban Missile crisis, where he diligently listened to all the three groups present at the high level meeting. There were the hawks being represented by the defence establishment, then there were the moderates consisting of Robert McNamara and Attorney General Robert Kennedy and finally there were the doves who believed that US should present a stance that is least hostile, consisting of direct cooperation with Soviets. Kennedy personally micromanaged the quarantine by personally selecting the US Navy warships for that very purpose. Peter G. Northhouse has called this an 'authoritarian style blended with charismatic leadership.' He attributes this characteristic to his training as a navy man and to his times during Harvard and Stanford. It is believed that it was Kennedy who got most out of the Cuban Missile crisis, his popularity rating increased from 66 percent to 77 percent, one of the highest ever by a President serving in the office. Whereas Soviet Premier Khrushchev was a bit unfortunate in this case, as it was instrumental in bringing a coup against him which led to his ouster.
Legacy
Kennedy was the first of the six presidents to have served in the U.S. Navy to this day. One of the enduring legacies remains the creation of Special Forces command, the Navy SEALs, which to this remains the highest and most prestigious in International Defence Forces. The Civil Rights Bill was his proposal, which unfortunately became only after his assassination, in the year 1964.
Some historians blame him for the continuing the policies of his predecessors, Truman and Eisenhower which eventually got the US into Vietnam, a long and unpopular war. Some conspiracy theorists argue that it was because he challenged the military industrial complex decision to end the War in Vietnam, did he got assassinated. They cite his 1963 speech at American University where he signaled that he was ready 'to bring back all the 1000 troops back home'President Kennedy to this day remains the most popular US President of all times, in the league reserved for big names like George Washington, Abraham Lincoln and Franklin Roosevelt.
"Visitors from all over the world have signed their names in the memory books, and many have written tributes: "Our greatest President." "Oh how we miss him!" "The greatest man since Jesus Christ."