Within Sight: An End to Illegal Fishing in the Pacific by 2020
Illegal fishing is a security threat, ecological emergency and human rights crisis, but it can be stopped by 2020, according to the Friends of Ocean Action a public-private partnership involving a group of more than 50 global leaders who are fast-tracking solutions to the most pressing challenges facing the Ocean.

Ending illegal fishing in the Pacific is a key strategic priority for the Friends of Ocean Action, as part of its remit to drive transformative and scalable initiatives to help the international community act swiftly to "conserve and sustainably use our Ocean" (Sustainable Development Goal 14). The group is co-chaired by Peter Thomson, the UN Secretary-General's Special Envoy for the Ocean, and Isabella Lövin, Deputy Prime Minister of Sweden. The aim is to fast track solutions for critical Ocean issues in time for the UN Ocean Conference in June 2020.

The Friends have identified powerful platforms on which governments can take concerted action against illegal fishing. The UN Port State Measures Agreement is designed to keep illegal fish out of countries' ports. A total of 87 nations have signed up and the Friends are working with the Stanford Center for Ocean Solutions, Global Fishing Watch, Pew Charitable Trusts, World Wide Fund for Nature (WWF), The Nature Conservancy and the High Level Panel for a Sustainable Ocean Economy with 14 serving heads of government to ensure that important flag and port states around the Pacific join them and implement the agreement.

The Friends are also working with companies throughout the seafood supply chain as businesses raise demand for full traceability for the fish they buy. For example, through the Tuna Traceability Declaration, 66 leading retailers and processors have pledged that by 2020 they will only buy tuna that can be fully traced back to the vessel and trip on which it was caught. Through the Seafood Business for Ocean Stewardship (SeaBOS) initiative, the 10-largest seafood companies, representing 10% of the global market, have also pledged to take action.

Technology such as machine-learning and satellite tracking is shining a spotlight on illegal fishing vessels and enabling businesses and governments to act. Facial recognition and blockchain allow seafood to be traced from the moment of capture all the way to the supermarket shelf. Jim Leape, a member of the Friends of Ocean Action and Co-Director of the Stanford Center for Ocean Solutions outlines the details here: We have the tools to tackle illegal fishing. It's time to use them.

Seafood is the main source of protein for three billion people worldwide. But with nearly 90% of the world's marine fish stocks now fully exploited, overexploited or depleted, fleets are increasingly operating illegally in other countries' exclusive waters. Researachers have estimated that as much as $23.5 billion a year is stolen from communities and coastal nations through illegal, unreported and unregulated (IUU) fishing – over 20% of the global harvest. Many IUU fishing operations are run by criminal organizations with links to arms, drugs and human trafficking.

It comes as the Ocean has been gaining increased attention on the international agenda. This year's Asia Pacific Economic Cooperation (APEC) summit in November in Santiago, Chile, will focus leaders' attention on bringing forward the implementation of measures that can end IUU fishing, and the UN "COP 25" climate talks in December (also in Chile) will push world leaders to place Ocean health higher up the political agenda.

Through their networks, the Friends of Ocean Action are mobilizing action to drive systemic change to other major Ocean challenges. They aim to:
End illegal, unreported and unregulated fishing
End plastic pollution through the Global Plastic Action Partnership
Expand Marine Protected Areas
Ensure food security from the Ocean
Decarbonize the maritime and shipping sector
Create an open platform for Ocean data
Scale and mobilize greater finance for Ocean innovation
Unlock progress on the Ocean by prioritizing gender-based solution
End harmful fisheries subsidies
Develop science-based targets to measure Ocean health
 
Each of the above "action tracks" requires concerted, public-private cooperation across geographies and sectors, which the Friends are helping to mobilize through their unique networks and influence. The Friends will be highlighting solutions through a campaign starting on World Oceans Day (8 June 2019), which runs until the UN Conference in 2020.
 
"We have the tools to tackle major Ocean challenges like illegal, unreported and unregulated fishing" said Peter Thomson, UN Secretary General's Special Envoy for the Ocean and Co-Chair of the Friends of Ocean Action. "World leaders have a clear choice: business as usual, with continuing Ocean decline that will harm every area of human development and wellbeing or change in our behaviour, priorities and investments that balance Ocean protection with our socio-economic goals."
 
The Friends of Ocean Action community was launched at the World Economic Forum Annual Meeting 2018 in Davos-Klosters, alongside the High-Level Panel for a Sustainable Ocean Economy (now with 14 committed heads of government). The press conference is available here.
 
The group is convened by the World Economic Forum and World Resources Institute. It includes, to date, chief executive officers of 12 globally recognized businesses with large Ocean footprints; the heads of nine key international organizations with Ocean responsibilities; leaders of, and specialists at, 22 leading Ocean science and research institutions, NGOs and foundations and social enterprises; and 10 public figures who are leaders of the Ocean agenda.
 
"The Friends of Ocean Action is a group that is quickly becoming recognized as a vital informal platform for advancing tangible action and informed policy on the Ocean," said Dominic Waughray, Head of the Centre for Global Public Goods, Member of the Managing Board, World Economic Forum. "Through fast, concerted, science-based multistakeholder action, we can drive systemic change to these seemingly intractable problems, preserve the Ocean for future generations and unlock new, sustainable forms of economic value."

UNECE supports Azerbaijan towards ratification of key Air Convention protocols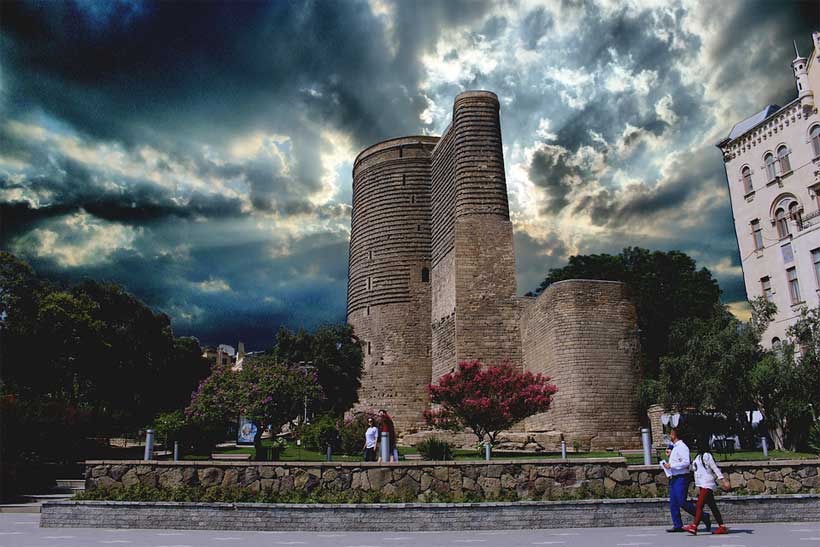 To avoid damage to the environment, public health and the economy, adopting targets to reduce emissions and introducing measures to enforce them is essential. Providing a framework to facilitate these measures, UNECE assists countries in Eastern Europe, the Caucasus and Central Asia in formulating policy responses to the air pollution challenge by ensuring the implementation and ratification of the Air Convention and its key Protocols.
In this regard, UNECE organized a national round table to discuss domestic law on air pollution control in Baku, Azerbaijan, this week (8 October 2019). The purpose of the event was to raise the political profile of the Convention and increase awareness of the benefits of accession to its Protocols and to further assist Azerbaijan in aligning its national legislation with the provisions of the Protocols and determining the next steps towards ratification.
High-level participants from the Ministries of Environment and several other Ministries and representatives from the private sector and civil society discussed the recommendations on the steps towards ratification of the key Protocols of the Convention. Participants concluded that ratification was feasible, but several steps on the way to ratification were still needed.
The Air Convention, which remains the only binding regional agreement of its kind anywhere in the world, celebrates 40 years of successful cooperation to tackle air pollution this year. Under the Convention, 51 countries in Europe and North America are cooperating to reduce deadly air pollution, achieving significant results, including the prevention of 600,000 premature deaths annually in Europe.
This week marked an important step in the Convention's history with the entry into force of amendments to the Gothenburg Protocol, establishing legally binding emissions reduction commitments for 2020 and beyond for the major air pollutants: sulphur dioxide (SO2), nitrogen oxides (NOx), ammonia (NH3), volatile organic compounds (VOCs) and fine Particulate Matter (PM2.5).
Planting trees has never been easier!
For the first time ever, some of the best community-led tree planting projects from over 20 countries have come together to deliver a massive boost to the world's reforestation efforts. Now, with the Plant-for-the-Planet App, everyone can plant trees worldwide with just a few clicks. 100 per cent of the money raised goes directly to the tree planters.
Greta Thunberg said: "It is simple. We need to protect, restore and fund nature." The new Plant for the Planet App allows you to do just that. For just €3, you can plant a tree in Brazil. For just €100, you can plant 1,000 trees and help restore the landscape of Indonesia.
You don't have a sapling at hand? Or want to avoid getting dirt under your fingernails? The Plant-for-the-Planet App is your way to help nature recover by selecting from 50 hand-selected reforestation projects from developing countries. The benefits of tree planting are not just for nature, they are also a vital source of income for poor communities. Many more projects are coming.
Just select your favourite project. Donate. The trees are planted for you. No excuses. Each tree adds to the World Tree Counter.
The Plant-for-the-Planet App is available for Android and iOS or as a WebApp.
Plant Your Own Forest
The app also allows you to:
– See where all your donated trees were planted
– Register trees you've planted yourself with photos, locations and more
– Gift donated trees to others
– Start a tree planting competition among schools, with colleagues or friends
– See our new "Forbes List" – ranking people by planted trees!
and more…
Who's Behind This?
The app was built over two years by seven young people from Plant-for-the-Planet Foundation under the leadership of Sagar Aryal (24), who has been planting trees with Plant-for-the-Planet for over 10 years, as one of 81,000 children and youth from 73 countries.
The Plant-for-the-Planet Foundation aimed to plant 100 million trees by 2030 through their project in the Yucatan-Peninsula. But they realised that 10,000 projects of that size are necessary to restore a trillion trees, and therefore decided to focus on sharing their tools with a multitude of other projects to help them scale up their work – that's what this app is about. There are no fees or costs for donors, tree-planting NGOs or anyone else. This app helps to implement the excellent goals of the Bonn Challenge – a global effort to bring 150 million hectares of the world's deforested and degraded land into restoration by 2020, and 350 million hectares by 2030 – by creating a positive chain reaction. More than 10,000 people signed up to the app in the development phase.
This project could not have happened without the advice, guidance and support of UNEP.
"With the late Wangari Maathai in mind, I've poured all my heart and soul into this app for the past two years. I hope she would be happy and proud of us," said Sagar Aryal (24), lead developer.
What's Next?
In version 2.0 we will allow users to watch the donated forests grow with satellite images. Stay tuned!
Ghana Becomes First African Nation to Join Ambitious Partnership to End Plastic Pollution
The Government of Ghana formally joined the Global Plastic Action Partnership (GPAP) today, becoming the first African nation to combine forces with this ambitious new initiative dedicated to eradicating plastic waste and pollution worldwide.
Ghana is the second country to partner with GPAP, a public-private platform dedicated to fostering action to combat the plastic pollution crisis. In Ghana, it will work closely with the Ministry of Environment, Science, Technology and Innovation (MESTI) to develop a national roadmap for sustainably managing and reducing the country's plastic waste challenge, while continuing to boost its economic growth.
The Ghana National Plastic Action Partnership (NPAP) was announced by His Excellency Nana Akufo-Addo, President of the Republic of Ghana, at a gathering of more than 250 policy-makers, business leaders, sustainable development advisers, waste management experts, entrepreneurs and youth representatives – all of whom have carried out successful work in different sectors to combat the country's plastic waste and pollution.
"With this partnership, Ghana is taking a historic step forward in our environmental stewardship, our sustainable growth, and our vision for the future," said the president. "Our nation is flourishing with an extraordinary wealth of expertise, knowledge, innovations, social enterprise, and willpower to take on this issue. Throughout every sector and level, from local government to waste management pioneers and young student leaders, Ghanaians are actively contributing to the fight against plastic pollution. We are pleased to partner with the Global Plastic Action Partnership to bring together existing efforts, scale up these highly successful initiatives, and fast-track our progress towards a collective goal – to achieve zero leakage of plastic waste into our oceans and waterways."
The Ghana NPAP will support the country's public, private and civil society sectors in transitioning to a circular plastics economy, which directly addresses the root cause of plastic pollution by fundamentally reshaping the way plastics are produced, used and re-used. A parallel engagement is currently under way in Indonesia, the first GPAP country partner.
"We are deeply honoured that the Government of Ghana, under the leadership of President Akufo-Addo, has chosen to partner with GPAP in a collective effort to drive forward the country's plastic action agenda," said Kristin Hughes, Director of the Global Plastic Action Partnership and Member of the Executive Committee at the World Economic Forum. "As one of Africa's leading political and economic forces, Ghana has the potential to not only dramatically reduce its own plastic pollution, but also to spark off a wave of unprecedented plastic action across the African continent. We are confident that the findings and achievements from this highly meaningful partnership will serve as a model of success for the rest of the world."
The Ghana NPAP will also be supported by the Global Environment Facility, which sits on the Governing Council of GPAP and co-chairs the Platform for Accelerating the Circular Economy, a public-private collaboration mechanism dedicated to driving the global circular economy transition.
"The growing menace of plastic pollution is being felt all around the world," said Naoko Ishii, CEO and Chairperson of the Global Environment Facility. "I want to commend Ghana for its leadership in being the first African nation to join the Global Plastic Action Partnership. Ghana is one of the fastest growing economies in Africa, and its support for a circular plastics economy is an important signal to others across the continent."
As part of broader strategic efforts to accelerate the reduction of plastic waste and pollution in Ghana, the NPAP will work in close alignment with two key initiatives. The first, a National Plastic Management Policy, championed by MESTI, will transform the management of plastics throughout the value chain, injecting sustainability and reusability into every step of the plastic life cycle.
"By putting standards and policies in place to guide the transition towards a circular plastics economy, we will achieve myriad positive outcomes for Ghana," said Professor Kwabena Frimpong-Boateng, Ghana's Minister of Environment, Science, Technology and Innovation. "We will see the creation of new jobs in the sustainable waste management sector; the protection of women, children and other vulnerable communities from the damaging effects of mismanaged plastic waste; and accelerated progress towards many of the Sustainable Development Goals."
At the same time, the Ghana multi-stakeholder 'Waste' Recovery Platform, facilitated by the United Nations Development Programme (UNDP), will accelerate these efforts by creating a one-stop shop solution platform (both in-person and digital) for stakeholders to exchange data, solutions, and technological innovations on waste recovery.
"We are delighted to join forces with the Government of Ghana and the Ghana NPAP to amplify our collective impact," said Silke Hollander, Resident Representative a.i. of UNDP Ghana. "The 'Waste' Recovery Platform is very much owned and driven by traditional and non-traditional stakeholders in the waste management sector and beyond in Ghana. By leveraging the incredible entrepreneurial initiatives underway and creating a space where people can connect, exchange knowledge and share good practices, as well as co-design and partner to find solutions, we are confident that the Platform will help Ghana move towards the circular economy and reduce plastic pollution in the near future."
"The scope and depth of this partnership in Ghana truly represents a new and remarkable way to tackle the world's most pressing issues," added Elsie Kanza, Head of Africa and Member of the Executive Committee at the World Economic Forum. "It's clear that no single institution or sector can take on the plastic pollution crisis alone. In Ghana and across the world, GPAP is bringing together government, business and civil society organizations – and it's also working closely with local entrepreneurs, women and young people to ensure that their voices and initiatives are heard. This is how we can achieve an equitable and sustainable future."