Victory Day: We must not forget the lessons of history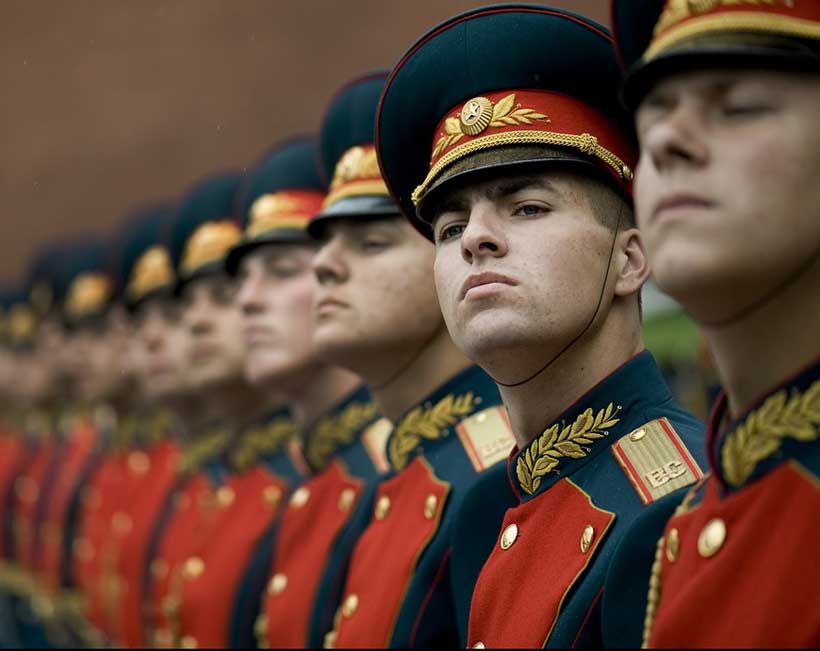 The month of May and the fireworks are now behind us. The country and the world celebrated Victory Day, which is a holiday of war veterans, home front workers, and all the people of Russia and other victorious nations. There was a grand parade on Red Square and a wreath laying ceremony at the tomb of the Unknown Soldier. The march of the Immortal Regiment – a civil initiative that has acquired a truly global dimension – took place again not only in Russia, but in many other countries as well, with the participation of hundreds of thousands of Russians, our compatriots abroad and citizens of other countries – all people who cherish the memory of Victory and the memory of those who worked to bring it closer.
There's another date ahead – June 22, the day of memory and grief for those who died during the Great Patriotic War. We will be remembering those who fell in battles, were tortured to death in captivity and concentration camps, or died of hunger and the toils of war. Preparations are beginning for celebrating the 75th anniversary of Victory in 2020, which, of course, will be held at a level appropriate to the scale of the feat and the greatness of the spirit of the heroes of that war. One can't help thinking about it: what does May 9 mean for the peoples who were on the verge of annihilation, and why do some people loathe this holiday today?
As someone who is part of the first post-war generation, who grew up on the stories told by war veterans and family tales about the war, I believe the answers to these questions are obvious. The peoples of the Soviet Union and other countries became the object of the inhuman ideology of Nazism, and then the victim of aggression on behalf of the most powerful, organised and motivated war machine of that time. At the cost of terrible sacrifices, the Soviet Union made a decisive contribution to defeating Nazi Germany and, jointly with the Allies, liberated Europe from the fascist plague. The victory laid the foundation for the post-war world order based on collective security and state-to-state cooperation, and paved the way to creating the UN. These are the facts.
Unfortunately, however, the memory of Victory is not sacred to all around the world. It is regrettable that there are individuals in Russia who picked up the myths spread by those who want to bury this memory, and who believe that time has come to stop solemn celebrations of Victory Day. The greater the anniversary numbers become, the more we come face to face with the desire to forget.
Bitter as it is to witness, we see the attempts to discredit the heroes, to artificially generate doubts about the correctness of the path our ancestors followed. Both abroad and in our country we hear that public consciousness in Russia is being militarised, and Victory Day parades and processions are nothing other than imposing bellicose and militaristic sentiment at the state level. By doing so, Russia is allegedly rejecting humanism and the values of the "civilised" world. Whereas European nations, they claim, have chosen to forget about the "past grievances," came to terms with each other and are "tolerantly" building "forward-looking relations."
Our detractors seek to diminish the role of the Soviet Union in World War II and portray it if not as the main culprit of the war, then at least as an aggressor, along with Nazi Germany, and spread the theses about "equal responsibility." They cynically equate Nazi occupation, which claimed tens of millions of lives, and the crimes committed by collaborationists with the Red Army's liberating mission. Monuments are erected in honour of Nazi henchmen. At the same time, monuments to liberator soldiers and the graves of fallen soldiers are desecrated and destroyed in some countries. As you may recall, the Nuremberg Tribunal, whose rulings became an integral part of international law, clearly identified who was on the side of good and who was on the side of evil. In the first case, it was the Soviet Union, which sacrificed millions of lives of its sons and daughters to the altar of Victory, as well as other Allied nations. In the second case, it was the Third Reich, the Axis countries and their minions, including in the occupied territories.
However, false interpretations of history are being introduced into the Western education system with mystifications and pseudo-historical theories designed to belittle the feat of our ancestors. Young people are being told that the main credit in victory over Nazism and liberation of Europe goes not to the Soviet troops, but to the West due to the landing in Normandy, which took place less than a year before Nazism was defeated.
We hold sacred the contribution of all the Allies to the common Victory in that war, and we believe any attempts to drive a wedge between us are disgraceful. But no matter how hard the falsifiers of history try, the fire of truth cannot be put out. It was the peoples of the Soviet Union who broke the backbone of the Third Reich. That is a fact.
The attacks on Victory Day and the celebration of the great feat of those who won the terrible war are appalling.
Notorious for its political correctness, Europe is trying to smooth out "sharp historical edges" and to substitute military honours for winners with "neutral" reconciliation events. No doubt, we must look forward, but we must not forget the lessons of history either.
Few people were concerned that in Ukraine, which gravitates towards "European values," the former Poroshenko regime declared a state holiday the day of founding the Ukrainian Insurgent Army – a criminal organisation responsible for the deaths of tens of thousands of civilian Ukrainians, Belarusians, Russians, Poles and Jews (although in Israel, whose people survived the Holocaust, May 9 is an official holiday, Victory Day). Other glaring examples from neighbouring countries include Nazi Germany-like torchlight processions of neo-Banderites along the main streets of the Hero City of Kiev, and the marches of veterans and supporters of Waffen-SS in Riga and Tallinn. I would like to ask those who do not like the tears of our veterans during parades and who criticise the "militarised" events in honour of Victory: how do you like this kind of "demilitarisation" of consciousness in a European way?
No one will admit this, of course, but here are the facts: the United States, NATO and the EU let their junior partners, who are using blatant Russophobia to build their careers, get away with quite a lot. These guys get away with everything, including glorification of Nazi henchmen and hardcore chauvinism towards ethnic Russians and other minorities for the sole purpose of using them to keep Western alliances on anti-Russian positions and to reject a pragmatic dialogue with Moscow on an equal footing.
Occasionally it appears that the purpose of such connivance on behalf of the West is to relieve of responsibility those who, by colluding with Hitler in Munich in 1938, tried to channel Nazi aggression to the east. The desire of many in Europe to rewrite that shameful chapter of history can probably be understood. After all, as a result, the economies of a number of countries in continental Europe started working for the Third Reich, and the state machines in many of them were involved in the Nazi-initiated genocide of Russians, Jews and other nations. Apparently, it is no accident that the EU and NATO members regularly refuse to support the UN General Assembly resolution on the inadmissibility of glorifying Nazism, which was advanced by Russia. The "alternative vision" of World War II among Western diplomats clearly does not stem from the lack of historical knowledge (although there are problems in this department as well). As you may recall, even during the Cold War such blasphemy did not exist, although it would seem that an ideological face-off was a perfect setting for it. Few dared to challenge the decisive role of the Soviet Union in our common Victory back then and the standing our country enjoyed during the post-war period, which our Western allies recognised without reservations. Incidentally, it was they who initiated the division of Europe into "areas of responsibility" back in 1944, when Churchill raised this issue with Stalin during the Soviet-British talks.
Today, distorting the past, Western politicians and propagandists want to make the public doubt the fair nature of the world order that was approved in the UN Charter following World War II. They adopted a policy seeking to undermine the existing international legal system and to replace it with a certain "rule-based order." They want to create this order based on the principle of "he who is stronger is right" and according to the "law of the jungle."
This primarily concerns the United States and its peculiar perception of 20th century history. The idea of "two good wars" is still widespread there, as a result of which the United States secured military dominance in Western Europe and a number of other regions of the world, raised confidence in its strength, experienced an economic boom and became the world leader.
Just as enthusiastically as the Europeans, the Americans are creating an image of "militaristic Russia." However, most of their own history is a sequence of endless wars of conquest. Over 243 years of "American exceptionalism," interventionism has become an integral part of Washington's foreign policy. Moreover, the US political elite think of the use of force as a natural element of "coercive diplomacy" designed to resolve a wide range of issues, including domestically.
Not a single election campaign in the United States is complete without the candidates trying on a toga of a commander-in-chief in action. The ability to resort to the use of force for any reason is proof of an American politician's prowess. There are many examples of such stereotypes being implemented under various "plausible" pretexts: Grenada in 1983, Panama in 1989, Yugoslavia in 1999 and Iraq in 2003. At the same time, America honours its fallen soldiers regardless of what cause they fought for. Memorial Day is celebrated in May, and no one has any suspicions of "militarism" when naval parades and air shows with the participation of military equipment take place in various US cities.
We are essentially accused of preserving the memory of our fathers and grandfathers, who laid down their lives in a sacred liberation war, giving them military honours, and celebrating Victory Day widely and with pride. Was it Russia or the Soviet Union that unleashed two world wars? Is it us who today operate an extensive network of military bases that were created to control the entire world?
For diplomats and politicians, May 9 is also a good occasion to recall that the Allies referred to themselves as the United Nations in 1945. They stood shoulder to shoulder during the war, conducted Arctic convoys and fraternised on the Elbe. French pilots in the Normandie-Neman fighter regiment fought the enemy on the Soviet-German front. Awareness of the common threat in the face of the inhuman ideology of National Socialism had helped the states with different political and socioeconomic models to overcome differences. The belief that the defeat of Nazi Germany will mark the triumph of justice and the victory of light over darkness was the unifying factor.
After the war, the Allies built a new architecture of international relations based on the ideal of equal cooperation between sovereign states. The creation of the UN was supposed to warrant that the sad fate of its predecessor, the League of Nations, will not be repeated. The founding fathers learned the lessons of history well and knew that without the "concert of the great powers" – that is, the unanimous consent of the leading countries of the world which hold permanent seats at the Security Council – the world cannot enjoy stability. We must be guided by this commandment today as well.
This year, as we took part in Victory Day celebrations, we once again told everyone willing to listen: "Yes, just like our ancestors we are ready to decisively repel any aggressor. But Russians do not want war, and do not want to go through horror and suffering again." The historical mission of our nation is to guard peace. The peace we are trying to preserve. Therefore, we are offering a hand to anyone who wants to be good partners to us. Our Western colleagues have long had our proposals which open realistic ways to overcoming confrontation and putting up a reliable barrier to all those who allow for the possibility of a nuclear war. These proposals were further reinforced by an appeal made by the CSTO member states to the North Atlantic Alliance in May to begin a professional depoliticised dialogue on strategic stability issues.
I am confident that the citizens of Russia and other countries will be watching parades in honour of the 75th anniversary of the Great Victory on May 9, 2020 and joining the ranks of the Immortal Regiment with St George ribbons attached to their lapels with thoughts of peace in their minds. The memory of those who fell in battle fighting the enemies of the homeland, the enemies of civilisation, will remain alive as long as we mark the great holiday of victorious nations, the holiday of salvation and the holiday of liberation. And there is no need to be embarrassed about the grandiose scale of this celebration.
From our partner International Affairs
Fidel Castro's Political Struggle Unites Havana and Moscow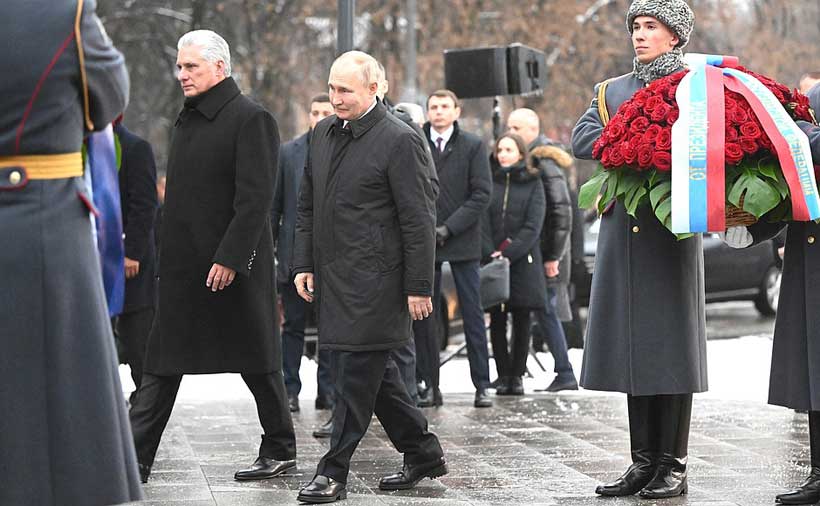 Under the auspices of an official state visit to attend the unveiling of a statue in memory of former leader Fidel Castro in northwestern Moscow, Cuban President Miguel Diaz-Canel Bermudez unreservedly expressed support for anti-American position taken by Russia, reminded the history of Cuba and the Soviet Union during the Cold War when shared the same stand.
Diaz-Canel Bermudez highlighted the significance of the visit to Moscow. Cuba and Soviet Union had similar experience, both were blockaded. "It takes place at a time when both Russia and Cuba have been subjected to unfair unilateral sanctions and have a common enemy, a common source which is the Yankee empire, which manipulates a large part of humankind," he said. "We constantly condemn the sanctions imposed on the Russian Federation and the sources of the ongoing conflict so that people are not misled and do not blame Russia for this, and we also condemn what Europe is doing, being completely subordinate to US interests."
Referring to the unveiling of the monument, he described it as a true reflection of Fidel Castro's personality in the midst of struggle, just like in the midst of struggle today. He denounced the imperialist powers and further praised all efforts of the Russian Federation and, under such complicated circumstances, Russia's role in orienting the world towards multi-polarity.
Russia can always rely on Cuba. Moscow and Havana will continue to strengthen cordial bilateral relations and defend the great values of freedom, equality and justice. The principle of continuity, not just a slogan or a motto, but to continue promoting relations with the Russian Federation. Cuban leader thanked Russia for its support for his country and spoke in favor of expanding economic cooperation between the two countries.
President Vladimir Putin noted in his speech that the bilateral relations between Cuba and Russia have been making steady headway in the past three years since the previous meeting in the Kremlin. He pointed to the appreciable developing cooperation between foreign ministries, parliaments and governments. State Duma Speaker Vyacheslav Volodin visited Cuba quite recently.
The Russia-Cuba Intergovernmental Commission is working. It held its 19th session. There are plans for cooperation between the governments with many joint projects up to 2030.
Putin stressed that the Soviet Union and Russia have always supported and support the Cuban people in their struggle for independence and sovereignty. "We have always opposed any restrictions, embargoes, blockades and so on. We have always backed Cuba on international platforms. We are seeing that Cuba occupies the same position with respect to our country, to Russia," he added.
All this is a result of the traditional friendship that was started by Comrade Fidel Castro. Today, Cuba and Russia agreed to have unveiled a monument to him. Indeed, this is a good memory of him, a true work of art. He is so dynamic, always in motion, moving forward. It definitely captures the look of a fighter that he had.
Putin really remembered his personal meetings very well, even the details with him. "He was an impressive man. I remember how during our first meeting in his office when we were freely discussing the current situation during lunch, I was stunned by his attention to detail and his knowledge of the nuances of ongoing events, even if they took place far away from Cuba," he narrated the story.
"He was aware of and could analyse everything happening in the world. It was very interesting and useful for me to have these meetings with him. Relying on this firm foundation of friendship, we must certainly move forward and enhance our cooperation in the current conditions," Putin said in conclusion.
Work on the bronze-made three-meter-monument lasted for six months and took place in the Russian capital. Castro is depicted seated on a rock with a stylized map of Cuba inscribed on it. The image reflects the heroic path of a person who stood up for the rights and freedoms of the Cuban people, according to the Kremlin's press service fact sheet.
The Moscow city legislature approved the idea of such a monument on February 16. The initiative to erect a monument to Fidel Castro came from the leadership of the Russian Defense Ministry. The idea was supported by the Russian Military-Historical Society which held a closed artistic contest with 11 works participating.
The monument was erected on Moscow's square named in honor of Castro. Fidel Castro was one of the leaders of Cuba's revolutionary movement who chaired Cuba's Council of Ministers from 1959 to 2008. The Cuban politician died in 2016.
Annexation of Ukrainian oblasts to undermine the Russian Constitution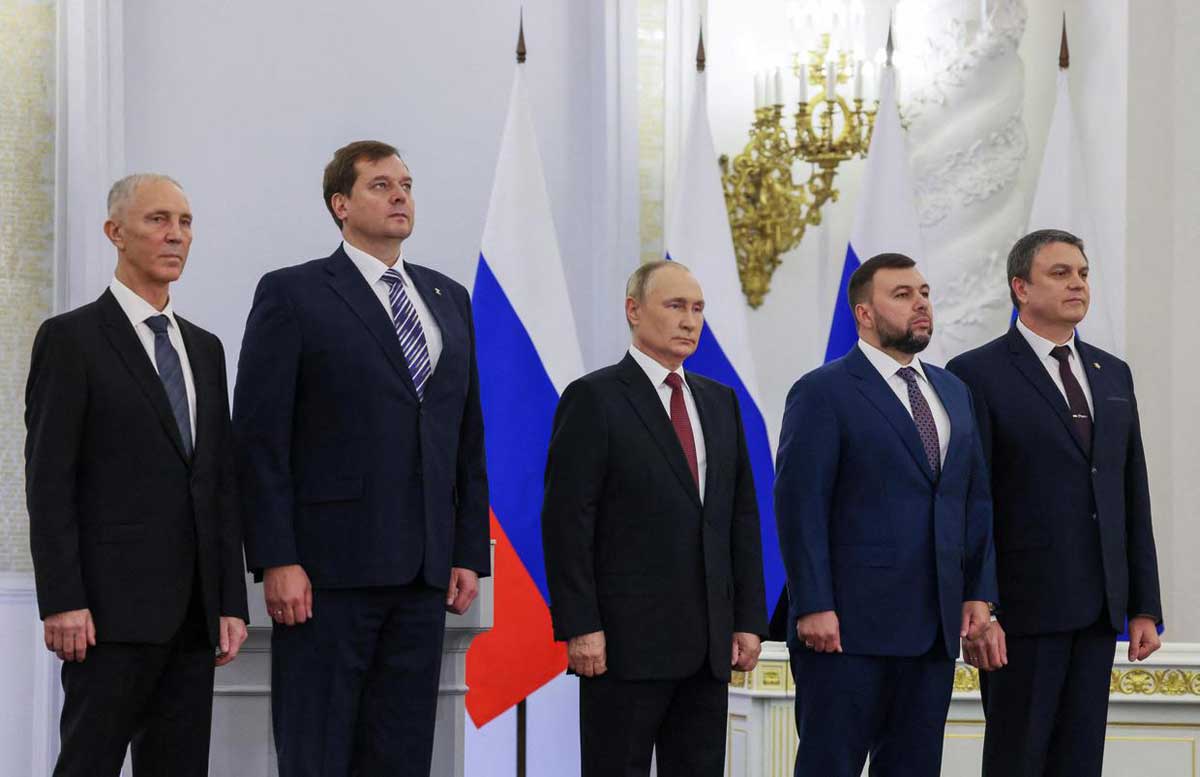 On September 30, 2022, Russia declared its annexation of four Ukrainian oblasts – Luhansk, Donetsk, Zaporizhzhia, and Kherson. Not only none of the oblasts was under complete Russian control at the time of annexation, the unilateral proclamation of "new Russian territories" took place amid Russian military setbacks seen by many as one significant continuing retreat.
To make the annexation look legitimate, the Kremlin staged "referendums" in all four oblasts. Then, according to the "will of the people" there, the State Duma voted for admitting these four into the Russian Federation, with the Russian Constitutional Court acknowledging in a hasty overnight session on October 2, 2022, that four new treaties with "the newly-acquired territories" fully correspond to the Russian Constitution.
In the Kremlin's view, this set of obviously illegitimate actions showed its complete legitimacy. It seems to have worked for the internal political agenda as Putin's Goebbels-style propaganda gurus have used billions of dollars much more effectively than his military aides. At the same time, it has shown the absence of the Rule of Law with its basic presumption that no one – including the most highly placed officials – is above the law. The "legal documents" supporting the annexation prove that Russian authorities live in virtual reality.
February 21, 2022, Putin acknowledged the independence of Donetsk and Luhansk Republics to use it three days later as a pretext for the military invasion of Ukraine. But the document he signed stated that Russia recognizes the whole territory of Donetsk oblast as the Donetsk Republic, which means that for the Donetsk Republic to become a part of the Russian Federation, all people of Donetsk oblast should have been represented at the staged referendums. Failing to seize the Ukrainian regions of Donetsk oblast by the end of September, the Kremlin couldn't do it. And neither the Kremlin nor the State Duma or should-be highly-professional judges of the Constitutional Court expressed any care for the fact.
The preamble of the Russian Constitutional Court's approval of the four treaties states that as a consequence of arbitrary decisions of the Soviet government, the territory of the Ukrainian SSR was primarily comprised of lands with a predominantly Russian population without the will of the people. Moreover, according to the viewpoint of the Russian Constitutional Court, the situation in Ukraine began to deteriorate after the collapse of the Soviet Union. And it became even worse after the government change in Kyiv in 2014.
The Russian Constitutional Court also noted that "admitting belief in good and justice as one of the founding values of the multi-national people of the Russian Federation, and being a social state governed by the Rule of Law, Russia can not ignore massive facts of violations of the right to life and discrimination based on ethnic and linguistic affinity, more so on the territory with the population of which Russia has long-lasting historical, cultural and humane connections."
This official statement provides legal grounds for the revision of the collapse of the USSR. The Russian Government may use this official legal ruling of the Constitutional Court to acknowledge the void of the Belovezh Accords of December 1991, which declared that the Soviet Union ceases to exist, effectively overturning the will expressed by more than 76% of the Soviet people, who in March 1991 voted for preserving the Soviet Union.
In 2017 Sergei Kiriyenko, head of the Kremlin internal policy team and an architect of the structure of the contemporary internal politics in Russia, declared that "the Russian state functions on principles different from the treaty principle." His statement justified why the Kremlin did not want to re-sign a treaty between Tatarstan, a subject of the Russian Federation, and the federal center. The treaty that was refused to sign was approved by the Russian Parliament in 2007 to be effective for ten years, and to be re-approved in 2017. And the 2007 Parliament's approval followed the 1994 Treaty signed by Tatarstan with the Kremlin, after Tatarstan refused to sign a Federative Treaty between the Kremlin and all Russian regions, which became the basis of the Russian Federation and its Constitution of 1993.
Openly loyal and Kremlin-supporting Chechnya never had any treaty signed with the Kremlin. After two wars there is not even a valid peace treaty between Chechnya and Moscow, let alone a Federative Treaty. May 12, 1997 Aslan Maskhadov, the then President of the Chechen Republic Ichkeriya signed a peace treaty signed with the Russian President Boris Yeltsin. That peace treaty provided legal grounds for controversies to be resolved only by peaceful means and according to the norms of international law (needless to remind you that Putin violated it three years later). It is interesting that Boris Yeltsin declared that the Treaty "put an end to the war and 400 years of conflict".
This treaty followed the Khasavyurt Accords of 1996, titled "On principles of the basis of relations between the Russian Federation and the republic of Chechnya". Both documents do not clearly define the status of Chechnya within or outside of the framework of the Russian Federation. The documents de-fact treated Chechnya as an independent state, and at the same time the Russian Parliament never ratified the documents, which is obligatory for international treaties and agreements.
This mix of misleading title and content demanded a particular provision of the Russian Constitutional Court stating on December 26, 1996, that the signed Khasavyurt Accords did not regulate any relations between the Russian Federation and one of its subjects, clearly leaving Chechnya outside the existing legal structure of the Russian state. Moreover, the Chechen Republic Ichkeria, whose President signed the treaty, was declared "ceased to exist," replacing it with the Republic of Chechnya, leaving any documents signed before legally void.
As we see from the legal point of view there are at least two subjects of the Russian Federation that have no legally effective treaties with the central authority.
Most regions signed the Federative Treaty of 1992, which later was transformed into the Russian Constitution. The signing needed to repeat in a new format in 2002. The initial treaty provided for a later re-signing revision of approval only for the regions initially formed as Republics, and usually, these are ethnicity-based regions. But Putin's negligence of the law when he felt that he had authority, which he already possessed in 2002, let the resignation issue out of his attention scope. In 2017 Tatarstan demanded this attention but only received Kiriyenko's statement that the Russian Federation was not based on any treaties.
And this is when legal cover for acquisitions of new territories plays a role. In 2014 Moscow signed a treaty with the Republic of Crimea. In September 2022, four "new subjects of the Russian Federation" became its part through treaties.
Looking at the Russian state legal structure, we see one republic with a treaty not re-signed (Tatarstan) and another that changed its name without signing any legal treaty with Moscow (Chechnya). There are also 18 republics that initially signed the federative treaty. Still, later the Kremlin declared that there was no need to prolong it without talking any supporting legal actions. Finally, there are also three republics with existing treaties whose legitimacy is not recognized internationally (Crimea, Luhansk, and Donetsk republics), and of course, Kherson and Zaporizhzhia oblasts.
This context shows the total absence of the Rule of Law in Russia and undermines its Constitution and legal principles of interrelations between the regions and the Kremlin.
The current mobilization state of Russian politics and economy drives the Kremlin to re-organize its administrative structure based on purely economic effectiveness reasoning. An obvious target for future reforms will be ethnic republics, as now different level Russian media start spreading statistics proving the predominance of Russians in the historically ethic-based republic. A good example is a Krasnodar Krai discussion of why the Maykopsky district of the Republic of Adygea can't be a part of Krasnodar Krai since 85% of people in the community are Russians, raising a question about Adygea as a whole with 65% of Russians leaving there.
This Kremlin-inspired discussion presents an existential threat to many smaller ethnicities abiding in Russia. Many ethnic people already feel they are being exterminated by the war in Ukraine, with just a handful coming back from hundreds sent to the frontline. And suppose they look closely at the legal grounds of why they live in the Russian Federation to find out their absence. In that case, the centrifugal forces of Russian internal politics, becoming increasingly evident with every war defeat, may become unstoppable.
Reason And Anti-Reason In Moscow: Psychiatric Determinants Of "Cold War II"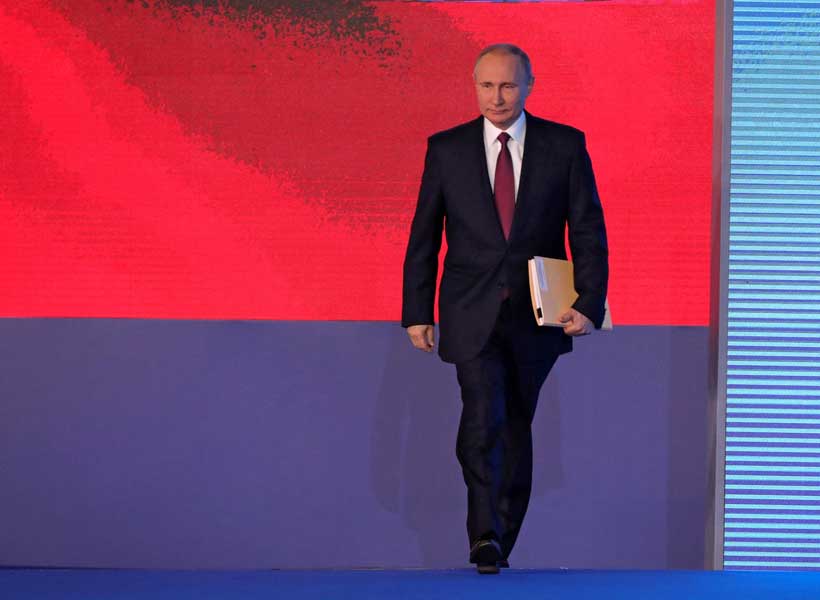 Vladimir Putin's aggression against Ukraine has obviously critical implications for United States foreign policy.[1] Among other things, this expanding Russian "crime against peace"[2] has undermined once residual hopes for superpower reconciliation or "détente." In essence, whatever the variable particulars, we are now embroiled in "Cold War II."
Are there any discernible psychiatric elements to this "war?" As a key player in world politics, is the Russian president fundamentally rational or irrational? And how should a meaningful answer be determined?
There are some additional questions. Is it plausible that Mr. Putin might sometime pretend irrationality as a calculated step toward "escalation dominance?"[3] How could American analysts reliably distinguish between authentic enemy irrationality and pretended enemy irrationality? How credible are Putin's periodic threats to use nuclear weapons in Ukraine? To be sure, assessing an adversarial head of state is not "normally" a psychiatric task.
Still such informed queries need not imply "abnormality." Inter alia, such an implication could mean dispensing with variously tangible distinctions between "normal" and "abnormal." This dispensation need not suggest that findings of "abnormality" would be insignificant, but only that Putin's most injurious traits could present in obscure or unforeseeable ways.
In some cases, owing to the higher likelihood of decisional miscalculations during crises, these qualities could prove more portentous than "normalcy." Here, though counter-intuitive, a perfectly rational Vladimir Putin could pose greater global perils than an irrational Putin. As to a Russian president who would become genuinely "mad," prediction would become all but impossible. Then, using a poplar gaming metaphor, all bets would be off.[4]
What then?
Credo quia absurdum, warned the ancient philosophers. "I believe because it is absurd."
There is more. It will be important for US decision-makers to differentiate between a Vladimir Putin who is "merely" evil from one who is abnormal, irrational or "mad." Though there exist no intrinsic or "essential" meanings to such potentially overlapping descriptions, current strategic theory centers most conspicuously on judgments of "irrationality." More precisely, an irrational national decision-maker is one who does not value national survival more highly than any other preference or combination of preferences.
Such matters would always be multifaceted and bewildering. Nuance would be critical. Accordingly, specific designations of "normal" and "abnormal" could appear sharply delineating or mutually exclusive. But US foreign policy decision makers could also discover that any true qualities of abnormality, irrationality and madness are more correctly thought of as isolable points along a common continuum than as sharply distinct analytic alternatives.
There is much more to understanding Vladimir Putin and his belligerent threats than first meets the eye. Sigmund Freud wrote about the Psychopathology of Everyday Life (1914) while tracing assorted connections between "abnormal" and "normal." He was surprised to learn just how faint the supposed lines of any tangible conceptual demarcation could actually be. Exploring parapraxes, or slips of the tongue, a phenomenon that we now popularly call "Freudian slips," Freud concluded that certain specific psychopathologic traits could sometimes be discovered even in "normal" persons.
What then?
What would this mean?
How might it impact US foreign policymaking in "Cold War II?"
After the Holocaust, American psychiatrist Robert Jay Lifton interviewed Nazi (SS) doctors. Perplexed, as a physician, that such monstrous crimes could have been justified as "hygiene," Dr. Lifton was determined to answer some basic and necessary questions. Most elementary was the altogether reasonable query: How could Nazi doctors have managed to conform large-scale medicalized killing of innocent and defenseless human beings with their otherwise normal private lives?
In similar fashion, US decision makers and other world leaders ought now to inquire about Vladimir Putin and his all-too-many underlings, separatist enablers and otherwise witting allies.
How can these people witness the daily aggression and genocide[5] now being inflicted in Ukraine by thousands of Russian soldiers and continue "per normal" with their day-to-day lives?[6]
In response, history could be instructive. It was not unusual for Nazi doctors to remain good fathers and husbands while murdering Jewish children. These defiling physicians (doctors sworn by Hippocratic oath to "do no harm") were capable of supervising genocidal mass murders six days a week (on Sundays they "normally" went to church). Now we must ask along very similar lines of questioning:
Are Russian soldiers and their Ukrainian nationalist collaborators murderers[7] who are also able to remain good fathers and good husbands?
Robert Lifton carried on his examinations of the Nazi "biomedical vision" as a Yale Professor and Fellow of the Max Planck Institute for Research in Psychopathology and Psychotherapy. For this American-Jewish physician, such examination was not just some random undertaking of narrowly intellectual curiosity. Rather, adhering to widely-accepted and reason-based protocols, Dr. Lifton embarked upon a series of carefully rigorous scientific studies.
To the physician, the Oath of Hippocrates pledges that "I will keep pure and holy both my life and my art." When asked about this unwavering duty, most interviewed SS doctors experienced no personal contradictions. In Nazi pseudo-biology, "The Jew" was "a source of infection." Ridding society of Jews, it followed, was a properly "anti-infective" medical goal. The Nazi doctors saw such murderously irrational "excisions" as a proper "obligation" of "healing," "compassion" and (above all) "hygiene."
Do Vladimir Putin and his compliant subordinates have similarly "cleansing" views of Russia's Ukrainian genocide? Based on readily available evidence, this is hardly a difficult question.
Resembling their Nazi forbears, perpetrators of the ongoing Russian genocide in Ukraine must prepare to consider Putin-ordered mass murders as a crime justifiable by metaphor. Literally millions of Holocaust murders offer irrefutable evidence of just how easy it is to subordinate science and reason to the most preposterous forms of comparison.[8] With any such willful subordination,[9] otherwise normal military behavior is giving way again to once unimaginable levels of inter-state and intra-state predation.
There is more. The duality of good and evil within each individual person is a very old idea in western thought, most notably in German literature, from Johan Wolfgang von Goethe and Friedrich Nietzsche to Hermann Hesse and Thomas Mann. Always, in studying this clarifying literature, we may learn that the most critical boundaries of caring and compassion are not between "normal" and "abnormal" persons, but within each individual person. As Putin-ordered Nuremberg-category crimes continue to escalate,[10] it is high time to recognize that the porous walls of human normalcy and abnormality can allow a single individual to navigate effortlessly between polar extremes.
Pertinent oscillations would take place between cruelty and altruism, violence and calm, right and wrong, or reason and anti-reason.
In the best of all possible worlds, truth could never be manipulated as political contrivance. It is, after all, an exculpatory trait, both in specific psychiatric assessments and in serious judgments of international relations. Still, at any identifiable moment of human history, the veneer of human civilization has remained razor thin. It has remained brittle, fragile, tenuous, ever- ready to crack along multiple and mutually-dependent interstices.
After attending the 1961 Eichmann trial in Jerusalem, political philosopher Hannah Arendt advanced the controversial hypothesis that even extreme evil can be ordinary or "banal," that it can be generated by the seemingly benign absence of authentic thought.[11] This novel interpretation was widely challenged and disputed following the trial, but it remained identifiably rooted in certain classical views of individual human dualism, particularly Goethe's Faust. Hannah Arendt's troubling idea of evil as mundane was further reinforced by various-earlier studies of nefarious human behavior in the crowd, the herd, or the mass, especially in overlapping works of Soren Kierkegaard, Max Stirner, Arthur Schopenhauer, Gustave Le Bon, Carl G. Jung, Elias Canetti and Sigmund Freud.
In all these thematic writings, a common focus is placed upon the potentially corrosive impact of group membership and identity on individual human behavior. Freud's own best contribution remains his Group Psychology and the Analysis of the Ego (1921). Here, the psychologist-philosopher already understood that Reason is at perpetual war with Anti-Reason and that political dictatorships will inevitably favor the latter.[12]
Robert Lifton likely knew all this. Still, he sought something more, some other isolable mechanism by which the ordinary or "normal" evildoer could render himself or herself "abnormal." Ultimately, he discovered this esoteric mechanism in an intra-psychic process Lifton labeled as "doubling."
Different from the traditional psychoanalytic concept of "splitting," or what Freud preferred to call "dissociation," doubling is the means whereby an "opposing self" begins to replace portions of the "original self," in effect usurping and overwhelming that original self from within. When this happens, we may learn further, the opposing self is able to embrace evil-doing without restraint and while the original self still seeks to remain "good."
Significantly, for optimum understanding of Putin's grave crimes against Ukraine, doubling may permit Russian evil doers to avoid personal guilt and thus live simultaneously within two coinciding but adversarial levels of human consciousness.
As a "maneuver," however unwitting, doublingallowed Nazi doctors to be murderers and decent family men at the same time. In similar fashion, doubling is likely the way that shameless Putin-functionaries are able to reconcile the blatant ordinariness of their public lives with derivative displays of personal cruelty. As with Nazi doctors and the Jews, it is plausible that "know nothing" Putin-followers regard the harms being inflicted upon "sub-human" Ukrainians as not merely pleasing, but also as a welcome form of "healing."
Sometimes, truth may emerge through paradox. To wit, there can be an abnormal side to normalcy. For the future, in thinking about how best to protect human beings from yet another genocidal national leader, all states and peoples would be well-advised not to think of such leaders in starkly polar terms – that is, as "normal/abnormal" or "good/evil."
In the Third Reich, doublingwas not the only reason that "normal" individuals were able to be complicit in crimes against humanity.[13] Elements of "groupthink," especially an overwhelming need to belong, have always expressed a dominant decisional influence on human behavior. Clinically, at least, whatever sorts of explanation might ultimately emerge as most persuasive, we humans may finally have to accept that the most odious and contemptible national leaders have sometimes been clinically "normal."
Such conclusions ought to be kept in mind as US national security officials prepare to better understand the "psychopathology of normalcy." In support of such necessary preparations, these officials should focus more diligently on fact-based explanations[14] than on narrowly simplistic or conspiratorial ones.[15] Analyzing Vladimir Putin has already become an urgent task for America's scholars and national policy makers, but it is also a task wherein US assessments of adversarial normalcy need not imply any diminishing dangers. Even a completely "normal" Vladimir Putin could underestimate American military reactions and/or overestimate his own forces' capacity to fend off American nuclear reprisals.
At some still-indeterminable point, one when violence-stoking hatreds are channeled by the Russian President into the crudely belligerent nationalism[16] of "Mother Russia," they could precipitate a catastrophic international war. And this prospect could include a nuclear war.[17]
In the final analysis, truth will be exculpatory: "Happy are those who still know that behind all speeches are the unspeakable lies." This cryptic observation by Rainer Maria Rilke, the Dionysian[18] poet (a poet generally associated with dense philosophical issues of "being") laments the lies of individual leaders like Vladimir Putin. Though the virulent particulars of such lies are ever-changing around the world, their overall generality of meaning remains constant. Such welcome generality also represents an inherently gainful trait of science, medicine and law.[19]
Why does the famous Edward Munch "scream" (see image above) resonate so tellingly? It is because so many "normal" human beings are able to grasp thatin a self-defiling world that is presumptively normal, not to be abnormal represents a special form of madness.[20]Now, amid the ongoing horrors of Russia's genocidal war against Ukraine, it is this unique form of madness that is most worrisome.
Even if Vladimir Putin could be judged more-or-less normal, there would remain multiple perils for a US President to consider,[21] some of them unprecedented or sui generis. Though both abnormality and irrationality could render Putin increasingly dangerous to world order,[22] even national leaders who would remain normal and rational amid such evident global absurdity could bring this long-suffering planet to irremediable misfortune. After experiencing or witnessing Putin-inflicted horrors of anti-Ukraine violence,[23] humankind's only plausible hopes lie latent in certain complicated fusions of truth, intellect, justice[24] and prudence.[25]
This means, among other things, that the core task before a beleaguered humankind is intellectual; it is not narrowly political.
As always, in Moscow and elsewhere, Reason and Anti-Reason can coincide. More particularly, as 20th century German philosopher Karl Jaspers observes in Reason and Existenz (1955): "The rational is not thinkable without its other, the non-rational, and it never appears in reality without it. The only real question is in what form the other appears, how it remains in spite of all, and how it should be grasped." Until we can prepare to answer this many-sided question with refined thinking and accumulated expertise, Putin's aggression against Ukraine will glow ever more menacing.
---
[1] See: RESOLUTION ON THE DEFINITION OF AGGRESSION, Dec. 14, 1974, U.N.G.A. Res. 3314 (XXIX), 29 U.N. GAOR, Supp. (No. 31) 142, U.N. Doc. A/9631, 1975, reprinted in 13 I.L.M. 710, 1974; and CHARTER OF THE UNITED NATIONS, Art. 51. Done at San Francisco, June 26, 1945. Entered into force for the United States, Oct. 24, 1945, 59 Stat. 1031, T.S. No. 993, Bevans 1153, 1976, Y.B.U.N. 1043. Significantly, Russia's current aggression – resembling Nazi Germany's attacks on assorted nations between 1939 and 1945, made possible subsequent crimes of genocide.
[2] See: https://www.roberthjackson.org/article/london-agreement-charter-august-8-1945/
[3] See by this writer, Louis René Beres: https://smallwarsjournal.com/jrnl/art/united-states-nuclear-strategy-deterrence-escalation-and-war
[4] Do you know what it means to find yourselves face to face with a madman," inquires Luigi Pirandello in Act II of Henry IV, "with one who shakes the foundations of all you have built up in yourselves, your logic, the logic of all your constructions? Madmen, lucky folk, construct without logic, or rather, with a logic that flies like a feather."
[5] Some of these egregious Russian crimes nay not be literally genocidal in strict jurisprudential terms, but nonetheless qualify as "genocide-like" crimes. For precise characterization of the concept "genocide-like crimes," by this author, see: Louis Rene Beres, "Genocide and Genocide-Like Crimes," in M. Cherif Bassiouni, ed., INTERNATIONAL CRIMINAL LAW: CRIMES (Dobbs Ferry, NY: Transnational Publishers, 1986), pp. 271 – 279.
[6] Political philosopher Hannah Arendt would have said "banal lives."
[7] International humanitarian law, or the laws of war, comprise: (1) laws on weapons; (2) laws on warfare; and (3) humanitarian rules. Codified primarily at The Hague and Geneva Conventions, and known thereby as the law of The Hague and the law of Geneva, these rules seek to bring discrimination, proportionality and military necessity into belligerent calculations. On the main corpus of jus in bello, see: Convention No. IV, Respecting the Laws and Customs of War on Land, With Annex of Regulations, Oct. 18, 1907, 36 Stat. 2277, T.S. No. 539, 1 Bevans 631 (known commonly as the "Hague Regulations"); Convention for the Amelioration of the Condition of the Wounded and Sick in Armed Forces in the Field, Aug. 12, 1949, 6 U.S.T. 3114, T.I.A.S. No. 3362, 75 U.N.T.S. 85; Convention Relative to the Treatment of Prisoners of War, Aug. 12, 1949, 6 U.S.T. 3316, T.I.A.S. No. 3364, 75 U.N.T.S. 135; Convention Relative to the Protection of Civilian Persons in Time of War, Aug. 12, 1949, 6 U.S.T. 3516, T.I.A.S. No. 3365, 75 U.N.T.S. 287.
[8]. Twentieth-century Spanish philosopher Jose Ortega y' Gassett clarified the generic bases of such a leader-induced declension in his classic The Revolt of the Masses (1930): "It's not that the vulgar believes itself to be superexcellent and not vulgar, but rather that the vulgar proclaim and impose the rights of vulgarity or vulgarity itself as a right."
[9] During his presidential tenure, too little attention was directed toward Donald J. Trump's open loathing of science and intellect. Ironically, the Founding Fathers of the United States were intellectuals. As explained by American historian Richard Hofstadter: "The Founding Fathers were sages, scientists, men of broad cultivation, many of them apt in classical learning, who used their wide reading in history, politics and law to solve the exigent problems of their time." See Hofstadter's Anti-Intellectualism in American Life (New York: Alfred A. Knopf, 1964), p. 145. A post-Trump conclusion ought now to surface: How far we Americans have fallen.
[10] Regarding Nuremberg-category crimes, see: AGREEMENT FOR THE PROSECUTION AND PUNISHMENT OF THE MAJOR WAR CRIMINALS OF THE EUROPEAN AXIS POWERS AND CHARTER OF THE INTERNATIONAL MILITARY TRIBUNAL. Done at London, August 8, 1945. Entered into force, August 8, 1945. For the United States, Sept. 10, 1945. 59 Stat. 1544, 82 U.N.T.S. 279. The principles of international law recognized by the Charter of the Nuremberg Tribunal and the judgment of the Tribunal were affirmed by the U.N. General Assembly as AFFIRMATION OF THE PRINCIPLES OF INTERNATIONAL LAW RECOGNIZED BY THE CHARTER OF THE NUREMBERG TRIBUNAL. Adopted by the U.N. General Assembly, Dec. 11, 1946. U.N.G.A. Res. 95 (I), U.N. Doc. A/236 (1946), at 1144. This AFFIRMATION OF THE PRINCIPLES OF INTERNATIONAL LAW RECOGNIZED BY THE CHARTER OF THE NUREMBERG TRIBUNAL (1946) was followed by General Assembly Resolution 177 (II), adopted November 21, 1947, directing the U.N. International Law Commission to "(a) Formulate the principles of international law recognized in the Charter of the Nuremberg Tribunal and in the judgment of the Tribunal, and (b) Prepare a draft code of offenses against the peace and security of mankind…." (See U.N. Doc. A/519, p. 112). The principles formulated are known as the PRINCIPLES OF INTERNATIONAL LAW RECOGNIZED IN THE CHARTER AND JUDGMENT OF THE NUREMBERG TRIBUNAL. Report of the International Law Commission, 2nd session, 1950, U.N. G.A.O.R. 5th session, Supp. No. 12, A/1316, p. 11.
[11]See Hannah Arendt's Eichmann in Jerusalem (1963).
[12] On this key theme, see especially Karl Jaspers, Reason and Anti-Reason in our Time (1952). In a diagnosis that seems to fit perfectly with America's recent struggles against Trump-inflicted criminality, Jaspers summarizes a lethal problem of "normalcy." In essence, notes Jaspers: "The enemy is the unphilosophical spirit which knows nothing and wants to know nothing of truth."
[13] Crimes against humanity are defined formally as "murder, extermination, enslavement, deportation, and other inhumane acts committed against any civilian population before or during a war; or persecutions on political, racial or religious grounds in execution of or in connection with any crime within the jurisdiction of the Tribunal, whether or not in violation of the domestic law of the country where perpetrated…." See Charter of the International Military Tribunal, Aug. 8, 1945, Art. 6(c), 59 Stat. 1544, 1547, 82 U.N.T.S. 279, 288.
[14] But see Karl Jaspers, Reason and anti-Reason in Our Time (1952): "There is something inside all of us that earns not for reason, but for mystery – not for penetrating clear thought but for the whisperings of the irrational…."
[15] Recall, in this connection, Bertrand Russell's timeless warning in Principles of Social Reconstruction (1916): "Men fear thought more than they fear anything else on earth, more than ruin, more even than death."
[16] Authoritative legal assumptions concerning solidarity between states concern a presumptively common legal struggle against aggression and genocide. Such a "peremptory" expectation, known formally in law as a jus cogens assumption, had already been mentioned in Justinian, Corpus Juris Civilis (533 CE); Hugo Grotius, 2 De Jure Belli ac Pacis Libri Tres, Ch. 20 (Francis W. Kesey., tr, Clarendon Press, 1925) (1690); and Emmerich de Vattel, 1 Le Droit des Gens, Ch. 19 (1758).
[17] For early accounts by this author of nuclear war effects in particular, see: Louis René Beres, Apocalypse: Nuclear Catastrophe in World Politics (Chicago: University of Chicago Press, 1980); Louis René Beres, Mimicking Sisyphus: America's Countervailing Nuclear Strategy (Lexington, Mass., Lexington Books, 1983); Louis René Beres, Reason and Realpolitik: U.S. Foreign Policy and World Order (Lexington, Mass., Lexington Books, 1984); and Louis René Beres, Security or Armageddon: Israel's Nuclear Strategy (Lexington, Mass., Lexington Books, 1986). Most recently, by Professor Beres, see: Surviving Amid Chaos: Israel's Nuclear Strategy (New York, Rowman & Littlefield, 2016; 2nd ed. 2018). https://paw.princeton.edu/new-books/surviving-amid-chaos-israel%E2%80%99s-nuclear-strategy
[18] In German, "Existenzphilosophie."
[19]In law, responsibility of Russian President Vladimir Putin for such Nuremberg-category crimes is not limited by his official position or by any other requirement of direct personal actions. On the underlying principle of command responsibility, or respondeat superior, see: In re Yamashita, 327 U.S. 1 (1945); The High Command Case (The Trial of Wilhelm von Leeb) 12 LAW REPORTS OF TRIALS OF WAR CRIMINALS 1, 71 (United Nations War Crimes Commission Comp. 1949); see: Parks, COMMAND RESPONSIBILITY FOR WAR CRIMES, 62 MIL.L.REV. 1 (1973); O'Brien, THE LAW OF WAR, COMMAND RESPONSIBILITY AND VIETNAM, 60 GEO.L.J. 605 (1972); U.S. DEPT OF THE ARMY, ARMY SUBJECT SCHEDULE No. 27 – 1 (Geneva Conventions of 1949 and Hague Convention No. IV of 1907) 10 (1970). The direct individual responsibility of leaders for crime s of war, genocide and genocide-like crimes is unambiguous in view of the London Agreement, which denies defendants the protection of the Act of State defense. See AGREEMENT FOR THE PROSECUTION AND PUNISHMENT OF THE MAJOR WAR CRIMINALS OF THE EUROPEAN AXIS, Aug. 8, 1945, 59 Strat. 1544, E.A.S. No. 472, 82 U.N.T.S. 279, Art. 7. Under traditional international law, violations were the responsibility of the state, as a corporate actor, and not of individual human decision-makers in government or the military. Today, even if Putin could argue persuasively that Russian military violations in Ukraine were being committed without his express authorization, he would still remain legally responsible.
[20] This form could center on oft-cited differences between n rationality and non-rationality in world politics. See, by this author, Louis Rene Beres (Israel): https://besacenter.org/wp-content/uploads/2017/06/516-Israeli-Security-and-Enemy-Rationality-Beres-Author-approved-version.pdf
[21] See by this writer, Louis René Beres, at Air and Space Operations Review, USAF (Pentagon): https://www.airuniversity.af.edu/Portals/10/ASOR/Journals/Volume-1_Issue-1/Beres_Nuclear_War_Avoidance.pdf
[22] The term world order reform has its contemporary origins in a scholarly movement begun at the Yale Law School in the mid-and late 1960s, and later "adopted" by the Politics Department at Princeton University in 1967-68. The present author, Louis Rene Beres, was an original member of the Princeton-based World Order Models Project and wrote several early books in this scholarly genre.
[23] https://www.jurist.org/commentary/2022/05/louis-rene-beres-putins-nuremberg-level-crimes/
[24] Regarding considerations of justice in these matters, neither international law nor US law advises specific penalties or sanctions for states that choose not to prevent or punish genocide by others. All states, most notably the "major powers" belonging to the UN Security Council, are bound, inter alia, by the peremptory obligation (defined at Article 26 of the Vienna Convention on the Law of Treaties) known as pacta sunt servanda, that is, to act in continuous "good faith." This pacta sunt servanda obligation is itself derived from an even more basic norm of world law commonly known as "mutual assistance." This civilizing norm was famously identified within the classical interstices of international jurisprudence, most notably by eighteenth-century Swiss legal scholar, Emmerich de Vattel, in The Law of Nations (1758).
[25] The seventeenth-century French philosopher Blaise Pascal remarks prophetically in Pensées: "All our dignity consists in thought…It is upon this that we must depend…Let us labor then to think well: this is the foundation of morality." Similar reasoning characterizes the writings of Baruch Spinoza, Pascal's 17th-century contemporary. In Book II of his Ethics Spinoza considers the human mind, or the intellectual attributes, and – drawing further upon René Descartes – strives to define an essential theory of learning and knowledge.