60% of Delhi Metro now powered by solar energy from Madhya Pradesh
The 1,590-acre Ultra Mega Solar Park in Rewa's Gurh tehsil is among the largest single-site solar power plants in the world. And 24 percent of the pa24 percent of this MP's solar energy is being sold directly to the Delhi Metro, meeting almost 60 percent of its daytime demand. This will essentially help DMRC not only reduce its dependence on coal, but also save Rs. 793 crore on its energy bill over the next 25 years.
The Madhya Pradesh Power Management Company Ltd, which supplies power to the state electricity distribution companies, will get the remaining 76 per cent of the power produced from the Rewa solar power plant. An innovative scheduling exercise has enabled the solar plant to provide preferential uninterrupted power supply to Delhi Metro first, even on the days without optimum sun availability.
World Bank Group Support
The park, with an installed capacity of 750 megawatt, has been made possible with support from the World Bank and Clean Technology Fund through a US$ 18 million funding as part of a Shared Infrastructure for Solar Parks Project. The International Finance Corporation was the transaction advisor for the project.
The project will contribute immensely towards India's aim of quadrupling its renewable energy capacity to 175 gigawatts (GW) by 2022, including 100 GW of solar power. The Indian government's plan to ramp up solar power generation is among the largest in the world and will help bring sustainable, clean, climate-friendly electricity to millions.
The park will add 7.5 percent to India's total installed solar capacity. It also aims to reduce greenhouse-gas emissions by 1.3 million tons every year and nearly double the state's capacity to generate solar power.
The World Bank-Clean Technology Fund loan financed shared infrastructure facilities including a transmission evacuation system, which ensures the power generated is immediately evacuated to the grid for distribution. Moreover, the solar power has been developed on an unsubsidized basis, underscoring the World Bank Group's commitment to sustainability.
Role of Private Sector
One of key innovations that stands out in this project is how a modern and transparent electronic competitive bidding process that went on for 33 hours achieved first-year tariffs of as low as Rs. 2.97 per unit. This has essentially brought down the cost of solar power to compete with that of coal-based power.
This was also the first time that international players participated in a state bid.
"For the first time, the price of solar power has been brought down to less than Rs. 3 per unit with the use of a modern and transparent bidding process," said Junaid Ahmad, World Bank Country Director in India, adding, "We hope this will further open up a vibrant market for solar investments in India."
The World Bank's involvement in the project has helped in further leveraging private-sector investment worth USD 575 million in solar photovoltaic assets.
The project has demonstrated important economies of scale in solar generation, pushed down transaction costs for private players, and increased efficiency while further reducing unit costs of solar power.
"The World Bank investment in the solar park in Rewa has helped boost market confidence in the Indian solar sector in a major way. The park has managed to catalyze commercial funding, contributing towards India's ambitious target of installing 100 GW of solar power capacity by 2022," said Surbhi Goyal, Senior Energy Specialist and World Bank's Task Team Leader for the project.
The model of the Rewa Solar Power Project has been included in Prime Minister's Book of Innovation 2017 and awarded World Bank Group's President award for Innovation and Excellence.
The World Bank Group is now collectively working on replicating the success of the Rewa Solar Park in other such parks in Madhya Pradesh and possibly in Odisha.
Mini Grids Have Potential to Bring Electricity to Half a Billion People
Mini grids, previously viewed as a niche solution, can provide electricity to as many as 500 million people by 2030, helping close the energy access gap, according to a new World Bank report. The combination of falling costs, dramatic increase in quality of service, and enabling policies has made mini grids a scalable option to complement grid extension and solar home systems.
Mini Grids for Half a Billion People: Market Outlook and Handbook for Decision Makers is the most comprehensive study on mini grids to date. It provides policy makers, investors, and developers with insights on how mini grids can be scaled up. It takes stock of the global market and industry, analyses costs and technological innovations, and shows the importance of microfinance and income-generating uses of electricity.
Compared with main grid and solar home systems, mini grids are a more viable solution for areas with high population density and medium electricity demand. Extending main grid to serve remote communities is often prohibitively expensive. Globally, at least 19,000 mini grids are already installed in 134 countries, representing a total investment of $28 billion and providing electricity to around 47 million people. Most are deployed in Asia, while Africa has the largest share of planned mini grids.
At present the total mini grid investment in countries with low levels of electricity access in Africa and Asia totals $5 billion. It is estimated that $220 billion is needed to connect 500 million people to 210,000 mini grids in these regions by 2030. Across the globe, countries need to actively mobilize private sector investment. This can be achieved by setting up policies that support comprehensive electrification programs, promoting viable business models, and providing public funding, for example through performance-based grants.
"Mini grids are now one of the core solutions for closing the energy access gap. We see great potential for mini grid development at scale and are working with countries to actively mobilize public and private investment," said Riccardo Puliti, Senior Director of Energy and Extractives at the World Bank. "The World Bank has been scaling up its support to mini grids while helping countries develop comprehensive electrification programs. Our commitments to mini grids represent about one-quarter of total investment by the public and private sector in our client countries. The Bank's portfolio spans 37 mini grids projects in 33 countries, with a total commitment of more than $660 million. This investment is expected to leverage an additional $1.1 billion in cofinancing."
In addition to being cost-efficient, mini grids have many other benefits. They have positive environmental impacts: 210,000 mini grids powered by solar energy would help avoid 1.5 billion tons of CO2 emissions globally. They also offer national utilities a win-win solution in the electricity sector by paving the way for more financially viable future grid expansion.
By the time the main grid arrives, significant demand for electricity would already exist and customers would have greater ability to pay through the generation of productive uses made possible by mini grids.
Funding for the report was provided by the World Bank's Energy Sector Management Assistance Program (ESMAP).
UNIDO advocates for sustainable energy at EUSEW
For the second consecutive year, the United Nations Industrial Development Organization (UNIDO) took an active part in the European Union's Sustainable Energy Week (EUSEW) in Brussels, which focused on 'Shaping Europe's Energy Future'. "Ongoing research and collaborative actions between the European Union and Africa are crucial to renew the partnership", said UNIDO Climate Change Expert Cassandra Pillay. "The aim of this event is to facilitate policy debates and strengthen partnerships between the two continents across private and public sectors".
Pillay participated in the session "EU-AFRICA Long term Partnership on Sustainable Energy: The Role of Research & Innovation", with UNIDO also contributing to the "Transport, Energy and Digitalisation – City and Industry Views" session, which was jointly organized by ERTICO-ITS Europe, EUROCITIES, ORGALIM and UNIDO. The session addressed the synergies between the transport, energy and digital sectors to achieve sustainable energy policy goals and aimed at enhancing the value of actions and cross-sectoral work programmes.
The EUSEW is a flagship event organized by the European Commission to bring awareness about renewable and efficient energy use across Europe, which brings together public authorities, private companies, NGOs and consumers to promote initiatives to save energy and move towards renewables for clean, secure and efficient power. More than 4,000 registered participants attended.
IEA Technology Collaboration Programme holds its third universal meeting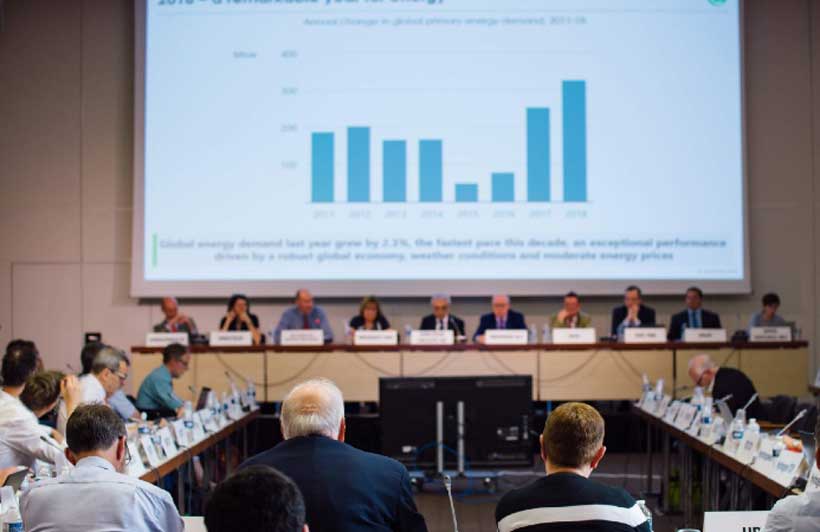 Leading energy experts from the public and private sector gathered in Paris on 18 and 19 June for the third universal meeting under the International Energy Agency's Technology Collaboration Programme (TCP).
Innovation is an essential underpinning of energy sector transitions worldwide. Given the growing complexity and interconnection of energy systems, cooperation and networking can increase effectiveness and maximise the impact of innovation efforts.
"2019 is a key year for innovation at the IEA," said Dr Fatih Birol, the IEA's Executive Director. "A more integrated and holistic approach to energy technology innovation is required to reach a sustainable energy future, which means even more partnerships among those in this room."
For more than 40 years, the vast amount of research and technology analysis carried out under the TCP network has provided a vital contribution to advancing clean energy technologies worldwide. The TCP currently has some 6,000 participants representing 300 government and industry entities from 54 countries, demonstrating the reach of the TCP's global innovation network. This body of knowledge supports high-level debates and real-world actions.
The first day of this week's event was jointly hosted by the IEA Committee on Energy Research and Technology and the IEA Standing Group on Long-Term Co-operation. It brought together policy and decision makers to share experiences on disruptive innovation, technology trends, and partnerships between governments, the private sector and other energy stakeholders.
The meeting provided an opportunity for innovators and strategic thinkers to discuss key trends, which will help to inform future IEA activities related to energy technology, research and innovation. That includes the preparations for the 2019 IEA Ministerial and the 2020 edition of Energy Technology Perspectives, one of the IEA's major publications.
At the meeting, the IEA unveiled new tools and online resources available under its energy innovation web portal, including a study mapping international partnerships relevant to energy technology innovation in order to identify synergies and foster strategic engagement across initiatives. The IEA Secretariat also outlined plans for a major effort to modernise the TCP legal mechanism, further explore how the IEA can make better use of TCP work and improve communication across the TCP network.