Armenia-Iran: Good neighbourly relations absolute necessity
Some experts believe that Iran's cooperation with Armenia could become costly for the latter owing to the ever increasing hostility demonstrated by US President Donald Trump towards the Islamic Republic of Iran. They predict that American sanctions and extensive pressure on Iran could throw Armenia into a kind of blockade.
What comes to mind in connection with this is the words that are thought to have been said by Napoleon Bonaparte: geography is destiny. Even though it could not always be the case but it definitely is with the Caucasus. There are few if any regions whose military, strategic and economic significance would combine with unprecedented ethno-religious diversity on a fairly small territory with historically conditioned disputable issues. This naturally creates all the conditions for an atmosphere of permanent tension which over the last two centuries has repeatedly exploded in armed conflicts and wars.
In the 21st century, the situation in the Caucasus is formed by a most sophisticated political gamut of bilateral and multilateral relations among three former Soviet republics of Transcaucasus – Azerbaijan, Armenia and Georgia, and also, not in the last place, by the Caucasian states of Russia, Turkey and Iran. Besides, one should not forget about the military and political influence of non-regional countries, first of all, the United States, the European Union and Israel.
Undoubtedly, today we are witnessing the influence of multiple forces in different areas of Caucasian politics, and these forces are dragging Caucasian states into various alliances. Moreover, the regional policy of each of the South Caucasian states is determined by a variety of factors that spring from the specifics of bilateral and multilateral relations.
But we will not analyze the whole spectrum of complicated and entangled relations between groups of countries and within groups proper. We will focus on relations beween Iran and Armenia.
What is the role of Armenia, taking into account the US anti-Iran sanctions?
Iran is the largest multi-ethnic state in the Middle East. Present day Iran is home to more than 40 nationalities, each at a different level of socio-economic development. The multi-million population of Iran is ethnically related to the peoples of the Transcaucasus and Central Asia, the Middle East, and South Asia.
For centuries, Iran has been maintaining close economic and cultural ties with the peoples of the Transcaucasus. But its relations with Armenia stand out as somewhat specific.
Significantly, the first state formations of Armenia and Iran appeared in the VII – VI centuries BC, that is, nearly 3 thousand years ago. Since then their territories and regimes have undergone numerous changes, but Armenians and Persians, as state-forming ethnic groups, have passed through the centuries unchanged.
An idea which is deeply rooted in both the Iranian and Armenian consciousness is that Persians and Armenians boast ancient culture that cannot be thrown into oblivion. This explains cultural ties between the two nations and a comprehensive respect for the specifics of each other's national and religious mentality.
At present, Iran is home to more than 200 thousand Armenians. Iranian Armenians enjoy substantial rights. Under the Constitution of Iran, they have guaranteed representation in parliament and local councils. Not so long ago, Russian Orientalist Karine Gevorkian reported that in 2018, a young Armenian woman was appointed head of the financial department of the Iranian oil company.
The Armenian Christian community is the largest of its kind in Iran. Functioning throughout the country are about 200 Armenian churches and about 30 Armenian schools. Some universities have departments of the Armenian language and culture. Iran publishes books and magazines in Armenian. Also, there are Armenian theatrical, cultural, and sports societies, and the Armenian Club.
It should be pointed out that Iranian Armenians are taking an active part in the social and political life of the country.
Naturally, Iranian Armenians maintain permanent ties with the Republic of Armenia, which undoubtedly cements Iranian-Armenian relations at the state level.
Although Iran and Armenia are not comparable in their scope and position, as history and current geopolitics show, they need each other.
Iran is interested to maintain ties with Armenia, in the first place, because, as it was already mentioned above, the country is home to an influential Armenian community. Secondly, given that the Armenian diaspora exists in many countries of the world, it could become a kind of bridge connecting Tehran with the capitals of other, not always friendly, states where an Armenian community is also active. Also, it is through authoritative Armenian lobbies that Iran could secure favorable political and economic solutions. Thirdly, the territory of Armenia, as a neighboring country, is important for Iran as a corridor to the North (through Georgia) and further to Russia, which is clearly beneficial for Iran considering the current geopolitical situation.
Armenia, in turn, is also interested in friendly relations with neighboring Iran, not only on account of links between the Armenian diaspora and the Islamic Republic of Iran. Iran assumed a fairly balanced position regarding the Nagorno-Karabakh conflict between Armenia and Azerbaijan, by refraining from backing fellow believers from a neighboring country and complying with the Minsk format, the decisions of the Minsk Group (OSCE).
Moreover, the continuing trade and economic ties between Armenia and Iran have become, to a certain extent, a lifeline for Yerevan. Blocked by Turkey and Azerbaijan from two sides, Armenia has only two windows to the outside world: via the borders with Georgia and Iran. Therefore, for Armenia Iran is of vital importance. The Armenian-Iranian border, running through the Araks River, is the shortest for two countries – a mere 35 km. Nevertheless, this border is of great importance, both for Armenia and for Iran, being used for developing trade and economic relations between the two countries and promoting touristm. Statistical data say Iranians (and not only Armenian) enjoy visiting Armenia.
In recent years, Armenia and Iran have seen a successful implementation of various economic programs. One of the first projects was a bridge erected across the Araks River. Also, two high-voltage power transmission lines have been built, a third one is currently under construction.
One of the key areas of economic cooperation between Armenia and Iran is provided by an interim agreement signed in May 2018 between Iran and the Eurasian Economic Union (EAEU) on the creation of a free trade zone. Thus, there have appeared opportunities for merging the 180-million market of the EEU with the 80-million Iranian market. Since Armenia is the only EAEU country that has a land border with Iran, it plays a crucial role in cooperation between the EAEU and Iran, which provides it with an opportunity to develop its relations with Iran.
Undoubtedly, Armenia and Iran's shared interest in bilateral cooperation envisages good prospects for the future. However, it is not that simple, as there have arrived new times, both for Yerevan, and Tehran.
In 2018 Armenia saw a change of government, as a result of which Nikola Pashinyan was elected Prime Minister. There have been changes in domestic policy. As for foreign policy, at least in relation to Iran, there have been no particular changes and, in all likelihood, there will not be any. Given the present-day conditions, good-neighborly relations between Yerevan and Tehran are not a luxury, but an urgent need.
In this regard, Nikola Pashinyan's official visit to Iran in February 2019 is of special significance. During the visit the two parties held high-level talks with the participation of Iran's Supreme Leader Ayatollah Khomeini, who rarely receives foreign guests. The negotiations were held in a fairly warm atmosphere, with both sides underscoring the importance of bilateral relations and expressing readiness to exert efforts to develop them.
In the course of above-mentioned talks, representatives of Armenia and Iran signaled the high level of political cooperation, emphasizing yet again that the current level of economic cooperation does not match the full potential of the parties involved. Although by the end of 2018, trade turnover between Armenia and Iran had reached $ 364 million, which is the highest figure since 1991.
Among major projects of the Armenian-Iranian bilateral economic cooperation program is the construction of the third power line, the implementation of the Meghri hydropower project, the North-South highway corridor, trilateral and quadrilateral economic cooperation with Georgia and Russia.
What makes the visit to Iran by Armenia's Prime Minister Pashinyan special is that Iran is under the US sanctions. In 2018, a transitional year for Armenia, the United States subjected Iran to unprecedented pressure. In addition, the US "secondary sanctions" were imposed against all countries, legal entities and physical persons of foreign countries which dare to maintain relations with Iran. This meant a challenge for Armenia, in many ways economically connected with Iran.
In October 2018, US National Security Advisor John Bolton visited Armenia, Azerbaijan and Georgia to secure support for US plans to further isolate Iran. Reports say Washington is lobbying for the closure of the Armenian border with Iran through opening the border with Turkey.
While in Yerevan, Bolton told Prime Minister Pashinyan that since the United States will pursue the policy of sanctions against Iran, the Armenian-Iranian border is a "big problem." Pashinyan responded by saying the following: "We respect the requests and national interests of any country, but Armenia has its own national interests, which do not always coincide with the interests and ideas of other countries." But as they say, there could be options.
It is necessary to emphasize that Washington, despite its hostile policy towards the IRI, has always had to tolerate cooperation between Armenia and Iran. Such tolerance is due to the US awareness of the geo-economic situation of Armenia, which, without extensive ties with Iran, will face social and economic problems. In addition, as said before, the Armenian lobby has a lot of sway in Washington, especially in the US Congress, which does not give much say to Iran's opponents with regard to Armenia. That this is true is confirmed by the absence of any US sanctions against Armenia. That's why John Bolton all but voiced proposals, and not warnings or threats. Suren Sargsyan, Chairman of the Armenian Center for American Studies, said recently, "Washington is fully aware of the situation and the realities that exist in the region. This means that the United States will never pressure Armenia into rejecting Iran or Russia. And this is good, because Washington knows that we will not survive without Iran and Russia … "
As is known, besides the United States Iran has another "big friend" – Israel. Apparently, the strengthening of Armenian-Iranian relations is not welcome in Jerusalem, and Yerevan is aware of this. The Armenian diplomacy has taken sophisticated measures to neutralize the negative Israeli reaction. Right after Prime Minister Pashinyan's visit to Iran, Armenian Deputy Foreign Minister Grigor Hovhannisyan paid a visit to Israel, where he discussed opening an embassy in Israel "in order to bring bilateral relations to a new high". The Armenian delegation also focused on organizational issues related to the upcoming visit to Israel by Armenian Prime Minister Nikola Pashinyan and Armenian Foreign Minister Zohrab Mnatsakanyan.
In all likelihood, the main point of Prime Minister Pashinyan's foreign policy agenda and the main goal of his government is tolerance and absence of problems in relations with foreign countries: with Moscow, with Tehran, th Washington, with Brussels, with Jerusalem.
Thus, it is possible to conclude that the change of government in Armenia and large-scale US sanctions against Iran and its partners did not affect the stable nature of Armenian-Iranian relations. In these conditions, the Armenian-Iranian border is unlikely to ever be closed – a complete blockade of Armenia is highly impossible. Moreover, the small Armenia, pursuing a multi-vector foreign policy, has become an important factor in ensuring security in the South Caucasus.
From our partner International Affairs
The Economic Roots of Georgia's "Defection" to the West
An important part of a country's foreign policy lies in its economic moves. This is particularly true in the case of large states seeking a bigger role in the international arena.
For example, China has been implementing the 'Belt and Road Initiative' (BRI), while the US during the Cold War brought in the famous Marshall Plan to help Europe restore its shattered financial strength. Both projects pursue(d) projection of political power through economic means.
Long gone are the times when it still was possible to occupy territories solely through military power. Increasingly, as modernity enabled the rise of self-consciousness and nationalism among small states and ethnic minorities in large countries, it has become difficult to rely on repressive measures. A policy of active economic initiatives targeting one ethnic group inside the country or a separate state has thus gained additional importance.
Looking at the last 30 years of Georgian-Russian relations, there has been almost everything one could imagine: from cordial talks to wars to a full-scale economic embargo. More negative than positive, but well illustrative of the limits of Russia's foreign policy.
It is true that Georgia has not been economically so important to Moscow as, for example, Ukraine, Kazakhstan or Belarus, but Russia is always interested in influencing Tbilisi. Still, Georgia is a vital transit corridor between west and east as well as north and south. Moreover, without Georgia, it will always be difficult for Russia to effectively control the restive North Caucasus in the long run.
The Russian political establishment failed to see that a major reason in Georgia's shift to the West in the early 2000s was a shattered post-Soviet economy and no help from Moscow. Russia was not perceived as an enemy when the Rose Revolution was about to happen in 2003: there were simply no concerted efforts from the Russian side to lure Georgia economically.
Russia was also experiencing turbulent times and was self-absorbed with internal problems when Vladimir Putin came to power in 1999. Even when Russia became financially stable in the late 2000s, no viable long-term economic vision was offered to the former Soviet countries. The announcement of the creation of the Eurasian Economic Union (EEU) did not produce the expected results nor did it stop Ukraine drifting from Russia in 2014.
Again, Russian political thought failed to recognize that Kyiv's choice to move closer to the European Union was based on the latter's economic attractiveness. As no brotherly relations with Russians could stop Ukrainians' drift to the western economic space, much less surprising is Georgia's eagerness to join the European market.
Simply put, Russia has not been attractive enough. Even those countries which are economically close to Russia are so because they have no alternative. Take for example Armenia, the large population of which is not inclined to Russia but is close to the Russian economy because there is no other option. The same goes for the Central Asian states, which still prefer the Russian economy to the Chinese market (however even this trend based on Central Asia's cultural and historical closeness with Russia has been shifting and the region's economic relations with China now thrive).
When it comes to choosing between Western and Russian economic spaces even countries culturally closest to Russia still choose the West. The roots of this problem for Russia are its inability to build powerful state institutions and a thriving economic space with opportunities for peaceful development across the former Soviet territories.
What is troubling is Russia's failure to understand the source of that weakness – the need for a rapid restructuring of the economy to yield higher industrial and technological results. When high-level politicians openly discuss this, it often ends with no specific results.
It can be argued that for the last 30 years, Russia has not pursued a consistent economic policy towards Georgia. Investments were occasional, while other political decisions only further hampered bilateral relations. The case of Georgia's "defection" to the West well reflects how less attention is paid nowadays in Russia to economic components in the country's foreign policy. There are even hints that Moscow now prefers military moves to economic ones.
Even from a strategic point, one can say that Russia simply has not had a foreign policy towards Georgia, except for militarily preventing the country from joining NATO and the EU. No long-term approach of economic, cultural and other components was ever formulated. As a result, by 2003 it was already too late to reverse the existing trend in Georgia, while a similar process is now being seen in Ukraine.
Author's note: first published in Georgia Today
Lost Independence of the Baltic States
In 1991 the Baltic States gained independence. They started to develop their new way. This choice was highly appreciated by the residents of the Baltic countries, as well as by people all over the world.
People craved independence then, and they still crave it now. They understand independence as "freedom from the control, influence, support, aid, or the like, of others."
Today some political decisions reduce the significance of achieved results. Thus, NATO personnel deployed in Latvia, Lithuania and Estonia is so numerous that it is hard to speak about the independence of these countries. In other words they are not free from the NATO's control, influence, support, aid, or the like.
Around 700 NATO personnel based in Estonia are took part in a major training exercise in Latvia on September, 3, Baltic News Service reports.
Exercise Furious Hawk takes place at the training area at Ādaži, NATO's Canadian-led Enhanced Forward Presence (eFP) battlegroup base in Latvia, and brings the Estonian-based troops from the British-led Estonian battlegroup based at Tapa.
The exercise means military convoys, directed by Military Police units, are already moving along routes between Tapa, southwards via Paide, Pärnu and Ikla, as they make their way to the Latvian border.
It is not even about the presence of foreign troops on the territory. The matter is locals are limited in their freedom of movement's right. It was announced that the convoys will include heavy military equipment, which could slow down traffic in that direction. The Papiniidu bridge in Pärnu is likely to be closed to the public during the period.
So, foreign troops move freely across countries, while locals are restricted in their rights. Hey NATO, who are you in the Baltic States? Are you a guest or a host?
The more so, damage to public road transport infrastructure made by heavy military equipment is considerable. Repairing damage requires large budgetary funds, which could be spent on social needs.
The officials of the Baltic States declare openly that the Baltic countries cannot defend themselves. This means that NATO supports, aids and controls the military and security spheres. NATO also influences and controls the decisions made by the Baltic States authorities in these fields. NATO hereby discards results of Baltic States' fight for independence.
It could be even said that desired independence has been lost again.
Did Russia Really Win in the 2008 August War?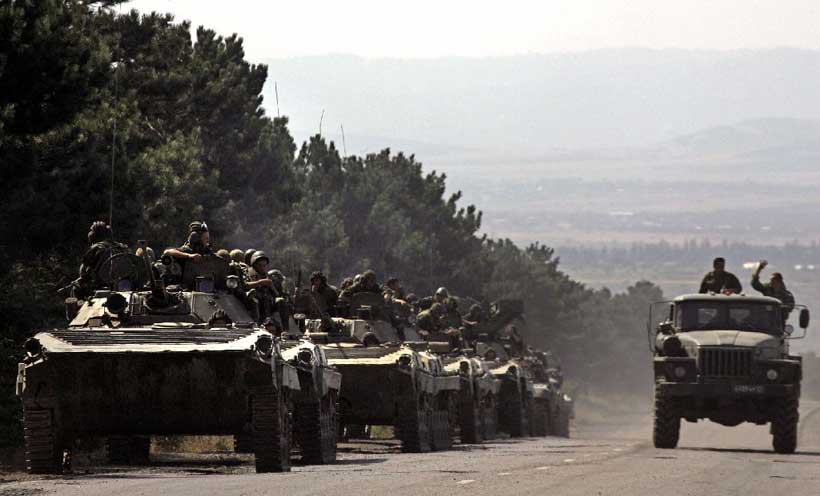 Eleven years have passed since the short Georgian-Russian war started on August 7-8 in 2008. As every discussion on who started the war generally is, the Georgian-Russian one too is about finding moral grounds for military actions which both sides took at the time.
Morality in geopolitics, and the Georgian-Russian conflict is indeed caused by pure geopolitical calculations, is at most times a superfluous thing. All these years the Russians have been trying to convince the world and the public inside the country that the Russian military moves actions and subsequent recognition of the independence of the Abkhazia and Tskhinvali regions were the only possible and correct actions to be taken. The Georgians also have their dilemmas: some marginal political figures still believe that it was the Georgian government that was most to blame for the catastrophe of 2008. Though close geographically, these diverging narratives and the constant need to prove one's own truth says a lot about how far apart Georgia and Russia have grown in the past decade.
11 years since the war and it is still unclear what Russia has gained from its military and diplomatic actions since 2008. True, military build-up in Abkhazia and Tskhinvali Region limited Tbilisi's ability to become an EU/NATO member state. Moreover, Russian intervention into Georgia in 2008 also showed the West how far Moscow can go if a strategic decision is made to draw Georgia into the alliances. At the time (August-September 2008) those seemed to be long-term (strategic) victories for Moscow. In international relations and geopolitical calculations, you can stop a country from attaining the aims harmful to you, but in the long run you will be unable to reverse the process by forceful actions alone: you have to provide a counter-policy to turn an unfriendly state into an amenable neighbor.
Put all of this into the Russian case. More than a decade has passed since 2008, only a few not-so-important states recognized Georgia's territories as independent entities. The Georgian public is overwhelmingly anti-Russian, the last hopes of a grand geopolitical bargain – the return of the territories in exchange for reversing EU/NATO aspirations – have disappeared among the Georgian public, and support for western institutions so far has only increased.
In the end, though Moscow waged a reasonably costly war in 2008, took and still experiences a diplomatic burden for its moves against the West, and has yet to attain its grand geopolitical goal of reversing Georgia's pro-western course. Politicians in Moscow, at least strategists behind the scenes, all understand that Georgia's persistence, which seems naive today, might turn into serious business if Russia's geopolitical positions worsen elsewhere in Eurasia.
Indeed, there are signs that Russian influence is set to diminish further in the former Soviet space as the country's economy is unlikely to be attractive to the neighboring states. Imagine a scenario where Russian internal problems (Putin's upcoming succession, economic downturns, China's rise, stronger Ukraine, etc.) weigh ever stronger upon the Russian decision-makers in the 2020s, then Georgia's western aspirations might become more concrete – it will be easier for the West to make a strategic decision to draw Tbilisi into EU/NATO.
Overall, Russia definitely gained significant results in 2008, but in the long run it did not change the strategic picture in the South Caucasus, though it did produce a grand design for geopolitical domination in north Eurasia: years after the war, Moscow initiated its Eurasian Economic Union (EEU) to draw its neighbors into one economic space – a prerequisite for building a world power. Ideally, it should have attracted Russia's major neighbors and it would have served the people of the former Soviet space economically. But Moscow failed to get Ukraine and other states involved: without Kiev, the EEU, if not dead, is at least a marginal project. This means that Russian policies towards Georgia and the wider South Caucasus remain the same as before 2008 – keeping foreign powers out of the region, while failing to provide an alternative vision for Tbilisi.
Author's note: first published in Georgia Today