Hilton Prague Named #1 Hotel for Meetings and Events in Europe By Cvent
Hilton Prague was named as a top hotel for meetings and events in Europe by industry-leading event management technology company Cvent, Inc. This is the second year in a row that Hilton Prague is being recognized as No. 1 amongst the top 50 meeting hotels in Europe. The annual list was compiled by analyzing MICE booking activity through its Cvent Supplier Network, which sourced more than $16 billion and more than 42 million room nights in 2018.
Michael Specking, Hilton Prague general manager said, "I am honored that Hilton Prague has been repeatedly recognized. A full renovation of our almost 800 rooms is nearly complete, and our flexible 5,000 m2 of meeting and convention space, bright atrium lobby, three restaurants, two bars, and 2,000 m2 of leisure facilities offer group guests all the amenities they look for when attending events. Add to this our hotel's central location, and most importantly, a great team focused on delivering high standards of service, Hilton Prague is a real creative metropolis with everything under one roof and is the right choice for inspired events of all kinds."
"Cvent congratulates Hilton Prague on this recognition as a leading hotel for meetings and events," said Chris McAndrews, vice president of marketing for Cvent Hospitality Cloud. "The venues featured on this year's list continue to elevate their MICE business through innovative marketing tactics and dedicated efforts to meet the needs of the thousands of event planners using the Cvent Supplier Network every day to select their venues."
The award-winning Hilton Prague is a centrally located business hotel just a few steps from the heart of the charming Czech capital. Set in a bright and contemporary design space, the hotel's 791 guest rooms will be fully renovated at the end of 2019, and the property's 5,000 m2 of flexible convention and banquet space host over 500 events of all types and sizes annually, catering to more than 70,000 delegates. The passionately hospitable hotel team uses proven processes and a personalized approach to deliver extraordinary experiences for groups ranging in size from 10 to 2,000 participants.
Cvent evaluated hotel properties that generated business through the Cvent Supplier Network from January 2018 through December 2018. The properties were ranked according to various criteria, including total requests for proposals (RFPs), awarded RFPs, total room nights, awarded room nights, major metropolitan area (MMA) market share, conversion rate, response rate, and the hotel's unique profile visits in the Cvent Supplier Network. The criteria are designed to provide the most accurate reflection of the top meeting hotels in the US, Europe, Middle East and Africa, and Asia Pacific regions. Details about Cvent's Top Meeting Hotels and the full list of Top Hotels are available here.
W Hotels Debuts W Aspen, The Brand's First Mountain Escape in North America
Set your sights Sky High. W Hotels Worldwide, part of Marriott International Inc., today announced the much-anticipated opening of W Aspen & The Sky Residences at W Aspen, located at the base of the world-renowned, eponymous mountain. With ski-in/ski-out access to some of the world's most coveted slopes, stunning 360° mountain views and striking architectural and interior design, W Aspen is the second W Mountain Escape globally, following W Verbier in the Swiss Alps. Poised to carve out a new era of luxury in Aspen, W is bringing its bold point of view to the iconic mountain town for year-round access to alpine adventure.
W Aspen is nestled slope-side on Aspen Mountain – an 11,212-foot summit internationally-renowned for skiing and snowboarding – tucked in at the end of Durant Street, where Aspen's famous Red-Light District once thrived. From the Ute Native Americans and the silver miners of the late 19th century to the swinging counterculture of the '60s and '70s and the current crop of globe-trotting billionaires, Aspen's ever-evolving residents and curious culture rival the world's most dynamic cities.
"Aspen's people, vibrancy and natural beauty make this year-round mountain town the perfect place for the W lifestyle," said Anthony Ingham, Global Brand Leader, W Hotels Worldwide. "W Aspen reimagines the traditional ski chalet and allows people to experience the town in a way they never have before, through evocative design, inclusive programming and a social scene that is sure to become an essential stop on the global jet-setting calendar. The first new build W Escape in the USA for 10 years, W Aspen marks a milestone in the brand's reinvigorated focus on North America."
W Aspen & The Sky Residences at W Aspen are owned by Northridge Capital of Washington, DC, the owner for 16 years of the former Sky Hotel situated on the same site, and co-developed by Northridge and local partner Sarpa Development. "After more than five years of hard work," commented Northridge's owner and president Dave Jackson, "we are thrilled to finally be opening the W Aspen for the enjoyment of its guests and the local community, and grateful to our partners at W Hotels, Haselden Construction, and too many other team members to name for their tireless efforts to reach this goal."
Sky's The Limit
W Aspen brings a luxurious, playful style to the historically-rich town of Aspen. Designed by global interior design firm NEMAWORKSHOP and Aspen-based architects Rowland + Broughton, alongside the W Brand's award-winning design team, W Aspen centers on the natural beauty and bounty of the mountains and the historical context of the city it surrounds.
It begins with the exterior: a modern mountain chalet with long, sloping roof lines that draw inspiration from the Rocky Mountain landscape. The essence of the outdoors continues throughout the interior, where the Welcome Desk wood formations echo the Rocky Mountains and intricately-detailed terrariums represent seasonal Aspen activities from hiking and biking to skiing and snowboarding.
On the second floor is The Living Room, which serves as the central point of the Escape experience and showcases a grid-pattern display on the bar – a nod to traditional millwork structures used to create mine tunnels in Aspen during the silver boom. Seating in The Living Room features brass and polished rods that surround plush, velvety cushions synonymous with Aspen's bohemian counterculture of the early '70s. Along the side, stadium seating leads to an iconic suspended DJ booth that takes its cue from the largest silver nugget discovered in Aspen at the turn of the century. Continuing to honor Aspen's role in the Colorado Silver Boom, light fixtures are informed by the look of a miner's headlamp and floors are swept with curving patterns that echo the soil found at the bottom of a smuggler's cove. At sundown, The Living Room's outdoor fire pit acts as a beacon at the base of the mountain – signaling to the skiers above it is time to après.
Art reminiscent of iconic Americana paintings of the Rocky Mountains layer the walls of W Aspen. Commissioned artists impart a more modern vision through the lens of classic landscape paintings like those done by Albert Bierstad and other greats. Longtime W collaborator Gaia showcases a series of works throughout the Escape that tease an infatuation with American landscape paintings but are superimposed with local millennial fragmented culture spirit guides – adding a contemporary veil to the traditional. Accent pillows in the Living Room and guestrooms are inspired by artists Herbert Bayer and Thomas Benton and pay homage to the historical residents of Durant Street, named the 'Soiled Doves of Durant'.
Cozy Up
W Aspen features 88 guestrooms and 11 W-branded residences, along with four WOW suites and one Extreme WOW suite that can be a one, two or three bedroom, all of which offer modern takes on Ute patterns and furniture inspired by the decadence of '70s Aspen "pleasure palaces." All guestrooms and suites are playfully marked with room plates in a style reminiscent of the pop culture icon Bob Ross, while interiors reference the cozy warmth of Swiss chalet architecture through the use of rustic wood finishes, sloped rooflines and a fireplace-inspired W MixBar. Each guestroom features pit and platform lounge seating that nods to the plasticity of mile-high bohemia and is complete with Ute-inspired accent pillows. Selected rooms feature a W design first, quad-queen bunk beds, which can sleep up to eight to cater to a younger adult clientele, as well as offer a wink to the more hedonistic qualities of Aspen's past.
The 2-bedroom Extreme WOW Suite is inspired by Aspen's mountain culture and is the quintessential location to play and stay. The suite features modern industrial touches, rich ski-wear fabrics, a central fire pit surrounded by curved pit seating, a hot tub open to the living area, a crystal and glass barrier embracing a circular bed on a pivoting platform, and a DJ booth with a mini LP vinyl player and curated music library – all playing on vintage luxury. The plush reds, blues and oranges in addition to psychedelic detailing add extra electricity to this warm mountain escape.
Sky High
Whether one needs to cool down after a summer day of biking the trails or warm up for après-ski cocktails, the place to see and be seen is the WET® Deck, Aspen's only year-round, all-weather, public rooftop. With jaw-dropping, panoramic mountain views, a heated pool, hot tub, fire pits, cabanas, full bar, dance floor and DJ booth, the WET Deck is poised to redefine Aspen's social scene. Guests can enjoy signature beverages from the center bar, which features a ceiling of abstract crystal sculptures that mimic upside-down mountain peaks.
39 Degrees, a legendary après ski bar in the former Sky Hotel, returns as an underground ultra-lounge cocktail bar and grotto inspired by the famed Red-Light District of Aspen. Outfitted with platform and pit seating, crushed velvet touches, cheeky Gonzo-style posters and pillows and a W-commissioned, Gabriel Alcala mural that portrays an Aspen landscape through the lens of 'excess,' this hidden spot will keep the energy going late into the night. The menu is a canvas, painting each taste bud with the flavors of sweet, sour, bitter and salt. Highlights include sweet bites like Crab Dip with duck sauce, sour bites such as Grilled Yuzu and Mirin Tiger Prawns, and salt and vinegar dusted Chicken Wings with jalapeno are all designed to play perfectly with 39 Degrees libations. Cocktails include timeless favorites like a W Sazerac or Sherry Cobbler as well as new/next drinks like a Spiked Cucumber Splash with grapefruit and rose vodka or a shareable cocktail like the Hidden Treasure, made with Montanva Oro, Aperol, mango, orange, and pineapple.
From November through April, W Aspen's Strategy Rooms serve as the hotel's Ski & Snowboard shop which will be operated by Four Mountain Sports. The shop will rent and sell the hotel's first edition series of snowboards, which were designed in partnership with Aspen's own High Society Freeride and created by Denver-based Never Summer. Inspired by the historical, cultural and social aspects of the town, only 40 boards were made – 20 for women and 20 for men – and are available exclusively at the hotel. From May through October, each 350 square feet Strategy Room sets the stage for the hotel's art, fashion and music programming as well as private events and intimate, mountainside weddings.
"The buzz and excitement for the debut of W Aspen has been building for some time and we could not be readier to bring the infectious energy, spirit and programming of W to this iconic American town," says Greg Durrer, General Manager, W Aspen. "We know that W Aspen will not only serve as a year-round destination for travelers but that it will bring a bold new point of view to the local social scene and become the latest player in the legacy of this incredible cultural mecca."
The Sky Residences Living
The Sky Residences at W Aspen offer an exclusive shared ownership opportunity with 11 W-branded Residences located slope-side on Aspen Mountain. With a limited collection of only six three-bedroom and five two-bedroom Residences, owners have access to a private, owners-only roof deck with a spa, lounge seating, BBQ grills, outdoor kitchen and fire pit. In addition, owners can enjoy all of the Escape's amenities and services at W Aspen, including Welcome Ambassadors and round the clock security; in-residence dining and STYLE housekeeping services; WHEELS valet service; FIT® state-of-art fitness facilities; two WET® Deck pools; and W's signature Whatever/Whenever® service promise, providing residents and hotel guests alike with whatever they want, whenever they want it! The Sky Residences at W Aspen are currently offered for sale by Forte Aspen. "The Sky Residences at W Aspen feature compelling statements of space and design that defy expectations," said R.J. Gallagher, Jr. of Forte Aspen. "It's where an owner can get away from it all, while having it all. Effortless ownership, where quality time with family and friends is the only order of the day. And night."
An Endless Summer Awaits at Four Seasons Hotel Casablanca
Every summer has a story to tell. From connecting with loved ones to exploring new places, this is the season to chill, have fun and make memories at Casablanca's best urban resort. Four Seasons Hotel Casablanca has curated a series of exciting and delicious summer experiences to embrace this season's vibes.
When temperatures begin to climb, it's time to soak up the sun in the ultimate chill out zone of the city. Latitude 33 offers the perfect oasis among palm trees where guests can choose from a bespoke selection of refreshing beverages and the latest menu of Executive Chef Christophe Laplaza. For lunch, guests are invited to taste delectable creations showcasing the best of fresh local and international specialties such as salmon magnumor black buns burger with lobster. Those who are looking for sweetness by the pool, Pastry Chef Brian Gartner make their craving come true with delicious chocolate chouquette, berry cheese cake, or savoury homemade sorbet.
This year, Four Seasons Hotel Casablanca introduces its first ever Cabana Experience. Inspired by the heritage of the famous coastal city and the relaxed yet sophisticated style of the Hotel, the cabanas' design combines the fresh Atlantic breeze with the tropical summertime spirit.
Hyatt Regency Shenzhen Yantian Opens in East Shenzhen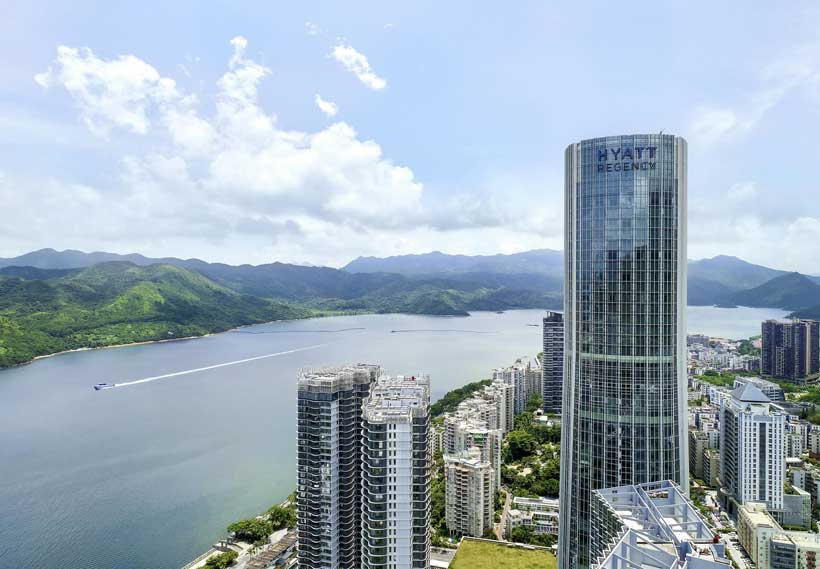 "We sincerely appreciate the support from our owner Shenzhen Vanke Binhai Real Estate Ltd. and are excited to see the Hyatt Regency brand footprint grow in the Guangdong-Hong Kong-Macao Greater Bay Area (GBA)," said Stephen Ho, president, Greater China, global operations at Hyatt. "We look forward to welcoming our guests to Hyatt Regency Shenzhen Yantian with confidence for a world-class hospitality experience."
Guestrooms
Hyatt Regency Shenzhen Yantian was designed by the renowned HEITZ PARSONS SADEK and features 298 contemporary guest rooms with varied dimensions ranging from 462 square feet to more than 2,300 square feet (43 square meters to 215 square meters). There are 20 suites, four Regency Executive Suites and one Presidential Suite, all of which are spacious and located on the 41st to the 50th floor. Select rooms offer gorgeous ocean views and all rooms feature high-quality amenities and panoramic French windows. Guests staying in Club Access Rooms and Suites can enjoy the exclusive Regency Club benefits on the 49th floor.
Dining and Drinking
The hotel offers several fine dining restaurants that cater to varying tastes and group sizes, including:
XIANGYUE, a Chinese Restaurant on the 6th floor providing authentic Cantonese flavors as well as cuisines of neighboring areas. A comfortable experience that feels like dining in a country village, the restaurant's layout includes a "Dai Pai Don" style open kitchen offering guests a high-touch taste of Cantonese life.
Market Café is a stylish all-day dining restaurant where guests can enjoy a collection of global delicacies. Whether buffet breakfast and dinner, or all-day a la carte service, Market Café will satisfy any taste with a flavorful option. The Lounge is the ideal place to gather friends or family and enjoy themed afternoon tea and various hand-crafted cocktails. Guests can also visit the Sky Lobby, ideal for connecting with colleagues over a vibrant scenery. For a stress-free meal, the hotel offers 24-hour in-room dining services with a range of selections available anytime.
Meetings and Events
To build a dynamic experience for groups that feels connected, motivated and inspired, the hotel events team will be at hand to support customers during conferences, special events and weddings. The hotel offers nearly 25,000 square feet (2,321 square meters) of meeting and event space in total, including a 12,916 square foot (1,200-square meter) pillar-free grand ballroom and five salons equipped with high-tech audio and video systems. Additionally, the ballroom foyer provides more than 6,500 square feet (612 square meters) of flexible pre-functional space to perfectly showcase the creativity of any event.
The scenic surroundings at Hyatt Regency Shenzhen Yantian create the perfect backdrop for weddings of all sizes. A bridal suite with separate fitting room and living room is situated right beside the grand ballroom to deliver a brilliant wedding experience.
Wellbeing
Guests can relax in the hotel's refreshing outdoor pool or work out anytime at the hotel's fully equipped fitness center featuring state-of-the-art equipment.
"Inspired by the hotel's surroundings, the hotel was built with the concept of bringing the forest into the city, offering guests a place to take a deep breath of fresh air and bask in the beautiful scenery," said Mary Liu, general manager of Hyatt Regency Shenzhen Yantian. "As a bridge between GBA and the Pearl River Delta area, Shenzhen is at the core of this booming region. We are delighted to deliver Hyatt's well-known expertise in food and beverage and full range of services and amenities for a productive stay.
Special Offer
To provide World of Hyatt members even more ways to be rewarded, World of Hyatt is offering members the opportunity to earn 500 Bonus Points for qualifying nights at Hyatt Regency Shenzhen Yantian, from September 1 to November 30, 2019, as part of World of Hyatt's new hotel member offer.
Additional participating hotels and their offer stay periods can be found at worldofhyatt.com/newhotelbonus. No registration is required and members can earn on top of other offers.