The Rothschild Family's Art de Vivre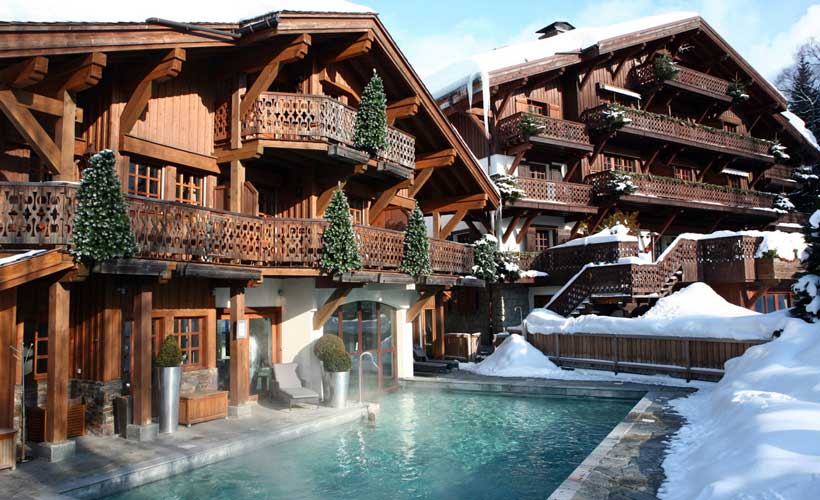 At the end of WWI, Noémie de Rothschild, wife of Baron Maurice de Rothschild decided to spend some time in St. Moritz, Switzerland. There, she dreamt of creating a similar ski resort in France, one with an exclusive atmosphere and a distinctly French character. On the advice of her ski instructor Try Smith, she discovered Megève, a small village dating back to the 13th century. She was immediately captivated by its charming character, as well as the splendid panoramic views from the Mont d'Arbois plateau above the village.
The Baroness was convinced that this picturesque site could easily rival St. Moritz, and decided to move forward with the creation of a ski resort at the Domaine du Mont d'Arbois. In 1920, construction began on her first hotel, Le Palace des Neiges (no longer in existence). With the Baroness's support, Megève quickly became a favourite with the aristocracy and other celebrities as well as famous names from the world of business and finance.
Gradually, more infrastructures and facilities were built in order to ensure the resort's long-term success. The first ski lifts and an airfield were constructed under the Baroness's watchful eye. A few golf holes were created in the 1920s, but her son, the Baron Edmond de Rothschild, was the real golf enthusiast and went on to create the Mont d'Arbois Golf Course in 1964, entrusting the layout to British golf champion Sir Henry Cotton.
Les Chalets du Mont d'Arbois, Megève, A Four Seasons Hotel
Only a two-minute drive from the Mont D'Arbois ski slopes, in the upper part of Megève, and only two kilometres from the existing Four Seasons Hotel Megève, Les Chalets du Mont d'Arbois are named after Benjamin and Ariane de Rothschild's first three daughters. The main chalet, renamed Chalet Eve, was bought by Edmond de Rothschild in 1960 to host select guests from an exclusive 100-hour party celebrating the newly renovated Palace des Neiges. Chalet Eve also features the restaurant Prima by Chef Nicolas Hensinger, which now boasts one Michelin Star, a stellar addition to the exceptional dining experiences available in Megève.
Chalet Noémie was built in 1927 for Baroness Noémie de Rothschild by the French architect Henry Jacques Le Même, and was initially the family's private chalet. Its location offers ultimate privacy, yet features large windows from which to enjoy the idyllic forest surroundings. The chalet has all the charm of an old farmhouse with a modern twist.
Chalet Alice, built in 2005 as an extension to Chalet Noémie, is the most recent of the three chalets. It includes a common living room, with a dining table and kitchen, as well as a private spa with hammam and 2 treatment rooms. The overall decor is bohemian and chic featuring pieces of modern art.
Both Chalet Noémie and Chalet Alice can be fully privatized, and are the perfect option for those travelling with their family or a larger group of friends. In fact, each addition, every detail, contributes to the rise of Megève as an elegant, stylish and authentic resort, embracing the history and local traditions the Baroness cherished.
From generation to generation, the Rothschild family's role in the development of Megève has never wavered. This personal involvement is now taken on by the Baron and Baroness Benjamin de Rothschild, who remain great connoisseurs of Megève.
Today, the Domaine du Mont d'Arbois extends over some 450 hectares (1,112 acres) and includes hotels, restaurants, the golf course and ski facilities. Ariane de Rothschild has personally assisted with the interior design of Les Chalets du Mont d'Arbois, Megève, A Four Seasons Hotel and Four Seasons Hotel Megève, to ensure that both Hotels reflect the family's long heritage and art de vivre.
4 ways to celebrate the Apollo 11 mission's golden anniversary
For those of us who were glued to the television during the launch of the legendary Apollo 11 mission that first landed man on the moon, it may be hard to believe that it's been 50 years since mankind's greatest leap.
And although fifty years have come and gone, the nostalgia, energy and pride surrounding the record-breaking spaceflight are still in full swing on Florida's Space Coast. Here, back where it all began half a century ago, the Space Coast is planning an epic, once-in-a-lifetime tribute to the Apollo 11 mission, which will commemorate the historic 1969 journey of the mission and its crew.
Most of the 50th anniversary celebration of the Apollo 11 mission takes place from July 12 through July 16, honoring the incredible accomplishments of the U.S. space program and its astronauts through a series of one-of-a-kind events and other public activities. With a jam-packed schedule filled with memory-making space fun, vacationing families and space enthusiasts alike will find something to get excited about on Florida's Space Coast this July.
Hit the virtual links.
Join current and former American astronauts on the virtual links in honor of the first man to play golf on the moon, Alan Shepard, at the Astronaut Golf Tournament July 12 at Drive Shack, in Orlando. Enter the longest-drive and closest-to-the-pin competitions and get a chance to take a shot with a replica of the club Shepard used on the lunar surface.
Party like it's 1969!
At the Astronaut Walking Pub Crawl July 12, adults can have a Friday-night blast partying with astronauts while sampling libations at popular local watering holes throughout Cocoa Village. You could win a prize for "Best Space Dressed" if you wear your favorite space outfit.
The next day, cheer America's space heroes at the Astronaut Parade, featuring U.S. space explorers riding through the city of Cocoa Beach in Corvette convertibles, plus members of various Apollo families passing by in Teslas. The procession wraps up with a public street party. Also on July 13, musician Alan Parsons headlines the Celebrating Apollo Outdoor Concert that evening at Cocoa Riverfront Park. The band Edison's Children, which includes Rick Armstrong (son of Neil Armstrong), is the opening act.
Talk space talk.
July 14 is packed with amazing panel discussions about space, including some revealing personal accounts about the early days of the U.S. program. Join relatives of Apollo astronauts for a "Families of Apollo" kickoff brunch and hear stories about what that era was like for family members. Next, a "Women in Space" panel will examine the contributions by women to space exploration. It will be followed by a fascinating "Future of Space" presentation by astronauts and industry leaders.
The evening of July 14 features a one-of-a-kind, exclusive opportunity: a private, VIP preview of the newly transformed Apollo/Saturn V Center at Kennedy Space Center Visitor Complex. Expect some serious mingling with astronauts, and if you can't make it to the private viewing, the public grand opening is set for the next day.
July 16 will be dominated by the evening's Apollo 50th Gala, which will pay tribute to the first moon landing, while looking ahead toward the next giant leap in space exploration. Proceeds from the gala, which will be held at Kennedy Space Center Visitor Complex, will benefit the Astronaut Scholarship Foundation and the Aldrin Family Foundation.
Catch a rocket launch.
What could be more thrilling than seeing an actual rocket launch in person? There are nearly a dozen launches scheduled for the remainder of this year, including three in July alone. You can plan your trip around one of the launches listed online, but keep in mind that weather and other factors might occasionally lead to launch delays or postponements. Many of the beaches and local parks along the Space Coast's 72 miles of pristine coastline are ideal for viewing a launch, while also enjoying some fun in the sun with your family.
The countdown is on! More details about all the Apollo 11 anniversary events, including ticket information, are available at https://www.spacecoastlaunches.com/apollo50/. To learn more about the wide variety of attractions and the calendar of activities on Florida's Space Coast, go to visitspacecoast.com.
5 reasons a river cruise is the ideal way to see Europe
An international trip is the experience of a lifetime. If you're looking for a travel option that offers up-close interactions with a cross section of countries — but without the hassle of planning and executing that level of detail yourself — a river cruise may be the option you're seeking.
Unlike an ocean cruise, which typically docks farther away, the size of a river ship allows guests the opportunity to port in small, lesser-known towns and sail into the heart of iconic cities, such as Budapest and Amsterdam. Each destination offers extensive time to absorb and experience landmarks, cuisine and cultural offerings.
Whether exploring castles along Europe's Danube River appeals to your wanderlust or making your way through the rich and complex history of France's Bordeaux wine region is more your speed, river cruising offers the perfect opportunity for those with a hunger to expand their minds and deepen their cultural enrichment.
Before you plan, here are some of the most important features and benefits of an international river cruise.
Less hassle, less stress: A river cruise offers a greatly simplified mode of travel. Once you step aboard your river cruise ship, you unpack once and spend the rest of your trip focused only on enjoying the journey. Some cruise lines feature inclusive pricing, so things like your meals, Wi-Fi and lodging are already settled.
Craft your own journey: Many river cruise packages offer flexible options to help you design the journey you've always imagined. You can select from a variety of port excursions, putting you in charge of your perfect day out. While land excursions are an additional cost in most cases, Viking's river cruise itineraries offer one free shore excursion in each port along with additional optional excursions to book based on your specific interests with knowledgeable local guides. Also, pre- and post-excursion stays at the start and end points of your voyage let you explore the area for a few extra days.
Ample time to engage and explore: River cruising lets you spend a lot of time in many towns and cities along the river. Typically, each day of the journey begins in a different port. Just step off the ship, join your chosen excursion and start learning and experiencing.
A rich, cultural sampler: If you're eyeing grand destinations like Central Europe and France for your travels, you're probably the kind of person who is hungry to learn about the art, cuisine, history, daily living and other fascinating aspects of culture. Viking has not only developed engaging and culturally immersive excursions, but also created programs onboard the ship to deepen your knowledge and appreciation of the places you visit, from home visits to Privileged Access excursions exclusive to the cruise line. Before you embark, be sure to avail yourself of the many online resources available through Viking. From online videos, to reading and film lists, you'll find plenty of enriching content to help you feel prepared and excited for your journey.
Enjoy the riches of the river life: Of course, a host of pleasures await that only a cruise down the river can bring. On your journey, expect scenic views of cities, landscapes and architectural features not easily seen while taking a traditional land tour, as well as alfresco dining and relaxing on the deck.
Once you experience a river cruise in a new country, you'll discover what an enriching experience a vacation can be. To learn more about the destinations and offerings from Viking, visit vikingcruises.com.
The Green Trip List: 5 Eco-friendly Destinations for the Green-minded Traveler
Traveling is one of life's greatest pleasures and definitely a luxury we should not take for granted. This June, as we commemorate World Environment Day and World Oceans Day, it is the perfect opportunity to take a step back and consider the impact we have on Mother Earth. As we embark on our adventures around the world, we should be conscious of making responsible decisions that are sustainable – so we can minimize our carbon footprint and preserve the natural and cultural landscapes for many more years to come.
While it may be hard to cut down on our travels altogether, we can take the first step and practice being a more green, conscious traveler. For a start, here are some eco-friendly destinations and activities you can consider for your next trip! Not only do these locations offer initiatives for guests to actively take part in, but they also play a big behind-the-scenes role in contributing to a healthier, greener earth.
Take an eco-friendly bath at Hilton Lake Taupo, New Zealand
At Hilton Lake Taupo, you can experience nature at its best. Nestled amidst picturesque rolling mountains, the hotel not only boasts breathtaking views of New Zealand's largest lake, but also keeps its carbon footprint low by leveraging natural resources around it. The neighboring Onekenek Thermal Valley is an excellent source of natural gases and is exactly what the property harnesses to heat up its pool, showers and spa in its Heritage Wing. Be sure to take a dip, and pamper yourself in this man-made hot spring!
Cut down on your food waste at Hilton Sydney, Australia

Located in the heart of the bustling metropolis, Hilton Sydney offers the best in comfort and convenience. While enjoying the luxurious amenities, you'll be heartened to know that the hotel really goes the extra mile to remain sustainable, even when no one's looking! Aside from initiatives like introducing biodegradable cutlery and installing LED lights in the lobby and ballroom, it is also a champion of food waste minimization. The hotel has partnered with the World Wildlife Fund (WWF) to track its food waste and adopt new methods to reduce it further. In addition, it regularly donates food surplus to charity organizations, so these high-nutrient, quality foods don't go to waste.
Keep the beaches clean with Conrad Bali Resort & Spa and Hilton Bali Resort, Indonesia
Honestly, who doesn't love Bali? With its endless coasts, sunny weather and relaxed atmosphere, there's no doubt it's the perfect beach destination. However, even this paradise can get sullied, with tourists leaving behind plastic waste that washes up on the beachfront. To combat this and prevent further pollution, Conrad Bali Resort and Spa, alongside Hilton Bali Resort, took part in an island-wide clean up initiative which cleared more than 30 tons of plastic waste! The beaches have never been so pristine. If you are lucky, you may be able to take part in one of these clean ups on your next trip and play your part in helping the environment as well. Of course, be sure not to leave your own trash behind!
Support sustainable dining at Hilton Singapore, Singapore
Foodies unite! We all know that food is a big part of the travel experience, but it can be difficult to find quality dishes that are sourced and produced sustainably. In the food haven of Singapore, head right on down to Verde Kitchen at Hilton Singapore for an authentic farm-to-table experience. All ingredients have been certified sustainable and some are even grown at the property's very own vertical garden! In conjunction with World Oceans Day, the Verde Kitchen is running a special "Pick the Right Catch" promotion from now until 30 September. It promotes sustainable seafood dining that is full of natural flavors – featuring refreshing options like sesame-crusted MSC-certified U.S. scallops, almond-crusted ASC-certified salmon and MSC-certified Nonya-style New Zealand rockling fish, among others. You definitely won't be disappointed.
Go #plasticfree at Hilton Manila, Philippines
The #nostraws movement is going strong, but Hilton Manila has taken it one step further with its mission to cut down on all plastic! Aside from eliminating all plastic straws, complimentary drinking water in guest rooms is packaged in reusable glass bottles, and there are no plastic wrappings on slippers and laundry. These are just a few examples of ways Hilton Manila is going #plasticfree. It's certainly a good step forward and a sobering reminder that we really don't need to use that much plastic in our daily lives.
The next time you plan a trip, be sure to do your research and pick destinations that align with your values. You can definitely have the holiday of your dreams while still being responsible and sustainable at the same time. Have a great, green trip!