The Rothschild Family's Art de Vivre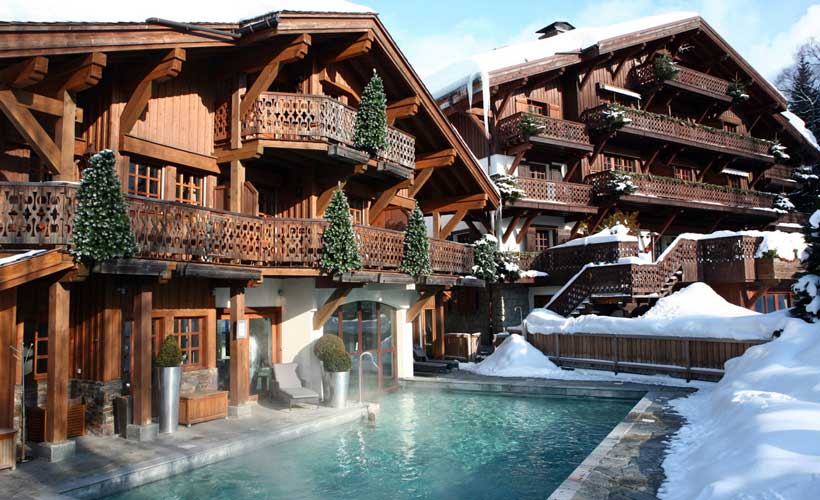 At the end of WWI, Noémie de Rothschild, wife of Baron Maurice de Rothschild decided to spend some time in St. Moritz, Switzerland. There, she dreamt of creating a similar ski resort in France, one with an exclusive atmosphere and a distinctly French character. On the advice of her ski instructor Try Smith, she discovered Megève, a small village dating back to the 13th century. She was immediately captivated by its charming character, as well as the splendid panoramic views from the Mont d'Arbois plateau above the village.
The Baroness was convinced that this picturesque site could easily rival St. Moritz, and decided to move forward with the creation of a ski resort at the Domaine du Mont d'Arbois. In 1920, construction began on her first hotel, Le Palace des Neiges (no longer in existence). With the Baroness's support, Megève quickly became a favourite with the aristocracy and other celebrities as well as famous names from the world of business and finance.
Gradually, more infrastructures and facilities were built in order to ensure the resort's long-term success. The first ski lifts and an airfield were constructed under the Baroness's watchful eye. A few golf holes were created in the 1920s, but her son, the Baron Edmond de Rothschild, was the real golf enthusiast and went on to create the Mont d'Arbois Golf Course in 1964, entrusting the layout to British golf champion Sir Henry Cotton.
Les Chalets du Mont d'Arbois, Megève, A Four Seasons Hotel
Only a two-minute drive from the Mont D'Arbois ski slopes, in the upper part of Megève, and only two kilometres from the existing Four Seasons Hotel Megève, Les Chalets du Mont d'Arbois are named after Benjamin and Ariane de Rothschild's first three daughters. The main chalet, renamed Chalet Eve, was bought by Edmond de Rothschild in 1960 to host select guests from an exclusive 100-hour party celebrating the newly renovated Palace des Neiges. Chalet Eve also features the restaurant Prima by Chef Nicolas Hensinger, which now boasts one Michelin Star, a stellar addition to the exceptional dining experiences available in Megève.
Chalet Noémie was built in 1927 for Baroness Noémie de Rothschild by the French architect Henry Jacques Le Même, and was initially the family's private chalet. Its location offers ultimate privacy, yet features large windows from which to enjoy the idyllic forest surroundings. The chalet has all the charm of an old farmhouse with a modern twist.
Chalet Alice, built in 2005 as an extension to Chalet Noémie, is the most recent of the three chalets. It includes a common living room, with a dining table and kitchen, as well as a private spa with hammam and 2 treatment rooms. The overall decor is bohemian and chic featuring pieces of modern art.
Both Chalet Noémie and Chalet Alice can be fully privatized, and are the perfect option for those travelling with their family or a larger group of friends. In fact, each addition, every detail, contributes to the rise of Megève as an elegant, stylish and authentic resort, embracing the history and local traditions the Baroness cherished.
From generation to generation, the Rothschild family's role in the development of Megève has never wavered. This personal involvement is now taken on by the Baron and Baroness Benjamin de Rothschild, who remain great connoisseurs of Megève.
Today, the Domaine du Mont d'Arbois extends over some 450 hectares (1,112 acres) and includes hotels, restaurants, the golf course and ski facilities. Ariane de Rothschild has personally assisted with the interior design of Les Chalets du Mont d'Arbois, Megève, A Four Seasons Hotel and Four Seasons Hotel Megève, to ensure that both Hotels reflect the family's long heritage and art de vivre.
The Art of Travelling Alone: How to Make the Best of Your Solo Trip
We are currently celebrating Singles' Day — now one of the biggest shopping holidays of the year — which encourages people to relish their singlehood and pamper themselves silly! Whether you are single or not, we think it's definitely important to engage in some #selflove — and solo travelling is one of the best ways to do so.
There's no doubt that solo travel can seem pretty daunting at times. Won't I get bored and lonely? What if I get lost? The short and honest answer is yes, that'll probably happen at some point. At the same time, that's really all part of the experience — these ups and downs make up the most exciting adventures you'll ever have and form memories that will stay with you for a lifetime. More importantly, solo travel brings about opportunities for you to discover and love yourself. You'll finally have the chance to spend uninterrupted time with yourself and grow comfortable with your own company.
Don't wait any longer and make your solo travels a reality! Here are three tips to help you make the best of your trip:
Plan ahead
While one of the best things about traveling alone is the freedom of spontaneity, it doesn't mean that you should show up without a plan. Take some time to research and understand the location you're visiting and identify some main attractions that you'd like to visit. It really helps to have a rough outline of what you'll be doing and how to get there. Additionally, make plans to meet people! Whether it is signing up for day tours or simply striking up conversations with strangers, seize the opportunity to step out of your comfort zone and connect with people from all over the world. Not only will these interactions help to quell any loneliness, but you may even meet your next best friend!
Pick a comfortable location
If it's your first time on a solo trip, your choice of location is key. Perhaps you'd like to revisit someplace that's tried and tested, or you may prefer to explore a new destination that's less frenetic — just so you don't feel too overwhelmed. To get you started, we'd recommend:
Perth, Australia
The capital of Western Australia offers the perfect blend of a trendy urban life and relaxed nature vibes, catering to all your travel needs. Head on to DoubleTree by Hilton Perth Northbridge to have a taste of their signature warm DoubleTree Cookie welcome, and leverage its convenient location to access attractions in the city. Stuff yourself silly with the fresh produce at the Food Markets, and, while in the sunniest city in Australia, be sure to check out the amazing beaches!
Bangkok, Thailand
Bangkok is one of those fail-safe destinations where everyone always has a great time! While there may be a bit of a language barrier, the locals are always quick to extend a helping hand to guide you on your way. As a solo traveler, you do have to be more mindful of where you're staying — pick trusted hotels that are close to the main roads, such as Conrad Bangkok, to make your stay as fuss-free as possible.
Shilim, India
For a truly #EatPrayLove experience, look no further than Hilton Shilim Estate Retreat & Spa. A one-and-a-half-hour drive from Pune, this retreat is nestled in an unspoiled mountain range and offers a sanctuary for your body, mind and spirit. It offers some of the most comprehensive wellness facilities in Asia, with programmes like ayurvedic therapies, jungle treks and yoga sessions. While out in nature, you'll definitely get to spend quality time with yourself and find peace of mind.
Pack light, and right
We all have a tendency to overthink and pack unnecessary things, but this time, there won't be anyone else to help you wrestle with the bags. Keep your bags light and portable by packing just basic and solo-travel essentials — aside from functional items like a portable charger and Wi-Fi router, also remember to take along a selfie-stick to capture all your solo adventures!
Now that you're all set, get ready to discover the world and yourself!
Five Reasons to Discover Kyoto's Magic in Winter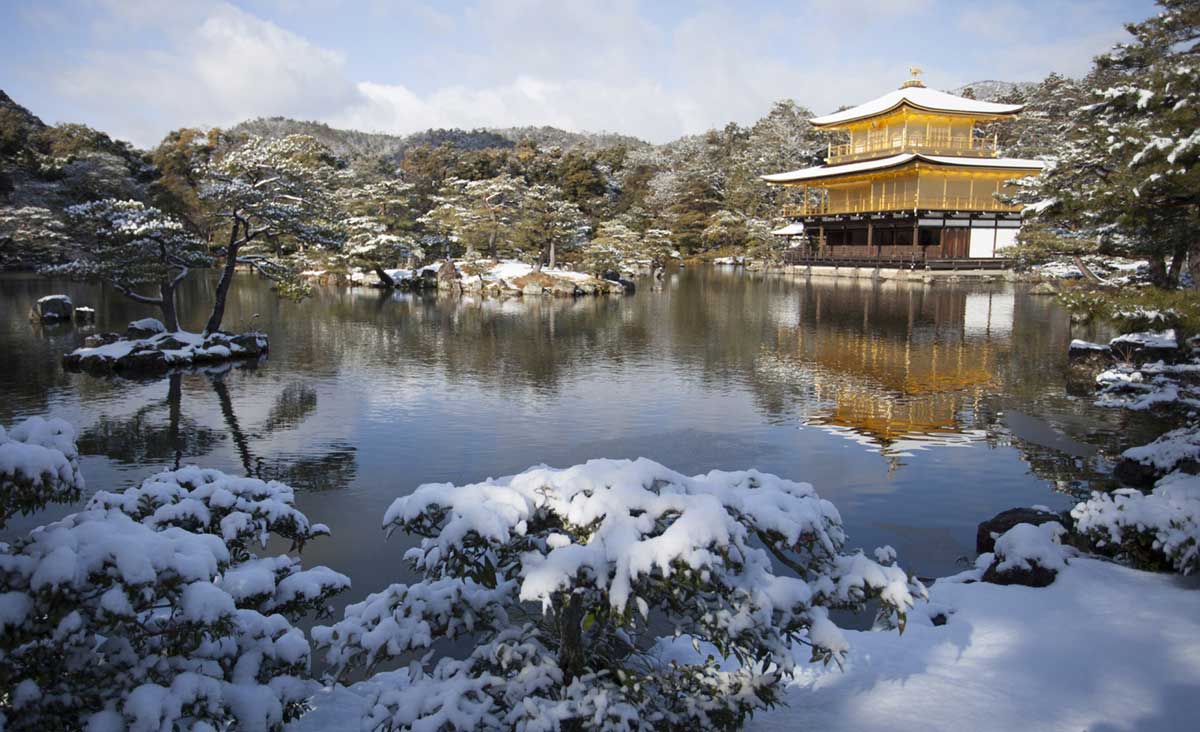 Discover the hidden secrets of Kyoto in winter – the magical but least-known season that the locals love. From enchanting illuminations in beautiful temples to seasonal dishes bursting with flavour; vibrant New Year celebrations to "onsen" hot baths beneath snow-capped mountains, here are five favourite Kyoto winter warmers as curated by the team at Four Seasons Hotel Kyoto:
1. Ume (plum): Winter's Secret Blossoms
Despite spring being the best-known season of blossoms in Japan, winter visitors are in for a delightful surprise with Kyoto's profusion of delicate ume (plum) flowers.
Decorating the city's plum trees in shades of snow white through to verdant pink, ume blossom's sweet fragrance and pretty five petalled composition inspired ancient nobility from the Nara period (AD 710–784) to write haiku while gazing at them.
Blooming plum trees, once a prosperous trade with China and now savoured for their unique beauty, can be seen across Kyoto from mid-January. Kitano Tenmangu, just 25 minutes from the Hotel, offers some of the best viewing, with 1,500 plum trees blossoming through to mid-March.
2. Warming Winter Dishes
Warm up from within with Kyoto's wide variety of steaming hot pots and sizzling Yudofu 湯豆腐.
The Japanese have long adapted their diet to the country's dramatically different seasons, and winter offers up plenty of delicacies. Try Kaburamushi かぶら蒸し, a fragrant composition of grated turnip, egg white, lily root, gingko and mushrooms atop a white fish – locals liken its appearance to a melting snowball.
Originating in Kyoto, Steamed Sushi 蒸し寿司 is a hot dish with unique seasoning while Tanuki Udon calls on the spicy warmth of ginger on a base of chopped fried tofu with thick ankake sauce.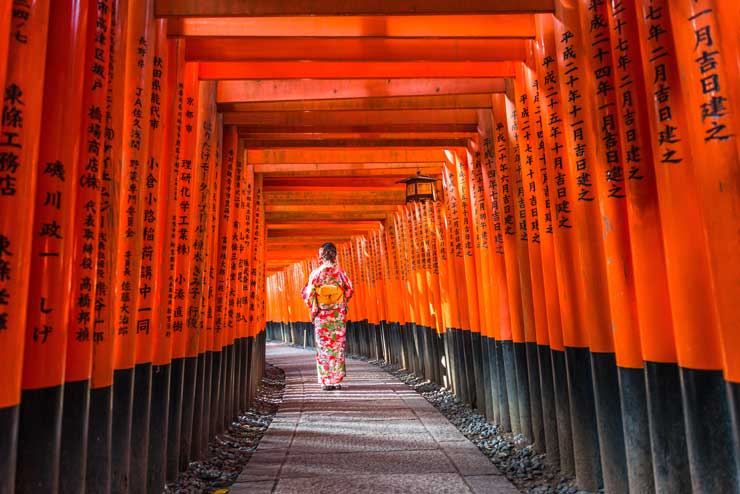 Celebrate new year in Kyoto with festive favourite Mochi ぜんざい (Zenzai), a dainty, chewy rice speciality available in tea houses and traditional cafes across the city.
3. Inspiring Illuminations
As the sun sets low on the wintry horizon, Kyoto comes alive with twinkling lights.
From January to February, lanterns are lit only on snowy days at Kifune Jinja Shrine, making it a rare but exquisite experience to see the shrine's pretty red steps and tree boughs aglow.
Discover an illuminated Hanatouro Bridge in Arashiyama (from mid-December for about ten days) and explore the nearby Kimono and Bamboo Forests, where LED lights create a magical woodland trail.
From the end of January for a week, marvel at the mountainous heritage site of Kayabuki-no Sato as the entire village of thatched houses gets festive with handmade snow lanterns, food stalls, dance performances and cultural activities from mochi pounding through to traditional handiwork.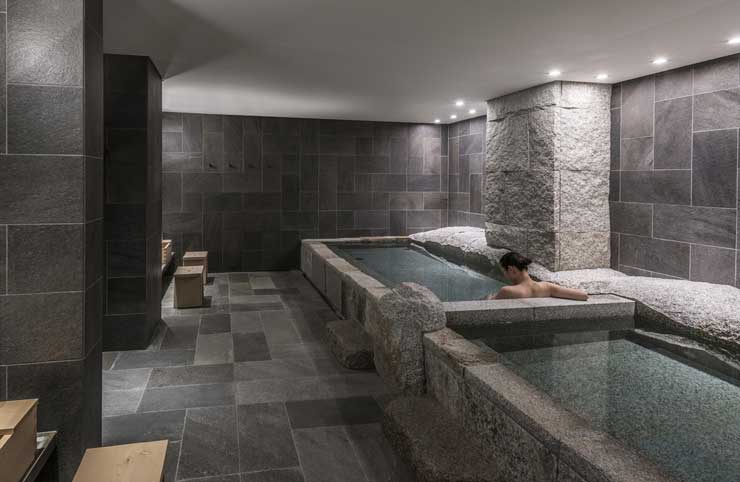 Bringing seasonal enchantment to Kyoto from late November through to late December, electrical company Rohm is behind the city's largest illumination event featuring over 800,000 lights and loved by locals and visitors alike since 1995.
4. Dive into Kyoto's Bathing Culture
An integral part of Japanese culture, bathing is considered a daily ritual of both purification and pleasure.
Guests at Four Seasons Hotel Kyoto can enjoy a complimentary soothing "ofuro" hot bath and sauna on the hotel's wellness floor, B2 as well as at THE SPA.
Bathing has long been considered a social activity with locals heading to one of the city's "sento"銭湯 or public baths to catch up with neighbours. A few sensational sentos remain in Kyoto, such as art-rich Funaoka Onsen Sento and Goko-yu Sento with its scalding hot sauna, perfect after a long hike.
Chase away winter's chill with an invigorating soak in one of the city's nearby "onsen"温泉, a natural hot spring. Kurama Onsen, 40 minutes from the Hotel, offers the exquisite experience of being surrounded by forested mountains while Arashiyama Onsen, just 30 minutes away, has views of Arashiyama.
5. Exclusive Winter Activities
Make winter your season of discovery in a country rich with specialities.
Fushimi, a sake-brewing district fed by the pure clean water of the Horikawa river, is a great place to start your winter Kyoto experience. From December to January, the breweries make fresh sake from the newly harvested Fall rice, and offer sake tastings, perfect for warming the body on a cold day. Ask our Concierge to recommend and reserve the best sake breweries at the time of your visit (there are 50 to choose from in Kyoto, including 19 in Fushimi!)
Throw yourself into the jubilant spirits of Hatsumode – Japan's first shrine visit of the new year – by joining with locals in beautiful traditional dress Kimono to pray for a good year, enjoy food stalls and play games with prizes. Japanese people traditionally go to temples and shrines from January 1-15 – a unique experience to be a part of, if your trip allows. Our Concierges will be happy to share their insider knowledge on the best places to go.
Marvel at nature's majesty from the comfort of a heated boat on the Hozu-gawa river: winter views include intriguing geologic formations covered with snow alongside colossal boulders, glimpses of the surrounding mountains, mysterious deep pools, and local flora and fauna.
Soak up the splendour of rare Japanese art at the 'Kyo no fuyu no tabi' (means Kyoto Winter Trip, 京の冬の旅) exhibition held at fifteen different city temples every year over more than 50 years. It is a unique opportunity to see each temple's secret treasures, usually hidden from private view. Open from mid January to mid March.
Hilton's Hidden Gems Series: Bentonville, Arkansas

The first Hidden Gem of the series is Bentonville, Arkansas (yes, the home of Walmart, though that wasn't a factor in choosing), where visitors can escape the hustle and bustle of the big city and embrace the natural beauty of the Ozarks. Here, small town charm and rich cultural experiences combine. Bentonville offers something for every type of traveler, from the nature-lover to the art connoisseur. The city is a scenic drive from Little Rock, Tulsa or Kansas City if traveling by car, or accessible through the nearby Northwest Arkansas Regional Airport. Excellent fall foliage and favorable weather make autumn one of the best times of year to visit, when leaves turn shades of gold, red and orange, inspiring locals and visitors alike to get outdoors.
Things to Do
Cyclists and runners will enjoy the more than 40 miles of hard and soft surface trails in Bentonville. Try the Razorback Regional Greenway, a 36-mile, primarily off-road, mixed-use trail that travels from north Bentonville to south Fayetteville and passes through dozens of community destinations, including historic sites, shopping areas and numerous parks.
There's plenty to see for art and museum lovers, too. Art connoisseurs can admire the local arts scene at the world-renowned Crystal Bridges Museum of American Art, where a permanent collection of American artwork, from famed artists like Norman Rockwell and Andy Warhol, is supplemented by a rotating array of temporary exhibits. Bentonville visitors can also explore the popular Walmart Museum — located in Walmart founder Sam Walton's original five and dime store — and the little ones can get some hands-on learning at the Scott Family Amazeum, which is 50,000 square feet of interactive exhibits.
Foodies can treat their taste buds to the unique high-South cuisine of the Ozarks, described as traditional Southern cuisine with a modern twist — think cheese grits made with smoked gouda, pan-seared trout served with a side of Hoppin' John (a dish made with black-eyed peas and rice) and catfish dip made with crème fraîche. The cuisine typically includes local and seasonal ingredients, with many restaurant menus changing every season. Try restaurants like Tusk & Trotter, The Holler and Louise.
Bentonville Square, located in downtown, is lined with shops, restaurants and museums. The square is also home to events and activities year-round, featuring everything from a monthly concert series to goat yoga. Over the holidays, the square transforms into a winter wonderland with holiday lights, ice skating and an annual winter market and Christmas parade.
As part of the northwest Arkansas region, Bentonville is also close to many cities that are perfect for a short daytrip. Try a visit to Fayetteville to tour the University of Arkansas (about 25 miles away), or take a trip to eclectic Eureka Springs (less than 40 miles away), where the entire downtown is listed as a National Historic Site.
Where to Stay
Unwind from a day of adventures at Homewood Suites by Hilton Bentonville-Rogers, located near many of Bentonville's notable attractions, including the Crystal Bridges Museum, Razorback Regional Greenway and Bentonville Square, all less than five miles away. Relax poolside year-round at the hotel's indoor pool or unwind in a spacious suite with the whole family, even the furry ones (yes, they're allowed).
Guests can attend a complimentary evening social Monday – Thursday with snacks and drinks. Wake up the next morning and enjoy a free, hot breakfast (or even just a grab-and-go snack) before starting on your next adventure.