China Set to Increase its Influence in Georgia
China-Georgia relations since the break-up of the Soviet Union in 1991 have been positive in both the economic and overall political sense. However, they are often overestimated by analysts in Georgia and elsewhere. Bilateral trade growth as well as a gradual increase in Chinese investments in Georgia have oft been hailed as exceptional and a marked sign of increased Chinese influence over Tbilisi.
True, economic growth has been taking place, but this has been but a small portion of the real potential. In fact, despite analysts' positive views, Georgia and the South Caucasus transit corridor has yet to feature in official versions of the Chinese Belt & Road Initiative (BRI). Overall, China has been cautious. Russia's factor too might have been at play when Beijing only minimally involved itself in the economy of Georgia. But the biggest obstacle has been geographic barriers such as the Caspian Sea, the Caucasus range, difficult Georgian terrain as well as the Black Sea.
Still, in a number of articles for GT, I have suggested that the Belt & Road Initiative (BRI) is not static in nature and, like any other trade routes in ancient or medieval periods, it does respond to rising challenges and opportunities. Another suggestion was that Georgia, if it improves its railroads, roads and ports infrastructure inside the country, will become more attractive to China and its BRI.
Indeed, there are signs proving this scenario. On 24 May, the Chinese Foreign Minister Wang Yi visited Georgia. This is crucial as it is the first official visit of a Chinese foreign minister to Georgia in 23 years. According to the Georgian Ministry of Foreign Affairs, the focus of the minister's visit was to understand more about Georgia's future and its potential as an important transit state.
The visit to Georgia came as a part of the Chinese delegation's regional trip. China and Armenia on Sunday signed an agreement for mutual visa exemption for ordinary passport holders.
The Georgian Ministry of Foreign Affairs said that the visit to Georgia confirmed the "clear vision" of China regarding Georgia and its role in China's plans for large-scale projects. Here, most likely BRI was meant, a clear emphasis on Georgia's potential as a transit state. "Trade, investments, transport, as well as partnership within the frames of international organizations, were set as the major priorities for future cooperation," states the Georgian Foreign Ministry.
The Chinese Foreign Minister said that "China is implementing a foreign policy which is based on the principles of peaceful coexistence. We are ready to develop friendly relations between our countries further. We have a firm position that all countries are equal, regardless of their size. We respect the independence, sovereignty and territorial integrity of Georgia and other countries."
China's interests in Georgia are also intricately linked to the latter's territorial problems with Russia. For Tbilisi, it is important that China supports it on the issue of Abkhazia and Tskhinvali. Indeed, the issue of the Georgian occupied territories was also raised during the meetings and Georgian officials mentioned the "high importance" of Chinese support for Georgia's sovereignty and territorial integrity.
The Chinese delegation's visit follows the Georgian Minister of Infrastructure and Regional Development, Maya Tskitishvili's, trip to Beijing, where she attended the second Belt and Road Forum for International Cooperation. More importantly, she signed an agreement on cargo and passenger transportation with Chinese Minister of Transport Li Xiaopeng.
Overall, the Chinese Foreign Affairs Minister's visit to Tbilisi has been important, but attention in the Georgian media was only paid to official statements; no analysis has yet been made. However, what is crucial is the timing of the visit, as China and the US are locked in a geopolitical battle over influence in the Indo-Pacific world. Since Georgia is close to the US in terms of military and political cooperation, it will be interesting to see how far China-Georgia cooperation will go. One thing is likely to happen: Beijing will try to increase its influence in Georgia through economic and various political moves.
Author's note: first published in Georgia Times
The Economic Roots of Georgia's "Defection" to the West
An important part of a country's foreign policy lies in its economic moves. This is particularly true in the case of large states seeking a bigger role in the international arena.
For example, China has been implementing the 'Belt and Road Initiative' (BRI), while the US during the Cold War brought in the famous Marshall Plan to help Europe restore its shattered financial strength. Both projects pursue(d) projection of political power through economic means.
Long gone are the times when it still was possible to occupy territories solely through military power. Increasingly, as modernity enabled the rise of self-consciousness and nationalism among small states and ethnic minorities in large countries, it has become difficult to rely on repressive measures. A policy of active economic initiatives targeting one ethnic group inside the country or a separate state has thus gained additional importance.
Looking at the last 30 years of Georgian-Russian relations, there has been almost everything one could imagine: from cordial talks to wars to a full-scale economic embargo. More negative than positive, but well illustrative of the limits of Russia's foreign policy.
It is true that Georgia has not been economically so important to Moscow as, for example, Ukraine, Kazakhstan or Belarus, but Russia is always interested in influencing Tbilisi. Still, Georgia is a vital transit corridor between west and east as well as north and south. Moreover, without Georgia, it will always be difficult for Russia to effectively control the restive North Caucasus in the long run.
The Russian political establishment failed to see that a major reason in Georgia's shift to the West in the early 2000s was a shattered post-Soviet economy and no help from Moscow. Russia was not perceived as an enemy when the Rose Revolution was about to happen in 2003: there were simply no concerted efforts from the Russian side to lure Georgia economically.
Russia was also experiencing turbulent times and was self-absorbed with internal problems when Vladimir Putin came to power in 1999. Even when Russia became financially stable in the late 2000s, no viable long-term economic vision was offered to the former Soviet countries. The announcement of the creation of the Eurasian Economic Union (EEU) did not produce the expected results nor did it stop Ukraine drifting from Russia in 2014.
Again, Russian political thought failed to recognize that Kyiv's choice to move closer to the European Union was based on the latter's economic attractiveness. As no brotherly relations with Russians could stop Ukrainians' drift to the western economic space, much less surprising is Georgia's eagerness to join the European market.
Simply put, Russia has not been attractive enough. Even those countries which are economically close to Russia are so because they have no alternative. Take for example Armenia, the large population of which is not inclined to Russia but is close to the Russian economy because there is no other option. The same goes for the Central Asian states, which still prefer the Russian economy to the Chinese market (however even this trend based on Central Asia's cultural and historical closeness with Russia has been shifting and the region's economic relations with China now thrive).
When it comes to choosing between Western and Russian economic spaces even countries culturally closest to Russia still choose the West. The roots of this problem for Russia are its inability to build powerful state institutions and a thriving economic space with opportunities for peaceful development across the former Soviet territories.
What is troubling is Russia's failure to understand the source of that weakness – the need for a rapid restructuring of the economy to yield higher industrial and technological results. When high-level politicians openly discuss this, it often ends with no specific results.
It can be argued that for the last 30 years, Russia has not pursued a consistent economic policy towards Georgia. Investments were occasional, while other political decisions only further hampered bilateral relations. The case of Georgia's "defection" to the West well reflects how less attention is paid nowadays in Russia to economic components in the country's foreign policy. There are even hints that Moscow now prefers military moves to economic ones.
Even from a strategic point, one can say that Russia simply has not had a foreign policy towards Georgia, except for militarily preventing the country from joining NATO and the EU. No long-term approach of economic, cultural and other components was ever formulated. As a result, by 2003 it was already too late to reverse the existing trend in Georgia, while a similar process is now being seen in Ukraine.
Author's note: first published in Georgia Today
Lost Independence of the Baltic States
In 1991 the Baltic States gained independence. They started to develop their new way. This choice was highly appreciated by the residents of the Baltic countries, as well as by people all over the world.
People craved independence then, and they still crave it now. They understand independence as "freedom from the control, influence, support, aid, or the like, of others."
Today some political decisions reduce the significance of achieved results. Thus, NATO personnel deployed in Latvia, Lithuania and Estonia is so numerous that it is hard to speak about the independence of these countries. In other words they are not free from the NATO's control, influence, support, aid, or the like.
Around 700 NATO personnel based in Estonia are took part in a major training exercise in Latvia on September, 3, Baltic News Service reports.
Exercise Furious Hawk takes place at the training area at Ādaži, NATO's Canadian-led Enhanced Forward Presence (eFP) battlegroup base in Latvia, and brings the Estonian-based troops from the British-led Estonian battlegroup based at Tapa.
The exercise means military convoys, directed by Military Police units, are already moving along routes between Tapa, southwards via Paide, Pärnu and Ikla, as they make their way to the Latvian border.
It is not even about the presence of foreign troops on the territory. The matter is locals are limited in their freedom of movement's right. It was announced that the convoys will include heavy military equipment, which could slow down traffic in that direction. The Papiniidu bridge in Pärnu is likely to be closed to the public during the period.
So, foreign troops move freely across countries, while locals are restricted in their rights. Hey NATO, who are you in the Baltic States? Are you a guest or a host?
The more so, damage to public road transport infrastructure made by heavy military equipment is considerable. Repairing damage requires large budgetary funds, which could be spent on social needs.
The officials of the Baltic States declare openly that the Baltic countries cannot defend themselves. This means that NATO supports, aids and controls the military and security spheres. NATO also influences and controls the decisions made by the Baltic States authorities in these fields. NATO hereby discards results of Baltic States' fight for independence.
It could be even said that desired independence has been lost again.
Did Russia Really Win in the 2008 August War?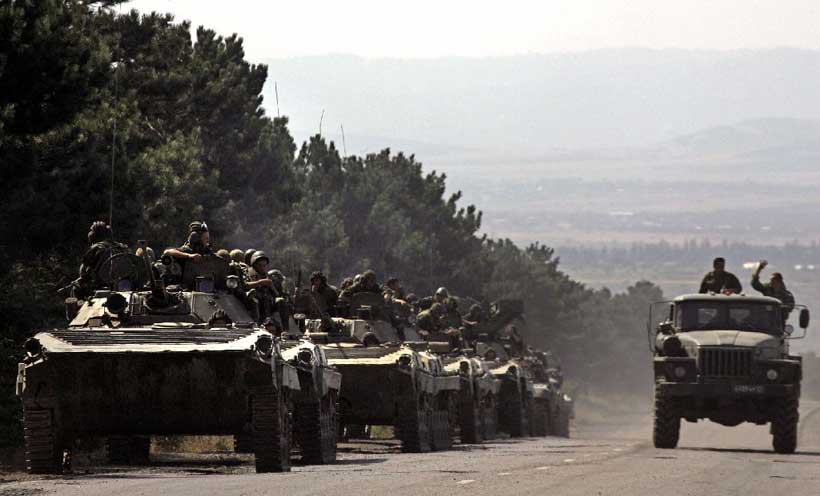 Eleven years have passed since the short Georgian-Russian war started on August 7-8 in 2008. As every discussion on who started the war generally is, the Georgian-Russian one too is about finding moral grounds for military actions which both sides took at the time.
Morality in geopolitics, and the Georgian-Russian conflict is indeed caused by pure geopolitical calculations, is at most times a superfluous thing. All these years the Russians have been trying to convince the world and the public inside the country that the Russian military moves actions and subsequent recognition of the independence of the Abkhazia and Tskhinvali regions were the only possible and correct actions to be taken. The Georgians also have their dilemmas: some marginal political figures still believe that it was the Georgian government that was most to blame for the catastrophe of 2008. Though close geographically, these diverging narratives and the constant need to prove one's own truth says a lot about how far apart Georgia and Russia have grown in the past decade.
11 years since the war and it is still unclear what Russia has gained from its military and diplomatic actions since 2008. True, military build-up in Abkhazia and Tskhinvali Region limited Tbilisi's ability to become an EU/NATO member state. Moreover, Russian intervention into Georgia in 2008 also showed the West how far Moscow can go if a strategic decision is made to draw Georgia into the alliances. At the time (August-September 2008) those seemed to be long-term (strategic) victories for Moscow. In international relations and geopolitical calculations, you can stop a country from attaining the aims harmful to you, but in the long run you will be unable to reverse the process by forceful actions alone: you have to provide a counter-policy to turn an unfriendly state into an amenable neighbor.
Put all of this into the Russian case. More than a decade has passed since 2008, only a few not-so-important states recognized Georgia's territories as independent entities. The Georgian public is overwhelmingly anti-Russian, the last hopes of a grand geopolitical bargain – the return of the territories in exchange for reversing EU/NATO aspirations – have disappeared among the Georgian public, and support for western institutions so far has only increased.
In the end, though Moscow waged a reasonably costly war in 2008, took and still experiences a diplomatic burden for its moves against the West, and has yet to attain its grand geopolitical goal of reversing Georgia's pro-western course. Politicians in Moscow, at least strategists behind the scenes, all understand that Georgia's persistence, which seems naive today, might turn into serious business if Russia's geopolitical positions worsen elsewhere in Eurasia.
Indeed, there are signs that Russian influence is set to diminish further in the former Soviet space as the country's economy is unlikely to be attractive to the neighboring states. Imagine a scenario where Russian internal problems (Putin's upcoming succession, economic downturns, China's rise, stronger Ukraine, etc.) weigh ever stronger upon the Russian decision-makers in the 2020s, then Georgia's western aspirations might become more concrete – it will be easier for the West to make a strategic decision to draw Tbilisi into EU/NATO.
Overall, Russia definitely gained significant results in 2008, but in the long run it did not change the strategic picture in the South Caucasus, though it did produce a grand design for geopolitical domination in north Eurasia: years after the war, Moscow initiated its Eurasian Economic Union (EEU) to draw its neighbors into one economic space – a prerequisite for building a world power. Ideally, it should have attracted Russia's major neighbors and it would have served the people of the former Soviet space economically. But Moscow failed to get Ukraine and other states involved: without Kiev, the EEU, if not dead, is at least a marginal project. This means that Russian policies towards Georgia and the wider South Caucasus remain the same as before 2008 – keeping foreign powers out of the region, while failing to provide an alternative vision for Tbilisi.
Author's note: first published in Georgia Today