When Republicans Are In Power, Banks, Real Estate, and Insurance Companies Crush The People
There is certainly a correlation by and between when conservatives and Republicans talk about "de-regulation" and "freedom" of business, in the outright and total crushing of the American people underneath a boot of immorality.
For example, insurance companies will start to increase the use dishonest and unethical "adjustors" to set out to deny lawful proper claims for insurance, such as when someone has fully paid their expensive premiums, but then is cruelly and out of hand denied much needed assistance from these insurance companies for various health problems, automobile accidents, home and renters policy mishaps, professional liability defense, general business liability assistance, property damage, and other types of accidents and mishaps that these insurance companies state that they were designed to protect their customers with.
These insurance companies know fully well that the poor and middle class do not have the ability to hire and retain competent high powered lawyers to defend their interests, either by entangling with them or in dealing with the entities that are coming after them in the above named types of life problems.
The Democrats had created and implemented such consumer watchdog agencies such as the Consumer Financial Protection Bureau ("CFPB") and the New York Department of Financial Services ("DFS") and these agencies were very successful in prosecuting, investigating, and beating back insurance company and banker predatory behavior, but then the lobbying groups for these industries began to buy and pay for Republican whores and populated the Congress and Senate with their "people," and low and behold, we got an avalanche of "deregulation" from the Executive and Legislative Branches, gutted agencies and replacement of its leaders, all of a sudden leaving the American people at the will and hellish end of the retaliatory insurance and banking industries, and now things are worse than they ever were before.
Similarly, as the Insurance industry benefited from screwing over the American people, the Banking industry simultaneously have begun again to rape the American people, by instituting usurious collections and interest rates, sometimes as high as 50-60%, on such things as student loans in default through no fault of the borrower (due to sickness, injury, loss of employment, bankruptcy) and credit card companies now routinely rape and pillage the American people with ungodly APRs and other "bait and switch" mechanisms designed to fleece their customers, enriching themselves while impoverishing their customers.
All the while these banks and insurance companies are charging more than ever for premiums, simple day to day processes such as ATM machine usage, finance charges, late fees, and other highway robbery-type methods to steal from the American people.
The real estate industry, headed up by men such as Ben Carson of HUD, have now mercilessly began to crush tenants and mortgage holders, denying them basic warranties of safety and habitability, skirting all state and federal regulation so as to make a buck.
"Freedom" as used by Republican and conservative leaders was supposed to mean something different than giving trillion dollar international banks, real estate, and insurance companies the license to rape and pillage the American people, but "deregulation" is the proverbial "wolf in sheep's clothing" or "trojan horse" by these communist industries to devastate the American people, and they must be reigned in once again by the Democrat led powers in the Congress and the Senate, and perhaps even the Judiciary (state and federal).
Empathy, Survival and Human Oneness: Informed Reflections on Trump's Atavistic Worldview
"Each of us is both the subject and the protagonist of his own nontransferable life." José Ortega y Gasset, Man and Crisis
America First, the most conspicuous mantra of Donald Trump, makes no logical or diplomatic sense. Indeed, contrary to the American president's narrowly imagined expectations, Americans, both individually and collectively, will soon need to identify more broadly with the world as a whole. In essence, to survive and prosper, the United States must quickly change direction from such plainly refractory political mantras, and prepare instead for greatly expanded patterns of international cooperation.
Before we can all become true beneficiaries of modern diplomacy, we will first finally have to acknowledge that we inhabit a single and indissoluble global habitat.
Even from an expressly American standpoint, there is nothing unpatriotic about articulating any such universalizing prescription. To wit, the alternative Trump vision can lead the United States only toward an endlessly Darwinian global struggle. Inter alia, this would mean a fully consuming and retrograde conflict in which the corrosive principles of "every man for himself" would produce further chaos and perpetual suffering.
Significantly, especially for those concerned with modern diplomacy and international law, the attendant and sometimes reciprocal problems are not "merely" spiritual. Above all, they are profoundly intellectual. Back in the nineteenth century, the American Transcendentalist philosopher, Ralph Waldo Emerson, had counseled "plain living and high thinking."
For this American president, there is a timeless message here. Currently, however, it is anything but closely heeded. To impresario extraordinaire Donald Trump, the best path, going forward, is to "circle the wagons," to huddle together as an endlessly fighting nation and then do whatever it must againstall others.
Always, "against" is the operative word in the White House. Curiously, for US President Trump, world politics is always reassuringly reducible to bitter struggle against one despised "enemy" or another, or perhaps even a sinister coalition of "enemies."
There is more. Any such primordial or "zero sum" advice is not merely harsh or needlessly adversarial. It is also deeply immoral, manifestly contra to elementary codes of civilized human interaction.
Unsupported by any defensible reason or scintilla of logic, it is starkly incorrect.
To be sure, there are much better paths to human salvation, secular as well as spiritual. It follows that to help rescue America from a myriad configuration of mortal dangers, Trump will first need to assist the imperiled earth in general. Inevitably, the American president should avoid having to deal piecemeal with the next foreseeable eruptions of genocide, war and terror.
Everything, he will very quickly need to appreciate, is interrelated.
By embracing "high-thinking" instead of demeaning rally slogans and vacant banalities, US President Trump could finally have to recognize that American well-being and security are inextricably linked with the much wider "human condition." Assuredly, this reluctant recognition will take him some time. He will also need to embrace another even more subtle kind of understanding.
It is that pertinent human social and governmental linkages may not always present themselves in readily decipherable historical, social or economic terms.
Now is the only suitable moment for Mr. Trump to recall the essentially "Buddhist" wisdom of Jesuit philosopher Pierre Teilhard de Chardin: "The egocentric ideal of a future reserved for those who have managed to attain egoistically the extremity of `everyone for himself','" explains his The Phenomenon of Man, "is false and against nature. No element can move and grow except with and by all the others with itself."
The high-thinking Teilhard was right on the mark. At their very deepest level, genocide, war, and terror are not just the hideous product of an ordinary world politics and diplomacy gone awry. Rather, they stem from the unbearable apprehensions and persistent loneliness of individual human beings.
Normally unable to find either meaning or safety outside of certain available group memberships, billions of individuals across the globe will still often stop at nothing in order to acquire some comfortingly recognizable acceptance within a presumptively protective "crowd."[1]
All such crowds, whether at Trump rallies, prizefights or earlier gladiatorial competitions, love to chant in chorus. Absolutely. What is injurious and even potentially grotesque about such orchestrated mutterings is not the content being chanted (which is usually incoherent, and sometimes also insidious), but rather the corollary disappearance of personal empathy and residual individual responsibility.
Whether it is as a nation, a social organization, a terrorist band, or a new political movement, the crowd tempts "all-too-many" (a favored Nietzschean term in Zarathustra) with the false succor of group communion. Always, this temptation lies at the heart of its ritually compelling and possibly incomparable attractions. Typically, though rarely identified or understood, it is the generally frantic human search to belong that most assiduously shapes national and international affairs.
Both national and international affairs.
Unsurprisingly, as the seventeenth-century English philosopher Thomas Hobbes concluded in Leviathan, about "state of nature" crowds, they portend a lamentable life that is "solitary, poor, nasty, brutish, and short."
Once again, for the sake of both America and the wider world, it is time to situate "high thinking" in the White House. The irrepressible search to belong, to draw a pertinent term from Swiss psychologist Carl G. Jung's The Undiscovered Self, represents "the sum total of individual souls seeking redemption." Jurisprudentially and diplomatically, the most tangible expressions of our incessant human search for rescue in groups can be found in the utterly core legal principles of sovereignty and self-determination.
Alarmingly, the celebrated "self" in all such traditional jurisprudence and diplomacy refers to entire peoples, never to singular individuals.
Too often, as US President Trump ought finally to understand, the ironic result of such hegemonic thinking is a measureless orgy of mass killing and ever-expanding human exterminations.
This conclusion is self-evident and incontestable.
Divided into thousands of hostile tribes, almost two hundred of which are called "nation-states," many human beings still find it easy and pleasing to slay "others." As for any remediating considerations of empathy, these are typically reserved for those who happen to live within one's own expressly delineated "tribe." It follows, and crucially, that any expansion of empathy to include "outsiders" must represent a basic condition of authentic peace and modern diplomacy.
Without such an indispensable expansion, our entire species would remain stubbornly (and suicidally) dedicated to its own incremental debasement and eventual disappearance.
Understanding this particular wisdom should already have become an indispensable corrective to the presidential nonsense of "America First." This grievously resurrected political mantra is eerily reminiscent of American "Know Nothing" history, and also the incomparably destructive slogans of the Third Reich. Let us be candid.
In brief, and however well-intentioned, America First now represents Trump's specifically Americanized version of "Deutschland uber alles."
Nothing less; nothing more.
But what must Americans and others actually do to encourage a wider empathy, and thereby to foster aptly caring feelings between as well as within "tribes"? Correspondingly, how can a US president meaningfully improve the state of our dissembling world so as to best ensure a dignified future for the American Republic? These are not easy questions.
Nonetheless, they are the ones that need to be faced by Americans and (ultimately) by all others.
Already, soberly and ironically, we must concede that the essential expansion of empathy for the many could become "dreadful," improving human community, but only at the intolerable cost of private sanity. This imperative concession stems from the way we humans are "designed" or "hard wired," that is, with very particular and largely impermeable boundaries of feeling. Were it otherwise, an extended range of compassion toward others could quickly bring about each cooperating individual's own emotional collapse.
A paradox arises. Planning seriously for national and international survival, Americans in particular must first learn to accept an unorthodox understanding. It is that an ever-widening circle of human compassion is indispensable to civilizational survival, but is also a potential source of insufferable private anguish.
How, then, shall human union and American politics now deal with a requirement for global civilization that is simultaneously essential and unbearable? Newly informed that empathy for the many is a precondition of a decent world union, what can actually create such obligatory caring without producing intolerable emotional pain? In essence, high-thinkers must duly inquire: How can such a stunningly anti-intellectual US president correctly deal with ongoing and still-multiplying expressions of war, terrorism, and genocide?
By building walls, or instead, by solidifying wide-ranging and always-pertinent human bonds of interrelatedness and connectedness?
The answer is obvious. It can never be found in ordinary speeches and programs, especially in the cravenly shallow rhetoric and embarrassingly empty witticisms of American presidential politics. It is only discoverable in a consciously resolute detachment of individuals from lethally competitive "tribes," and from certain other collective "selves."
In the final analysis, a more perfect union, both national and international, must lie in a fully determined replacement of "civilization" with what Teilhard de Chardin calls "planetization."
The whole world, Mr. Trump should promptly acknowledge without fear of contradiction, is a system.[2] He must finally understand that the state of America's national union can never be any better than the state of the wider world. He will also need to realize that the condition of this entire world must itself sometimes depend upon what happens inside the United States.
Ideally, in fully acknowledging such a plainly misunderstood mutuality, this vital human reciprocity, the overarching US presidential objective should become the sacred dignity of each and every individual human being. It is precisely this high-minded goal that should now give specific policy direction to President Donald Trump, not his continuously specious and universally destructive commitment to "America First."
It will be easy to dismiss any such seemingly lofty recommendation for human dignity as silly, ethereal or fanciful. Still, in reality, there could never be any greater American presidential naiveté than championing the patently false extremity of "everyone for himself" in world politics and diplomacy.
More than anything else, "America First" is a grievously misconceived presidential mantra. Devoid of all empathy, intellect and human understanding, it can only lead America as a nation toward distressingly new depths of strife, disharmony, and collective despair. Individually, "America First," left unrevised, would point everyone to an insufferable and potentially irreversible vita minima, that is, toward a corrupted personal life emptied of itself.
By definition, such a life would be meaningless, shattered, unfeeling and radically unstable.
Only by placing "Humanity First" can US President Donald Trump make America First. The latter is simply not possible without the former. Not at all.
---
[1] "The crowd," says the great Danish philosopher, Soren Kierkegaard, "is untruth."
[2] "The existence of system in the world is at once obvious to every observer of nature," says Jesuit philosopher Teilhard de Chardin, " no matter whom….Each element of the cosmos is positively woven from all the others…."
Remembering JFK – The Short Lived President: His Life and Achievements
John Fitzgerald Kennedy (JFK) was the 35th President of the United States of America (USA) during the heightened time of the Cold War. "The youngest man ever elected to the presidency, succeeding the man who… was the oldest. He symbolized anew generation, a coming-of-age. The first president born in the 20th century, the first young veteran of World War II to reach the White House."
A number of events of international significance took place during his presidency, including the Cuban Missile crisis, Bay of Pigs invasion and the initiation of US involvement in Vietnam. He is remembered for carefully handling crisis over Cuba when 'the world was brinks away from nuclear war.' with Union of Soviet Socialist Republic (USSR) when the latter deployed missiles on the island. 'Containment' continued to be the official policy; however the Kennedy administration undertook a modest approach, moving from his predecessors 'Massive Retaliation' to a more 'Flexible Response.' Having served overseas as a navy man provided him the necessary exposure and knowledge, with which he was able to negotiate well with competitors and adversaries alike on a number of occasions. It was this background that allowed him to bring reforms at local domestic arena, particularly at the societal level and in the armed forces. A number of legislation pertaining to Civil Rights Movement were enacted during his tenure. He is credited with the creation of US Navy Seals and Special Services Group (SSG) which form the backbone of the country's military. It was his vision and plan that later allowed Neil Armstrong of the Apollo 11 to be the first man on moon. Kennedy served a period of three years in the White House, which were cut short by his assassination in 1963. Robert Dallek has titled his award winning biography 'An Unfinished Life' calling the president a great statesman who achieved so much in such a short span of time.
Early Life and Career
JFK was born to an influential Irish immigrant family who were big names in business and politics. His grandfathers were seasoned politician, one of whom, John F. Fitzgerald ascended as the Mayor of Boston. Joseph P. Kennedy, his father was the Ambassador to England. His upbringing greatly influenced him, according to his colleagues from an early age he was more interested in current affairs than his studies. His college professors greatly resented this as he seldom read the course assigned text books and was mostly seen with books on leadership and international affairs. He greatly admired Winston Churchill from a tender, whose book 'Marlborough: His Life and Times' remained his all-time favourite.
Kennedy was not always the charismatic and leading figure during his early career. According to biographer, Robert Dallek, he was a substantiated figure in the household being overshadowed by the personality of his elder brother, Joe Jr. He greatly resented that he always had to live up to mark set by him. This was shown by his anger and rebellious due to which he was chastened a number of time during his years at Choate College. It was only after tragic accident of Joe Jr. while serving overseas in the Second World War, did Jack Kennedy came into the spotlight. Dallek argues that it was in fact Joe Jr. whom their father wanted to be the President, only when he was no more did Kennedy being next in line, ascended to the office.
Kennedy leadership skills were recognized from his early youth days. He was nominated the business manager of his school yearbook. During a college voting, he was voted by his peers as "most likely to succeed" in whatever future career he undertook. His skills were further sharpened after his graduation from Harvard and Princeton.
"The reasons that I have for wishing to go to Harvard are several. I feel that Harvard can give me a better background and a better liberal education than any other university. I have always wanted to go there, as I have felt that it is not just another college, but is a university with something definite to offer….. I would like to go to the same college as my father. To be a 'Harvard man' is an enviable distinction, and one that I sincerely hope I shall attain."
Kennedy during his academic career was a popular figure. He was likewise good in sports, joining the college football, golf, and swimming, for which he won 1936 Nantucket Sound Star Championship Cup. However his family greatly hid all the health problems, Jack faced from his early to his times at the White House. He had to undergo emergency hospitalization a number of times. However to this day it remains a mystery as to which disease he actually had.
In the days preceding the Second World War, Kennedy toured Europe, Soviet Union, the Balkans, and the Middle East in preparation for his Harvard thesis. He returned to London from Czechoslovakia, on the very day when Germany invaded Poland which culminated World War II. His thesis, "Appeasement in Munich", became a bestseller under the title Why England Slept. Kennedy's far sightedness can be seen by his writing which proposed for an Anglo-American alliance believing only it could save the day.
Kennedy Doctrine
President J.F Kennedy is remembered for orchestrating a political ideology and belief that the pundits dubbed as the "Kennedy Doctrine". It is attributed to the year 1961, in a speech that summed up the administration beliefs and course of action during the heightened time of the Cold War.
"Let every nation know, whether it wishes us well or ill, that we shall pay any price, bear any burden, meet any hardship, support any friend, oppose any foe, in order to assure the survival and the success of liberty."
The Kennedy Doctrine was an expansion from the foreign policy initiatives of his predecessors. His predecessors "Eisenhower Doctrine" was focused more towards Middle East whereas the "Truman Doctrine" consisted of containing Soviet influence in Europe. JFK being the 'far-sighted' politician extended similar objectives to area of Latin America following the left-wing aspirations following Fidel Castro's revolution. He was involved and well committed when it came to foreign policy initiatives on a number of occasions, particularly after the failed Bay of Pigs invasion for which the President blasted the then Joint Chief of Staff for providing him with 'an unworkable plan.' W. Averell Harriman, served in various administrations was considered one of the foreign policy elders as 'Wise Men', called him:"The first President, that I know of who was really his own secretary of state. He dealt with every aspect of foreign policy, and he knew about everything that was going on."
Cuban Missile Crisis
The Cuban Missile Crisis reflected the pragmatic leadership style of President Kennedy. It was what experts termed as 'Flexible Response." One of the great qualities of JFK, who to this date remains the only President of UShaving a catholic faith, knew how to challenge the advice and assumption of the experts. This was exactly the case during the Cuban Missile crisis, where he diligently listened to all the three groups present at the high level meeting. There were the hawks being represented by the defence establishment, then there were the moderates consisting of Robert McNamara and Attorney General Robert Kennedy and finally there were the doves who believed that US should present a stance that is least hostile, consisting of direct cooperation with Soviets. Kennedy personally micromanaged the quarantine by personally selecting the US Navy warships for that very purpose. Peter G. Northhouse has called this an 'authoritarian style blended with charismatic leadership.' He attributes this characteristic to his training as a navy man and to his times during Harvard and Stanford. It is believed that it was Kennedy who got most out of the Cuban Missile crisis, his popularity rating increased from 66 percent to 77 percent, one of the highest ever by a President serving in the office. Whereas Soviet Premier Khrushchev was a bit unfortunate in this case, as it was instrumental in bringing a coup against him which led to his ouster.
Legacy
Kennedy was the first of the six presidents to have served in the U.S. Navy to this day. One of the enduring legacies remains the creation of Special Forces command, the Navy SEALs, which to this remains the highest and most prestigious in International Defence Forces. The Civil Rights Bill was his proposal, which unfortunately became only after his assassination, in the year 1964.
Some historians blame him for the continuing the policies of his predecessors, Truman and Eisenhower which eventually got the US into Vietnam, a long and unpopular war. Some conspiracy theorists argue that it was because he challenged the military industrial complex decision to end the War in Vietnam, did he got assassinated. They cite his 1963 speech at American University where he signaled that he was ready 'to bring back all the 1000 troops back home'President Kennedy to this day remains the most popular US President of all times, in the league reserved for big names like George Washington, Abraham Lincoln and Franklin Roosevelt.
"Visitors from all over the world have signed their names in the memory books, and many have written tributes: "Our greatest President." "Oh how we miss him!" "The greatest man since Jesus Christ."
Presidential elections – 2020, or does Trump have "federal reserve"?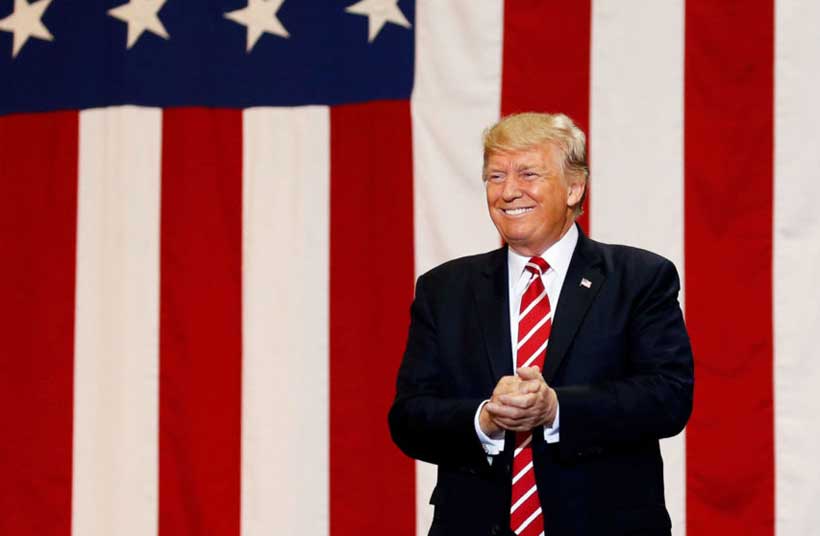 On July 31, the US Federal Reserve's Open Market Committee cut interest rates – the first such move in 11 years. During the past 18 months, President Donald Trump has regularly criticized the country's central bank for refusing to lower interest rates, calling the Fed's policy the main reason for America's current economic slowdown. Trump's critics, in their turn, accuse him of trying to manipulate the Federal Reserve's policy in a bid to secure the best conditions for his re-election 2020 re-election campaign. How can the state of the country's economy and finances influence the choice the American voters will make next year?
The Federal Reserve's current head, Jerome Powell, a lawyer who has been in the investment business for many years, is the Fed's first chairperson since the 1970s, who has no professional economic education. Small wonder that he was initially viewed by many as Trump's political appointee. Still, until this very summer, Powell kept raising interest rates instead of lowering them, as Trump demanded, thus staying the course charted by his predecessor, Janet Yellen, whom Trump strongly criticized during his election campaign. Now that the Fed has cut interest rates, however, Donald Trump is still not happy. In a recent tweet, he said that what markets really expected from the Federal Reserve was not just to cut rates, but to send a clear signal about the start of a long period of "aggressive" easing of US monetary policy primarily aimed at counteracting similar measures by "China, the European Union and other countries of the world."
"As usual, Powell let us down," Trump summed up.
As a businessman, Donald Trump may feel the volatility of the US economy, and be fully aware of the academic studies of the past decades, above all about the state of the national economy and the year-to-year economic indicators, which significantly affect the voters' political preferences, including for someone, who they want to see in the White House. We are not even talking about a full-blown recession – just an economic slowdown three or six months before Election Day. The proponents of this point of view believe that, according to all objective indicators, the decline in economic growth that happened in 2016 should have become "barely noticeable for most Americans." Still, it was noticeable enough to increase Trump's electoral base. The very same thing could happen in 2020, since the currently high GDP growth rate may prove "unbearable" for the economy next year. Just as it happened in 2016, when the economy stopped growing by more than half compared to the very robust 2015. Right now, it is still premature to say if the US economy has reached its next peak, but many key indicators look very similar to how it was doing ahead of the 2016 presidential election. Trump's critics could interpret the Federal Reserve's current rate cut as an attempt to prevent a similar development and increase the incumbent's chances for re-election.
Meanwhile, the interest rate cut could have a detrimental effect on the labor market. Even though the US economy is going strong, in a market economy you cannot keep reducing unemployment all the time. Besides, the rate of this reduction has consistently been slowing down since Donald Trump's election. Moreover, most American economists believe that unemployment within 4 to 5 percent is "optimal" for maintaining economic growth rates. This is the de-facto "target" indicator the Fed has in mind. The modern economic theory maintains that when unemployment is too low, the central bank should raise the interest rate, not cut it. Now, however, the Fed says that it is more concerned about "stifled inflation." This means that the US monetary authorities could now put any further decrease in unemployment to the back burner. A sharp drop in employment growth that happened a few months before the 2016 elections made many voters feel that the situation on the labor market was deteriorating. As a result, many of them turned their back on the party, whose leader was then at the White House.
In November 2018, the US economy was going strong with the GDP growing above three percent, unemployment falling, and salaries going up. Still, the Democrats won the largest number of seats in the House of Representatives in midterm congressional elections since 1974.
Finding himself in a potentially "no-way-out" standoff with the now Democratic-controlled lower house of Congress, President Trump could theoretically use a tactic of compromises with the opposition Democrats and even "restore shattered confidence" between the two parties. However, he opted for a confrontational scenario repeatedly trying to shift responsibility for failures in domestic politics and the sluggish pace of reindustrialization to "obstructionist" Democrats, "opposition-minded" Silicon Valley companies, and, above all, to foul play by external forces. On August 1, the White House announced that the United States would impose an additional 10 percent tax on $300 billion of Chinese imports before the month was out. On August 5, the US Treasury officially designated China a "currency manipulator," accusing Beijing of "undervaluing the yuan." Trump believes that a continued easing of the US monetary policy will finally help clinch a truly "great deal" with China.
The Federal Reserve apparently thinks otherwise though. According to Powell, two of the three reasons for the rate cut have to do with the Trump administration's trade policy, which has been disruptive for the world economy and caused "tensions in trade relations." According to experts, the Federal Reserve is thus letting Trump know that he should reduce uncertainty and tension in international trade, namely to reconsider the policy of trade wars – something so many of his voters are so fond of. Many economists and business people in the United States agree with the Fed because the introduction of new duties on a long list of Chinese imports has resulted in higher retail prices, the loss of tens of thousands of jobs and has made many US industries less competitive in the world. US companies heavily dependent on the sale of their product in China have fallen victim to this conflict. The sense of uncertainty is also "working" against Trump who has locked horns with the Democrats, who now have a majority in the House of Representatives. Finally, China is already using retaliatory measures against companies located in the US states, which constitute Donald Trump's electoral base. Trump's actions may seriously undermine his chances of re-election in 2020.
The third reason for the rate cut is the Fed's concern about the relatively low inflation. The nature of inflation is one of the biggest problems of economic theory because fears of rock-bottom inflation, fraught with deflation (a decrease in the general price level of goods and services due to excessively tight money supply) largely dictated the Federal Reserve's monetary policy during the 1990s and early-2000s. This is what many experts see as one of the main causes of the 2008 financial crisis. On the one hand, with the interest rates now being where they are, it is premature to talk about the possibility of a new uncontrolled surge in borrowings, similar to the one that preceded the 2008 meltdown. On the other hand, some economists worry about the potential for growing risks in the US economy, if the Federal Reserve continues slashing interest rates. Critics of low rates have traditionally pointed to their direct relationship with the emergence of financial "bubbles" on the markets, which precipitated America's slide into a recession in 2001 and 2007.
Finally, skeptics warn that official statistics about the state of the US economy make many people feel overly optimistic about the future. Meanwhile, indicators of leading companies' performance show that their operating profits have stopped growing for quite some time now, and that their main income comes from exchange rate fluctuations and capitalization growth. Meanwhile, the US' foreign debt keeps going up reaching a whopping $22 trillion, and the budget deficit is creeping up to $800 billion. This means that even the current GDP growth of almost 2.5 percent may not be enough to rectify the situation. "Under such circumstances, a single "spark" can send the fragile economic balance up in flames, and there is a sufficient number of such sparks around," said Yelena Chizhevskaya, vice president of the RFI Bank for Mobile and Electronic Commerce.
From the domestic political point of view, if the Fed's actions lead to a significant weakening of the dollar – and a number of experts are already talking about the start of the "bear cycle" of the US currency – this could result in a drop in incomes of US households in the walkup to the 2020 presidential elections.
Right now, America's robust economic performance remains a major factor behind Donald Trump's hopes for re-election in 2020. However, there are many signs of a possible decline, and a sharp one at that, in US economic growth rates "by the second half of 2020." By the time the Americans go to the polls, their moods may be way less optimistic than they are today. Finally, President Trump, who pictures himself as the greatest "realist" of the modern West has been increasingly getting a taste for blackmailing and pressuring his opponents and nominal allies alike. Meanwhile, many economists now fear that the Trump administration's "chaotic" and "provocative" actions may put the United States on a course to a new recession. If so, next year we may see unfolding a struggle for the post of the leader of one of the world's greatest powers that could prove even more uncompromising than what we saw happening four years ago.
From our partner International Affairs