Turning air pollution into art
Artists are known to take inspiration from the world around them. So it's no surprise that some have begun shining light on one of the most pressing environmental issues of our time—air pollution.
According to the World Health Organization, every year around 7 million premature deaths are caused by air pollution, with 9 out of 10 people breathing toxic air. Air pollution is also known to contribute to climate change and so efforts to tackle it can also help address the climate crisis.
The time to act is now, and artists, like so many others are looking at ways to raise awareness about air pollution, find solutions to reduce it and even use it as a resource.
Pollution Pods
Michael Pinsky got inspired by the differences between the various types of air pollution, when he set out to make Pollution Pods. The project consists of five domes, each imitating air in five different areas of the world: Northern Norway, London, New Delhi, Beijing and São Paulo. As you move through the domes you experience varied levels and sources of air pollution.
"I wanted to have very different sensations from one dome to another," Pinsky told UN Environment. "It's not just a question of how strong the pollution is but that they have very different characteristics as well."
For London, Pinsky recreates the smell of diesel. For Beijing, he mixes the smells of industrial fumes, coal or wood-based heating, and transportation emissions. While New Delhi whiffs of burnt plastic and grass, as citizens still burn a lot of their rubbish.
Luckily, the pollution is only in smell and visibility, without the actual harmful gases. But Pinsky says the experience still isn't very pleasant. That's the whole point: air pollution isn't pleasant.
Pinsky hopes Pollution Pods will lead to a more "radical approach" when dealing with air pollution, particularly with transportation. "It's not so easy to apply the same advocacy or philosophy towards different cities in the world," he said. "But in some cases, you could turn the problem around in two years with the right policies."
Smog-free towers
Daan Roosegaarde was motivated by living in Beijing and witnessing the city's strive for economic development and citizen wellbeing, when he created the Smog-free Tower. The "largest smog vacuum cleaner in the world", as Roosegaarde calls it, sucks up polluted air, cleans it and releases it back into the atmosphere.
"I thought to myself, 'I'm not a minister, I cannot give 20 billion euros to green energy today. But I'm an engineer and an artist, I can create a clean-air park, like an oasis.'"
The premise is that the smog-free tower sits in a city park, making the air 20–70 per cent cleaner than the rest of the city. It uses positive ionisation technology, which Roosegaarde says is the only way to clean large volumes of ultra-fine particles while using little energy.
Towers are now found around the world in China, Poland, the Netherlands, and soon, South Korea and Mexico. It's also led to a global campaign, with local partners in each country replicating the towers. Roosegaarde has now introduced the smog-free ring—made of compressed smog particles—and the smog-free bicycle as well.
"This is not utopia. It's a pro-topia where we, step-by-step, try to improve our cities," he said. "The grand goal is to have them not needed anymore, but until then, you do what you can to remain healthy."
Air pollution-based ink
Anirudh Sharma was visiting his family in Mumbai, India, when he began to notice that in the evening his white shirts would gradually turn speckled with something that resembled dirt.
"I realized this was air pollution, or sooty particulate matter, made of black particles released from exhaust of vehicles," Sharma told his alma matter Massachusetts Institute of Technology (MIT) Media Lab. "This is a major health issue."
When he returned to Massachusetts Institute of Technology, Sharma decided to do something about the air pollution back home. So he set up Graviky Labs—a start-up that has developed a technology to attach to diesel exhaust systems to capture particulate matter. The team at Graviky treat the soot to turn it into ink, called Air-Ink, for use by artists around the world.
So far, the start-up has captured 1.6 billion micrograms of particulate matter, or the equivalent of collecting 1.6 trillion litres of outdoor air.
"Less pollution, more art. That's what we're going for," Sharma said.
Asian Pop Culture for the UN Sustainable Futures
As a 16-year-old high school student in Taiwan, I've struggled to find opportunities to make an impact on international issues. Like many passionate students who are involved in Global Affairs and Model UN, I've always tried to take initiative and seek out opportunities that can promote youth action for a greater cause. With this drive, I decided to commit myself to the UNODC E4J's "Educating for the Rule of Law" project when I saw the competition poster on the UNODC website.
When I was five, my grandfather's Filipina caregiver, Aher, told me stories about her friends who were victims of human trafficking in Southeast Asia. As I grew older, with more access to resources and information from the internet, I began to dive into the details and history of the matter. After my grandfather passed, Aher also left the house and went to work for someone else, where, I found out, she faced maltreatment and abuse from the homeowner. Since the incident, I had the urge to work in the social justice and the law enforcement field. Now that I am a student, I can contribute to a wider audience through my art.
With a focus on Sustainable Development Goal 16 (Peace, Justice and Strong Institution), I decided to dedicate my song to human trafficking and the smuggling of migrants because of those very stories told by Aher. The entire process took me roughly four months in total. Every detail, from writing the lyrics, coming up with the melody and guitar chords with my peers, recording the song, adding instrumentals and beats, gathering video clips, editing video clips, and blending in the music to producing an awareness music video was worth the hard work. The result came as a shock. I couldn't imagine out of the 1,200 submissions around the world, I was selected. I was in disbelief when I woke up that morning and saw the notification on my phone: Invitation to the UNODC E4J High-Level Conference. Over the next few weeks, I rehearsed over and over again with my guitar and background track to make sure that my performance would be flawless.
Using my prior knowledge in music composition, international affairs, and public performance, I was able to successfully engage with the audience, maintaining my posture, and effectively delivering a speech about my motivation behind the creation of "Heed The Plea, and Set Them Free."As I wandered around the conference room, I took the initiative and spoke with numerous experts in different fields, gathering a stack of business cards, making long-lasting connections, and witnessing real-time professional operations inside the UN. I could feel a door had been opened.
The Experience
Mr. Yury Fedotov, Chief Director of the UNODC, tweeted a group picture of himself, me, and the other E4J winners with compliments and words of encouragement for all the effort that the youth have contributed towards promoting the culture of lawfulness. Meeting all the other winners of the contest was amazing as we shared our experiences and talked about our process of hard work. A teenager from the Philippines, who was the winner in the tertiary level, produced a short film about violence with an unforgettable use of emotion and film technique, connecting to the real-world issue of terrorism. The most phenomenal presentation of youth effort in fighting for the rule of law, however, came from a 14-year-old Nigerian girl who delivered a moving call-to-action to stand up for the rule of law, receiving a standing ovation from the crowd.
Although I told myself it was just like the many times performing for my band at school, I wasn't able to manage my emotions standing on the stage in front of diplomats, organization CEOs, and educators. Stage fright was hitting me like I was in elementary school again. This live performance, however, was not like any music performance at the courtyard or auditorium. This was a pivotal turning point in my life, presenting myself as a representative of a youth movement on an international platform. This performance was proof for every youth who has ever doubted they could impact global issues, and, more importantly, proof for everyone to witness youths' ability to make a difference in this world and to use art as a medium to influence people.
Beyond the performance
On day two, I had the honor of presenting my song, along with three other #Create4Justice artists, and discuss how various forms of artistic expression can be utilized to promote the rule of law. Along with three other panelists, I introduced my music as a medium to promote justice in an engaging way. I was deeply intrigued by how different manifestations of the arts can bring about awareness and change. Mr. Andrew Newman, a close friend and colleague, talked about the power of journalism and journalists' efforts to show the world the "truth" behind world issues through the camera lens. An Italian architect and artist talked about how transforming old houses into colorful artworks helps with crime prevention and overall community wellness. The one artist that I talked with the most and still stay in touch with to work on song collaborations was Mr. Leonardo Parrága from Colombia. Our common robust interest in Reggaeton music created a new hashtag,#ReggaetonPorJusticia (R4J) with the purpose of reaching Spanish-speaking audiences, addressing issues relevant to justice and law in South America, and transforming the provocative image of reggaeton-type music. In addition, the head of the UNODC Doha Declaration Global Programme, Mr. Marco Teixeira, showed a strong interest in Reggaeton and expressed a willingness to help with my song creations. Even more encouragement came from Dr.Sofija Bajrektarevic, Director-General of the fascinating Vienna-based platform 'Culture for Peace – Unifying potentials for the Future'. She suggested series of programs to be organised under her vision of bridging the generational gap through 'Tomorrow's People' Board.
An Album Is Born
I am ambitious. I started with one song, and now I want to kickstart a whole album consisting of 17 songs that showcase different styles of music, are written in a plethora of foreign languages, and appropriately represent each and every one of the UN Global Goals. My original idea was to convey a unique story through the medium of music with a visual (video) accompaniment. However, it wasn't as easy as I thought. It took me four months to finish producing my human trafficking song, "Heed The Plea and Set Them Free." I couldn't imagine the amount of time it would take for me to achieve this dream on my own. So I thought, why not feature different artists around the world, let them tell their own stories, and write their own lyrics in the languages closest to their hearts?
With the help of MUN Impact, I was able to launch my music project—The SDG Album, which involves youth from all over the world, creating songs about various global goal targets in the local language of their respective regions. Through all the hard work from MUN Impact, the outreach team, Mr. Andrew Newman, Ms. Lisa Martin, and the UNODC Education 4 Justice team, the album is now receiving submissions on a rolling basis. A winner, selected for demonstrating the most influential and effective idea through their song, will win a trip to MUN Impact Morocco in June!
During the High-level conference's first break, UNODC conference press Ryan Haidarian decided to interview me about my motives behind my song and my vision after this once in a lifetime experience. I had the honor to have this video featuring me shared across UN social media platforms such as Twitter and Facebook.
Major Takeaways
This event has helped me come to the realization that young people do have the power to make an impact on this world. The reality is, we, the youth, may not have as many resources, connections, or some would even say, maturity to handle the pressure. What we do have, however, is the most impact when it comes to advocacy because people will think, "If a 16-year-old can do it, I can do it too." From a middle school student miserably figuring out how Model UN works and how to overcome a paralysing fear of public speaking to an advocate for the SDGs, trying to change the world with his voice and guitar, I have grown. After the conference, it feels strange to receive messages and tweets from UN officials and high-level diplomats complimenting my work and effort in promoting the rule of law. I can't believe the profound changes a UN conference could bring to a teenager. From the media attention from Twitter and new insights about the United Nations to connections with people from educational institutions, UN agencies, and people with the same musical passion as me, leading to collaboration projects on song-productions on UN Global Goal topics, I can finally tell my friends from Model UN… I made it to the UN!
New Narratives Lab Promotes Next Generation of Cultural Leaders to Advance Change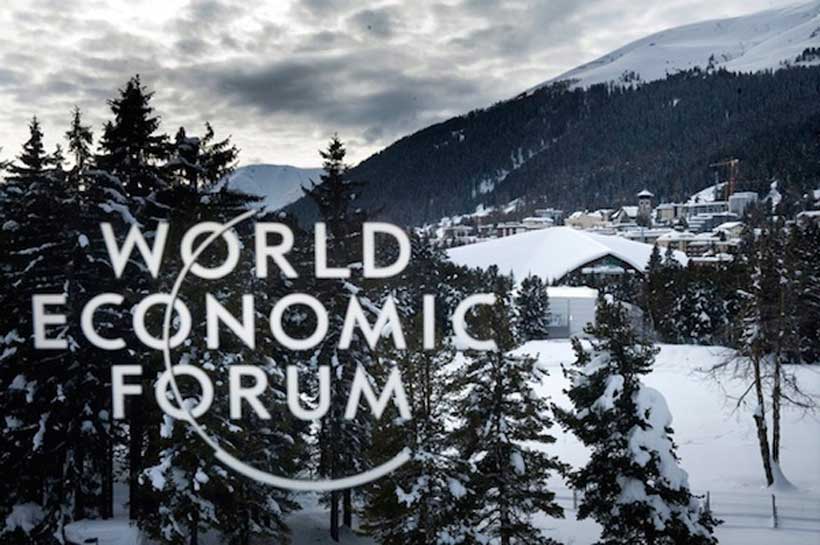 The World Economic Forum today launches the New Narratives Lab, a year-long fellowship dedicated to fostering a new and diverse generation of Cultural Leaders. Through one-to-one mentorship by the World Economic Forum's network of Cultural Leaders and support from peers, Fellows will develop leadership skills to navigate circles of power and decision-making to bring about change.
The Lab is developed in collaboration with 2020 Crystal Awardee Lynette Wallworth, with major support from the Ford Foundation. "Many artists from under-represented communities demonstrate great leadership potential and desire but may not have the access or resources to activate that leadership. This fellowship is a platform to support their journeys as leaders", said Nico Daswani, Head of Arts & Culture at the World Economic Forum.
Fellows will engage with their Mentors throughout the course of 2020, including at the Annual Meeting in Davos in January, during a weeklong residency at their mentor's location in the spring, during the UN General Assembly week in New York in September, and at other Forum events. In addition, Fellows benefit from targeted introductions to business leaders, policy-makers and media influencers in line with their development goals; a coordinated social media, media and documentation strategy; and a $15,000 stipend. Follow the Lab journey at #newnarrativeslab.
"By creating a new fellowship for cultural leaders who strive to create change and by surrounding them with a team of allies who have experience navigating corridors of power, we hope to elevate the role of artists as leaders and to lift them up as they generate urgent new narratives for a changing world", said Lynette Wallworth, Artistic Director of the Lab and 2020 recipient of the Forum's Crystal Award.
Fellow and Mentor pairings include:
Rena Effendi (Fellow, Istanbul) with Platon (Mentor, New York)
Rena Effendi is an award-winning photographer whose work portrays the socioeconomic effects of globalization on marginalized communities around the world. Effendi will be supported by Platon, one of the great photographers of our time, to combine powerful storytelling with real-world impact through the creation of multi-stakeholder coalitions.
Thando Hopa (Fellow, Johannesburg) with Angélique Kidjo (Mentor, Paris/New York)
Thando Hopa is a model, diversity activist and lawyer. In April 2019 she made history by becoming the first person with albinism to appear on the cover of Vogue. Hopa will be supported by Grammy Award winning musician and UNICEF Goodwill Ambassador Angélique Kidjo in advocating for more inclusive representation in media to benefit and support all bodies and identities.
Wanuri Kahiu (Fellow, Nairobi) with Jin Xing (Mentor, Shanghai)
Wanuri Kahiu is a filmmaker whose award-winning stories and films have received international acclaim and screened at more than 100 film festivals worldwide. Celebrated abroad, her latest film Rafiki was banned by her government for depicting a joyful lesbian love story. Kahiu will be supported by choreographer, media personality and one of China's most popular TV hosts, Jin Xing, in developing the narratives that will empower artists in Kenya and beyond to advocate effectively for their freedom of expression.
"This fellowship is a response to the critical need for a diversity of perspectives and voices, including those of artists, to be in conversation at the most influential levels, about a world guided by the goals of equity, justice and dignity." Said Cara Mertes, Project Director, Moving Image Strategies, International Programs, Ford Foundation
2020 European Capitals of Culture: Rijeka and Galway
As of 1 January 2020, Rijeka (Croatia) and Galway (Ireland) will hold the title of European Capital of Culture for one year.
"Thanks to their title of European Capital of Culture, Rijeka and Galway will be harnessing the full potential of culture to enrich our life experience and to bring our communities closer together", stated Vice-President for Promoting our European Way of Life Margaritis Schinas. "Promoting culture as a core element of our way of life has many positive impacts on society, in terms of social inclusion, integration and economic growth. It enables people to gain new experiences, skills and opportunities to participate in society and to make our societies fairer and more inclusive. I wish them every success in this endeavour."
"The European Capital of Culture initiative brings people together and highlights the role of culture in promoting the values on which our European Union is built: diversity, respect, tolerance and openness", statedCommissioner for Innovation, Research, Culture, Education and Youth, Mariya Gabriel. "A successful Capital of Culture is inclusive and meaningful to its citizens. It is also open to the world, illustrating our Union's willingness to promote culture as a driver for peace and mutual understanding worldwide whilst bringing long-lasting socio-economic benefits to its region. I very much look forward to visiting both Rijeka and Galway and wish them every success in 2020."
Rijeka is the first Croatian European Capital of Culture bringing it international visibility, which will extend to the rest of the Western Balkan region. 'Port of Diversity' will be the motto, with hundreds of projects among 250 partners from 40 countries. Rijeka's cultural programme focuses on the themes of water, work and migration, connected to its identity, but also current issues in the wider world. The opening exhibition will feature Rijeka's famous artist, David Maljković, with other highlights including 'The Sea is Glowing' exhibition; a world music and gastronomy festival – 'Porto Etno'; and new permanent installations of contemporary art on the coastline. Opening celebrations will take place on 1-2 February 2020.
Galway is the third city in Ireland to hold the European Capital of Culture title (after Dublin in 1991 and Cork in 2005). Galway's cultural programme motto is 'Let the Magic In', exploring quintessential local themes of language, landscape and migration – with a European and universal relevance and resonance. The 'Hope it rains' theme will use Galway weather as a source of creativity; while other highlights include a celebration of world literature – with a dramatic interpretation of the world's oldest surviving literary epic, the story of Gilgamesh; and excerpts from Homer's Odyssey, read on Galway beaches. Meanwhile, new installations will celebrate the beauty of Connemara and County Galway. Galway 2020 will begin in February 2020, at the start of Imbolc – the first Celtic season in Ireland's ancient, pre-Christian calendar.
Background
Melina Mercouri, then Greek Minister of Culture, took the initiative to start the European Capital of Culture in 1985. It has since become one of the most high-profile cultural initiatives in Europe. Cities are selected based on a cultural programme that must have a strong European dimension – promoting participation and active involvement by city inhabitants, communities and various stakeholders; and it must contribute to the long-term development of the city and its surrounding region.
Holding the title of European Capital of Culture gives cities the chance to boost their image, put themselves on the world map, promote sustainable tourism and rethink their development through culture. The title has a long-term impact, not only on culture but also in social and economic terms, both for the city and the region.
In 2019, Plovdiv in Bulgaria and Matera in Italy were European Capitals of Culture. Following Rijeka and Galway in 2020, the future European Capitals of Culture will be Timisoara (Romania), Elefsina (Greece) and Novi Sad (Serbia, candidate country) in 2021, Esch (Luxembourg) and Kaunas (Lithuania) in 2022, Veszprém (Hungary) in 2023 and Tartu (Estonia), Bad Ischl (Austria) and Bodø (Norway, EFTA/EEA country) in 2024.