Ukraine Needs Faster Growth to Boost Living Standards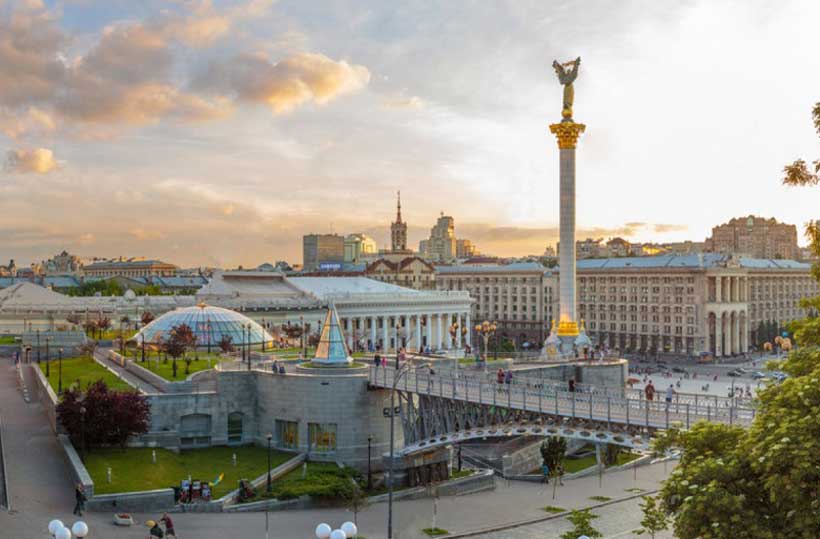 Ukraine's economy grew by 3.3 percent in 2018, supported by a good harvest and strong consumption growth from higher wages, pensions, and remittances, according to the World Bank's latest Ukraine Economic Update. However, investor confidence has been held back by uneven reform progress, election-related uncertainties, and high borrowing costs, with growth of 2.7 percent projected in 2019.
"In order to accelerate economic growth, Ukraine needs swift progress on key unfinished reforms," said Satu Kahkonen, World Bank Country Director for Belarus, Moldova and Ukraine. "This includes opening the agricultural land market, unbundling the energy sector, strengthening governance of state-owned banks, making progress on anticorruption, and safeguarding fiscal stability."
If the key reforms progress swiftly, economic growth is projected to rise to 3.4 percent in 2020 and 3.8 percent in 2021. By contrast, if reforms do not progress, growth would fall below 2 percent as investor confidence deteriorates and macroeconomic vulnerabilities intensify.
Ukraine faces macroeconomic vulnerabilities from large public debt repayments obligations in 2019-2021 and pressures on current expenditures. This will require mobilizing adequate international financing and further strengthening public finances to meet the fiscal deficit target. Particularly important in this regard is affordable implementation of recent reforms in health, education, pensions, public administration, and social assistance. It will also be important to put in place a more equitable and growth-friendly tax system.
Tapping Ukraine's growth potential …
According to the World Bank's Special Focus Note on Ukraine's growth potential, achieving strong growth for an extended period of time is critical for Ukraine to catch up with the income levels of neighboring European countries.
If the status quo and the growth rate of recent years continues, it will take Ukraine more than 50 years to reach the income levels of today's Poland.
While Ukraine has made progress over the last five years in strengthening the foundations for sustainable growth, the economy continues to be constrained by unfinished reforms that lead to low productivity, over-reliance on commodity-based exports, limited foreign direct investment and global economic integration, and weak institutions.
Going forward, Ukraine's key challenge is not to achieve high growth next year or for a few years, but rather to make economic growth faster, last longer, and kinder by giving equal opportunity to all.
Achieving higher and sustained economic growth will require progress on further critical reforms to boost productivity and investment, including in the following areas: rule of law and property rights protection; land reform; governance and supervision in the financial sector; competition in the gas sector; and logistics and connectivity to fully leverage external trade opportunities.
Improved Skills and Job Opportunities for Youth in Maldives
The World Bank Board of Directors today approved a $20 million financing to provide market relevant skills and increase employment opportunities for youth in Maldives.
Basic human development indicators are high in Maldives, with the adult literacy rate at 98.6 percent and life expectancy at 77.6 years. The new project will help the Government of Maldives accelerate human capital accumulation, increase employment opportunities for young people, promote equitable economic and social progress in the country, and fulfill the vision for a climate sensitive Blue Economy.
"The Maldivian youth hold the key to the country's future prosperity," said Idah Z. Pswarayi-Riddihough, World Bank Country Director for Maldives, Nepal and Sri Lanka. "We are happy to partner with the Government to develop 'A 21st Century Skills Development Strategy' and test a diversified approach to skills and entrepreneurship that are responsive to the demand-led labor markets and the needs of the local population, particularly the most vulnerable groups."
This project will also focus on improving female labor-force participation in Maldives by fostering new skills development, such as programming bootcamps to empower young women to pursue home-based work in ICT-related services.
Shobhana Sosale, Adja Mansora Dahourou, and Harsha Aturupane, Project Task Team Leaders from the World Bank highlighted that "Diversified skills and entrepreneurship development will help Maldivian youth to become more employable, harnessing their contribution to the development of the country and promoting the well-being of their communities. We hope that the project can contribute to setting up strong decentralized skills and entrepreneurship ecosystems for accountable, effective and responsive lifelong learning and opportunities for youth."
The new Enhancing Employability and Resilience of Youth Project will be co-implemented by the Ministry of Higher Education and Ministry of Economic Development along with island administrative councils, city councils, and women's committees participating in the project. The total project cost is $20 million, including a $10 million grant and a $10 million credit from the International Development Association.
IEA takes part in G20 Energy and Environment Ministerial in Japan
The International Energy Agency has provided in-depth support for this weekend's meeting of G20 energy and environment ministers, including the publication of a major new study on hydrogen's potential role in global energy transitions.
Under Japan's G20 presidency, the ministerial meeting took place in the town of Karuizawa.
The IEA report on hydrogen – The Future of Hydrogen: Seizing Today's Opportunities – analyses hydrogen's current state of play and offers recommendations for its future development and how it can help to tackle critical energy challenges. The IEA carried out the study at the request of Japan's G20 presidency. It was launched Friday by Dr Fatih Birol, the IEA's Executive Director, alongside Mr Hiroshige Seko, Japan's Minister of Economy, Trade and Industry.
The IEA provided several other important contributions to the G20 this year at the presidency's request, including an analysis identifying more than 100 innovation gaps across the energy system and recommendations for how to fill them; a report on securing investment in low-carbon power generation; and other activities and analyses to encourage greater international collaboration on data gathering.
The IEA's G20 work also involves tracking progress towards phasing out inefficient fossil fuel subsidies that encourage wasteful consumption. This is done through an annual update in the World Energy Outlook, the IEA's flagship publication, and a joint report with the Organisation for Economic Co-operation and Development.
At the ministerial meetings in Karuizawa, Dr Birol presented findings from the new reports and spoke about other important topics, including energy access in Africa, tracking progress towards clean energy goals and developments in the global trade in liquefied natural gas (LNG). (Slides from his two presentations are available here and here.)
On the sidelines, he held bilateral meetings with ministers from several countries, including Australia, Brazil, India, Indonesia, Japan, Saudi Arabia and Singapore.
The IEA also supported the official side events of the ministerial meetings: the G20 Natural Gas Day, the G20 Energy Efficiency Financing Summit and hydrogen investor events in Japan. The IEA's contributions to this year's G20 are the latest instance of the agency's active support for a range of G20 meetings and work streams over the past 10 years.
Special Course on "China's Foreign Policy and Economy-2019" Launched in Armenia
The "China-Eurasia" Council for Political and Strategic Research in cooperation with the Armenian State University of Economics, started the "Rethinking China's Foreign Policy and Economy-2019" Special Course.
The main aim of this special course is to introduce China's Foreign Policy to those who are interested in China and its politics, providing them with solid knowledge and information about this great power, which increases its economic and political influence in the world through its Belt and Road Initiative.
The special program conducted by Armenian, Chinese and foreign scholars, who cooperate with the "China-Eurasia Council for Political and Strategic Research, Foundation and have solid professional background of doing research on issues related to China's foreign policy and economy.
As a result of competition only 32 young specialists won the opportunity to be invited to participate as students in this significant course.
During the opening ceremony of Special Course, Vice-President of the National Assembly of the RA Lena Nazaryan spoke about the importance of deepening Sino-Armenian relations. She mentioned that the current government stresses the importance of further development of relations with China. Mrs. Nazaryan talked about the visit of the Prime Minister of Armenia Nikol Pashinyan to China. During her speech, she introduced also the results of the negotiations with the Vice Chairperson of the Standing Committee of the National People's Congress of the of the People's Republic of China (PRC) Shen Yueyue during her official visit to Armenia. The Vice-President talked about the necessity of further cooperation with the academicians particularly stressed the importance of the Initiative of special course "Rethinking China's Foreign Policy".
In turn, His Excellency Chinese Ambassador to Armenia Mr. TianErlong presented the main directions of China's foreign policy, spoke about the goals and success of the "Road and Belt" initiative. Mr. Tian Erlong mentioned about peculiarities of the Chinese foreign policy: Five principles of peaceful coexistence. Talking about the Armenian-Chinese relations, he mentioned about the great potential of two countries that still must be used and developed.
The head of the "China-Eurasia" Council for Political and Strategic Research-Dr. Mher Sahakyan noted that considering the growing role of China in the current world order, it is a necessity to study and understand this country, deepen relations between Armenia and China. He expressed hope that the participants of the course "Rethinking China's Foreign Policy and Economy" will use the knowledge gained within the framework of this program to further develop Armenian-Chinese relations for the sake of Motherland.
In turn, professor, Dr. Ruben Hayrapetyan stated: "I think that organizing such kind of trainings is of great importance for our country. It is now that we must decide how and with what kind of effectiveness, we will pursue our foreign policy as human resource is the most important one. For the development of the latter we are obliged to transfer and disseminate the skills and capacities that will provide a significant result in long term prospective throughout such kind of trainings. Cooperation with China has always been and will continue to be one of the priorities for our country. Thus, as a result of the course, we expect that participants will have a greater opportunity to contribute to the development of Armenian-Chinese relations in all directions thanks to their knowledge gained.