A Dozen Interesting Facts About Four Seasons Hotel Bengaluru
1. Located in North Bengaluru, the city's growth corridor, Four Seasons Hotel Bengaluru can be reached in less than 30 minutes from Kempegowda International Airport.
2. The Embassy ONE estate comprises triple skyscrapers—Pinnacle Tower, comprising premium grade office spaces and retail, South Tower which houses the hotel building flanked on the other side by the North Tower, comprising private residences.
3. Set amid 5.6 acres (243,936 square feet) of landscaped gardens and water features, the hotel is a unique combination of modern urban architecture dotted with calming parksand gardens. All the restaurants have an adjoining al fresco area.
4. The resort-like vibes can best be felt in the heart of the estate comprising a 100 feet (30 metre), heated outdoor pool, the meditative Butterfly Garden and the Ribbon Lawn.
5. Alongside the pool and located behind a soothing waterfall is Infuse Spa, which gives one an illusory feel of time travel under water, with its fluid, recurring arches and cool cream and aqua design aesthetics.
6. The hotel design is modern and sleek, designed by internationally acclaimed firm Yabu Pushelberg marked by a dominant recurrence of straight lines and geometric patterns, with the 21st Floor making a complete departure with its unmistakable flair and style. Designed by LW Design, this floor is unlike the rest of the hotel and houses 2 remarkable dining outlets: Copitas, the destination bar and Far & East, the Asian Brasserie.
7. The event spaces are modern, have a separate entrance and are all located on the same floor with an adjoining Terrace that makes for a great al fresco event area.
8. The art in the hotel is multilayered with a play of textures from wood, ceramics, canvas, iron to bronze. All works are by a collection of 25 contemporary Indian artists who have seen recent acclaim in the last few years.
9. There is a custom built, expansive grill in the restaurant CUR8, which is powered by charcoal and is perhaps one of the largest in the country.
10. The Lobby Lounge & Terrace has some special tea blends curated specially for the hotel. Among them are Rose tea, Apple Cinnamon Duet, Wild Berry Tales which is a green tea with berry undertones, Orange Blossom with a sweet vanilla and citrus note, Summer Times redolent of ripe mangoes and the Chocolate Mint tea that one can replace dessert with.
11. The hotel is pet friendly. We welcome furry friends and family to stay, provided he or she is well within 15 kilograms (33 pounds) in size.
12. The Collection has a selection of more than 60 world whiskies and whiskey inspired cocktails.
An Endless Summer Awaits at Four Seasons Hotel Casablanca
Every summer has a story to tell. From connecting with loved ones to exploring new places, this is the season to chill, have fun and make memories at Casablanca's best urban resort. Four Seasons Hotel Casablanca has curated a series of exciting and delicious summer experiences to embrace this season's vibes.
When temperatures begin to climb, it's time to soak up the sun in the ultimate chill out zone of the city. Latitude 33 offers the perfect oasis among palm trees where guests can choose from a bespoke selection of refreshing beverages and the latest menu of Executive Chef Christophe Laplaza. For lunch, guests are invited to taste delectable creations showcasing the best of fresh local and international specialties such as salmon magnumor black buns burger with lobster. Those who are looking for sweetness by the pool, Pastry Chef Brian Gartner make their craving come true with delicious chocolate chouquette, berry cheese cake, or savoury homemade sorbet.
This year, Four Seasons Hotel Casablanca introduces its first ever Cabana Experience. Inspired by the heritage of the famous coastal city and the relaxed yet sophisticated style of the Hotel, the cabanas' design combines the fresh Atlantic breeze with the tropical summertime spirit.
Hyatt Regency Shenzhen Yantian Opens in East Shenzhen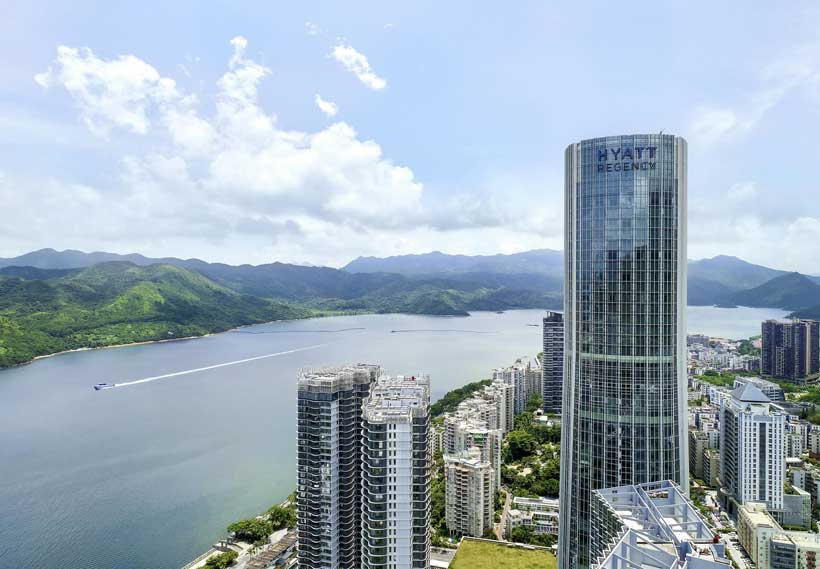 "We sincerely appreciate the support from our owner Shenzhen Vanke Binhai Real Estate Ltd. and are excited to see the Hyatt Regency brand footprint grow in the Guangdong-Hong Kong-Macao Greater Bay Area (GBA)," said Stephen Ho, president, Greater China, global operations at Hyatt. "We look forward to welcoming our guests to Hyatt Regency Shenzhen Yantian with confidence for a world-class hospitality experience."
Guestrooms
Hyatt Regency Shenzhen Yantian was designed by the renowned HEITZ PARSONS SADEK and features 298 contemporary guest rooms with varied dimensions ranging from 462 square feet to more than 2,300 square feet (43 square meters to 215 square meters). There are 20 suites, four Regency Executive Suites and one Presidential Suite, all of which are spacious and located on the 41st to the 50th floor. Select rooms offer gorgeous ocean views and all rooms feature high-quality amenities and panoramic French windows. Guests staying in Club Access Rooms and Suites can enjoy the exclusive Regency Club benefits on the 49th floor.
Dining and Drinking
The hotel offers several fine dining restaurants that cater to varying tastes and group sizes, including:
XIANGYUE, a Chinese Restaurant on the 6th floor providing authentic Cantonese flavors as well as cuisines of neighboring areas. A comfortable experience that feels like dining in a country village, the restaurant's layout includes a "Dai Pai Don" style open kitchen offering guests a high-touch taste of Cantonese life.
Market Café is a stylish all-day dining restaurant where guests can enjoy a collection of global delicacies. Whether buffet breakfast and dinner, or all-day a la carte service, Market Café will satisfy any taste with a flavorful option. The Lounge is the ideal place to gather friends or family and enjoy themed afternoon tea and various hand-crafted cocktails. Guests can also visit the Sky Lobby, ideal for connecting with colleagues over a vibrant scenery. For a stress-free meal, the hotel offers 24-hour in-room dining services with a range of selections available anytime.
Meetings and Events
To build a dynamic experience for groups that feels connected, motivated and inspired, the hotel events team will be at hand to support customers during conferences, special events and weddings. The hotel offers nearly 25,000 square feet (2,321 square meters) of meeting and event space in total, including a 12,916 square foot (1,200-square meter) pillar-free grand ballroom and five salons equipped with high-tech audio and video systems. Additionally, the ballroom foyer provides more than 6,500 square feet (612 square meters) of flexible pre-functional space to perfectly showcase the creativity of any event.
The scenic surroundings at Hyatt Regency Shenzhen Yantian create the perfect backdrop for weddings of all sizes. A bridal suite with separate fitting room and living room is situated right beside the grand ballroom to deliver a brilliant wedding experience.
Wellbeing
Guests can relax in the hotel's refreshing outdoor pool or work out anytime at the hotel's fully equipped fitness center featuring state-of-the-art equipment.
"Inspired by the hotel's surroundings, the hotel was built with the concept of bringing the forest into the city, offering guests a place to take a deep breath of fresh air and bask in the beautiful scenery," said Mary Liu, general manager of Hyatt Regency Shenzhen Yantian. "As a bridge between GBA and the Pearl River Delta area, Shenzhen is at the core of this booming region. We are delighted to deliver Hyatt's well-known expertise in food and beverage and full range of services and amenities for a productive stay.
Special Offer
To provide World of Hyatt members even more ways to be rewarded, World of Hyatt is offering members the opportunity to earn 500 Bonus Points for qualifying nights at Hyatt Regency Shenzhen Yantian, from September 1 to November 30, 2019, as part of World of Hyatt's new hotel member offer.
Additional participating hotels and their offer stay periods can be found at worldofhyatt.com/newhotelbonus. No registration is required and members can earn on top of other offers.
Hyatt Centric Brand Debuts in Mexico With the Opening of Hyatt Centric Campestre Leon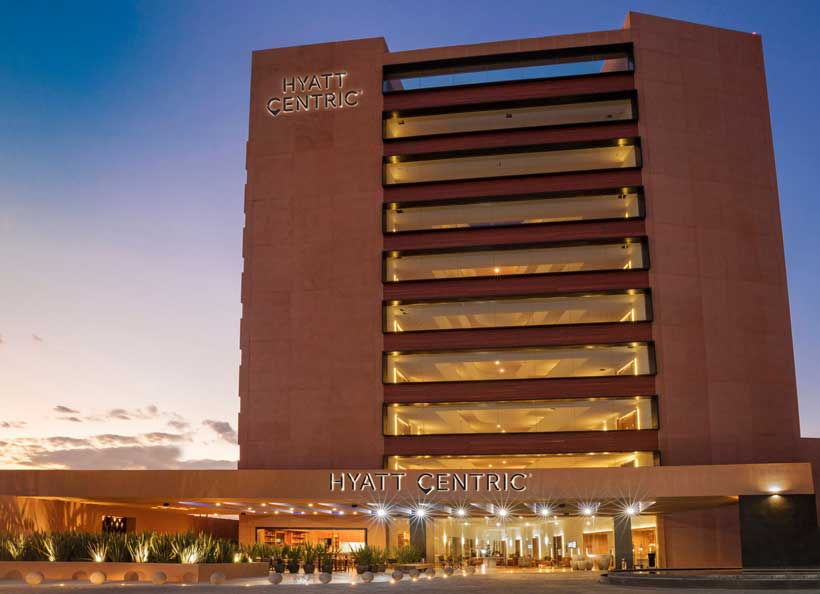 Hyatt Hotels Corporation announced the opening of the 140-room Hyatt Centric Campestre Leon, marking the Hyatt Centric brand's entry into Mexico. Hyatt Centric Campestre Leon is the latest hotel to join the global Hyatt Centric portfolio that is designed for a growing segment of savvy explorers seeking shareable moments to inspire others. The Hyatt Centric brand currently has 26 properties across 12 countries, including the U.S., Chile, Peru, Uruguay, France, Japan, Spain and more.
Situated within Puerta Bajio, a leading mixed-use development in Leon's "Golden Zone" area, the city's epicenter of business and commerce, Hyatt Centric Campestre Leon was rebranded from Cleviá Grand Hotel León and is managed by Grupo Hotelero Santa Fe. Featuring 140 guest rooms and a vibrant rooftop bar, Hyatt Centric Campestre Leon comes to life with locally inspired décor, furniture and finishes. This premium hotel is situated within one of the fastest growing areas in Leon, which is approximately one hour from Mexico City by plane.
"We are thrilled to announce the opening of Hyatt Centric Campestre Leon, which connects in-the-now guests to the heart of the action so they never miss a moment of adventure in one of Mexico's most thriving industrial destinations," said George Vizer, senior vice president, Americas franchise operations, Hyatt. "With this new addition, Hyatt continues its strong brand growth in the region and introduces the Hyatt Centric brand to Mexico, one of the most significant destinations throughout Latin America."
Hyatt Centric Campestre Leon features redesigned guestrooms with floor-to-ceiling windows, oversized, ergonomic workspaces that meet guests' business needs, and approximately 6,800 square feet of flexible meeting and event spaces offering the ideal social spaces to connect with others for business meetings and events. Featuring an expansive atrium-style lobby with shareworthy artwork from local artists, an outdoor swimming pool on the ninth floor complete with sweeping city views, gym and a kids club, the hotel also houses Cien Tios gourmet cantina and Xilote, a concept restaurant offering authentic Mexican cuisine and an extensive variety of specialty tequilas and mezcals. With a passionately engaged team, the hotel's programming is ideal for socially connected guests.
As part of its transition to the Hyatt Centric brand, the hotel now features new in-room Hyatt Centric amenities including the all-natural bath essentials line BeeKind®, Drybar Buttercup salon-quality blow-dryers, and a Keurig® pod coffee maker.
"The state of Guanajuato is rich in culture and history, and the city of Leon continues to grow as a buzzing business hub, which will allow us to introduce the vision of this brand in combination with superior accommodations and intuitive service for those travelers who have the spirit to discover and explore," said Francisco Medina Elizalde CEO, Grupo Hotelero Santa Fe.