WWF Launches Activation Hub to Help Prevent 10 Million Metric Tons of Global Plastic Waste
The global plastic pollution crisis is threatening the natural environment on which we depend – impacting oceans, communities, wildlife, and people at an unprecedented rate. While many companies and organizations are committing to curb plastic pollution, some lack a roadmap to follow when implementing these commitments. Today WWF launched a new activation hub, ReSource: Plastic, to help solve this problem.
WWF estimates as few as 100 companies have the potential to help prevent roughly 10 million metric tons of the world's plastic waste pollution – If done through industry, private sector and government collaboration. Even more, this number could triple by inspiring a ripple effect across supply chains and industry sectors.
ReSource seeks to tap into this massive potential by helping companies align their large-scale plastic commitments from aspiration to meaningful, measurable action. ReSource will collaborate with industries to ensure a systems-based approach to addressing plastic production, consumption, waste management and recycling as a single system.
"ReSource is designed to identify the concrete changes that will make the biggest impacts in reducing a company's plastic pollution footprint," said Nik Sekhran, Chief Conservation Officer, World Wildlife Fund. "To get closer to our goal of no plastic in nature will take nothing short of transforming the entire value chain. With ReSource, companies now have access to more advanced tools to maximize, measure and multiply their commitments to make this a reality."
Six of the world's leading companies, including Keurig Dr Pepper, McDonald's, Procter & Gamble, Starbucks, Tetra Pak and The Coca-Cola Company have signed on as Principal Members.
"Addressing the plastic problem in our oceans, rivers and land is everyone's responsibility – including the companies that use much of the plastic in the world today. It's a complex issue with no one-size-fits-all solution, and that's why we're so energized by the approach WWF is taking with the ReSource program," said Virginie Helias, Vice President and Chief Sustainability Officer, Procter & Gamble. "ReSource will bring a systems approach in partnership with many stakeholders – common metrics, best practices, accountability – that is much needed to accelerate progress on long-term solutions."
A recent report by WWF, "No Plastic in Nature: A Practical Guide for Business Engagement," examined the scope and causes of the plastic waste crisis and laid out a clear and pragmatic guide for businesses to lead the much-needed plastics revolution. This guide provided the vision and foundation for the design of ReSource. Measurement and transparent reporting are paramount if this challenge is to be met. ReSource will track and publicly report progress on the amount of plastic waste prevented by participants on an annual basis.
"We are proud to join WWF as a Principal Member of ReSource," said Francesca DeBiase, McDonald's Executive Vice President and Chief Supply Chain and Sustainability Officer. "This partnership perfectly aligns with our ambition to use our Scale for Good and work with others to develop thoughtful, scalable solutions that will make a significant impact on the plastic pollution challenge."
WWF is working to change the way the world sources, designs, collects and reuses plastic – taking the approach that no individual, organization, business or government can tackle the root causes of plastic pollution on their own. The complexity of the challenge demands collaboration and ReSource delivers on this demand by connecting companies with other key stakeholders to share discoveries and investments that will multiply the impact of these efforts globally.
Leading organizations tackling the plastic waste crisis, Ellen MacArthur Foundation (EMF) and Ocean Conservancy, have joined ReSource as Thought Partners. EMF has already united hundreds of organizations around a set of 2025 targets through the New Plastics Economy Global Commitment. EMF will work closely with WWF to ensure ReSource is aligned with their vision of a circular economy for plastics and to provide organizations with the tools needed to achieve these targets. For years, Ocean Conservancy has convened scientists and businesses around solutions to the ocean plastic crisis through its Trash Free Seas Alliance®, of which WWF is a member. Ocean Conservancy will help ensure ReSource is informed by deep ocean expertise, particularly as ocean plastic pollution has become a driver for change toward a circular economy.
"World Wildlife Fund is a key partner for Starbucks in our efforts to continue minimizing our environmental footprint," said John Kelly, Senior Vice President of Global Public Affairs and Social Impact, Starbucks. "We look forward to being a part of ReSource: Plastic as we know it takes collaboration to find scalable, truly impactful solutions. We're committed to learning and leading alongside other brands as we work toward our aspiration of sustainable coffee, served sustainably."
ReSource is part of WWF's global No Plastic in Nature campaign to protect the world's oceans and biodiversity by tackling marine litter and unnecessary plastic consumption.
Nigeria's 300,000 tonne e-waste gold mine drives a new circular economy
The Nigerian government, the Global Environment Facility (GEF) and UN Environment today launched a new $15 million initiative to turn the tide on e-waste in Nigeria. A global model for a circular electronics system, the project was announced at the Forum's Annual Meeting 2019 and will kickstart a sustainable electronics economy in Nigeria, protecting the environment while creating safe employment for thousands of people.
The initiative will transform Nigeria's current informal and hazardous recycling into a formally legislated system that benefits all actors by including a small fee on the sale of electronics to subsidise formal recycling.
Speaking at the launch of the programme, Permanent Secretary of the Ministry of the Environment, Ibukun Odusote, said e-waste posed a grave danger to both the environment and human health in Nigeria.
"This intervention by Global Environment Facility aims to stimulate the development of a sustainable circular economy for electronic products in Nigeria." She noted that the project would also support the E-waste Producers Responsibility Organization – a key initiative of the Government of Nigeria to promote sustainable production and consumption by encouraging producers to take responsibility for the entire life cycle of their products.
With 100 times more gold in a tonne of e-waste than in a tonne of gold ore, alongside other scarce and valuable materials such as platinum, cobalt and rare earth elements, a safe and efficient recycling industry has huge economic potential.
According to the International Labour Organization, up to 100,000 people work in the informal e-waste recycling sector in Nigeria, and over half a million tonnes of discarded appliances are processed in the country every year. Yet waste that is considered to have no economic value is often dumped or burned – releasing pollutants like heavy metals and toxic chemicals into the air, water and soil.
The initiative will develop systems for the disposal of non-usable and toxic waste, aiming to collect, treat and dispose of more than 270 tonnes of e-waste contaminated with persistent organic pollutants and 30 tonnes of waste containing mercury.
The project also aims to have an impact beyond Nigeria through the development of a practical circular electronics model for Africa and beyond, by sharing best practices, promoting regional and global dialogue, and engaging global manufacturers.
The initiative sits within the Circular Economy Approaches for the Electronics Sector in Nigeria project and will be implemented by the National Environmental Standards and Regulations Enforcement Agency. The $15 million scheme brings together players from government, the private sector and civil society. It is part of the Platform for Accelerating the Circular Economy (PACE) built by the World Economic Forum, and sees cooperation with recyclers and electronics manufactures Dell, HP, Microsoft and Phillips. PACE is looking for opportunities to scale and replicate the system in partnership with more companies and in other countries.
Dominic Waughray, Managing Director and Head of the Centre for Global Public Goods at the Forum said, "This project demonstrates how the circular economy can spur economic growth, create jobs and benefit the environment. As a platform for public-private collaboration, the World Economic Forum is delighted by the teamwork between recyclers and electronics manufacturers working side by side with government and international organizations to reach shared goals"
"The environmental and economic benefits of a circular economy are clear," said Inger Andersen, UN Environment Executive Director. "This innovative partnership with the Government of Nigeria and the Global Environment Facility is a positive step in the country's efforts to kickstart a circular electronics system, and one that UN Environment is proud to support."
As voices for the planet grow louder, we must get the job done
There is something in the air. I am not talking about pollution or greenhouse gas emissions. I am talking about the change humanity needs to address these and other environmental challenges, which have placed our planet and societies in imminent peril.
We can all sense this change: in our workplaces and schools, in our cities and communities, in the boardroom and in the media, in parliaments and city councils, in laboratories and business incubators.
People from all corners of the world are demanding a fundamental redesign of how we – as individuals and as a society – interact with the planet. There is a clear understanding that we must live within the limits of our natural world. In response, we are seeing humanity's astonishing capacity for innovation and imagination turn towards finding solutions.
Never before has the environmental mandate been more visible, recognized and acted upon. But then again, never before have the stakes been higher.
Pollution of air, land and water is poisoning the planet, from the deepest ocean trench to the highest mountain peak. The latest climate alarm, from the Intergovernmental Panel on Climate Change, told us how little time we have to ward off the worst impacts of climate change. Scientists from many different bodies are warning that human activity is devastating biodiversity – threatening livelihoods, food security and society as we know it.
We have serious work to do. We need to ensure a healthy environment for all, which is essential to development, peace, stability and the eradication of poverty. We need to change our environmental footprint: how we use and discard, how we plan and build, how we power our societies, how we measure growth, and how we share the planet with other species.
Today, as I take up the leadership of the United Nations Environment Programme, I am convinced that we can get this job done, together. Environmental management and sustainability have been at the core of my personal journey since my first job in the 1980s in Sudan, where I worked on drought and desertification issues. I have seen what people can achieve when they work with each other towards an important goal.
In these days of change, the organization I am leading is critical. The United Nations Environment Programme is the link between science and policy action by governments – which is a key driving force for change. The organization's Medium-Term Strategy (2018-2021) and accompanying Programme of Work informs, supports and assists nations as they work towards a sustainable future. This Programme of Work – which guides every action the organization takes – is fully aligned with the Sustainable Development Goals, the Paris Agreement and many other international processes. We collaborate just as closely with civil society and the private sector, without whom change at the speed and scale we need simply will not be possible.
We also have a long history of horizon watching, of identifying waves that are coming to our shores, and supporting nations as they come to agreements around issues that require coordinated global action. The United Nations Environment Programme hosts the secretariats of many multilateral agreements on environmental themes: from biodiversity and ecosystems to regional seas, from chemical waste management to protecting the ozone layer. I look forward to supporting these agreements so that their ambitious goals can be achieved.
The UN Environment Programme is here to support the wider UN system and every process linked to environmental action. In September this year, at the UN Secretary-General's Climate Action Summit, countries will showcase a leap in collective ambition. In 2020, at the next meeting of the UN Convention on Biological Diversity, the world will agree on new and – I hope – ambitious targets to arrest biodiversity loss. Whatever my organization can do to support these encouraging moves, we will do.
Like any organization, though, we must evolve and improve. I have taken to heart the changes demanded of this organization. I will work closely with my dedicated staff, management and Member States to make sure we drive forward, while learning from the past. We will adhere to the high standards expected of an institution with such a powerful global mandate: safeguarding life on earth.
As we work ever harder and better, our success will not be defined by a report or a conference, but by how we support Member States and their people to shift the needle.
Success for us means halting the rapid loss of species. It means preventing seven million people from dying of air pollution each year. It means countries taking action towards sustainable consumption and production. It means a planet powered by clean energy. It means all of humanity reaping the benefits of a healthy and thriving environment for centuries to come.
Today, as I arrive in beautiful Kenya, I will do everything I can to work with staff, Member States and partners to make this happen.
Restoring the Caribbean to the paradise it used to be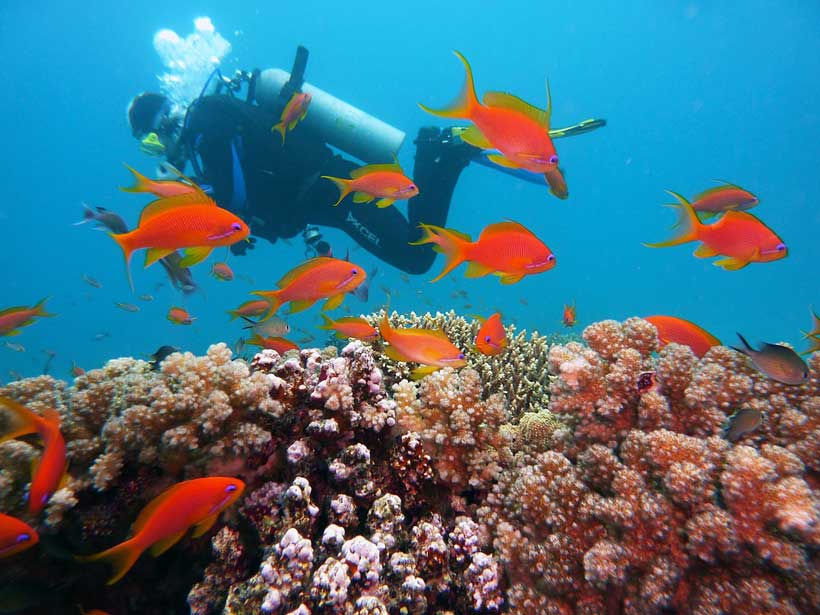 When people think of the Caribbean, it's the turquoise seas, clean beaches, coral reefs teeming with fish, turtles and balmy breezes that come to mind.
For us, this paradise is what we call home. We depend upon its riches for sustenance and, often, to make a living. It is the origin of much of the pride we feel when we say we are from the Caribbean.
Increasingly however, the reality does not live up to expectations—we may arrive at the seashore to find it covered with sargassum, the water cloudy and brown, and the horizon covered in trash; the coral reefs may look faded and tired and with barely enough fish to count on one hand…
For visitors, what version of the paradise they may find is becoming unpredictable and some may never return, depending on their experience.
For locals, it's a different matter—as seafood prices go up and children develop rashes after swimming in the ocean, and as houses flood after each storm and tourists turn their backs on the islands, the paradise is increasingly looking less idyllic.
Sounding a wake-up call to protect the reefs
More than 100 million people in the wider Caribbean region live on, or near the coast in a complex ecosystem with the highest number of marine species in the Atlantic Ocean.
Shallow-water coral reefs, mangroves, seagrass beds, lagoons, estuaries and beaches as well as coral banks and rocky outcrops in deep waters together make up the coral reef sub-ecosystem, the richest in biodiversity in the wider Caribbean region.
Almost 10 per cent of the world's coral reefs are found in the Caribbean Sea and Gulf of Mexico, and 45 per cent of the fish species and 25 per cent of the coral species are found nowhere else in the world. With an area of 10,429 square kilometres of mangrove forest, the adjacent North Brazil Shelf has the highest mangrove coverage of any large marine ecosystem.
This wide ecosystem supports three of the region's major fisheries—reef fish, spiny lobster and conch—and is the foundation of the region's tourism industry. Coral reefs, mangroves and seagrass beds also play an important part in coastal and shoreline protection under normal sea conditions as well as during hurricanes and tropical storms.
A 2016 study by the World Bank put the economic value of the Caribbean Sea alone at US$407 billion per year. Yet this precious ecosystem is at the heart of competing economic and social demands as well as natural stresses and threats.
Pollution from activities on land and at sea degrades and destroys the reef. Many once-abundant species are now threatened or endangered.
Hurricanes are becoming more frequent and more severe, resulting in great destruction and loss of lives, leaving both the coastline and local communities more vulnerable to future shocks.
A strategy to keep it pristine
Since 1981, UN Environment's Caribbean Environment Programme has been working with the region's national governments to better manage and use coastal and marine resources.
Following the establishment, in 1983, of the Cartagena Convention—the only legally binding agreement for the protection of the Caribbean Sea—the programme has relentlessly worked to gain acceptance of, and agreement upon, three protocols or agreements to combat oil spills [the Oil Spills Protocol] coastal and marine biodiversity [the Specially Protected Areas and Wildlife Protocol] and pollution [the Land Based Sources of Marine Pollution Protocol] among its 28 member states and 14 territories.
As a result of the analysis of the wider Caribbean region conducted between 2007 and 2011 by the joint United Nations Development Programme and Global Environment Facility's Caribbean Large Marine Ecosystem Project (2009–2014), the coral reef sub-ecosystem was given priority in a regional strategy to address transboundary problems that compromise the ability of the Caribbean Sea and the region's living marine resources to support social and ecological well-being and resilience.
In the last two years, the Specially Protected Areas and Wildlife Protocol, together with the Caribbean and North Brazil Shelf Large Marine Ecosystems Project 2015–2020, published the Report on the State of Marine Habitats in the Wider Caribbean, which then became the basis for the Regional Strategy and Action Plan for the Valuation, Protection and/or Restoration of Key Marine Habitats in the Wider Caribbean 2021–2030. The strategy recommends a series of measures to support the people, economies and ecology of the region, targeting coral reefs, mangroves and seagrass beds in particular.
Using an integrated approach, participating governments and stakeholders from academia, civil society, the private sector, and regional and global agencies are working together to enhance management and conservation of the coral reef sub-ecosystem in support of sustainable development.
UN Environment's Caribbean Environment Programme, as Secretariat of the Specially Protected Areas and Wildlife Protocol, has been working to revamp the Caribbean Marine Protected Areas Managers Network and establish a regional wildlife enforcement network, in efforts to improve marine biodiversity management. Assisting the region and its countries in co-executing the strategic action plan is another important step in this direction. The Caribbean Environment Programme is driving the process, building the alliances needed to ensure the integrity of Caribbean coral reefs, seagrass beds and mangroves, in the hope to bring back the paradise we all expect.