Pointless Colonial Massacres and Post-Colonial Wars and Killings on the Indian Subcontinent
Two colonial mass killings from the twentieth century are always remembered: The Qissa Khwani Bazaar massacre on April 23, 1930 in Peshawar (then India, now in Pakistan) was the result of peaceful demonstrations protesting the arrest of Khan Abdul Ghaffar Khan who had called for a nonviolent movement of 'patience and righteousness.' Authorities nervous at the size of the crowds called in the military. The local Garhwal Rifles refused an order to fire. A special city disturbance column and four armored cars were sent for; they did not. The number of dead vary with the source ranging from 20 to 400. Whatever the figures, the incident legitimized the protest movement and creating a new Gandhi of the northwest in Ghaffar Khan.
Pakistan since independence has had insurgencies — in the Northwest where Peshawar is located,in Baluchistan (ongoing) and, the worst of all in its eastern half in 1971 that led to the birth of Bangladesh. Estimates of casualties range from 300,000 to 3 million.
This year is the centenary of the notorious Jallianwalla Bagh massacre in Amritsar. April 13, 1919 was the day of Baisakhi, a major Sikh festival, so people had come to the holy city from surrounding Punjab villages and gathered to listen to speakers. They were also unhappy with the deportation of independence leaders Dr. Saifuddinn Kitchlew and Dr. Satya Pal out of state to Dharamsala. The protesters were mostly Sikh, the leaders being deported a Muslim and a Hindu, and India then secular in the minds of the people.
Brig-General Reginald Dyer the local commander had banned all meetings. To him the crowd gathering in the Bagh was a challenge to authority. He took a contingent of Gurkha troops and proceeded forthwith to disperse what to him was an illegal assembly. It is worth noting that Nepali Gurkhas are alien to the area, speak a different language, and look more like Tibetans. The force took up positions on a raised bank at the main entrance and were ordered to fire on the unarmed crowd. People tried to flee toward the other exits and in the stampede some were trampled. Yet the firing continued for an incomprehensible ten whole minutes using up 1650 rounds and leaving hundreds dead and over a thousand wounded.
No respite for the Sikhs despite their anti-Muslim stance during the 1947 partition. In 1984 following Indira Gandhi's assassination by a Sikh bodyguard — itself a result of her military response killing Sikh religious zealots occupying the Amritsar Golden Temple — riots broke out. An estimated 8000-17,000 Sikhs were killed in Delhi and Haryana. The connivance of the Delhi police and the Congress party has long been suspected, and Human Rights Watch has complained of no prosecution for the killings. Ditto for the perpetrators of the Muslim pogrom in Gujarat during Narendra Modi's rule.
While the callousness of the Qissa Khwani Bazaar and Jallianwalla Bagh incidents horrifies, the number killed pales in comparison to what has happened since independence. Within months of freedom, India invaded the independent principality of Hyderabad, allied to the British since the 18th century. An estimated 200,000 people were killed and many fled to Pakistan.
It also invaded, occupied (1973) and then annexed Sikkim in 1975, a Himalayan foothill monarchy since 1642. The suppressed independence movement in neighboring Assam and the Northeast and other ongoing insurgencies across at least a quarter of India continue.
In Kashmir, a decades long struggle for some kind of autonomy has cost tens of thousands of lives. Estimates vary from 40 to 80 thousand. Some Indians have a conscience: Long critical of India's stance, the Booker Prize winning novelist and peace activist Arundhati Roy has called the Modi government 'reckless' in its policy there.
The Muslim minority in India appears to be intimidated and abused. A recent feature story on Chamanganj, a Muslim neighborhood in Kanpur, illuminates the distress and discrimination experienced by Muslims. The Congress candidate never visits; the BJP candidate shows up hoping to capture some votes but his party's policy is notoriously anti-Muslim.
The violence against Christians is also on the rise. Opendoorsusa.org reports over 12,000 incidents last year, while the number of churches attacked rose dramatically from 34 to 98. It has now become the 10th most dangerous country in the world for Christians on the 2019 World Watch List.
A secular India, the pride of Indian independence leader and its first prime minister Jawaharlal Nehru, is under threat. In its place, a muscular Hindu nationalist agenda enforced by goons from nationalist organizations has been labeled "saffron terror". The Hudson Institute called these attacks "not inchoate mob violence, triggered by … insult; rather they involved careful planning by organized Hindu extremists …"
The record is surprising yet evident: Independent India has killed hundreds of times more people than the Dyer atrocity, and the present-day Indian subcontinent is becoming a noticeable contrast to the relatively secular country of 1919. In India itself, the Modi government and its affiliates by encouraging Hindu nationalism must shoulder the blame.
Abrogation of Article 370 and Pakistan's Pathetic Response
Pakistan, which is a party to Kashmir dispute could not make significant move after the Indian decision to scrap Article 370. The fragile economy, conventional military asymmetry and limited influence in international community restrict the options for Pakistan to take any strong stance against Indian illegal decision.
A month ago the government of BJP illegally dissolved the special status of Jammu and Kashmir through demolishing the Article 370. The article provides immunity to Jammu and Kashmir from Indian laws except foreign affairs, finance and communications. The decision is profoundly rejected by masses of Jammu and Kashmir and Pakistan. In the mean time the opposition parties in India also expressed strong dissatisfaction against decision and predicted severe repercussions for Indian state. The decision has also been challenged in the Indian Supreme Court and hearing has already been started. Yet, since the 5th August Kashmir is under siege, curfew has been imposed, communication network, medical and health facilities have been blocked. The international human rights organizations and defenders issued a genocide warning and warned India not to commit genocide.
In this critical situation which is developed by India, Pakistan took stance to stand by Kashmir. Pakistan highlighted the violent action which engulfed the rights and lives of Kashmiri people's. Although Pakistan expressed strong resistance and proclaimed to use all the means to give Kashmiri's their right, but there is a huge difference in words and deeds. On behest of Pakistan, China called UN Security Council meeting to discuss the issue and Chinese ambassador strongly condemned the Indian action and urged both parties to resolve the dispute through peaceful means. Yet it is important to point out that permanent members of UNSC refused to issue a post meeting joint statement.
Here it is wise to highlight that the international politics is dominated by the self-interests of dominant powers and weak states have no say in the system. Pakistan could not compete with Indian power in international relations. After scrapping the article, India immediately sought foreign support and Prime Minister Narendra Modi went to different states. Modi visited France, Bahrain and UAE, while Prime Minister of Pakistan Imran Khan only made phone calls to seek support against Indian action. This clearly disclosed the inefficiency of Pakistan to counter the Indian narrative.
Indian economic and investment potential is another factor behind cool response of international powers. India is trading partner of many countries and most prominent among them are USA, UK, UAE, China, European Union and Australia. The US has invested 9 million in India during the 2016 and UK has signed the commercial deals of 9.3 million recently. Australia is benefitted from Indian students and its education export is 2 billion dollars. EU a group of 27 independent states is another major investor and trade partner of India with 2.5 % international shares.
In contemporary international politics, diaspora is a backbone of any nation and same is true for India. It is observed that Indians are residing almost every influential state. More than 3.5 million Indians are working in UAE. During the 2015, Indian share was 16% in expats residing in the US, and Saudi Arabia host 1.9 million Indians. Kuwait having 1 million Indian workers and Oman 777,632 Indians. Europe also host the 1.2 million Indians.
The bilateral trade of India with US, China, EU, Japan, and Australia is impressive. In 2019, bilateral trade of India-China crossed the 100 billion, which expects to grow further. The US is second largest trading partner of India in goods, and the single largest export destination of Indian exporters. The bilateral trade has been grew at 7.59% annually from 68.4 billion in 2008 to 142.1 billion in 2018.
The 8.8 million Pakistanis are residing in western states, 4.7 million are living in EU and 1.2 in U.K. But Pakistan failed to activate its diaspora to promote national interests of the state. The Pakistani leadership never paid serious attention to engage diaspora, which resulted in poor representation of Pakistan in international community. On the other hand, Indian diaspora is much influential and have strong say in policies of US and EU. Their skills and education help them to climb the ladder of success and influence. So, it is high time for Pakistan to devise an effective strategy to lobby the national interests and engage diaspora. The diaspora is considered the defense line as they bridge the gap between their parent and host state.
Pakistan's economic structure is fragile with rising debt and prices of commodities. The country is dependent on international monitory institutions to repay its debt which crossed over 100 billion dollars. It is on 150thposition in poverty index among 189 countries according to UN Human Development Indicators. The value of rupee is decreased to lowest level and government is losing its credibility. Pakistan is spending its 20% budget on Army which is higher than education, health and social development allocation. The fragile economy, poor coordination in policy making and influence of military in foreign policy making has reduced the role of other state institutions. Although, current civilian government claims that civilian and military leadership is on same page, but the poor and ill-coordinated response exposed the fault lines. The top hierarchy of civilian and political leadership did not bother itself to convey Pakistani position on Kashmir, except making statements.
If Pakistan really want to influence the international community, then it needs to fix its poor economy, to improve its human and social system, engage diaspora, make effective and inclusive foreign and security policy. The economic, political and military power can guarantee the national interests of the country. So Pakistan work tirelessly on all the fronts to achieve the status of major power.
Pakistan's peace-loving gestures are considered its weakness, unfortunately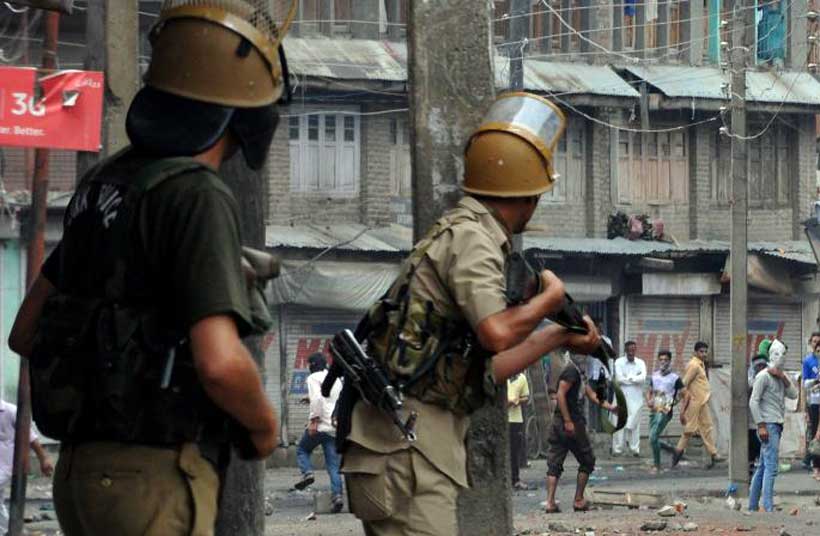 Pakistan is a peace-loving nation and a responsible state. The leadership, civil and military. Both are visionary and rational very much. Pakistan was the hub of western tourists in the 1950s, 1960s, and 1970s, due to its natural beauty, friendly and hospitable environment, and affordable living. Economic growth was one of the highest in this part of the world. But suffered a lot since the 1980s, due to the situation in Afghanistan. It was not our war, but unfortunately, we were pushed into this war. As a result, Pakistan offered 80,000 precious lives of Pakistani nationals, an economic loss of estimated up to 250 billion US dollars. In addition to it, extremism, terrorism, trafficking, smuggling, ethnicity, intolerance, gun, and drug culture, etc. were a gift. Due to the war-like situations during the last 4 decades, nations spared all resources, including human resources, financial resources etc on imposed war-front. As a result, industrial agriculture, infrastructure development, education, SW&T, R&D, Innovation, Commercialization, Health Sector, etc all walks of life suffered a lot and as result, today facing the worst economic crisis with over 100 billion foreign debt.
But, after having so many bitter lessons, the nation is even more mature and trained to survive under any circumstances. In fact, has emerged one of the most resilient nation. India staged the drama of "Pulwan" on 14 February this year, and without collecting evidence and investigation, just within hours, blamed Pakistan and threatened Pakistan. Pakistan offered to extend full cooperation in investigation and punish the responsible. But, India, according to pre-plan, attacked Pakistan on the 25th of February and dropped bombs in Balakot a city deep inside Pakistan. The leadership of Pakistan is very much sensible and rational and noticed that India is pushing Pakistan into full-scale war. The visionary leadership in Pakistan realized the consequences of war, especially when, both India and Pakistan, both are nuclear states, possessing enough piles of lethal weapons to destroy each other completely, and its impact on the region as well as global. Formulated a smart strategy to respond on the 27th of February, giving a message to India, that although Pakistan has capabilities and enjoys supremacy over India, it still sticks to "Love-For-Peace" and does not wish to opt for war, successfully averted to escalate to a full-fledged war. Even that, Pakistan released the captured pilot of Indian air force inside Pakistan territory, as a good-will gesture.
India revoked its own constitution on the 5th of August and imposed curfew in Kashmir. It is an act of war and violation of UN charter, Simla Agreement and all norms & practices of civilized world. Siege of Kashmir, complete black-out by suspending Internet, mobile phone services. Cutting all modes of communication, evacuating all foreigners and visitors from Kashmir. Keeping people under house arrest. Occupying forces are killing, arresting, detaining and raping on a mass scale and draconian laws imposed empowered the security forces to shot at a spot on suspicion only, with any judicial process. After 42 days of curfew, people are facing a severe shortage of food, fuel, electricity, medicines, and life is completely at a halt, stand-still status. It is the largest curfew in the known-history of human beings, as around 8 million people are under siege, and Kashmir has been turned into a big jail, people are treated as prisoners. India's atrocities and brutalities have crossed all records of human rights violations.
UN, Human Rights Organizations, Mainstream Media, International organizations, NGOs, the whole International community have shown deep concerns on Indian atrocities. Protests, agitations, rallies, and demonstrations, all around the world as solidarity with the people of Kashmir have been witnessed. European Parliaments, UNSC, OIC, SCO, and all other international organizations are worried about the deteriorated situation of humanity in Kashmir.
Kashmir is a dispute between China, Pakistan, and India. India has illegally occupied a part of Kashmir known as Indian Occupied Kashmir. But people of Kashmir are spread all over three parts, i.e in Pakistan known as Azad or Free Kashmir and China. Kashmir is one nation and having blood relations in all three parts. They are charged at peak to enter into India Occupied Kashmir and help their brothers and sister in Indian Occupied Kashmir. They wanted to provide them food, medicines and basic necessities of life. The government of Pakistan is trying its best to stop them to march toward Indian Occupied Kashmir, as they are unarmed and simple villagers, they might have the high spirits to rescue the lives of their brothers and sisters in Indian Kashmir but might face firing by Indian Army. I am afraid, the public pressure is growing with passing each day and they might march toward Indian Occupied Kashmir, and Pakistani Security Forces may not be able to stop them, then they might come under the Indian forces firing range. It might complicate the situation. The government of Pakistan is committed to observing restrains and avert any war, with India, but if its civilians are killed, it may create an unexpected situation, difficult to predict the reaction.
On the other hand, Indian military deployment along the line of control and frequent violations of line of control, use of cluster bombs on civilian population inside Pakistan, and war-preparations are alarming. Indian Army Chief announced that The Indian Army is well prepared to Attack Pakistan and just waiting for a signal from its Government in Delhi.
Pakistan is trying its best to observe restrains and showing maximum tolerance and patience. But India considers Pakistan "Love-For-Peace" as its "weakness", Unfortunate! Very Unfortunate!
Webinar: Kashmir Outside the Crosshairs- Does Anyone Care about Kashmir?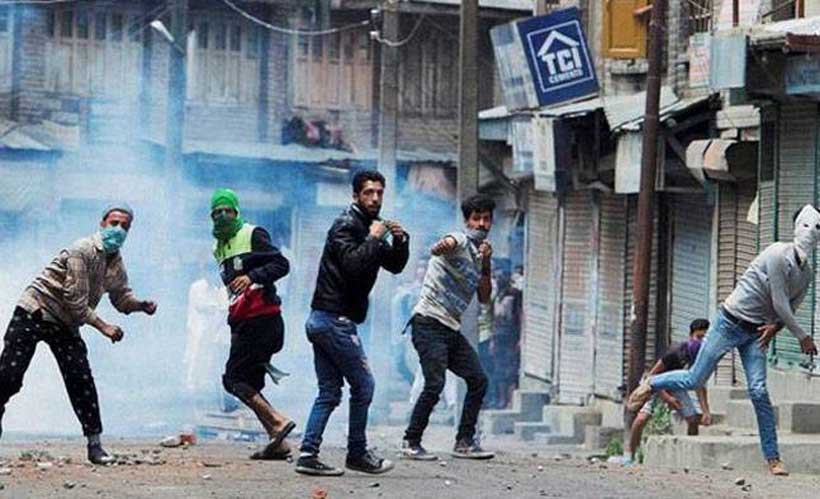 Join Modern Diplomacy and our Executive Vice Chairman, Prof. Matthew Crosston, for a Live Intelligence briefing / Webinar, on Sunday September 29 at 18:30 (IST) to learn:
* Why does the US continue to ignore Kashmir but give loads of attention to every country around it?
* Is it necessarily a positive if the US DOES start paying attention to it?
* What would be GOOD attention and what be BAD? Which one is the US likely to give?
* Can Kashmir ever be left alone to develop independently and not be a pawn of regional neighbors?
These and other controversial but critically important questions will be covered in an exciting intelligence briefing that will still allow for a dynamic, open discussion exchange with one the world's most recognized, accomplished and sought after Intelligence experts, Dr. Prof. Matthew Crosston, Executive Vice Chairman of Modern Diplomacy.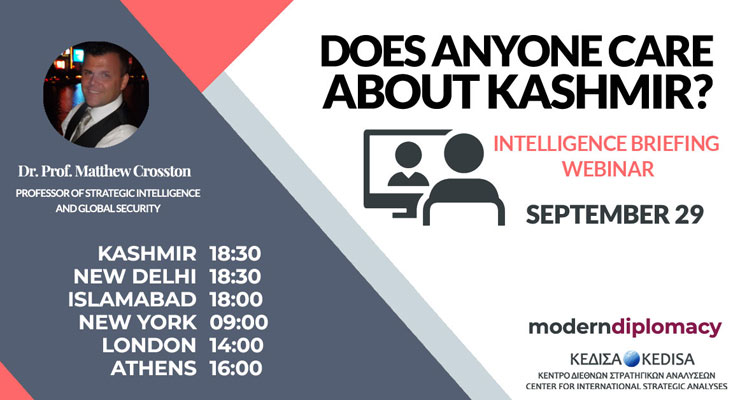 Dr. Matthew Crosston is Director over all Intelligence programs and Professor of Strategic Intelligence and Global Security in the School of Security and Global Studies at the American Military University. He is an acclaimed author and international speaker who consults with governments, media organizations, and academic institutions on a range of issues covering peace mediation, human rights conflicts, resource dilemmas, intelligence, change leadership, and education innovation. His works overall have been translated into Russian, Arabic, Chinese, Indonesian, Hebrew, Spanish, Turkish, Farsi, Greek, and Uzbek. He has a BA from Colgate University, MA from the University of London, PhD from Brown University, and completed his Post-Doctoral Fellowship at the University of Toronto.
Modern Diplomacy and Center for International Strategic Analyses