Erasmus+: a turning point in the lives of 5 million European students
New evidence shows that Erasmus+ makes students more successful in their personal and professional lives and helps universities to become more innovative, according to two new independent studies released today by the European Commission.
The large-scale studies based on the feedback from nearly 77 000 students and staff and over 500 organisations measure and analyse the impact the Erasmus+ programme has on its main beneficiaries. Results show how the EU programme helps prepare young Europeans for the new digital era and thrive in their future careers. Erasmus+ also boosts innovation capacity of universities, their international engagement and ability to answer the needs of the labour market.
Commissioner for Education, Culture, Youth and Sport, Tibor Navracsics said: "It is impressive to see how Erasmus+ enables young people to thrive in the modern labour market and in a more diverse society. I am happy to see that Erasmus+ graduates feel more ready to take on new challenges, have better career prospects and are more aware of the benefits the EU brings to their daily lives. At the same time, universities that take part in Erasmus+ are not only more international but also better placed to respond to the needs of the world of work."
The key findings of the studies are:
Erasmus+ helps students find their desired careers and get jobs quicker
Over 70% of former Erasmus+ students say that they have a better understanding of what they want to do in their future careers when they return from abroad. Their experience abroad also enables them to re-orient their studies to better match their ambitions. The higher education impact study further reveals that 80% were employed within three months of graduation and 72% say their experience abroad helped them get their first job. Nine in ten Erasmus+ alumni say they make use of the skills and experiences acquired abroad in their daily work. Erasmus+ addresses skills mismatches by focusing on soft and interdisciplinary skills development businesses need.
Erasmus+ boosts European sense of belonging
More than 90% of Erasmus+ students also improve their ability to work and collaborate with people from different cultures and feel they have a European identity. The biggest impact is on the students who felt less convinced about the EU prior to their exchange and the students that spent time in a more culturally different country. Of all Erasmus+ students those coming from Eastern Europe identify the most with the EU.
Erasmus+ supports digital transformation and social inclusion
Erasmus+ cooperation projects make the majority of participating universities better prepared for digital transformation. Making use of new technologies and innovative teaching and learning methods helps strengthen their international cooperation and innovation capacity. Academic staff, who made use of Erasmus+ are more open to involving staff from enterprises in their courses than their non-mobile peers, around 60% compared to 40%. More than 80% of academics report that their experience abroad has led to the development of more innovative curricula. Moreover, two out of three participating universities stated EU-wide projects also contribute to increasing social inclusion and non-discrimination in higher education.
Other findings show that former Erasmus+ students are more satisfied with their jobs compared to those who have not gone abroad. They also have careers that are more international and are almost twice as likely to work abroad. Erasmus+ also supports entrepreneurship. One in four cooperation projects contributed to entrepreneurial education and strengthened entrepreneurship. A third of projects helped create spin-offs and start-ups.
Background
Between 2014 and 2018, more than 2 million students and staff in higher education undertook a learning, training or teaching period abroad as part of the Erasmus+ programme. During the same period, almost 1 000 Erasmus+ Strategic Partnerships between higher education institutions and 93 Knowledge Alliances between universities and businesses received EU funding. More than 40% of these trained students and academic staff in forward-looking skills related to environment and climate change, energy and resources, digital (ICT and digital skills) and entrepreneurship.
The two studies (Erasmus+ Higher Education Impact study and the Erasmus+ Higher Education Strategic Partnerships and Knowledge Alliances study) assessed the impact of the programme on its two main beneficiaries: individuals and organisations.
For the first study, almost 77 000 responses, including from around 47 000 Erasmus+ students, 12 000 graduates and 10 000 staff members with Erasmus+ experience were analysed. The findings of the second study are based on responses from 258 Erasmus+ Strategic Partnerships and Knowledge Alliances (representing 504 organisations) awarded funding in 2014-2016 as well as 26 detailed case studies.
Climate change should be EU Parliament's first priority, according to citizens
Combating climate change should be Parliament's top priority, new Eurobarometer reveals, highlighting youth-led climate protests as great influencers.
"Combating climate change and preserving our environment, oceans and biodiversity" should be the European Parliament's (EP) biggest priority, EU citizens say in a new Eurobarometer survey commissioned by the EP and conducted in October 2019. Climate change was already one of the leading reasons for voting in the European elections last May, especially for young people. Now, for the first time, citizens are putting climate change at the top of a Eurobarometer priority list.
In total, 32% of Europeans point towards the fight against climate change and preserving the environment as the most important issue for MEPs to address. It is the most mentioned item in 11 member states, especially in Sweden (62%), Denmark (50%) and The Netherlands (46%).
The Eurobarometer survey also asked respondents which environmental concern is the most pressing. An absolute majority of Europeans (52%) believe that it is climate change, followed by air pollution (35%), marine pollution (31%), deforestation and the growing amount of waste (both 28%).
Parliament President David Maria Sassoli, (S&D, IT), who arrives in Madrid on Monday to attend the opening of the UN COP25 climate change conference, said: "This survey shows very clearly that Europeans want action from the EU on combatting climate change. Yesterday in Strasbourg, the European Parliament approved a resolution declaring a climate and environmental emergency in Europe and globally. We are listening to our citizens and stressing the need to move beyond words to action".
Youth-led protests make a difference
Over the course of the past year, youth-led protests have mobilised millions of people in the EU and globally.
This new Eurobarometer survey shows that close to six out of ten European citizens are confident or convinced that youth-led protests have a direct impact on policy at both national and European level.
The Irish (74%), Swedes (71%) and Cypriots (70%) are most convinced that the protests will lead to political measures being taken at EU level, compared to 42% of Czechs and 47% of UK citizens.
Background
Since 1973, the Eurobarometer has measured European citizens' perceptions of and expectations of the EU. Kantar collected the data for this Eurobarometer and the fieldwork took place 8-22 October 2019 in all 28 EU member states. A sample of 27,607 representative respondents above the age of 15 were interviewed face-to-face for the report. The data and the full report will be published on 10 December 2019.
Europeans show record support for the euro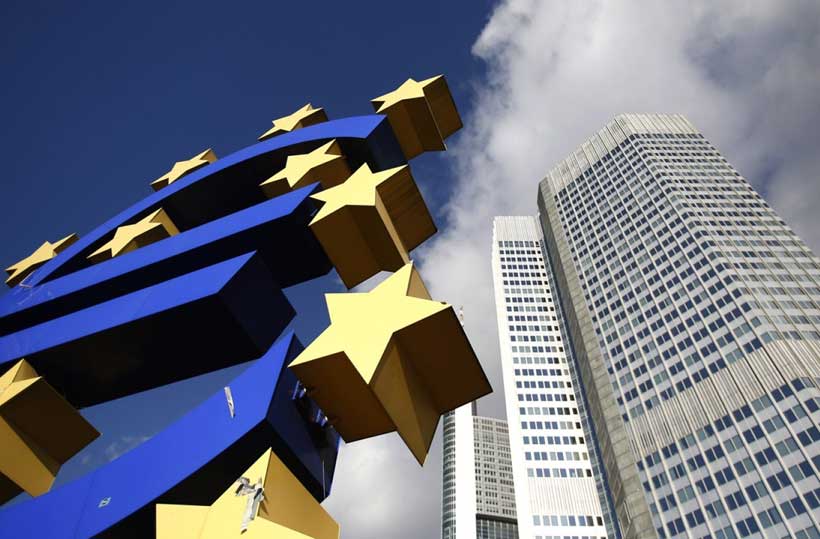 More than three in four citizens think that the single currency is good for the European Union, according to the latest Eurobarometer results. This is the highest support since surveys began in 2002.
According to the results of the latest Eurobarometer survey on the euro area, 76% of respondents think the single currency is good for the EU. This is the highest support since the introduction of euro coins and banknotes in 2002 and a 2-percentage point increase since last year's already record levels. Similarly, a majority of 65% of citizens across the euro area think that the euro is beneficial for their own country: this is also the highest number ever measured. The common currency is supported by a majority of citizens in all 19 euro area Member States.
Jean-Claude Juncker, President of the European Commission, said: "Almost 28 years after I added my name to the Maastricht Treaty, I remain convinced that this was the most important signature I ever made. The euro – now 20 years young – has become a symbol of unity, sovereignty and stability. We have worked hard over the past five years to turn the page of Europe's crisis, ensure that the benefits of jobs, growth and investment are reaching all Europeans and make Europe's Economic and Monetary Union stronger than ever. The euro and I being the only survivors of the Maastricht Treaty, I am glad to see this record-high support for our single currency on my last days in office as President of the European Commission. The euro has been the fight of a lifetime and it is one of Europe's best assets for the future. Let's make sure that it continues to deliver prosperity and protection to our citizens."
Valdis Dombrovskis, Vice-President for the Euro and Social Dialogue, also in charge of Financial Stability, Financial Services and Capital Markets Union, said: "The euro today is stronger than ever, bringing numerous benefits for people, businesses and countries from replacing 19 different currencies with one. It is not a coincidence that most Europeans support the euro. This record-high support gives us a clear mandate to work on further strengthening of our Economic and Monetary Union and reinforcing the international role of the euro."
Pierre Moscovici, Commissioner for Economic and Financial Affairs, Taxation and Customs, said: "Long gone are the days when the integrity of the single currency was in question. The euro is one of the biggest European success stories, and ithas brought tangible benefits to European citizens, businesses and governments alike. We have strengthened our Economic and Monetary Union since the crisis and since the start of this Commission, but the work is not yet finished. The future of the euro is still to be written. We must make sure that this support continues to rise and that the benefits of the euro are shared more equally among all of our citizens."
The euro makes it easy
Still a young currency, the euro has just turned 20 this year. Nevertheless, Europeans clearly see the very practical benefits it has brought to their everyday lives. Four fifths of respondents agree that the euro has made it easier to do business across borders, compare prices and shop in other countries, including online. An absolute majority in the euro area also think that the euro has made traveling easier and less costly.
The euro is more than just the coins and notes in our pockets: it is a symbol of Europe's unity and global strength. Today, it is already the currency of 340 million Europeans in 19 Member States. It has brought tangible benefits to all: stable prices, lower transaction costs, protected savings, more transparent and competitive markets, increased trade, easier travel and higher living standards. Some 60 countries around the world link their currencies to the euro in one way or another.
Strong support for reforms, coordinated economic policies, but also for abolishing one- and two-cent coins
Asked about their views on the coordination of economic policy, including budgetary policies, 69% of Europeans see the need for more coordination in the euro area, whilst only 7% would like to see less cooperation.There is also continued strong support at 80% for economic reforms to improve the performance of national economies. This is also reflected in national results, with clear majorities in all euro area countries.
A majority of 65% of respondents said they were in favour of doing away with inconvenient one- and two-euro cent coins through the mandatory rounding of the final price of purchases in shops and supermarkets to the nearest five cents. An absolute majority supports this idea in 16 out of the 19 euro area countries.
Background
Citizens replied to a set of questions focusing on issues ranging from perception and practical aspects of the euro to their assessment of the economic situation, policy and reforms in their country and in the euro area. In addition, the survey asked citizens about their views and expectations regarding household income and inflation.
Some 17,500 respondents across the 19 euro area countries were interviewed by phone between 14 and 19 October 2019.
Afghanistan: EU reinforces humanitarian support with €40 million as crisis worsens
The European Commission has allocated an additional €40 million in emergency assistance for those affected by the worsening humanitarian situation in Afghanistan, as well as for Afghan refugees in neighbouring Pakistan and Iran. This brings total EU humanitarian aid for the Afghan crisis to €77 million in 2019: €61 million in Afghanistan, €9 million in Pakistan and €7 million in Iran.
"The humanitarian outlook in Afghanistan is as bleak as ever. Not only has the conflict between the government and non-state armed groups intensified since the beginning of the year, but devastating floods have also hit this war-torn country. The EU is boosting humanitarian aid to help those most in need, especially children," said Commissioner for Humanitarian Aid and Crisis Management Christos Stylianides.
The new funding will get aid to the most vulnerable families across the country, focusing on the victims of war, forced displacement and natural disasters, as well as returning Afghan refugees. This includes providing emergency healthcare, shelter, food, access to clean water and sanitation facilities, and protection services, targeting women and children. The EU will also continue to provide education for children who have had to leave their schools.
In Pakistan, the EU funding will provide assistance to Afghan refugees, as well as internally displaced Pakistanis. In Iran, EU aid will ensure the delivery of vital assistance, including protection and access to basic services such as education and healthcare, to Afghan refugees in the country.
The EU has funded humanitarian operations in Afghanistan since 1992, providing up to €872 million to date. Funds are allocated strictly on the basis of the humanitarian principles of independence, impartiality and neutrality to ensure access to those in need and are only provided to humanitarian organisations.
Background
Afghanistan is one of the most violent crisis-ridden countries in the world. The worst-hit communities are those that have been displaced or have lost access to basic services due to the conflict between government forces and armed opposition groups, which has worsened since the beginning of 2018. While the conflict continues to limit people's access to basic services and lifesaving assistance, the total number of displaced people has risen to almost 3.4 million. Meanwhile, at least 6 million Afghans still live as refugees in neighbouring Iran and Pakistan, many of them without registration or legal status.
The risks of natural hazards further aggravates the humanitarian needs. The aftermath of the 2018 drought and 2019 floods continue to affect over 6.2 million people in 22 out of 34 provinces across Afghanistan.