7 Must Visit Sites in Chiang Rai
"Chiang Rai is steeped in culture and tradition, with so much to explore and a lot to be discovered," says Tobias Emmer, Camp Manager at Four Seasons Tented Camp Golden Triangle, "Don't leave Chiang Rai without seeing these sites!" These seven must-do experiences journey through the culture, tradition and rich history of this region.
Hall of Opium: Located close to the very fields where millions of poppies once bloomed, the Hall of Opium museum offers a comprehensive look at the historical opium trade in the region, the characters involved, and the lives of addicts. "The dark reality of this period in Chiang Rai's history and revival is brought alive through modern interactive displays and multimedia presentations," explains Tobias.
Royal Legacy Tour: Home to the Princess Mother's Royal Villa, these beautiful grounds are a horticultural masterpiece, with over 70 species of cool-climate flowers flourishing alongside native plants and trees. The garden blooms all year round, forming a splendid hillside tapestry that changes with the seasons. With the recent addition of the Tree Top Walk, guests can stroll along a 30 metre (90 feet) high walkway, bordered by lush treetops and exceptional views.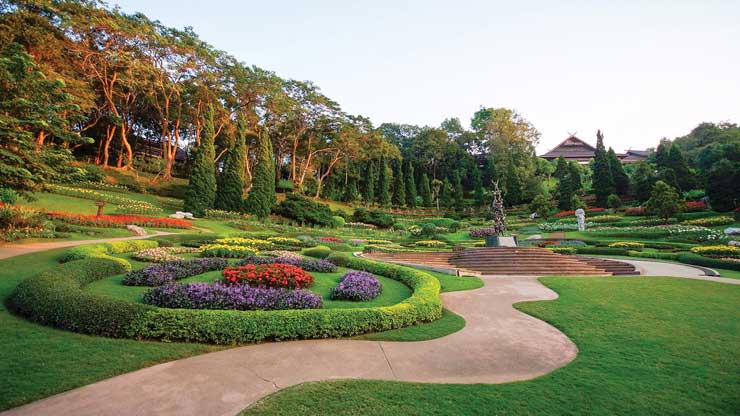 Golden Triangle Excursion: This experience begins with a cruise down the majestic Mekong River on-board a traditional, custom-designed long-tail boat. Making its way to the heart of Golden Triangle, where Thailand, Myanmar, and Laos converge, the spectacular view that encompasses three different countries are unmatched. "Guests can soak in the sights and sounds of the Golden Triangle, as they get from one place to another like a local, hopping onto a 'songtaew,' followed by a tuk-tuk, to visit a vibrant local market and a revered ancient temple, Chedi Luang. Our Camp Guides are very knowledgeable and will relate fascinating stories and interesting facts along the way," says Tobias.
Colour of Chiang Rai: A curated experience by Four Seasons Tented Camp Golden Triangle, guests can explore the vibrant culture of Chiang Rai through its most striking sights. "We recommend to start your journey at the Chinese Temple (Wat Huay Pla Kung), a dragon-flanked staircase leads you to a nine-storey golden pagoda, while a massive white statue of the Buddha offers blessings," he shares. Next, guests can discover the bizarre beauty of the White Temple (Wat Rong Khun), designed by renowned Thai visual artist, Chalermchai Kositpipat. "This is one of the most visited temples in Chiang Rai!" confirms Tobias. At Singha Park, lush greenery takes center stage: guests can stroll through tropical gardens and rolling plantations, while enjoying a cup of coffee. Before returning to the Camp, witness three countries coming together on the banks of Mekong River and enjoy the view of the Golden Triangle.
Doi Mae Salong Chinese Village & Tea Plantation: The Mandarin speaking residents have preserved their cherished customs for generations, such as the cultivation of 'high mountain oolong tea' – perfectly suited to the high altitude and cool climate of their village. "Your Camp Guide will reveal the fascinating political history of the region as you drive through the gorgeous mountain scenery that gives this areas its other name 'Little Switzerland'," explains Tobias.
Chiang Rai Kaleidoscope: Besides vividly-coloured temples, this curated itinerary includes other intriguing spots. "Guests can marvel at the Blue Temple (Wat Rong Suea Ten), an intricate masterpiece wrought in blue and gold which remains hidden from most tourists," says Tobias. Guests can then take a tour of the Black House (Baan Dam Museum), a cluster of 40 black 'houses' showcasing a private collection of provocative art. At Doi Din Dang Pottery, guests get a up-close-and-personal experience with potters at work, while browsing their lovely wares, made from the red clay, native to this region.
Craft Route: For an immersion into Northern Thailand's rich crafts heritage – including textiles, weavings, carvings, silverwork and paper-making – Tobias recommends a visit to Doi Tung Cottage Industries Centre. "This is a Royal Project initiative, where artisans make mulberry paper and roast locally-grown coffee on site." At the Doi Dung Daeng Centre, guests can witness the creation of stunning ceramics, "We'll take you to an excellent local shop, renewed for its high-quality antique textiles, hilltribe artifacts, beadwork and carvings," smiles Tobias.
Think outside: 5 ways to disconnect and enjoy the outdoors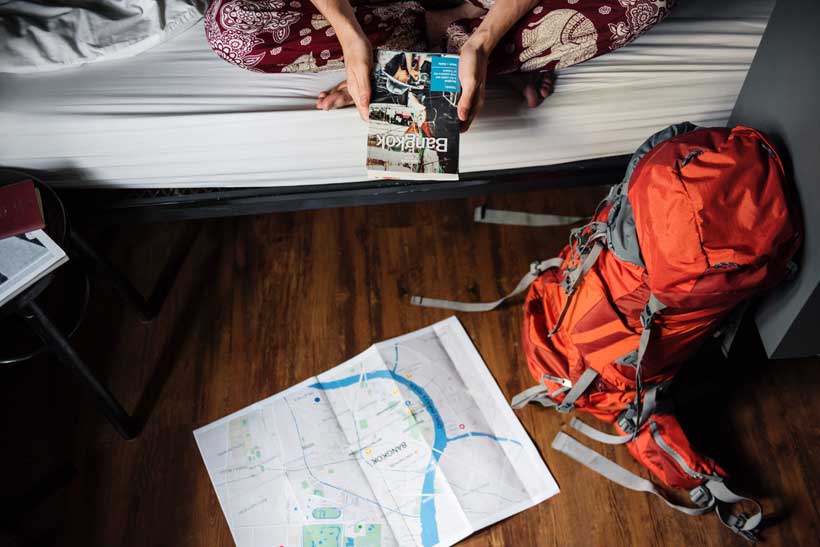 Life is hectic, full of demands at work and home. Add digital distractions like computers, cell phones, tablets and more, and it's no wonder many people are experiencing record-high levels of stress.
One simple solution is to shift your perspective by spending more time outdoors. When you do an enjoyable activity outside, stress begins to melt away as you bask in the fresh air, sunshine and beauty of nature.
This doesn't mean you have to be a savvy outdoor adventurer. There is a growing movement of people of all ages and walks of life embracing nature by finding new ways to discover the world around them. If you feel the draw of the outdoors, consider these five ideas for disconnecting and enjoying activities outside:
1) Try something new
When you challenge yourself by trying a new outdoor activity, you gain confidence and build lasting memories. You might also find new connections with a shared perspective. Curious about fishing? Look for local opportunities and guides. Want to learn how to rock climb? Research local classes and clubs. Interested in an experience of a lifetime? Explore the many options Polaris Adventures provides. These expertly tailored trips throughout the country let you try new ride-and-drive experiences that you're sure to never forget.
2) Take a hike
One of the easiest ways to explore the outdoors is something that virtually anyone can do: hiking. Put on comfortable, sturdy athletic shoes and have fun discovering the parks and forests around you. Whether you opt for paved trails or a more challenging path through the forest, it's a wonderful way to have fun by yourself or with others. Make a day of it by packing lunch or other snacks for mid-hike picnics where you can take in the grandeur of Mother Nature.
3) Explore the open road
There's something freeing about the open road and exploring the nation's highways, byways and hidden winding roadways. The fresh air and breeze in your face is second only to the sights and sounds of the new surroundings you experience as you explore cities, towns and country sides. As you look for your next adventure, try an alternative to a car or motorcycle that provides an exhilarating experience, such as a three-wheeled motor vehicle. These vehicles are as fun to drive as they look, plus most can comfortably seat two people for joint outdoor exploration.
4) Head off road
Find endless possibilities beyond the pavement. Few things can compare to traveling off road and discovering hidden spots and new places. With Polaris off-road vehicles, the options are only limited by your desire to explore. Pack up your gear and head out knowing you're in a machine made to journey through the forests, deserts, mountains and beyond. Go at your own speed and see where it takes you.
5) Wander the water
Whether it's a pond, lake, river or ocean, the water is equal parts soothing and exhilarating. It provides countless opportunities to spend time outside, depending on your personal preferences. Fish from the shoreline. Rent a canoe or kayak to discover bays and sandbars. Kick back and explore on a Bennington Pontoon. Try your hand at paddle boarding. When in doubt, just plan a beach day with a group of friends or the whole family.
As life continues to pull people in every direction, it's more important than ever to take a moment and spend time outside. With these ideas, it's easier than ever to enjoy connecting with others and the outdoors. For more ideas about what to do outside, visit Polaris.
Trips that transform: How airline miles can transform a child's life
Maksim was just a few months shy of 2 years old when his parents rushed him to the emergency room for severe flu-like symptoms, only to find that their little boy was suffering from kidney failure. Since that day, Maksim has spent most of his six years in and out of hospitals, doctors' offices and dialysis treatments.
After receiving a life-saving kidney transplant from his father, Maksim and his family had to remain vigilant to protect him from any risk of infection by limiting his daily activities and exposure to other people. He has not had the life most children enjoy, as he is unable to go to school and play with other children.
Despite all of this, Maksim has always kept a positive attitude, as his parents observed: "His joy blows us away." Maksim's parents have chosen to put some of their own plans on the back burner while coping with his mounting medical needs and getting Maksim the care he needs to survive. Most of what Maksim knows and remembers in his short life is being sick — a life filled with needles, surgeries, side effects from medications, dialysis, hospitalizations and more.
Until Maksim's social worker told his family about Make-A-Wish(R).
Maksim is fascinated by sharks, and he wanted to visit Hawaii to spend time at the ocean. "I like playing with shark toys," Maksim said. "And I have a lot of shark books! I love when my parents read to me."
Due to medical delays, it was awhile before Maksim would be able to take such a trip, but once his wish came true, his parents described his wish trip to Hawaii as "pure joy."
"Every waking moment outside of his medical care was focused on him having fun," Maksim's parents said. "We all got to pause life's responsibilities and focus on fun and family. It was such a unique opportunity to take time out and do something special, because he has to live with this affliction for the rest of his life. At the end of the day, there just isn't much time left to spend together because there is always something else demanding your attention. Being granted time away like this brings tears to our eyes."
At Make-A-Wish, 77 percent of children's wishes involve some form of travel. Make-A-Wish has the resources to grant only half of those wishes. To make all of those life-changing wishes come true, the organization needs more than 3 billion airline miles or points and 25,000 room nights every year.
If you have unused or close-to-expiring airline miles/points, you can make a difference in the life of a child battling a critical illness. Donate your miles or points through participating travel sponsors, including American Airlines, United Airlines, Southwest Airlines, JetBlue and Delta Air Lines. And, once you donate miles and points to Make-A-Wish, they never expire.
Here's how you can help:
1. Visit wish.org/travel.
2. Select the airline(s) of the miles/points you would like to donate.
3. Know you have transformed the lives of wish kids and their families with your donation!
Your gift of airline miles/points is crucial for children with critical illnesses. That's because a wish trip creates an opportunity for a child to experience life beyond illness. It's also a chance for a family like Maksim's to reconnect and get much-deserved respite.
When asked what his favorite part of his wish trip to Hawaii was, Maksim responded, "I think the whole trip was my favorite part!"
To learn more about Make-A-Wish, visit wish.org or check out #TripsThatTransform on Instagram to see some of the amazing places wish families have experienced, thanks to Make-A-Wish donors and partners.
Top 4 Drives around Beverly Hills and L.A. to Experience in a 2019 Maserati Levante SUV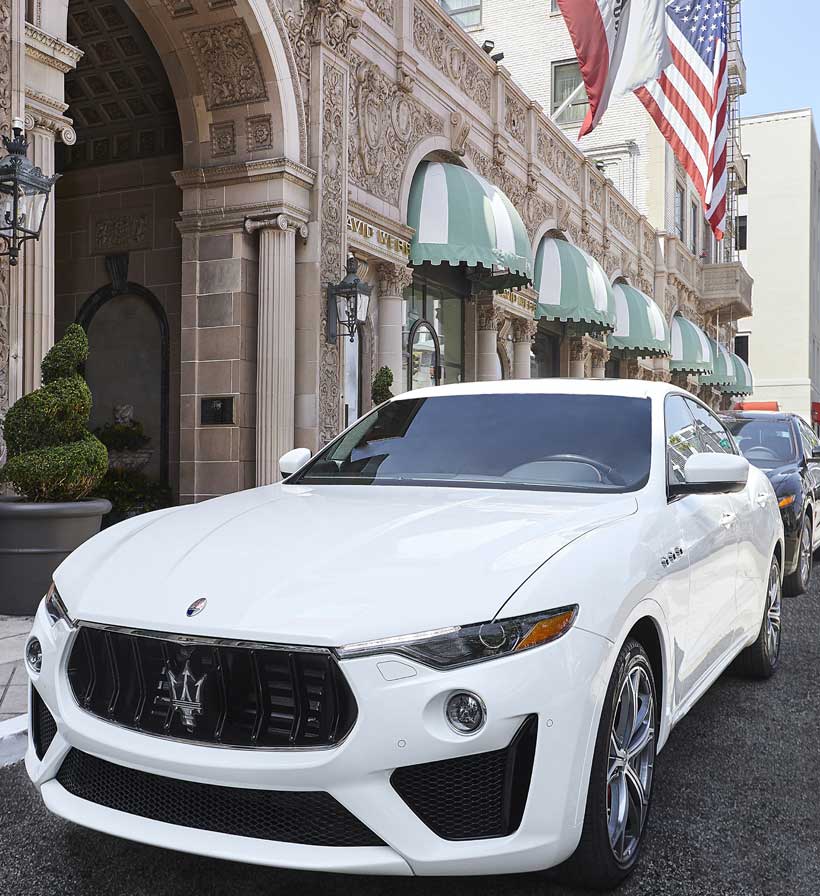 With a deep history of more than 100 years of Italian craftsmanship, Maserati's DNA is a balance of luxurious, sophisticated style paired with the soul of a race car. And as part of a new stay-and-drive package at Beverly Wilshire, A Four Seasons Hotel, the following driving tour suggestions will help guests experience the famed Maserati lifestyle and all that Beverly Hills and Los Angeles has to offer.
Rodeo Drive "Italian Craftsmanship" Loop
1 mile (1.6 kilometre) loop that takes approximately 10 minutes without traffic
Undeniably one of the most famous streets around the globe, experience luxury on this loop around the legendary Rodeo Drive. Expertly pairing Maserati's history of creating exquisite masterpieces with the storied history of Beverly Wilshire, A Four Seasons Hotel, car aficionados and enthusiasts will enjoy the best of Beverly Hills from a Maserati Levante.
Starting Point: Beverly Wilshire, A Four Seasons Hotel – 9500 Wilshire Blvd, Beverly Hills, California 90212
Depart Beverly Wilshire, A Four Seasons Hotel, originally built on the Beverly Auto Speedway. The then American board track, built in 1919, was home to speeding Model Ts and saw the likes of prominent race car drivers such as Jimmy Murphy and Harlan Fengler before the Hotel's opening in 1928.
Head west on Wilshire Blvd (0.1 miles).
Make a slight right onto N Camden Drive (0.3 miles).
Turn right at the 2nd cross street onto S Santa Monica Blvd (390 feet).
If you look to your left you will pass the Bang & Olufsen store, which is one of the brands that develops sound systems for Maserati.
Turn right onto Rodeo Drive.
On the right before you get to Brighton Way you will see BVLGARI at 401 N Rodeo Drive.  This legendary Italian jeweller creates one of a kind timepieces for Maserati owners.
Continue down Rodeo Drive and on your right you will see the Ermengildo Zegna store at 337 N. Rodeo Drive.  Zegna and Maserati are long standing partners and Zegna exclusively creates an optional silk interiors and soon to come in Spring 2020 a leather woven interiors for Maserati.
If you continue down Rodeo Drive to Wilshire Blvd you will be back at the renowned, Beverly Wilshire, A Four Seasons Hotel. Make a left on Wilshire Blvd, then a right on El Camino Drive, entering through the guard gates modelled after the Buckingham Palace gates.
End Point: Beverly Wilshire, A Four Seasons Hotel – 9500 Wilshire Blvd, Beverly Hills, California 90212
Mulholland Drive Scenic Overlook
6.2 miles (10 kilometres) that takes approximately 20 minutes without traffic
Pro Tip: Program 8591 Mulholland Drive, Los Angeles, California 90046 into your GPS
Best done in the daytime, stop at this popular overlook to see the city stretching into the distance beneath, complete with breath-taking views.
Starting Point: Beverly Wilshire, A Four Seasons Hotel – 9500 Wilshire Blvd, Beverly Hills, California 90212
Head east on Wilshire Blvd toward S El Camino Drive (479 feet).
Turn left onto N Beverly Drive (1.7 miles).
Stay left and continue  onto Coldwater Canyon Drive (2.8 miles).
Turn right onto Mulholland Drive.
Destination will be on the left.
End Point: Mulholland Scenic Overlook 8591 Mulholland Drive, Los Angeles, California 90046
Pacific Coast Highway to the Getty Villa
13.4 Miles (22 kilometres) that takes approximately 31 minutes without traffic
Pro Tip: The Getty Villa 17985 Pacific Coast Hwy, Pacific Palisades, California 90272 can be added to the GPS
Enjoy scenic coastal views as you travel on one of American's most scenic roadways, the Pacific Coast Highway to the esteemed Getty Villa. Offering an experience of ancient Greek and Roman art in a setting that recreates a first-century Roman villa, the museum is home to J. Paul Getty's antiquities collection. The two-floor museum displays art that spans the 7,000 years from the end of the Stone Age to the fall of the Roman Empire and is complemented by stunning fountains and gardens.
Starting Point: Beverly Wilshire, A Four Seasons Hotel – 9500 Wilshire Blvd, Beverly Hills, California 90212
Head south on S Rodeo Drive toward Charleville Blvd (0.5 miles).
Turn right onto W Olympic Blvd (1.8 miles).
Continue straight to stay on W Olympic Blvd (0.1 miles).
Turn left onto Overland Ave (1.1 miles).
Use the left 2 lanes to turn left to merge onto I-10 W (0.2 miles).
Follow I-10 W and CA-1 N to Getty Villa Drive 13 min (9.6 miles).
Merge onto I-10 W (2.8 miles).
Keep left to stay on I-10 W (1.7 miles).
Continue onto CA-1 N (5.1 miles).
Turn right onto Getty Villa Drive.
End Point: The Getty Villa 17985 Pacific Coast Hwy, Pacific Palisades, California 90272
Peterson Automotive Museum
2.3 miles (3.7 kilometres) that takes approximately 7 minutes without traffic
Pro Tip: Program 6060 Wilshire Blvd, Los Angeles, California 90036 to the GPS
Known as the entertainment capital of the world, Los Angeles not only invented the magic of movies and television, but in turn is recognised as the driver behind the nation's passion for vehicles due to Hollywood's influence on crafting captivating car movies throughout the years. To learn more about Hollywood's impact on the car culture, visit the Petersen Automotive Museum. Featuring more than 300 vehicles, make sure to visit the Made in Italy installation, which guides guests through the manufacturing process of the Maserati Levante, and the new Hollywood Dream Machines: Vehicles of Science Fiction and Fantasy, which explores the cult classic films and stories, bringing them to life through props, design drawings and physical vehicle models.
Starting Point: Beverly Wilshire, A Four Seasons Hotel – 9500 Wilshire Blvd, Beverly Hills, California 90212
Head east on Wilshire Blvd towards El Camino Drive (2.3 miles).
Turn right onto S Fairfax Ave (89 feet).
Turn left into Petersen Automotive Museum Parking.
End Point: Petersen Automotive Museum 6060 Wilshire Blvd, Los Angeles, California 90036