"Chiang Rai is steeped in culture and tradition, with so much to explore and a lot to be discovered," says Tobias Emmer, Camp Manager at Four Seasons Tented Camp Golden Triangle, "Don't leave Chiang Rai without seeing these sites!" These seven must-do experiences journey through the culture, tradition and rich history of this region.
Hall of Opium: Located close to the very fields where millions of poppies once bloomed, the Hall of Opium museum offers a comprehensive look at the historical opium trade in the region, the characters involved, and the lives of addicts. "The dark reality of this period in Chiang Rai's history and revival is brought alive through modern interactive displays and multimedia presentations," explains Tobias.
Royal Legacy Tour: Home to the Princess Mother's Royal Villa, these beautiful grounds are a horticultural masterpiece, with over 70 species of cool-climate flowers flourishing alongside native plants and trees. The garden blooms all year round, forming a splendid hillside tapestry that changes with the seasons. With the recent addition of the Tree Top Walk, guests can stroll along a 30 metre (90 feet) high walkway, bordered by lush treetops and exceptional views.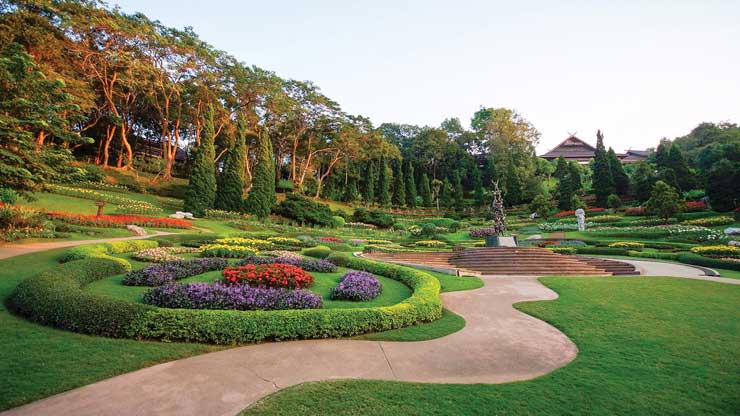 Golden Triangle Excursion: This experience begins with a cruise down the majestic Mekong River on-board a traditional, custom-designed long-tail boat. Making its way to the heart of Golden Triangle, where Thailand, Myanmar, and Laos converge, the spectacular view that encompasses three different countries are unmatched. "Guests can soak in the sights and sounds of the Golden Triangle, as they get from one place to another like a local, hopping onto a 'songtaew,' followed by a tuk-tuk, to visit a vibrant local market and a revered ancient temple, Chedi Luang. Our Camp Guides are very knowledgeable and will relate fascinating stories and interesting facts along the way," says Tobias.
Colour of Chiang Rai: A curated experience by Four Seasons Tented Camp Golden Triangle, guests can explore the vibrant culture of Chiang Rai through its most striking sights. "We recommend to start your journey at the Chinese Temple (Wat Huay Pla Kung), a dragon-flanked staircase leads you to a nine-storey golden pagoda, while a massive white statue of the Buddha offers blessings," he shares. Next, guests can discover the bizarre beauty of the White Temple (Wat Rong Khun), designed by renowned Thai visual artist, Chalermchai Kositpipat. "This is one of the most visited temples in Chiang Rai!" confirms Tobias. At Singha Park, lush greenery takes center stage: guests can stroll through tropical gardens and rolling plantations, while enjoying a cup of coffee. Before returning to the Camp, witness three countries coming together on the banks of Mekong River and enjoy the view of the Golden Triangle.
Doi Mae Salong Chinese Village & Tea Plantation: The Mandarin speaking residents have preserved their cherished customs for generations, such as the cultivation of 'high mountain oolong tea' – perfectly suited to the high altitude and cool climate of their village. "Your Camp Guide will reveal the fascinating political history of the region as you drive through the gorgeous mountain scenery that gives this areas its other name 'Little Switzerland'," explains Tobias.
Chiang Rai Kaleidoscope: Besides vividly-coloured temples, this curated itinerary includes other intriguing spots. "Guests can marvel at the Blue Temple (Wat Rong Suea Ten), an intricate masterpiece wrought in blue and gold which remains hidden from most tourists," says Tobias. Guests can then take a tour of the Black House (Baan Dam Museum), a cluster of 40 black 'houses' showcasing a private collection of provocative art. At Doi Din Dang Pottery, guests get a up-close-and-personal experience with potters at work, while browsing their lovely wares, made from the red clay, native to this region.
Craft Route: For an immersion into Northern Thailand's rich crafts heritage – including textiles, weavings, carvings, silverwork and paper-making – Tobias recommends a visit to Doi Tung Cottage Industries Centre. "This is a Royal Project initiative, where artisans make mulberry paper and roast locally-grown coffee on site." At the Doi Dung Daeng Centre, guests can witness the creation of stunning ceramics, "We'll take you to an excellent local shop, renewed for its high-quality antique textiles, hilltribe artifacts, beadwork and carvings," smiles Tobias.