ADB Marks International Day Against Homophobia, Transphobia, and Biphobia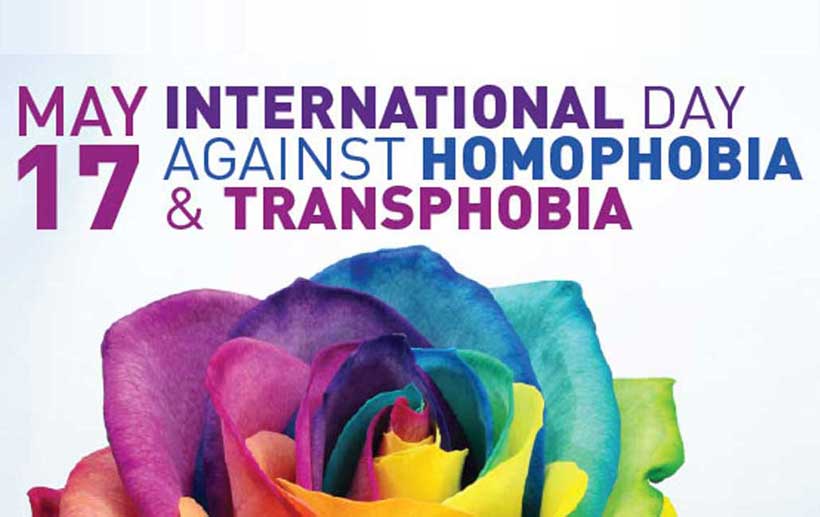 The Asian Development Bank (ADB) is marking the International Day Against Homophobia, Transphobia, and Biphobia (IDAHOT) for the first time by hosting two events over 2 days at ADB headquarters in Manila.
"ADB supports LGBT+ inclusion within and outside its organization. We are committed to a diverse and inclusive workforce where everyone is treated with respect regardless of gender, nationality, ethnicity, religion, sexual orientation, physical ability, and thinking style. We recognize that the promotion and strengthening of diversity, inclusion, and equality at ADB is critical to our effectiveness as an organization," said ADB President Mr. Takehiko Nakao.
On 16 May, IBM Philippines President and Country General Manager Ms. Aileen Judan-Jiao made a presentation on IBM's programs and initiatives to foster a diverse and inclusive workplace for all employees, including for those from the lesbian, gay, bisexual, transgender, and related communities (LGBT+).
ADB hosted a panel discussion on 17 May, which brought together ADB experts and civil society representatives to discuss ways to promote the inclusion of LGBT+ communities in ADB operations. The panel members included civil society leaders from APCOM, the Asia Pacific LGBT+ health and rights organization, and Babaylanes, the Philippines LGBT+ student and youth organization.
The inclusion of vulnerable groups in societies, including LGBT+ people, is critical to achieving a prosperous, inclusive, resilient, and sustainable region, as envisioned in ADB's Strategy 2030.
IDAHOT promotes inclusion and recognizes efforts to overcome the exclusion, discrimination, and violence that the LGBT+ community continues to experience in many parts of the world, including in Asia and the Pacific. IDAHOT recognizes the significant progress that has been made towards equality in many parts of the world. The date of 17 May was chosen to commemorate the World Health Organization's decision in 1990 to declassify homosexuality as a mental disorder.
UN: Understanding of LGBT realities 'non-existent' in most countries
Policymakers in most parts of the world are taking decisions in the dark when it comes to sexual orientation and gender identity, an independent UN human rights expert said on Wednesday.
In a statement issued ahead of presenting his latest report to the Human Rights Council later this month, Victor Madrigal-Borloz urged States to collect more data in an effort to understand the root causes of violence which is often routinely directed towards Lesbian, Gay, Bisexual and Transgender (LGBT) people in societies across the world.
"States must adequately address this scourge through public policy, access to justice, law reform or administrative actions," said Mr. Madrigal-Borloz. "In most contexts, policymakers are taking decisions in the dark, left only with personal preconceptions and prejudices."
Clear information about the realities as lived by most LGBT people are at best, little understood, "incomplete and fragmented", said the UN Independent Expert on Protection against violence and discrimination based on sexual orientation and gender identity, "but in most countries it is simply non-existent".
"My findings show that barriers created by criminalization, pathologization, demonization and stigmatization, hinder accurate estimates regarding the world population" which is affected, he said. "Maintaining such a level of ignorance without seeking appropriate evidence is tantamount to criminal negligence."
The expert said that data collection efforts are already underway in many parts of the world and have supported assessments of the situation of LGBT persons in various areas of life, including their relative safety, well-being, health, education and employment.
"However, many other areas still lack data and remain unexplored, for example, the concerns of ageing LGBT people and intersections with disability, racism and xenophobia", he noted, adding that where States criminalize certain forms of sexual orientation and gender identity and expression, fully effective data collection is impossible: "I have received multiple accounts of data being used for surveillance, harassment, entrapment, arrest and persecution by government officials in such contexts", he added.
The rapporteur called on States to "design and implement comprehensive data collection procedures to assess the type, prevalence, trends and patters of violence and discrimination against LGBT persons. When doing so, States should always respect the overriding 'do no harm' principle and follow a human rights-based approach to prevent the misuse of collected data," concluded the expert.
Women's Rights: Between East and West, the Case of Azerbaijan
This year marks the centenary of the granting of the right to vote to women in Azerbaijan, the first country of the Muslim East to grant this right. To celebrate this occasion, the France-Azerbaijan Friendship Group organized an event entitled "Women's Rights: Between East and West, the Case of Azerbaijan", which took place at the French National Assembly on 7 June.
As part of the celebration, UNESCO's Director for Gender Equality, Ms Saniye Gülser Corat, was invited to speak at the round table entitled, "La réussite au féminin", which was moderated by Ms Fawzia Zouari, writer and journalist. The speakers included Mr Jean-Louis Gouraud, writer and journalist; Ms Charlotte Payen, Secretary-General, French-Azerbaijani University; Ms Leyla Taghizadé, co-founder of Social Innovation Lab; and Ms Anne Lauvergeon, CEO of Anne Lauvergeon Partners (ALP).
During her speech, Ms Corat recalled the important role of education in promoting gender equality. She highlighted the importance of gender inequalities in the scientific world. Across the world, 30% of science researchers and 21% of executives in technology companies are women. In developed countries, 26% of the overall STEM workforce are women. In addition, when it comes to the Nobel Prize in physics, chemistry or medicine, only 17 women have been awarded since Marie Curie in 1903 – compared to 572 men.
Ms Corat explained that UNESCO works to address inequalities wherever there are, particularly within new technologies. She announced that UNESCO recently launched the report I'd blush if I could with funding from the Government of Germany. This publication stresses the growing gender gap in frontier technologies such as artificial intelligence, and the troubling repercussions this is likely to have on future generations.
She concluded her speech with a message of hope: "We want girls and women, in Azerbaijan and across the world, to move full steam ahead towards a career in the discipline of their choices, unrestrained by gendered perceptions of different fields. Put simply, girls and women must have the opportunity to develop the skills that will enable them to thrive in today's world and to participate equally in creating the world of tomorrow".
At the end of the event, Ms Corat gave interviews to two different media outlets from Azerbaijan that were present in the room, namely Report News Agency and Azerbaijan State News Agency (AZERTAC).
In Afghanistan, attacks against schools have tripled in one year
The UN Children's Fund (UNICEF) said on Monday that much greater protection for educational facilities was needed across Afghanistan where attacks against schools have increased three-fold in just one year. The call coincides with the third International Conference on Safe Schools, taking place this week in Mallorca, Spain.
If you are a pupil in Afghanistan, then you were three times more likely to be affected by an attack in 2018 than you were the previous year. Attacks on schools in the country surged from 68 in 2017 to 192 in 2018, according to UNICEF. This is the first time that the number of school attacks has increased, since 2015.
"Education is under fire in Afghanistan," said UNICEF Executive Director Henrietta Fore in a statement. "The senseless attacks on schools; the killing, injury and abduction of teachers; and the threats against education are destroying the hopes and dreams of an entire generation of children".
One of the factors behind the increase was the use of schools as voter registration and polling centres for the parliamentary elections in 2018.
According to UNICEF, ongoing conflict and rapidly deteriorating security across the country have led to the closure of more than 1,000 schools as of December 2018. The consequences for over half a million children affected are extremely concerning and represent a denial of their fundamental right to education, and a brighter future.
An estimated 3.7 million children between the ages of 7 and 17 – nearly half of all school-aged Afghans – are out of school in the country.
Worsening insecurity, high rates of poverty and persistent discrimination against girls caused the rate of out-of-school children to increase last year for the first time since 2002. Girls account for 60 per cent of children not in the education system.
UNICEF continues to work with the Government and other partners to provide informal and accelerated community-based education, including the provision of education in community buildings and homes, which is key in reducing the risk of attacks against children making their way to school on a daily basis.
On Monday, the third International Conference on Safe Schools opened in Spain for decision-makers to discuss the implementation of the Safe School Declaration – endorsed by 87 nations – its challenges and lessons learned, at the national, regional, and international levels.
Furthermore, the conference is an occasion to encourage cooperation and stronger gender-responsive practices.