A More Nakedly Aggressive United States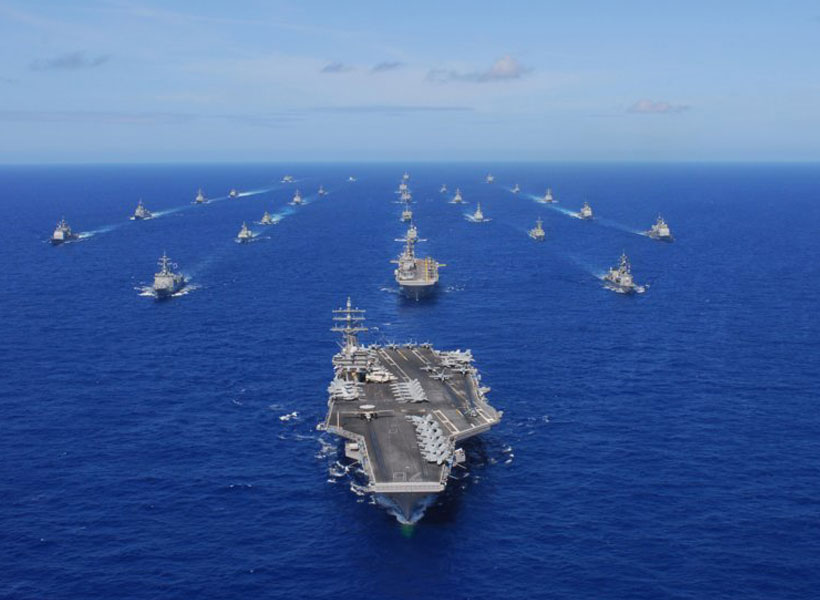 Of all the instability and unrest the US has been accused of fomenting over the last three years, no other example comes close to the lengths the US has gone to in its unilateral attempt at isolating Iran. Long accused by Russia and other major powers as the leading cause of instability in the Middle East, the recent escalation of tensions between Iran and the US forms part of a wider more troubling trend. This has included the US ratcheting up tensions with both friends and foes alike such as the escalating trade war with China, calls for regime change in Venezuela and the estrangement of its allies across both the European Union and NATO.
The last bit, regarding the US's growing differences with the EU's major powers such as France and Germany is also to a large extent directly linked with its hardline stance on Iran. This is evident in the clearly divergent stances both the US and EU have taken regarding Iran's Nuclear program. President Trump's unilateral withdrawal from the Joint Comprehensive Plan of Action (JCPOA) last year had brought about considerable shock and dismay amidst European powers that had spent years negotiating the agreement with Iran alongside the US. Signed back in 2015, the JCPOA had set a historic precedent in international diplomacy, garnering support from China and Russia as well as the US, UK, France, Germany and the EU. Based on years of painstaking negotiations it was widely hailed as presenting a successful model for Nuclear Arms Control and non-proliferation.
In fact, a number of experts had hailed the JCPOA as being even better than the Nuclear Non-Proliferation Treaty (NPT) in a number of ways. Its emphasis on monitoring other research and attempts at nuclear weaponisation beyond the involvement of nuclear materials was a major step in further expanding the role and scope of the IAEA's monitoring mechanisms. These same mechanisms which based on the consensus of world powers have been successful in both monitoring and limiting Iran's attainment of Nuclear weapons capability. The only exception has been the United States, and particularly the Trump White House that has made it a policy imperative to undo the years of work put in by both former US President Obama and Secretary of State John Kerry.
President Obama had even quite recently publicly lamented how reneging on the JCPOA not only undermined the United States credibility as a negotiating partner, but also dismantled a whole non-proliferation mechanism that was to prove crucial in addressing the growing threat from North Korea as well. As apparent in the failure of the recent talks between the US and North Korea in Vietnam, the US's seriousness and commitment to the non-proliferation regime has been openly questioned as it continues to prioritize its own geo-political imperatives. Its 'maximum pressure' campaign on Iran, which is flirting dangerously with yet another large-scale military conflict involving US armed forces, threatens to undo the last decades' painstaking rollback of US troop deployments throughout the Middle East.
Since the end of the Cold War, the US's unilateralism and more maximalist approach was never in question considering its series of interventions particularly in the Middle East. There was however a semblance of unity and International leadership which either under the aegis of the UN or NATO still more or less carried the garb of a multi-lateral consensus. That instead of simply employing naked aggression as accused of by its adversaries, the US was justified by its ideology and the success of its international diplomacy. This perhaps was best and most positively evident in the JCPOA, which had brought all the world's major powers into a concerted agreement on one of the world's most pressing issues, namely Nuclear Proliferation.
However, as the Trump administration beats its war drums to the tune of nothing short of a regime change in Iran, there is most definitely a marked difference in how the US has previously built its cases for military intervention in the Middle East. In the absence of any international support from its partners, or in the lack of any overarching ideal based on non-Proliferation or plain old human freedoms (à la Iraq), the recent case for the US military intervention in Iran appears outright indolent if not unjustified as has mostly been the case with US hegemony over the last few years.
Why the Weird and Uncompromising Get Elected
Why is it that the US and Britain have chosen weird uncompromising leaders when the essence of statesmanship is calculated compromise. Worse, if not shocking, is that 43 percent of India's new parliament elected in May are facing criminal charges, including rape and murder. Out of the 303 lawmakers in Prime Minister Narendra Modi's party, 116 face charges. He himself was not considered suitable for a US visa because of the organized 2002 killings/pogrom of Muslims in Gujarat while he was leader; he was given a visa only after he became prime minister.
Trump has just fired John Bolton his third National Security Adviser in two-and-a-half years. Ever since taking office, he has been abrogating agreements unilaterally. Iran now refuses to talk to him, and announced that the removal of Bolton, a notorious Iran hawk, makes no difference. This lack of trust after Trump walked out of the previous agreement, one with the imprimatur of the Security council and major world powers, is to be expected but there is also the matter of dignity. No self-respecting nation can tie itself to the whims of an erratic leader.
Boris Johnson meanwhile is flouting the norms and traditions of parliament. He has prorogued the current session not for two or three days as customary but for nearly five weeks until October 14. Uproar and an appeal to the courts against this upending of democracy followed. A Scottish judge has now ruled the prorogation illegal. Tellingly, the 21 Tory members, who were turned out of the Tory party in parliament, joined the opposition to pass a law requiring Boris to seek an extension preventing the no-deal Brexit on October 31 if he has not come up with an agreement by October 19. Boris' hands have been tied, his government losing control of the parliamentary agenda. His scheme to end debate on the issue by proroguing parliament has backfired badly, leaving commentators wondering if Boris has been the worst prime minister this century.
One of the persons Boris threw out of his party was Nicolas Soames, a grandson of Winston Churchill and a 37-year member of parliament, another was its longest serving member. No grace in the graceless as they say.
Trump on the other hand is fixated on golf. Until July this year, he had spent over $105 million of taxpayers' money on his golfing trips. Extrapolated over his entire tenure including re-election, he could cost the taxpayer $340 million according to Forbes, which is far from a left-wing magazine.
So why do people elect such leaders? Perhaps the underlying cause is income stagnation for the majority (adjusted for inflation) since the late 1970s. Yes, GDP has grown but the benefits have been skewed to the upper 20 percent quintile. When the voters have not found an answer from mainstream Democrats and Republicans, they have resorted to mavericks like Obama and now Trump. In the UK it is Johnson — heaven help them if his no-deal Brexit prevails for it is expected to be an economic disaster.
When blame is focused on immigration, as in Britain, Hungary, Poland and now the US, extreme right-wingers take center stage with crude but appealing rhetoric, and often get elected. So there we have it, while Trump denied funding by Congress is drawing funds from the defense budget to build his wall on the Mexican border.
US-North Korea Crisis Decision- Making: Growing Risks Of Inadvertent Or Unintended Nuclear War In Asia
"We fell in love!"-US President Donald Trump, referring to North Korean dictator Kim Jung Un after Singapore Summit (June 2018)
Credo quia absurdum, warned the ancient philosophers. "I believe because it is absurd." While US President Donald Trump continues to express inexplicable confidence in his North Korean counterpart (and a simultaneous lack of faith in his own intelligence community), he also fails to understand something rudimentary: The stability of any upcoming crisis decision-making process between Washington and Pyongyang will have less to do with "loving" leader relations than with Kim Jung Un's unmistakably core commitment to personal military power.
In this increasingly worrisome conflict "dyad," one of the most understated and under-referenced risks to the United States concerns inadvertent or unintended nuclear war.
On such urgent risks, words matter. Initially, in seeking to fashion a coherent security policy, President Trump and his strategic advisors should approach all pertinent issues at the primary or conceptual level. Inter alia, it will soon become necessary for Mr. Trump to understand that the various nuclear war risks[1] posed by inadvertence must be differentiated from the expected hazards of a deliberate nuclear war. These latter perils could stem only from those Washington-Pyongyang hostilities that had been (1) intentionally initiated with nuclear weapons; and/or (2) intentionally responded to by express retaliation with nuclear weapons.
This is the case whether such unprecedented military actions were undertaken to achieve strategic surprise,[2] or instead as the result (expected or unexpected) of enemy irrationality.[3]
Prima facie, these are distinctly many-sided and "dense" calculations. In any deliberate nuclear war scenario, and before any presidential ordering of an American preemption,[4] the designated North Korean leadership would first need to appear(a) nuclear-capable and (b) irrational. Without this second expectation, any US preemption against an already-nuclear adversary would be irrational on its face[5]. Washington, therefore, must continuously monitor not only tangible North Korean nuclear assets and capabilities, but also the substantially less tangible mental health characteristics of Kim Jong Un.
Although some might mock this second intelligence imperative as unnecessary or "clinically impossible," it remains conceivable that the dictator in Pyongyang could at some point pretend irrationality.
The decipherable differences here would not be narrowly academic or entirely linguistic.
Factually, moreover, it is Kim Jong Un's counterpart in the White House (and not Kim himself) who has publicly mused about the potential rationality of pretended irrationality, and who takes oddly conspicuous comfort from his assessment that the two presidents "fell in love" back in Singapore.
This is not the sort of "romance" upon which to build a core US national security policy.
There is more. When the US president and his national security advisors consider the co-existing and fearful prospects of an inadvertent nuclear war with North Korea, their principal focus should remain oriented toward more institutional directions – that is, to the expected stability and reliability of Pyongyang's command, control and intelligence procedures. Should it then be determined that these "C3I" processes display unacceptably high risks of mechanical/electrical/computer failure; indecipherable pre-delegations of nuclear launch authority; and/or unpredictable/unreliable launch-on-warning procedures (sometimes also called "launch-on-confirmed-attack"), a still-rational American president could feel the more compelling need to consider a plausibly appropriate preemption option.[6]
Another complex factor in any such prospective decision-making process would be (a) the apparent advent of hypersonic weapons in North Korean arsenals; and (b) the extent to which this emergence were paralleled in American arsenals and/or strategic calculations.
At this already advanced stage in North Korean nuclear military progress, the probable costs to the United States and certain of its allies accruing from a defensive first-strike would be more-or-less overwhelming and thus potentially "unacceptable." This foreseeable understanding seems to have escaped Trump, who first stated publicly at the end of May 2019 that North Korean tests of short-range missiles "do not worry" him. This blithe and manifestly ill-conceived observation suggests that the American president (c) is erroneously focused only on direct (long-range) missile threats to the United States, and (d) is unmindful of conspicuously challenging escalatory possibilities, especially the immediate importance of shorter-range missile threats.
Why so urgently important?
In the first place, North Korea's short-range missiles could target US allies South Korea and Japan; also, US military forces in the region. While an attack on these forces would carry a near-automatic assurance of a more or less measured American retaliation, aggression against regional US allies would almost certainly call for such a reprisal. In essence, therefore, Kim Jung Un's short-range missiles could sometime bring the United States into a full-blown war, even though these missiles would never have been launched against the American homeland.
In the second place, it is improbable but not inconceivable that South Korea could wittingly or unwittingly initiate a conventional conflict with North Korea, thereby realistically mandating a US military involvement in the conflict. Were this to happen, Seoul would have effectively "catalyzed" a North-Korea-US war. In any such many-sided belligerency, even nuclear weapons could be fired. Also worth studying in the unprecedented realm of catalytic nuclear war would be a narrative wherein an altogether different state or sub-state could arrange an anonymous first-strike against South Korea, Japan and/or regional US forces.
What about a US preemption? In principle, at least, certain calculable preemption options could not be dismissed out of hand in any balance-of-power world system.[7] More precisely, any residual American resort to "anticipatory self-defense"[8] could be nuclear or non-nuclear and could be indicated without any express regard for Kim Jung Un's presumed rationality. Still, the well-reasoned cost-effectiveness of any US preemption would almost certainly be enlarged by including such carefully calculated presumptions.
What would be the most plausible reactions concerning a Trump-ordered preemption against North Korea? When all significant factors are taken into account, Pyongyang, likely having no meaningful option to launching at least some massive forms of armed response, would intentionally target certain designated American military forces in the region and/or high-value South Korean armaments and personnel. President Trump, still assuming enemy rationality, should then expect that whatever North Korea's precise configuration of selected targets, Kim Jung Un's retaliatory blow would be designed to minimize or avoid any massive (including even nuclear) American counter-retaliations.
There is more. All such high-consequence calculations would involve adversarial policy intersections which could be genuinely "synergistic"[9] and assume perfect rationality on all sides. If, for example, the American president should sometime decide to strike first, the response from Kim Jung Un should then expectedly be proportionate; that is, more-or-less similarly massive. In this particular escalatory "game," the willful introduction of nuclear weapons into any ensuing conflagration might not be dismissed out of hand by either "player."
What then?
Noteworthy, too, at least at that markedly uncertain and unstable point, any such a game-changing introduction would more likely originate from the American side. This sobering inference is based upon the understanding that while North Korea already has some nuclear weapons and missile delivery vehicles, it is also still rational and not yet prepared operationally to seek "escalation dominance" vis-à-vis the United States. For the moment, at least, it would seemingly be irrational for Pyongyang to launch any of its nuclear weapons first.
Sometime, at least in principle, Mr. Trump, extending his usually favored stance of an argumentum ad bacculum (an appeal to force) could opt rationally for a so-called "mad dog" strategy. Here, the American president, following his just-ordered preemption, would deliberately choose a strategy of pretended irrationality.
Any such determined reliance, while intuitively sensible and arguably compelling, could backfire, and thereby open up a slippery path to a now unstoppable escalation. This self-propelling competition in risk-taking could also be triggered by the North Korean president, then pretending to be a "mad dog" himself. Significantly, any feigned irrationality stance by Kim Jong Un might be undertaken exclusively by the North Korean side, or in an entirely unplanned tandem or "synergy" with the United States. In all conceivable variants of crisis bargaining between Washington and Pyongyang, even those without any synergies, the highest-level decision-making processes would be meaningfully interdependent.
This means still greater levels of complexity and still lesser significance assignable to any presumptive "love" relationship between the two presidential adversaries.[10]
Regarding complexity, in absolutely all of these plausible bargaining postures, each side would have to pay reciprocally close attention to the anticipated wishes and intentions of Russia and China. Accordingly, one must now inquire, does President Trump actually believe that China would find it gainful to support him in any still-pending nuclear crisis with North Korea? To answer such a query, it ought to be quite plain that Mr. Trump's ongoing and potentially accelerating trade war with China would be manifestly unhelpful.
Regarding further complexity, what transpires between Washington and Pyongyang in crisis decision-making circumstances could be impacted by certain other ongoing or escalating wars in Asia. In this connection, most portentously relevant would be any substantial escalations of the Kashmir conflict, especially those that might involve an introduction of nuclear weapons. Unquestionably, any correlative crossing of the nuclear threshold in that India-Pakistan conflict dyad would fracture a longstanding taboo in world politics, and presumptively heighten the likelihood of a US-North Korean nuclear exchange.
Notwithstanding President Donald Trump's exaggerated confidence in basing foreign policy decision-making upon extrapolations from commerce, it is all genuinely complex, stunningly complex,[11] even bewilderingly complex. Also reasonable to assume is that in any such many-sided circumstances, the North Korean president would no longer be pretending irrationality. He could, at some point, have become authenticallyirrational. Regardless of difficulty, however, the differences here would be well worth figuring out.
Relevant scenarios must soon be posited and examined dialectically. If President Donald Trump's initial defensive first strike against North Korea were less than massive, a still rational adversary in Pyongyang would likely take steps to ensure that its own preferred reprisal were correspondingly limited. But if Trump's consciously rational and calibrated attack upon North Korea were wittingly or unwittingly launched against an irrational enemy leadership, the response from Pyongyang could then be an all-out retaliation. This unanticipated response, whether non-nuclear or non-nuclear-nuclear "hybrid," would be directed at some as yet indeterminable combination of US and allied targets.
Inevitably, and by any sensible measure, this response could inflict grievous harms.
It is now worth considering that a North Korean missile reprisal against US interests and personnel would not automatically exclude the American homeland. However, should the North Korean president maintain a determinedly rational "ladder" of available options, he would almost certainly resist targeting any vulnerable civilian portions of the United States. Still, should he remain determinably willing to strike targets in South Korea and/or Japan, he would incur very substantial risks of an American nuclear counter-retaliation.
In principle, any such US response would follow directly from this country's assorted treaty-based obligations regarding "collective self-defense."[12]
There is more. Such risks would be much greater if Kim's own aggressions had extended beyond hard military assets, either intentionally or as unwitting "collateral damage" brought to various soft civilian populations and/or infrastructures.
Even if the unimaginably complex game of nuclear brinksmanship in Northeast Asia were being played only by fully rational adversaries, the rapidly accumulating momentum of events between Washington and Pyongyang could still demand that each "contestant" strive relentlessly for escalation dominance. It is in the notably unpracticed dynamics of such an explosive rivalry that the prospect of an "Armageddon" scenario could be actualized. This outcome could be produced in unexpected increments of escalation by either or both of the dominant national players, or instead, by any sudden quantum leap in destructiveness applied by the United States and/or North Korea.[13]
Looking ahead, the only foreseeable element of the "game" that is predictable in such complicated US-North Korean calculations is the contest's inherent and boundless unpredictability. Even under the very best or optimal assumptions of enemy rationality, all relevant decision-makers would have to concern themselves with dense or confused communications, inevitable miscalculations, cascading errors in information, unauthorized uses of strategic weapons, mechanical, electrical or computer malfunctions and certain poorly-recognized applications of cyber-defense and cyber-war.
Technically, one further analytic distinction is needed between inadvertent nuclear war and accidental nuclear war. By definition, an accidental nuclear war would be inadvertent, but reciprocally, an inadvertent nuclear war need not be accidental.[14] False warnings, for example, which could be spawned by mechanical, electrical or computer malfunction (or by hacking)[15] would not signify the origins of an inadvertent nuclear war. Instead, they would fit under clarifying narratives of an accidental nuclear war.
"Everything is very simple in war," says Carl von Clausewitz in On War, "but the simplest thing is still difficult." With this seemingly banal but profound observation, the classical Prussian strategist makes plain that serious military planning is always problematic. Largely, this is because of what he famously called "friction." In essence, friction describes "the difference between war as it actually is, and war on paper."
Unless President Trump is able to understand this core concept and prepare to manage unpredictable risks of an unintentional war with North Korea, any future "love letters" from Kim Jung Un would be beside the point. While the specific risks of a deliberate or intentional nuclear conflict between the United States and North Korea should remain front and center in Washington, these risks ought never be assessed apart from these closely associated hazards of crisis decision-making. All of these risks could be overlapping, mutually reinforcing or even synergistic, daunting circumstances in which the plausible "whole" of their effect would be tangibly greater than the simple sum of their constituent "parts."
There is one last matter to be clarified. This has to do with the nature of "superpower" relations within the underlying balance of power structure of world politics.[16] Whatever the differences in preferred nomenclature, it is apparent that we are now entering (wittingly or unwittingly) an era of "Cold War II."[17] Depending upon the dominant configurations of this new Cold War, US-North Korea nuclear decision-making will be more-or-less destabilizing. It follows, for President Donald Trump and the United States, that Washington-Pyongyang nuclear bargaining must takes its dominant cues from two different though intersecting directions.
In the end, a great deal will depend upon the American side's willingness to base relevant policies upon intellectual or analytic foundations.
In the end, such willingness will trump any alleged benefits of having fallen "in love."

---
[1] Whatever these particular risks, they could be intersecting, "force multiplying" or even "synergistic." Where an authentic synergy were involved, the "whole" of any attack outcome could then be greater than the tangible sum of its component "parts."
[2] In his seminal writings, strategic theorist Herman Kahn introduced a further distinction between a surprise attack that is more-or-less unexpected, and one that arrives "out of the blue." The former, he counseled, "…is likely to take place during a period of tension that is not so intense that the offender is fully prepared for nuclear war…." A total surprise attack, however, would be one without any immediately recognizable tension or signal. This particular subset of the surprise attack scenario would be very difficult to operationalize for national policy benefit. See: Herman Kahn, Thinking About the Unthinkable in the 1980s (Simon & Schuster, 1984).
[3] Recalling the 20th-century German philosopher, Karl Jaspers: "The rational is not thinkable without its other, the non-rational, and it never appears in reality without it." This insight can be found in Jaspers' "Historical Reflections" on Kierkegaard and Nietzsche.
[4] Worth noting here too is that any such ordering of a preemptive attack by an American president would be exceedingly problematic under US law (especially under pertinent US Constitutional constraints). There are, therefore, critical jurisprudential as well as strategic implications involved.
[5] Nonetheless, the American president could conceivably still benefit from a preemption against an already nuclear North Korea if refraining from striking first would allow North Korea to implement certain additional protective measures. Designed to guard against preemption, these measures could involve the attachment of "hair trigger" launch mechanisms to nuclear weapon systems and/or the adoption of "launch on warning" policies, possibly coupled with identifiable pre-delegations of launch authority. This means, increasingly, that the US could be incrementally endangered by steps taken by Pyongyang to prevent a preemption. Optimally, this country would do everything possible to prevent such steps, especially because of the expanded risks of accidental or unauthorized attacks against its own or allied armaments and populations. But if such steps were to become a fait accompli, Washington might still calculate correctly that a preemptive strike would be both legal and cost-effective. This is because the expected enemy retaliation, however damaging, could still appear more tolerable than the expected consequences of enemy first-strikes – strikes likely occasioned by the failure of "anti-preemption" protocols.
[6] From the standpoint of international law, it is necessary to distinguish preemptive attacks from "preventive ones." Preemption is a military strategy of striking first in the expectation that the only foreseeable alternative is to be struck first oneself. A preemptive attack is launched by a state that believes enemy forces are about to attack. A preventive attack, however, is launched not out of any genuine concern about "imminent" hostilities, but rather for fear of a longer-term deterioration in a pertinent military balance. In a preemptive attack, the length of time by which the enemy's action is anticipated is presumptively very short; in a preventive strike, the anticipated interval is considerably longer. A related problem here for the United States is not only the practical difficulty of accurately determining imminence, but also that delaying a defensive strike until appropriately ascertained imminence can be acknowledged could prove "fatal" or existential.
[7] The core concept of a balance of power – an idea of which the nuclear-age balance of terror is a particular variant – has never been more than a facile metaphor. Significantly, it has never had anything to do with creating or ascertaining "equilibrium." Moreover, as such balance is always a matter of individual and subjective perceptions, adversary states can never be sufficiently confident that pertinent strategic circumstances are actually "balanced" in their favor. In consequence, inter alia, each side to any conflict must "normally" fear that it will be left behind; accordingly, the perpetual search for balance generally produces ever-wider patterns of national insecurity and global disequilibrium.
[8] This term is drawn from customary international law, an authoritative source of world legal norms identified at Art. 38 of the UN's Statute of the International Court of Justice. Already, international law, an integral part of the legal system of all states in world politics, assumes a general obligation to supply benefits to one another, and to avoid war at all costs. This core assumption of jurisprudential solidarity is known formally as a "peremptory" or jus cogens expectation, that is, one that is not even subject to question. It can be found in Justinian, Corpus Juris Civilis, Hugo Grotius, The Law of War and Peace (1625) and Emmerich de Vattel, The Law of Nations or Principles of Natural Law (1758).
[9] In any synergistic intersection – whether in chemistry, medicine or war – the "whole" of any result would exceed the simple sum of its policy-determining "parts."
[10] Pertinent synergies could clarify or elucidate the world political system's current state of disorder (a view that would reflect what the physicists prefer to call "entropic" conditions), and could themselves be dependent upon each national decision-maker's own subjective metaphysics of time. For an early article by this author dealing with interesting linkages between such a subjective metaphysics and national decision-making (linkages that could shed additional light on growing risks of a US-North Korea nuclear war), see: Louis René Beres, "Time, Consciousness and Decision-Making in Theories of International Relations," The Journal of Value Inquiry, Vol. VIII, No.3., Fall 1974, pp. 175-186.
[11] Reciprocally, of course, the White House has been seeking to persuade Americans and others by way of very deliberate simplifications. See, on the plausible consequences of any such deceptive measures, Ludwig Wittgenstein's pertinent observation in On Certainty: "Remember that one is sometimes convinced of the correctness of a view by its simplicity or symmetry…."
[12] For the differences between "collective self defense" and "collective security," see this writer's early book: Louis René Beres, The Management of World Power: A Theoretical Analysis (University of Denver Monograph Series in World Affairs)( (1973).
[13] This brings to mind the philosophical query by Irish playwright Samuel Beckett in Endgame: "What is the good of passing from one untenable position to another, of seeking justification always on the same plane?"
[14] Reminds Herman Kahn in his On Escalation (1965): "All accidental wars are inadvertent and unintended, but not vice-versa."
[15] This prospect now includes the plausible advent of so-called "cyber- mercenaries."
[16] For a related conceptual argument by this author concerning Israel's security in the Middle East, see: Louis René Beres: https://besacenter.org/mideast-security-and-policy-studies/israeli-nuclear-deterrence/
[17] In essence, postulating the emergence of "Cold War II" means expecting the world system to become once again bipolar. For early writings, by this author, on the global security implications of such an expanding bipolarity, see: Louis René Beres, "Bipolarity, Multipolarity, and the Reliability of Alliance Commitments," Western Political Quarterly, Vol. 25, No.4., December 1972, pp. 702-710; Louis René Beres, "Bipolarity, Multipolarity, and the Tragedy of the Commons," Western Political Quarterly, Vol. 26, No.4., December 1973, pp, 649-658; and Louis René Beres, "Guerillas, Terrorists, and Polarity: New Structural Models of World Politics," Western Political Quarterly, Vol. 27, No.4., December 1974, pp. 624-636.
The puzzle in the U.S. Democratic Party is complicated
Although polls in the United States show Joe Biden outnumbering other Democratic candidates, Biden is still concerned about the likelihood of rising US senator Bernie Sanders. Joe Biden knows very well that if Sanders and Elizabeth Warren, another Democrat candidate, ally and unite, Biden's chances of winning will be reduced.
If Bernie Sanders and Elizabeth can win Biden in Iowa and New Hampshire, then there is essentially no chance for Biden to win the next presidential election.
Some US analysts believe Trump is more afraid of Sanders (than Biden), and will surely attract more independent supporters if Sanders reaches the final stage of next year's presidential race.
Bernie Sanders, the old American senator, and one of Democratic nominees for the 2016 presidential election continues to oppose US President Donald Trump. This confrontation started at the time Trump entered the White House (by early 2017). Sanders, in one of his most recent positions against the White House, called for an end to Washington's support for Riyadh in the Yemeni war. Sanders also condemned Trump's stance on the murder of Jamal Khashoggi. At any rate, Sanders's recent position against Trump has led to the US President's concerns.
Polls recently conducted in the United States indicate Sanders' proper position among Democratic voters. Accordingly, Joe Biden and Bernie Sanders have both a good position among Democrat supporters and they both have a good chance to reach the final round of the 2020 presidential elections.
It should be remembered, however, that even if Sanders is defeated in the presidential election in 2020, he will remain one of Donald Trump's main opponents in Congress.
Bernie Sanders is now trying to forget the bitter memories of the last presidential election. Hillary Clinton, the Democratic candidate who was supported by her husband, Bill Clinton, and many influential figures in the party, managed to defeat Sanders with her secret lobbies and went to fight Trump as Democrats' final candidate.
Anyhow, if Sanders were to reach the final round of the 2016 presidential competitions, he could have defeated Trump and enter the White House. Sanders, however, was the victim of Democrat leaders and Hillary Clinton's secret lobbies. It was not without a reason that many Sanders advocates voted for Hillary Clinton's rival, Donald Trump!Here is some news and analysis on Sanders and the Democratic Party's latest political situation:
It's now Biden, Warren, Sanders — and everyone else
As Politico reported, The bottom is falling out of the Democratic presidential primary. And the top-tier — no longer five candidates, but three — is becoming more insurmountable.
For more than a year, Democrats had approached their nominating contest with a widely-shared belief that — like Republicans in the earliest stages of their primary four years ago — they, too, might take turns rising and falling in an expansive field. That expectation sustained the campaigns of more than two dozen contenders this year.
But in recent weeks, the leading band of candidates has contracted unexpectedly early. Heading into the fall, only three contenders are polling above single digits: Joe Biden, Elizabeth Warren, and Bernie Sanders.
Kamala Harris and Pete Buttigieg remain at the periphery, while lower-polling candidates have largely failed to muster sustained, upward movement in fundraising or polling.
According to interviews with about two dozen Democratic operatives and consultants, there is little reason to expect any of them will.
"It was legitimate to say 'Top 5' for a long time, but with the exception of Kamala Harris being at the outer perimeter of the top three … you'd have to have a strange confluence of events for someone outside those four to win," said Philippe Reines, a longtime Hillary Clinton confidant. "It would require all four failing. Like, you would need all four of them to be in a plane crash or something."
For every other candidate, Reines said, "It's too late in the game to keep saying it's too early."
By this point in the Republican primary in 2016, Jeb Bush was already cratering. Scott Walker had risen and fallen. Donald Trump was in first, still to fend off a surge from Ben Carson before running away from the field.The 2020 Democratic primary, by contrast, has been defined by its relative stability, with two full fundraising periods and two sets of debates now done.
Anna Greenberg, a pollster who advised former Colorado Gov. John Hickenlooper's since-aborted presidential bid, said there was no boom-and-bust for Democrats because the primary "started so early, before voters really started paying attention," and because of "the sheer volume of candidates."
"It's a little bit surprising because compared to '16 on the Republican side, where it seemed like a number of people had their moment in the sun … there hasn't really been anybody who's taken a meteoric rise," said Scott Brennan, an Iowa Democratic National Committee member, and former state party chairman. Brennan said he's spoken with several campaigns recently whose advisers "feel like they're poised and ready, they're poised and they're waiting for their moment."
But "for whatever reason," he said, "they haven't had that."
In a spate of campaigning over the holiday weekend, Amy Klobuchar released a plan to address climate change, Sanders previewed his plan to cancel Americans' medical debt and Beto O'Rourke reiterated his call for stricter gun laws, telling CNN of the nation's recent mass shootings, "Yes, this is f—– up."
On Labor Day, the candidates fanned out across the country, with Biden heading to Iowa, Warren to New Hampshire, Cory Booker to Nevada and Harris to California. The activity came on the heels of several candidates dropping out after failing to get traction — and speculation about more to follow — reinforcing the advantage held by the frontrunners.
Last week, Kirsten Gillibrand became the latest campaign casualty, a week after Jay Inslee abandoned his effort. With five months before Iowa's first-in-the-nation caucuses, six candidates have already dropped out.
Democratic strategist Matthew Litman, a former speechwriter for Biden who now backs Harris, described the field as "mostly settled" among five candidates, including Harris and Buttigieg in that group. Unlike in 2016, when many Republicans were wary of, if not opposed to, Trump, Democrats are "mostly satisfied" with the range of ideologies and experiences represented by the top tier, he said."The other candidates are SOL, and it has been that way for a couple of months," Litman said.
For Biden, Sanders, and Warren, the advancing calendar appears likely to compound their advantage, as early fundraising success and staff hiring allows them to begin advertising and to intensify voter outreach.
The debates have contributed to the early winnowing of candidates. Lower-tier candidates can barely focus on anything else besides meeting the Democratic National Committee's increasingly arduous fundraising and polling benchmarks for debates.
"In a weird way because of the format of these debates and what it took to deal with the debates," said Paul Maslin, a top Democratic pollster, "only recently has anyone started spending any significant money in the early states. So, there wasn't any reason why there would be significant [poll] movement] … until now. And now, we'll see."
He said, "Really, the 1 percenters and below, they were the ones who really suffered. No one really told them, 'Hey, you're in a race where it's impossible for you to grow at all. There is no room."
After failing to make the next debate, in Houston, Tim Ryan and John Delaney were compelled to release statements confirming they were still running. Michael Bennet shredded the Democratic National Committee on stage at its summer meeting, while Steve Bullock defiantly released a new round of staff hires. Campaign aides for both said they'd redouble their efforts in Iowa.
"The rules became a proxy for success at a moment when campaigns were just getting started," Bennet said in an interview with POLITICO. "The DNC is only interested in well-known candidates running."
Even for candidates who have made the debates, their turns on the national stage haven't sparked enduring swings in the campaign. As a result, they've spent recent weeks spinning their position in the polls.
"Which is more unlikely – 1) going from being a complete unknown to 6th in the polls or 2) going from 6th in the polls to winning the whole thing?" tweeted Andrew Yang, the entrepreneur who's enjoyed improbable success but is still running at 2 percent in the latest Morning Consult poll.
Hickenlooper, Inslee, and Gillibrand all participated in previous debates, before dropping out. Juli?n Castro sparked interest with his chiding of fellow Texan O'Rourke in the first set of debates, in June. And Harris surged in public opinion polls when she criticized Biden for his past opposition to busing and former associations with segregationist senators.
But for both candidates, the effect was short-lived. Harris is now back at 8 percent, according to the latest Morning Consult survey. Castro is stuck at 1 percent.
"It's just that they happened so quickly," said Doug Herman, a Democratic strategist. "Trump has changed the timeline. Scandal doesn't last. Problems don't last. Success doesn't last. Everything's a little more vaporized in this timeframe."
The progressive wing of the party already has two viable candidates in Sanders and Warren. For more moderate Democrats, only a Biden implosion is likely to create room for advancement.
"Somebody like Buttigieg or Harris, at this moment, they can only succeed with a Biden collapse," Herman said. "They have an if-then strategy. They are not in control of their destiny."
More movement will also require candidates to adopt a change in tone, said Tom McMahon, a former DNC executive director.
"Everyone — both in the top-tier and among the also-rans — have to start developing when and how they're going to go negative," he said. "Otherwise, this race is going to continue to remain status quo."
It is possible the dynamic will shift. Former Iowa Democratic Gov. Tom Vilsack, who briefly ran for president in 2008, said that even in Iowa, "most people, other than those who are ultra-interested, and ultra-focused, most people are not paying attention to this at all."
"It's still an open game here," he said.
He added, "Having said that, the folks who are at the bottom end of the spectrum here have got to have their moment relatively soon, and here's why: Because Warren, Sanders and Biden and Mayor Pete have a foundation of fundraising that's going to continue to pump money into their campaigns."
Of other candidates, Vilsack said, "They've got to move now, but there's still time for them to move."
Why black voters are backing two old white guys
Also, Politico reported that A divide among African Americans between Joe Biden and Bernie Sanders has major implications for the race heading into the fall.
A generational divide among black voters is persisting in the Democratic primary — between the two old white men.
Joe Biden has amassed a staggering lead among older African Americans, commanding nearly two-thirds support of black voters 65 and older in the most recent Morning Consult poll. Bernie Sanders is the favorite of black millennials, though his margin with that group is much smaller. Among all black voters, Biden is leading Sanders, 41 percent to 20 percent.
Biden and Sanders have maintained their edges even as other candidates — including two African American senators, Kamala Harris, and Cory Booker, have courted black voters more aggressively in recent months. Though opinions could change in the runup to voting, the preferences of African Americans this deep into the campaign has major implications for the election: As black voters go, so goes the mantle of Democratic front-runner — and likely the presidential nominee.
The irony of two white septuagenarians commanding majority support among African Americans — despite running in a historically diverse Democratic field — isn't lost on black elected officials, operatives and voters. Several of them interviewed for this story said it speaks to the belief among many black voters that Biden is both best positioned to beat Donald Trump in a general election and to the loyalty he earned after eight years as Barack Obama's No. 2.
"You go with what you know. A lot of black voters know Joe Biden," said Michael Nutter, a former Philadelphia mayor and a current Democratic National Committee member who's endorsed Biden. "There's power in that and there's loyalty in that."
Sanders won a following among younger black voters during his 2016 run, when his progressive activism and criminal justice record fired up millennials of all races.
At least in the primary, Biden's lead among older black Democrats is more consequential than Sanders' edge among younger ones, because older voters typically vote in much greater numbers. That's especially true in South Carolina, the first-in-the-South primary state where about 60 percent of the Democratic electorate is black. Polls show Biden is doing even better with African American voters there than he is nationally, giving him a potential crucial edge that he hopes to parlay into a string of victories throughout the Southeast and in big cities, where sizable chunks of the Democratic electorate are black.
Similar generational and ideological splits exist among white voters. But African American voters have coalesced to a greater degree behind Biden and Sanders — a dynamic that stands out because of their influence in the early stages of the primary and because they're not behind Harris or Booker.
Without more black support, the path to the nomination becomes exceedingly tenuous for the African American senators, who are polling in the single digits overall. Nationally, Harris is the third choice of young black voters, behind Sanders and Biden. Among young black voters in South Carolina, Elizabeth Warren is polling ahead of Sanders. Both of the female candidates have made considerable efforts to court African Americans, especially black women, who are likely to turn out at higher rates than other demographics.
Harris is writing a monthly column for Essence magazine, which caters to black women and has more than 5 million monthly readers, dubbed Kamala's Corner. To drive engagement and donor support within the black community, she's also made sure voters know she's an alumna of Howard University, a historically black institution, and a member of a black sorority.
Warren has also written for Essence and held events with black activists as she touts plans to close the racial wealth gap.
Booker's polling among black voters is at under 6 percent despite his efforts to promote his work on bipartisan criminal justice reform as well as his two terms as mayor of predominantly African American Newark, N.J.
Antjuan Seawright, a South Carolina Democratic strategist and former senior adviser to Hillary Clinton, cautioned that there's still lots of time for other candidates to make inroads with black voters.
"When you think about Cory Booker, when you think about Kamala Harris, when you think about Elizabeth Warren and others," he said, "one thing I've learned is that when you count people out, they usually teach you that you don't know how to count."
Seawright said one explanation for Sanders' African American support is, "one could argue, he has never stopped running for president." But while Sanders "enjoyed tremendous millennial support last election cycle," he added, "that didn't translate to necessarily showing up at the polls. So support is one thing. Voting for a candidate is another."
Both Biden and Sanders have held rallies at historically black Clinton College in Rock Hill, S.C. But few students attended Biden's town hall there Thursday; instead, it was mostly older people who showed up. Sanders' event in June drew a younger crowd.
"Younger voters like what Sanders is saying about free college and legalizing marijuana," said Jatoya White, a 19-year-old biology student who attended Biden's rally but prefers Sanders. "With the older voters and Biden, it's Obama."
Biden on Thursday finished a two-day tour of South Carolina as part of a renewed emphasis on black voters. It included a sit-down with African American journalists in South Carolina and, before that, in Washington, where he said racism is a "white man's problem."
Sanders, meanwhile, is betting on his favorability with young black Democrats to narrow Biden's lead. His failure to capture the black vote in 2016 crippled his chances of winning the nomination and showed, as other Democratic hopefuls have learned before, that relying too heavily on white liberal voters is not a winning strategy for any candidate.
Phillip Agnew, an activist, and surrogate with the Sanders campaign cited a recent encounter between Sanders and students at the University of South Carolina as emblematic of the way some young black voters feel about him. In the middle of move-in day at the university, when a group of black students heard the senator was inside a nearby Starbucks, they rushed over to thank him for his push to erase college debt.
"These are people who are about to go to college, who have the wherewithal to see Bernie as somebody whose platform, should he be elected, is going to make their lives and that dark cloud of [student loan] debt hanging over them not be there," Agnew said.
Cathy Cohen, a founder of GenForward, whose research focuses on millennial voting behavior by race, emphasized that it's still early days in the primary. South Carolina, the fourth state to vote in the Democratic race, doesn't hold its primary until Feb. 29.
"I would argue that it's anyone's game," Cohen said.
But Biden's team points out his numbers haven't budged much in the four months since he entered the race. In the Morning Consult poll, black voters 65 and older back Biden over Sanders by 56 percentage points, 63 percent to 7 percent. Sanders, meanwhile, is beating Biden by 12 points among African Americans younger than 30.
Black voters who've already made their choice told POLITICO that getting behind a white male candidate over a black woman or man is nothing personal. This time around, black Democrats feel the stakes are too high to be concerned about optics. They are focused on supporting the candidate they feel will champion the policies they care most about — and make Trump a one-term president.
"We want to win. We just want to win," Nutter, the former Philadelphia mayor, said. "Because Donald Trump is so damaging and so frightening to many people in this country … the primary theme is, 'I just want to be with someone who I believe can actually win.' And that's what people care about."
From our partner Tehran Times