UN: Gaza blockade causes 'near ten-fold increase' in food dependency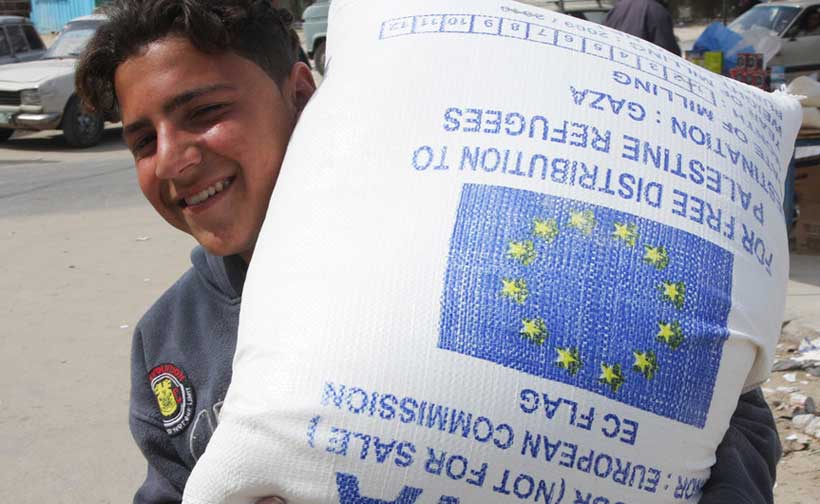 At a time when Muslims globally are observing the holy month of Ramadan, more than half the population in Gaza depends on the international community for food aid, the director of the United Nations Relief and Works Agency for Palestine refugees in the Near East (UNRWA) said on Monday, citing a "near ten-fold increase" in need.
According to UNRWA, it must secure an additional $60 million by June to continue providing food to more than one million Palestine refugees in Gaza, including some 620,000 "abject poor" who cannot cover their basic food needs and are surviving on $1.6 per day. The funds are also needed to cover the severely challenged 390,000 "absolute poor", who survive on about $3.5 per day.
UNRWA is funded almost entirely by voluntary contributions and financial support, which has been outpaced by growing needs.
From fewer than 80,000 Palestine refugees in Gaza receiving social assistance in 2000, today over one million people need urgent food aid to get through their day.
"This is a near ten-fold increase caused by the blockade that led to the closure of Gaza and its disastrous impact on the local economy, the successive conflicts that razed entire neighborhoods and public infrastructure to the ground, and the ongoing internal Palestinian political crisis that started in 2007 with the arrival of Hamas to power in Gaza," said Matthias Schmale, Director of UNRWA Operations in Gaza.
UNRWA is also confronted with an increased demand for services resulting from a growing number of registered Palestine refugees.
Moreover, the tragic death of 195 Palestinians – including 14 UNRWA students and the long-lasting physical and psychological injuries of 29,000 people during year-long demonstrations, known as the 'Great March of Return' – come after three devastating conflicts since 2009 that, combined, left at least 3,790 dead and more than 17,000 injured.
A 2017 UN report predicted that by 2020, Gaza would be unlivable.
Today, with over 53 per cent of Gazans unemployed and more than one million dependent upon quarterly UNRWA food handouts, UN agencies and remittances from abroad are all that stand between Gaza and total collapse.
"For the first time in my year-and-a-half there," Mr. Schmale elaborated, "I had three people talking to me separately about noticeably increasing drug abuse, increasing suicide attempts and prostitution and they put this down to the place is collapsing socially, in socio-economic terms and one can see it and of course against a background like that escalation is possible at any time".
By continuing to deliver upon its mandate, UNRWA remains a critical lifeline for most of Gaza's 1.9 million inhabitants, dispensing services in health and education and defending rights and dignity. Most urgent though, is the food assistance to more than one million Palestine refugees.
Operating with large financial shortfalls, as one of the few stabilizing elements in a very complex environment UNRWA is encouraging all Member States to work collectively to fund its programme budget as well as its emergency programmes, which are financed through separate funding portals.
UNRWA is tasked to help Palestine refugees in Jordan, Lebanon, Syria and the West Bank – including East Jerusalem and the Gaza Strip – to achieve their full human development potential.
UN rights experts urge Israel to respect international obligations
UN independent rights experts on Tuesday, described Israel's conviction of human rights defender Issa Amro earlier this month, as showing disdain for the country's international obligations.
The comments came after the 6 January conviction by an Israeli military court of the Palestinian human rights defender and founder of Youth Against Settlements, a Hebron-based group, which opposes settlement expansion through non-violent civil resistance.
In a statement from the UN human rights office, OHCHR, issued on Tuesday, the experts said that the country must immediately stop using its array of military security tools "to obstruct the legitimate and indispensable work of human rights defenders."
"Rather than prosecuting human rights defenders, Israel should be listening to them and correcting its own human rights conduct", the UN Special Rapporteurs said, urging the country to obey its international obligations to provide protection to human rights defenders.
Mr. Amro was convicted of six charges related to his human rights activities between 2010 and 2016. The experts said they fear he will be imprisoned when he is sentenced on 8 February.
Systematic pattern
"This is part of a clear and systematic pattern of detention, judicial harassment and intimidation by Israel of human rights defenders, a pattern that has increased in intensity recently", the experts continued.
They said Israeli authorities had arrested Mr. Amro numerous times, with the aim of silencing those who would defend the human rights of others.
The UN experts Mr. Michael Lynk, Special Rapporteur on the situation of human rights in the Palestinian Territory occupied since 1967, and  Ms. Mary Lawlor, Special Rapporteur on the situation of human rights defenders, added that convicting him for participating in demonstrations without a permit, is contrary to new developments in international human rights law.
"The failure to notify authorities of an upcoming assembly does not in itself render the act of participating in the assembly as unlawful", they stated.
Mr. Amro was convicted of three counts relating to participation in demonstrations without a permit. Another two counts relate to obstructing security forces, which concerned alleged refusal to accompany Israeli law enforcement officers during arrest. He was also convicted of assault, for allegedly pushing a settlement guard in 2010.
"This conviction is part of a pattern where Israeli military law is used to restrict and penalise Palestinians for exercising their inviolable political and civil rights.", the experts concluded, adding that the conviction appeared to be politically motivated.
Long history
Mr. Amro was first put on trial in an Israeli military court in 2016 on 18 charges dating back to 2010, including incitement, entering a closed military zone, and participating in a march without a permit. He had been taking part in a peaceful protest calling for the re-opening of Shuhada Street, the former commercial centre of Hebron.
The Special Rapporteurs and other human rights experts have sent several letters to Israel seeking clarifications regarding Issa Amro's case, according to the OHCHR statement.
Special Rapporteurs and independent human rights experts are appointed by the Geneva-based UN Human Rights Council and are neither UN staff nor paid for their work.
Sri Lanka: 'Forced' cremation of COVID victims' bodies must stop
The Sri Lankan Government should end its policy of compulsorily cremating victims of COVID-19, independent UN human rights experts said on Monday.
In a joint appeal, Special Rapporteurs Ahmed Shaheed, Fernand de Varennes, Clément Nyaletsossi Voule and Tlaleng Mofokeng, said that the practice ran contrary to the beliefs of Muslims and other minorities.
It ran the risk of increasing prejudice, intolerance and violence, they said in a statement, insisting that no medical or scientific evidence indicated that burying the deceased increased the risk of spreading communicable diseases such as COVID-19.
To date, more than 270 COVID-19 deaths have been reported in Sri Lanka; a significant number have come from the minority Muslim community.
All of the deceased were cremated in line with amended health guidelines for COVID-19 patients, which were issued on last March.
'Aggressive nationalism'
"We deplore the implementation of such public health decisions based on discrimination, aggressive nationalism and ethnocentrism amounting to persecution of Muslims and other minorities in the country" the experts said.
"Such hostility against the minorities exacerbates existing prejudices, intercommunal tensions, and religious intolerance, sowing fear and distrust while inciting further hatred and violence", they added.
"We are equally concerned that such a policy deters the poor and the most vulnerable from accessing public healthcare over fears of discrimination", they said, noting that it would further negatively impact the public health measures to contain the pandemic.
'Immediate' cremation
Information received by the experts indicates that cremation often takes place immediately after test results are provided, without granting family members reasonable time or the opportunity to cross check or receive the final test results.
There have been several cases of cremations based on erroneous information about COVID-19 test results, the experts said.
They noted that the President and Prime Minister had instructed the health authorities to explore options for burials in Sri Lanka.
Disregard
"However, we are concerned to learn that the recommendation to include both cremation and burial options for the disposal of bodies of COVID-19 victims by a panel of experts appointed by the State Minister for Primary Health Services, Pandemics and COVID Prevention, was reportedly disregarded by the Government", they said.
"We strongly urge the Government of Sri Lanka to stop the forced cremation of COVID-19 bodies, to take all necessary measures to combat disinformation, hate speech and stigmatization" of Muslims and other minorities, "as a vector of the pandemic, and to provide remedy and ensure accountability for cremations that were carried out by error."
Special Rapporteurs and independent experts are appointed by the Geneva-based UN Human Rights Council and are neither UN staff nor paid for their work.
Shining a light on sexually exploited women and girls forced into crime
Trafficked and sexually exploited woman and girls can find themselves facing prosecution and conviction for those very same crimes, in some countries, a new UN report shows. The study aims to help prosecutors to better handle these complex cases, and protect the genuine victims.
No clear-cut cases
A 2017 criminal case in Canada, to take one example from the report, involved an 18-year-old woman defendant was charged with the forced prostitution of two female minors, aged 14 and 16. She had instructed one of them on how to dress, and what to do with clients, and taken away the cell phone of the other, to prevent her from escaping.
She was found guilty and sentenced to eight months in prison. However, it was revealed during the case that she too was a victim of sexual exploitation. The court heard that she was under the control of a male trafficker, and had been exploited from the age of 16, and physically abused by pimps.
The case, which is included in Female Victims Of Trafficking For Sexual Exploitation As Defendants, a new publication from the UN Office on Drugs and Crime (UNODC), shows the complexity of many human-trafficking-related cases, in which the defendant may also be a victim, who either had no alternative but to obey an order, and commit a crime, or hoped to limit their own exploitation or escape poverty by playing a role in the crime. The study also found that traffickers use the women and girls as a shield to protect themselves from being punished for their crimes.
Punished twice
"Ever since UNODC started collecting statistics on human trafficking 15 years ago, women and girls have consistently represented the majority of reported victims", says Zoi Sakelliadou, a UNODC Crime Prevention and Criminal Justice Officer, who coordinated the development of the study.
"We've also seen that the percentage of female perpetrators of trafficking who are at the same time victims of this crime, is steadily high too, especially if compared to female offenders in other crimes. The traffickers not only earned a profit by sexually exploiting the victims, but then made them commit crimes so they could escape liability and prosecution".
The report shows that traffickers deliberately used the "victim-defendants" in low-level roles, that exposed them to law enforcement authorities – meaning they were more likely to get caught.
These roles included the recruitment of new victims, collecting proceeds, imposing punishments, or posting advertisements for victims' sexual services.
In very few of the examined cases did the victims engage in acts of trafficking in an attempt to move up the hierarchy of the criminal organization or for financial gain.
It was not just the statistics that led UNODC to analyse this topic, explains Ms. Sakelliadou, but also calls from law enforcement and criminal justice officials, who stressed the complexity of investigating and adjudicating cases that involve female victims of trafficking as alleged perpetrators.
The study also highlights the clear links between human trafficking and violence against women, domestic violence, and the role of intimate partner violence.
"We found that in around a quarter of the cases examined, the women had been subjected to multiple forms of violence prior to and during the trafficking process, including from early childhood", says Ms. Sakelliadou. "We hope this study will support the law enforcement and criminal justice officials and the NGOs who handle these complex cases and support the victims."