The crisis in Venezuela and its strategic significance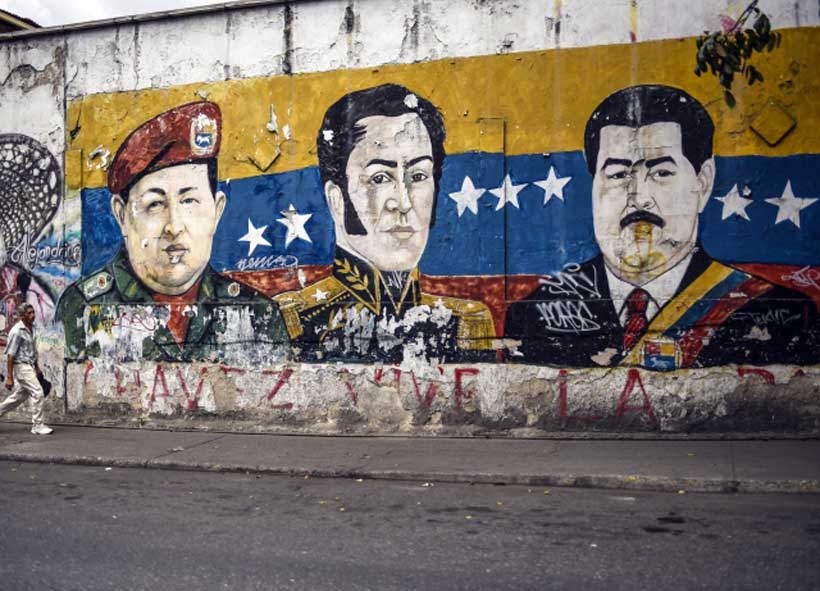 Venezuela's economy – in a country that has better oil reserves than Saudi Arabia and Iran – began with the OPEC oil price crisis, when Chavez was still alive, until the heavy fall in oil prices in 2013.
The social spending of Venezuelan "Bolivarianism" was very high and a country living on oil permanently needs stable and growing markets. This is inconceivable with the current dislocation of strategic roles within OPEC and in the context of the struggle between Iranian Sunnis and Shiites.
Saudi Arabia will decrease production as soon as prices fall – and this will be the rule for everyone.
With Maduro, the primary choice for oil – i.e. Venezuela's true economic policy -has remained in the wake of Bolivarianism. Oil resources, however, have fallen to less than half of those recorded during the Chavista boom and inflation has quickly grown to such a point that it is currently the largest in the world. It reminds us of the Weimar Republic and for the same reasons. The State of Caracas prints money with the same criterion with which newspapers in crisis print more copies.
At the beginning of the Chavista era, the inflation rate was already 29.5%. In 2005, when the oil market was still bullish, the inflation rate dropped to 14.4% instead.
Eight years after the former city bus driver in Caracas, namely Chavez, had risen to power, food prices in the capital city were nine times higher than at the beginning of Chavez' new Bolivarian regime, while salaries had decreased by 40%.
The full nationalization of the oil company PVDSA was the first step that Chavez made down to the road for total economic disaster.
Currently the oil companies operating in the Orinoco Basin – which is one of the largest in the world – do no longer make the necessary investment to make extraction possible, and nowadays oil extraction has leveled off at merely one million barrels a day.
Certainly, we need to consider the US sanctions on exports, but extraction could still halve down to half a million by the end of 2019.
Companies such as Malaysia's Petronas and even the Russian Lukoil already left Venezuela in 2014. The Iranian company Petropars did the same in early 2015 and PetroVietnam in late 2015. Finally Exxon and Conoco had to leave quickly under the threat of Venezuela carrying out a punitive nationalization, with both companies' related and immediate starting of formal proceedings before the international courts.
Moreover, there is no legal framework – not even in Venezuela-delimiting possible operations, in the case of ongoing confiscations of foreign capitalists' assets or of nationalizations. Hence those who remain, paying bribes left and right, obviously do not extract the amount of oil they could. This also applies to the Venezuelan non-oil economic sector.
Even PDVSA – the always open coffer of Bolivarianism – has reduced its oil production from 5 million barrels a day to the current one million barrels a day. Later, with the embargo imposed by the United States, this trend will continue.
The national oil company has long been heavily indebted with China and Russia, as well as with other countries, such as Iran.
China has already requested the quick and full payment of its credits. China is not used to the structural inefficiency of Latin American countries.
It is a process that China has started also with Brazil.
Furthermore, Russia has already granted a rescheduling of its Venezuelan debt, which is already three billion and seven hundred million US dollars.
Obviously, from a strategic viewpoint, Russia is interested in maintaining its own area of influence in a Latin American continent that, after Bolsonaro's victory in Brazil, is fully siding with President Trump's policies.
Hence, where possible, it is subject to Russian specific pressures.
As can be easily imagined, Venezuela's weight in the OPEC area is now less than minimal- and this creates further difficulties.
But the entire oil producers' organisation, whose relations of its Sunni area with Trump's America are currently very strong, has now a fixed rule we have already clarified: cutting production when the oil barrel prices decrease – exactly the opposite of what Venezuela currently would like to do.
Moreover, Venezuela keeps on exporting only 800,000 oil barrels a dayto the United States.
Here not only geopolitics, but also the first global commodity, namely oil, has a role to play in this respect.
For the United States, buying oil from Venezuela means trying to counter Russia's weight – although with increasing difficulty.
The United States clearly sees how Russia and China still support Venezuelan Chavism – also to recover their huge credits. Hence a geopolitical rather than economic clash between opposing blocks emerges in the country with the largest oil and gas reserves in the world.
Inter alia, with shale oil and gas the United States is becoming a net oil exporter. Hence it is ever less interested in the fate of the countries that were once powerful suppliers, but are currently only tired competitors.
Even the deep crisis of Madurism could favour the US oil and natural gas export market. Hence there is not much desire in the USA to solve the Venezuelan crisis, but only the desire to prevent Venezuela from choosing Russia, Iran, China or even the crazy and silly European Union.
Moreover, the United States has an extreme need for high oil barrel prices, so as to recover the extraction costs which are still higher than the traditional ones.
Hence, paradoxically, a regional production crisis near the US territory could even be good for the United States in the medium term.
Therefore, apart from the usual creation of petrodollars, the United States is entirely in favour of an increase in the oil barrel price- and hence indirectly in favour of tension in Venezuela.
The United States does no longer even need Venezuelan oil – as was the case in the past.
There is no more room for Venezuela to even export its oil to the Caribbean at the usual low prices – a clear sign of an old and now impossible local hegemony.
Hence, as is currently the case, the Hezbollah – currently guarding also Maduro – set in, while the Cuban intelligence services have defined a precise program for opposing Guaido's possible "counter-revolution" and also the Russian contractors of the Wagner group are present, in force, in the Venezuelan territory to defend the wells and the other nerve centres of the former Chavista regime and, currently of Maduro's regime, for which Russia has no esteem.
The relationship between Hezbollah and Chavez was very complex – and it is still so currently with Maduro.
At the beginning of Guaidò's campaign against Maduro, the members of the Lebanese militia – that was Imam Khomeini's "eye – hoisted a poster with Chavez' and Maduro's faces alongside that of Hassan Nasrallah, the leader of the Lebanese Shiite militia.
Furthermore, the Hezbollah were the first to advertise and make public the US hidden presence in favour of Guaidò in Venezuela.
The reason for this particular relationship between the pro-Iranian Lebanese Shiites and the "Bolivarian" regime is simple and concrete: right from the start, Chavez and Maduro gave carte blanche for the laundering of Hezbollah's secret funds in Venezuela, especially through drug trafficking activities.
Furthermore, the Lebanese group operating in Venezuela collected essential data on international crime, which was useful exactly for Hezbollah to find its place into the global cycles for money laundering and acquisition of illegal funds.
Even Cuba – which, despite the all-too-touted "liberalization" of the post-Castro regime, kept on serving as air passage of drugs to the United States – used the Venezuelan "Bolivarians" for money laundering activities, as well as a basis for the operational shift of South American drugs to the ever more drug-addicted United States.
Some Hezbollah's people also have important positions in Maduro's government.
Just think about Tarek el Assaimi, the 28thVice-President of Venezuela and later Oil Minister, who currently "covers" many of the Lebanese from Hezbollah that very easily acquire a Venezuelan passport.
El Assaimi has also been reported to the US Drug Administration since 2017.
Why does Iran need Venezuela?
Firstly, to avoid US trade restrictions. Iran sees the US support for Guaidò as a direct threat to its interests in Latin America, which are manifold and very widespread.
Coincidentally, the Venezuelan gold – that was said to have so far been exported to Turkey for security reasons -is currently heading for Iran.
Cuba's drug system has been essential to maintain Castro's regime as early as the time of Ochoa, who had supported the Medellin cartel in the cocaine shipments to the United States. At the time, however, the proceeds were in the banks of Noriega, the President of Panama who laundered 80% of Cuban illegal cash flows.
Now the system works in favour of Venezuela, which no longer has the financial controls that were previously unavoidable in a fully pro-American country like Panama.
Certainly, for Cuba, the Medellin cartel's drug transfer to the United States was also a purely political operation to plague the American society and make it powerless and unproductive.
It has largely already succeeded to reach this goal.
After Noriega's fall, that network has largely moved to Venezuela and is currently operating at full capacity and in full swing.
Meanwhile, the Cuban intelligence services were directly connected to the Colombian FARC and later to the Venezuelan security forces, formerly regional leaders of drug trafficking at the time.
As is the case today, since then the Cuban secret services have trained the Bolivarian intelligence services. In fact, at the time, the former eliminated most of the Venezuelan opposition to Chavez.
Indeed, after the Cuban training, Chavez' intelligence services established the Cartel de los Soles(the "Cartel of the Suns") and in fact the name comes from the "sun" insignia of Venezuelan generals.
Currently, it is precisely corruption and the illegal drug trafficking led by Maduro's generals to directly support the regime and to strengthen and fund the fight against Guaidò's forces.
The Venezuelan narcomilitaries know all too well that, if they lose power, they will soon be judged by some US or international court.
This kleptocracy removes from Venezuela's coffers an officially declared sum worth around 70 billion US dollars, but some Latin American security services speak of about 300 billion US dollars taken away for paying bribes inside the kleptocratic regime in Venezuela.
Hence an inflation triggered and maintained only by the criminal kleptocracy of those who also organize a highly lucrative drug trafficking, even within the regime and the whole country.
Furthermore the controls on money and prices, introduced by Chavez in February 2003, quickly turned Venezuela into a Mafia-State.
At the time of the founder of "Bolivarianism", the illegal system created by those price controls, was even larger than it currently is.
It should be remembered that in 2002 a military coup ousted Chavez from office for 48 hours only.
With a view to avoiding the return of the military, Chavez delegated most of the State functions to criminal gangs – and also to the very inefficient Armed Forces.
The illegal gangs were mainly two, namely the Colectivos and the Pranes.
The Colectivos took power mainly in the suburbs of Caracas.
Currently, despite having been supported and often created by the government, the Colectivos are not answerable to anyone – much less to the opposition.
The democratization of kleptocracy.
They live mainly on extortion and drug dealing.
Currently, however, they have been essential to repress Guaidò's insurgency and make some areas of Caracas support Maduro again.
The Pranes are instead criminal gangs operating within the Venezuelan prison system.
However, they have also expanded outside prisons, in collaboration with the so-called megabandas.
The "peace zones", reached after a long negotiation between criminal gangs and what remains of the police, are just eight in Venezuela.
Nowadays, the most widespread illegal activities among criminal gangs are those relating to the smuggling of subsidized fuel to Brazil and Colombia.
There is an ever more limited market for this fuel in the countries of arrival and an increasing number of buyers in Venezuela, which experiences the paradox of being a huge oil producer, but with empty pumps for its citizens.
Other key sectors, left in the hands of the bandas, are the smuggling of food and pharmaceutical products. This was the reason why the Red Cross aid could not work at the beginning of the crisis.
In Caracas people die very easily: 89 murders per 100,000 people a day.
In 2017 there were 26,616 murders – over 5,535 of which carried out by the security forces, while the others were carried out by the gangs of the Operativos para la Liberacion del Pueblo.
A network created exactly by Maduro.
Furthermore, as already seen, Venezuela is the favorite base for the Colombian narcocrime, while the hungry e Venezuelan proletariat is pushed right out of the cities of Bolivarianism towards Colombia, where the Venezuelan poor people become members of the "cartels" or victims of them.
In just one year, the last for which we have complete statistics, namely 2017-2018, at least one million Venezuelans fled to Colombia alone, with a rate of at least 37,000 citizens of the Bolivarian State who crossed the border with the territory of Bogotà everyday.
Panama, which now has no interest in the survival of Maduro's "Socialist" regime, also included 37 "big shots" from the current Venezuelan regime into a "high-risk list" for money laundering, including Maduro himself, as can be easily imagined.
That list also included Diosdado Cabello, the No. 2 of Venezuela's regime and Party, as well as other figures, well known to the Venezuelan public, such as Gustavo Gonzales Peres, the former Head of the Bolivarian Intelligence Service.
Panama is also part of the "Lima group", an organization of 14 Latin American countries in the region, which is above all opposed to maintaining the Maduro system in Latin America.
Even the European Union – with its well-known quick decision-making in foreign policy – imposed personal sanctions on figures such as Interior Minister Nestor Revarol, the President of the Supreme Court, Maikel Moreno, and even the Head of the External Intelligence Service, Gustavo Gonzales Lopez and, finally, to the aforementioned No. 2 of the regime's Party, Diosdado Cabello.
They can no longer travel to EU countries and their bank funds deposited there will be frozen.
The appeal for a general upheaval that interim President Juan Guaidò had announced on the morning of April 30th – together with the recently-released military Leopoldo Lopez, and with a military group from La Carlota air base – seems to have failed. In a country like Venezuela, the "Arab Spring" model does not work at all.
US intelligence services' greater intellectual imagination would be needed.
Meanwhile Lopez has recently taken refuge at the headquarters of the Spanish embassy in Caracas, while the Spanish government has declared it will never release Lopez to the Maduro government.
25 other rebel military applied for asylum at the Brazilian embassy, but it should be noted that Lopez had previously addressed to the diplomatic offices of Chile, although he declared – after being accepted by the Spanish diplomacy in Venezuela – he had never asked for political asylum.
Nevertheless many Venezuelans have anyway agreed to take to the streets, where two other young people have recently died, thus rising to 55 the number of victims of Maduro's repression since the beginning of this year.
Meanwhile, the opposition denounced a toll of other 74 severely injured people, followed by 168 arrests, including at least a dozen journalists.
Meanwhile Guaidò goes from one hiding place to another, but he was seen by the crowd on May 1stwhen he called for a strike of all Venezuelan workers in the short term.
Maduro responded to Guaidò's call to strike only the day after, but it was a clearly recorded TV broadcast.
Shortly afterwards, in his official capacity as Trump's National Security Advisor, John Bolton – an old heir to the neocon foreign policy – informed the international media that Defense Minister Valentin Padrino Lopez, Supreme Court President Maikel Moreno and the Director of the DG for Military Counterintelligence, Ivan Hernandez Dala, had negotiated directly with the USA to oust Maduro.
Instillation of suspicions in Maduro's elite, or also truth? Hence evident psychological war or US indecision between the choice of staging a coup inside Maduro's Party, with some US trusted elements, or the reaffirmation of US trust in Juan Guaidò?
Mike Pompeo, Trump's Secretary of State and former CIA Director, also stated that Maduro was already on a plane to Cuba, immediately after the May 1st demonstrations, but that Russia harshly ordered him to stay in Venezuela.
Could the reason underlying the US support to Guaidò's attempted coup – which is now not matched by the same support it had gained at the beginning of the insurgency – beoil, as usual?
With the oil barrel price around 50-60 US dollars, the price of Venezuelan oil is still acceptable, but we are talking about heavy hydrocarbons, which need successive and obviously expensive further refining.
Exxon-Mobil is still trying to acquire the Essequibo extraction area, where sovereignty over it is still being discussed between Venezuela and Guyana.
In Venezuela, there are still 15 billion barrels a day of not extracted oil, in addition to as many as 42 trillion cubic feet of natural gas.
It should be considered that Venezuela is still the second country – if not the first, depending on explorations- in terms of oil and gas reserves available.
The USA, however, is mainly exploiting its national basins and is selling natural gas and oil, by sea, even to some European countries.
Hence, currently for the United States the issue of Venezuelan oil and gas is not to acquire them – although the oil barrel production cost in Venezuela is still lower than the shale oil and gas of the US Permian basin – but above all to prevent those oil and gas reserves from being used by China and the Russian Federation.
In fact, in the years of the sharp drop in the oil barrel price, until 2016, Maduro chose to assign as much as 49.9% of a PVDSA subsidiary, namely CITGO, to Russian Rosneft – in exchange for a loan against the transfer of the company shares to the tune of 1.5 billion dollars directly to the Venezuelan State.
Also Russia, however, is a net exporter, and Goodness knows how powerful that country is in terms of oil and gas, with a primary focus of its markets on the EU.
In this case, however, for Russia the Venezuelan oil could be a strong way to put pressure on the United States – exactly due to the lower price of the Venezuelan crude oil – with a view to reducing the negative impact of the US (and EU) sanctions on Russia for the Ukrainian issue.
Hence, by spending a relatively little sum, namely 1.5 billion US dollars, Russia became the true arbiter of Venezuelan oil to use it as a leverage over the United States – indeed, really for purposes of blackmail against the United States.
In fact, it is by no mere coincidence that, in February 2018, a group of US investors of unclear complexion tried to buy back the Russian shareholding of CITGO, asking the Venezuelan government to accept payment to them of the remaining Russian loan and also asking Rosneft to transfer the remaining amount of the loan already granted in Venezuela to the new CITGO.
Needless to say, the offer was declined.
As always happens in these cases, the United States is also operating with economic pressures and embargoes.
It is imposing a further embargo for Petroleos de Venezuela SA, namely the whole PDVSA, which legally began in early January 2019.
This means that the proceeds from Venezuelan oil will be very limited, as if Venezuela were an economic hostage.
With a view to favouring – even among the elites of the "Maduro system" – the shift to the US camp, instead of remaining within the sphere of Russian economic control (and of Iranian control for the non-oil criminal economy).
President Trump's desire to invade Venezuela is now well-known to the international public, at least based on his statements of June 2018, when, at a meeting in the Oval Office, President Trump expressed that clear desire to the then Secretary of State, Rex Tillerson, former President of Exxon-Mobil, and also to the then National Security Adviser, General MacMaster.
It should be clarified that neither of the two advisors was favourable to the operation.
In late 2018,Maduro – increasingly under pressure as a result of the international economic crisis and of the huge internal crisis, particularly heavy for the oil-dependent countries – gave to the companies of the strong Russian mining sector access to the Venezuelan gold mines – those that had created the myth of Eldorado in Spain in the seventeenth century.
In Venezuela there are also mineral reserves of nickel, diamonds, iron, bauxite and aluminum.
Clearly, however, Latin America's new strategic and political positioning – especially after Bolsonaro's victory in Brazil – is fully in favour of the United States and, specifically, of President Trump, while the assets in favour of the Russian Federation are diminishing.
This means that Russia, along with its traditional allies, such as China, will keep Venezuela very close, especially for geopolitical purposes and ever less for strictly economic ones.
While the real strategic variable will soon be China. Will it accept to participate in Russia's very interested support for Maduro's regime, taking what remains of the Venezuelan economy, or will it accept the US proposal of taking a large part of Venezuela after breaking China's ties with Russia, at least in Latin America?
Mexico's challenges since transitioning from the hegemonic rule of the Institutional Revolutionary Party (PRI) 19 years ago have remained numerous and elusive: rampant corruption; constant violation of human rights; spiralling violence; impunity; ineffective rule of law and the inability of the state to protect basic rights of its citizens. Drug violence, in particular, has undergone a rapid and intense process of diversification and popularisation while the ability of the state to deter anti-systemic forces has remained critically low. Over the last decade, the criminal field has become increasingly complex, fractured and multi-polar making it almost impossible for the authorities to respond effectively.
On the 17th of October 2019 after a shambolic operation that led to thearrest of Ovidio Guzmán, son of drug Lord Joaquín Guzmán Loera, El Chapo, criminal organisations loyal to the Cartel of Sinaloa effectively sieged the city of Culiacán, Sinaloa overpowering the capacity of the army and rendering the current president Andrés Manuel López Obrador's (AMLO) security policy obsolete, just 9 months into his presidential term. The government was left with no choice but to release the prisoner in an attempt to stop the violence that had terrorised Culiacán for 6 hours.
The Cartel of Sinaloa´s victory in subduing the government is a remarkable humiliation for the current administration and exposed the utter lack of capacity of the state to quell violence across the country. It could also set a dangerous precedent: the state as captive of anti-systemic forces. This is the second even of such nature during AMLO's presidency, just last month after protests of striking teachers spread all over the country, the president blindly agreed to all the demands of the teachers' union. Both of these events send the dangerous message to criminal organisations and anti-state forces that the only thing needed is to commit wholesale violence in any given city and the government will agree to meet their demands.
AMLO instead of pursuing a full-on military strategy like his predecessors to try to limit the growth and scope of violence, has decided to follow a pacification security strategy that focuses on trying to resolve the social roots of insecurity.He has placed poverty as the main reason why Mexican youngsters are joining criminal organisations. His basing his strategy on a serious misconception: Poverty causes violence. Violence is a symptom of poverty not the cause. It is easy to blur the correlation between the two, and much easier to sustain the myth that continues toplague the poor to justify a simplistic approach to violence: If people are violent, it's usually because they are poor, because when you are poor, your opportunities to escape poverty are exceptionally limited so you need to resort to violence; therefore people who have money, will not be violent:The massive corruption that underminespolitical institutions inMexico is not committed by the poor. Drug Lords are not poor either.
It is true that Mexico's crisis manifests itself in violence, however its real roots are the widespread corruption, the weakness of the state and its institutions, and the lack of vision of incumbent administrations to place the interest of the country ahead of their own particular electoral interests. This makes any attempt to solve the endemic problems of Mexico subject to the whims of those in power. Culiacán only showed that the government can be easily outgunned, outsmarted and outmanned; it also inflicted a major blow to AMLO's pacification strategy he defends.
Reality is that the Mexican state is failing in at least 6 of its basic functions: It is unable to guarantee internal security; it has been unable to protect the rights of its citizens; it has been ineffective in ensuring the respect of the rule of law and the administration of justice; it has failed in the promotion of the policies aimed at the betterment of the welfare of its population; it has not maintained a stable economy that would translate into improved living standards for its citizens; and the state has failed to act as the exclusive holder of the monopoly of force.
There are only 2 ways in which the current spiral of violence in Mexico can stop: Go back to the narcopeace that the country enjoyed during much of the rule of the PRI hegemonic party. This will happen when one or two criminal organisations become powerful enough to establish enough deterrence to monopolise the drug prevent further fragmentation. The second option is if the state somehow is able to systematically build up enough deterrence capacity to align anti-systemic forces with the government. This is however hampered by the prevalence of weak institutions and a lack of commitment to a deep state reform. This would only require more than a pseudo-leftist leader waving the flag of modernisation and change, but whose policies are dangerously steeped in a strong nationalist rhetoric that echoes the hegemonic PRI party of the 1970s.
Therefore, the most likely outcome is that AMLO, like its predecessors, will most likely disappoint. Current enthusiasm for the current administration has led to the denial of the new president's very obvious shortcomings. Mexico has prioritised cheerleading of a messiah candidate over the slow but vital work of institution-building and state reform that is the only answer to decades of disappointment.
When Democracy Becomes the Problem: Why So Many Millions Still Support Donald Trump
"Who is to decide which is the grimmer sight: withered hearts, or empty skulls?" -Honoré de Balzac
For understanding the context of social life, Honoré de Balzac was a master. Minutely analytic in his scrutiny of society, he delicately lay bare every stratum of culture with the precision of an archeologist. Brushing the "dirt" from every "artifact," his books combined (as Victor Hugo remarked at his funeral) "observation and imagination."
It was an ideal but too-rare combination. Still, desperately, America needs another Balzac today. Despite so much apt criticism of an incoherent US presidency, millions of Americans continue to regard Donald Trump as an acceptable or even exemplary leader.
How can this be happening in a presumptively informed and democratic American society? In response, we could very easily throw up our hands and exclaim (together with ancient philosopher Tertullian), Credo quia absurdum, "I believe because it is absurd." For a more serious response, however, we should first examine the wider American society from which this relentlessly conning president was drawn.
To fruitfully extend the illuminating Balzac metaphor, it is high time to "brush the dirt" from all still-revealing "artifacts."
What might we expect to discover? At a minimum, the results of any such examination should be decipherable and straightforward. If properly executed (that is, if carried out with proper attention to the long-settled criteria of scientific investigation), we could quickly discover that Americans all-too-frequently abhor any genuine learning. Although this nation surely does place a very high value on every manner of "practical" achievement (e.g., smart phones, Facebook, Snapchat, Twitter, self-driving cars, automatic guns, etc., etc.), it is only because these diverse products are expected to enhance the banal circumstances of American "mass."
In essence, before learning and intellect can ever be valued for themselves in the United States – a condition which is so clearly required for proper governance – Americans will first need to think far beyond glittering and distracting technologies.
What else might be learned from a "Balzac-like" assessment of dissembling US presidential moments? In some respects, the "Trump Phenomenon" is not utterly unique. Although less rancorous, cantankerous and blatantly foolish, more than a few incapable and dishonest US presidents have been endured during America's endlessly acrimonious past. At the same time, especially because his own conspicuous debilities are coupled with a "nuclear button," Donald Trump is more tangibly dangerous than any one of his injurious predecessors.
Vastly more dangerous.[1]
Soon, however, we must return to deeper explanations. In all likelihood, almost by definition, a contemporary Balzac would look more closely at the broader society from which this American president was drawn and from which he was catapulted to nuclear command authority. Here, soberly, all must finally confront a cheerlessly trivialized social order, a generally dumbed-down amalgam of individual citizen souls yearning to "follow the crowd."
Ever yearning.
Even in this pervasively anti-thought society, the core problem is not that the "average American" knows too little about matters of consequence.
Rather, it's that he or she wants to know very little.
Incontestably, these same limiting traits are characteristic of Donald J. Trump. Expressed in more axiomatic mathematical terms, one is the inevitable reciprocal of the other.
Not by happenstance did Trump rise to power in a country so flagrantly proud of its historical and cultural illiteracy. The fact that this US president never reads anything – literally, never, ever – is not widely taken by Americans as a significant liability. On the contrary, the obliging American mass reserves notably few intellectual expectations for its leaders. Indeed, for many voters, ostentatiously, any obvious intellectual disinterestedness is taken as an enviable presidential asset.
Credo quia absurdum, said the ancient philosopher. Once upon a time, when some calculable number of Americans still sought to read challenging books and consider variously complex ideas, Ralph Waldo Emerson urged his fellow citizens to embrace "plain living and high thinking." Today, this earlier American plea for improved personal and social equilibrium has been casually cast aside. If it were more widely recognized, Americans would then be "assured" that any well-reasoned pleas for consequential reform should only be ridiculed.
Under the aegis of President Trump's continuously "rotating" senior appointees, matters will only get worse. Nonetheless, growing legions of US citizens acknowledge no real problem with their overtly anti-education president, even one whose proposed "solution" to gun violence in the schools is to randomly arm teachers (because they are "more loving" than police) and to "fight back" with still more guns. In part, at least, such an ominous indifference to intellect and science can be traced to America's unrelieved barrage of crude and voyeuristic entertainments, many of which center on sadism, torture, murder and (these days especially) a cheerlessly corrosive public discourse.
Always, in the Trump Era, this discourse is laced with utterly baseless rancor and with conspicuously dreary profanity.
Always, in this American White House, science and reason represent merely an annoying impediment to free-floating human hostilities.
It's time for candor. Earlier, Donald Trump had promised, at one of his more hideous Goebbels-style "rallies," to protect a nonexistent Article of the US Constitution. Even then, however, his unhidden historical ignorance was glossed over by supporters as unimportant. Still, it represented another humiliating Trumpian symptom of America's much wider and more deeply insidious national "pathology." While his followers were generally correct that this president was entirely willing to "speak his mind," they seem untroubled by the too-obvious corollary.
There was no underlying mind for him to speak.[2]
"What the mob once learned to believe without reasons," queries Friedrich Nietzsche in the Fourth Part of his Zarathustra, "who could overthrow that with reasons?"
Nietzsche, as usual, had understood splendidly, deeply. He reflected (also in Zarathustra) that "When the throne sits upon mud, mud sits upon the throne." Disregarding the millions who ("with reasons") still refuse to renounce a glaringly unhinged presidency, Donald Trump never ever attempts to understand that American history deserves its proper pride of place.
This is because the American president is himself utterly ignorant of America's history and founding principles.
How many Americans who energetically champion "gun rights" have paused to consider that the Founding Fathers were not expecting automatic weapons? How many can sincerely believe that the Founders would have wanted 350 million privately-held weapons, including huge private arsenals that can kill hundreds in minutes and are sometimes in the hands of citizens living with variously advanced stages of dementia?
Could any argument for "Second Amendment Rights" be more starkly disingenuous than those that put literally unimaginable sentiments into the mouths of 18th century revolutionaries?
Can anyone reserve a legitimate intellectual right to believe that the Second Amendment embraces originally-inconceivable sorts of firearm? How many "educated" Americans bother to learn that their early eighteenth-century Republic was the direct religious heir of John Calvin and the lineal philosophical descendant of John Locke and Thomas Hobbes? How many can appreciate that the fearful Hobbesian "state of nature" described in Leviathan – a "state of war" or "war of all against all" (bellum omnium contra omnes) – was deemed insufferable by the seventeenth-century English philosopher because there "…the weakest has strength enough to kill the strongest."
Hobbes strongly cautioned against any social order that might wittingly or unwittingly create this "dreadful equality." After all, following such creation, "…the life of man (would necessarily be) solitary, poor, nasty, brutish, and short." Evidently lost on this president, too, is the ongoing relevance of Hobbesian thinking to the proliferation of nuclear weapons. Why else would Trump be actively undermining the already-fragile nuclear arms control regime, even to the extent of abrogating critical US treaties with Russia?
One still-whispered explanation is that this US president is a real-life "Manchurian Candidate," but a more plausible answer is that he has no intellectual grasp of how best to support American survival in the steadily nuclearizing state-of-nature.
None at all.
For Trump, going back to "nature," both nationally and internationally, could represent a positive or welcome development. More exactly, in this president's alarmingly disjointed views of the world, (ones wherein "might makes right") regression could sometime become an agreeable part of "making America great again."
Credo quia absurdum. "I believe because it is absurd."
There is more. This is hardly the first time in modern history that a "crowd" has loved to chant gibberish in belligerent chorus. For a particularly worrisome example, we need only recall the ritual cries of Joseph Goebbels at the Nuremberg Rallies before the War. What Goebbels did expertly instruct, with a shrill and perverse genius – an instruction now capably learned by Donald Trump – is that the bigger the lie, the more believable it can become. At first, the lie doesn't seem to make any sense. But if one leads chants often enough against some "crooked" opponent or another, fewer will expect to find any "crookedness" on the chanting side.
Such devious "logic" makes no discernible sense. Still, it continues to work well for US President Donald Trump. Absurdly well.
"Intellect rots the brain," warned Goebbels.
"I love the poorly educated," echoed candidate Donald Trump in 2016.
Not much calculable difference here. Both Goebbels and Trump were effectively on the same page.
In the past, Mr. Trump, with nary a hint of painstaking analysis, blithely encouraged more countries to acquire their own nuclear weapons (e.g., Japan and South Korea). Immediately, this incomprehensible urging should have signaled a too-willing incapacity to figure out certain complex strategic problems. At a minimum, the president's earlier encouragements were spawned by his apparent unawareness that possession of nuclear weapons does not ipso facto create credible nuclear deterrence postures.
Not at all.
In the pertinent language of nuclear strategic theory – a language with which I have personally been intimate for over fifty years – in Princeton, Washington and Jerusalem – the Trump fallacy has a specific name.
It is referenced by specialists as the "porcupine theory."[3]
This prickly metaphor obtains because these violators of strategic logic falsely equate nuclear weapons states with porcupines, presuming that just as the quill-endowed critters will leave each other alone in the forest, so too would nuclear weapon states steer clear of each other in the unsteady interstices of anarchic world politics.[4]
In the end, US presidential selections are too often shaped by primal disfigurements. Many of America's cumulative political ambitions remain integrally bound up with distressingly embarrassing simplifications and with resoundingly stupefying clichés. The elaborately welcomed appearance of Duck Dynasty as a principal "speaker" before Mr. Trump's Republican National Convention should already have represented the reductio ad absurdum of a declining civilization.
Yet, it was not generally criticized. Not at all.
But it was consistent – and without causing any electoral disadvantage – with Donald Trump's terminally proud aversion to refinement, syntax, intellect and meaningful learning. At even much deeper levels, it was expressive of America's general celebration of low-level and degrading public distractions. For this US president, whose crude sentiments were unhidden, there was more palpable instructional value in television's Roseanne than in Homer or Shakespeare.
Shouldn't this illiterate judgment have been a sufficiently worrisome "early warning"?
Accordingly, Ralph Waldo Emerson and his learned generation of American Transcendentalists would have done more than winced. America's earliest presidents, after all, were individuals of recognizable accomplishment and original thought.
In July 1776, over one short Philadelphia weekend of dreadful heat and no modern conveniences, a then-future American president composed more infinitely valuable prose than America's current president (with all modern conveniences at his ready disposal) could produce in several contiguous lifetimes. Thomas Jefferson did not arrive at his presidency with a well-honed expertise in "branding," but instead with the much more appropriate understanding that an American
"brand" should be based upon certain authentic qualities of accomplishment. These traits are inherently true, honorable and correspondingly valuable.
"One must never seek the higher man," warned philosopher Friedrich Nietzsche in Zarathustra, "at the marketplace." Years ago, America still stood for something more than buying, selling and grievously raw commerce. Years ago, the country's national debates did not yet center on mass killing and the right to arm oneself with military-style assault weapons.
It may well be that America has never been quite ready for Plato's "Philosopher King," but there were at least some recallable times in its national past that philosophical debates would sound more like a mind-expanding university seminar than a self-defense course on tactical weapons.
Assuredly, American s remember their earlier presidents not for their transient commercial successes in the frenetic marketplace of goods for sale and purchase, but for their auspicious presence in an enlightening marketplace of ideas. For these still-enviable presidents, it was much more important to build a leadership legacy upon wisdom and learning than on the incessantly demeaning symbols of conspicuous consumption.
It's not complicated. The full horror of the Trump presidency – a horror still energetically accepted by millions – begins with the intellectually unambitious American citizen; with the insistently flawed individual "microcosm." The American electorate, the macrocosm, can never rise any higher than the amalgamated capacities of its separate members. As Nietzsche could easily have predicted, the whole of the American polity is more starkly despoiled than the aggregate sum of its component "parts."
Ultimately, for better or for worse, every democracy comes to represent the sum total of its constituent "souls," that is, those still-hopeful citizens who would seek some sort or other of personal "redemption." In the deeply fractionated American republic, however, We the people – more and more desperate for a seemingly last chance to "fit in" and to "get ahead" – inhabit a vast wasteland of lost human and intellectual opportunity. Within this desiccated amalgam of cheap pleasures and abysmal entertainments, of political leaders without even a scintilla of courage or integrity, millions of "hollow men" and women remain chained to exhausting cycles of meaningless and repetitive work.
There are manifold ironies here. While generally unrecognized, this de facto servitude is sometimes felt in the United States by the very very rich as well as by the very very poor. This paradoxical "artifact" of American privilege is based upon entire lifetimes spent on grimly sterile forms of pointless personal accumulation.
Now, our most spirited national debates continue to be about guns and killing not about history, literature, music, art, philosophy, or beauty.[5] Within this vast and predatory nether world, huge segments of our unhappy population drown themselves ritually in vast oceans of alcohol and drugs. Whether incremental or sudden, this intractable submersion is now becoming deep enough to swallow up whole centuries of national achievement and entire millennia of a once-sacred poetry.
At its core, the American "opiate addiction problem" is not fundamentally about drugs. It is, rather, the symptom of rampant individual unhappiness and an intractable social despair. The most tangible residue of this unrelieved problem can be found scattered as toxic litter over thousands of America's beaches and playgrounds. In the end, this litter can be taken as the materially squalid overflow of a nation's much larger social disintegration.
This coming-apart is destroying a US society that has become complicit in its own manifestly unheroic demise.
 Small wonder that so many millions of Americans cling desperately to their smart phones and related electronic devices. Filled with a deepening and ultimate horror of ever having to be left alone with themselves, these virtually connected millions are visibly frantic to claim some recognizable membership in the public mass. Earlier, in the 19th century, philosopher Soren Kierkegaard had already foreseen this omnivorous mass, even before the rise of social media.
"The crowd," opined the prophetic Danish thinker, "is untruth."
Later, in the twentieth century, in a portentously similar insight, Spanish existentialist Jose Ortega y' Gassett foresaw the uniquely perilous consequences of "mass," a term also resembling Sigmund Freud's "horde" and quite nearly identical to Swiss psychologist Carl G. Jung's "mass."
Whether one speaks of a "crowd," "horde," or mass," the selected noun can speak volumes about how a non-reading and non- writing President Donald Trump remains able to claim the enthusiastic support of millions. In brief, while seeking such support, there is never any compelling reason for Mr. Trump to bother reconciling his policies with verifiable facts. In proudly announcing his "Made in America Week" some time back, this president took no pains to justify that his own family businesses were continuing to rely heavily on foreign-made goods and workers.
Always, in this gravely pernicious presidency, hypocrisy is undisguised.
Is this a sign of virtue?
Hardly.
Although virtually all respectable academic economists are convinced that Trump-generated tariffs will have deleterious effects on each American's individual family pocketbook, this president continues to plan for some sort of "victory" in his indecipherable trade wars.
Conceptually, for this president, it's not a difficult reconciliation to make. In any such calculations, full speed ahead, facts and logic be damned.
For the moment, at least, we Americans remain grinning but hapless captives in a deliriously noisy and airless "crowd" or "herd" or "mass." Disclaiming any residual interior life, we proceed tentatively, and in almost every palpable sphere, at the lowest common denominator. Expressed in more annoyingly recognizable terms, even our vaunted American "freedom" is becoming a contrivance.
Once again, it's time for candor. Our simplifying American context offers a regrettable but ubiquitous "solvent." This caustic solution dissolves almost everything substantial of intellectual or analytic consequence. In education, the once revered Western Canon of literature and art has already been replaced by more generalized emphases on "branding." Already, apart from their pervasive drunkenness and enthusiastically tasteless entertainments, our once-sacred spaces of higher education have been transformed into a steadily rusting pipeline to ritualistic jobs and sterile vocations.
Soon, even if we should manage to avoid nuclear war and nuclear terrorism – an avoidance not to be taken for granted in the rapidly unraveling Trump Era – the swaying of the American ship will become so violent that even the hardiest lamps will be overturned. Then, the phantoms of great ships of state, once laden with silver and gold, may no longer lie forgotten. Then, perhaps, we will finally understand that the circumstances that could send the compositions of Homer, Maimonides, Goethe, Milton, Shakespeare, Freud and Kafka to join the disintegrating works of forgotten poets were neither unique nor transient.
In an 1897 essay titled "On Being Human," Woodrow Wilson inquired thoughtfully about the authenticity of America. "Is it even open to us to choose to be genuine?" he asked. This earlier American president had answered "yes," but only if we first refused to stoop to join the threatening and synthetic "herds" of mass society. Otherwise, as Wilson had already understood, our entire society would be left bloodless, a skeleton, dead with that rusty demise of broken machinery, more hideous even than the unstoppable decompositions of each person.
In all societies, as Emerson and the other American Transcendentalists had also recognized, the scrupulous care of each individual"soul" is most important. There can be a "better"American soul,[6] and also an improved American politics,but not until we are first able to acknowledge a more prior obligation. This is a far-reaching national responsibility to overcome the staggering barriers of a Kierkegaardian "crowd" culture, and to embrace once again the liberating imperatives of Emersonian "high thinking."
In the end, the Donald Trump presidency is "merely" the most debilitating symptom of a much deeper American pathology. In this country, the underlying disease is rather a far-reaching national unwillingness to think seriously. Left unchallenged at this rudimentary level, such reluctance could eventually transform us into the finely-lacquered corpse of a once-promising American Civilization.
Naturally, if this president should ever authorize the use of American nuclear weapons, such transformation could become instantaneous.
More than likely, the Trump presidency will notend with the bang of a catastrophic nuclear war, but even that "happy ending" could represent little more than a temporary reprieve. Accordingly, unless Americans begin to work much harder at halting their society's steep indifference to both intellect and reason, we will recurrently have to face the ominous kinds of metamorphoses that Danish philosopher Soren Kierkegaard once famously termed a "sickness unto death." As Americans who can still understand more than the embarrassingly empty witticisms stitched into red baseball caps, the truest work should begin not with politics directly (all politics are ultimately just reflection), but with very deliberate and purposeful fixing of their private "selves."
The American democracy, as we may yet learn from Thomas Jefferson, a US president of true intellectual accomplishment, was never expected to flourish without an informed citizenry. Once this is finally understood and accepted, an imperiled nation could more properly guard itself against another patently unfit American president. It follows that there could not possibly be any more important "brand" of national awareness.
Recalling classic French author Honoré Balzac, "withered hearts" and "empty skulls" need not be mutually exclusive. Rather, most notably in the scarcely hidden case of a now- deteriorating American polity, the first can flow lethally and directly from the second. Moreover, the impacted ambit of corollary suffering could quickly extend far beyond US borders to other and distant countries, and include major wars or genocide.
Such would be a plausible legacy of a declining American democracy increasingly detached from reason and learning.

---
[1] There are many compelling components to any such allegation, but the most serious of these concerns an American president's authority and capacity to initiate nuclear war. In this connection, several recent articles by the author expressly deal with this overriding concern. See, for example, Louis René Beres, http://www.jurist.org/forum/2017/08/louis-rene-beres-trump-nuclear.php See also: https://www.usnews.com/opinion/articles/2016-05-11/possible-trump-presidency-showcases-fatal-flaw-in-nuclear-command-safeguard. Professor Beres is the author of twelve published books dealing with nuclear command decisions, including Apocalypse: Nuclear Catastrophe in World Politics (The University of Chicago Press, 1980), and, in The Bulletin of the Atomic Scientists: https://thebulletin.org/2016/08/what-if-you-dont-trust-the-judgment-of-the-president-whose-finger-is-over-the-nuclear-button/
[2] At the July 4 2019 celebration in Washington, this president promised "brand new Sherman tanks" and instructed that in the 18th century the Revolutionary War army had "taken control of all national airports." (No Sherman tanks have been built in the last seventy years).
[3] A somewhat analogous fallacy in domestic politics is revealed in the recommending of easy private access to guns, and, correspondingly, of arming teachers to deter school shootings. To be sure, it makes little sense to argue (as does Donald Trump) that a determined and deeply disturbed individual with access to multiple firearms would be best deterred by a "loving teacher" with a handgun concealed in her/his desk drawer or pocketbook. It is also worth noting that in several thousand years of western philosophy, a key hallmark of a civilized society has been the "centralized force monopoly of the community," not the "every man for himself" vigilante system now seemingly favored by a sitting American president.
[4] One of this writer's first scholarly assessments of the "porcupine" fallacy was published in Parameters: The Journal of the US Army War College (Department of Defense) in September 1979. See; Louis René Beres, "The Porcupine Theory of Nuclear Proliferation: Shortening the Quills," Parameters, Vol. IX, No. 3, September 1979, pp. 31-37. More recently, see also Louis René Beres, Surviving Amid Chaos: Israel's Nuclear Strategy (New York and London: Rowman & Littlefield, 2016), 2nd edition 2018.
[5] On US President Donald Trump's ideas of art and beauty, see: Louis René Beres at Oxford University Press: https://blog.oup.com/2017/09/aesthetics-politics-donald-trump-beauty/https://blog.oup.com/2017/09/aesthetics-politics-donald-trump-beauty/
[6] However ironic, Sigmund Freud had maintained a general antipathy to all things American. In essence, he most objected, according to Bruno Bettelheim, to this country's "shallow optimism," and its seemingly corollary commitment to a disturbingly crude form of materialism. America, thought Freud, was very evidently "lacking in soul." See: Bruno Bettelheim, Freud and Man's Soul (New York: Alfred A. Knopf, 1983), especially Chapter X.
A self-inflicted wound: Trump surrenders the West's moral high ground
For the better part of a century, the United States could claim the moral high ground despite allegations of hypocrisy because its policies continuously contradicted its proclaimed propagation of democracy and human rights. Under President Donald J. Trump, the US has lost that moral high ground.
This week's US sanctioning of 28 Chinese government entities and companies for their involvement in China's brutal clampdown on Turkic Muslims in its troubled north-western province of Xinjiang, the first such measure by any country since the crackdown began, is a case in point.
So is the imposition of visa restrictions on Chinese officials suspected of being involved in the detention and human rights abuses of millions of Uyghurs and other Turkic Muslims.
The irony is that the Trump administration has for the first time elevated human rights to a US foreign policy goal in export control policy despite its overall lack of concern for such rights.
The sanctions should put the Muslim world, always the first to ring the alarm bell when Muslims rights are trampled upon, on the spot.
It probably won't even though Muslim nations are out on a limb, having remained conspicuously silent in a bid not to damage relations with China, and in some cases even having endorsed the Chinese campaign, the most frontal assault on Islam in recent history.
This week's seeming endorsement by Mr. Trump of Turkey's military offensive against Syrian Kurds, who backed by the United States, fought the Islamic State and were guarding its captured fighters and their families drove the final nail into the coffin of US moral claims.
The endorsement came on the back of Mr. Trump's transactional approach towards foreign policy and relations with America's allies, his hesitancy to respond robustly to last month's missile and drone attacks on Saudi oil facilities, his refusal to ensure Saudi transparency on the killing a year ago of journalist Jamal Khashoggi and his perceived empathy for illiberals and authoritarians symbolized by his reference to Egyptian field marshal-turned-president Abdel Fattah al-Sisi as "my favourite dictator."
Rejecting Saudi and Egyptian criticism of his intervention in Syria, Turkish president Recep Tayyip Erdogan gave the United States and Mr. Trump a blunt preview of what they can expect next time they come calling, whether it is for support of their holding China to account for its actions in Xinjiang, issues of religious freedom that are dear to the Trump administration's heart, or specific infractions on human rights that the US opportunistically wishes to emphasize.
"Let me start with Saudi Arabia," Mr. Erdogan said in blistering remarks to members of his Justice and Development Party (AKP). "Look in the mirror first. Who brought Yemen to this state? Did tens of thousands of people not die in Yemen?" he asked, referring to the kingdom's disastrous military intervention in Yemen's ruinous civil war.
Addressing Mr. Al-Sisi, Mr. Erdogan charged: "Egypt, you can't talk at all. You are a country with a democracy killer." The Turkish leader asserted that Mr. Al-Sisi had "held a meeting with some others and condemned the (Turkish) operation – so what if you do?"
The fact that the United States is likely to encounter similar responses, even if they are less belligerent in tone, as well as the fact that Mr. Trump's sanctioning of Chinese entities is unlikely to shame the Muslim world into action, signals a far more fundamental paradigm shift: the loss of the US and Western moral high ground that gave them an undisputed advantage in the battle of ideas, a key battleground in the struggle to shape a new world order.
China, Russia, Middle Eastern autocrats and other authoritarians and illiberals have no credible response to notions of personal and political freedom, human rights and the rule of law.
As a result, they countered the ideational appeal of greater freedoms by going through the motions. They often maintained or erected democratic facades and payed lip service to democratic concepts while cloaking their repression in terms employed by the West like the fight against terrorism.
By surrendering the West's ideological edge, Mr. Trump reduced the shaping of the new world order to a competition in which the power with the deeper pockets had the upper hand.
Former US national security advisor John Bolton admitted as much when he identified in late 2018 Africa as a new battleground and unveiled a new strategy focused on commercial ties, counterterrorism, and better-targeted U.S. foreign aid.
Said international affairs scholar Keren Yarhi-Milo: "The United States has already paid a significant price for Trump's behaviour: the president is no longer considered the ultimate voice on foreign policy. Foreign leaders are turning elsewhere to gauge American intentions… With Trump's reputation compromised, the price tag on U.S. deterrence, coercion, and reassurance has risen, along with the probability of miscalculation and inadvertent escalation."