Hyatt and Small Luxury Hotels of the World™ Expand Relationship to More Than 200 Hotels
Hyatt Hotels Corporation and Small Luxury Hotels of the World™ (SLH) today announced the ongoing expansion of Hyatt's and SLH's existing loyalty alliance, celebrating a milestone of over 200 participating SLH hotels around the world for World of Hyatt members to earn and redeem points and enjoy on-property benefits. This latest expansion has quadrupled the number of participating SLH properties since the alliance launched in November 2018, and its expansion is expected to continue throughout 2019.
"We encourage World of Hyatt members to explore these luxurious destinations around the globe, from Croatia to New Zealand," said Amy Weinberg, senior vice president, World of Hyatt. "The rapid growth of this strategic loyalty alliance is a testament to our commitment to delivering unique experiences wherever our members travel and continuing to extend the genuine care they have come to expect from Hyatt to more locations around the world."
World of Hyatt members now have access to more than 200 of SLH's luxury boutique hotels that offer new locations across growth markets for Hyatt, including Croatia, Denmark, Finland, Iceland, Italy, Kenya, Mozambique, New Zealand, Portugal, St. Vincent and The Grenadines and Turks and Caicos and more.
Through this exclusive relationship, World of Hyatt members can explore sought-after destinations like Monkey Island Estate, an 18th century estate turned boutique retreat on a private island on the Thames, Berkshire; Ovolo The Valley Brisbane, a boutique oasis located in the center of Fortitude Valley, Brisbane's ultra-hip entertainment district; Mykonos Riviera Hotel and Spa, a sun-drenched luxury resort tucked against the rocky backdrop of centuries-old Aegean cliffs; Enso Ango Fuya II, an artful Kyoto escape set across five Zen-inspired buildings; and Hotel Nantipa, a Costa Rican paradise retreat immersed in the surf culture of Santa Teresa.
"This alliance has proven to be a perfect match. We are seeing a positive impact on reservations for our hotels from World of Hyatt members," said Jean-François Ferret, chief executive officer, Small Luxury Hotels of the World™. "Exposure to more than 16 million World of Hyatt members has not only helped increase reservations, but also allows us to expand our brand awareness while providing more luxury boutique hotels options for World of Hyatt members to choose from on their travel journey."
Since the World of Hyatt and SLH alliance launched in November 2018, the countries members have most visited include Italy, the UK, France, China and Greece. World of Hyatt members can take advantage of the following loyalty benefits when booking a participating SLH hotel through a Hyatt channel:
Earning and Redemption
World of Hyatt members earn five Base Points per $1 USD spent on eligible room revenue
World of Hyatt members will receive their standard tier Bonus Points on eligible room revenue spend (10% Discoverist, 20% Explorist, 30% Globalist)
Qualifying nights at participating SLH hotels will count toward earning World of Hyatt elite-tier status
World of Hyatt members can redeem points to use for free night awards on SLH hotel reservations; each participating SLH property has been categorized into Hyatt's existing hotel award chart.
Member Benefits
Participating SLH properties will provide the following on-property benefits to all World of Hyatt members, regardless of status:
Complimentary Wi-Fi
Daily complimentary continental breakfast for two guests
Room upgrade (one category at check-in if available)
Early check-in (noon, based upon availability at check-in)
Late check-out (2:00pm, based upon availability at check-in)
Marriott International Debuts JW Marriott Hotel in Qufu, Birthplace of Confucius
JW Marriott announced the opening of the new JW Marriott Hotel Qufu in Shandong province, China. Owned by Shandong Luneng, this is the first JW Marriott hotel in Shandong and the 16th in China. The new hotel is an architectural masterpiece that will showcase the brand's philosophy of welcoming guests to this exciting destination with modern luxury and authentic, exceptional service.
JW Marriott Hotel Qufu is located in the old city. The brainchild of Kai Cui, the academician of the Chinese Academy of Engineering, the building is a masterpiece of design that celebrates Chinese architecture, while taking its ancient contexts into the 21st century. The hotel features 197 modern rooms and suites, comprising 188 individual guestrooms and 9 complex suites. All guestrooms, spanning from 45m² to 98m² with 3.2-meter-high ceilings, are tastefully appointed with elegant Chinese accents and are equipped with the latest in-room technology, walk-in closets, and modern amenities to ensure guests' every comfort. The hotel's distinctive exterior profile, with its elegant classical Chinese rooflines, blends seamlessly with its surroundings. Sixteen Chinese chimes at the front porch are a visual reminder of both the ancient percussion instrument, as well as the history of Chinese culture and music. The spectacular lobby features a stylized moon gate and a statue of Confucius under a graceful ginkgo tree, in commemoration of the lectures "The Great Teacher" gave.
"We are thrilled to bring our JW Marriott brand to the historic city of Qufu," said Mitzi Gaskins, Vice President & Global Brand Leader, JW Marriott for Marriott International. "The new JW Marriott Hotel Qufu is a haven of luxury within the timeless history of the city, famed as the birthplace of revered Chinese philosopher Confucius, with a rich landscape of historic palaces and temples. The design of this hotel, its distinctive decor and mindful, intuitive service are all part of The JW Treatment, our promise to enhance and elevate our guest's experience when visiting this amazing destination."
JW Marriott Hotel Qufu offers a diverse range of artfully selected and locally inspired dishes and beverages to appeal to all guests' palates. At the hotel's signature restaurant Residence, guests can experience the time-honored cuisine of the region, including Cantonese dishes and the traditional Kongfu cuisine which focuses on culinary refinement, also known as "Dishes of the Confucian Mansion", complemented by traditional Shandong dishes. JW Kitchen is a smart casual outlet featuring an open kitchen, serving local and international cuisines, healthy juices and the chefs' daily recommendations in a relaxed, contemporary atmosphere. The Lounge is an intimate and idyllic place to linger and enjoy views of Six Arts Atrium. Guests can savor JW Wine Ambassador services as well as the exquisite afternoon tea. In the lobby, the Tea Library is a beautiful space reminiscent of a traditional teahouse with wooden shelves displaying tea sets and books while guests can experience local tea culture guided by an expert tea master.
JW Marriott Hotel Qufu is an extraordinary venue for meetings, incentives, conferences and exhibitions with its multipurpose function spaces. The Grand Ballroom has an impressive nine-meter-high ceiling and 800m2 of space, which can be divided into two separate banquet halls featuring a variety of customizable layouts. The function spaces feature 70m2 HD LED screens and state-of-the-art sound equipment. For smaller events, the hotel also has a 200m2 Function Room, which can be divided into three independent multifunctional halls. All events at the JW Marriott Hotel Qufu enjoy the support of the JW Event Concierge service for quick responses to requirements and to provide organizers with expert, intuitive solutions.
For guests who wish to maintain their wellness routines during their visit, the 24-hour Fitness Center is a natural sunlight-filled space with advanced cardio and strength training equipment. A luxurious indoor heated swimming pool with natural sunlight allows guests to enjoy swimming for exercise and leisure during any season of the year.
"JW Marriott, with its distinctive JW Treatment brand philosophy, continues to grow strongly here in China, resonating with consumers who seek exceptional quality and thoughtfully crafted service," said Henry Lee, Chief Operations Officer and Managing Director, Greater China, Marriott International. "We look forward to welcoming guests to the new JW Marriott Hotel Qufu. From sightseeing and sampling the traditional cuisines of Qufu, to organizing a memorable event or a simple romantic getaway – JW Marriott Hotel Qufu will delight the most discerning of world travelers who come to this beautiful ancient city."
Autograph Collection Hotels Welcomes Ireland's National Treasure, The Shelbourne
Autograph Collection Hotels, Marriott International's diverse and dynamic portfolio of more than 170 independent hotels around the world, has announced the addition of The Shelbourne, the enduringly iconic hotel that's been at the heart of Dublin society since 1824.
Proudly overlooking Dublin's grandest square, St. Stephen's Green, The Shelbourne is just a stone's throw from some of the city's most celebrated landmarks: Trinity College, parliament building Dáil Éireann, and the National Gallery.
Recently renovated by Guy Oliver of design firm Oliver Laws, the timelessly elegant interiors honour the illustrious history of Dublin's Grand Dame. For the past two generations, royalty, statesmen, artists, writers and legends of stage and screen have made The Shelbourne their home away from home, from Princess Grace of Monaco, to John F. Kennedy, Michael Collins and Eamon De Valera, all of whom have suites with enviable views of the green named after them.
JP Kavanagh, General Manager of The Shelbourne said: "The Shelbourne has played a pivotal role in Irish society for nearly two centuries. Autograph Collection Hotels' independent spirit is the perfect fit for the hotel's next chapter, honouring the unique personality of this timeless Dublin landmark and its countless iconic stories."
The Shelbourne offers several distinctive food and beverage options to suit every occasion. The Horseshoe Bar which has played host to notable meetings over the years from politicians and journalists to visiting dignitaries and local personalities. The Lord Mayor's Lounge, Ireland's most iconic drawing room, offering Afternoon Tea overlooking St. Stephen's Green. The Saddle Room Restaurant, a timeless dining room with a relaxed atmosphere, old-school Irish service and a menu full of classic favourites. 1824 Bar, The Shelbourne's newest addition – a snug, and sophisticated hide away with a hand-picked list of whiskey.
The Shelbourne has ten historic meeting rooms spanning over 10,000 square feet, many of which have their own unique character, style and stories, hosting an array of events from intimate private dining to impressive business conferences.
On joining Autograph Collection Hotels, The Shelbourne will introduce a signature offering called Independent Spirit that pays homage to Irish Whiskey. Celebrating the rebirth of Irish Whiskey in 1824 when The Shelbourne opened its doors, the spirit will be featured in crafted experiences including an after-dinner whiskey trolley in The Saddle Room Restaurant and 'Whiskey Sommeliers' in The Horseshoe Bar.
10 Reasons to Visit Four Seasons Costa Rica This Summer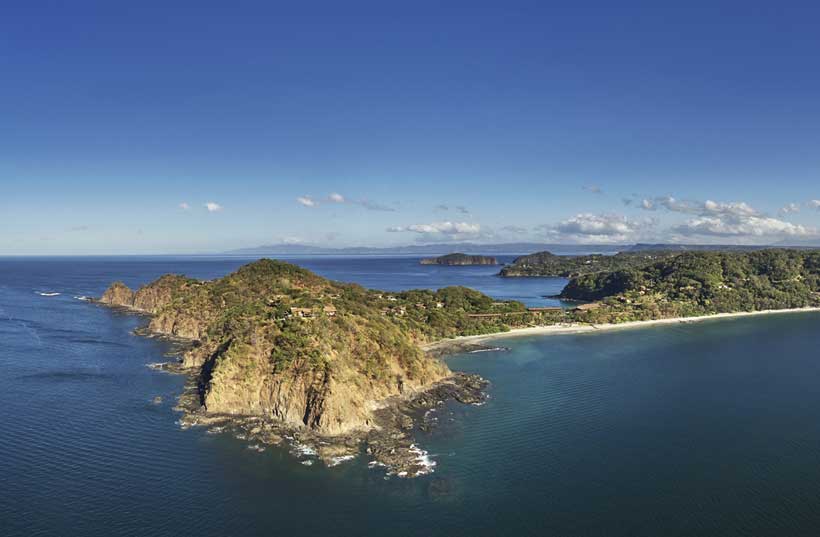 The Pacific coast of Costa Rica is at its most beautiful each summer. Temperatures are pleasant, the landscapes explode into a vibrant green, and the ocean waters transform into a clear, warm, brilliant turquoise. This is when water activities and wildlife spotting opportunities – on land and sea – are at their peak. It is also when you'll find some of the best rates of the year atFour Seasons Resort Costa Rica at Peninsula Papagayo. To celebrate their favorite season, our concierge team has put together 10 reasons to visit this summer, including "only now" activities and promotions:
1. Epic Eco-Adventures: Join our in-house adventure outfitter, the Papagayo Explorers Club, for the chance to connect, learn and share in the natural beauty of Peninsula Papagayo, our 567-hectare (1,400-acre) nature preserve. Right on our doorstep, choose from activities by land or sea, on solo treks or family outings. Summer experiences include wilderness hikes, nature walks, mountain biking, water biking, outrigger canoeing, free diving and more.
2. The Most Incredible Whale Watching: There are whale sightings all year round in Costa Rica, but whale watching is at its best from late July to November when the Southern Hemisphere humpback whales arrive at Peninsula Papagayo. After migrating to mate, they return here to give birth in the warm, tropical waters. Usually in pods of about twelve, the whales spend plenty of time above the surface – hopping, fin slapping, breaching and fluke flipping.
3. The Best Time for Surfing: With clean, world-class waves, the Gulf of Papagayo is truly an unrivalled surfing destination. Summer brings increased swells and larger, faster waves – with water temperatures averaging 30°C (86°F). What's more, these sandy shores are less crowded than other popular surfing locations in Australia and Hawaii. Plan a custom lesson with our resort partner, Tropicsurf, the world leader in the art of luxury surfing.
4. The Peak of Turtle Nesting Season: Let us escort you to Ostional Beach for the annual arribada – the arrival of olive ridley sea turtles. Turtle nesting occurs year round but hits a peak during summer. On a dark night, about a week before the new moon, hundreds of thousands of olive ridley sea turtles come to shore to lay their eggs. The hatchlings surface at night within 45 to 54 days. Watch in wonder as these baby sea turtles clamber toward the sea. Four Seasons can arrange all kinds of turtle experiences with an expert naturalist as your guide.
5. Sensational Sport Fishing: Costa Rica is now one of the hottest fishing spots in the entire world. Book a boat from Four Seasons and journey into stunning seascapes to catch species you won't find anywhere else. Starting in June, billfish and yellow tuna are in abundance, while sailfish and marlin continue through September and October.
6. Fun Family Fishing Competition: On July 6, 2019, join the fun on a family-friendly, one-day deep-sea fishing competition, just off our shores. The Peninsula Pagagayo Classic is a modified IGFA hook-and-pass team fishing contest, including gamefish and billfish divisions. We donate 15% of all fees to The Billfish Foundation, dedicated to conserving and enhancing billfish populations around the world.
7. Summer Camp for Teens: Your kids can discover Costa Rica's natural wonders first hand. At Camp Jaguar, young people ages 12 to 16 participate in fun-filled explorations in search of adventure, self-discovery, and connection to the natural world. Guided by expert staff from the Papagayo Explorers Club, the program features cultural and recreational activities, geared to all interests and skill levels. Join for one day or multiple days.
8. Connections with the Local Community: Volunteering creates a more authentic and rewarding travel experience. At Four Seasons, we'll help you get involved in supporting local schools. With Creciendo Juntos ("Growing Together"), volunteer opportunities include leading a yoga class for kids, painting a school, or even bringing a backpack from home filled with school supplies. High school students who take part will be awarded a community service certificate.
9. Summer Specials at the Spa: Experience our recently renovated Spa, where serenely beautiful interiors are enhanced by sunshine and views of the sea. Take advantage of our summer promotion – especially for the madrugador ("early riser") – with specials running from 8:00 to 11:00 am. Save up to USD 50.00 on custom massages and Biologique Recherche facials. Continue the relaxation in our hot and cold whirlpools, saunas and steam rooms.
10. Great Deals on Dining: Discover our five all-new restaurants and lounges – all with summer specials to provide extra value. Choose from meal combos on all menus, along with a delicious Wine of the Month. There's a Happy Hour at the pool and beaches from 3:00 to 4:00 pm daily, and at Añejo from 4:00 to 5:00 pm. Two days each week, visit the Four Seasons Food Truck, serving great local food at great prices.