Europe and China in a Globalized World: The Geopolitical Impacts of Belt and Road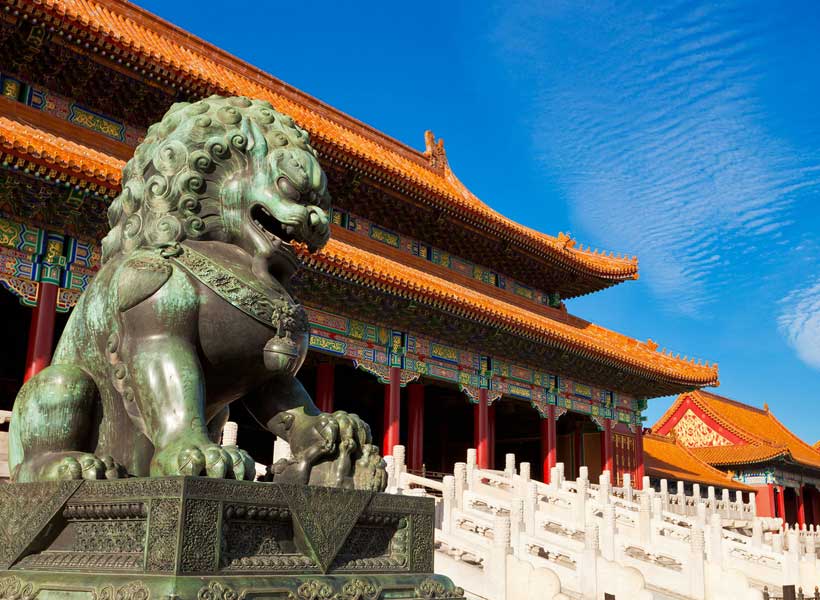 Donald Trump's rise to power, his "America first" policy and the announcement by Chinese President Xi Jinping of the Belt and Road Initiative (BRI), designed to revitalize the Silk Road, are the three mile- stones demonstrating a radical shift in globalization.
Our globalized world is in fact going through a decisive moment in its history, something that can be seen in the creation of the cult of personality surrounding the Chinese President, the introduction of China's Social Credit System (SCS) and, finally, the crisis of confidence that has taken hold among the European Union's (EU) member states, resulting in the United Kingdom's decision to leave the EU (Brexit), among other developments.
G-2, G-Zero and the Multipolar World
By putting in place protectionist measures, the world's two superpowers, the United States and China, have begun a trade war. The announcement by the US that it would impose tariffs on imports of steel and aluminum, among other goods, has prompted China to impose its own tariffs on more than 100 products from the US. By mid-July 2018, the value of the taxed products traded between China and the United States had reached US$100 billion. According to experts, this will reduce world trade by 0.5% and economic growth in China and the United States by between 0.1% and 0.3% (Le figaro and AFP Agence, 2018).
Caught between these two powers, the European Union is responding in a similar fashion, i.e. by imposing customs duties worth €2.8 billion on certain US products (Reuters, 2018). Less united than ever, the EU must contend with Brexit and its impacts throughout the Union. The dissatisfaction Europe's citizens feel about the EU's lack of effectiveness continues to grow. The future of Europe, the European identity and the Union's role in today's globalized world are all being called into question.
It seems we are living in a G-Zero world, a world in which no country, region or group is able to play a leading role on the international scene. On the contrary, G-Zero means a "free-for-all" in which multiple political strategies are being implemented. Each country or region is trying to find its own effective solutions to the challenges of globalization, very often putting others at a disadvantage.
Will this G-Zero world ultimately lead to a G-2 world in which all depends on how relations between the United States and China develop? More than ever, the EU must formulate common strategies vis-à-vis the two superpowers. Alternatively, will multipolarity prevail? A multipolarity characterized by peaceful cooperation among countries?
If so, the result could be a world in which the various players take action, certainly in competition with each other, but in a complementary manner. New international regulations and standards would provide a framework for this "cosmopolitical" (Nida-Rümelin, 2017) global govern- ance while avoiding military conflicts. This would be a world in which the EU, above all, could define its geopolitical strategy in a way that prevents it from finding itself at the mercy of China and the United States.
After reviewing the main characteristics of globalization, internationalization, the competition among nation-states and transnational forces (see the following Introduction section), this paper analyzes BRI as a geopolitical instrument within China's overall strategy, which is designed to manage developments and exert power (see the section BRI: A "China First" Strategy). It then explores the impacts of BRI and the "China first" strategy on Europe (see the section BRI and the EU: An Opportunity for Europe). Finally, it discusses the importance of bridging differences and cultivating an "identity of the heart" in keeping with the geopolitical vision of Jacques Ancel.
Introduction: Globalization, Deterritorialization and Transnationalization
Geopolitics — the study of territory and power — is at the heart of this paper. Globalization means the cross-border movement of people, goods, services, capital and information. It is not a new phenomenon. What is new is the increased interdependence between nation-states and the impact of various non-governmental actors (e.g. international companies, interest groups, NGOs) at the international level. In addition, there is greater competition between the national forces that arose from the old world order produced by the Treaty of Westphalia and the new trans- national forces resulting from globalization.
Political responses to globalization, i.e. internationalization, have been very varied, sometimes even conflicting. On the one hand, protectionist measures have been put in place, such as customs duties, border controls and, in Europe, a return to the logic of nation-states. On the other, measures promoting economic openness and expansion are being undertaken, from the re-conquest of the old Silk Roads to the harmonization of European trade and defense policies (e.g. the Common Security and Defence Policy, an integral part of the Common Foreign and Security Policy).
The transnational forces resulting from de-territorialization are competing with traditional national forces, especially when it comes to securing natural resources. This is attributed to the Internet and networking; moreover people all around the world have much more knowledge at their disposal, particularly about globalization's harmful effects. Indeed, there have been losers in addition to winners. Some countries or regions have massive international trade surpluses, while others are experiencing large deficits. In addition, cross-border economic crime, illicit transactions and money laundering are commonplace. There has been an accumulation of wealth in some regions, often controlled by political–economic elites. This injustice is increasingly fueling citizens' mistrust of the prevailing political classes. This, in turn, is leading to an increase in social conflicts and protest movements, causing the effectiveness of the democratic system to be questioned.
There are shared challenges, however, that unite all the actors involved in this geopolitical issue: international terrorism; the effects of climate change including on food production; competition for natural resources; chronic economic, social and political crises, due, in particular, to the rise of an illegal and opaque global economy; widespread political apathy; and, finally, digitization, which is leading to a radical change in how people work. Current international institutions and organizations no longer offer effective solutions. The old world order, an after-effect of the Second World War, is in decline, while a new world order has yet to take shape.
BRI: A "China First" Strategy
Xi's announcement in 2013 that China intended to revitalize the ancient Silk Roads marked a turning point in the country's national policy.
Indeed, this vast project targeting infrastructure and commercial net- works will extend throughout Eurasia, an area of great geopolitical and commercial importance. The project is strengthening the links between China and countries all along the "belt". It is, in fact, not a single project, since there is no master plan, but is comprised of a multitude of roads, railways and waterways. It includes the Pacific Silk Road, which passes through the Arctic Ocean, and the Digital Silk Road, which covers cyber- space (The Economist, 2018). BRI is also considered "the road of Xi Jinping" which only reinforces the cult of personality surrounding him. BRI focuses on major infrastructure projects (Figure 1). The 2015 action plan presented the Silk Road Economic Belt (SREB) and the Maritime Silk Road Belt (MSR) with a total of six corridors. According to the initiative, roads and sea routes are to connect China to Central Asian countries, Russia and, ultimately, Europe — but especially to Africa, in order to secure natural resources, particularly oil. In Eurasia, BRI covers more than 65 countries with a population of more than three billion, in keeping with the leitmotif advanced by the Communist Party of China (CPC) of "developing the region's wealth and preserving peace, friend- ship, trust and understanding".
In order to ensure financing for this vast infrastructure project, China has established two institutions that are complementary to, as opposed to competitors of, the International Monetary Fund (IMF), the World Bank (World Bank) and the Asian Development Bank (ADB):
-The Asian Infrastructure Investment Bank (AIIB): The Asian investment bank for infrastructure projects, with 57 member countries (in addition to European countries such as France, Germany, Italy and Luxembourg).
-The Silk Road Fund: A Chinese sovereign fund.
Many political leaders in the countries along this belt are welcoming this vast project with open arms, since it will improve infrastructure, ensure connectivity and, subsequently, promote economic development. However, as with any Chinese investment, compliance with standards and regulations is not a priority for Beijing. The corruption and opacity relating to the investments flowing from China are likely to benefit political elites more than the populations of the respective countries.
In addition, dependence on the investment flows generates an imbalance in China's favor, preventing recipient countries from maintaining their economic autonomy.
China's meta-strategy
The driver behind this commercial project is, above all, a new ideology being advanced by the CPC. Indeed, the main purpose of BRI is to secure and control transport routes for natural resources, particularly oil and gas. This basically means the transport routes that connect African resource-producing countries to production sites in China. The most important corridor is the China–Pakistan Economic Corridor (CPEC). This route connects the city of Kashgar in China to the port city of Gwadar in Pakistan and is an integral part of China's overall strategy. Almost 80% of all Chinese imports of oil pass through the Strait of Malacca (Figure 2). As a result, CPEC will significantly reduce transport time. In addition, it will improve Pakistan's infrastructure due to the massive Chinese investments it entails. Not only will this help develop Pakistan's economy, reduce the country's energy shortages and boost its productivity, it will also increase Pakistan's dependence on China. At the same time, the infrastructure projects are being financed through concessional and commercial loans, which will fuel the corruption already prevalent in Pakistan (Luchnikava-Schorsch, 2018; Hussain, 2017).
It is therefore necessary to view BRI not only as an instrument for asserting China's power but also as a global meta-strategy that proposes an alternative world order, at least at the commercial level, to the liberal order established by the West. It is also why geopolitical, strategic and military aspects should be considered more than economic aspects. New waterways and port construction serve more than just commercial ends. Ports can serve as military bases for the Chinese navy. For example, the People's Liberation Army (PLA) inaugurated its first overseas maritime naval base in Djibouti in 2017 (Lagneau, 2017). Dispatching 400 troops, the PLA stated that it wants to support UN peacekeeping operations and its own naval operations, particularly in the Indian Ocean. China's military presence, however, is of concern not only to the United States but to India as well. China–India relations are already tense due to disagreements over territories in the Himalayas, among other issues. CPEC passes through high-risk areas such as the autonomous region of Xinjiang and the northwest Pakistan–Afghanistan border region. The Chinese army is therefore securing infrastructure construction sites, transport roads and ports all along the corridor. In this context, BRI is a strategy that primarily serves Chinese interests. Certainly, this new Silk Road offers business opportunities to companies both in Asia and in Europe. Nevertheless, two aspects are important here: BRI is an ideological tool designed to maintain China's internal stability, i.e. control by the CPC, while also serving as a strategy that brings together civil and military interests under the rubric of "security".
Ideology
While Europe tries to identify a new vision, China has provided its geopolitical strategy with a second wind. Capitalism got its start in modern China when the country opened to foreign investment in 1978 and when peasants were granted permission to keep their surplus production. By unleashing its citizens' entrepreneurial spirit, the country hoped to overcome its technical and technological backwardness. Mobilization of the often-inactive Chinese population ensured national unity in keeping with the motto of "becoming rich". After years of economic growth and accumulated wealth, the CPC is using BRI, among other activities, to give itself not only new justification for maintaining its power but also a new ideology capable of ensuring party unity, internal stability and national cohesion. President Xi is strengthening his position, supported by the Chinese people. The country's authoritarian regime, moreover, is tightening its grip. Internationally, the Chinese economy is an integral part of global production chains. Remarkably, China is also increasingly becoming a source of innovation, especially digital innovation.
Externally, China is flexing its muscles in a number of locations, including in the South China Sea, transforming "a number of islets in the Paracel and Spratly archipelagos into military bases, where the government is building ports and airstrips" (RFI, 2017).
Assured by its strong position on the geopolitical level, the Chinese government is embarking on a more assertive foreign policy. Domestically, the country's government manages the country as a global enterprise. Five-year plans are a management tool used to set the economic strategies of Chinese state-owned enterprises (SOEs), both internally and externally, to ensure that standards of living increase for the Chinese population. This legitimizes the CPC's ongoing rule. The BRI vision thus mobilizes the nation, safeguarding the unity, stability and harmony of China as a whole. At the same time, however, the growing cult of personality means that China is increasingly becoming a revisionist power.
New security strategy
As mentioned above, BRI is above all a "geostrategic–military" initiative since it brings together civil and military interests under the rubric of "security". Indeed, these interests are at the center of all decisions and actions on the political and economic levels. Using the term "security", China's political strategy aims to safeguard national interests both domestically and internationally. Several dimensions of "security" are differentiated: national sovereignty and national unification, along with military, economic, cultural, social, scientific and technological security, as well as the security of information, security of environment and resources and, finally, nuclear security (State of Council Information Office of the People's Republic of China, 2015). The main objective of this major security strategy is to preserve the country's unity, prevent social unrest and legitimize the power of President Xi and the CPC.
In conclusion, we can see that the countries interacting with the European Union are pursuing a strategy that places national interests at the center of their respective political actions. The United States and Trump's "America first" vision, the strengthening of the authoritarian regime in China, the new cult of personality surrounding Xi Jinping, the return of Mao's personality cult and BRI are all ultimately driven by national ideologies. On the international level, the global community could thus be dominated by superpowers such as China, the United States and Russia. Due to the weakness of international organizations, ideologies are prevailing, determining the world order. The failure of the European project could become a cruel reality if Europe does not quickly find a new vision while avoiding ideological tendencies — formulating its interests as it does so.
BRI and the EU: An Opportunity for Europe?
Diplomatic relations between Europe and China began in 1975. Since then, there have been regular ministerial meetings and Sino-European summits. More than 60 sectoral agreements have been concluded. China and the EU trade goods are worth more than €1.5 billion each day (Eurostat, 2018). The EU is China's main trading partner; for Europe, China is second only to the United States.
For years, the EU's trade balance (Figure 3) with China has been in deficit, with the shortfall reaching €176.4 billion in 2017. This has been a constant conflict between Europe and China. Despite numerous discussions between Beijing and Brussels, the imbalance persists for most member states, although not for Germany, Finland and Ireland (Eurostat, 2018).
In 2016, the EU adopted a new strategy on China that tries to respond more effectively to the scale of China's economic power and its role as an increasingly important global player (Joint Communication to the European Parliament and the Council, 2016). The strategy complements the EU-China 2020 Strategic Agenda for Cooperation, which marked its 15th anniversary in 2018 (Press and information team of the Delegation to CHINA, 2016). In addition, the EU is negotiating an investment agreement with China to ensure fair opportunities for both sides. The EU also wants to encourage China to give a greater role to market mechanisms and reduce state intervention. The 2020 agenda does not seem to be succeeding. China is not really interested in accepting European norms and standards and is pursuing a "divide and rule" strategy in Europe instead. Indeed, BRI further amplifies the 16+1 meetings, which China is using to negotiate with Eastern European countries. The 16+1 format risks are loosening the ties between Eastern Europe and Brussels. China is pursuing this tactic by negotiating on three levels: with European institutions, with individual member countries and with Eastern Europe as a whole (16+1). An examination of Chinese foreign investment shows that the government continues to invest massively in Europe, always to some extent in "freeloader" style. China's preferred targets are the United Kingdom (financial sector), Germany (Mittelstand/machine-tool, automotive sector), France (tourism, cosmetics, leisure, wine), Greece (infrastructure) and Portugal (real estate). Trade is growing steadily and with it the interdependence between EU member states and China.
Investment flows into Europe from China amount to €10.2 billion (2016) with EU investments in China totaling €12.8 billion in 2016 (Eurostat, 2018). Yet even if China is investing more and more in Europe, the scope must be put into perspective: of China's total FDI, only 5–6% has been made in Europe. The majority of Chinese investments still take place in Asia — notably Hong Kong (75.5%), Singapore (3.7%), Taiwan (3.6%), South Korea (2.8%) and Japan (2.5%). The United States accounts for 2.4% of total Chinese FDI, the Netherlands 1.7% and Germany 1.2% (Otte, 2018). In the Asian region, BRI infrastructure projects will have a very significant impact in coming years. Even if Europe is more or less at the end of this new Silk Road, Eastern European nations have become, since BRI, the center of China's interest. Especially Poland and the Baltic countries can serve as a point of entry for goods transported via the Silk Road. BRI can then serve as a catalyst to rebalance trade relations in favor of Europe as a whole, but only if the EU finds a common strategy for this initiative. It is therefore important not to fall into the trap of intra-European competition, or to be divided by China. On the contrary, common European interests must be identified in order to protect key EU sectors and give priority to European actors.
Above all, closer cooperation with pro-European countries is necessary, as is monitoring and guiding Chinese investments throughout the European continent. BRI will change the foundations of world trade in the medium term, and the EU risks granting even greater access to European high technology. This poses a real threat since China, as discussed, links its civil and military interests. China's influence and geopolitical–military power could thus have an impact in Europe, especially in Eastern Europe. First and foremost, BRI is a Chinese ideology that is making it possible to pursue the Chinese dream, modernize state- owned companies and facilitate their financing by promoting access to international credit. Additionally, the increased prosperity of the countries along the BRI routes will ensure Chinese trade remains stable, a key aspect given that the Chinese economy is heavily dependent on exports.
Areas of action for the EU
In view of BRI, not only must European companies act, so must all EU institutions. A new vision for Europe must be articulated if Europe is to avoid being taken hostage by Chinese interests. The strength of the European Union is directly linked to how it manages its diversity. In Europe, freedom of thought reinforces creativity, which is necessary for technological progress. The high quality of Europe's companies is the result of their innovative power. Due to its democratic structures, respect for human rights, rule of law and high social standards and norms, the EU acts within a regulatory framework based on ethical and human values. On the commercial level, BRI offers many opportunities for European companies as investors, experts, consultants and managers. Potential activities include the following:
-Investing in infrastructure projects, such as construction of railways and roads.
-Supplying equipment, such as that needed for ports.
-Serving as partners in the areas of engineering, procurement and construction (EPC).
-Serving as consultants for project management, especially in the area of operational security and the application of international and local laws.
-Managing infrastructure operations (Wijeratne et al., 2018).
There are many opportunities and risks here. As with any transnational project of this magnitude, major differences in the relevant corporate cultures must be overcome. Above all, trust between the various international actors plays a crucial role.
In addition, different legal frameworks exist which can lead to conflicts between international and local laws. Moreover, the "time" factor should not be overlooked, since BRI is a massive project that will only be completed in the long term. In short, there are myriad factors which could hinder European companies from serving as partners within the framework of this initiative.
French President Macron — Hope for Europe?
The election of Emmanuel Macron as President of the French Republic gave, for a brief time, new momentum not only to France, but also to the EU. Macron's visit to China was closely watched, especially by the French and German press. The French President was the first European leader to welcome the initiative to create a "new Silk Road". Yet a comparison of the outcome of his visit to China with that of Chancellor Merkel's in 2015 is less than satisfying. Only 39 of the 50 envisaged contracts have been signed and half are mere declarations of intent. Thus, the French President did not truly introduce a new approach to dealing with China. With all due respect, he only highlighted the importance of the historically friendly relations between China, France and Europe. Macron's mistake was to invoke France's rivalry with the United States. Alluding to the Chinese proverb "When the wind of change blows, some build walls, others build mills", the French President referred to the con- struction of the wall between Mexico and the United States. From the perspective of a G-2 scenario, China will always measure itself against superpowers like the US and consider France and Europe medium-sized actors instead. In addition, Macron has not addressed the problems resulting from France's and the EU's lack of geopolitical impact given the overwhelming power of players such as China and the US. What future thus awaits the EU as a new era of global governance dawns?
Conclusion
As globalization's pace slows, the need increases to belong to a territory, region or country. The dynamics of transnational flows erase neither borders nor the places delimited by those borders (Zajec, 2016). On the contrary, it is clear that the geopolitical powers of nation-states such as China, the United States and Russia are growing. This growth has been accompanied by resurgence of personality cults (e.g. those surrounding Xi and Putin) and of ideologies guided by national interests. BRI is a good example, since it is the ideological pursuit of the Chinese dream. The strategy behind Trump's "America first" campaign follows the same logic, being a call to revitalize the American dream.
European identity crisis
The EU, on the other hand, lacks a dream. Following the massive inflow of refugees to the European continent, Europe's citizens have been legitimately demanding that border controls be restored and strengthened. It is necessary to define the European identity as a result. The EU is also an arena where national and transnational forces (e.g. global companies, interest groups) interact. And precisely these transnational forces, especially international companies, often behave more or less autonomously, regardless of the regulations issued by nation-states. The EU is an inter- mediate actor, at best a forward-looking one. It is not a "United States of Europe", neither can it boast of being a true global force. After all, European power is clearly limited in economic terms. Being a global player requires a shared vision on the economic, political, military, social and cultural levels.
Globalization in its current form has given rise to a kind of new, highly conflictual bipolar world, one that requires a redefinition of the world order. The resulting rivalry is playing out on several levels:
-Institutional: Democratic system versus authoritarian regime, even dictatorships.
-National versus transnational forces.
-Nation-states versus global companies, business alliances and interest groups (lobbying).
-Within the EU: Nation-states versus European institutions, and Western Europe versus Eastern Europe.
The identity of the heart, a nation of the heart and the strength of differences
The leaders of European institutions should not underestimate the national strengths of the member states and their respective populations. According to this logic, President Macron is wrong to want to pursue the strategy of "even more Europe" without taking into account legitimate feelings of belonging and national identity. Jacques Ancel (1879–1943) contributed the notion of identity to geopolitics. According to Ancel, groups of individuals take shape based on a common memory, history, culture and language, eventually defining themselves within a border: "He defends a nation of the heart in and of itself that is non-rational" (Gauchon and Huissoud, 2008, pp. 7–11). In this sense, the EU can act as an avant-garde player, questioning a power's sustainability — values versus mercantilism. A new "cosmopolitical" order of this sort must ensure fair trade relations, transparency of transactions, social justice and, above all, a more equitable distribution of natural resources and goods on a global scale. More precisely, it is the human dimension and the application of moral and ethical values that are essential if there is to be an evolution towards a cosmopolitics, a process that must respect borders and, thus, national sovereignty (Banik, 2016).
In our globalized world, neither the EU, China nor the United States is an isolated island paradise. No actor is privy to the absolute truth. The challenges of climate change, growing global competition (for natural resources, food, water, etc.), the rivalry between national and transnational forces and, above all, international terrorism are forcing us to face new realities. The illusions must be relinquished that underlie today's ideologies (those found in Europe; patriotic Chinese-style capitalism;
"America first"; personality cults; a return to revisionist power structures). We must bridge our differences and move towards a cosmopolitical global governance based on human values — towards an "identity of the heart". As Europeans, let us begin evolving towards a "Europe of the heart" in keeping with Jacques Ancel's geopolitical vision (Banik, 2016).
"It is the heart which is worthwhile and which must be considered above all." (Jacques Ancel)
Notes: This paper was originally published in "China and the World: Ancient and Modern Silk Road, Vol. 2, No. 1, 1–18 DOI: 0.1142/S2591729319500032, reproduced with the permission from the author.
The Tokyo 2021 Olympics are in full swing a year off schedule, and still marred by the Covid menace. The stands are mostly empty as Japan is experiencing a surge in new infections due to the delta variant. Now there is warning that vaccine immunity is short-term and will require periodic booster shots.
Olympic organizers, presumably desperate for cash, have developed an anything-for-a-buck mentality. The line between attractiveness and revulsion, tastelessness and vulgarity, followed subconsciously by dress designers is unfamiliar to these officials as evidenced by their mandated dress codes. The German women's beach handball team refused to wear the ultra skimpy bikini bottoms and appeared in shorts. Celebrities then offered to pay the fines imposed on them.
An American silver medalist in a swimming event ranted and raved about how the race was not clean. The Russian winner displayed grace and the American insisted he had not directed his remarks at the Russian. Then who did he mean? Too bad they no longer have pistols at dawn to encourage restraint in language.
In this surreal Olympics, Russia is supposedly absent. The Russian flag is not displayed and the Russian anthem is not played. It is because the country was accused of a state-wide doping scheme. Yet all the Russian athletes are present competing under the ROC acronym — standing for the Russian Olympic Committee. According to this logic, the athletes were force-fed the doping pills. Perhaps they were …
Nigerian sprinter Blessing Okagbare, a silver medalist at the 2008 Beijing Olympics was suspended after winning a 100m heat in Tokyo when she tested positive for human growth hormone. The hormone builds muscle mass and reduces body fat. After ten other Nigerians were also suspended, the Nigerian Athletic Federation accepted responsibility.
Scandals involving performance enhancing substances are not new. The notorious case of Carl Lewis and Ben Johnson comes to mind. The latter won the 100 meter race at the Seoul Olympics but failed a drug test and the gold medal was awarded to Carl Lewis in second place. It later emerged he had tested positive for banned substances two months earlier at the US olympic trials — a result the US committee chose to ignore. Thus the medal belonged to Britain's Linford Christie … except he, too, had a colorful doping history. Dennis Mitchell, the next man in line, was later banned for testosterone.
Another notorious case is that of cyclist Lance Armstrong. He garnered seven Tour de France titles and one Olympic medal. Persistent allegations of doping led eventually to an investigation by the US Anti-doping Agency which Armstrong unsuccessfully tried to block through the courts. He was stripped of his seven Tour de France titles and the Olympic gold medal when he decided not to contest the charges. It is possible the numerous eye-witnesses and other cyclists who had admitted doping brought him to reality.
The fact remains that as long as there is the glitter of fame and a good chance they will beat the scheduled tests, athletes are going to be tempted.
Belt & Road ABCs: Analysis of "One Belt – One Road" initiative
Understanding the foreign policy and geo-economic strategies of countries, especially in such a difficult time when national borders are closed and the "militarization" of cybersecurity, becomes an important, if not vital, task for each individual country in its attempts to take its rightful place in building a new world order and development economy.
In the XXI century, it was impossible not to notice the rapid economic growth of Asia, given that the growth rates of each of the national economies of the region exceed those of the Western countries.
For a long time, Asian countries have taken the best of both worlds, building economic relations with China, and maintaining strong ties with the United States and other developed countries. Many Asian states for a long time have considered the United States and other developed countries as their main economic partners. But now they are increasingly taking advantage of the opportunities created by China's rapid development.
Moving away from Asia, let's have a quick look what is happening in East Europe, or Central Asia, or Latin America, or even Africa. Most of the countries in these regions are struggling to take their place in "the geopolitical game" in pursuing of the benefits that Chinese investment can bring. But what is the main core and nature of Chinese Investments or Chinese geoeconomic "One Belt – One Road" project? The answer to this question is still unclear for most countries seeking to join. To understand the Belt and Road Initiative, let us also take a brief look at 10 key basics (ABCs) of this initiative:
Why and when was the Belt & Road Initiative (BRI) created?
The Belt&Road Initiative (BRI) – is an umbrella initiative spanning a multitude of projects designed to promote the flow of goods, investment, and people. The new connections fostered by the BRI could reconfigure relationships, reroute economic activity, and shift power within and between states.
The Scope of the Initiative is very big which makes it difficult to clearly identify the main initiative's goals. Thus, the best way to understand the purpose of the Belt&Road Initiative (BRI) – is to have a quick look on its development phases, each of which has its' own aim and perspective:
1. Preparation period (1990s – 2000s)
After fruitful economic reforms in China (1970 – 1980s: during Deng Xiaopin's reforms which pushed forward the transformation of China's economy), in 1990s with the implementation of the concept of "one country, two systems" (biggest offshore zones Hong Kong and Macao returned under Chinese jurisdiction), the strengthening of Chinese geoeconomics became even bigger. As a result, during 1990s – 2000s financial crises China was the only country with steady currency (while regional stock markets collapsed), being able to provide to the region a platform for further economic boom.
After 2008 global financial crisis it became clear that Chinese stock market is stable and can protect the development of regional economies. China is starting to play a dominant role in the region (shift from "country with closed policy" into regional leader).
2. Conceptualization (2000 – 2012)
While 2000 – 2010 were accompanied by stable economic development (export oriented), the development gap between Chinese regions was getting bigger, weakening the status of a strong regional (and further global) economic power. Due to these Chinese administrations was trying to work on ways to develop less developed regions of the country – started to think on creating a regional integration mechanism within Asia, where China would play the key supplier role. Starting from 2004 China is getting more involved into supplying activities in the region, expanding the production and manufacturing, logistic facilities in low-developed areas of the country (2004 – opening of TRACECA transshipment line; 2008 construction of the transcontinental highway "West Europe – West China"; 2009 construction of gas transportation infrastructure between China and Iran; the early-mid-2010s large-scale transport and infrastructural projects in Central Asia etc).
In 2011, when US Secretary of State H.Clinton proposed the development of a New Silk Road with Afghanistan as a center, Chinese leadership decided to step in and to move from individual projects to a large-scale Eurasian strategy. This decision led to the creation of the BRI.
3. Implementation (2012 – 2017)
The main role of this stage was to build a stable basis of the Initiative, which could guarantee stable economic and infrastructural development. While promoting the BRI, Chinese were concentrating on diversification and facilitation of regions logistics system. Another important element of this stage was the creation of economically strong financial base of the initiative (2013 – launching of the BRI initiative (starting budget USD47 billion), October 2014 – creation of the Asian Infrastructure Investment Bank, Silk Road Fund etc). and Initiative's promotion (by May 2015 about 60 countries joined the AIIB (decision to join BRI project).
While putting enormous amount of investments into regions' (mainly ASEAN, Russia, Central Asia) transportation systems, China decided not to lose a profit and export products outside using already existent transshipment routes (through TRACERA, Suez, Malacca straights etc.). As a result, in 2013 – 2015 348 international projects were started, volume of USD24.7 bln, in 2015 Chinese investment increased of 37% compared to 2014 and BRI became a "process – brand", the period 2016 – 2017, total cost of infrastructural projects is estimated at $ 60 billion.
4. Expansion (2017 – ..)
In May 2017 radical changes in the dimension and nature of the initiative happened:
initiative is based on transport corridors leading from China to Europe and Africa;
Continuous flow of FDI to Central Asia, Transcaucasia, Eastern Europe, and the Middle East;
launched the creation of new markets in countries along transit routes;
radical changes in approach to FDI protection.
These changes brought certain results into the development of BRI and China itself:
Thus, 2017 played a crucial role in turning the "regional integration initiative" into a new global level one.
To sum up, during Initiative transformation, its' aims were gradually transforming as well:
First Phase – to develop an approach for stable economic development of China;
Second stage – to guarantee country's positions as stable strong regional leader;
Third stage – regional integration with expansion to neighboring countries;
Fourth stage – global expansion and occupation of the geo-economic space of minimum three continents.
Nevertheless, few general aims, which were there from the very first day of BRI's implementation, can be identified:
improving intergovernmental communication to better align high-level government policies like economic development strategies and plans for regional cooperation;
strengthening the coordination of infrastructure plans to better connect hard infrastructure networks like transportation systems and power grids;
encouraging the development of soft infrastructure such as the signing of trade deals, aligning of regulatory standards, and improving financial integration;
bolstering people-to-people connections by cultivating student, expert, and cultural exchanges and tourism.
The end result of BRI should be the ceation of a "Community of Common Destiny for Mankind" (人类命运共同体), defined as a new global system of alternative economic, political, and security "interdependencies" with China at the center (zhongguo, 中国). For this reason, Chinese leaders describe BRI as a national strategy (zhanlüe, 战略), with economic, political, diplomatic, and military elements (综合国力), not a mere series of initiatives.
Thus, BRI directly supports many elements of China's national security strategy. At a macro level, it seeks to reshape the world economic order in ways that are conducive to China's drive for Great Power status.
What does the creation of the BRI mean in terms of globalization?
While talking on the role of BRI in Globalization trends, its' global and national scopes (impacts), should be empathized:
Contribution to the "world's" Globalization:
Transport and infrastructure development increases trade;
increasing of connectivity;
stabilization in monetary policy;
stabilization of the level of security in the region;
contribution to the cultural exchange.
Responding to global trends in globalization, based on the principle of mutual benefit and having a far-sighted perspective, BRI has several foreign policy strategic advantages that can contribute to the cohesion of the countries of the 3 main continents (Asia, Europe, Africa) and the disclosure of their economic potential.
Contribution to the "country's" Globalization:
BRI is intended to support the development and reform of all provinces and regions in China through involving them into global cooperation with the worlds regions;
development and connectivity of China's provinces and neighboring countries;
contributing to continued strong and sustainable growth in China while simultaneously benefiting from new commercial opportunities (See Attachment 1 below).
Attachment 1: Strategy on "Globalizing" of China
Source: BRI official website, 2015
How does BRI relate to Xi Jinping`s government's characteristics?
While thinking on BRI as a new trend in Chinese foreign policy, it is worth noting that it was the new way of thinking (and developing of the policy strategy) of The 5th generation of the P.R.C. administration (Administration of Xi Jinping). His predecessors were mainly concentrated on inner policy of China (namely strengthening of Chinese inner market, economy and reducing the "development gap" between the Chinese provinces and cities) and further strengthening of China as regional player (late years of the Administration of Deng Xiaoping). New Administration (Xi Jinping since 2012) decided to take Chinese foreigner policy to next level, announcing the conversation of the doctrine of the "Chinese Dream" (improving of well-being of Chinese people within China) into proper international status (first regional leader, then expansion of BRI into at least 3 continents).
What's more, no Chinese leader has done more globe-trotting within such a short time (first term 2012 – 2016, second term 2016 – …). Since 2013, president Xi has logged 28 overseas trips that brought him to 56 countries across 5 continents, as well as the headquarters of major international and regional organizations.
As a result of BRI implementation, at least in terms of two of China's policies – bringing in (qingjinlai) and going out (zouchuqu) – Xi's first term (2012 – 2016) already marked a new era in Chinese foreign policy. But there was much more to the new era than the flurry of diplomatic visits. Xi introduced four new concepts into Chinese foreign policy: a new type of major country relations (P2P diplomacy, bilateral diplomacy approach, hub-regions integration (ASEAN, CEE etc.), major country diplomacy with Chinese characteristics (strategy of "blue water", "diplomacy of straights" etc.), a global community of common destiny (strategy "Chinese dream"), and a new type of international relations (BRI).
Further, in 2017, while announcing the start of the expansion phase of BRI, Xi Jinping underlined again the importance of the balanced development of both China and BRI: "Chinese government seeks to
"ensure and improve living standards through sustainable development";
it condones market "reform and opening" (gaige kaifang 改 革 开 放) and
encourages Chinese enterprises to "go out" (zou chuqu 走出去) especially along the Silk Road Economic Belt and 21st Century Maritime Silk Road (and Polar Silk Road in near future).
Thus, it can be seen, that in 2012 new Chinese Administration (Xi Jinping) noticed that China's relatively slow growth rate since 2009 has required a rebalancing of its economy away from investment-led growth and towards a more consumption-driven economy. The realization of this fact forced new Administration to think on other possible ways to sustain and develop Chinese economy, which further turn into idea of the creation of new economic integration mechanism in the region (and further continent) – the Belt and Road Initiative. The further phrases of its development have been commonly used in China to indicate the importance of this recalibration.
Meanwhile, because of Xi Jinping new approach of the development of China, the country gained a profound impact on global economic development (which, is safe to say, China has never had before).
Why does China seem to be focusing on African countries?
China is both a long-established diplomatic partner and a new investor in Africa. Chinese interests on the continent encompass not only natural resources but also issues of trade, security, diplomacy, and soft power. China is a major aid donor, but the scope, scale, and mode of Chinese aid practices are poorly understood and often misquoted in the press (since they mainly analyze Sino – African relations only in terms of "what does China gain out of these relations"). It will be fair to emphasize, that few analysis have approached Sino – African relations as a vibrant, two-way dynamic in which both sides adjust to policy initiatives and popular perceptions emanating from the other.
While analyzing the main reasons of the development of Sino – African ties (within BRI or not), it can be underlined that China has four overarching strategic interests in Africa:
1. China wants access to natural resources, particularly oil and gas. It is estimated that, by 2025, China will import more oil worldwide than the United States. To guarantee future supply, China is heavily investing in the oil sectors in countries such as Sudan, Angola, and Nigeria.
2. a huge market for Chinese exported goods, might facilitate China's efforts to restructure its own economy away from labor-intensive industries, especially as labor costs in China increases.
3. China wants political legitimacy. The Chinese government believes that strengthening Sino – African relations helps raise China's own international influence. Most African governments express support for Beijing's "One China" policy (HK and Taiwan, Xinjiang Uygur Autonomous Region are fully Chinese territories), a prerequisite for attracting Chinese aid and investments.
4. China has sought a more constructive role as contributor to stability in the region, partly to mitigate security-related threats to China's economic interests.
At the same time, African governments are counting on China to ensure political recognition and legitimacy and contribute to their economic development through aid, investment, infrastructure, and trade. To some degree, many African leaders hope that China will interact with them in ways that the United States and other Western governments do not – by engaging economically without condescendingly preaching about good governance, for example, or by investing in high-risk projects or in remote regions that are not appealing to Western governments or companies. Some Africans aspire to replicate China's rapid economic development and believe that their nations can benefit from China's recent experience in lifting itself out of poverty.
From what I personally heard from my African colleagues and friends: "we (Africans) prefer to work with China, because if it (China) promises us (Africa) something (i.e. to build a highway or a plant, to invest in solar power facilities etc.) – it will do so, but if the same is promised by the US or Western Europe – we (Africans) will never see the results and furthermore will pay huge percentages and loans for nothing". Afterall, it makes sense, as Central – East – European countries are mainly willing to cooperate with China because of the same reasons. Thus, it's not surprisingly that not very high-developed (in terms of economy and infrastructure) countries are tempted to choose Chinese investments, over the Western countries or the WTO.
Thus, BRI, which mainly focuses on the development of large infrastructure projects, is a real hope for many African countries to fill their own infrastructure gap, with less cost and in a more efficient way (so far Chinese companies are top in logistics and infrastructure development and improvement). As a result – as of September 2019, 40 of 55 African countries had signed some sort of memorandum of understanding or other agreement on the BRI.
Africa is also an important end user of China's industrial overcapacities, particularly coal, cement, steel, glass, solar, shipbuilding, and aluminum, for use in BRI projects.
Also, it must be emphasized another, not necessarily official goal of BRI in Africa – geopolitics and geo-economics. Thus, with the help of African continent, BRI also increases China's control of critical global supply chains and its ability to redirect the flow of international trade in the world's sea. Central to these efforts are steps to open up new sea lanes and expand China's access to strategic ports around the world. Thus, while The Silk Road Economic Belt establishes 6 land corridors (or high-speed train and highways networks, oil, and gas pipelines), connecting China's interior to Central Asia and Europe, The Maritime Silk Road (and possible Polar Silk Road) further establishes 3 "blue economic passages" knitted together through a chain of seaports from the South China Sea to Africa that also direct trade to and from China. (See Details in Attachment 2).
Attachment 2: Transshipment lines from Far East to Western Europe and Africa
Source : EADB, 2020
African continent is of great importance to the implementation of China's 13th Five Year Plan, a document adopted in 2016 that provides long-range implementing guidance in five-year increments, which calls for the "construction of maritime hubs" to safeguard China's "maritime rights and interests" as it embarks on laying a "foundation for maritime Great Power status" by 2020. The centenary of the founding of the People's Republic of China, 2049, has been set as the year when it will become the world's "main maritime power" (海洋强国). Accordingly, China's drive to acquire port access and secure supply lines are likely to intensify alongside the expansion of the Maritime and Polar Silk Roads.
The Maritime trade routes help China diversify its supply chains and create a China – Indian Ocean – Africa – Mediterranean Sea Blue Economic Passage to connect Africa to new maritime corridors in Pakistan, Bangladesh, Sri Lanka, and Myanmar. (See Details in Attachment 2).
But it worth noting, that China's return on investment from increased port access and supply chains is not only about economics. In five cases (2 of which are in Africa) – Djibouti, Walvis Bay (Namibia), Gwadar (Pakistan), Hambantota (Sri Lanka), and Piraeus (Greece) – China's port investments have been followed by regular People's Liberation Army (PLA) Navy deployments and strengthened military agreements. In this way, financial investments have been turned into geostrategic returns. (See Details in Attachment 3).
Attachment 3: Global BRI strategy: roadmap
Source: MERICS, 2020
Within this scenario one can trace the implementation of well-known Chinese geopolitical strategy "string of pearls" and "blue waters", which is primarily aimed at protecting China's oil flows, establishing the country as a global Maritime power with diverse interests around the world, and overcoming US attempts to block access to China or its access to the world's oceans. Due to this strategies Africa (namely Djibouti and Walvis Bay) have a crucial role in this strategy in terms of security.
In this aspect we can see that the African vector of Chinese "diplomacy of straits" is playing a significant part in Chinese foreign policy. In 2016 it was stated that in Djibouti (the African side of the Bab el – Mandeb, connecting the Gulf of Aden (and hence the entire Indian Ocean basin and the Asia – Pacific region) to the Red Sea and further, through the Suez Canal, with the Mediterranean Sea), in the port city of Obock, work on the construction of a naval base of the PRC began. This base will not only enable Beijing to control the Bab – el Mandeb Strait to some extent, but also will serve as a military guarantee of Chinese interests on the African continent, which is (for 2014) $ 210 billions of trade turnover and $ 20 billions of FDI.
The base in Djibouti allowed the Chinese Navy to increase its presence in the Indian Ocean and became a stronghold in the event of an emergency evacuation of Chinese citizens from Africa.
In addition to purely security issues, Africa is also a market for Chinese weapons. From 2013 to 2017, exports of Chinese weapons to Africa grew by 55% compared with the previous five years. From 2008 to 2017, China exported $ 3 billion worth of arms to Africa. Algeria already purchases 10% of all exports of Chinese weapons, including warships.
Thus, Africa's importance to China in this regard stems from its location in the maritime zone, in which Beijing hopes to expand its presence and project its power. Indeed, ten years ago, China could not penetrate the adjacent waters of Africa. Today, it is estimated that the PLA Navy maintains five battleships and several submarines on continuous rotation in the Indian Ocean. This is set to increase in the coming decades as Chinese rival – India – ramps up its own presence in the area.
What is the significance of the Belt & Road Initiative in Europe?
When the policy of US Presidents D. Trump and later Joe Biden has brought uncertainty to relations between the world's three largest economic partners – the US, China and the EU, collaboration between official Brussels and Beijing remained one of the most important factors in world politics. Thus, Sino – European relations are one of the primary factors determining the development of the entire system of international cooperation in Eurasia.
Modern relations between the European Union and China are characterized by a comprehensive content of the bilateral agenda, which includes issues of investment, trade, economic, political cooperation, environmental protection, etc. Same principals can be applied when analyzing Sino – European collaboration within BRI.
An important role in these relations is played by the countries of the Eastern borders of the EU – the countries of Central and Eastern Europe. As a kind of geopolitical bridge between Asia and Europe, the CEE countries providing the Chinese side with large platforms for investment and development of trade and economic collaboration. Despite the geo-economic prospects, however, the CEE countries also pose as a considerable threat to the promoting of the BRI project to the West (economically unstable, lack of reliable infrastructure and logistics, high level of political instability and conflicts).
Also, providing a strong basics for development of China – EU ties, Sino – CEE relations, at the same time, bringing higher level of uncertainly and fears to European business and political circles. Thus, while implementing BRI in CEE region and hence strengthening economically and infrastructurally countries of the region, China contributes to shifting of "political preferences and support" of these countries from EU-oriented trends to East-oriented (which in some point can damage European identity and unity).
An important characteristic of Sino – EU relations (which the EU leadership is not fully supporting), is that instead of seeking a "block-based" approach with the whole of Europe, China develops multiple arrangements and memorandums of understanding, resulting in a certain East – West divide, with more Eastern European countries being BRI members. This complicated puzzle of bilateral arrangements ultimately favors a hidden growth of Chinese continuous influence in Europe.
Nevertheless, it can be underlined, that the improving of Sino – CEE ties within BRI requires deep collaboration on the principle of mutual complementarity of economies of the region. Such complementarity provides an important basis for long-term business cooperation, because only in the process of joint efforts to create the BRI will it be possible to fully overcome the underdevelopment of infrastructure in the region. The cooperation between China, the EU and CEE countries can also contribute to the balanced development of Europe.
While talking about BRI from European perspective, the most relevant infrastructural projects of the Initiative are railways and ports. The BRI's investments in railway and port infrastructure will certainly influence trade relations between China and Europe by lowering transportation costs and increasing trade volumes. New connections will develop trade and have an impact on each European country's trade turnover with Asia. Thus, it is estimated that "a 10% reduction in railway, air, and maritime costs increases trade by 2%, 5.5% and 1.1% respectively". Nevertheless, the effects of new connections should also be analysed regarding the specific composition of trade flows.
The maritime route of the BRI then is going to be the most relevant component of BRI both in terms of volume (93% of total trade in 2016) and value (61% of total trade in 2016) of goods in the Sino – European trade. This will reinforce the status of the Mediterranean and Southern Europe as the terminal point of the main BRI shipping route. (See Details in Attachment 4).
Also, the new shift in Sino – EU relations within BRI were intensified by the parallel impact of three concurrent factors:
expansion of the Suez Canal in August 2015 that doubled the daily capacity of cargo transit;
emerging "naval gigantism", or the strategic use by the main shipping companies of huge vessels (between 13,000 and 22,000 TEU) that can only be hosted by the Suez Canal;
acceleration of global alliances made by shipping companies to reinforce their economies of scale, as in the case of the Ocean Alliance, consisted of the China Ocean Shipping Company (COSCO), CMA CGM from France, Evergreen from Chinese Taiwan, and OOCL from Chinese Hong Kong, which controls 35 per cent of the Europe – Far East route trade and 40 percent of the transpacific route trade.
These three concurrent phenomena (i.e., Suez enlargement, naval gigantism, and global alliances) are progressively reinforcing the competitive advantage of the Europe – Far East route, making it even more convenient than the transpacific route for the Chinese cargo directed towards the American north-eastern coast. These processes provide the European Mediterranean with an unprecedented "centrality" within both of China's most important trade segments with Europe and the US.
Attachment 4: Projects presented under the EU-China Connectivity Platform. Projects in EU Member States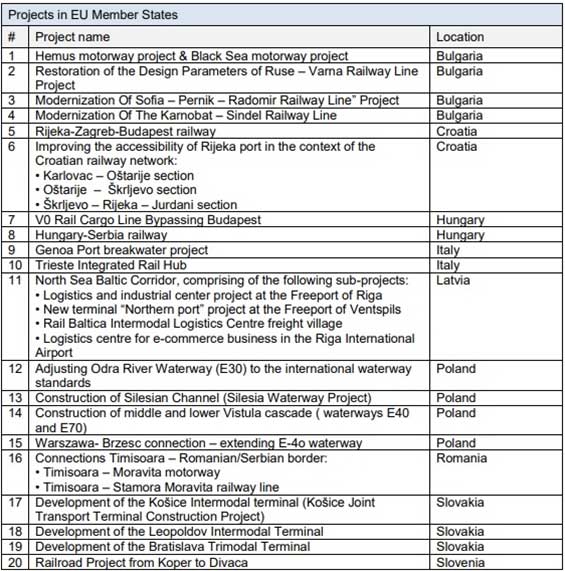 Source: Five Expert Group meetings held in November 2016 in Beijing, in May 2017 in Brussels, in July 2018 in Beijing, in November 2018 in Brussels, and in July 2019 in Beijing.
Why are there concerns about the expansion of Chinese trade routes? What threats BRI poses to other countries?
As any other project, global scope of the BRI reserves not only big number of opportunities, but also high level of uncertainly and challenges. Thus, the main groups of risks are as follows:
1. Environmental risks:
BRI transport infrastructure is estimated to increase carbon dioxide emissions by 0.3 % worldwide—but by 7 % or more in some countries as production expands in sectors with higher emissions.
creating bottlenecks in cold waters (Straits of Malacca and Singapore, Suez, Gibraltar, Panama, etc.;)
interferes in Arctic and Antarctic circles (melting of ice, global warming);
oil spills (mainly Indian ocean);
biodiversity loss (mainly South-Asia waters).
2. Social Risks:
An influx of workers related to an infrastructure project could create risks of gender-based violence, sexually transmitted diseases, and social tensions.
Increasing of development gap (between world regions and countries).
Monopolization risks:
There are examples of Chinese companies using the terms of a contract for financing the construction of infrastructure facilities to obtain, if possible, control over the recipient companies. For example, under the terms of the financing agreement, if the construction and commissioning of the facility is delayed, control of the foreign partner company passes to the Chinese company.
countries' technologies degradation (while implementing projects China prefer to use its manpower, raw materials, and technologies).
4. Governance Risks:
Moving toward international good practices such as open and transparent public procurement would increase the likelihood that BRI projects are allocated to the firms best placed to implement them;
absence of clear and stable policies transparency;
interfere in territorial sovereignty of the countries (best example – countries of South-East Asia, Pakistan, Ukraine);
inconsistency in legal and financial policies due to political instability in countries participants (best example – Myanmar, Russia, Ukraine, Pakistan, Kashmir).
5. Business risks:
BRI countries have more restrictive and burdensome FDI policies than high-income OECD countries, in terms of starting a foreign business, accessing industrial land, and arbitrating commercial disputes;
Risk of losing control over project (if country can't cover the dept – construction company (China) can take over the facility/project/profits);
corruption risks.
6. Debt Sustainability Risks:
Among the 43 corridor economies for which detailed data is available, 12 – most of which already face elevated debt levels – could suffer a further medium-term deterioration in their outlook for debt sustainability;
FDI to projects exceeds country's GDP (Best examples: B&H, Cambodia, Laos, Greece, Djibouti)
And the last group of risks can be identified in its geo-economic and geopolitical scope (should be noted that this group is a basic of majority of fears about the expansion of the BRI (especially from the EU, the US and Indian perspectives)):
7. Geopolitical and geo-economic risks:
7.1. Geostrategical aspect:
– the project is consistent with the logic of the classical geopolitical Formula: "…who rules Eurasia controls the destinies of the world";
– creating "fulcrums" within strategical transportation hubs (CEE, ASEAN region, Gwadar, Djibouti etc.) through over the world;
– takes control over Indian Ocean: the realization of the idea of building the Kra – Canal (The Thai Canal through the Malacca Peninsula of Thailand), connecting the Pacific (Siamsky Bay) and the Indian (Andaman Sea) oceans.
– according to the long-standing tradition of the "Chinese box" (foreign policy strategies "string of pearls", "blue water", etc.), the main geopolitical goal of the Chinese project is gradually revealed to the outside world:
2013 – 2017: gradual opening of foreign policy and economic objectives;
2017 – …: entering the path of reaching the main goal (creating a large Eurasian multidimensional space with a huge consumer market).
7.2. Resource's aspect:
– within Maritime Silk Road (MSR) the construction of oil and gas pipelines from the coast of the Arabian Sea to China's Xinjiang provides stable oil imports bypassing the Strait of Malacca (hence not controlled by the US and India);
– within Polar SR get access to resources-rich Arctic region (gas and oil);
– within land BRI get access to resources of Eurasia and receive massive discounts on the import of gas (from Central Asia mainly);
– within Polar SR along the Northern Sea Route in the Arctic, facilitate increased resource extraction and cargo deliveries, as well as tourism and scientific opportunities;
– As a result, second quarter of 2021: Total FDI Energy – 44 %, transport – 30% (considering Pandemic impact).
7.3. Military aspect:
– Within MSR places military bases and electronic intelligence facilities in friendly Southeast Asian countries (Myanmar, Cambodia, Thailand, Bangladesh) ;
– the deployment of a naval base and electronic intelligence station in Gwadar (on the Makranska coast of Balochistan (Pakistan)) will ensure the security of oil imports from Iran and control the transportation of oil from the Persian Gulf zone to India;
– Development diplomacy of Straights (strategies "string of pearls", "blue water", etc.);
– the construction of a naval base in Djibouti allows to take under control imports of oil (the Bab – el Mandeb and Hormuz Straits) and gives military guarantees of Chinese interests on the African continent;
– control over South China Sea and partially Indian Ocean (to control oil/gas import).
7.4. Geo-economic aspect:
– A multidimensional model of regional cooperation will expand the geo-economic space for development by forming the following areas (corridors):
1. Transport Corridor,
2. Energy Corridor,
3. shopping corridor,
4. Cyber and Information corridor,
5. Scientific and technical cooperation,
6. Agricultural development,
7. Cultural exchange
8. Increase educational and career opportunities,
9. Tourism Development,
10. security and political interaction.
–      BRI, MSR and Polar SR along with the creation of Port outposts in ASEAN, Africa and CEE indicates intentions to take soft "economic" control over the whole of Eurasia and Africa.
Which BRICS members will take more advantage of the new BRI structures?
An obvious winner (from BRICS) of new structure is China. Thus, few aspects can be underlined during the analysis of an impact of BRI on separate nation:
A large global economy such as China will almost inevitably gain market power through its economic size and its importance as a trading partner;
Increasing the speed of the extension of use of Chinese goods, technologies and investments abroad (export not only of goods, but factories), gaining power through FDI and "shares" approach;
In the last quarter of 2020, China's trade with Belt and Road countries increased by 3.2%, almost 10% points higher than the overall negative growth rate of China's foreign trade volume;
BRI is expected to boost China's GDP by 0.3% every year over a 10-year period, and provide access to new resource-rich markets and trade routes, and reduce its reliance on existing ones;
Chinese companies are entering the banking, technology, and retail sectors in BRI markets through 3 continents. Globalizing their economy and extending borders of country's geoeconomics influence.
And that's only talking in economical aspect, without mentioning the infrastructure, geopolitical impact, and geo-economic and cultural expansion.
Even though it is worth noting numerous benefits for Russia, South Africa (especially considering countries' poor economic development, unsatisfactory logistics and Russian – Ukrainian crisis), outcomes for Brazil (which is rather distant player) and India (which rather loses than gains from the BRI), China remains the main "BRICS beneficial" of the BRI.
Which countries will benefit the most from the BRI?
As BRI became a "process – brand", the number of countries which could benefit from the Initiative grew gradually:
Thus, much of the increase in outbound greenfield FDI to BRI countries is concentrated in South Asia, Africa, and Central Asia, while the increase in construction projects is concentrated in South Asia, the Middle East, and Southeast Asia. Even though, so far, the main beneficiary remains ASEAN region, as it is expected to require USD26 trillion in infrastructure investment between 2016 and 2030, or USD1.7 trillion a year, to maintain its growth momentum and BRI helps fund a sizable portion of that.
(See Details in Attachment 5 and Attachment 6)
Attachment 5: BRI's impact on worlds regions
Estimated BRI investments across 150+ countries from 2020 to 2030. Forecasting model includes core infrastructure, including power, rail, road, ports and water, as well as related activity, including export manufacturing.
Source: Silk Road Associates, 2020
Attachment 6: Main beneficials of BRI
Source: Silk Road Associates, 2020
How has the Covid-19 pandemic affected the progress of the Belt & Road Initiative?
As a person, who used to live in Wuhan and left it 10 hours before the lockdown of the city, I know from own experience how Pandemic can change and influence lives. Nevertheless, must mention, that in politics the affects slightly vary from country to country.
In China they managed to take an outbreak under strictest control relatively fast, but it obviously influenced (and influences) Chinese economy and foreign policy significantly (especially in "lowest" level, considering that country strictly closed its borders to all the foreigners and limited to minimum inter-countries connections).
Moreover, due to the Pandemic restrictions China had to adapt the new BRI strategy in a way, the initiative can still fulfill its mission. Thus, the country implemented a new post-Covid-19 domestic strategy, which further was expanded on big implications for China's trade with BRI countries. The new strategy was called "dual circulation" (strategy, which envisions a new balance away from global integration (the first circulation) and toward increased domestic reliance (the second circulation)) and implies several simultaneous shifts:
• Strengthening Chinese domestic consumer markets as a source of economic growth;
• Prioritizing domestic high-tech manufacturing and associated services for export;
• Reducing dependency on income from exporting low-value manufactured goods; and
• Reducing dependency on singular sources of imports into China.
This shift could benefit BRI countries, at least in the short and medium term. For instance, currently providing just 4% of China's imports, African countries may gain from the import diversification and consumer market growth the policy implies.
Thus, the biggest impact pandemic had on the BRI – is an access to Chinese marked and access to China itself. From March 2020 it is extremely difficult to get even the most astute and innovative foreigner businesspeople and their new products into China, especially value-added products. Entrance into China will require considerable relaxation of China's immigration rules and non-tariff trade restrictions with BRI countries, both of which have yet to be seen in (hopefully) 2021.
But the impact was not only limited to an "access" restriction. Thus, in June 2020 China revealed that 20% of BRI projects had been "seriously affected" by the virus, with up to 40% being "somewhat affected". That meant that the overall BRI investment dropped by a whopping 50% in the first half of 2020, down from $46bn in the same period in 2019. Due to this numbers (and since China's internal economy is under great pressure because of Covid-19), Chinese leadership decided it is smarter for the time-being to concentrate more on inner development, rather than massively investing money overseas, so further investment is likely to be thought out much more carefully with a particular focus on profit, something that many BRI investments currently lack. (See Details in Attachment 7).
Attachment 7: Number of construction projects owned by Chinese corporations, 2010-2020
Source: GlobalData, 2021
But this data does not mean that China could not keep BRI lending in high gear, however. BRI loans are just a small part of China's overall lending portfolio, and China's main policy banks have enough political backing to bear the cost of upcoming (and those "frozen" due to the pandemic) projects.
Additionally, in addition to the supply shock, Covid-19 has reduced the demand of many countries for BRI investments, not least due to falling energy needs and a decrease in the ability to borrow money.
Worth noting the current usage of BRI transshipment roads to supply other countries with medical technology and medicine to help fighting the Covid-19 outbreak outside of China. Starting from January 2020 government took "medicine field" (especially technologies that use AI and other innovations that monitor Covid-19 carriers) under the strictest control, giving "export rights" only to those enterprises which are checked (quality standards) and authorized. Meanwhile, international e-commerce initiatives in the field of MedTech are also being prioritized to help accelerate economic growth in China.
Investments on energy-related projects outside and inside China were influenced by Pandemic the most. Thus, the drop has hit traditional fuels the hardest. In fact, the first half of 2020 was the first six-month period in which non-fossil fuel-related energy investment (including large hydropower and solar power) dominated BRI energy investments, which further helped to implement the "Greening of BRI" strategies. The turn into "greening" became very resultative in long-tern run point of view (i.e., the EU always underlined that "the BRI is not green enough" to be safely and successfully implemented within Europe). But these trends will become clearer once the dust settles and a global Covid-19 vaccination programme begins.
As for current way to further maintain and develop the BRI, China seeks to share its valuable experience of battling Covid-19 with other BRI countries, one key area of potential will be in projects focused on strengthening the health systems of low-income countries, even if focused on soft processes rather than hard infrastructure.
Also, beyond the short-term, changes to global supply chains will bring new opportunities for diversification through joint activity with other countries. There is also potential for accelerated digital BRI (Digital Belt and Road) activity in relation to Chinese tech companies and private players may now become more active in the BRI.
What are the long-term prospects for BRI? Can the Chinese Belt & Road be considered the beginning of the Asian century?
Exploring the nature of the new geopolitical project, it should first of all be emphasized that it is aimed at radically changing the entire economic map of the world. In addition, many economic experts consider this project as the first shot in the struggle between East and West for influence in Eurasia.
Belt&Road Initiative, based on a multidimensional approach ("five connections") is promoting mutually beneficial international cooperation. Thus, in contrast to the United States, which relied on the path to world hegemony for neoliberal globalization, China's foreign policy has taken a course to regionalize international economic relations.
Economically, China will remain the engine of growth for Asia and the world. Its contribution to global growth will rise to over 28% by 2023 (a compound annual rate of 6.1 per cent), according to IMF projections. However, the nature of China's economic role will evolve along with domestic rebalancing.
The initiative is also projected to boost global trade by 12% impacting more than 65 countries and nearly two-thirds of the world's population.
Short long-run Sum up:
BRI is estimated to provide (Globe):

to raise global GDP by about 4.2 % in 2040, or 9.3% of GDP in 2019-2021;

up to 56 countries forecast to have their annual GDP in 2040 boosted by more than $10 billion as a result;

establish over 35 economic corridors to include the following strategic distribution lanes, which will impact the future transport of commercial goods.

A targeted completion date (100th anniversary of the PRC (2049)):
China would make several trillion USD dollars' (4 – 8) worth of investments – in ports, airports, roads, railways (including high-speed routes), bridges and tunnels, as well as power plants and telecommunications networks;
One of the more notable examples included a clean energy "super grid", consisting of ultra-high voltage electricity networks linking China and much of the Euroasian continent.
BRI is estimated to provide (China):
a competitive advantage in the processing of vessels in the world's major canals, processing of goods at the major ports of entry;
the prioritization of the ground transport of goods in key countries' economic zones;
ability to leverage port economics within BRI participating ports provides it with a commercial advantage in the global market;
as China's industrialization and GDP grow, its exports will start leveling with US exports in the commercial market.
Thus, we can forecast 5 main scenarios (models) of the further development of the BRI:
1. Baseline Model: Continuing the current trajectory equals an estimated US $940 billion in BRI infrastructure investments
If BRI infrastructure investments stay on their current course, the original 65 core BRI countries will continue to see significant investment, as will the recently joined Latin American countries. In this model, while the number of BRI projects will continue to increase, many projects will be of average size and smaller value, which is a trend already in evidence. (See Details in Attachment 8).
Attachment 8: Baseline Model
Source: McKenzie, 2019
2. Global Cooperation Model: Collaboration wins big, totalling US $1.32 trillion in BRI investments
Lessons learned so far, point to collaboration as the win-win BRI solution that reduces political opposition and ensures the highest long-term success rate for infrastructure projects and better access to ongoing multilateral funding. This scenario is based around more formal partnerships between China and external 3rd parties, including other governments and private capital, and BRI-project alignment with the multilateral development banks. (See Details in Attachment 9).
Attachment 9: Global Cooperation Model
Source: McKenzie, 2019
3. Global Sustainability Model: Sustainability becomes a key driver, pushing future BRI investments to US $1.2 trillion
If China adopts a policy of even closer alignment between its BRI goals and sustainable initiatives, it is very likely that it will gain access to new streams of multilateral funding for BRI projects. It will also make Chinese engineering and construction companies more competitive globally to win major clean energy and water project bids as part of BRI. (See Details in Attachment 10).
Attachment 10: Global Sustainability Model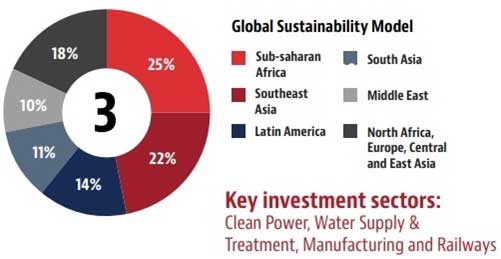 Source: McKenzie, 2019
4. Supply Chain Relocation Model: With tariffs remaining high over a longer-term period, BRI infrastructure projects can still garner an estimated US $1.06 trillion
Ongoing trade tensions between the US and China have led to the partial relocation of manufacturing away from China, including by Chinese companies, to low‐cost countries in Southeast Asia and South Asia. In this scenario the influx of manufacturing sees renewed interest in BRI infrastructure investments in these countries (private and through state-owned enterprises) to support the production relocation. (See Details in Attachment 11).
Attachment 11: Supply Chain Relocation Model
Source: McKenzie, 2019
5. Uni-Polar Model: Global protectionism dampens down future BRI investment, totalling US $560 billion
Fierce, politicised and protectionist competition among countries will almost halve global BRI investments when compared with the Baseline Model (Forecast 1). Of all the five forecasts, this one offers the most modest benefits to all stakeholders. (See Details in Attachment 12).
Attachment 12: Uni-Polar Model
Source: McKenzie, 2019
If we are talking about possible Asian Century, lying at the heart of the regional economy, China will undoubtedly play a central role in Eurasia. Implementing BRI and hence recognizing that multilateralism is the only way to meet our transnational challenges and sustain an open, inclusive global economy, China's role in Asia and the world will be to uphold the international order while offering innovative solutions to global governance, in line with its responsibility as a major global player.
In the previous phase of globalization, Chinese exports drove global trade as foreign investment came in to help modernize the economy. In globalization 4.0, Chinese imports will play an ever-larger role as Chinese multinationals invest across Asia and the world. From now until 2030, Asia's consumption growth is expected to exceed that of the US and Western Europe combined.
It is estimated that if fully implemented, BRI transport projects could increase trade between 1.7% and 6.2% for the world, increasing global real income by 0.7% to 2.9% and helping to lift 7.6 million people from extreme poverty in the process. To truly fulfill BRI's potential, over the coming years, the BRI will shift towards a more multilateral approach.
But to discuss whether BRI's implementation is the beginning of the Asian Century is not quite right. Moreover, it is still too early to talk about the existence of such at all.
Chinese economy and potential are strong, BRI's and Asia's are even bigger, but one needs to understand, that being a locomotive of the new era is not only about having strong economy and development, but about having the high level of stability and security. While some countries in Asia (i.e., China, Japan, South Korea) boast stability, the level of security and stability in the region as a whole is still low compared to the old world (Europe).
Moreover, BRI can be also considered as a new approach of Chinese foreign and domestic policies to adapt to the new trends in worlds geopolitics and disproportionate development of the country itself. In 21st Century, when Chinese Political Economy is observed, it is to be seen that engines of the economy that once led China to development become the very problems that are distorting the development and growth today. Those problems make the "challenges of China" and they are deeply connected to each other making local operations ineffective in long term solutions. Hence, China needs a restructuring in social and economic architecture of the country that will not only enable a grand solution to those challenges but that will also guarantee the stability in domestic affairs. By employing BRI, China aims to achieve peace and harmony in its' domestic structures regarding economy and society. Therefore, China's domestic challenges render BRI essential for the survival of a stable China.
Referring to the global scale and importance of the BRI for current China's existence, it should be noted that the BRI represents a possible integration mechanism in Eurasia, led by China, which unites Asia within its borders, but also has a dangerous asymmetric structure (the size of China's huge economy and the smaller economies in most of the receiving countries along the BRI). It brings us to the issue of the creation of stable multilateral setting which can tackle not only economic, but security issues in Asia.
History shows that, unlike Europe, Asia was never forced to create a culture of negotiation: while the whole of Europe was twice involved in devastating wars in which it could not win, countries were forced to sit down at the table of diplomacy and negotiation, which ultimately led to the creation of a compromise – Organization for Security and Co-operation in Europe. The countries of Asia, on the contrary, have never been on the brink of survival in recent history, which, as a result, has not forced the countries to create a pan-continental union or a single pan-Asian integration mechanism.
Up to day countries of the region did not create a stable multilateral mechanism which can help them to work out a compromise solution on the issue of legal registration of state borders and territorial claims. Even despite the fact, that Asian countries today are more willing to consult and cooperate with each other on the integration and creating of the zone of co-prosperity issues, nevertheless in Asia, there is hardly a single state which has no territorial dispute within its neighborhood. This issue is one of the most important, since it can guarantee the territorial integrity of States and ensure non-interference in their internal affairs, as well as represent one of the barriers to external threats to their national security, such as smuggling, international crime, extremist and terrorist movements, illegal migration.
Numerous integration mechanisms such as ASEAN, APEC, SAARC or BRI in most cases, are created to jointly solve economic problems, achieve economic integration in the region or sub-regions, but not to tackle security issues.
Economically and potentially strong East today lacks stable political integration and is unable to capitalize (on) its success. To consolidate the total power of Asian countries the largest continent must consider the creation of its own comprehensive pan-Asian multilateral setting, without which it is impossible to establish an Asian century.
Behind the Rise of China is the Centenary Aspiration of the CPC for a Great China
On July 1st, China celebrated the Communist Party's centenary with a grand ceremony in Beijing where Chinese President Xi Jinping who is also the General Secretary of the CPC made a key-note address to the public. Recalling the "intense humiliations" China suffered for a century before the CPC triumphed against foreign aggression and domestic chaos, Xi vowed that the CPC has and would never permit China to lose its raison d'etre again. One week later, on July 6th, Xi held talks with more than 500 political parties from over 160 countries and the entities to discuss the questions over "how to enhance the responsibilities of political parties to advance the people's wellbeing." On both occasions, echoing China's rapid rise to a global power over the past four decades since 1980, he reiterated that the historic achievements the CPC and the Chinese people have made would not have been possible without the generous support of world peoples.
What Xi has tried to speak out is more than a political token. China has formally realized the first centenary goal—to build a moderately prosperous society, and Xi's sincere gratitude were also conveyed to political parties, peoples and friends all over the world who have supported and helped the CPC and the cause of revolution, development and reform in China. Given this, the CPC is expected to continue associating the future of the Chinese people with that of other peoples all over the world and advancing China's development in line with common interests and prosperity of all countries concerned. Accordingly, it is necessary to grasp the essential role of the CPC during its centenary aspiration for a great China.
Historically when the CPC was founded in 1921, China had been humiliated for 80 years by foreign powers of the world—all major powers of Europe, the United States and a rapidly-rising Japan. In reality, China was subjugated under a system of the unequal treaties which could be abrogated by revolutionary means only. Chinese political elites, either the reformed-minded republicans or the conservative monarchists, were all inspired to regain national independence from foreign domination and political freedom out of domestic chaos and poverty. Yet, their efforts failed from time to time. Consequently, the Communists of China grew out of the context and determined to take up the mission. Although the ideology of communism by itself was introduced into China then from the Soviet Russia and Japan as well, it was necessary to try it as the last resort.
Built up on the model of the Soviet Union, the CPC opined three elements as its essential tasks to be achieved for China and its people by all means including forces. As one of the key founders of the CPC, Mao argued for the significance of armed force as he said, "political power comes from armed forces and strategic wisdoms rather than the ideological rhetoric." Under CPC strategic guidance, the People's Republic of China (PRC) was founded in 1949 when Mao declared that China stood up, referring to political independence from foreign domination. Yet, the PRC was soon trapped into the Cold War since the world system was featured by the co-domination of the United States and the Soviet Union which remained to the early 1990s. China's line with the Soviet camp was based on Mao's words of "leaning toward the one-side" referring to China's alliance with the Soviet Union. Yet, the ideological allies between China and the Soviet Union became the strategic reality only after the breakout of the Korean War in which China and the United States were engaged into direct fighting.
In fact, Beijing never lost the chances to have contacts with the West including the USA. Since 1955, China and the U.S. began the longest diplomatic talks for 16 years. In addition, China made all efforts to cultivate good relations with the non-allied states while maintaining its strategic links with the Soviet-led bloc. Yet Mao also admitted that the Soviet model was not an ideal one for China to follow economically and socially. In addition, China diplomatically approached all countries as long as they recognized the Beijing government as the only legal one of all China. By the last years when Mao and his senior colleagues had disappeared one by one from the politics of China, the country gradually became a major power such as nuclear weapon, veto power in the UN Security Council, and a relatively huge industrial system. Yet, according to the GDP in general and GDP per capital in particular, China was still a developing country although it has huge potentials—human resources, natural resources and a nation-wide educational echelon—to become a strong power in the near future.
Yet, the dilemma was obvious. On the one hand, China was one of the five nuclear powers in the world, on the other hand, it was also the only developing country among the "Big Five". Given this, Chinese leader Deng Xiaoping argued in 1978 that poverty could not be associated with China since its people had rights to enjoy the decent, comfortable and affordable lives like those of any country. Followed was the ambitious reform and openness of China to the world. Since then, the CPC has steadily advanced its second mission of national economic modernization which clearly aims to alleviate the poverty of the grass-rooted people of China and enhance its economic strength to the world level, referring to "making China stronger economically and socially". By 2010, it is widely held that China has achieved its second mission when it was ranked as the second largest economies in the world.
For sure, among the reasons behind the rapid development of China is that the CPC insists on Chinese government to have intervened in the economy since the early days of the PRC. In addition to its famous five-year plans, the first of which started in 1953, the government developed several discrete plans explicitly focused on advancing its technological capability. To that end, the central government has issued a series of industrial policies that function as aspirational goals and combined targets as well. The turning point surely came with the implementation of China's "medium- and long-term development plan for science and technology" in 2006. In stark contrast to its lackluster execution of previous industrial policies, the central authority has devoted substantial financial and administrative resources to the plan, including a development of 16 "megaprojects," each under the mandate of a designated ministry, and directed $5 billion to $6 billion to these efforts every year. In 2010, China further unveiled another initiative which designated emerging technologies, such as electric vehicles and next-generation computing, as the drivers of economic growth.
The centerpiece of the Chinese state's industrial planning apparatus is the "Made in China 2025" plan, which has sine 2015 highlighted ten high-tech industry segments in which Chinese firms should make breakthroughs, and it sets self-sufficiency targets in striking detail. One advisory paper specifies that Chinese semiconductor production ought to reach between 49.10 and 75.13 percent of the domestic market size in 2030. Such specific targets bring to mind the days of China's planned economy, when the state micromanaged all industrial output. As a result, Made in China 2025 triggered a fierce backlash among many industrialized countries, which were wary of China's efforts to dominate advanced technology. Having failed to anticipate this reaction, Chinese leaders subsequently tried to dismiss Made in China 2025 as an aspirational planning exercise developed by overly confident academics. But by then, the state had already released a stream of plans focused on advancing select technologies—such as semiconductors and artificial intelligence—as well as enormous proposals for direct subsidies, cheaper access to capital, and investments from public-private funds. Beijing has already showed its keen interests not only in catching up on the technologies but also beyond that. As Xi called on during the two major events: China, under the leadership of the CPC, has brought about a historic resolution to the problem of absolute poverty, and is now marching in confident strides toward the third mandate goal of making China into a great modern socialist country in all respects.
In sum, the historic changes discussed above have made a powerful and far-reaching effect on the development of China. The CPC has acted in response to the evolution of the principal contradiction in the Chinese society, and has promoted coordinated economic, political, cultural, social, and ecological advancement. It has also shown firm resolve in implementing a wide range of strategies for invigorating China through science and education, the innovation-driven development, the rural vitalization agenda in terms of the sustainable development, and the military-civilian integration. This is the Chinese Dream which means a centenary journey towards economic prosperity, national rejuvenation, and peoples' wellbeing. In light of this, any attempt to divide the CPC from the Chinese people or to set the people against the CPC is bound to fail.