Eurasian Research on Modern China and Eurasia Conference
Academic conference: Eurasian Research on Modern China and Eurasia
Second Edition
Dates: November 1-2, 2019
Venue: Armenian State University of Economics, Nalbandyan str. 128, Yerevan Armenia.
The focus of the conference is on modern China-Eurasia studies, in a multi-disciplinary social science perspective.
Organizers:
Argument
According to a roadmap drawn by Chinese Decision makers, by 2049, when People's Republic of China marks its centennial, China must turn into a modern socialist country, rejuvenate the nation, create favorable external conditions for the country's reform and development; safeguard the country's sovereignty, security, and development interests; and maintain world peace and stability to promote common development. For successful implementation of this roadmap, which will bring economic development and improvement to national security, China is trying to use the One Belt, One Road initiative, which consists of the Silk Road Economic Belt and the 21st Century Maritime Silk Road. The main aim of this Conference, which will be held for the second time in Yerevan is to provide a platform for researchers who do research on China-Eurasia economic and political relations to discuss and analyze the results and prospects of Chinese Օne Belt, one Road initiative and its influence in Eurasian continent in the era of of 70th Anniversary of the Peoples Republic of China.
The Conference will be an occasion to facilitate exchanges on common research subjects, compare perspectives and methodologies and promote interdisciplinary dialogue.
The participants will present their research during thematic panels. Each speaker will deliver a paper in English or in Russian. Among the different topics:
Topic 1: Political Relations between China and Eurasian States (Asian and European States)
Topic 2: Economic Relations between China and Eurasian States (Asian and European States)
Topic 3: Eurasia and One Belt, One Road.
Topic 4: Possible cooperation and contradictions between EU-China and EAEU-China.
Topic 5: People to people exchange between China and Eurasia
Topic 6: China and NATO
Topic 7: China and BRICS
Topic 8: China and ASEAN
Topic 9: China and Shanghai Cooperation Organization
Topic 10: China and Nordic States
Topic 11: China and Central and Eastern European States (16+1)
Topic 12: China and Muslim World
Topic 13: China and South Caucasus
Topic 14: China and Central Asia
Topic 15: China and Africa
Topic 16: China and Eurasian Mainland's Security Issues (Cybersecurity, Nuclear proliferation, Environment, etc.)
Who can apply?
The Conference is designed for researchers in Humanities and Social Sciences. Among the different disciplines that will be considered: International Relations, Law, Economics, Culture, History, Political Sciences and Sociology, International Security Issues.
Practical arrangements:
No funding is available for accommodation and international travel. There is no attendance fee.
Registration details and schedule
1. A paper title and abstract (up to 400-1000 words) in English or Russian is to be sent by 12 October 2019 to Dr. Mher Sahakyan: info@chinastan.org
2. The selected participants will be notified about organizing committee decision within a week after sending their applications. Selected speakers will have 15 minutes for the presentation of their papers.
3.We intend to publish the best papers of the conference as a chapters in book at Armenian State University of Economics, YerevanArmenia. Invited speakers of the conference can send their full papers for peer review in English (up to 8000 words) till December 27, 2019.
Schedule and location
Armenian State University of Economics Nalbandyan 128, Yerevan, 0025, Republic of Armenia. Dates: 1-2 November 2019.
Deadline for submission: 12 October 2019
You can check out the information on the First Eurasian Research on Modern China-Eurasia Conference, October 25-26, 2018, National Academy of Sciences, Armenia
Organizers Contacts
"China-Eurasia" Council for Political and Strategic Research, Foundation, Armenia
Website: https://chinastan.org/
Facebook https://www.facebook.com/DiscoverChinastan/
Email: info[at]chinastan.org
Armenian State University of Economics, Yerevan Armenia.
Website: https://asue.am/en
Sergey Lavrov: 'If you want peace, always be ready to defend yourself'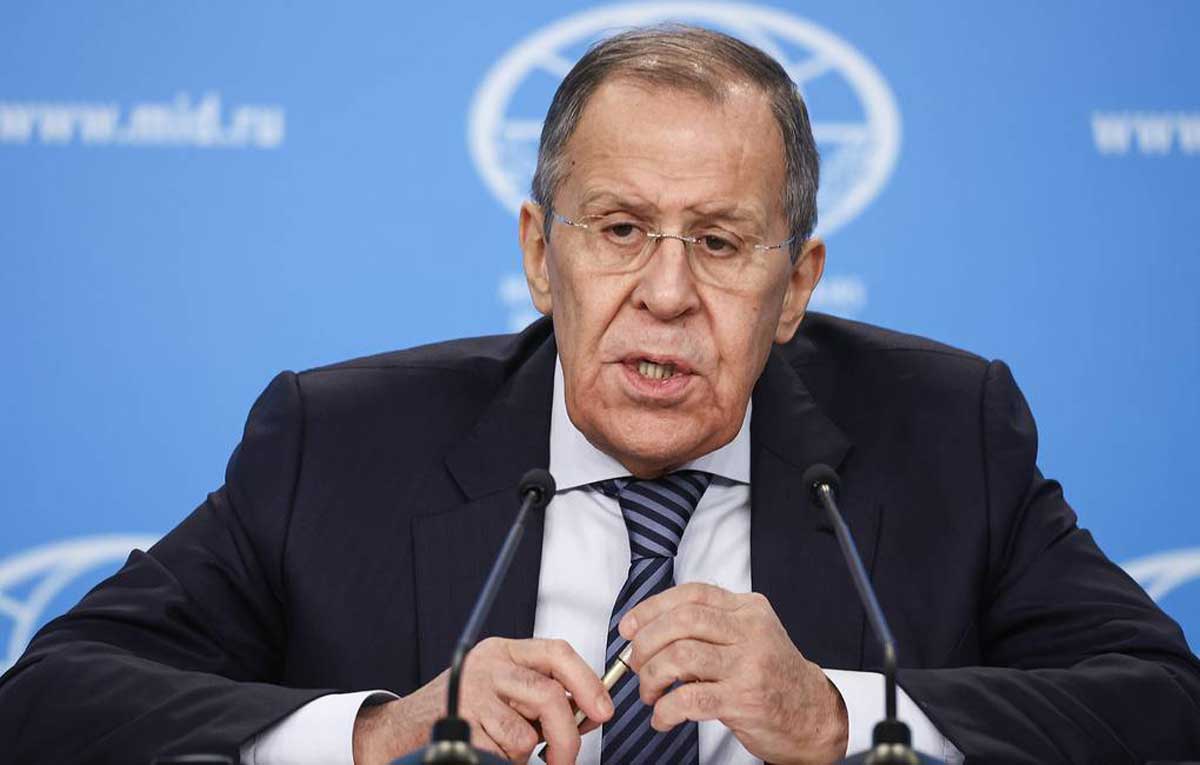 Russian Foreign Minister Sergey Lavrov gave an exclusive interview to Sputnik on Thursday, February 2. The conversation took place at a time of heightened international tensions over the conflict in Ukraine.
Mr. Lavrov has answered questions posed by the General Director of Rossiya Segodnya International News Agency, Dmitry Kiselev (photo), on the most pressing issues regarding Russian foreign policy and the international agenda.
Key statements made by Russia's FM Sergei Lavrov in his interview to Sputnik:
Moscow did not turn to Collective Security Treaty Organization (CSTO) partners with a request for assistance in connection with the special operation in Ukraine. "We have not made such a request to anyone. We proceed from the fact that we have everything necessary to solve the tasks of the special military operation, to end the war that the West started through the Ukrainian regime even after the coup d'etat."
It seems that the West will supply Kiev with modern military equipment together with foreign combat crews. "All types of weapons that have already been partially transferred, and especially those that have been announced, according to experts, it is impossible for Ukrainians to work on these systems, trained or having passed some two-month or even three-month courses. There are systems, according to specialists, that cannot be trained for in the foreseeable future, and if they are supplied, then most likely it will be done together with combat crews."
The more long-range weapons are supplied to the Kiev regime by the West, the further they need to be moved away from Russian territory.
Russia wants the conflict with Ukraine to end, but the time factor is not the main issue.
The United States deprives nations of the right to remember their own history; their task is to melt everyone into "Americans".
The US conviction of its own superiority and infallibility is the main reason for Russia's current confrontation with the West.
The West is hoping for a strategic defeat for Russia so that it cannot recover for decades.
Nobody is trying to convince Kiev to return to negotiations with Moscow; Zelensky himself does not feel like an independent figure, he is being manipulated.
The presumption that Russia refuses to negotiate on Ukraine is a lie.
The West is now "eyeing" Moldova for the role of "next Ukraine"; its president is ready for almost anything.
The West, on an almost "daily" basis, forces developing countries, including those in Africa, to implement sanctions against Russia;
The ideas of different countries increasing trade in national currencies are emerging because of US actions, which violate all the boundaries of decency with the US dollar.
Relations between Russia and China are superior in quality to a military alliance; they have no restrictions, limits or taboo topics; China already began to reduce dependence on Western financial mechanisms.
Nuland made a confession, rejoicing at the explosions on the Nord Stream pipelines; her words reflect the direct participation of the United States in the terrorist attack.
The United States "crushed" the European Union under itself, depriving it of the last signs of independence.
Lavrov says he is for peace, follows philosophy 'if you want peace, always be ready to defend yourself.'
More Americans believe US provides 'too much support' to Ukraine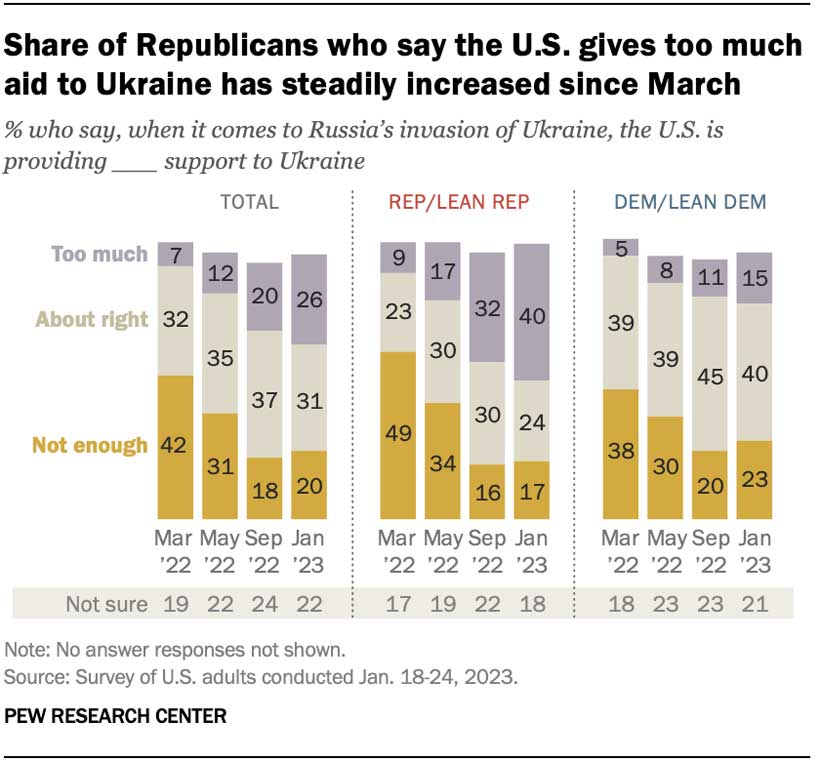 A growing portion of Americans think that the U.S. is giving too much support to Ukraine, as the Biden administration and other western allies have taken steps in recent weeks to escalate their backing of the country in its war against Russia, notes 'The Hill'.
About a quarter of Americans, 26 percent, think the U.S. support of Ukraine is 'too strong', according to a new Pew Research Center poll. It is a percentage of people that has steadily grown since the Russian invasion of Ukraine last year and has jumped 6 points since September.
The U.S. has sent billions of dollars to Ukraine to support its military in the war against Russia. In a $1.7 trillion spending package passed by Congress late last year, lawmakers included around $45 billion in funding for Ukraine and NATO allies. But the spending levels have come under attack by some Republican lawmakers, who argue the country is opening its pockets at unsustainable levels for Ukraine.
Then-House Minority Leader Kevin McCarthy (R-Calif.) said that House Republicans would not provide a "blank-check" for support of Ukraine if his party took control of the House — which it did. Rep. Lauren Boebert (R-Colo.) said on Twitter that President Biden needed to understand the U.S. wasn't an ATM (automated teller machine).
And as some prominent Republicans have started to sour on the support levels, the poll of 5,152 people, with a margin of error of 1.7 percent, found that Republican voters are following along. A total of 40 percent of Republicans and Republican-leaning independents think the U.S. is providing 'too much support', according to the poll. That is up from 32 percent in September and from 9 percent in February 2022.
While Republican attitudes have dimmed on Ukrainian support, they have also come to view the Russian war as less of a major threat to the U.S.
Just 29 percent of Republicans and Republican-leaning independents think the war is a major threat.
In March 2022, Republicans were more likely to see the invasion as a direct threat to the U.S., but now Democrats are more likely to hold that opinion, with 43 percent holding that belief.
Former CIA analyst: 'A costly and prolonged cold war now seems a certainty'
'No one knows how the war in Ukraine will end, but there is one post-war certainty: there will be a prolonged and costly Cold War between the United States and Russia,' – predicts Melvin A. Goodman, a former CIA analyst, now a senior fellow at the Center for International Policy and a professor of government at Johns Hopkins University.
He writes: In an interview with David Ignatius of the Washington Post, who has been doing the bidding of the Pentagon and the Central Intelligence Agency for several decades, Secretary of State Antony Blinken emphasized the importance of a "long-term goal of deterrence." Ignatius took this to mean that the Biden administration will make sure that Russia "should not be able to rest, regroup and reattack."
In addition to this year's record defense budget that found the Congress providing $45 billion more than the Pentagon requested, a so-called "emergency" provision will lay the foundation for adding scarce resources to defense spending in the coming year. This provision will allow multiyear, noncompetitive agreements to produce such ordinary weaponry as rockets and munitions.
According to the Washington Post, the Pentagon will now have a way to replenish its stockpiles that will provide a "new golden age" for military contractors.
The Biden administration's gift to the military-industrial complex rivals what the Reagan administration provided in the 1980s and ensures the country's rich market for weapons sales. Nearly half of the record defense spending of $858 billion goes to military contractors.
The House and Senate Armed Services Committees made sure that these spending spigots remain open by naming individuals with ties to the weapons industry to a commission that will review the Biden National Defense Strategy. The chairwoman of the commission, former Representative Jane Harman, protected Lockheed-Martin when she served on the Hill and currently is on the board of a military contractor that recently received a seven-year $800 million contract from the Pentagon.
The increased defense spending and the new emergency provision coincide with House Speaker Kevin McCarthy's creation of a new committee — the House Select Committee on Strategic Competition Between the United States and the Chinese Communist Party. In view of the recent rise in anti-Asian violence in the United States, it can only be hoped that Democrats appoint members to the committee who understand the domestic consequences of hyping the threat from China at this particular time.
Our China policy is not working, and the exaggeration of the China threat comes just in time for the hawks in the political aviary who fear that the severe deficiencies of the Russian military in Ukraine is making it more difficult to exaggerate the Russia threat. I've been calling attention to the exaggeration of the Russian threat for the past 50 years.
But the policy community, the bipartisan congressional community, and the pundit community can't let go of the idea that the Soviet Union and Russia present a 'threat to the national security of the United States'.
The Biden policy ensures a robust military presence on the Russian border that will worsen Cold War 2.0. There will be prolonged and unnecessary increases in defense spending, and the absence of a diplomatic dialogue in those important areas where there is Russian-American agreement.
These areas include a variety of arms control and disarmament issues, such as stopping the proliferation of nuclear weaponry and limiting the use of space in the military competition as well as dealing with insurgencies and terrorism; environmental degradation; and future pandemics.
It is hard to imagine any Russian government willing to pursue diplomatic solutions with a United States that has sponsored a NATO with more than 30 members; a military base in Poland; a regional missile defense in Poland and Romania; and the use of Romanian military facilities close by Russian forces and the Black Sea.
This serious turning point is being ignored by the policy community as well as the pundit and academic communities."