China's changing interests in South Caucasus
On April25-28,"Second Belt and Road Forum for International Cooperation" took place in the capital city of China. From South Caucasus region only Azerbaijan leader Aliyev was in the list of 36 top-Level attendees (Diplomat, April 27).As the Azerbaijan was participating first forum in 2017 on ministerial level, visit of President in second forum demonstrates intention of both sides for close cooperation within the framework BRI.
Despite fact that China's strong ambition to enter European market through BRI makes Georgia one of the most important players in the region (it has FTA both with China and EU) its high-level officials did not attend the forum (Emerging-Europe, January 3, 2018).
Generally, South Caucasus region was not in the Chinese focus when the BRI project was unveiled in 2013.Its attitude to the region has changed afterwards. Being part of the Central Asia-West Asia Economic Corridor, South Caucasus has strategic importance for China. At the same time, transportation projects such as Baku-Tbilisi-Kars railway and Anaklia Deep-Sea Port has increased significance of the region.
From geopolitical point of view stability in Azerbaijan and Georgia's political problems with Russia creates ground for Chinese presence in Caucasus. It is clear that having political problems with West Russia is not willing to confront China. Therefore, using these opportunities and establishing good relations both with Georgia and Azerbaijan China is able to avoid its biggest rival in Eurasia and use shortest way to European markets (Trend.az, April 10).
Importance of South Caucasus countries within the BRI framework is not same. Armenia has less potential for BRI. It does not have enough transportation infrastructure and its borders with Azerbaijan and Turkey closed. Armenia has a potential to become a corridor to markets of Eurasian Economic Union (EEU) and Iran. However, it does not have borders with the members of EEU and railway project between Armenia and Iran is not viable due its high costs ($3.2 billion) and less importance in commercial means (Vestnikkavkaza, August 25, 2018).Also, China has borders with two biggest members of EEU and could easily reach EEU markets through them.
In the case of Georgia, China is the biggest foreign investor. China's Hualing Group controls Kutaisi free industrial zone (FIZ), owns Basis Bank, hotels, wine export enterprise. It also constructs "Tbilisi Sea New City" near Tbilisi Sea in which company has already invested around 150 million dollars (hualing.ge).Another Chinese company CEFC Energy owns 75% of Poti FIZ (Cbw.ge, March 20).
Unlike the Georgia, mostly state-owned Chinese companies have invested in Azerbaijan. One of these companies CTIEC Group constructed biggest cement factory in Azerbaijan in 2014.China also has a great interest on Baku International Sea Trade Port as it is one of the main ports within BRI. Based on intergovernmental grant agreement China transferred $2 million worth equipment to the port (Azernews, April 4, 2018).
Despite fact that Azerbaijan is China's key trade partner in the South Caucasus (it accounts 43 percent of China's trade turnover in the region) it has massive investments in Georgia (Azernews, April 25). It mostly related to political orientation of these countries. Georgia follows more western orientation that made it more attractive for China while Azerbaijan implements balanced strategy and it does not want to feel China's pressure. Besides, Azerbaijan is not in need of financial assistance like Armenia and Georgia as it has enough financial reserves.
However, recent developments of Sino-Azeri economic relations within the framework of the Second Belt and Road Forum creates new perspectives for China's presence in South Caucasus. During the forum 10 agreements worth of 821 million USD has been signed (Azvision.az, April 24). These contracts cover different economic spheres of non-oil sector including the construction of a tire factory in the Sumgayit chemical-industrial park, the creation of a 300-hectare greenhouse complex in the Kurdamir region of Azerbaijan, and the construction of agrological industrial parks in the Guba, Goychay and Khachmaz regions (Turan.az April 24).If we take in account that Chinese investors have invested800 million USD in the economy of Azerbaijan since independence, obtained agreements in the forum worth of same amount shows China's growing interest in Azerbaijan.
Nevertheless, it does not mean that China's preference of Georgia has changed. Within the BRI project both Azerbaijan and Georgia are of geopolitical importance for China. It is in China's interest to boost bilateral relations with both of countries. It is apparent that China already has considerable investments in Georgia and now it is time to deepen cooperation with Azerbaijan. At the same time Azerbaijan is not going to cross limits of its balanced policy. Chinese companies that signed agreements in second forum are government affiliated companies as well. It again shows that Azerbaijan is willing to deepen cooperation without creating room for pressure in its domestic economy.
Foreign Affairs of the Absurd: The Strange Case of Abkhazia 2019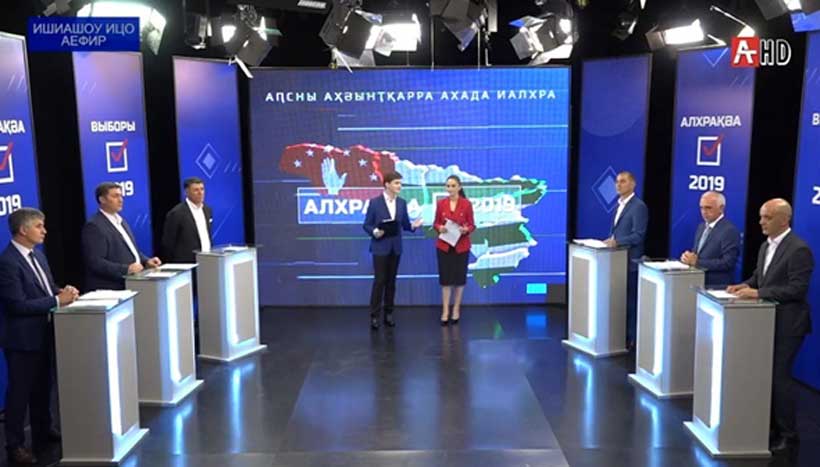 While very few Americans (and Western Europeans for that matter) would be hard pressed to successfully locate the Republic of Abkhazia on a map (it's the northwest corner sandwiched in between the Russian Federation and Georgia, its western shores lapped by the Black Sea), even fewer (de facto, no one) would be able to tell you that for the last month a very curious and potentially tense international situation has been brewing there over the holding of presidential elections. There has already been plenty of local and regional coverage over just how the first two rounds have gone for President of Abkhazia. In short, no one won a commanding victory in the first round, which automatically triggered a second round run-off between incumbent local leader Raul Khajimba and head of the opposition party, Alkhaz Kvitsiniya. In that second round, which just took place last week, Raul Khajimba was declared the winner in an extremely close race (39,793 votes for Khajimba vs. 38,766 for Kvitsiniya). Kvitsiniya has subsequently spent the past week declaring the illegitimacy of the election, even going so far as to take the decision to court with the Central Electoral Commission, which reviewed the complaint and ultimately decided unanimously to uphold election results. Kvitsiniya is still hoping to garner enough local, regional, and international support to nullify the elections, claiming illegitimacy basically on two principles:
Khajimba did not garner a 50% majority share of the votes in the second round run-off (his percentage was 47.39%).
The overall amount of 'against all' in the election was 3,155. This amount, combined with the amount of votes received by Kvitsiniya, exceeds the amount tallied by the declared winner and thus it is illegitimate that Khajimba should be President.
There are two immediate problems at the local level with this logic. Firstly, there does not seem to be a provision in Abkhazian electoral legal documents that demands a second round run-off winner has to receive more than 50% of the votes cast. It seems as if people who favor Kvitsiniya are taking the first round rules (in which any candidate that received more than 50% of the overall vote would have automatically won the presidency and no second round run-off would be necessary) and applying them arbitrarily to the second round. But again, it is not clear that Abkhazian electoral law stipulates this and there is some documentary evidence to show the opposite is true: in the second round, you simply need to win a simple majority against the main opponent. Secondly, the idea of combining the losing candidate's votes together with the 'against all' tally is simply absurd and ludicrous. Those in support of Kvitsiniya seem to be very conveniently arguing that a vote 'against all' is obviously a vote against Khajimba. Even more conveniently, they are also forgetting that a vote 'against all' is without doubt a vote against Kvitsiniya as well. So, the idea that his supporters have an exclusive right to take the 'against all' vote for their own favor is ridiculous. After all, if you add the 'against all' votes on the same principle and give them to Khajimba, his overall total now becomes 42,948, which is actually 52.55% of the overall vote, which would make null and void Kvitsiniya's first complaint of illegitimacy. Not surprisingly, supporters of Kvitsiniya strive to keep these numbers out of the media.
The idea of local elections, even at the 'presidential' level, across areas of the former Soviet Union being hotly contested, with claims of corruption, chicanery, and unfair double-dealing, is not exactly surprising. This type of controversy has happened all over the Post-Soviet space since the dissolution of the USSR in 1991. And there are plenty of extremely talented political analysts and electoral observers all over Russia and Georgia fully capable of covering this race. The race itself does not explain why I am so interested suddenly in Abkhazian affairs. What intrigues me most is how much foreign affairs, Russian-American relations, and global power competition are embedded within these elections while Western observers try to claim innocence and pretend that the current tense state between Russia and America does not play a role. Note that at the very beginning of this article I mentioned the declared winner of the Abkhazian Presidency was the local leader Khajimba. Most western media outlets are using the term 'separatist' to describe him but conveniently NOT explaining what this 'separatism' means. Khajimba is a local resident of Abkhazia who in the past has been a member of Parliament in Georgia and has previously participated in presdiential elections in Abkhazia in 2004, 2009, 2011, and 2014. This was all before there was ever any formal conflict or tension with Georgia and Russia. Khajimba simply believes the best future fate of his native region lies with more sovereignty and independent governance for Abkhazia by Abkhazia. For him the issue is not about whether Russia or Georgia should control Abkhazia at all. He has even put in his own case in court to push for this, but through the proper legal process and with respect to the rule of law. It has been the opposition opponent and his group that have tried to block, postpone, and delay this court petition, subverting the rule of law de facto. This subtlety is missed in the West and instead Khajimba is painted with the broad and negative brush, 'separatist.' That record should be corrected.
So when more than a dozen western countries come out against not just the election results but actually against the very holding of elections at all (calling them a 'sham' and 'fake'), it is not so much about legal precedents as it is about America fearing the Russian bogeyman, seeing Abkhazia destined to go the way of Crimea – back into the territorial fold of the Russian Federation – regardless that Khajimba has never uttered any desire for that to happen. Russian readers can be forgiven if they do not know that since Crimea rejoined the Russian Federation, every single western media outlet, bar none, has addressed that event as the 'annexation' of Crimea. To date, I am the only Western scholar I know on record as using the term 'secession' instead. What's in a word? Quite a bit, actually. The use of the term 'annexation' implies forced compliance and non-voluntary action. 'Secession', on the other hand, means the opposite. Since Western analysis of Russia today is incredibly biased in portraying Russian interests as always heavy-handed and manipulative, Crimea will always be 'stolen' rather than a willful vote of the majority of the local population to decide their own future political status. Abkhazia, to me, is very much in a similar position with the election of Khajimba as President. Perhaps more cynically, it is highly doubtful the United States really cares so intensely about the 'territorial integrity' of Georgia. It is also highly doubtful that it truly believes hard data and factual evidence shows that Abkhazia would be better off under Georgian rule rather than under its own management.
The only real reason the United States voices such staunch opposition is simply because it is an American cardinal interest to keep Russian dominance within its own regional neighborhood tamed. At the time, many in the West warned that Crimea was going to be a 'stepping stone' to Russia taking over other parts of Eastern Ukraine, and then Poland, and after that the Baltics. Of course, none of that has even come close to happening, with Russia not really showing that much interest in causing so much regional disruption. Not surprisingly, no one in the West has recanted those dire predictions and or admitted to being wrong about declaring the 'rebirth of a violent new Russian empire.' So people should be forgiven if they are not willing to listen now to similar American claims about how allowing Abkhazia to become closer in diplomatic and economic terms with Russia will signal a new cascade of annexations, where soon enough there will be no more Caucasus at all but a new Russian empire in its place. The American boy who cried about the Russian power wolf. Again.
The greater philosophical questions worth debating deal with power. Who has the right to secede? Who does not? What reasons are legitimate to change territorial allegiance or membership status in a given country? What reasons are illegitimate? Should such considerations be a strictly local issue, based on the true and fair political will of the local people expressed through elections? Or are these considerations at the mercy of greater international powers, rendering regions like Abkhazia nothing but pawns in a greater chess game taking place on the international stage? It is beyond the scope of this article to answer those questions. But this article does warn all readers from believing anyone who would give easy and trite answers to such complex, profoundly problematic questions, with Russia always conveniently being placed in the role of villain.
The Economic Roots of Georgia's "Defection" to the West
An important part of a country's foreign policy lies in its economic moves. This is particularly true in the case of large states seeking a bigger role in the international arena.
For example, China has been implementing the 'Belt and Road Initiative' (BRI), while the US during the Cold War brought in the famous Marshall Plan to help Europe restore its shattered financial strength. Both projects pursue(d) projection of political power through economic means.
Long gone are the times when it still was possible to occupy territories solely through military power. Increasingly, as modernity enabled the rise of self-consciousness and nationalism among small states and ethnic minorities in large countries, it has become difficult to rely on repressive measures. A policy of active economic initiatives targeting one ethnic group inside the country or a separate state has thus gained additional importance.
Looking at the last 30 years of Georgian-Russian relations, there has been almost everything one could imagine: from cordial talks to wars to a full-scale economic embargo. More negative than positive, but well illustrative of the limits of Russia's foreign policy.
It is true that Georgia has not been economically so important to Moscow as, for example, Ukraine, Kazakhstan or Belarus, but Russia is always interested in influencing Tbilisi. Still, Georgia is a vital transit corridor between west and east as well as north and south. Moreover, without Georgia, it will always be difficult for Russia to effectively control the restive North Caucasus in the long run.
The Russian political establishment failed to see that a major reason in Georgia's shift to the West in the early 2000s was a shattered post-Soviet economy and no help from Moscow. Russia was not perceived as an enemy when the Rose Revolution was about to happen in 2003: there were simply no concerted efforts from the Russian side to lure Georgia economically.
Russia was also experiencing turbulent times and was self-absorbed with internal problems when Vladimir Putin came to power in 1999. Even when Russia became financially stable in the late 2000s, no viable long-term economic vision was offered to the former Soviet countries. The announcement of the creation of the Eurasian Economic Union (EEU) did not produce the expected results nor did it stop Ukraine drifting from Russia in 2014.
Again, Russian political thought failed to recognize that Kyiv's choice to move closer to the European Union was based on the latter's economic attractiveness. As no brotherly relations with Russians could stop Ukrainians' drift to the western economic space, much less surprising is Georgia's eagerness to join the European market.
Simply put, Russia has not been attractive enough. Even those countries which are economically close to Russia are so because they have no alternative. Take for example Armenia, the large population of which is not inclined to Russia but is close to the Russian economy because there is no other option. The same goes for the Central Asian states, which still prefer the Russian economy to the Chinese market (however even this trend based on Central Asia's cultural and historical closeness with Russia has been shifting and the region's economic relations with China now thrive).
When it comes to choosing between Western and Russian economic spaces even countries culturally closest to Russia still choose the West. The roots of this problem for Russia are its inability to build powerful state institutions and a thriving economic space with opportunities for peaceful development across the former Soviet territories.
What is troubling is Russia's failure to understand the source of that weakness – the need for a rapid restructuring of the economy to yield higher industrial and technological results. When high-level politicians openly discuss this, it often ends with no specific results.
It can be argued that for the last 30 years, Russia has not pursued a consistent economic policy towards Georgia. Investments were occasional, while other political decisions only further hampered bilateral relations. The case of Georgia's "defection" to the West well reflects how less attention is paid nowadays in Russia to economic components in the country's foreign policy. There are even hints that Moscow now prefers military moves to economic ones.
Even from a strategic point, one can say that Russia simply has not had a foreign policy towards Georgia, except for militarily preventing the country from joining NATO and the EU. No long-term approach of economic, cultural and other components was ever formulated. As a result, by 2003 it was already too late to reverse the existing trend in Georgia, while a similar process is now being seen in Ukraine.
Author's note: first published in Georgia Today
Lost Independence of the Baltic States
In 1991 the Baltic States gained independence. They started to develop their new way. This choice was highly appreciated by the residents of the Baltic countries, as well as by people all over the world.
People craved independence then, and they still crave it now. They understand independence as "freedom from the control, influence, support, aid, or the like, of others."
Today some political decisions reduce the significance of achieved results. Thus, NATO personnel deployed in Latvia, Lithuania and Estonia is so numerous that it is hard to speak about the independence of these countries. In other words they are not free from the NATO's control, influence, support, aid, or the like.
Around 700 NATO personnel based in Estonia are took part in a major training exercise in Latvia on September, 3, Baltic News Service reports.
Exercise Furious Hawk takes place at the training area at Ādaži, NATO's Canadian-led Enhanced Forward Presence (eFP) battlegroup base in Latvia, and brings the Estonian-based troops from the British-led Estonian battlegroup based at Tapa.
The exercise means military convoys, directed by Military Police units, are already moving along routes between Tapa, southwards via Paide, Pärnu and Ikla, as they make their way to the Latvian border.
It is not even about the presence of foreign troops on the territory. The matter is locals are limited in their freedom of movement's right. It was announced that the convoys will include heavy military equipment, which could slow down traffic in that direction. The Papiniidu bridge in Pärnu is likely to be closed to the public during the period.
So, foreign troops move freely across countries, while locals are restricted in their rights. Hey NATO, who are you in the Baltic States? Are you a guest or a host?
The more so, damage to public road transport infrastructure made by heavy military equipment is considerable. Repairing damage requires large budgetary funds, which could be spent on social needs.
The officials of the Baltic States declare openly that the Baltic countries cannot defend themselves. This means that NATO supports, aids and controls the military and security spheres. NATO also influences and controls the decisions made by the Baltic States authorities in these fields. NATO hereby discards results of Baltic States' fight for independence.
It could be even said that desired independence has been lost again.