10 Reasons to Visit Four Seasons Costa Rica This Summer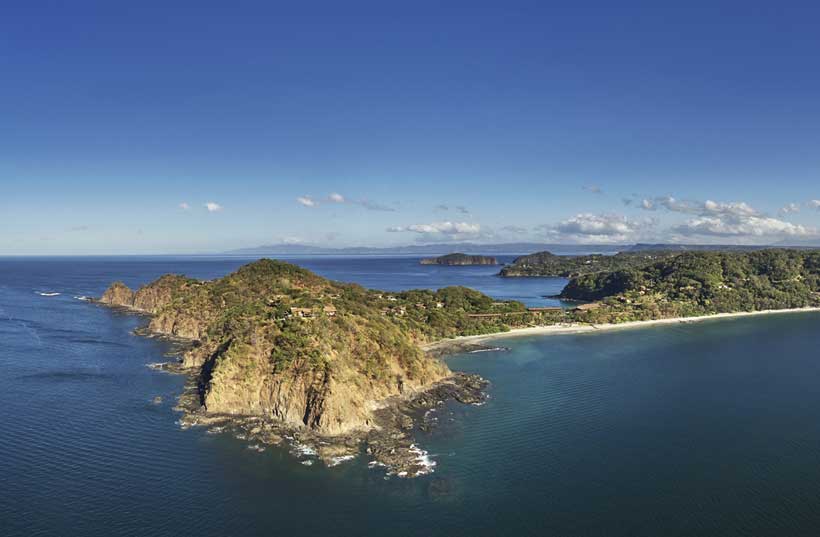 The Pacific coast of Costa Rica is at its most beautiful each summer. Temperatures are pleasant, the landscapes explode into a vibrant green, and the ocean waters transform into a clear, warm, brilliant turquoise. This is when water activities and wildlife spotting opportunities – on land and sea – are at their peak. It is also when you'll find some of the best rates of the year atFour Seasons Resort Costa Rica at Peninsula Papagayo. To celebrate their favorite season, our concierge team has put together 10 reasons to visit this summer, including "only now" activities and promotions:
1. Epic Eco-Adventures: Join our in-house adventure outfitter, the Papagayo Explorers Club, for the chance to connect, learn and share in the natural beauty of Peninsula Papagayo, our 567-hectare (1,400-acre) nature preserve. Right on our doorstep, choose from activities by land or sea, on solo treks or family outings. Summer experiences include wilderness hikes, nature walks, mountain biking, water biking, outrigger canoeing, free diving and more.
2. The Most Incredible Whale Watching: There are whale sightings all year round in Costa Rica, but whale watching is at its best from late July to November when the Southern Hemisphere humpback whales arrive at Peninsula Papagayo. After migrating to mate, they return here to give birth in the warm, tropical waters. Usually in pods of about twelve, the whales spend plenty of time above the surface – hopping, fin slapping, breaching and fluke flipping.
3. The Best Time for Surfing: With clean, world-class waves, the Gulf of Papagayo is truly an unrivalled surfing destination. Summer brings increased swells and larger, faster waves – with water temperatures averaging 30°C (86°F). What's more, these sandy shores are less crowded than other popular surfing locations in Australia and Hawaii. Plan a custom lesson with our resort partner, Tropicsurf, the world leader in the art of luxury surfing.
4. The Peak of Turtle Nesting Season: Let us escort you to Ostional Beach for the annual arribada – the arrival of olive ridley sea turtles. Turtle nesting occurs year round but hits a peak during summer. On a dark night, about a week before the new moon, hundreds of thousands of olive ridley sea turtles come to shore to lay their eggs. The hatchlings surface at night within 45 to 54 days. Watch in wonder as these baby sea turtles clamber toward the sea. Four Seasons can arrange all kinds of turtle experiences with an expert naturalist as your guide.
5. Sensational Sport Fishing: Costa Rica is now one of the hottest fishing spots in the entire world. Book a boat from Four Seasons and journey into stunning seascapes to catch species you won't find anywhere else. Starting in June, billfish and yellow tuna are in abundance, while sailfish and marlin continue through September and October.
6. Fun Family Fishing Competition: On July 6, 2019, join the fun on a family-friendly, one-day deep-sea fishing competition, just off our shores. The Peninsula Pagagayo Classic is a modified IGFA hook-and-pass team fishing contest, including gamefish and billfish divisions. We donate 15% of all fees to The Billfish Foundation, dedicated to conserving and enhancing billfish populations around the world.
7. Summer Camp for Teens: Your kids can discover Costa Rica's natural wonders first hand. At Camp Jaguar, young people ages 12 to 16 participate in fun-filled explorations in search of adventure, self-discovery, and connection to the natural world. Guided by expert staff from the Papagayo Explorers Club, the program features cultural and recreational activities, geared to all interests and skill levels. Join for one day or multiple days.
8. Connections with the Local Community: Volunteering creates a more authentic and rewarding travel experience. At Four Seasons, we'll help you get involved in supporting local schools. With Creciendo Juntos ("Growing Together"), volunteer opportunities include leading a yoga class for kids, painting a school, or even bringing a backpack from home filled with school supplies. High school students who take part will be awarded a community service certificate.
9. Summer Specials at the Spa: Experience our recently renovated Spa, where serenely beautiful interiors are enhanced by sunshine and views of the sea. Take advantage of our summer promotion – especially for the madrugador ("early riser") – with specials running from 8:00 to 11:00 am. Save up to USD 50.00 on custom massages and Biologique Recherche facials. Continue the relaxation in our hot and cold whirlpools, saunas and steam rooms.
10. Great Deals on Dining: Discover our five all-new restaurants and lounges – all with summer specials to provide extra value. Choose from meal combos on all menus, along with a delicious Wine of the Month. There's a Happy Hour at the pool and beaches from 3:00 to 4:00 pm daily, and at Añejo from 4:00 to 5:00 pm. Two days each week, visit the Four Seasons Food Truck, serving great local food at great prices.
An Endless Summer Awaits at Four Seasons Hotel Casablanca
Every summer has a story to tell. From connecting with loved ones to exploring new places, this is the season to chill, have fun and make memories at Casablanca's best urban resort. Four Seasons Hotel Casablanca has curated a series of exciting and delicious summer experiences to embrace this season's vibes.
When temperatures begin to climb, it's time to soak up the sun in the ultimate chill out zone of the city. Latitude 33 offers the perfect oasis among palm trees where guests can choose from a bespoke selection of refreshing beverages and the latest menu of Executive Chef Christophe Laplaza. For lunch, guests are invited to taste delectable creations showcasing the best of fresh local and international specialties such as salmon magnumor black buns burger with lobster. Those who are looking for sweetness by the pool, Pastry Chef Brian Gartner make their craving come true with delicious chocolate chouquette, berry cheese cake, or savoury homemade sorbet.
This year, Four Seasons Hotel Casablanca introduces its first ever Cabana Experience. Inspired by the heritage of the famous coastal city and the relaxed yet sophisticated style of the Hotel, the cabanas' design combines the fresh Atlantic breeze with the tropical summertime spirit.
Hyatt Regency Shenzhen Yantian Opens in East Shenzhen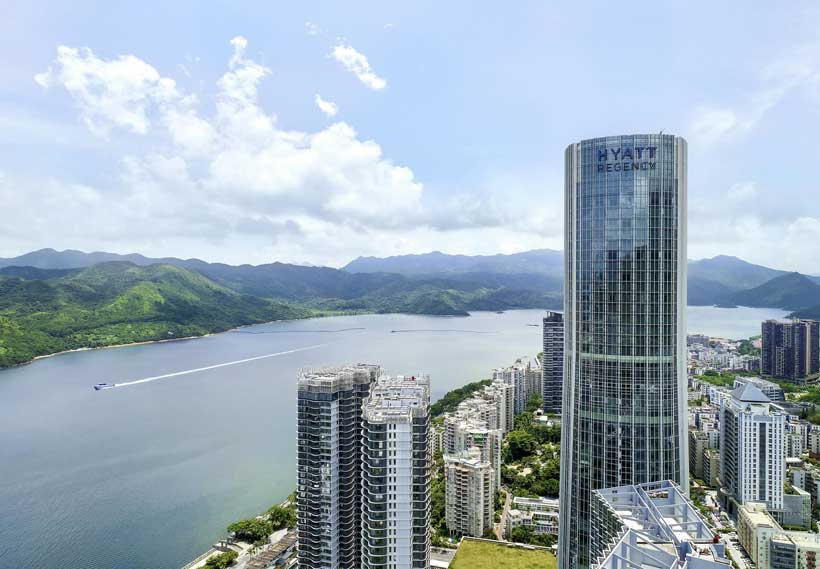 "We sincerely appreciate the support from our owner Shenzhen Vanke Binhai Real Estate Ltd. and are excited to see the Hyatt Regency brand footprint grow in the Guangdong-Hong Kong-Macao Greater Bay Area (GBA)," said Stephen Ho, president, Greater China, global operations at Hyatt. "We look forward to welcoming our guests to Hyatt Regency Shenzhen Yantian with confidence for a world-class hospitality experience."
Guestrooms
Hyatt Regency Shenzhen Yantian was designed by the renowned HEITZ PARSONS SADEK and features 298 contemporary guest rooms with varied dimensions ranging from 462 square feet to more than 2,300 square feet (43 square meters to 215 square meters). There are 20 suites, four Regency Executive Suites and one Presidential Suite, all of which are spacious and located on the 41st to the 50th floor. Select rooms offer gorgeous ocean views and all rooms feature high-quality amenities and panoramic French windows. Guests staying in Club Access Rooms and Suites can enjoy the exclusive Regency Club benefits on the 49th floor.
Dining and Drinking
The hotel offers several fine dining restaurants that cater to varying tastes and group sizes, including:
XIANGYUE, a Chinese Restaurant on the 6th floor providing authentic Cantonese flavors as well as cuisines of neighboring areas. A comfortable experience that feels like dining in a country village, the restaurant's layout includes a "Dai Pai Don" style open kitchen offering guests a high-touch taste of Cantonese life.
Market Café is a stylish all-day dining restaurant where guests can enjoy a collection of global delicacies. Whether buffet breakfast and dinner, or all-day a la carte service, Market Café will satisfy any taste with a flavorful option. The Lounge is the ideal place to gather friends or family and enjoy themed afternoon tea and various hand-crafted cocktails. Guests can also visit the Sky Lobby, ideal for connecting with colleagues over a vibrant scenery. For a stress-free meal, the hotel offers 24-hour in-room dining services with a range of selections available anytime.
Meetings and Events
To build a dynamic experience for groups that feels connected, motivated and inspired, the hotel events team will be at hand to support customers during conferences, special events and weddings. The hotel offers nearly 25,000 square feet (2,321 square meters) of meeting and event space in total, including a 12,916 square foot (1,200-square meter) pillar-free grand ballroom and five salons equipped with high-tech audio and video systems. Additionally, the ballroom foyer provides more than 6,500 square feet (612 square meters) of flexible pre-functional space to perfectly showcase the creativity of any event.
The scenic surroundings at Hyatt Regency Shenzhen Yantian create the perfect backdrop for weddings of all sizes. A bridal suite with separate fitting room and living room is situated right beside the grand ballroom to deliver a brilliant wedding experience.
Wellbeing
Guests can relax in the hotel's refreshing outdoor pool or work out anytime at the hotel's fully equipped fitness center featuring state-of-the-art equipment.
"Inspired by the hotel's surroundings, the hotel was built with the concept of bringing the forest into the city, offering guests a place to take a deep breath of fresh air and bask in the beautiful scenery," said Mary Liu, general manager of Hyatt Regency Shenzhen Yantian. "As a bridge between GBA and the Pearl River Delta area, Shenzhen is at the core of this booming region. We are delighted to deliver Hyatt's well-known expertise in food and beverage and full range of services and amenities for a productive stay.
Special Offer
To provide World of Hyatt members even more ways to be rewarded, World of Hyatt is offering members the opportunity to earn 500 Bonus Points for qualifying nights at Hyatt Regency Shenzhen Yantian, from September 1 to November 30, 2019, as part of World of Hyatt's new hotel member offer.
Additional participating hotels and their offer stay periods can be found at worldofhyatt.com/newhotelbonus. No registration is required and members can earn on top of other offers.
Hyatt Centric Brand Debuts in Mexico With the Opening of Hyatt Centric Campestre Leon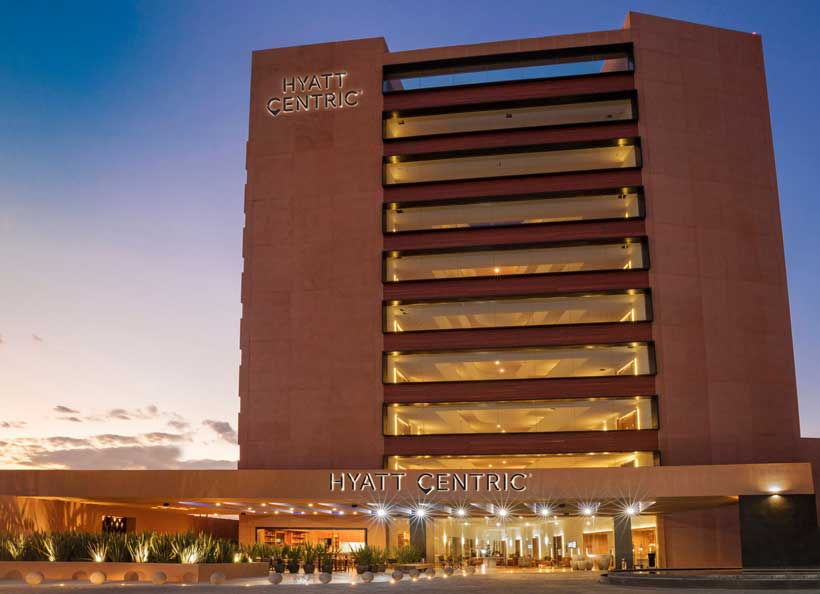 Hyatt Hotels Corporation announced the opening of the 140-room Hyatt Centric Campestre Leon, marking the Hyatt Centric brand's entry into Mexico. Hyatt Centric Campestre Leon is the latest hotel to join the global Hyatt Centric portfolio that is designed for a growing segment of savvy explorers seeking shareable moments to inspire others. The Hyatt Centric brand currently has 26 properties across 12 countries, including the U.S., Chile, Peru, Uruguay, France, Japan, Spain and more.
Situated within Puerta Bajio, a leading mixed-use development in Leon's "Golden Zone" area, the city's epicenter of business and commerce, Hyatt Centric Campestre Leon was rebranded from Cleviá Grand Hotel León and is managed by Grupo Hotelero Santa Fe. Featuring 140 guest rooms and a vibrant rooftop bar, Hyatt Centric Campestre Leon comes to life with locally inspired décor, furniture and finishes. This premium hotel is situated within one of the fastest growing areas in Leon, which is approximately one hour from Mexico City by plane.
"We are thrilled to announce the opening of Hyatt Centric Campestre Leon, which connects in-the-now guests to the heart of the action so they never miss a moment of adventure in one of Mexico's most thriving industrial destinations," said George Vizer, senior vice president, Americas franchise operations, Hyatt. "With this new addition, Hyatt continues its strong brand growth in the region and introduces the Hyatt Centric brand to Mexico, one of the most significant destinations throughout Latin America."
Hyatt Centric Campestre Leon features redesigned guestrooms with floor-to-ceiling windows, oversized, ergonomic workspaces that meet guests' business needs, and approximately 6,800 square feet of flexible meeting and event spaces offering the ideal social spaces to connect with others for business meetings and events. Featuring an expansive atrium-style lobby with shareworthy artwork from local artists, an outdoor swimming pool on the ninth floor complete with sweeping city views, gym and a kids club, the hotel also houses Cien Tios gourmet cantina and Xilote, a concept restaurant offering authentic Mexican cuisine and an extensive variety of specialty tequilas and mezcals. With a passionately engaged team, the hotel's programming is ideal for socially connected guests.
As part of its transition to the Hyatt Centric brand, the hotel now features new in-room Hyatt Centric amenities including the all-natural bath essentials line BeeKind®, Drybar Buttercup salon-quality blow-dryers, and a Keurig® pod coffee maker.
"The state of Guanajuato is rich in culture and history, and the city of Leon continues to grow as a buzzing business hub, which will allow us to introduce the vision of this brand in combination with superior accommodations and intuitive service for those travelers who have the spirit to discover and explore," said Francisco Medina Elizalde CEO, Grupo Hotelero Santa Fe.