Africa: A Rich Continent and Poor Policies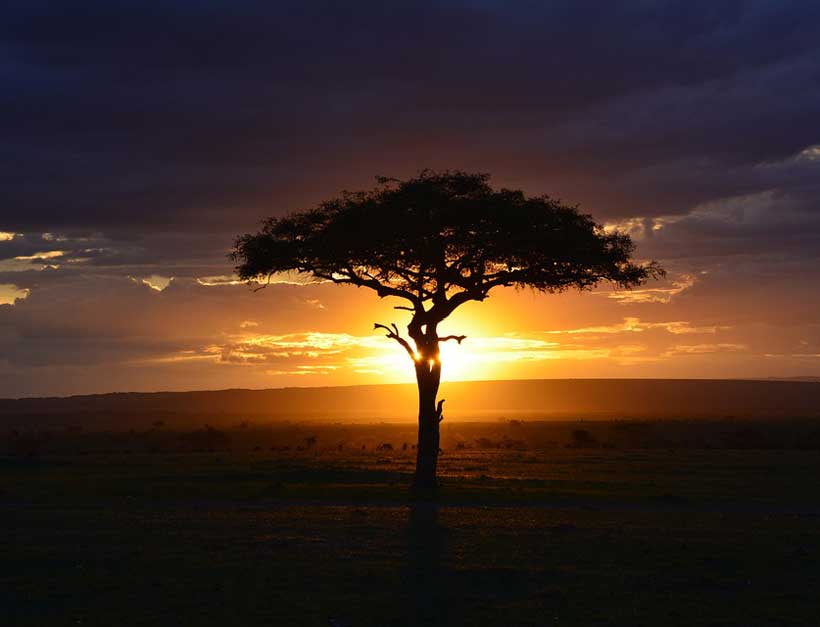 Africa, the land of good, peace and natural wealth that is unparalleled, but under the circumstances, this continent have been under the yoke of foreign colonialism for long and bitter years, suffering from the problems of poverty and deprivation and being classified as "third world." The situation is even worse with the epidemics and serious diseases that have plagued this continent, in addition to the endless wars, related to religious, political and societal divisions. This bad situation, which is unacceptable in the 21st century, urges the world to take responsibility.
The African continent has been a source of wealth for many who are "not African." The African continent has been used for many years to build nations outside the African borders and serve the world's people. In addition to the external hand that dominated and took over the resources of African land, the only thing that is incredible "rich land and a poor and hungry people."
Africa is rich in gold, diamonds, chromium, cobalt, platinum and uranium. Some African countries such as Algeria, Angola, Congo Brazzaville, Gabon, Libya and Nigeria, for example, rely on the export of crude oil for about 70-95% of foreign exchange. Botswana relies on exporting diamonds for 80% of foreign exchange, as well as Zambia, which relies on copper exports for 80% of foreign exchange. Niger relies on uranium, which accounts for 96% of foreign exchange. But there is another problem: the inevitability of dependence on the outside because of the link between the economy of these countries with import and export, specifically its connection with Europe and America. Talk of full African independence will not be realistic because of the economic ties of the Great Powers.
Africa is also dependent on many foreign countries for its undeniable debt, aid and donations. Africa is not yet ready to pursue a policy of giving up foreign aid and talking about Africa, self-sustaining and not in need of other countries. The debt problem in many countries of the African continent has reached high rates. The average ratio of debt to GDP in sub-Saharan Africa increased from 51% to about 100% during 1982 and 1992.It is therefore necessary to develop an economic strategy for the African continent that makes it a fully sovereign geographical area. Since sustainable development begins with economic growth, all the problems of the continent will be resolved if a viable economic policy is pursued. A large proportion of Africa's debt comes from the colonial powers themselves, such as France and Britain.
The endless wars in many African countries are a source of constant tension, making the African continent classified as politically and security unstable area, which threatens the tourism sector and the pace of economic growth and makes the investor prefer to invest in other areas more secure and stable. African countries are required to pursue a strict security policy that works to root out extremism and rein in terrorist and subversive groups that have brought destruction, devastation and economic decline to the country.
The extreme poverty that afflicts the African continent is due to unfair policies that do not take into account the criteria of community development in many cases, and most importantly, the accumulated external debt that hinders the process of social and economic development. As the African continent, as mentioned earlier, is a region rich in natural resources, it is therefore important to make use of these resources, and not to leave them to foreign countries, in other words, not to allow the African continent to be an open and unregulated territory.
The most serious diseases in the world today are rampant and widespread in the African region, such as malaria, kidney disease and AIDS, which plague African people. International organizations and bodies such as the World Health Organization are now required to work, move and intensify efforts to reduce the prevalence of these diseases.
The illiteracy rate is very high on the African continent and this is unacceptable nowadays. As there is no way to progress and develop except in education and the dissemination of the culture of science, International educational institutions should focus on the poor and educate them and increase the proportion of schools and universities in bilateral and collective cooperation.
This miserable situation in the African continent has long led many to think of emigration or resort to other countries. But most of them live in difficult conditions in foreign countries, and the phenomenon of asylum and intensive migration leads to the abundance of cheap labor in foreign countries and provides them with difficult jobs that are not easy for the countryman to carry out.
The African continent is rich in natural resources and has surplus labor, which is sufficient to achieve self-sufficiency if accompanied by a sound economic and social policy. Therefore, African governments and the African Union must take unified decisions and not follow the policy of dependency because such a policy will only increase the African continent deficit and economic and social decline.
The governments of the African countries should make their relations with the countries of the world friendly regardless of the financial or military power of the other side so that the African countries will not remain in the position of the weak. All this indicates that African countries are capable and need only to unite and work on sound policy. Poverty in African countries can be solved if natural resources are exploited well and in the interest of African countries and not of other countries.
Africa Awaits Russia's Investment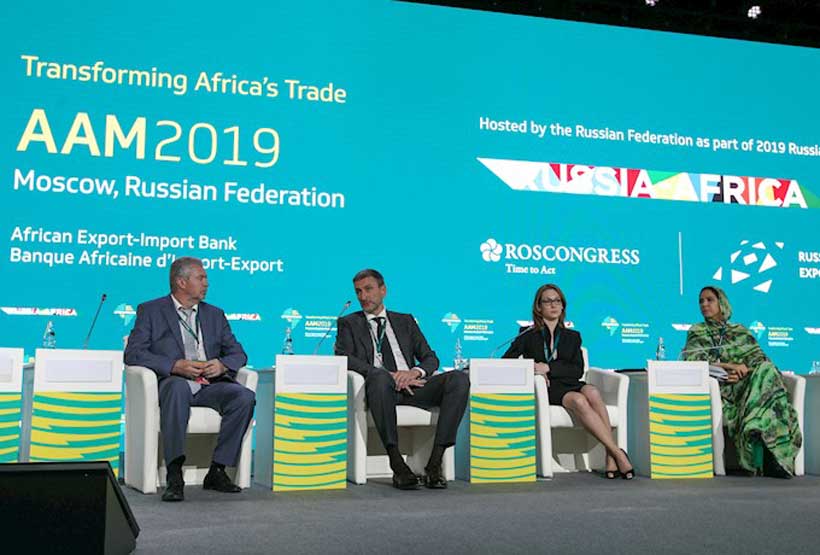 Russia has been looking to raise its existing relationship with African countries and Afreximbank is now providing huge support in realizing that long term goal. The bank, with the task of transforming Russia's trade with Africa, organized an economic conference for more than 1,500 participants from June 20-22 in Moscow. The economic conference and other Russia–African events in 2019 can be described as "the Year of Africa" in the Russian Federation.
The Afreximbank Annual Meetings included Seminar and Meeting of the Afreximbank Advisory Group on Trade Finance and Export Development in Africa and special meetings between Russian and African political and business leaders to discuss trade, industrialization, export, and the implementation of joint investment projects.
Russia continues to strengthen its relationship with Africa due to multiple factors such as untapped abundant natural resources, improvement of the business climate, the rise of the middle-level income class and economic growth, Prime Minister Dmitry Medvedev noted in his speech at conference. He further pointed to Africa's growing appeal to and demand for high-tech, telecom investors and other products that could make swift business connection with Russia.
"All these things have already made Africa attractive for investments, and not merely in producing industries but, which is of particular importance, in high technologies and telecommunications," Medvedev said.
According to certain estimates, about a half of the resource potential of the planet is in Africa, he argued "we therefore need to more efficiently use these resources and at the same time promote cooperation in this sphere, just like cooperation in other spheres."
Besides those factors, there is high desire for mutual-cooperation. "It is also important to have a sincere internal desire, and such a sincere desire is present from the side of the Russian Federation and from the side of African states. We see this at different levels, including the top levels of cooperation," Medvedev said.
Opening the conference, Foreign Minister Sergey Lavrov reminded conference participants that while relying on the long-time accumulated experience of constructive partnership, Russia and Africa are confidently moving along the road of comprehensively expanding Russian-African ties.
According to the Foreign Minister, the long years of solid friendship, which has been created, gives a fresh impetus to cooperation in many spheres and provides necessary conditions for building up trade, economic and investment exchanges, as well as cooperation in banking, and for encouraging business communities to implement mutually beneficial projects in African countries.
These include the construction of the country's first nuclear power plant and the establishment of the Russian Industrial Zone in Egypt, as well as the projects that are being implemented in Africa by such leading Russian businesses as Rosneft, Lukoil, Rosgeo, Gazprom, Alrosa, Vi Holding, GPB Global Resources and Renova.
"We can report first achievements in this sphere. Mutual trade is growing – it exceeded US$20 billion last year – and becoming more diversified. Large projects are being implemented in Africa with direct financial support from Russia," he assertively said, and added: "I am confident that cooperation with Afreximbank, which the Russian Export Centre (REC) has joined as a shareholder, will help promote long-term trade and economic relations between Russian businesses and their African partners."
As expected, REC predicts the volume of Russian-African trade relations will double within the next 3-4 years. "The Russian Export Center maintains a close partnership with Afreximbank and has already entered the first deals that we are jointly implementing on the African continent. We intend to increase the volumes and we foresee the volume of the Russian-African trade ties in the next three to four years doubling," said the Russian Export Center's (REC) chief Andrei Slepnev.
"It goes without saying that the Russian Export Center sees the African region as an important area to promote Russian non-commodity export. Our objective is to use today's positive market environment to open the access to African markets to as many exporters as possible and expand our geography," he argued.
The African continent currently has enormous potential as a sales market. Many African countries are enacting economic reforms, demand is growing for high-quality, competitive products. Russian businesses are interested in this niche, and our goods are already competitive in terms of price and quality.
Basic financial instruments of supporting trade between Russia and Africa could be direct loans to foreign buyers (including those secured by the sovereign guarantee of the borrowing country) and loans to banks of foreign buyers under the insurance coverage Exiar, loans to sovereign borrowers, financing receivables against export earnings.
In 2018, for instance, the volume of export-supported Russian products to African countries amounted to US$2.47 billion. The main partners are Egypt, South Africa, Zambia, Morocco, Algeria, Nigeria and Kenya.
Advisor to the President of the Russian Federation, Anton Kobyakov, noting the importance of multilateral cooperation between Russia and Africa: "The current situation in the world is such that we are witnesses to the formation of new centres of economic growth in Africa. Competition for African markets is growing accordingly. There is no doubt that Russia's non-commodity exporters will benefit from cooperating with Africa on manufacturing, technologies, finances, trade, and investment."
Afreximbank President and Chairman of the Board of Directors, Dr. Benedict Okey Oramah, presented the 2019 African Trade Report, an analytical survey of African trade. "As we gather in this historic city of Moscow, we will explore how we can shape the future of trade and how we can transform our continent," said Oramah. "Our collective endeavours will impact the economic future and wellbeing of Africans for generations to come."
In the report, special attention was paid to practical cooperation in the spheres of finances, energy, mining, railway infrastructure, digital technologies, cybersecurity, healthcare, education, food security in Africa.
In 2017, the Russian Export Center became Afreximbank's third largest non-African financial institution or organization shareholder, which has allowed for the rapid acceleration of investment, trade, and economic relations between Russia and African countries. It's active in mining projects in Zimbabwe and Sierra Leone, and has expressed interest in attracting Russian partners to the implementation of projects in the oil industry in Africa.
Notable among the Russian-African foreign economic projects include the signing of a memorandum of cooperation between the REC and Joint company Afromet (Vi Holding) regarding the comprehensive development of the Darwendale platinum field project in Zimbabwe, which was signed during a visit by the President of Zimbabwe, Emmerson Mnangagwa, to the Russian Federation in January 2019.
According separate reports, Russia has been developing a number of projects in cooperation with Afreximbank, including a project concerning the shipment of Russian ground transport and projects to finance industrial infrastructure construction and modernization projects in Nigeria and Angola. At the end of 2018, REC, Russian Railways, and Afreximbank signed a memorandum of cooperation. As a result, a trilateral working group was created, tasked with studying export and investment project issues in the railway and related industries, as well as forms of project and investment financing.
The latest description of Africa, which consists of 54 states, to many experts and business investors, is the last frontier. It is the last frontier because it has huge natural resources still untapped, all kinds of emerging business opportunities and constantly growing consumer market due to the increasing population. It has currently become a new business field for global players.
That negative perceptions deeply persistent among political and business elite, middle class and the public towards Russia. For the two past decades, due to Russia's low enthusiasm, lack of coordinated comprehensive mechanism and slowness in delivering on skyline investment pledges have been identified as the key factors affecting effective cooperation between Russia and Africa.
London based Business Research and Consultancy firm published a new report about global players set to continue broadening economic and business engagement across Africa. The publication has become largely important as Russia with its recognizable global status and among BRICS (Brazil, Russia, India, China and South Africa) dominated headlines that it has played less visible role in sub-Saharan Africa after Soviet's collapse.
The Russian Export Center, as a state institution for the support of non-primary goods, providing Russian exporters with a wide range of financial and non-financial support, is also working on a number of projects with Afreximbank in various African regions. Afreximbank was founded in 1993 in Abuja, Nigeria, with the authorized capital of US$5 billion. The main objectives of the bank are the development of trade between African countries and abroad. The banks' headquarters is located in Cairo, Egypt.
Water Diplomacy: Creating Spaces for Nile Cooperation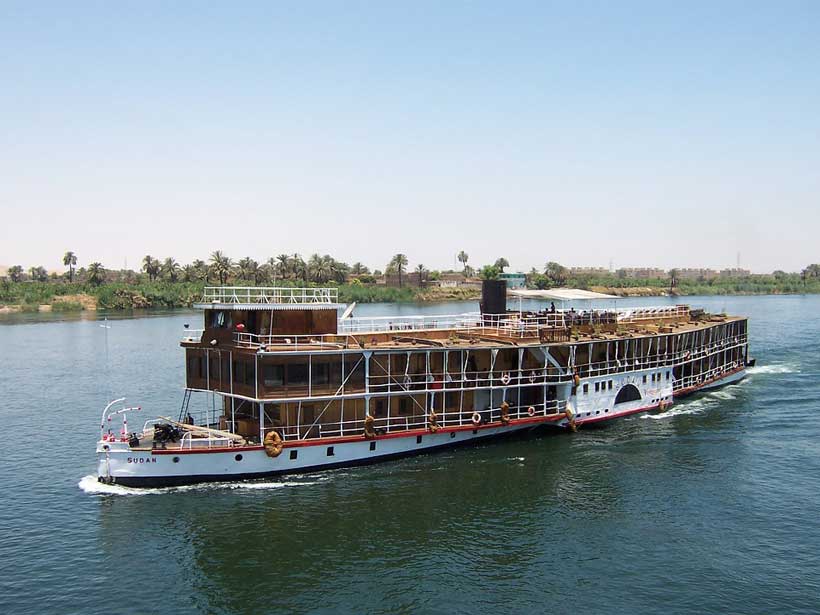 The Nile River is the longest river on the earth, with eleven nation states sharing it and over 487 million people or about 20% of the African population living in the basin countries and they depend partly or fully on the Nile for their daily water use, foods and other economic benefits. The river drains 10 % of the African continent or an area greater than 3,176,541 km2, and its divided to ten different sub-basins with two main feeding sources' the White Nile and the Blue Nile, which making it one of the worlds largest and complicated international trans-boundary river basins.
It's very clear that the long and current regional disputes over the Nile's waters between the upstream and downstream countries specially Uganda, Ethiopia and other upstream nations who are been the forehead leading the campaign for the lifting of colonial era treaties regarding Nile waters allocutions, governance, management, economic use and other Nile related issues and they been demanding renegotiating Nile river basin for fair shares and equal benefits and which they did in 2010 by reaching and signing of (Cooperative Framework Agreement or Entebbe agreement) to replace all the European colonial agreements, meanwhile the two downstream countries Egypt and Sudan in the other sides refusing to renegotiate or sign the Entebbe treaty and insists on maintaining the colonial era treaties or what they called "the historical rights" which gave the lion's share of the Nile waters and the absolute veto to only two Nile countries and ignored the rights of other Nile's nations.
Egypt and Sudan for years been using what they called "the historical rights" guaranteed by the colonial era agreements and their diplomatic influence to block international development funds and loans a policy which its aims only to prevent the upstream nations from establishing or constructing any developmental or economical projects on the Nile River, while Egypt is warring about the potential impacts which could effect its water security level as a result of any construction on the Nile river, the other Nile Basin nations said they are addressing the undergoing social, economic and environmental changes plus the population in the region is growing rapidly which will need more access to Nile basin resources in aim to provide water, food and energy to their people.
The looming conflict in the Nile Basin region over water recourses governance, allocutions and economic use has been a major security threat to the regional and international peace and stability, the risks of militarizing the Nile water dispute among the basin countries has been a growing serious security threat to the basin region as a result of lacking of middle point agreement on how to share, mange and benefit from the longest river fairly and equally.
In past years the downstream nations had already unilaterally constructed dams, used Nile waters for irrigation, industrial and other projects and with the upstream nations complaining about those unilateral projects done by the downstream nations and the none cooperative method and approach of Egypt and Sudan and as an outcome of years of disagreement over the Nile water issues and unilaterally decisions and actions taken by the individual countries claiming the Nile River waters and only favoring their own benefits over other Nile nations. The Entebbe Agreement came in to escalate the none cooperation situation more by geo-politically shifting the control of Nile basin waters away from the downstream nations and gave the upstream countries a legal frame to construct dams, establish different projects and increase their water use for different propos.
With some countries see themselves as victims of other Nile countries who had taken an advantage of certain period of time or situation that they were in, which let some of them to see no benefit now in been cooperative with the others concerning the Nile related issues and looks only at their national interests, but still the diplomatic dialogue and inclusive negotiations between the Nile basin nations is the only way forward to build confidence, trust and cooperation for sustainable future of the Nile and mutual and shared benefits for basin members countries. A positive engagement between the Nile basin members now can be observed in some steps taken by the countries were technical dialogue and diplomatic approach has increased the sharing of technical and hydrological data between the basin members countries, capacity building workshops and inter-nations trainings and seminars for technicians, policy and decision makers, government officials, diplomats, scientists, researchers, journalists, local and global think-tank institutions, NGOs, regional and other international stakeholders had really helped in easing the interstate political tensions and putting concord foundation for more regional cooperation which will contribute to a better understanding, enhancing the diplomatic relations and cooperation among the basin nations.
To have a sustainable Nile Basin with equal benefits, comprehensive cooperation, joint management, and effective partnership the diplomatic approach and inclusive negotiations is the only solution to overcome years of mistrust and standoff in the Nile Basin region.
Russia, Africa and the SPIEF'19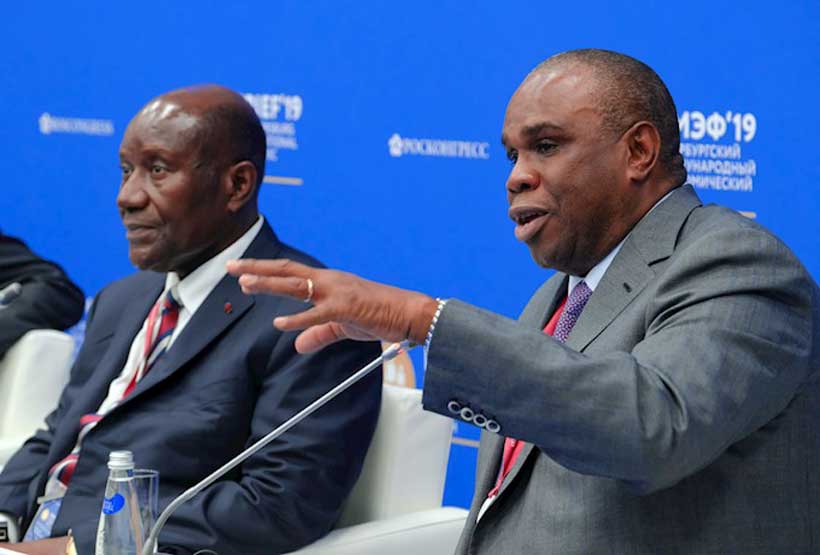 In 2019, four African countries – Côte d'Ivoire, Lesotho Niger and Somalia – for the first time attend the St Petersburg International Economic Forum (SPIEF'19) held on June 6-8 under theme "Creating a Sustainable Development Agenda" in Saint Petersburg, Russia.
The Forum brought together a record-breaking number of participants: over 19,000 people from 145 countries, with 1,300 guests representing heads of companies. The sheer number of business community participants, variety of thematic events, and level of representation on both national and international levels underscore the status of SPIEF as a truly global economic forum.
Over the years, SPIEF has become an open platform to exchange best practices and key competences in the interest of providing sustainable development.
The main event was the plenary session, with the participation of President of the Russian Federation Vladimir Putin, President of the People's Republic of China Xi Jinping, President of the Republic of Bulgaria Rumen Radev, Prime Minister of the Republic of Armenia Nikol Pashinyan, Prime Minister of the Slovak Republic Peter Pellegrini, and Secretary-General of the United Nations António Guterres.
During his address to the participants of the Forum, Vladimir Putin talked about the tasks the country is facing, as well as about the importance of national projects as a driver of economic growth in Russia.
The overall budget for the implementation of proposed development projects of Russia is about US$400 billion. The priorities are healthcare, education, research and development, and support for entrepreneurship. And, considerable funds will also be allocated to develop major infrastructure, transport and the energy industry.
Putin also stressed to the guests and participants for their friendly attitude to Russia, their willingness for joint work and business cooperation based on pragmatism, understanding of mutual interests and, of course, trust, frankness and clear-cut positions. That global inequality between countries and regions is the main source of instability. It is not just about the level of income or financial inequality, but fundamental differences in opportunities for people.
More than 800 million people around the world do not have basic access to drinking water, and about 11 percent of the world's population is undernourished. A system based on ever-increasing injustice will never be stable or balanced.
As a first step, necessary to conduct a kind of demilitarisation of the key areas of the global economy and trade, that also includes utilities and energy, which help reduce the impact on the environment and climate. This concerns areas that are crucial for the life and health of millions, one might even say, billions of people on the entire planet.
Russia has embarked on implementing long-term strategic programmes, many of which are global in nature, it is important to hear each other and pool efforts for resolving common goals. Russia is ready for these challenges and changes.
During the four days of the Forum, over 1,300 speakers and moderators, including Russian and international experts, took part in discussions. They shared their knowledge, experiences and best practices with the participants of the Forum. There was special zone of the area that hosted interviews with politicians, government officials, representatives of big business.
On the sidelines, there were business dialogues between Russia and other countries, for example Russia–Africa, were very popular this year. President of the Senate of the Parliament of the Republic of Zimbabwe, Mabel Chinomona, was one of the African participants. State officials came from Botswana, Egypt, Zimbabwe, Côte d'Ivoire, Lesotho, Mauritius, Niger, Sierra Leone and Uganda.
The Russia-Africa session featured Mikhail Bogdanov, Deputy Minister of Foreign Affairs of the Russian Federation; Special Presidential Representative for the Middle East and Africa; Amani Abou-Zeid, Commissioner for Infrastructure and Energy, African Union Commission and Tatyana Valovaya, Member of the Board – Minister in Charge of Integration and Macroeconomics, Eurasian Economic Commission.
Isabel Jose dos Santos, Chairman, Unitel SA; Daniel Kablan Duncan, Vice President of the Republic of Cote d'Ivoire; Dmitry Konyaev, Deputy Chairman of the Board of Directors, URALCHEM JSC and Benedict Okey Oramah, President, Chairman of the Board of Director, The African Export Import Bank.
Sylvie Baipo-Temon, Minister of Foreign Affairs and Central Africans Abroad of the Central African Republic; Nikita Gusakov, General Director, EXIAR; Boris Ivanov
Managing Director, GPB Global Resources and Nataliya Zaiser, Chair of the Board, Africa Business Initiative UNION; Executive Secretary, Russian National Committee, World Energy Council (WEC).
The participants noted that 2019 should be a historic year in the development of Russian-African relations. The summit of heads of state in October should take place amidst record growth in Russian exports to Africa. Russia is interested in new markets and international alliances more than ever before, while Africa has solidified its position as one of the centres of global economic growth in recent years.
In this context, the countries need to rethink the approaches, mechanisms, and tools they use for cooperation in order to take their relations to the next level as their significance grows in the new conditions of world politics and economics. What steps are needed to give a new impetus to bilateral economic relations? What are the key initiatives and competencies that can create a deeper strategic partnership between Russia and African states?
These are among the key questions on the meeting agenda for the upcoming Russia-Africa Summit planned for October in Sochi under the co-chairmanship of President of the Russian Federation Vladimir Putin and President of the Arab Republic of Egypt Abdel Fattah el-Sisi, Chairperson of the African Union.