World Bank Helps Bangladesh Improve Service Delivery for Rohingya
The government of Bangladesh today signed a $165 million grant financing agreement with the World Bank to provide basic services and build disaster and social resilience for the Rohingya who are fleeing violence in Myanmar.
To help Bangladesh deal with world's fastest growing exodus, the Emergency Multi-Sector Rohingya Crisis Response Project will build 53 multi-purpose disaster shelters in and around the camps; pave more than 200 km of roads; provide water and sanitation services for around 200,000 people; and set up 1,500 solar street lights. The project will also strengthen emergency response services, provide community works and services, and prevent gender-based violence.
"The government and people of Bangladesh have generously provided shelter to about a million Rohingya refugees but the needs of both the Rohingya and the host community are huge," said Dandan Chen, World Bank Acting Country Director for Bangladesh and Bhutan. "This project addresses the current refugee crisis but goes further to help strengthen the government's overall capacity to plan, coordinate and respond to emergencies."
More than half of the Rohingya population are women and girls and many were exposed to gender-based violence before coming to Bangladesh. The services delivered under the project will focus on women and children as key beneficiaries and will include measures to prevent gender-based violence. The project will build gender-friendly public spaces. All facilities including water and sanitation facilities and cyclone shelters will cater to the needs of women, children and disabled individuals. The street lights will improve the safety for women.
"Under the leadership of the Honorable Prime Minister, the Bangladesh government has provided shelter to the Forcibly Displaced Rohingya population (FDRP). But, this has placed enormous strain on our resources and infrastructure," said Monowar Ahmed, Secretary, Economic Relations Division, Government of Bangladesh. "We are happy that the World Bank has joined hands with grant support to build disaster resilience and basic infrastructure and improve service delivery for FDRP."
The agreement was signed by Monowar Ahmed and Dandan Chen on behalf of the government and the World Bank, respectively, at the Economic Relations Division.
This is the third in a series of planned financings of approximately half a billion dollars announced by the World Bank in June 2018. Earlier the World Bank has committed a $75 million grant that includes a $13 million grant from Canada, to provide for the health and learning needs of the Rohingya.
The World Bank is helping the host communities with about $200 million support in Cox's Bazar through ongoing projects: disaster preparedness including building and rehabilitating cyclone shelters; basic infrastructures and governance in union parishads, pourashabhas, and municipal areas; social protection and safety net programs; and collaborative forest management and income generation opportunities for the host communities.
The World Bank was among the first development partners to support Bangladesh following its independence. Since then the World Bank has committed more than $30 billion in grants and interest-free credits to Bangladesh.
Spectre of unrest, violent repression looming over Haiti
Increasing political tensions in Haiti coupled with insecurity and structural inequalities could result in protests followed by violent crackdowns by authorities, the United Nations human rights office (OHCHR) warned on Tuesday.
According to the office, criminal activities, such as kidnappings, gang fights and widespread insecurity have increased, with "almost total" impunity.
Added to the volatile mix is resurging political tensions over the timing and scope of elections and a constitutional referendum proposed by the Government, OHCHR spokesperson Marta Hurtado told journalists at a regular briefing in Geneva.
"Calls for mass protests have been growing. This in turn raises concerns of renewed human rights violations by security forces during the policing of protests as seen during the months-long protests in 2018 and 2019, as well as during demonstrations in October and November of last year."
According to an OHCHR report on the unrest, protests started relatively peacefully in July 2018 but became increasingly violent over time, with many violations and abuses of the rights to life, security of the person and effective remedy.
'Pattern of violations'
The report also documented violations to the rights of peaceful assembly and freedom of expression. In 2019 demonstrations, barricades were set up that blocked people's access to hospitals and passage of ambulances. Health facilities were also attacked, severely impacting the daily lives of the Haitian people, particularly those in a vulnerable situation.
In addition, protesters and criminal elements imposed "passage fees", further impeding the movement of people and goods and exacerbating economic hardship.
"The report shows a pattern of human rights violations and abuses followed by near lack of accountability," Ms. Hurtado said.
'Guarantee accountability'
The OHCHR spokesperson called on Haitian authorities to take "immediate action" to avoid repetition of such violations and abuses by ensuring that law enforcement officers abide by international norms and standards regarding the use of force when dealing with protests; as well as ensuring that gangs do not interfere with people's right to demonstrate peacefully.
She also urged the Government to guarantee accountability for past violations and abuses, ensuring justice, truth, and reparations. Alongside, Haiti should take steps to address people's grievances and the root causes that fuelled the protests, she added.
"OHCHR stands ready to continue supporting State authorities in their fulfilment of human rights international obligations [and] expresses its willingness to continue working towards the establishment of a country office," Ms. Hurtado said, welcoming commitments made by the Haitian National Police to reform practices documented in the report.
Child labour 'robs children of their future', scourge must end
Although child labour has decreased significantly over the last decade, one-in-ten children are still caught up in harmful work, the UN's labour agency said on Friday, kicking off a year-long bid to eradicate the practice.
"There is no place for child labour in society", said Guy Ryder, Director-General of the International Labour Organization (ILO). "It robs children of their future and keeps families in poverty."
Breaking down the stats
While the number has dropped from 246 million in 2000 to 152 million in 2016, ILO noted uneven progress across regions.
It pointed to some 72 million children working in Africa, which account for almost half of the world's total. This is followed by Asia and the Pacific, home to 62 million child labourers.
ILO highlighted that 70 per cent of these children work in agriculture – mainly in subsistence and commercial farming and livestock herding – and almost half in occupations or situations considered hazardous to their health and lives.
The COVID factor
Meanwhile, the COVID-19 pandemic has considerably exacerbated the situation by rendering everyone more vulnerable to exploitation, compounding poverty within defenseless populations and jeopardizing hard-fought gains in the fight against child labour.
Furthermore, school closures have pushed millions more children into the labour market, so they can contribute to the family income.
"With COVID-19 threatening to reverse years of progress, we need to deliver on promises now more than ever", said the ILO chief.
A year of action
On a positive note, ILO said that joint and decisive action can reverse this trend.
In collaboration with the Alliance 8.7 global partnership, ILO launched the International Year for the Elimination of Child Labour to encourage legislative and practical actions to eradicate child labour worldwide.
Adopted by the General Assembly in 2019, the year aims to urge governments to work towards achieving Target 8.7  of the Sustainable Development Goals  (SDGs).
Target 8.7 calls for immediate measures to end forced labour, modern slavery and human trafficking while also eliminating the worst forms of child labour, including use of child soldiers, and by 2025 ending child labour in all its forms.
The 12-month campaign will also prepare the ground for the fifth Global Conference on Child Labour (VGC) in 2022, which will welcome additional commitments towards ending child labour in all its forms by 2025, and forced labour, human trafficking and modern slavery by 2030.
"This International Year is an opportunity for governments to step up and achieve Target 8.7 of the Sustainable Development Goals by taking concrete actions to eliminate child labour for good".
Pandemic curbs trend towards ever-increasing migration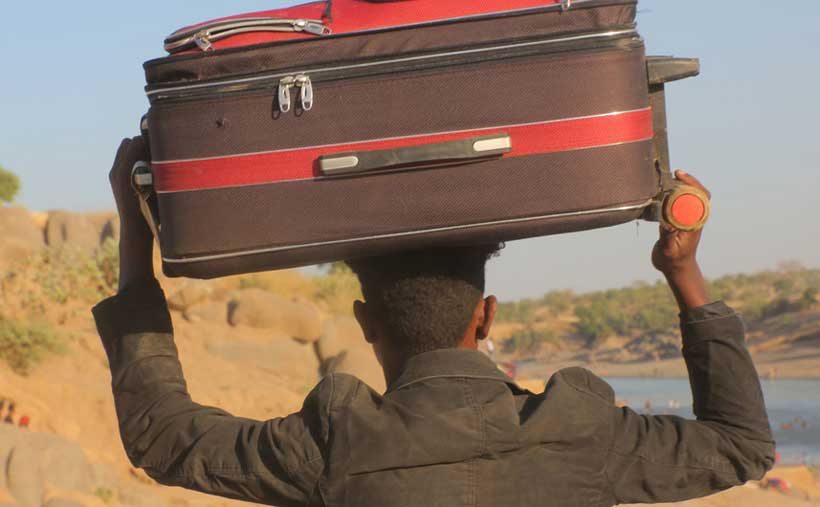 Travel restrictions and other curbs to movement put in place in the light of the COVID-19 pandemic, have put a significant dent in migration figures, but the overall trend shows 100 million more people living outside their countries of origin in 2020, compared to the year 2000, a new UN report revealed on Friday.
'Migration is part of today's world'
International Migration 2020 Highlights, published by the UN Department of Economic and Social Affairs (DESA), shows that the pandemic may have slowed migration flows by around two million people last year, cutting the annual growth expected since mid-2019 by around 27 per cent.
Since the year 2000, however, there has been a major increase in migration. That year some 173 million people lived outside of their countries of origin. Twenty years later, that figure had risen to 281 million.
In a statement, Liu Zhenmin, UN Under-Secretary-General for Economic and Social Affairs, said "The report affirms that migration is a part of today's globalized world and shows how the COVID-19 pandemic has impacted the livelihoods of millions of migrants and their families, and undermined progress in achieving the Sustainable Development Goals."
Less money sent home
The economic crisis that following in the wake of the pandemic has had a major impact on remittances, the money migrants send home to their countries of origin. The World Bank projects that remittances sent back to low- and middle-income countries may see a $78 billion dip, around 14 per cent of the total amount.
This will negatively affect the livelihoods of millions of migrants and their families, especially in those countries with a big diaspora. India, for example, has the largest diaspora in the world: 18 million people born in India live outside the country. Other nations with significant diasporas include Mexico, the Russian Federation (11 million each), China (10 million) and Syria (eight million).
US and Germany top destinations
Unsurprisingly, high income countries are the most coveted destinations for migrants. The US takes the top spot with 51 million migrants hosted in 2020.
Germany hosted the second largest number of migrants worldwide, at around 16 million, followed by Saudi Arabia (13 million), the Russian Federation (12 million) and the United Kingdom (nine million).
Many migrants do not travel far, however. Nearly half of them remain in the region from which they originated. For example, in Europe 70 per cent of migrants come from another European country. Similarly, some 63 per cent of migrants in sub-Saharan Africa come from a country in the same region.
Most refugees in lower income countries
Contrary to some perceptions, the vast majority of refugees, around 80 per cent, are hosted in low- and middle-income countries, and constitute some 12 per cent of all international migrants.
The number of refugees is rising faster than voluntary migration: the number of people forced to leave home due to conflict, crises, persecution, violence or human rights violations has doubled from 17 to 34 million since the beginning of the 21st Century.
In recognition of the need to better manage migration, the General Assembly has adopted several landmark agreements, including the 2030 Agenda for Sustainable Development, the New York Declaration for Refugees and Migrants and the Global Compact for Safe, Orderly and Regular Migration. DESA says that around 60 countries have begun to adopt measures to ensure safe, orderly and regular migration.