Vietnam Fisheries Brace for EU Yellow Card Review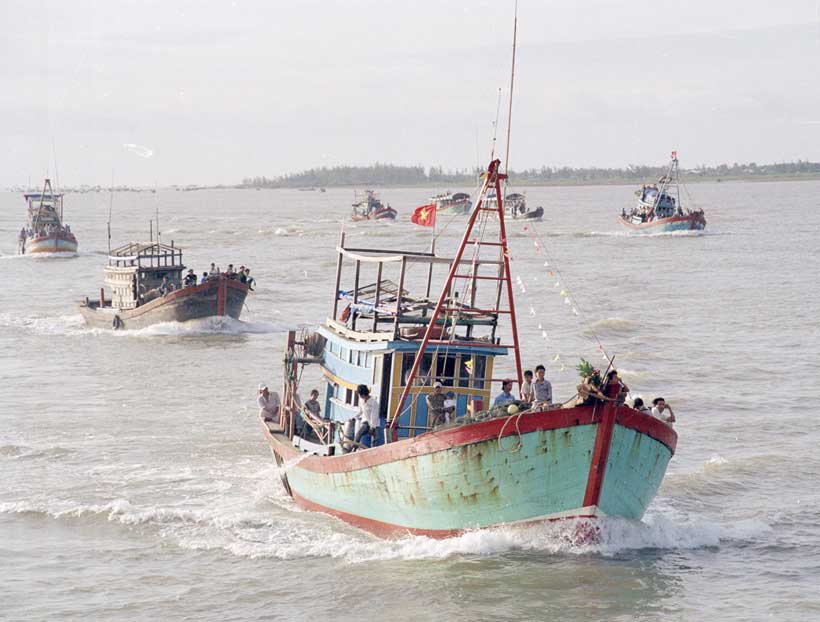 The tides wait for no one and each day fisheries, particularly those closest to the shores, are over-fished and harmed by industrialization. For emerging economies like Vietnam, the issuance of a yellow card by the European Union caught the attention of fishers and government officials alike, with a clear warning that the country has not been tackling illegal, unreported and unregulated fishing.
Tran VanLinh, the chairman of the Danang Fisheries, like others, is worried about the industry's export future. After all, the fisheries sector is a cornerstone of the Vietnamese economy and has contributed to an average growth rate of 7.9 percent. Nevertheless, he understands that the yellow card offers not only a roadmap for the government but also for all people to address long-standing conservation and sustainability issues.
"After receiving the commission's carding system notice, Vietnam has tried to satisfy all the requirements imposed by the EU. We do need to protect our sea and environment," claims Linh.
The overall picture in the South China Sea or East Sea as Vietnam refers to this body of water, is grim. Total fish stocks have been depleted by 70-95 percent since the 1950s, and catch rates have declined by 70 percent over the last 20 years. Giant clam harvesting, dredging, and artificial island building in recent years severely damaged or destroyed over 160 square kilometers, or about 40,000 acres, of coral reefs, which were already declining by 16 percent per decade.
Challenges around food security and renewable fish resources are fast becoming a hardscrabble reality for more than just fishermen. With dwindling fisheries in the region's coastal areas, fishing state subsidies, overlapping EEZ claims, and mega-commercial fishing trawlers competing in a multi-billion-dollar industry, fish are now the backbone in this sea of troubles.
Meanwhile, Vietnam's fisheries employ more than 4.5 million people and the nation is ranked as the world's fourth largest exporter of fish commodities after China, Norway and Thailand. In 2016, the country's seafood products were exported to 160 countries and territories with the three major markets of the US (20.6%), EU (17.3%), and Japan (15.7%). Vietnam is currently the largest tra fish supplier and fourth biggest shrimp exporter in the world.
There's even greater pressure placed on fishermen to meet Vietnam's ambitious seafood sector target of earning 10 billion USD from exports this year, up 10 percent from 2018. According to the Vietnamese Association of Seafood Exporters and Producers (VASEP), the goal can be achieved largely from $4.2 billion from shrimp exports, $2.3 billion from tra fish exports, and some $3.5 billion from other seafood shipments.
Meanwhile, coastal fish stocks have become either fully exploited or overfished. As a consequence, the South China Sea is considered Vietnam's vital fishing ground.
With a delegation of the EU's Directorate of Maritime Affairs and Fisheries expected to arrive at the end of May, Vietnam is urgently adopting measures to convince inspectors that they have smartly corrected their fishery conservation course.
"The Danang Fishery Department has implemented numerous educational programs to teach fishermen about the new laws and to train them about the EU requirements," adds Linh, a respected industry leader.
From Hai Phong, Da Nang, LySon, Phu Quoc and Vung Tau, more fisheries are attempting to reign in bad practices and reach towards modernization, eliminating the destructive fishing practices which affects fishery resources. However, more work is still required to revise their legal framework to insure compliance with international and regional rules, to increase the traceability of its seafood products, and to strengthen the implementation of its conservation and management of fisheries resources.
Mr. Le Khuon, chairman of the fishery association in An Vinh Village located in Quang Ngai Province and a former fisherman, who has stared down an aggressive Chinese fishing vessel or two near the Paracels, knows the hardships of fishing. "Of course the yellow card does impact on our local fishermen since we export sea cucumbers to the EU."
Along with others in the area, Ly Son fishermen recognize the importance of marine protected areas since the coastal areas are overfished. "It's a hard life and I have lost friends to the sea," claims 42 year-old Tran Phuc Linh, who has also been harassed by the Chinese since he often fishes near disputed historic fishing grounds in the Paracel Islands.
In fact, the fishing incidents continue in the Spratlys, where China's mega steel hulled vessels regularly intimidate Vietnam's colorful wooden trawlers. Just two months ago, a fishing trawler moored at Da Loiis land, in the Paracel archipelago was chased by a Chinese Maritime Surveillance vessel before it crashed upon the rocks and sunk without loss of life to crew.
According to analyst and consultant, Carlyle A. Thayer, "the Chinese government, as a matter of policy, employs it commercial fishing fleet as a third arm of its maritime forces after the regular navy and civilian maritime enforcement agencies, now grouped into a national Coast Guard."
Linh and his wife do not want their two teenage sons to make their living as fishermen. They know the perils at sea from the seasonal typhoons and the threats associated with patrol and interdiction of ships violating mutually agreed upon fishing restrictions.
Sent by their governments to find food for their people, fishers find themselves on the front lines of this new ecological battle. These fishing sentinels and their trawlers are fighting the maritime disputes between China and its neighbors.
This fishing competition for available fish has resulted in increased number of fishing vessel conflicts. These hostile sea encounters have been witnessed in Indonesia waters whereat least 23 fishing boast from Vietnam and Malaysia have been accused of poaching in that nation's waters.
As a result, Indonesia's fisheries minister, Susi Pudijastuti, ordered the dynamiting of these boats and over 170 fishing vessels have been sunk in their waters over the past several years. The increasing number of fishing incidents reflects not only deeply different interpretations and application of the law of the sea, but a fundamental conflict of interest between coastal states and maritime powers.
Even with these threatening clouds on the horizon, some fisheries are going about responsibly reigning in illegal fishing. In Da Nang, its 509 fishing trawlers (all longer than 15 metres) have installed with GPS. This includes the seven steel hulled vessels subsidized by the government's generous loan program.
The mandatory installation of the GPS offers more assurance in the identification of catch origins and it also helps that more fishermen are also completing and submitting the required fishing diary or logbook.
Meanwhile, the government insists that statistics on fishing vessels, fishing logs and fishing yields of each commercial trawler are now part of a Vietnam Fish Base, a nationwide fishery software database in accordance with the law.
Within the disputed territory, there are over 1.9 billion people, seventy-five percent of them living within one hundred kilometers of the coast. Nearly eighty-five percent of the world's fishers are concentrated in Asia, particularly in the South China Sea, according to the Food and Agriculture Organization of the United Nations.
Subsequently, fishing remains a politically sensitive and emotionally charged national security issue for all claimant nations. This ocean plundering presents the region with a looming food crisis. Any effort to balance the economic benefits with the security context within the South China Sea will require a coordinated, multi-level response from scientists, historically engaged in collaborative research and already addressing issues of sustained productivity and environmental security in the region.
It's a prevailing view that the collapse of fisheries is the major driver of competition for marine resources. This continues to result in a lack of respect among claimants for mutually agreed-upon fishery restrictions within 12 nautical miles of outposts and in the recognition of management area within 200 nautical miles of coastline. Last year 86 Vietnamese fishing boats were destroyed by Indonesia for illegally catching fish in its waters.
However, senior Vietnamese officials are confident that these violations are now being eliminated, if not sharply reduced.
" Because local governments and relevant agencies such as the Coastguard, and Border guard are conducting more surveillance and enacting stern measures in monitoring and investigating; fishing violations are reduced," claims Nguyen Manh Dong, Director General of the Department of Maritime Affairs, and National Boundary Commission.
He's quick to add that while the EU's requirements have been fulfilled including port control, some cases still happen, particularly with Indonesia.
To offer additional counter-balance, Vietnam's Fisheries Resources Surveillance Department has stated that it is working to raise awareness of maritime boundaries and international maritime laws among its fishermen, apart from conducting frequent patrols to prevent potential violations
The complicated nature of the Vietnam's East Sea or the South China Sea (SCS) disputes, makes short term resolution of fishing disputes difficult. More parties, believe that proper management of these disputes to insure stability becomes a priority.
"Vietnam will never tolerate or permit activities related to illegal, unreported and unregulated (IUU) fishing," adds Deputy Minister of Agriculture and Rural Development (MARD) Vu Van Tam.
For example, Binh Dinh province is adopting necessary measures to remove the "yellow card" status. All local fishing boats are required to obtain certificates of registration, inviting local authorities to review design documents, supervise the building, improvement and repairing of fishing vessels.
Among policy shapers, and marine scientists, there's a general consensus that the best approach for managing SCS disputes and addressing IUU issues is to set aside the sovereignty disputes and jointly develop and manage the natural resources, such as fisheries. While advancing fisheries cooperation in the SCS has been increasingly recognized as a political, ecological, socio-economic and security imperative, a crucial question remains unanswered. What objective can be achieved through fisheries cooperation in the SCS?
Marine biologists like Professor Nguyen Chu Hoi advocate the creation of ecosystem- based fishery zones covering reefs that are vital to regional fish stocks, especially in the Spratlys and Paracels. This action requires the adoption of an urgent cooperative marine management system, regardless of the location of their territorial and maritime claims.
While the growing demand for fish by global markets can fray even the strongest fisher's net, the challenge for Vietnam is the imperative for management of its declining fisheries in order to create long-term sustainability. The protection of the "commons" requires more than a pass fail report card from the EU.
Vietnam President Visit to US for UNGA Meeting
Following his visit to Cuba, Vietnam president Nguyen Xuan Phuc visited New York to attend 76th meeting of the UN (United Nations) General Assembly and participated in the deliberations related to the important aspects of global order and international development. He also attended Joe Biden's COVID-19 Summit. Vietnam President in his address at the global COVID-19 summit at New York stated that Vietnam is equally concerned about ending the Corona virus pandemic and helping countries regain the pre-COVID levels of economic growth. While supporting President Joe Biden's initiatives related to supporting the international community in terms of medicines, vaccines, and diagnostic equipment, he concurred that the well-being of the humanity and the people in various parts of the world is critical at this moment. He stated that with new variants of COVID-19 emerging every day it is pertinent to note that there is need for accelerated early detection techniques, trailing the contacts, and developing foolproof quarantine mechanisms. He added that in many of the developing countries there is need for better testing facilities, oxygenators, oxygen equipment, lifesaving kit such as ventilators and while at the same time undertaking vaccination on a war footing.
He articulated that there is need for effective global cooperation, promoting resilient health care systems, maintaining supply chains of medicines and medical equipment, particularly in the Global South. He appreciated the fact that global health security fund has been instituted which will help the underdeveloped and developing countries in procuring many of these critical equipment. He stated that there is a need for effective vaccinations and undertaking preventive measures to contain the pandemic. Only then, he opined, that there will be an economic recovery of many of the economies across the world.
Expressing concerns regarding maintaining the vaccine supplies, he avowed that Vietnam would be keen in joining the global COVAX program and undertake its role in supporting developing countries. He valued the fact that many of the countries have come forward to donate vaccines to Vietnam now when the country is suffering from resurgence of COVID-19 virus and increasing deaths because of the newer variants of this virus. He indicated that there is need for vaccinating minimum two-third of the global population the forthcoming session of the United Nations General Assembly next year. Vietnam has also donated 500,000 U.S. dollars for the global COVAX program and assured that Vietnam will be contributing to this endeavor in future also. He alluded to the fact that the Vietnam has promoted the ASEAN Region Response Fund in 2020 and many of the ASEAN countries have used 20.5 million U.S. dollars from this fund. He exuded confidence that in this endeavor against the Corona virus the global community will come together to protect the larger humanity.
During his visit to the US. the Vietnamese president also met CEOs (Chief Executive Officer) of major companies such as US Quantum group and even oversaw an agreement between the company and the Vietnamese group comprising of Kinhbac City Development Holding Corp (KBC) and Saigon Telecom Technology Joint Stock company. The CEO (Chief Executive Officer) of the US's Quantum group expressed that in Vietnam the company wouldbe willing to make an investment of $20 to $30 billion in future. The major investment will be in the field of biotechnology research, vaccine production, health care and setting up a vaccine production center in Vietnam itself.
During the visit of the Vietnamese president Vietnam and US have signed a memorandum of understanding between the agricultural departments of the two countries. During the meeting related to the signing of the MoU (Memorandum of Understanding) between the Ministry of Agriculture and Rural development of Vietnam and US Grains Council it was expressed that Vietnam can emerge as a potential destination for ethanol fuel and this MoU would help Vietnam in promoting use of technology and science to promote green, sustainable, and low emission agriculture. The US Green Council would also provide COVID-19 test kits and COVID-19 treatment drugs for Vietnamese livestock.
During the visit to US, Vietnamese president also met Vietnamese diaspora in New York to connect and exchange their views. He appreciated the role that the Vietnamese community has played regarding raising the issue of export of vaccines to Vietnam and raised funds for Vietnam's COVID-19 vaccine fund. President appreciated the role played by the Vietnamese overseas community and stated that they comprise the extended family of the Vietnamese nation. He stated that the younger Vietnamese will be contributing to the development of the homeland with their knowledge and enthusiasm.
In his statement which he delivered during the UN General Assembly's 76 session he acknowledged that with the reelection of Antonio Guterres as the UN Secretary General the organization will achieve the objectives and the priorities in the future. He further added that for protecting citizens and to sustain economic growth as well as ensuring social security there is a need for global corporation and effective approach. He stated that nontraditional security challenges are a threat for the humankind and issues such as diseases and climate change can change the future. He expressed concern that the global governance system and inequalities among nations have exposed the shortcomings and challenges in front of the global community. He alluded to the fact that tensions between major powers, unstable international system, and wars had been a major concern in the recent past. Without alluding to China, he stated that the disregard for international law and the unilateral acts of aggression has jeopardized the exercise of maritime legal rights for many littoral nations.
He stated that there is a need for effective countermeasures to contain coronavirus pandemic and there is a need for reinforcing global support for COVAX facility. This is necessary for fair and equitable distribution of vaccines and medications to the global South. He further added that countries which have low vaccination rate should be focused and necessary structural support should be provided. He indicated that because of this pandemic there is need to adapt to this scourge and the time has come for digital transformation and promoting self-reliance among economies.
He buttressed the fact that their need for pursuing green technologies, promoting sustainable development, and undertaking functional changes for promoting trade and investment. He mentioned that global supply change needs to be maintained and under the agenda of 2030 of the UN sustainable development goals provides the edifice for undertaking cooperative development, easing of the debt payments, and accelerating recovery after Corona. He was also apprehensive of the fact that the climate change might be instrumental in harsher weather conditions, pollution, and incremental rise of the sea level. He added that to meet the target cut in greenhouse gas emissions there is need for financial support, capacity building and technology transfer to the developing countries.
He stated with conviction that global peace security and stability is a perquisite for fostering global economic recovery and facilitating humanitarian assistance. He reinforced Vietnam's commitment to the UN Charter and respect for the international law. He retreated Vietnam solidarity with Cuba and asked the international community to end the unilateral embargoes against Cuba. He stated that the need for justice for women and children in Afghanistan and establishment of independent Palestinian state alongside the state of Israel is critical.
He outlined Vietnam support to multilateralism and ask for more democratic an effective UN. He stated that in the 35 years of Vietnam's economic reforms program (Doi Moi) there has been multiple changes in the country which helped the country toget integrated with the international community for its progress and equality. He added that Vietnam has been collaborating within ASEAN for peace and prosperity in Southeast Asia and the larger Asia Pacific. He acknowledged clearly that there is need for enforcing maritime security, freedom of navigation and over flight in South China Sea. While outlining the role that the Vietnam has placed as a non-permanent member of the UN Security Council for the term 2020-2021, he stated that Vietnam upholds the principle of partnership for sustainable peace. He indicated to the fact that Vietnam has been undertaking UN peacekeeping missions in Central African Republic and in South Sudan, and Vietnam is aspiring for a seat in the UN Human Rights Council for the term 2023- 2025.
During his stay at the New York, President Phuc met President of the World Bank David Malpass as well as leaders of many countries such as President of the Republic of Korea, Danish Prime Minister, and President of Slovenia. Apart from high-level business leaders, he also met John Kerry who is the US Special Presidential envoy for climate. He expressed that there should be more focus on developing renewable energy, better management of transnational water resources, and undertaking effective measures for climate change mitigation.
While the visit of Vietnamese president has been short but highly effective as it engaged a wide variety of leaders and business entrepreneurs. Vietnam president has been very courteous in engaging the high-ranking leaders of Costa Rica, Colombia, Uruguay, Thailand, Bangladesh, Sri Lanka, Latvia, Sweden, and many others.
Impunity for desertion of the Constitution
A collection of scratches depicting the nuances of "totalitarianism" (repressive actions of state stakeholders tend to be authoritarian) and "radicalism" (civil society groups that rebel against the authoritarian system through deep understanding and hard actions) are still etched in the minds of the nation's children.
In 1955, September was the holding of voting in selecting members of the DPR in the first general election in Indonesia, which was attended by 29 political parties and individuals. Where the election left a sad one, the general election committee was kidnapped and killed. The tragedy of the massacre in 1965-1966, the Tanjung Priok incident in 1984, the Semanggi II incident in 1999, the murder of Munir in 2004, to the brutality of the apparatus in the "Corruption Reformasi" action in 2019 yesterday caused one of my friends in the struggle who was a student at Halu Oleo University to be shot dead by the police. in action.
All of the above events took place in September, which the author calls "September Mourning". The historical record has shown that from time to time the civilization of the Indonesian State has not yet ended with problems that pose a great risk, especially regarding the loss of life. This collection of tragedies in September demonstrates an understanding that what happened was an act of desertion.
Desertion, usually used in the military world with the aim of describing the conditions for the defection of soldiers from unitary discipline. But in this article, the author contextualizes desertion to express defection to the constitution. This means that any conscious action intended to straddle the constitution is defiance. Both the perpetrators from civil society, the military, and even the president, must be brought to justice!
In Indonesia, constitutional deserters often occur, ranging from murder, kidnapping, corruption, selling state assets, and other actions that are detrimental to the state. However, in this discussion, the constitutional desertion that the author wants to discuss is the constitutional position for deserters between civil society and the government which can control the civil apparatus.
Many civil society groups were declared by the government as deserters to the constitution until they were disbanded. For example, HTI organizations, FPI, and others. And there are even civil society groups declared as deserters of the constitution which were then massacred to the max. For example, civilians who were victims of the struggle between the military and the PKI during the Old Order had claimed millions of lives.
Civil society who deserted the constitution in the midst of conflicting elite interests was faced with a dilemma. Although they may have strong complaints about the survival and sustainability of their generation, they face the problem of the government's incompetence in managing the country, so they choose to fight ideas and ideas against the resistance movement.
This dilemma arises because of the extreme risks associated with the desertion process on the one hand and the fact that the relationship between deserters is dominated by mistrust on the other. The first problem makes the potential cost of desertion very high because civil society is certain to face a credible threat of punishment. Second, the potential rewards of desertion are uncertain because deserters have reason to believe that rebellion is the last resort for their ideas to be accepted by the State even though lives are at stake. The second problem implies that the perpetrators of desertion from the regime's instructions will be very difficult to be punished fairly by the constitution.
But what is clear is that the constitutional position for deserters from civil society has always been made firm. It is even permissible to carry out massacres by simply using the term "in order to maintain the integrity and sovereignty of the State" as happened in 1965-1966. The death toll against innocent civilians and civil servants is not treated fairly by the State. The State should apologize for the incident, but not apologize to the PKI or to the military.
However, the regime's uncompromising attitude and violent strategy of arrogance have led to further escalation of the conflict and caused increased anxiety at the level of civil society. A repressive ruling elite, a regime that often relies on military forces creates harsh and deteriorating conditions. Such as the kidnapping and murder of the election committee in 1955, the 1984 Tanjung Priok incident, and the 1999 Semanggi II incident.
Likewise with the murder of Munir in 2004, in fact it is a form of victimindividual desertion which later grew into a phenomenon of anger as well as mass fear. This is due to the unfair positioning of the constitution to punish deserters from the regime.
It is as if the regime's position is higher than the constitution and interprets it at will. In almost every regime in this country, the constitution is weak and fails to bring the deserters entrusted by the regime to be punished fairly. This means that the impunity of desertion to the Constitution of the Republic of Indonesia is sweeping freely. This issue is a serious homework that must be realized as soon as possible by all elements of the State to make improvements.
We must position the constitution as forming a harmonious life order for the nation and state. By him forming all elements of the State as nationalists who forbid massacre, become humanists with basic principles, socialists without restraining society, and capitalists who prioritize the welfare of the people.
The Race of Supremacy in the Indo-Pacific Region
Amid the growing US-China rivalry for the supremacy, the geopolitics has been altered to gain favour for oneself and outsmart rival. This time the battlefield is Indo-Pacific region. Since US has forged AUKUS, the regional countries are concerned over this move. AUKUS is a defence agreement- comprising Australia, UK, and US- which is aimed to maintain a free and open Indo-Pacific with nuclear-powered submarines potential on patrol and the deal enables Australia to acquire nuclear-powered submarines.
China retorted it and termed it "Cold War Mentally" and claimed such partnership is anti-china clique. They do not have any definite purpose behind this agreement but to contain China's rise. Signing such deals will destablise the peace and trigger an arm race in the region. She claimed that they, in order to contain China's growth, are throwing military net around it in waterway like the South China Sea and attempting to halt China's economic development.
Also, Malaysia and Indonesia fuss with this move and are of the view that this will speed up arm race and aggression in the region; North Korea chastised this maneuver claiming it as undesirable and dangerous and stated that it will underscore North Korea to continue developing its arsenals of atomic weapons; Some Russian Diplomatic officials dubbed it an step to accelerate arm race and undermine the Nuclear Non-Proliferation Treaty. Besides regional countries, France was also ticked off with AUKUS, due to cancellation of previously signed deal of $66 billion between France and Australia for conventional submarines, which will cost France jobs and revenue.
On the contrary, India and Japan, the antagonists of China and member of an anti-china pact namely Quadrilateral Security Dialogue (also known as QUAD), have warmly welcomed this measure. But in reality, the AUKUS is nothing more than a potential hazard for the region, in which Washington is adopting Asian versus Asian strategy to pit them fight to contain China's rise and sell its weaponry. However, the results of this gathering storm can be far beyond the thoughts of political scientists and eagerly participating Australia.
The first unanticipated loss of this pact is the deteriorating ties of Australia with France. Reportedly, this in consequence has kept Australia away to finalise a free trade agreement with the European Union. Apart from this, Scott Morison's, Australian Prime Minister, planned visit to Indonesia has been cancelled, because Indonesian President Joko Widodo is no longer available. Australia has been victimised in the US-China rivalry which has its first consequence in the loss of robust ties with France and Indonesia.
Apart, Since the Australia had close economic relation with China, Australian Trade Union has opposed this maneuver; It has shamed AUKUS deal and insisted they do not want war with China and warned of dangers to country on multiple fronts. Also, the Maritime Union of Australia has opposed this deal and verbalised that Prime Minister should not engineer such secret deals instead supply vaccines and help lockdown affected.
Moreover, a China state-owned newspaper, Global Times, warned arm race and grimly stated that Australian soldiers were likely to be first to die if China counterattacks.
To sum this deal, without having any challenge to Australia, buying nuclear-powered submarines is a potential step toward endangering and victimising itself for nothing but US gain.
Apart from this alliance, US have Quad and Five Eyes to focus the China and keep China's power from spreading. Quad is consisting of US, Japan, India and Australia. The main purposes of this alliance were economic and security interests that span the Pacific and Indian oceans. Quad was actually tailored for tsunami relief efforts, which lay dormant until 2017. Later, it was revived by Trump to challenge China from every front. And, Five Eyes is pertaining to US, UK, Canada, Australia and New Zealand.
All the Quad members have poor diplomatic relations or even face-off with China, which strengthens US position in the region and collectively they are sparing no effort to undermine China's rise.
On September 24, Quad had an in-person summit, in which they had discussed vaccine export, trade, and technology. They also said, "We stand for the rule of law freedom of navigation and overflight, peaceful resolution of disputes, democratic values, and territorial integrity of states." besides this the main purpose behind the meeting was to opt strategy to counter China.
In addition to this, Biden administration had made clear that it desires to forge a united front of democracies to deal with China across the board- on security, trade, technology, and human rights. Actually, the desire is to make alliance of democracies to defeat China. All the maneuvers US is taking are not to safeguard any human right but to contain China's economic influence and military power.
However, Chinese spokesman, Mr. Lijian said: "Faced with the common challenge of fighting the epidemic and economic recovery, the people of the Asia-Pacific region need growth and employment not submarines and gunpowder." He further vocalized, "Individual powers have repeatedly dispatched military aircrafts and warships to South China Sea that spark trouble and deliberately provoke conflicts on maritime issues. And, Chinese determination to safeguard national and territorial sovereignty, maritime rights and interest is unwavering, and all will continue to properly handle differences with the countries connected through consultation and negotiations." This statement clarifies that China does not want war rather prefers consultations, but it is not necessary that it is the reality; China has already focused military power. If both rivals escalate military power, then danger will loom and exacerbate already worsened diplomatic ties.
Furthermore, Japan is another active member of Quad, who is ardently participating in the US-China rivalry. However, the participation can be equally annihilatory for Japan.
Li haidong, a professor at the Institute of International relations of China Foreign Affairs University, viewed that Japan has been leaving no stone unturned to use the anti-China clique to gain an upper hand in its territorial conflicts with China, Russia and on the Korean peninsula issue.
Further, Chinese analysts also warned Japan, India and Australia that if they went too far in following the US strategy of containing China, they will become cannon fodder as China will steadily safeguard its interests.
Additionally, China's rocketing influence and military power deters America. If China finds any danger from US, China's missile arsenal could annihilate American bases in Asia during opening hours. Equally gruesome for US is China's rapidly growing economic reach, which has expanded state-owned companies buy up strategic assets such as ports around the globe that could be harnessed in times of war.
To encapsulate, this ebbing situation can destablise peace in the region. Both the powers should repair their completely dysfunctional relationship and evade forging blocs in the region. If the region divides in the blocs, the regional as well as global peace will be at risk.