Vietnam Fisheries Brace for EU Yellow Card Review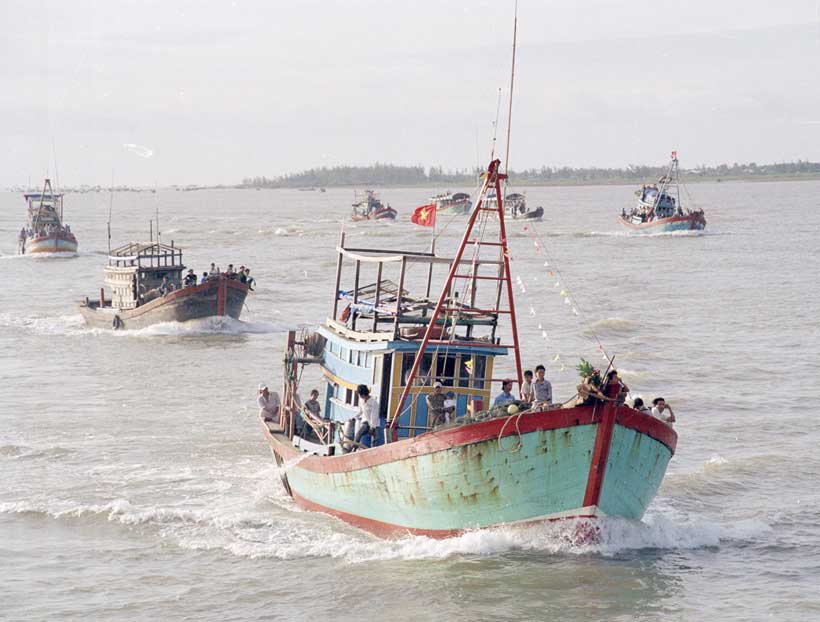 The tides wait for no one and each day fisheries, particularly those closest to the shores, are over-fished and harmed by industrialization. For emerging economies like Vietnam, the issuance of a yellow card by the European Union caught the attention of fishers and government officials alike, with a clear warning that the country has not been tackling illegal, unreported and unregulated fishing.
Tran VanLinh, the chairman of the Danang Fisheries, like others, is worried about the industry's export future. After all, the fisheries sector is a cornerstone of the Vietnamese economy and has contributed to an average growth rate of 7.9 percent. Nevertheless, he understands that the yellow card offers not only a roadmap for the government but also for all people to address long-standing conservation and sustainability issues.
"After receiving the commission's carding system notice, Vietnam has tried to satisfy all the requirements imposed by the EU. We do need to protect our sea and environment," claims Linh.
The overall picture in the South China Sea or East Sea as Vietnam refers to this body of water, is grim. Total fish stocks have been depleted by 70-95 percent since the 1950s, and catch rates have declined by 70 percent over the last 20 years. Giant clam harvesting, dredging, and artificial island building in recent years severely damaged or destroyed over 160 square kilometers, or about 40,000 acres, of coral reefs, which were already declining by 16 percent per decade.
Challenges around food security and renewable fish resources are fast becoming a hardscrabble reality for more than just fishermen. With dwindling fisheries in the region's coastal areas, fishing state subsidies, overlapping EEZ claims, and mega-commercial fishing trawlers competing in a multi-billion-dollar industry, fish are now the backbone in this sea of troubles.
Meanwhile, Vietnam's fisheries employ more than 4.5 million people and the nation is ranked as the world's fourth largest exporter of fish commodities after China, Norway and Thailand. In 2016, the country's seafood products were exported to 160 countries and territories with the three major markets of the US (20.6%), EU (17.3%), and Japan (15.7%). Vietnam is currently the largest tra fish supplier and fourth biggest shrimp exporter in the world.
There's even greater pressure placed on fishermen to meet Vietnam's ambitious seafood sector target of earning 10 billion USD from exports this year, up 10 percent from 2018. According to the Vietnamese Association of Seafood Exporters and Producers (VASEP), the goal can be achieved largely from $4.2 billion from shrimp exports, $2.3 billion from tra fish exports, and some $3.5 billion from other seafood shipments.
Meanwhile, coastal fish stocks have become either fully exploited or overfished. As a consequence, the South China Sea is considered Vietnam's vital fishing ground.
With a delegation of the EU's Directorate of Maritime Affairs and Fisheries expected to arrive at the end of May, Vietnam is urgently adopting measures to convince inspectors that they have smartly corrected their fishery conservation course.
"The Danang Fishery Department has implemented numerous educational programs to teach fishermen about the new laws and to train them about the EU requirements," adds Linh, a respected industry leader.
From Hai Phong, Da Nang, LySon, Phu Quoc and Vung Tau, more fisheries are attempting to reign in bad practices and reach towards modernization, eliminating the destructive fishing practices which affects fishery resources. However, more work is still required to revise their legal framework to insure compliance with international and regional rules, to increase the traceability of its seafood products, and to strengthen the implementation of its conservation and management of fisheries resources.
Mr. Le Khuon, chairman of the fishery association in An Vinh Village located in Quang Ngai Province and a former fisherman, who has stared down an aggressive Chinese fishing vessel or two near the Paracels, knows the hardships of fishing. "Of course the yellow card does impact on our local fishermen since we export sea cucumbers to the EU."
Along with others in the area, Ly Son fishermen recognize the importance of marine protected areas since the coastal areas are overfished. "It's a hard life and I have lost friends to the sea," claims 42 year-old Tran Phuc Linh, who has also been harassed by the Chinese since he often fishes near disputed historic fishing grounds in the Paracel Islands.
In fact, the fishing incidents continue in the Spratlys, where China's mega steel hulled vessels regularly intimidate Vietnam's colorful wooden trawlers. Just two months ago, a fishing trawler moored at Da Loiis land, in the Paracel archipelago was chased by a Chinese Maritime Surveillance vessel before it crashed upon the rocks and sunk without loss of life to crew.
According to analyst and consultant, Carlyle A. Thayer, "the Chinese government, as a matter of policy, employs it commercial fishing fleet as a third arm of its maritime forces after the regular navy and civilian maritime enforcement agencies, now grouped into a national Coast Guard."
Linh and his wife do not want their two teenage sons to make their living as fishermen. They know the perils at sea from the seasonal typhoons and the threats associated with patrol and interdiction of ships violating mutually agreed upon fishing restrictions.
Sent by their governments to find food for their people, fishers find themselves on the front lines of this new ecological battle. These fishing sentinels and their trawlers are fighting the maritime disputes between China and its neighbors.
This fishing competition for available fish has resulted in increased number of fishing vessel conflicts. These hostile sea encounters have been witnessed in Indonesia waters whereat least 23 fishing boast from Vietnam and Malaysia have been accused of poaching in that nation's waters.
As a result, Indonesia's fisheries minister, Susi Pudijastuti, ordered the dynamiting of these boats and over 170 fishing vessels have been sunk in their waters over the past several years. The increasing number of fishing incidents reflects not only deeply different interpretations and application of the law of the sea, but a fundamental conflict of interest between coastal states and maritime powers.
Even with these threatening clouds on the horizon, some fisheries are going about responsibly reigning in illegal fishing. In Da Nang, its 509 fishing trawlers (all longer than 15 metres) have installed with GPS. This includes the seven steel hulled vessels subsidized by the government's generous loan program.
The mandatory installation of the GPS offers more assurance in the identification of catch origins and it also helps that more fishermen are also completing and submitting the required fishing diary or logbook.
Meanwhile, the government insists that statistics on fishing vessels, fishing logs and fishing yields of each commercial trawler are now part of a Vietnam Fish Base, a nationwide fishery software database in accordance with the law.
Within the disputed territory, there are over 1.9 billion people, seventy-five percent of them living within one hundred kilometers of the coast. Nearly eighty-five percent of the world's fishers are concentrated in Asia, particularly in the South China Sea, according to the Food and Agriculture Organization of the United Nations.
Subsequently, fishing remains a politically sensitive and emotionally charged national security issue for all claimant nations. This ocean plundering presents the region with a looming food crisis. Any effort to balance the economic benefits with the security context within the South China Sea will require a coordinated, multi-level response from scientists, historically engaged in collaborative research and already addressing issues of sustained productivity and environmental security in the region.
It's a prevailing view that the collapse of fisheries is the major driver of competition for marine resources. This continues to result in a lack of respect among claimants for mutually agreed-upon fishery restrictions within 12 nautical miles of outposts and in the recognition of management area within 200 nautical miles of coastline. Last year 86 Vietnamese fishing boats were destroyed by Indonesia for illegally catching fish in its waters.
However, senior Vietnamese officials are confident that these violations are now being eliminated, if not sharply reduced.
" Because local governments and relevant agencies such as the Coastguard, and Border guard are conducting more surveillance and enacting stern measures in monitoring and investigating; fishing violations are reduced," claims Nguyen Manh Dong, Director General of the Department of Maritime Affairs, and National Boundary Commission.
He's quick to add that while the EU's requirements have been fulfilled including port control, some cases still happen, particularly with Indonesia.
To offer additional counter-balance, Vietnam's Fisheries Resources Surveillance Department has stated that it is working to raise awareness of maritime boundaries and international maritime laws among its fishermen, apart from conducting frequent patrols to prevent potential violations
The complicated nature of the Vietnam's East Sea or the South China Sea (SCS) disputes, makes short term resolution of fishing disputes difficult. More parties, believe that proper management of these disputes to insure stability becomes a priority.
"Vietnam will never tolerate or permit activities related to illegal, unreported and unregulated (IUU) fishing," adds Deputy Minister of Agriculture and Rural Development (MARD) Vu Van Tam.
For example, Binh Dinh province is adopting necessary measures to remove the "yellow card" status. All local fishing boats are required to obtain certificates of registration, inviting local authorities to review design documents, supervise the building, improvement and repairing of fishing vessels.
Among policy shapers, and marine scientists, there's a general consensus that the best approach for managing SCS disputes and addressing IUU issues is to set aside the sovereignty disputes and jointly develop and manage the natural resources, such as fisheries. While advancing fisheries cooperation in the SCS has been increasingly recognized as a political, ecological, socio-economic and security imperative, a crucial question remains unanswered. What objective can be achieved through fisheries cooperation in the SCS?
Marine biologists like Professor Nguyen Chu Hoi advocate the creation of ecosystem- based fishery zones covering reefs that are vital to regional fish stocks, especially in the Spratlys and Paracels. This action requires the adoption of an urgent cooperative marine management system, regardless of the location of their territorial and maritime claims.
While the growing demand for fish by global markets can fray even the strongest fisher's net, the challenge for Vietnam is the imperative for management of its declining fisheries in order to create long-term sustainability. The protection of the "commons" requires more than a pass fail report card from the EU.
Building cohesive societies: Southeast Asian states take on gargantuan challenge
Several Southeast Asian governments and social movements are seeking to counter mounting polarization and inter-communal strife across the globe fuelled by the rise of civilizationalist leaders who think in exclusionary rather than inclusionary terms.
In the most high-brow of various initiatives, King Abdullah of Jordan is scheduled to deliver a keynote address at the inaugural International Conference on Cohesive Societies organized by the S. Rajaratnam School of International Studies (RSIS) with support from the Singapore government.
Singapore president Halimah bint Yacob has mooted the conference as a high-level forum involving religious leaders akin to the annual Shangri-La Dialogue that for the past 17 years brings together annually senior Asian, European and US government officials in what is Asia's foremost security forum.
In what amounts to a timely strategic effort to tackle what may be one of the most fundamental threats to peace and security, the conference reflects a growing concern that global polarization and civilisationalism could fuel inter-communal tensions and militancy in Southeast Asian societies.
It crowns a separate Indonesian initiative that targets religious reform and Malaysian willingness to speak out on controversial or sensitive issues.
Southeast Asian concerns include fear that Rohingya lingering in refugee camps in Bangladesh with no prospects could radicalize, the possibility of extremists capitalizing on the fact that reconstruction of the devastated southern Philippine city of Marawi has stalled two years after it was overrun by jihadists, and the danger that suspected sleeper cells of groups like the Islamic State will seek to disrupt the region's social fabric.
"The social fabric of many communities is stressed by extremism, exclusivism and polarisation. It is important for us to grow trust across communities. This will always be a work in progress, so it is an effort we must constantly invest in," Ms. Yacob said on the eve of the Singapore conference.
King Abdullah, in a separate statement, warned that "attacking and excluding others, insulting other peoples and their faiths and convictions – this is no way forward. The future lies in unity and respect, not division and stereotypes."
Ms. Yacob and King Abdullah's warnings were designed to be an anti-dote to rising prejudice and racism fuelled by the rise of supremacism of various stripes and Islamophobia as well as increased anti-Semitism that often is encouraged by world leaders for ideological or opportunistic reasons.
For Ms. Yacob and King Abdullah, the concern is not a far-from-my-bed show.
Human rights activists were taken aback when Myanmar leader, Nobel peace prize winner and one time human rights advocate Aung San Suu Kyi agreed earlier this month during a visit to Hungary with far-right, staunchly anti-immigrant prime minister Viktor Orban that both Southeast Asia and Europe were struggling with the "emergence of the issue of coexistence with continuously growing Muslim populations."
Southeast Asia and its Association of Southeast Asian Nations (ASEAN) are home to the world's most populous and foremost Muslim democracy, Indonesia, as well as Malaysia that has been among the most outspoken in criticizing Myanmar's repression of the Rohingya and one of the few Islamic countries to speak out about China's crackdown on Turkic Muslims in the troubled north-western province of Xinjiang.
To King Abdullah, Ms. Yacob's backyard must look like something approaching paradise. Conflict characterizes all of his kingdom's borders.
Moreover, the Middle East, beyond Jordan's immediate borders, is wracked by civil wars, national conflicts and regional rivalries that all involve aspects of prejudice, right-wing nationalism, militancy and sectarianism.
Add to that, the world is holding its breath as the United States, Saudi Arabia and Iran square off in the Gulf in a dangerous dance that threatens to spiral out of control.
Less highbrow but no less ambitious, Nahdlatul Ulama, the world's largest Sunni Muslim movement, has launched a campaign with Indonesian government backing to "reinterpret and recontextualize" Islam.
The campaign amounts to more than simply confronting ultra-conservatism and militancy. It is a pushback against the notion that secularism and pluralism are expressions of a Western conspiracy to undermine Islam.
If successful, Nahdlatul Ulama's strategy could have far-reaching consequences. For many Middle Eastern autocrats, adopting a more tolerant, pluralistic interpretation of Islam would mean allowing far greater social and political freedoms and embracing concepts of pluralism. That would likely lead to a weakening of autocrats' grip on power.
Similarly, political scientist and Islam scholar Ahmet T. Kuru throws down a gauntlet in a forthcoming book by arguing that the notion of Islam rejecting a separation of religion and state is based on "a fabricated hadith" or saying of the Prophet Mohammed that has since been perpetuated.
Singapore's conference like Nahdlatul Ulama's initiative constitute accepting a gargantuan but critical challenge posed by civilizationalist leaders who reflect deeply rooted currents in societies irrespective of their political systems and/or notions and myths that have been nurtured over centuries.
Inclusiveness is the magic wand touted by all seeking to halt a slide toward societies characterized by fragmentation, political polarization and inter-communal discord. Yet, the enormity of the challenge lies in addressing deep-seated grievances and challenging taboos.
Discussing the rise of populism in the West, politics scholar Matthew Goodwin identifies what he terms the four Ds that drive democracy's turmoil: distrust of political institutions that have become less representative; the destructive impact of fear of loss of national identity, culture and way of life; ethno-national deprivation fuelled by liberal elites' focus on migrant and minority rights; and the dealignment of significant segments of the electorate with the traditional parties they long supported.
Mr. Goodwin's four Ds are likely to challenge cohesiveness even if, as Financial Times columnist Simon Kuper notes, their foremost political beneficiaries are being sucked into the swamp they vowed to drain.
US president Donald J. Trump, Brexit party leader Nigel Farage, Israeli prime minister Benyamin Netanyahu, former Austrian vice-chancellor Heinz-Christian Strache, and billionaire Czech prime minister Andrej Babis are all fighting off allegations of wrongdoing.
The allegations and their legal entanglements mean that they risk losing the high ground on issues of corruption, alongside immigration and security, a key pillar of their recent success.
Putting forward an optimistic argument, Mr. Kuper notes that concerns about migration and security no longer top Europeans' agenda with younger voters mobilising around climate change.
Polls, however, suggest that the popularity of leaders accused of illegitimately benefitting from wrongdoing or questionable practices and their political parties have lost little of their allure despite climate change increasingly becoming a major concern.
Populists' current Teflon effect means that building cohesive societies will have to involve finding a middle ground between majoritarian concerns and concepts of diversity, multiculturalism and minority rights.
It amounts to manoeuvring minefields and treading on uncharted territory irrespective of culture and political system.
In the absence of the perfect blueprint, countries like Singapore, New Zealand and Norway have in their own ways taken a lead in attempting to make inclusion a pillar of policy.
While inter-communal harmony has long been a driver of Singapore's social and economic policies, New Zealand and Norway responded to traumatic acts of political violence by bucking the trend towards polarization, profiling and concepts of us and them by saying not me instead of me too.
The proof is in the pudding.
New Zealand prime minister Jacinda Ardern, who became an icon of compassion and inclusivity with her response to the killing of 50 people in March in two Christchurch mosques, recalled a Muslim woman reacting to the government's response by telling her that, despite having been a target, she had "never felt more at home (in New Zealand) than she had in the last 10 days" since the attacks.
Singapore's creation of a global forum in which opposing views and grievances are aired constitutes a vital contribution towards creating the environment for the building of more cohesive societies. It is a vital cog in a mesh of attempts to achieve legal reform and call out abuse and violations of human rights.
Taken together, they hold out the promise of a concerted effort to counter debilitating prejudice and bias even if a truly cohesive, harmonious society may prove to be a utopia.
Thailand's Inequality: Unpacking the Myths and Reality of Isan
For decades, the ethnically and linguistically diverse people of Isan, Thailand, have been the subject of pervasive bias, often described as docile and uneducated, or as "unsophisticated peasants" who can be bought and manipulated by ambitious politicians. Bordered by Laos and the Mekong River to the north and east, and by Cambodia to the southeast, these 20 provinces in Thailand's northeast have long been the country's poorest and least fertile region. But Isan is also Thailand's most populous region, with 22 million inhabitants, 33% of the country's total population. It is a population that matters deeply to the country's future prosperity.
A major new study from The Asia Foundation, Thailand's Inequality: Myths and Reality of Isan, sets aside these prejudices to instead offer a comprehensive understanding of a region deeply in need of development. The study, conducted from late 2017 to April 2019, explores the perceptions of the people of Isan themselves—how they see their lives today and their prospects for the future, the challenges and opportunities before them, what matters to them, and what they expect from the government. Based on a randomized survey of 1,400 households, and 160 semi-structured interviews and focus groups, Thailand's Inequality explores public attitudes on fundamental topics such as economic status, optimism about the future, health, education, migration, and public policy.
There is good news to report. Data from the National Statistics Office shows that the number of people living below the poverty line has declined substantially, from nearly 5.7 million people in 2007 to 2.4 million people in 2016, a significant improvement for a majority of the population. Yet, people in Isan are still concerned about the overall direction of the country. When asked whether Thailand is going in the right or the wrong direction, 55% of respondents in this heavily agricultural region said the country is going in the wrong direction, citing a bad economy (74%) and poor crop prices (50%).
Looking at incomes in the region, 44% of respondents reported that their incomes have been stagnant, and 36% said that their incomes have decreased. Meanwhile, both farm and nonfarm costs are rising. Some 38% percent of all respondents said that investment costs have increased in the past year. Eighty-eight percent of all respondents said they are in debt, and 45% of all respondents said their debt is due to loans for investment in either a farm or a nonfarm business.
In the agriculture sector, rents for agricultural land, the cost of labor, and prices for pesticides and other inputs have all increased. One-third of the region's population, 7.8 million people, are farmers, and the majority produce cash crops such as rubber, sugarcane, and cassava that are sensitive to volatile international markets. With stagnant incomes, fluctuating crop prices, and the growing cost of investment, Isan farmers are struggling to maintain their quality of life.
Although personal indebtedness has increased nationally in Thailand, debt levels in Isan are particularly troubling. The population of Isan has an average debt of about nine months of earnings, or 75% of annual income. In 1996, the average household debt was 36,204 baht. Today that indebtedness stands at 160,000 baht.
Overall, low productivity, fluctuating crop prices, stagnant incomes, and rising debt make it harder to live well in Isan. Yet, a striking aspect of Thailand's Inequality is the portrait it paints of resilience and perseverance. Some 57% of respondents think their livelihoods will improve in the future, while just 10% think their livelihoods will get worse.
Stories of resilience come through clearly in the qualitative component of the research. For example, organic farmers in the village of Na Wang Yai, a hundred kilometers from the city of Khon Kaen, were eager to describe their efforts to rise above the level of subsistence farming. They explained why organic rice is a better crop that earns them a better price, they lamented the growing cost of investments, and they talked about new kinds of financing that financial institutions have introduced.
Interviewed shortly before the latest elections, these farmers were articulate about what they wanted from the government: better public policy. They had met all their politicians, and they were used to hearing promises that would never be kept. They didn't want 500-baht handouts to secure their votes, they said; what they wanted from the incoming government was "water" and "technology."
Currently, many villages have limited access to water and a small collection of agricultural equipment that everyone must share. "More of these would be better," said one farmer, "even if the government would pay just half."
These farmers represent the changing face of Isan, where agriculture is evolving, and aspirations are emerging for new tools and knowledge. They were outspoken and sophisticated, far from the demeaning stereotypes. Despite the widespread lack of formal education among farmers and informal workers in Isan, respondents were well-versed in the spectrum of government services. When asked about their satisfaction with the performance of 20 government programs, they spoke clearly about what these programs had been doing for them and their hopes and expectations of much more.
A fascinating aspect of this underdeveloped region was the strong bond Isan farmers, workers, and students feel toward their hometowns. "Isan is home," was a common refrain in the semi-structured interviews and focus groups. "We want to work closer to home." "We want to study closer to home."
The strong attachment of Isan people to their hometowns can be seen in the decline of worker emigration from the region. While studies through the 1990s found rates of labor migration that ranged from 38% to 68% of the population, just 25% of respondents in this study have lived elsewhere for more than a year.
The Isan region is Thailand's poorest, and life there is tough, but this research found that Isan farmers and workers are determined. They understand the government's safety-net programs and make the best of them. These programs play a vital role in alleviating their hardship, and what the government does significantly affects their quality of life. There is also plenty of room for these programs to improve.
Thailand's Inequality highlights the voices, perceptions, and aspirations of the people of Isan. An honest, straightforward, and bipartisan conversation is now needed to turn this evidence into meaningful development projects and programs that will help empower residents to lift their region out of poverty and toward sustainable growth and equitable development.
Thailand's Inequality: Myths and Reality of Isan was funded by the government of the United Kingdom and The Asia Foundation.
Author's note: first published with InAsia
Malaysia: Yet another crisis looming?
Love him or hate him, Mahathir Mohamed during his first stint as prime minister was able to instill a great sense of national pride and unity.
Mahathir went on a massive infrastructure drive. Most Malaysians were proud of the Penang Bridge that finally linked the island with the mainland. The North-South Highway project changed the nature of commuting up and down the peninsula. Kuala Lumpur International Airport (KLIA) was built and the development of Putra Jaya gave the country a new seat of administration.
Mahathir's fait accompli was the building of the KLCC towers in central Kuala Lumpur, which were the tallest in the world at the time. These buildings are now the country's major icon. Langkawi became a must holiday place for Malaysians. He brought elite Formula One motor racing and built a special purpose circuit for the event. He promoted the Tour de Langkawi as a local version of the Tour de France. He spared no expense on building massive new sporting complexes at Bukit Jalil to host the Commonwealth Games in 1998.
When the member nations of ASEAN abandoned the idea to build a regional car, Mahathir went alone, picking up old technology from Mitsubishi, creating the Proton Saga for better or worse although the national car project has been roundly criticized for losing hundreds of millions of dollars and costing more in terms of consumer lost opportunity.
Nonetheless, Malaysia became an Asian Tiger and Mahathir himself became an outspoken leader internationally. The country was proud of what it had achieved. He knew the value of national symbols. The slogan Malaysia Boleh (Malaysia Can) was often heard along with the waving of the Jalur Gemilang (stripes of glory – Malaysian Flag) at public displays of national pride and unity.
The Barisan Nasional was a working government coalition that symbolized national unity through the make-up of the cabinet and its true multi-ethnic flavor. Ministers like Samy Vellu from the Malaysian India Congress and Ling Liong Sik from the Malaysian Chinese Association had high public profiles.
Although Mahathir was labeled as an ultra-conservative Malay, he worked with anyone who could help him fulfil his vision. Businessmen like Vincent Tan, Robert Kuok, Lim Goh Tong, Ananda Krishnan, and Tony Fernandez all had very close relationships with Mahathir. Malaysia Inc. was more important to Mahathir than Malay supremacy.
That's now 30 years ago. The prime casualty has been national pride and unity. The generally positive perception of the Mahathir era drastically changed when he abruptly sacked his deputy Anwar Ibrahim from office in 1998. The accusations and conviction of Anwar for sodomy polarized the population. The goodwill that Mahathir had built up over more than 25 years in public life was put into question.
Although it was his intention to eliminate his nemesis Anwar from politics, he made sodomy a household word in a conservative society, taking luster away from his legacy. He was painted by the Anwar propaganda machine and the alternative media as a tyrant with millions of dollars hidden away in foreign banks. In addition, two years of headlines and court reports about Anwar's sodomy trial took away a sense of innocence, showing Malaysia's 'dark side' with TV pictures showing a stained mattress being carted into and out of court every day on which Anwar was convicted of performing sodomy.
Under weak successors, belief in government further faltered. Respect for national leaders took another hit with Mahathir's successor Ahmad Badawi painted as someone who slept on the job and enjoyed a luxurious lifestyle while many suffered economically. Badawi was painted by the PKR propaganda machine as corrupt. The dealings of his son-in-law and political adviser Khairy Jamaluddin were portrayed as corrupt nepotism.
Mahathir engineered an ungraceful exit for Badawi, replacing him with Najib Razak in 2009. The Najib premiership was tainted from the outset with rumors of murder and corruption. Najib's wife Rosmah also became an object of ridicule, bringing respect for the institution of government to an all-time low.
However, it's not just the corruption of politicians that destroyed respect for Malaysian institutions. The rakyat (people) have always wanted to believe in royalty. Even with stories about royal misdoings, there is no real talk of abolishing the monarchy. Whenever a member of one of the royal families acts in the interests of the rakyat, there has always been public praise and support. However, when members of a royal family act against the interests of the rakyat, the social media react.
Stories have been circulating for years about the misdeeds of Johor Royal Family. The current spat between Tunku Ismail, the Johor Crown Prince, commonly known as TMJ and Mahathir is extremely damaging for the royal institutions. Only the sedition act, a de facto lese-majeste law, is protecting the institution from much wider criticism.
Royal decorations and titles, VVIP service in government offices and special treatment for some citizens over others, shows a muddled Malaysia still clinging to the vestiges of feudalism. These artifacts are doing nothing to unite the country, a hangover from the old days of colonial class distinction.
However, the most powerful source of destruction for national pride and unity is the ketuanan Melayu (Malay Superiority) narrative which has become much more extreme. One of the basic assumptions is that bumiputeras — indigenous peoples – are the rightful owners of the land. From the point of view of the ketuanan proponents, land is not seen as a national symbol and non-Malays are excluded. This is a great barrier to developing any sense of national pride and unity.
The gulf between Malay and non-Malay has widened dramatically over the last two generations as Islam has grown into a major aspect of Malay identity. Citizens once celebrated their diverse ethnicities in harmony. Decrees made in the name of Islam now discourage this. No longer are Hari Raya, Chinese New Year, Deepavali and Christmas shared Malaysian experiences.
The way of life has become Islamized to the point where there is little place for other religions and traditions. Food, dress codes, entertainment, education, the civil service, government, police and the military are all Islamized.
Shared apprehensions about what Malaysia will be have caused the Chinese to close ranks. The influence of Ketuanan Melayu in government policy excludes non-Malay participation in many fields like education, civil service and the military, etc. The younger generation of Chinese today tend to see themselves as Chinese first and Malaysians second. Chinese schools promote language and a strong sense of Chinese culture over a Malaysian identity as a mass defence mechanism.
The New Economic Policy, put in place in 1969 after disastrous race riots as an affirmative action program for the majority Malays, has also done a disservice to those it was designed to help. The thesis of Mahathir's book The Malay Dilemma was that Malays were basically lazy and needed help from the government is the faulty grounding assumption. The NEP is actually an attack on Malay self-esteem.
Rather than offering something spiritual, Islam has become a doctrine of conformity, where particular rights and rituals must legally be adhered to. Failure to do so in the case of not fasting during Ramadan can lead to punitive legal action. Any views outside narrow social norms lead to heavy criticism. Just recently the Islamic authorities (JAKIM) in Selangor started investigating a discussion forum on women's choice about wearing the hijab. Not just freedom of discussion is stifled, but also the right to be creative.
Islam has buried the principles of Rukun Negara (national principles), the supposed guiding philosophy of the nation. Rukun Negara was once a symbol of national pride and unity but has almost totally been replaced by a Doa (or prayer) before public events. A sense of nation has been sacrificed for the Islamization of public gatherings. As dr. Djawed Sangdel excellently explained in his 5Es general developmental theory for XXI century, "social consensus makes or breaks nation".
Today we see much less flag-waving during the Merdeka season. There are more divisional narratives on all ethnic sides. There is disappointment with the political system. Islam is seen by many as something overpowering rather than emancipating. People feel they need to conform to be accepted in society.
National pride and unity are at their lowest ebb since independence, where after 30 years of education the younger generations of Malays see Islam as more important than nationalism. Chinese and Indians are apprehensive about what Malaysia is turning into. Even the Orang Asli – the original inhabitants of the peninsula before the arrival of ethnic Malays from Indonesia — and non-Muslim indigenous people of Sabah and Sarawak identify as second-class.
Malaysia has travelled far away from the aspirations of Tunku Abdul Rahman when the JalurGemilang was raised for the first time over a free Malaya in 1957. Malaysia's economic prosperity is relatively declining in the region and the nation is increasingly strangled by the need to conform. Malaysia appears to be a ship without a rudder, its reform agenda locked away under the Official Secrets Act.
The possibility of racial violence festering once again cannot be overlooked. Divisive narratives are being pushed until one day an unknown tipping point could be reached. The strong sense of social conformity, the exclusion of a national sense of ownership to all, the current totalitarian nature of authority and ketuanan Melayu narratives are a very dangerous mix.