How Will Uzbekistan Become A Regional Transit Hub?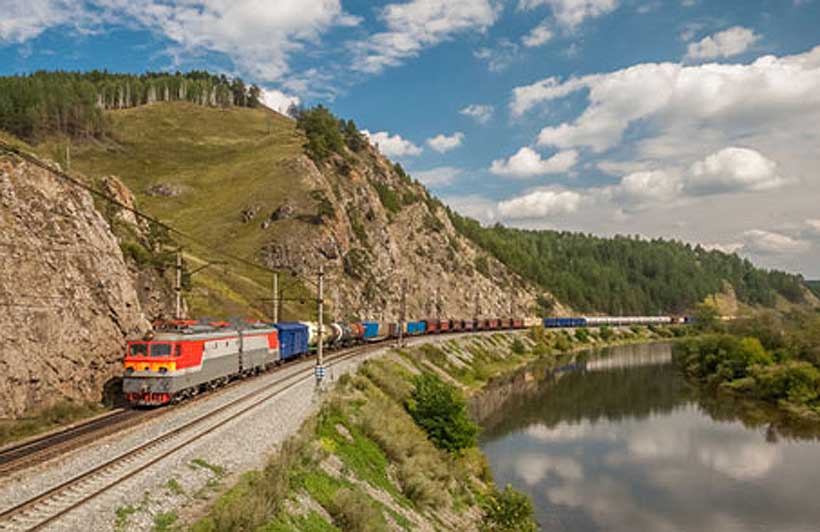 On 5th April of 2019, a meeting of the railway authorities of Kazakhstan, China, Iran, Turkmenistan, and Uzbekistan took place in Almaty dedicated to advancing cargo traffic along the North-South Transit Corridor. In fact, the participation of Uzbekistan in the project will shorten the route of goods from China to Iran and forward. Being a part of the ambitious North-South Transit Corridor — a 7,200 km long multi-mode network of ship, rail, and road routes for moving freight between India and Europe —the China-Kazakhstan-Turkmenistan-Uzbekistan-Iran railway can shape the geopolitics of Central Asia.
The decision had been made at the time when Uzbekistan, under the leadership of Shavkat Mirziyoyev, embraced a new path for the country's further development. Faced with a collapsing economy, international isolation, and a growing number of unemployed youth following years of Karimov's misrule, the country had little choice but to open up. Unlike his predecessor, President Mirziyoyev adopted a clear strategy document (namely, Uzbek Development Strategy 2017-2021) with the aim of further liberalization of the economy and the development of local infrastructure and cargo routes.
It is safe to note that Uzbekistan now seeks new opportunities to be a key player in the region by promoting various transit projects. Railway diplomacy, in particular, is central to this strategy. Undoubtedly, Central Asian countries including Uzbekistan require large-scale investments in nearly all sectors, but developing regional and transnational connectivity is a sound economic opportunity to stimulate further growth and diversification. Hence, for Central Asian states these infrastructure projects are not merely grand investments but are also tickets to join a global trade and geographic reorientation toward market economies in Western Europe and South and East Asia.
Uzbekistan joined the new railway project as an attempt to regulate the flow of containers through its territory to Iran via Bolashak station. According to reports, the volume of traffic along the China-Kazakhstan-Turkmenistan-Iran corridor last year amounted to 1 thousand TEU (container in 20-foot equivalent). It is expected that the number will grow as all involved parties have agreed on integrated tariff rates for goods transportation. The total length of the China-Kazakhstan-Turkmenistan-Iran route is about 10,000 kilometers, and the total travel time is about two weeks, which is twice as fast than by sea, which takes 25-30 days.
It is not the only regional transit project that Uzbekistan joined recently. In the last three years, Uzbekistan's new government has shown eagerness to boost cooperation with countries like India, Pakistan, and Afghanistan aiming to become a Central Asian gateway. It is worthy to note that from 2017, Uzbekistan is set to become the biggest trading partner of Pakistan from Central Asia since the bilateral trade between the two countries has improved from $36 million to over $90 million in 2018.
Moreover, in November of 2018, Foreign Minister Abdulaziz Kamilov visited Pakistan and was received by Pakistan's Prime Minister Imran Khan. Several important issues were put on the table, including the proposal of constructing a railroad connection between the two countries that would pass through Afghanistan. Considering the substantial hydrocarbon reserves of Uzbekistan in oil and natural gas, Pakistan could have particular benefits from this cooperation.
The proposed railway connection is supposed to link Pakistan, Afghanistan, Uzbekistan and possibly India. Uzbekistan's government pledged $500 million from its own funds for this critical railway line, which, if realized, will become the shortest transit route to the Iranian port of Chabahar. However, the Indian government did not immediately agree to this proposition.
For Uzbekistan, the proposed trans-Afghan railway project is critical in terms of strengthening its position as a crucial transit point of Afghan goods to other Commonwealth of Independent States' (CIS) and Chinese markets. Until now Uzbekistan has established a transit hub in its Termez city, which borders with Afghanistan. The hub includes a railway line, station, and trade center for Afghan goods. Nevertheless, Uzbekistan seemingly intends to develop the railway connection by linking it with Mazar-i-Sharif and Herat cities, which will open a direct link to the Iranian Chabahar and Bandar Abbas ports.
Additionally, Uzbekistan is keen to encourage India – a global economic giant, to take an active part in its regional initiatives. Uzbekistan's territory opens new horizons for India as the railway will allow India a more straightforward route to the markets of Afghanistan, Central Asia, and the wider Eurasian region. Currently, in large part due to the lack of direct transport routes, trade turnover between India and the Central Asian states remains far from its potential, and does not exceed 1.1 percent. Moreover, Uzbekistan eyes to gain access to the Indian Ocean's sea trade routes through the implementation of the trans-Afghan railway.
All regional transit projects such as the aforementioned railway plans create the necessary conditions for the further development of intercontinental transport corridors. Notably, this line of development underscores Uzbekistan's target to attract Chinese investments and possibly to enter into Chinese markets by its development of localand regional infrastructure and railway connections. For instance, the construction of the aforesaid Mazar-i Sharif-Herat route will allow goods to get from Afghanistan to China in merely three days via Andijan city in Uzbekistan. Thus, giving Uzbekistan's potential as a transit country, economic benefits area matter of time.
The recently initiated railway diplomacy strategy is a part of Uzbekistan's efforts to implement long-harbored projects to diversify the economy and boost external linkages. Notwithstanding the fact, the government still faces not only geopolitical but also financial challenges that need to be resolved. Though, the new government seems to lack of practical solutions for now. This includes the ongoing economic deficit and regional security problems, in particular in Uzbek – Afghan border. Yet, railway diplomacy is poised to help Uzbekistan rekindle its relations with major foreign economic partners and will also enable it to expand its influence across the region. In order to achieve this goal, the country needs to build constructive dialogue with neighboring countries just to prevent the future possible economic or political unrest. Indeed, it is an important step for the region's long-term development plan.
Kazakh President Tokaev introduces reforms
Authors: Srimal Fernando and Kirtan Bhana*
Political transformation will make Kazakhstan a success story. Political reforms will ignite progress in economic reforms this, according to President Tokaev as he met with the National Council of Public Trust in Nur-Sultan (formerly Astana), the Kazakh capital on December 20.
The Council, created by President Tokaev . in July is entrusted with facilitating the reforms through interactions and discussions with the general public, political parties, civil society and business. Composed of 44 public figures the Council is representative of the broader Kazakh demographic.
'Different Opinions, One Nation' said the President as he introduced new measures that guarantee the fundamental rights and freedoms to all its citizens. These measures will deepen the public discourse allowing for debate and open engagement on issues that affect all Kazakhs.
The emotive issue of land and its effective use was top on the list of challenges to be tackled by the Tokaev Presidency. Apart from the unbreakable link to ancestry and heritage the economic value of the land is priceless. Kazakhstan is listed as the 9th largest country in the world with a relatively small population of around 19 million people. On this issue, my position is adamant: only those who are able to cultivate the land deserve to be its owner stated Tokaev. The Ministry of Agriculture is implementing a pilot project to monitor unused land through remote earth sensing, and to increase the base tax rate for those who own but do not use their land from 10 to 20 times.
Growing the private sector and reducing the economic involvement of state businesses in competitive markets and adjusting the quota of foreign labour by 40% were also proposed.
On Foreign debt President Tokaev instructed The Ministries of the National Economy, Finance and the National Bank to develop a Unified Register of External Debt in the form of a digitised database by April 2020.
Stabilising the Tenge (the currency in Kazakhstan) to increase public and investor confidence, a new monetary policy strategy will be adopted. The National Bank will, from 1 January, announce the exchange rate of the National Fund's currency market on a monthly basis.
Modernizing the pension system, jobs for disabled people, state allowances and social packages for low-income households will be increased by over 70%. In addition school going children from these families will receive free school meals, uniforms and kits, as well as free transportation to and from school. These were among other social services measures presented to the council.
Political reforms were central to the President's remarks. A draft law on political rallies will outline the correct registration procedures of political rallies and will determine the status of the organiser(s), participants, observers and their respective rights and obligations. A minimum membership threshold needed to register a political party will be reduced from 40,000 to 20,000 members. Women and Youth candidates must make up 30% of party election lists. A law will be passed to allow representatives from other parties to hold Chair positions on some Parliamentary committees, in order to foster alternative views and opinions.
The Ministry of Foreign Affairs is tasked to begin the process of acceding to the Second Optional Protocol to the International Covenant on Civil and Political Rights, which deals with abolishing the death penalty. Article 130 of the Criminal Code on defamation will be decriminalised and transferred to the Administrative Code.
Key Domestic reforms include the transition of the Kazakh language from a Cyrillic to a Latin alphabet will necessitate a modernising of the language system and require a scientific approach.
"Much depends on simple values that are cherished by our people, in the family, in everyday life. Frankly speaking, today people are tired of the world full of aggression and conflict. Therefore, we must spread good intentions and good actions. We should be kind, benevolent and principled – this is the driving force of sustainable development and spiritual revival," said President Tokaev as he concluded his speech.
*Kirtan Bhana in the Founding Editor and Travel Envoy for the Diplomatic Society of South Africa.
Kazakhstan: Celebrating 28 Years of Independence
Authors: Srimal Fernando and Kirtan Bhana
In Kazakhstan, like in many other nations around the globe, Independence Day is commemorated by conferring awards, national orders and medals on those that have made exemplary contributions to statehood. On December 16, 1991 the Constitutional Independence Law of the Republic of Kazakhstan was passed making Kazakhstan the last of the Soviets to leave the Union and declare sovereignty.
Many other milestones followed this historic date for the Kazakh people, including membership of the United Nations (UN), the International Monetary Fund (IMF) in 1992 and the International Atomic Energy Agency (IAEA) in 1994. This year also marks the tenth anniversary of the closing of the world's second largest Nuclear Test Site at Semipalatinsk by the historic decree of Nursultan Nazarbayev, First President of Kazakhstan, which paved the way for the adoption in 1996 of the Comprehensive Test Ban Treaty – CTBT. The country was declared a nuclear weapon free country.
Located strategically in the heart of Central Asia, Kazakhstan shares a 6800km border with Russia and a1700km border with China. Kyrgyzstan, Uzbekistan, and Turkmenistan are the other three regional neighbours. Kazakhstan is considered a landlocked country but adjoins a large part of the Caspian Sea in the west.
The Kazakh people elected a Presidential system of government with two chambers of parliament. There are 14 political parties; Nur-Otan is the current ruling party. The lower house is the Mazhilis, with 107 seats and the upper house is the Senate which has 47 members. Women representation in national and local government is steadily increasing.
Having diplomatic relations with over 120 countries, Kazakhstan has a clear multi-vector international relations policy and has achieved much on the global stage in almost three decades of independence. Being elected as a non-permanent member of the United Nations Security Council (UNSC), Kazakhstan was further crowned by being elected as president of the UNSC for 2018. Its stance on non-proliferation of nuclear weapons is well known and so is its support for the transformation of the UNSC. Kazakhstan also presented a proposal for ending terrorism in the world by 2025 during its presidency.
Kazakhstan has become a fully integrated member of the international community joining many multilateral organizations, and bilateral treaties and agreements. Turkey was the first country to present letter of credence for the Extraordinary and Plenipotentiary Ambassador to Kazakhstan.
The radical transformation of the economic to a free market has seen large foreign direct invest flows into the country, growing the economy to become the most significant in the Central Asian region. New president KassymJomart Tokayev has introduced a raft of new measures that are directly aimed at stimulating enterprise, entrepreneurship and small business development. Other reforms introduced are motivation for Kazakhstan to become one of the top 30 economic nations.
Islam was introduced to Kazakhstan in the 7th century. Its ancient history is steeped in nomadic life of hunters and animal rearing. The philosophy of Al-Farabi and the poetry of Abai is legendary and filled with folklore. The dombra, a string instrument, is at the very essence of Kazakh culture and resonates with the music of love and heartache.
Modern and contemporary art forms, classical music and ballet have also found place in Kazakh society as the younger generations narrate poetry in restaurants. This together with the Kazakh's nomadic heritage, Islamic traditions and modern art and culture has become an attraction for tourists looking for new and dynamic destinations to experience and explore. Its breath-taking landscapes and abundant natural beauty and the snow-capped mountains offers much to the intrepid traveller as it emerges as a unified nation with much potential, opportunities and prospects.
Poverty Continues to Decline, but Pace of Poverty Reduction is Slowing in Central Asia
Although poverty rates in Central Asia continue to decline overall, the pace of poverty reduction is slowing, according to new data released by the World Bank. High levels of poverty remain in pockets of rural and remote areas, which also suffer from lack of employment opportunities, say new Poverty Outlooks for Central Asian countries, released ahead of International Day for the Eradication of Poverty on 17 October.
"The good news is that Central Asia continues to make progress towards eliminating poverty," says Lilia Burunciuc, World Bank Country Director for Central Asia "However, poverty reduction is happening much less quickly than before. Rekindling inclusive growth should therefore be among the region's most urgent priorities."
Since the 2000s, all Central Asian countries have made significant progress in reducing poverty, but most of this progress occurred in the first few years of that decade. In the eight years from 2002 to 2009, the poverty rate dropped an average of seven percentage points per year in both Tajikistan and the Kyrgyz Republic – down from nearly 70 percent to 25 percent in Tajikistan and to 20 percent in the Kyrgyz Republic. Since then, however, poverty rates have fallen much more slowly: by only one percentage point per year on average in Tajikistan (from 25 percent to a projected 13 percent in 2019), and by nearly zero in the Kyrgyz Republic, stalling at about 20 percent from 2009 through to today.
Poverty in Kazakhstan was already lower in the early 2000s and declined at a rate of four percentage points per year from 2002 to 2009, at which point the country had almost eliminated poverty, as measured by the low-middle-income indicator of $3.20 per day. However, when measured by the upper-middle-income indicator of $5.50 per day, the poverty rate in Kazakhstan reached its lowest point in 2013, at about 6 percent, and since then has remained stuck above 7 percent.
The slowing rate of poverty reduction in Central Asian countries reflects several economic challenges, as well as difficulties securing jobs with decent incomes for vulnerable groups of the population.
Youth and women in the region are most likely to struggle with unemployment or low incomes. In Uzbekistan, World Bank data shows that over 25 percent of women aged 15-24 were unemployed in 2018, compared to 13 percent of men in the same age group. In the Kyrgyz Republic, 15 percent of women aged 15-28 were unemployed at that time, compared to only 9 percent of men in the same age group.
Recently published poverty maps for Central Asian countries reveal that many of the remaining poverty hotspots in the region are in rural areas that lack close integration with urban growth centers. This is especially pertinent for parts of Tajikistan and the Kyrgyz Republic, where poverty rates are above 40 percent in the most remote districts.
The analysis also finds that the middle-class in Central Asia is almost entirely concentrated in and around a handful of big cities: Nur-Sultan, Almaty, Tashkent, and to a lesser extent, in Dushanbe and Bishkek. One of the main challenges faced by all countries in the region is ensuring that people are not excluded from these dynamic labor markets.
The World Bank recommends policies that provide greater employment opportunities for people, expanding the availability of affordable housing in growing and prosperous cities, encouraging faster wage growth, and supporting vulnerable groups so they can be more competitive in the labor market.