World Bank: Cambodia's economy achieves robust growth in 2018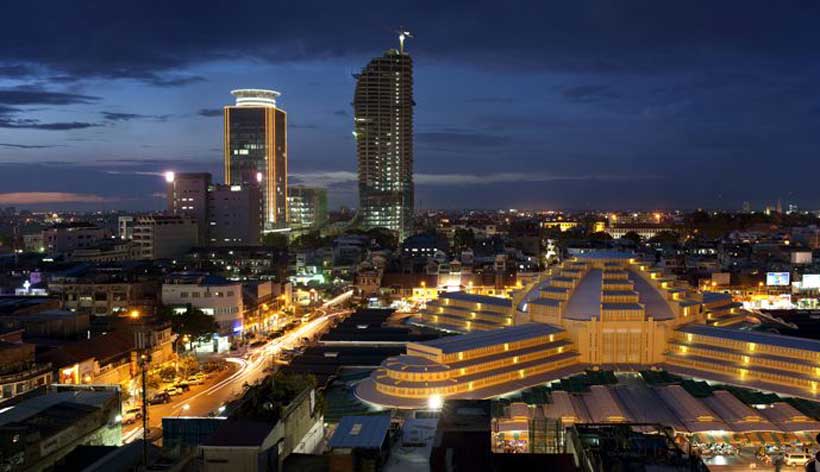 The Cambodian economy grew 7.5 percent in 2018, according to the World Bank's Cambodia Economic Update, released today. This better-than-expected growth was driven largely by the rapid expansion of exports and ongoing construction boom.
Exports of garments, footwear and travel goods — which account for more than two-thirds of total merchandise exports—recorded a five-year high, rising by 17.6 percent in 2018, up from 8.3 percent in 2017. The construction, real estate, and tourism sectors accounted for about 60 percent of total approved investment in 2018. To support the construction boom, manufacturing of building materials, furniture metals, and plastic products also increased rapidly.
Heightened uncertainty has, however, intensified risks. The EU (including UK) market currently accounts for more than one-third of Cambodia's exports, particularly garments, footwear and bicycles. The potential end of the country's duty-free access to the European Market for exports — or the "Everything But Arms" arrangement — will likely result in slower exports. In addition, the construction and real estate sectors are typically more prone to boom and bust cycles and rising domestic credit financing in the construction sector increases the vulnerability of the financial sector.
"Improving investment climate and reducing the cost of doing business along with building skills for future economy are key priorities to sustain strong growth in the medium term. Growing evidence highlights that investment in people are essential to drive economic progress and sustainable development. Investing in people and improving the quality of Cambodia's human capital should remain at the core of Cambodia's aspirations to reach an upper middle-income economy by 2030," said Inguna Dobraja, World Bank Country Manager for Cambodia.
The report also calls for filling skills gaps and investing in human capital to underpin Cambodia's long-term growth. Increasing the magnitude and efficiency of these investments from individuals and both the public and private sectors can help ensure that Cambodian children get off to a healthy start, giving them the foundation they need to maximize their education and develop their skills over the course of their lifetime.
Lao Economy Set to Recover if Threats Can Be Contained
While economic growth in the Lao PDR contracted in 2020 for the first time in over two decades, the economy is set to recover in 2021 and in the medium term, provided the impact of the COVID-19 pandemic is contained and business can resume with trading partners, according to a World Bank report released today.
The latest Lao PDR Economic Monitor — Supporting Economic Recovery — finds that the COVID-19 pandemic has had significant adverse effects on growth across the country, plunging the economy into its first recession since the Asian financial crisis of the late 1990s. The report estimates that the economy will shrink by 0.6 percent in 2020, with tourism services, wholesale and retail trade, and manufacturing most seriously affected.
Declining economic activity has reduced the government's ability to collect revenues, which in turn has led to a worsening fiscal situation. The kip has lost value against foreign currencies and this depreciation, along with rising food prices, has caused higher headline inflation.
"While the Lao PDR has so far done very well to contain the spread of COVID-19, the economic effects of the outbreak have affected the livelihoods of millions of Lao people, and pose a serious risk to sustained poverty reduction", said Nicola Pontara, World Bank Country Manager. "However, if the pandemic remains under control domestically and business can resume with trading partners, we can expect some recovery in 2021".
According to the report, GDP growth is expected to rebound to 4.9 percent in 2021. Medium-term growth would also gradually recover as a result of infrastructure investment and a further pick up in services, exports, and private consumption. More COVID-19 outbreaks, however, would pose challenges for the recovery, due to the knock-on effects of potential lockdowns or restrictions on trade and tourism.
The report also highlights the rising public external debt burden. External debt and low foreign currency reserves limit the government's capacity to adopt a robust fiscal stimulus. Moving forward, priorities include putting public external debt on a sustainable trajectory, improving the generation of revenue to create fiscal space, and supporting those households and firms most severely affected by the economic downturn.
A thematic section, Livelihoods in the Time of COVID-19, identifies the groups most vulnerable to the pandemic, and recommends policy options that could help protect their livelihoods. These include expanding coverage of cash and in-kind food transfers, and promoting skill development for laid-off workers and returned migrants.
Turkey: A full recovery from the COVID-19 crisis will take time
The COVID-19 crisis has hit Turkey's people and economy hard, accentuating pre-existing challenges such as the low share of workers in formal employment and obstacles to firm expansion. Well-designed support to households and firms that is aligned with a return to macroeconomic stability, and reforms to improve competition and labour laws, institutions and business would help to build a lasting recovery, according to a new OECD report.
The latest OECD Economic Survey of Turkey says a full recovery from the COVID-19 crisis will take time, given the blow from the drop in tourism and uncertainty over the future evolution of the pandemic, as well as Turkey's limited welfare provisions and high levels of corporate and household debt. The crisis has put pressure on the viability of many businesses and on social cohesion, hitting informal workers, women, refugees and youths particularly hard. While a one-size-fits-all support strategy was justified during the first phase of confinements, policy support in the second wave of the pandemic should now be adapted to the varying conditions of sectors, workers, households and companies.
The pandemic has also amplified monetary policy challenges, with inflation surging further to well above Turkey's 5% official target following interventions to shore up economic activity, bank liquidity and the Lira currency. Support to people and firms should be provided in a transparent and stable way to build investor confidence and reduce the risk of abrupt movements of capital. For example, targeted allowances for a stated period can be more effective than concessional loans and one-off transfers. Turkey should also seek to replenish foreign reserves and restore the independence of the Central Bank, the Survey says.
In parallel to the pandemic, Turkey remains exposed to geopolitical and trade risks, including the effect of the United Kingdom's exit from the EU. As things stand, and factoring in headwinds from the second wave of the pandemic, the Survey projects Turkey's GDP rebounding by 2.6% in 2021 and 3.5% in 2020.
"Turkey is looking at a gradual recovery from the COVID-19 crisis and risks persist for growth and well-being," said Alvaro Pereira, OECD Director of Economic Country Studies. "The focus should be on restoring macroeconomic stability and seeing the post-crisis period as an opportunity to encourage foreign and domestic investment through stronger public governance, and to use market and labour reforms to empower businesses to grow and create quality jobs."
Once a recovery is under way and investor confidence restored, the Survey estimates that a combination of market, institutional and education reforms could lift GDP per capita by 1% per year over the coming years. Market liberalisation reforms should include removing anticompetitive regulatory barriers in product markets, increasing labour market flexibility and reducing corporate income tax, while institutional reforms should improve public governance and the formalisation of business activities.
While the dynamism of Turkey's business sector, and the country's strong entrepreneurial spirit and youthful workforce, have been an asset through the COVID-19 pandemic, the majority of Turkish firms are very small and have limited capacity to weather a protracted slowdown. Significant parts of the business sector rely on informal or semi-formal practices in employment, corporate governance, financial transparency and tax compliance. Easing overly stringent regulations on product and labour markets and simplifying business and tax systems would make it easier for young firms to grow and move to the formal sector. A modernized and more efficient business sector would also help firms to emerge stronger from the crisis.
In terms of labour reforms, cutting non-wage labour costs, shifting part of the cost of social protection to sources other than payroll contributions, making statutory minimum wages affordable for low-productivity firms, and modernising regulations for temporary as well as permanent contracts would stimulate the creation of formal jobs once the recovery takes hold.
Education reforms should seek to enhance adult skills in a country which ranks among the highest in the OECD for qualification mismatch, with 43% of the working population either over-qualified (29%) or underqualified (14%) for their job. Investing more in Research & Development and in digital technology and infrastructure would also raise growth prospects.
Call for Closer Policy Collaboration on Artificial Intelligence
A recent APEC Business Advisory Council (ABAC) report revealed that artificial intelligence (AI) has a role to play in mitigating both the short and long-term effects of the COVID-19 pandemic on APEC economies.
From automated health diagnostics in hospitals to smart recruitment processes in organizations, the report, titled Artificial Intelligence in APEC, finds that this technology is creating new, previously unforeseen jobs, products and services that will contribute to the post-COVID-19 economic recovery.
"As we release this report, APEC economies are facing the twin threats of a global pandemic and an economic crisis that will leave its mark on our communities for years to come," said Dato' Rohana Tan Sri Mahmood, Chair of the 2020 APEC Business Advisory Council.
"How APEC economies address the accelerated rise of the digital economy and leverage new technologies like AI is one of the most pressing issues of our time," she added.
The report also examines how AI is being adopted and applied across the region and makes key recommendations calling for closer policy collaboration between business and governments.
Of the surveyed APEC economies, the report found that most already have plans, policies or programs devoted to driving or supporting AI ecosystems. In fact, the report highlights some of the AI-related innovation already underway across the region, including finding ways to help patients suffering from locked-in syndrome to communicate with the world by a team of engineers at a university in the Philippines.
Another notable innovation will benefit the farming industry. A Japanese corporation is trying to improve the efficiency of farming by automatically aggregating and analyzing sensor data and satellite images to provide farmers with farm management recommendations. In addition, a group from New Zealand developed AI-powered crocodile-spotting drones to keep swimmers safe in Australian rivers, among others.
"AI technologies have the potential to significantly impact businesses and communities across our economies," Dato' Rohana explained. "We believe that APEC can serve as an effective forum for member economies to collaborate on ways to maximize the benefits of AI and promote inclusive growth while ensuring its use in a responsible and ethical manner," she added.
According to the report, recognizing this technology and all its capabilities is a central component of an economy's forward-looking policy for growth, productivity and job creation, highlighting that the potential of AI extends beyond economic benefits and includes tools to address complex issues such as poverty, inequality, climate change, healthcare and ways to cope with effects of the pandemic.
As AI becomes more widely accepted, adopted and used for innovation, the report suggests that APEC policymakers will need to draft new policies, revise existing ones, confront new questions, address new needs and reassess its impact.
"With the cooperation of the public and private sector, a coordinated future of AI will increase the Asia-Pacific region's competitiveness and further facilitate regional integration," the report notes.
Artificial intelligence, already well on its way to transforming the Asia-Pacific, drives social and economic growth across all key sectors. However, the pandemic, and the ensuing focus on economic recovery, brings a renewed sense of urgency to discussions around AI usage.