DiscoverEU: 20,000 additional travel passes available for 18 year olds to experience Europe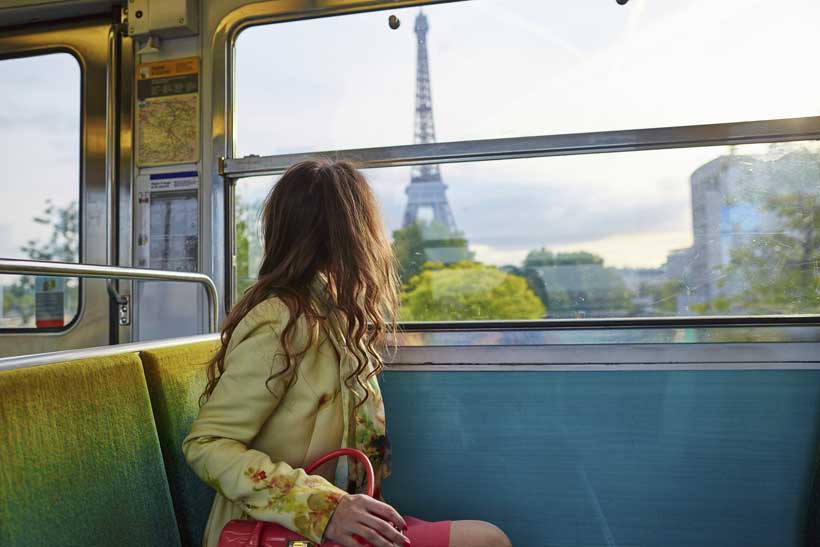 Today, the European Commission is launching a new call for applications for DiscoverEU travel passes. All 18-year-olds in the EU have until 16 May 2019 to apply, giving them the opportunity to discover Europe between 1 August 2019 and 31 January 2020.
This new application round follows a very successful first year for the initiative that enables young people to explore Europe's cultural diversity and shared values. For this second year of DiscoverEU, the European Commission is focusing on enhancing the learning dimension of the project. Participants will be provided with information and travel tips about what to visit in Europe. Those interested can also receive a travel journal for them to record and reflect on their experiences, and will have the possibility to participate in organised community-building events during their trips.
In parallel, the Commission is working to make DiscoverEU more inclusive and more accessible to all by making the application system even easier to use, providing tips for budget-friendly travelling and by accommodating, as far as possible, the needs of young people with disabilities so that they are able to travel.
Commissioner Tibor Navracsics, responsible for Education, Culture, Youth and Sport, said: "I am proud to take the DiscoverEU initiative forward and give more young people a chance to have a truly European experience. I hope that becoming part of DiscoverEU will inspire them to become engaged in their communities and become ambassadors for Europe. Whether it's voting in the European Parliament elections, encouraging their peers to do the same, or working with us to build lively societies. Young people are the future of Europe, and it is critical their voices are heard."
Who can apply and how?
Applicants must have been born between 2 July 2000 (included) and 1 July 2001 (included) and be prepared to travel between 1 August 2019 and 31 January 2020 for a maximum period of 30 days. Those interested in taking part can apply via the European Youth Portal. An evaluation committee will assess the applications and select the winners. Applicants will be notified of the selection results in June 2019.
Successful applicants will be able to travel individually or in a group of up to five people. As a general rule, they will travel by rail. However, to ensure wide access across the continent, participants can also use alternative modes of transport, such as buses or ferries or, exceptionally, planes. This will ensure that young people living in remote areas or on islands part of the EU will also have a chance to take part.
Background
DiscoverEU is a travel experience open to young Europeans, including those from disadvantaged backgrounds, to learn whilst travelling. The Commission launched the initiative in June 2018 with an initial budget of €12 million; the budget for 2019 is €16 million. So far, DiscoverEU has given around 30,000 young people the opportunity to travel around Europe, explores the continent's rich cultural heritage, get in touch with other people, learn from other cultures and experience what unites Europe. The first year of DiscoverEU brought together thousands of young people building a community across Europe. Participants who had never met before linked up on social media, formed groups to travel from city to city or stayed at each other's places.
The European Commission is planning to launch a fourth application round before the end of 2019.
The European Commission proposed €700 million for DiscoverEU under the future Erasmus programme in the EU's next long-term budget (2021-2027). If the European Parliament and the Council agree to this proposal, an additional 1.5 million 18-year-olds would be able to travel between 2021 and 2027.
After Ukraine: Arming down for lasting Eurasian security
It is time to start thinking outside the box. A long-term solution requires an institutional design and steps to ensure that front-line states, including Russia, feel safer, proposes Gordon Adams, a political commentator who has created think tanks, worked for Bill Clinton in the White House, taught national security.
Make no mistake: This war is not about democracy versus authoritarianism or the "rules of the international order" as defined by the United States. It is about insecurity and fear on both sides. The fear of invasion and the need for reassurance is an old one. It's about sovereignty and the inviolability of borders — the right for people to live in safety, be they Ukrainians, Poles, Balts, or Russians.
Fear runs strong on both sides of this conflict. For Ukraine, Poland and the Baltics, the fear is existential; for Russia, the fear is historical.
Broadly speaking, there are two ways nations might alleviate this fear. One is to "arm up" to deter any potential adversary. The other, especially relevant in the space from Brest to Vladivostok, is to "arm down," lowering security risks through a reduction in tension and reassurance. Both are "realistic" options — but only the first is being pursued today.
The goal of statecraft needs to be security for everyone in the Eurasian region. The Russians need to feel as secure as the NATO members do. In addition, the major powers — the U.S. and China — need to be part of such a regime or its guarantors.
Here are several suggestions to stimulate discussion:
1.) First and foremost, all interested parties need to be included in the regime so all security needs are met. Most important, Russia needs to be an integral member, shaping and participating in the design. This was not done in the 1990s (yes, I was part of the administration that failed to do it). Instead, Russia was marginalized as NATO expanded.
2.) Including everyone means the regime should eventually replace NATO, not make NATO its heart. Otherwise, including Russia is a non-starter.
3.) This might mean putting the European Union at the heart of the regime — a European solution, not an American one. This would be a major challenge for the EU, which has devoted only marginal attention to military capabilities and security strategies for Eurasia. NATO has been Europe's default.
4.) It means taking Macron seriously when he (like other French presidents before him) calls for "strategic autonomy" for Europe. Europe will need and want independence of action; indeed the caution of France and Germany about confrontation with Russia reflects that reality.
'Autonomy' will mean creating a more comprehensive European military capability, one that can work in tandem with the U.S. and others, but also on its own. That would make a significant U.S. military withdrawal from Europe possible, a step that would reassure Russia, too. A European capability would have to reflect the larger security regime being created. The reassurance such an agreement brings could make Europe's military investment less costly.
5.) Arms control and arms reductions would be a central feature of such an arrangement. Arms control agreements will need to include nuclear weapons — strategic and tactical — and missile defenses. This means a revival of global nuclear arms negotiations, including the U.S. and China, and specifically revived agreements on the deployment of tactical nuclear weapons and missile defenses in the European region. It must include a serious discussion of the role of French (and British) nuclear capabilities.
7.) New institutions will be needed. This is a moment for institutional innovation, as was the moment that led to the UN, the EU, NATO, and the Shanghai Cooperation Organization. Could the Organization for Security and Cooperation in Europe (OSCE) be redefined to play a central role, since it has a security mission and all European players belong? What changes would have to be made for it to play a serious role?
8.) The U.S. and China would both need to be central partners in shaping this regime. Would they be members? Guarantors? Answering this question could ensure that the U.S. plays a role but is less centrally involved with the decisions. This would mollify those in Washington who want the Europeans to carry more of the burden. It would also recognize China's growing role in security issues globally. This is about Eurasian security, remember. A U.S.-China confrontation could blow the whole idea up…
Lest this proposal be thought "idealistic;" it is actually realistic. If security is the goal, a Eurasian security arrangement — "arming down" — is a more realistic way of providing long-term security.
Report: Russia adapted arms and tactics ahead of Ukraine offensive
Widespread perceptions of Russian army weakness are in some cases either out of date or misconceived according to the 30-page report by the UK's Royal United Services Institute.
While the report described a military which is often dysfunctional, over-reliant on artillery and suffering poor morale, it said the focus on these weaknesses means Russia's battlefield advances have often been overlooked.
The study was drawn from April-May field interviews with 10 Ukrainian brigades that had fought Russian units across the war.
Russia's military is far from the spent force often characterized, according to Nick Reynolds, one of the report's two authors. "There is a lot being thrown around on social media to suggest Russia's lack of capacity, but social media is awash with propaganda on both sides and at this stage we thought a more sober assessment was needed," Reynolds said, adding that expectations for Ukraine have been set "very, very high."
Understanding how Russia has changed its approach matters not just to Ukraine, but also to members of the North Atlantic Treaty Organization that face an increasingly hostile and evolving rival in Moscow, the report said.
Russia has largely remedied early failures in battlefield air defense by properly connecting missiles systems and their sensors along the invasion's 1,200 kilometer (750 mile) front, according to the report.
As a result, Russian forces have been able to largely shut down the threat from Ukraine's radar-seeking HARM missiles, intercept rockets and down a low-flying Ukrainian combat jet from 150 kilometers.
Russia's electronic warfare capabilities, now deployed from airborne to platoon level, are evolving constantly. That's costing Ukraine 10,000 drones per month. Russian forces appear able to decipher Ukraine's encrypted Motorola communications systems in real time, according to the report.
On the ground, Russian combat engineers were able to build pontoon bridges at speed even at the start of the war and are now creating trench defenses and complex minefields that any offensive will have to break through.
Russian command centers, which proved vulnerable to precision attacks by US HIMARS rockets last July, and routinely had their communications hacked, are now dug into hardened bunkers. They've commandeered local phone networks in occupied territories, isolating and dedicating them to the war.
Russia's army made its T-80 and T-72 main battle tanks less vulnerable to Ukraine's arsenal of Western anti-tank weapons by improving their explosive armor defenses and making them less detectable to heat-seeking missiles.
The much criticized shift to fight in so-called 'human waves' around the eastern city of Bakhmut was a rational, if brutal response to the large losses of armor, experienced troops and artillery munitions Russia suffered earlier in the war, the report said.
The shift from attacks on Ukraine's energy infrastructure could indicate a Russian intent to hit and degrade military targets ahead of the counteroffensive, yet that's unclear, according to Ben Barry, senior fellow for land forces at the International Institute for Strategic Studies.
If the targets are indeed military, "the Ukrainians would not necessarily be telling us," Barry said.
Gen. Milley: "F-16s won't be a 'magic weapon' for Ukraine"
The military's top general cautioned that F-16s won't act as a "magic weapon" for Ukraine, but the U.S. is fully behind a group of NATO allies taking the lead on training and potentially transferring the jets to Kyiv.
"The Russians have 1,000 fourth-generation fighters," Joint Chiefs Chair Gen. Mark Milley told reporters at the Pentagon following a virtual meeting of the multinational Ukraine Defense Contact Group. If you're gonna contest Russia in the air, you're gonna need a substantial amount of fourth and fifth generation fighters, so if you look at the cost curve and do the analysis, the smartest thing to have done is exactly what we did do, which is provide a significant amount of integrated air defenses to cover the battlespace and deny the Russians the airspace."
Fighter jets are vastly more expensive than artillery rounds and ground vehicles, which Western allies have focused on flooding into Ukraine to help push Russian forces back in the south. Spending the money on those near-term weapons, as opposed to expensive warplanes with their complex logistical needs, has been worthwhile, Milley said.
"If you look at the F-16, 10 F-16s [cost] a billion dollars, the sustainment cost another billion dollars, so you're talking about $2 billion for 10 aircraft," Milley said, adding that if the planes had been sent sooner, they would have eaten up the funding for those other capabilities that have put Ukraine on their front foot.
"There are no magic weapons in war, F-16s are not and neither is anything else," he said.
Defense Secretary Lloyd Austin announced that Denmark and the Netherlands are taking the lead in the joint coalition to train Ukrainian pilots on modern fighter jets. He said Norway, Belgium, Poland and Portugal have also pledged to take part in the training.
The coalition plans to train roughly 20 Ukrainian pilots initially, although the exact number will depend on the countries' capacity to support the project, according to a UK government spokesperson, who was granted anonymity to discuss details ahead of an announcement.
Ukraine will require a pipeline of pilots to learn the fundamentals of flying who can then move up to jets, the spokesperson said. To that end, the first stage of instruction will focus on ground-based basic training of Ukrainian pilots, who will then be ready to learn specific airframes, such as the F-16 and others. The F-16 training will take place at a site in Europe, Defense Department officials have said.