Towards better inclusion, Europe struggle with integration
Migration is one of the biggest issues in Europe nowadays. Whether we like it or not, migration is a key factor in keeping Europe "alive". From an economic perspective the huge shortage of manpower is bad, but not yet the worst. Within ten to twenty years most of the European economies are believed to have huge deficits due to a grave need of workers. The new blood injected in the labour market does not match the growing demand in workers of the economy. The wanted skills in our technologically rapidly evolving enterprises is misaligned with the aging workforce, many soon to retire, in most European countries. We can witness this fact clearly in the German model. The simple fact that in the coming twenty years the generations which helped built the current post WWII Europe will be no more, namely the "baby boom" generation and the following one is frightening yet real. Despite the huge internal migration within the EU, from the less fortunate countries to the wealthier ones, the need for migrants from outside the EU still exists. Therefore, migration is one of the needs that almost all economists and sociologists uphold. There is some sort of unspoken consensus within the academic world for the urgent need of a greater facilitation of migration. Unlike Japan and South Korea, most of European countries, luckily, have a long experience in receiving migrants and refugees. Although refugees cannot be reduced to purely economic reasons, what differentiates them from migrant workers. But for them economic reasons are fundamental for their human and financial independence.
If the European countries observe and cherish this practice by allowing an even stronger and flow of migrants in, they can theoretically prevent a self-decided collapse from happening to their economies. But that should be accompanied by well-structured integration programs and a huge change in the mentality of how Europeans view the rest of the world. These two points are vital to let the newcomers integrate in the society swiftly.
Otherwise Europe will end up with more separated white/non-white neighborhoods structured in economically uneven ways according to "colour" scattered around the big cities. And more youngsters who lack the sense of belonging to their new home countries, where they were born, and to their parents' home lands- where they originally came from. Some of these youngsters, with a deep identity crisis living in a limbo, may at a certain point pose a threat not only to their societies, but to their very own selves.
The 'lost' generations with migration background are the direct result of the long intended neglect and the discriminatory approach of successive governments in different places in Europe. They are a perfect example of failed integration policies. This phenomenon differs from one European country to another, but exists in almost every single one of them. A lesson must be learned from the past, before inequality shapes the future!
So what does "integration" exactly mean? The term "integration", from sociological perspective, refers to the bi-lateral relation between the hosting society and the new-comers' communities in which there is a hosting society willing to incorporate newcomers as new members on one hand, and newcomers who are willing to adapt to the general principles, values and regulations of their new society- on the other hand.
Sadly enough, most European countries have failed to apply this balanced bi-lateral relation. They impose "integration courses" on new comers, but do not even bother to let the hosting societies know what the meaning of integration is. This smells like integration without reciprocity. As a result, most Europeans have a hidden tendency towards the ultimate "integration" of "the others" . Where adapting to the general principles and values means erasing the identity of the newcomers and where the culture of the newcomers is a subject of despise and mockery, the newcomers are forcibly assimilated and made into walking collections of the clichés which the hosting country considers their culture.
This assimilation doctrine of imposing integration in one direction, whereby newcomers try to integrate into a society which refuses to integrate them with their differences and the lack of reciprocity in social-economic ways, is the epidemic practice that has swiped across Europe for the last seventy years. And to be fair and more specific, European countries cannot be all put in the same basket in regards with integration. The contrast between the UK's very open and multicultural model and the French nationalistic and extreme secularistic "laicité"-one is very clear. Whereas some other countries'/regions' models fall in between, Flanders for instance. Each of these models has enormous ramifications on the societies of these countries that can be crystal clear seen today, even in the lingering on between different models according to political conflicts about diversity and the multicultural society.
If we track this issue back, we certainly should come to the fact that migrants have been excluded, intentionally or not. Perhaps, it is the colonial past still echoing till now. It is this hidden collective feeling of fear and anxiety. The hosting "white" communities have always needed the feeling of being secure and superior. They did not want to feel defeated and insecure in their own countries, on their very own lands. For them any sense of equality between them and the newcomers, whereby many used to be their previous 'subjects' and thus subjected to them, was considered a defeat.
As a result their policy was continually applied to keep this superiority causing a noticeable inequality in the society. Despite the fact that European union's fundamental principles of equality, human dignity and freedom are being observed by some member states in a sense, the needed equality on the person and the community levels is not yet achieved. This paradox which most EU countries still have and which is deeply rooted within their structure is on one hand admitting the need to of more migrants and on the other hand to keep these migrant communities deprived from lots of rights. Clearly and in many occasions human rights and EU principles of equality are overshadowed by some nationalistic views that divide societies into first and second class citizens. The Euro-centric mentality is up till now the biggest challenge which is really problematic given the fact that it is being passed from one generation to the next as cultural heritage. It is also quite challenging to preach diversity and coexistence in a society where a superior white Europe is idolized.
There is a wide-spread idea that is being circulated as a fact, but it is really a big lie. Migrants live in separate neighborhoods because they don't wish to mix and integrate with people. And this lie is commonly used to accuse the migrants of being resistant to integration with the mainstream society. The truth is that when migrants came to Europe in late fifties and beginning sixties they lived in the poorest neighborhoods due to the fact that they had low incomes compared to others. Then the following waves of migrants inhabited the same neighborhoods and used them as economic levers. So the root issue is housing related.
But later, it was used as a defensive technique against a society which simply did not accept them as they are, the constant unjust attempts to diminish the migrants cultural and religious background and to minimize the micro-aggressions that migrants endure almost on daily basis. Being discriminated in the job-market for generations, their children were an easy prey for crime and ignorance. They were, and still are in many places, victims of alienation from the hosting society which label them as "the others" as long as they don't match in colour and social norms. All of the previously mentioned problems can be traced back to one thing: failed integration.
In the past years a wind of change has blown in the continent. Many people from progressive, liberal and even some conservative backgrounds are calling for a real shift towards better integration. A shift which allows every European to be part of the decision making process regardless of his/her ethnic or religious background and to include them in the process as citizens with full rights. Nevertheless, the big challenge is still there.It is not only about the will to change or to include persons, but rather to include their background as a whole as a basic element of the society. And by doing this, they will not be seen as aliens anymore and their differences will be looked at as essential elements of the country's cultural entity. The sole way to apply this is by doing the missing part of integration which was mentioned earlier, to lay the basis and the relation between cultural recognition and socio-economic redistribution that includes newcomers and emancipates them.
Unfortunately, this wave of change has been strongly opposed in the last ten years by growing nationalistic and openly racist groups. The issue of migration is being more and more used as scarecrow by the right and extreme right wing to seed fear among European citizens. This xenophobic tool has been implemented during many elections in different European countries and proved to have a big impact especially where bigotry and narrow-mindedness spread.
Europe is changing and the need to implement logical integration is immense. Integration that preaches unity and respects diversity. The new multicultural Europe will be stronger and more successful when diversity becomes the norm. When differences are being appreciated and seen as a mean of enriching the country. When differences become part of the entangled story of inclusion, dangling between cultural recognition and social-economic policies promoting social mobility of all.
Finally, if Europeans want to ensure the success of integration, they should keep this in mind "It takes two to tango".
What lies ahead for Meloni's Italy
Not many would have predicted that 100 years after Benito Mussolini's Black Shirts marched on Rome, a leader claiming lineage from the same political ideology would ascend to power. Georgia Meloni is on her way to become the first woman Prime Minister of Italy, hailing from a party that emerged out of the neo-fascist Italian Social Movement (MSI). Her rise to power is as dramatic as that of the fascist dictator. Brothers of Italy, which Meloni founded in 2012, recorded a measly 4.3% of vote in the 2018 elections. In the four years since, the party has gained significant ground and is now set to win 26% of the vote in a coalition with Matteo Salvini's Lega and Silvio Berlusconi's Forza Italia. With the right wing coalition coming to power, major shifts in Italy's domestic and foreign policy are expected. But taking command at such a turbulent time will be a task easier said than done. Hence, it will be interesting to see what course Meloni's coalition might take.
As things stand, Italy is edging towards a major economic crisis. The continued war in Ukraine has terribly affected Italy's economic growth in the post-pandemic era. The rising prices of energy resources and supplies have held back household consumption, slowing the rate of recovery. The economic growth projection for 2022 stands at 2.5% while 2023 is estimated to see a further fall to a mere 1.2%. Italy's debt crisis has also severely worsened with rising interest rates in the post-pandemic years. The national debt currently stands at about $2.9 trillion which is estimated to rise steadily, touching $3 trillion i.e. around 150% of the GDP by the end of 2023.
In her election campaign, Meloni has addressed these economic woes with a populist vigour. Meloni advocates for a protectionist stance. Her policies include a business-friendly dispensation, steep tax cuts for all, early retirement and amnesties to settle tax disputes. While the right-wing coalition manifesto pledges ambitious spending plans, Meloni has promised to keep the public finances in check. Key to keeping the economy afloat and achieving these targets will be the new government's efforts to meet the reforms and targets agreed by the Draghi administration and the European Union to obtain the €750 billion Covid recovery and resilience fund. Meloni has already indicated that she will seek some changes to the agreed plans, making it a priority for her new coalition.
While Meloni will become Italy's first woman Prime Minister, her case presents an example of weaponising women empowerment to further autocracy. Under her leadership, Brothers of Italy has rolled back women's rights in the localities it governs. These rollbacks include making abortions harder to access. Her party's slogan – "God, Fatherland, Family" – is reflective of their intentions of leading a patriarchal setup in the guise of a woman leader. With their coalition coming to power, it is likely that Meloni and her party will continue on the route of further cutting back on women's rights and freedom.
The right-wing parties have stressed on the importance of Christian conservative familial values in their election campaign. This has resulted in vicious attacks on what Meloni calls "the LGBT lobbies" who have "harmed women and family by destroying gender identity." Last year, Brothers of Italy and Lega blocked ratification of the Zan bill which sought to categorise violence against the LGBTQ+ community as a hate crime. The two parties opposed the bill, calling it unnecessary and against freedom of expression.
Another part of Meloni's populist rhetoric are her claims of "ethnic substitution." She has repeatedly claimed that Italian identity is being erased by the globalists and EU officials, who have "conspired" to unleash "uncontrolled mass immigration." In the past, she has infamously proposed a naval blockade of the Mediterranean to stop migration to Italy. While the coalition has promised stricter border controls, blocking boat landings and establishing EU centres to evaluate asylum applications; they have also assured to regulate legal migration more smoothly, with initiatives to integrate recent immigrants.
Meloni's stance on the European Union has been the highlight of her election campaign. While she no longer advocates for a complete withdrawal from the organisation, Meloni is vehemently against its current state of operations. "I want a Europe that does fewer things and does them better, with less centralism, more subsidiarity, less bureaucracy, and more politics," she said. She has pushed for an 'Italy first' approach, countering the regional integration of the EU. Addressing a rally in Milan earlier this month, Meloni said, "In Europe they are a bit worried. The fun is over, Italy will start to defend its national interests, as others do." Meloni has indicated her support for Poland and Hungary in their current ongoing dispute with the European Commission and the European Court of Justice. She has previously made her admiration of Hungarian Prime Minister Viktor Orban clear, calling him a 'democratic leader' in the face of stark EU criticism over authoritarian measures.
While Meloni and her coalition have been critical of the European Union, it is unlikely that it will lead to drastic changes in the Italian policy towards EU integration. The economic challenges that the new government finds itself in will largely affect its decision making. To obtain a much needed relief fund from the organisation, it is important for the coalition to agree to certain terms proposed by the EU. Hence, while they can be a bit more assertive in their approach, complete rejection of the EU is not on the cards.
However, Italy's foreign policy is set to see new developments. Meloni has previously condemned Russia's war on Ukraine, supporting sanctions against Russia and supplying weapons to Ukraine. "It is the tip of the iceberg," she said, calling the conflict's objective as "revision of world order." Meloni has also been critical of China, condemning the country's "economic expansion measures." In 2019, Italy became the first major nation to participate in the Chinese Belt and Road Initiative (BRI), a programme to expand Beijing's economic outreach. Meloni has since criticised the pact as a "big mistake," indicating that Italy will re-evaluate its stance on the pact under her administration. She has also been vocal about the Taiwan issue, calling it an issue of "essential concern for Italy." She also described Chinese threats against the island "unacceptable," calling Taiwan and Italy's relationship a "sincere friendship."
Giorgia Meloni is not so different from the Trumps and Bolsonaros of our world. She gained popular support on the back of economic failure under the previous administrations and emerged as the clear winner once Mario Draghi resigned following the economic and political turmoil. Meloni fills the void that the centre-left parties have failed to address so far. She has presented herself as a new alternative against an opposition that now seems much distant from the needs and aspirations of the people. Her populist rhetoric has only helped to further fuel her rise to power. Facing economic catastrophe for the longest time, the Italians now demand security and stability. However, her anti-immigration and anti-EU policies do not present an answer to the problems Italy faces. Her populist rhetoric is highly unfortunate and raises the threat for hate crimes in the future. Her authoritarian stance coupled with the 'Italy first' rhetoric will not fare well in the future. In deep economic stress, Italy needs to welcome immigrants who can actively contribute to their economy and stabilise the turbulent waters.
Furthermore, Meloni's election presents a threat to the democratic system in Italy. The right-wing coalition is in a position to negotiate a constitutional amendment that approves the President to be elected directly by the people. Currently, the President is elected by an electoral college which was setup in 1948 as a measure to prevent the future possibility of a government takeover by the fascist forces. While the Presidency is a figurehead role in the country, Brothers of Italy have advocated for a more robust head of state with a popular mandate. This advocacy for "Presidentialism" may have grave repercussions for Italy's democratic setup, making the President a politically motivated role which will severely affect the system of checks and balances in the present system.
It is difficult to say whether Meloni's coalition will be able to weather the storm in the coming years but one thing that is certain is that this election is one for the history books where victors are set to write the fate of Italy, once again.
Smile Diplomacy: From Putin to Macron
In the world of politics, what should be done when things don't go according to plan? The answer of Talleyrand, the French politician of the 18th and 19th centuries, was simple: organize a conference!
Perhaps it is due to this lesson from the French politician and diplomat that Vladimir Putin held his conference under the title of "Economic Boom of the East" in the port of Vladivostok, and French President Emmanuel Macron is going to start his conference under the title of "Political Council", Europe" next month in Prague, the capital of the Czech Republic.
Let's talk about Putin first. No matter how we look at it, the course of things is not as intended. The war in Ukraine is practically frozen in a north-south line. The pitched battles, the use of heavy artillery, the high casualties, and the ever-increasing logistical problems are more reminiscent of the First World War, or even the Crimean War than modern 21st-century war.
Last week, the first sign of Putin's desperation to fully win this war appeared. In a short televised address, the Russian president claimed that his goal was to preserve the "Russians" of the Donetsk and Luhansk regions. In other words, it has moved away from its initial portent of removing Ukraine from the map as an independent country. Is he now calling for a limited deal that would put parts of eastern Ukraine under Russian control forever, if ever? No one knows the answer to this question, except maybe Putin himself. But, surprisingly, neither Volodymyr Zelensky, the president of Ukraine, nor his American and European supporters have shown any attention to this possible retreat of Putin.
Failure in the war is not Putin's only concern. Contrary to his claim that Western sanctions have not affected the Russian economy, it can be seen that things are not going as planned on that front either. Of course, Russia has been able to find new customers for its oil—customers like India, China, and Turkey, which have reduced their purchases from Iran and Iraq by receiving significant discounts to take advantage of the Russian auction.
However, double-digit inflation, the closure of hundreds of factories, widespread shortages of many goods, a 25 percent drop in viewership of Putin's state television, and the flight of tens of thousands of middle-class citizens show that the sanctions are having little effect.
The Vladivostok conference was formed with the slogan "The future is from Asia". Putin's message was: "Asia builds the future, while the West falls."
Of course, we heard this slogan in the 1950s, during the last years of Stalin's rule over the Soviet Union. Stalin spoke of "Young Asia and the West of Fertut". Today, Putin plays the same music with notes from the Tsarist Imperial Symphony added.
According to Khmiakov, the Pan-Slavist guru, Russia is a "two-headed eagle": one head looks to the East and the other to the West.
In the beginning, the double-headed eagle was the symbol of the kings of Hayatele in Asia Minor; But after a few centuries, the Byzantine emperors usurped it. In 1471, Ivan III, Tsar of Russia, married Princess Sophia, the daughter of the Byzantine Emperor, and the symbol of the double-headed eagle was assigned to Russia. Today, Putin is bringing this symbol, which was abandoned during the Soviet Union, back to the scene.
However, an eagle facing east is nearsighted. Out of 49 Asian countries, only 17 countries appeared seriously in this game. None of the heads of Asian countries were present at Putin's show. The highest-ranking foreign personalities were the Prime Ministers of Armenia and Mongolia. General Ming Aung Heliang, the leader of the Myanmar (Burma) coup plotters, was also present. But China was represented by Li Zhangsu, the third leader of the Communist Party. Even the leader of North Korea, Kim Jong Un, did not accept the suffering of a trip to Vladivostok. Major Asian economic powers such as Japan and South Korea, or even Taiwan, were not present.
Putin's hope is to develop the "Eurasian" bloc, which was formed years ago to compete with the European Union, but it never got anywhere. However, even if the participants in the Vladivostok conference were to join the bloc, they would collectively account for nearly 20 percent of global GDP. Currently, almost all of them are closer to the European Union and the United States than to Russia in terms of foreign trade. Russia's own share of trade with bloc countries does not exceed 12%.
From any angle, the Vladivostok gathering is one of those shows that are referred to as "posturing" in the diplomatic dictionary. In this show, the host appears as the leader of a large group, but in reality, there is no group. The choice of Vladivostok, which means "ruler or emir of the east", maybe a coincidental sign of Putin's illusions to lead Asia.
It is interesting that in Vladivostok there was no mention of the war in Ukraine. None of Putin's entourage was wearing a T-shirt with the letter Z, and his bulletproof car did not have a Z mark.
The participants of this show undoubtedly know that Moscow is closer to Berlin than Vladivostok and whatever the underbelly of history, Russia's national and cultural orientation is to the West, not to the East. Alexander Herzen, a 19th-century Russian writer, wrote: "Russia looks to the East to remember what dangers threaten its existence, and looks to the West to find out how to neutralize those dangers."
Currently, Putin is not the only leader who is trying to polish his political image by playing the conference game. French President Emmanuel Macron is also busy organizing Smile Diplomacy. The Prague conference for the formation of the "Political Council of Europe" is a platform for introducing Macron as a strong European leader. With Britain mired in crisis, Germany governed by a floundering coalition government, and Italy on the brink of an election with uncertain results, Macron hopes to present France as the anchor of Europe's stormy ship.
Macron's failure to win an overwhelming majority in the parliamentary elections has limited his possibilities to exert power in the domestic political scene. Therefore, like many politicians in a similar situation, he turns to show his power in the foreign policy scene.
But Macron's show, many analysts believe, will not have a better result than what Putin achieved in Vladivostok. In a sense, Macron's show may even be harmful. Trying to prevent Turkey's participation, under the pretext that a large part of Turkey is located in Asia, can deepen the gap between Western powers and Turkey.
Turkey's exclusion from the Prague show could help re-elect Recep Tayyip Erdogan as president. Using an anti-Western discourse and being closer to Russia along with claiming to be the leader of the Islamic world, Erdogan is trying to distract Turkey's public opinion from its failure in economic and social fields. In the last two decades, this is the first time that Erdogan is on the verge of an electoral defeat. Macron's anti-Turkish stance could be a bitter irony that guarantees Erdogan's victory.
Macron's proposal has other disadvantages as well. First, one should ask what is the need for another "conference" in Europe. Aren't the "European Security and Cooperation Organization" and "Council of Europe" which include all countries of the continent enough? After all, didn't Britain leave the European Union under the pretext that it does not want Europe to participate in the regulation of London's policies? Is the "Brexit" government willing to participate in a new grouping, with unknown goals and criteria, after leaving an established union with clear goals?
Currently, a growing trend across Europe, from Poland to France, is to move away from continental groupings. Even the European Union has lost some of its legitimacy and popularity at this time. The growing trend in most European countries is towards limited nationalism within the borders of each country, emphasis on national sovereignty, and striving for self-sufficiency. In other words, the globalism of the past two or three decades is receding and bilateral relations are becoming more acceptable.
You might say that Smile Diplomacy in Vladivostok or Prague wouldn't hurt anyway. Unfortunately, this assessment of yours is not correct. Smile Diplomacy masks the fact that Russia and Western Europe do not currently have the ability or will to emerge from the crisis caused by war, economic stagnation, inflation, and environmental threats. Smile Diplomacy offers sideshows instead of serious policies.
Dramatic games allow Putin to mask his failure on the battlefield. On the other hand, Macron and other European leaders hide their inability to stop the war in Ukraine with the Prague show. Both sides are still dreaming of "victory". Unaware that war never has a winner, because in every war both the victor and the vanquished will be losers in the end. Zelensky seems to think that defeat is better than surrender because it at least offers the badge of hero and martyr. On the other hand, Liz Truss, the new British Prime Minister, speaks of "victory". The demonstrations in Vladivostok and Prague prevent these irresponsible positions from being seriously discussed.
In a Crisis-Laden World, Serbia Should Think Green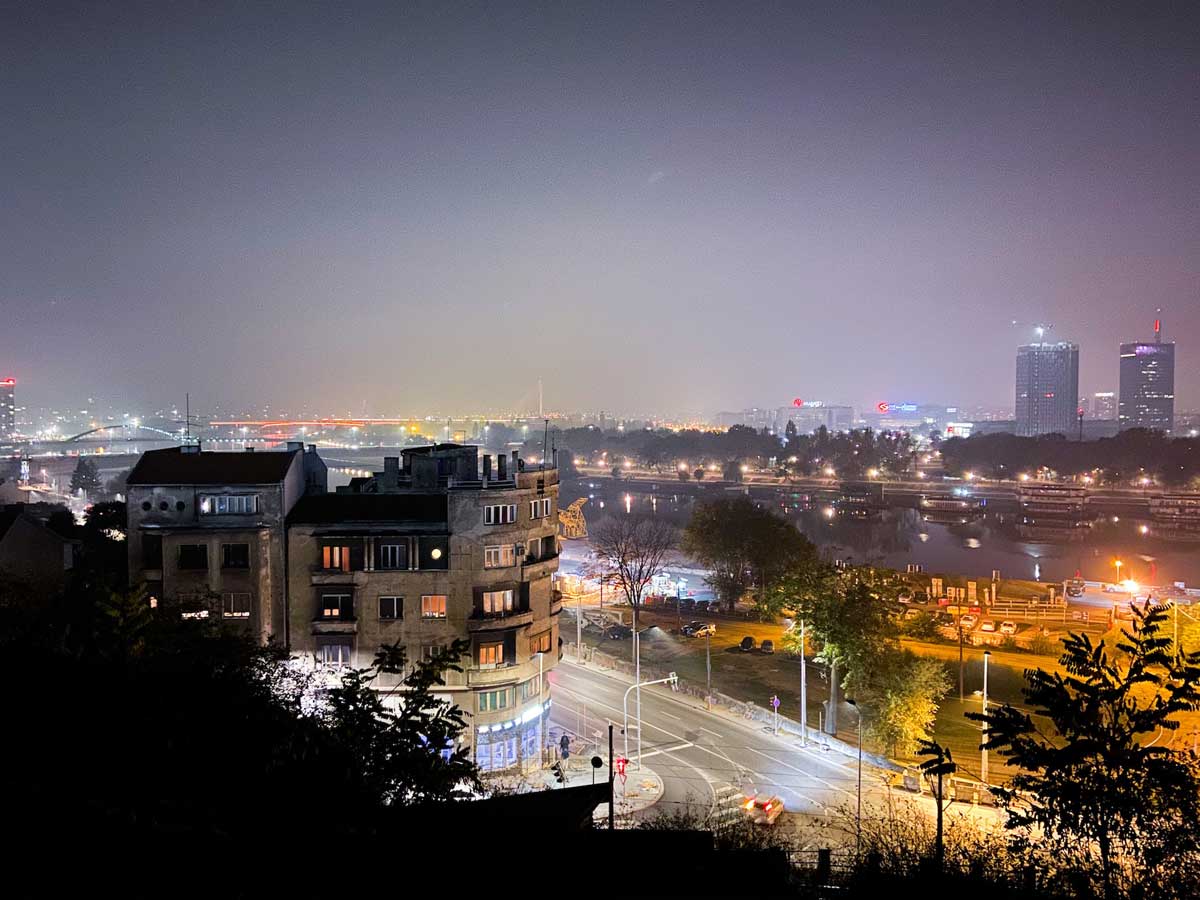 Countries around the globe are facing persistent economic headwinds. Trade and supply chain disruptions resulting from the Covid-19 pandemic, the war in Ukraine and extreme weather, have led to surging food and energy prices. Inflation is increasing at an alarming rate in many countries and economic growth is slowing. Policy makers around the world face difficult challenges and complex trade-offs. They need to maintain fiscal sustainability and rebuild economic buffers depleted during the pandemic; but also cater for the needs of the most vulnerable, who feel the impact of higher food and energy prices. As winter is approaching, countries in Europe are scrambling to secure sufficient energy supplies to keep homes warm and factories running. In this challenging context, the urgency of actively expanding renewable sources of energy, pursuing greater resource efficiency, and transitioning away from energy and emission-intensive industries is greater than ever.
Growth outlook
The World Bank expects global economic growth to slow in 2022 to 2.9 percent, from 5.7 percent in 2021. A small and open economy like Serbia will feel the impact of the global slowdown. For Serbia, in 2022, we project an economic growth rate of 3.2 percent, following a 7.4 percent expansion in 2021. Serbia is equally feeling the impact of rising inflation: the NBS expects an inflation of nearly 14 percent in the third quarter of this year.
Higher energy prices have put pressure on current account balances for energy importers around the world. Serbia has also been affected. Its utilities have incurred exceptionally high costs of importing electricity and natural gas on the wholesale markets. While the government has financially supported these companies, it has so far only partially passed these additional costs on to consumers.
Mitigating the impacts of the energy crisis remains the biggest challenge for the new government. Serbia entered the current crisis in a strong macro-fiscal position, but fiscal space is limited. Short-term measures to support households and small and medium enterprises will need to be targeted, time-bound, fully budgeted, and transparent.
Despite the pressures, it is essential that policymakers do not lose sight of structural reforms that would boost Serbia's potential rate of economic growth over the medium-term, including steps to increase market competition, reform state owned enterprises, raise human capital and productivity, and improve the efficiency of public spending.
Green Serbia
Sustaining long-term growth and resilience also requires putting the 'green agenda' at the center of policymaking. The country can do more to increase energy efficiency and lessen the impact of pollution on the health of people and the environment. Staying 'brown' runs the risk of slowing down Serbia's accession to the EU, compromising access to finance, creating trade barriers, limiting the take up of modern technology, and failing to boost productivity. Going 'green' would be beneficial on all these fronts. It would also facilitate the structural transformation of the economy through the adoption of new technologies and knowledge. All this will require measures to facilitate a 'just transition' for workers and communities who depend on polluting industries for their livelihoods.
Serbia is a signatory to the Paris Agreement under the United Nations Framework Convention on Climate Change, aiming for a climate neutral world by mid-century. The Government recently published its updated Nationally Determined Contribution under the Paris Agreement, pledging to cut greenhouse gas emissions by 2030 by 33.3 percent compared to 1990. Accompanying plans and strategies are under preparation, but the direction of travel is clear: Serbia urgently needs to boost domestic renewable energy production, increase energy efficiency, and gradually lower dependency on fossil fuels, especially coal and oil, for power generation, heating, and transport.
The World Bank is supporting Serbia's progress on all these fronts both through financial and technical assistance.
Op-ed originally published in Kurir daily via World Bank