Saudi gas ambitions likely to have geopolitical impact
A Saudi push to become a major natural gas player is as much about diversifying the kingdom's domestic consumption and export mix as it is about taking advantage of harsh US economic sanctions against Iran designed to force a change of the Islamic republic's policy, if not its regime.
Saudi Arabia scored an initial success with the sale of its first Liquified Natural Gas (LNG) cargo in Singapore, the trading hub for Asia and the Pacific, the world's largest LNG market.
The sale speaks to the ambitions of Saudi Arabia's national oil company, Aramco, that seeks to become a major gas player by partnering with producers across the globe, including in the Russian Artic, and developing its own reserves.
Aramco expects the partnerships to position it as major marketeer and trader, primarily in the spot and short-term markets.
An Aramco delegation visited Pakistan earlier this month to discuss gas sales as a way of addressing the South Asian country's energy shortage as it opens its multiple gas fields to foreign investors.
At the same time, Saudi Arabia is looking to become a gas exporter in its own right in the next five to six years after recently discovering major reserves in the Red Sea.
Saudi Energy Minister Khalid al-Falih said earlier this month that the kingdom was already in discussion with other Gulf states about building natural gas pipelines and would soon be commissioning feasibility studies.
Those discussions are certain not to include Qatar and Iran, two of the region and the world's foremost producers and the kingdom's primary regional bete noirs.
If anything, the Saudi move is not only part of its longer-term efforts to reduce its dependence on oil exports and diversify its economy but also an attempt to take advantage of the fact that Iran is severely hampered by the Trump administration's 'maximum pressure' campaign against it.
The administration said earlier this month that it intended to reduce Iranian energy exports to zero by cancelling waivers it issued to eight buyers, including China, India, Turkey, Japan and South Korea.
The waivers granted the eight countries exemptions to sanctions imposed last year after the United States withdrew from the 2015 international agreement that curbed Iran's nuclear program.
Similarly, with the development of Saudi gas exports and sales also intended to chip away at Qatar's market share, the Gulf state is not an option.
Qatar's diversification of its exports was a key factor in its ability to so far fend off a 23-month old Saudi-UAE-led economic and diplomatic boycott that, like in the case of Iran, is designed to force it to change its policies.
The two sides' entrenched positions offer no prospect of a resolution of the dispute any time soon.
Saudi long-term gas ambitions could have shorter term consequences for its regional policies, particularly with regard to Iran.
The kingdom, perceived to be a proponent of regime change in Tehran, may prefer a substantial weakening of the Iranian government that keeps it contained and struggling to make ends meet, rather than the rise of a leadership acceptable to the West that would be allowed to quickly regain its place in global energy markets.
Striving for regime collapse rather than regime change would also allow Saudi Arabia to dampen prospects for Iran's Indian-backed port of Chabahar, a mere 70 kilometres down the Arabian Sea coast from Gwadar, the Chinese-supported port in Pakistani Balochistan.
Saudi Arabia has pledged to build a US$10 billion refinery in Gwadar.
Saudi plans to develop its gas industry suggest that the kingdom needs a decade to realize them.
Aramco chief executive Amin Nasser said he expected US$150 billion to be invested in the Saudi gas sector over the next ten years. Mr. Nasser envisioned gas production increasing from 14 billion standard cubic feet to 23 billion by 2030.
"We are looking to shift from only satisfying our utility industry in the kingdom, which will happen especially with the increase in renewable and nuclear to be an exporter of gas and gas products," Mr. Nasser said.
"Aramco's international gas team has been given an open platform to look at gas acquisitions along the whole supply chain. They have been given significant financial firepower – in the billions of dollars," he added.
The kingdom has expressed an interest in acquiring a 30 percent stake in Russia's Novatek Arctic LNG project.
Access to the project's gas would allow Saudi Arabia to negotiate long-term deals and/or sell cargoes on the spot market or increase domestic supply.
Saudi Arabia is also looking to buy natural gas assets in the United States.
A Saudi-Russian deal in the Artic would likely not only enhance the kingdom's position but also bring Saudi Arabia, a member of OPEC, and Russia, which is not formally part of the cartel, closer together in their joint management of global oil supplies.
In a world of rising economic nationalism, Saudi gas ambitions are not being universally welcomed.
While there is little doubt that the Trump administration will look favourably at Saudi investment, some analysts are raising red flags.
Said Jude Clemente of JTC Energy Research Associates: "We simply cannot hand the quickly globalizing (via LNG) gas market to more risky exporters that often have political goals that are contrary to ours (to put it politely)."
Russia-Turkey: Gas partnership as an answer to Western sanctions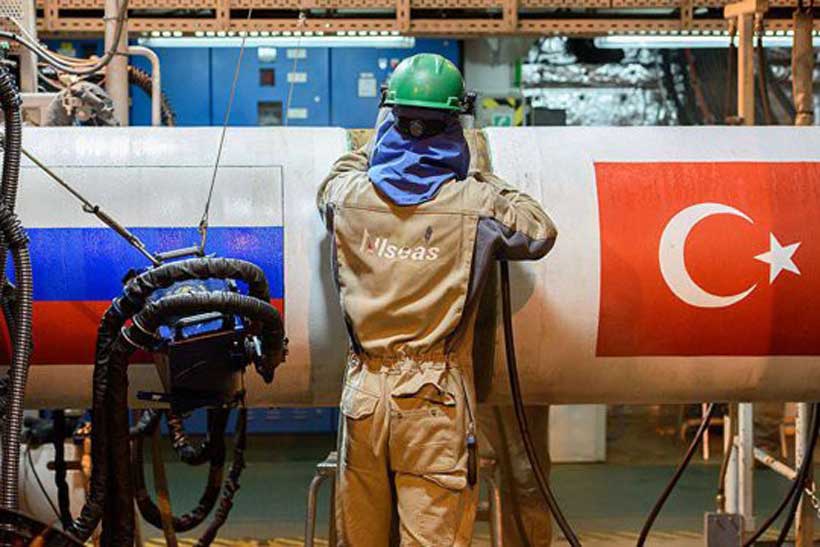 In early November, the European Union extended for the umpteenth time its sanctions against Turkey for another year for Ankara's allegedly illegal exploration of gas fields off the coast of Cyprus.
The EU is understandably obliged to protect the interests of its member nations, in this case, of Greece and Cyprus, but I believe that this latest move by Brussels should be viewed in a broader context. The issues of extraction, transportation and supply of natural gas have already acquired a distinct political dimension in the world.
"We could move the lost volume of transit through the Nord Streams along the bottom of the Baltic Sea to the Black Sea region … by creating the largest gas hub for Europe in Turkey, if, of course, our partners are interested in this," Russia's President Vladimir Putin said, when addressing the plenary session of the Russian Energy Week International Forum. His Turkish counterpart enthusiastically accepted the offer.
Notably, the "gas" issue has more than just economic or political significance for Turkey. It has also become a sort of a metaphysical symbol of its success in the international arena. Ankara has long outlined its goal of becoming a major transportation hub, and if possible, the seller of natural gas to Europe, and is working hard to make this happen. Right now, there are seven main gas pipelines running through Turkish territory, four operational LNG terminals, and the country's own gas fields in the Black Sea that are being actively developed by Turkey, which plans to put the first of these gas fields into operation within a month.
Not everyone believes the Turkish reports about the "huge reserves" of natural gas in the country's territorial waters, though. Some skeptics even joke that Gazprom will lay a pipe to these fields, and BOTAŞ (the Turkish analogue of Gazprom) will simply latch onto it.
Meanwhile, in an interview with TRT Haber, Turkish Minister of Energy and Natural Resources, Fatih Donmez, said that "in the event of an increase in demand, Russian gas alone may not be enough." Therefore, Ankara is currently in talks with other suppliers of pipeline and liquefied natural gas in the Middle East, North Africa, Central Asia and even Southeast Asia – about half a dozen in all. Given this vast geography, the logistics of supplies will be fairly complicated though, but Ankara's plans to hold a conference with potential gas suppliers for the proposed hub early next year proves the seriousness of its intentions.
By implementing this project, Ankara expects both to receive relatively inexpensive gas and also payment and even commissions for the sale of Russian fuel to the European market. And of course, Turkey would not be Turkey if, just days following President Putin's abovementioned statement, the country's Treasury and Finance Minister, Nureddin Nebati, did not reiterate its request for a discount on Russian gas and for a deferral of payments for its supplies.
Meanwhile, Hungary and Serbia continue to buy Russian gas, while the European Commission has officially banned its purchases – politics in the West today prevails over the economy. At the same time, many countries are willing to purchase Russian gas, but subject to the observance of "sanction propriety," and the proposed hub where gas from different suppliers will inevitably be mixed, will help observe this "propriety."
As for Turkey's relations with Western allies, both the US and the EU have repeatedly and persistently invited the Turkish leaders to join the anti-Russian sanctions, which is something Ankara has so far carefully avoided.
Almost a week after Putin and Erdogan agreed to set up this hub, US Assistant Secretary for Terrorist Financing and Financial Crimes Elizabeth Rosenberg visited Ankara and Istanbul to discuss "a range of topics, including the sanctions and export controls imposed on Russia by a broad coalition of over 30 countries, energy security, anti-money laundering policy, and countering the financing of terrorism. These meetings affirmed the importance of close partnership between the United States and Turkey in addressing the risks caused by sanctions evasion and other illicit financial activities," the US Treasury Department said.
Starting from June, US Deputy Treasury Secretary Wally Adeyemo and European Commissioner for Financial Services, Financial Stability and Capital Markets Union Mairead McGuinness traveled to Turkey with approximately the same agenda.
At the same time, Washington and, at its suggestion, Brussels are ramping up economic pressure on Ankara, above all on its banking sector. As a result, Turkish banks were forced to refuse to service Russia's Mir cards, periodically returning payments in dollars and euros to Russian payers, even if they go via correspondent, almost entirely Western banks. There is always a way out though, and work is now underway to resume accepting Russian bankcards, and payments are easily made in rubles. Such transactions are not tracked by financial regulators in the United States and Europe.
As for Ankara itself, it has its own means of counteracting this. Europe has fresh memories of Recep Tayyip Erdogan once opening the "gate" for hundreds of thousands of Asian and African migrants, and due to the "obstinacy" of the Turkish leader, NATO is still unable to take in Sweden and Finland.
Turkey, like probably no other country in the world, is interested in maintain sustainable economic ties with Russia. Therefore, it is safe to assume that it will continue to resist pressure brought to bear by the Western allies, even if at times it comes under their "friendly fire."
From our partner International Affairs
Evaluation of Germany's Reaction to The European Energy Crisis
The Russo-Ukrainian crisis, which started on 24 February 2022, brought war back to Europe. This war has visibly impacted the energy nerve of Europe as Russia is the primary exporter of energy, for – Liquified Natural Gas (LNG), oil and solid fossil fuel. Germany, in particular, had maintained a pro-longed diplomatic front in a bid to continue its energy trade which is largely dependent on Russia. Europe's dependence on LNG and oil imports from Russia has highlighted the need for Europe to diversify its energy trade. The attack on Ukraine by Russia has invited several sanctions against the latter, together with steering the discussion towards the urgent need to branch out in the LNG and oil global supply market. Similarly, in the context of India, there might be some lessons to draw to prevent such a situation which might arise due to the concentration of the energy trade from only particular countries.
The pursual of NATO membership by Ukraine, an erstwhile Soviet state, and the refusal of western states to adhere to Vladimir Putin's demand to bar Ukraine and other post-Soviet states from being included within NATO, are central to spurring the Ukrainian Crisis. After Putin recognised "the non-government controlled areas of the Donetsk and Luhansk oblasts (administrative regions) in Ukraine as independent entities and sent Russian troops into these areas," he launched his military invasion of Ukraine on the aforementioned date. Following the invasion, the European Union (EU) imposed several restrictive measures and economic sanctions against Russia and her allies. However, Europe too is feeling the ripples of these sanctions, as the EU depends on Russia for almost 40 per cent of its total gas consumption, and it "accounted for around 45% of the EU's gas imports in 2021 and almost 40% of its total gas consumption."
The case for European Energy Diversification
The EU is one of the largest importers of natural gas globally. The case for diversifying energy dependency is more specific to certain European countries, particularly Germany. The post-World War II German idea of pacifism is a prudent attempt at maintaining peace and cooperation in the region. Germany has been a strong advocate of relying on diplomacy to resolve any conflicts in the area. An example of this is the visit by German Chancellor Olaf Scholz to Russia on 15 February 2022, to attempt to negotiate a diplomatic solution between Russia and Ukraine. His visit aimed to revive the Minsk Agreement, where Germany had participated at the negotiations table along with France, Russia and Ukraine. This however, was unsuccessful as Russia was not keen on any talks regarding the situation. Further, even domestically, Scholtz was met with criticism for his inability to negotiate a deal. The leading LNG suppliers to Germany are "Russian piped gas led imports at 32 percent followed by Norway at 20 per cent and the Netherlands at 12 per cent." Germany's LNG imports are used in heating homes, industries, manufacturing, as fuel, and to generate 15.3 per cent of its electricity in 2021, as per the German Association of Energy and Water Industries (BDEW)." It is hence a crucial step to look toward diversifying the source of fossil fuel requirements for Germany and other European states, away from Russian shores. Among the other EU member states, Italy is in the second place when it comes to dependency level on the Russian gas supply as it buys "about one-quarter (24 percent) of Russia's total natural gas exports worth $5.8bn."
For Europe, especially Germany and the other countries most dependent on Russian energy imports, part of the answer will be to stop looking north in Russia's direction and start looking south to Africa. As the United States and other EU countries continued to impose increased sanctions on Russia as well as provide weapons and tactical support to Ukraine, Germany had been remarkably non-committal on offering military assistance. German Chancellor Scholz continued to reiterate that his country's foreign policies were attuned with those of Europe and the NATO, but also prevented third party countries like Estonia from supplying German-origin weapons to Ukraine. Scholz held that Germany would never favour providing lethal weapons to other countries. The common public and the domestic opposition heavily criticised Scholz for this perceived diplomatic failure.
However, focused international pressure from the global West to act more proactively has compelled Germany to make a U-turn in their policy regarding Ukraine. It declared his decision to suspend the Nord Stream 2 gas pipeline in the Baltic Sea, that "is owned by a company in which the Russian state has a controlling stake. Additionally, Germany Chancellor Scholz announced that "$113bn (£84bn) for the German army" and committed to meeting the target of NATO military spending of 2 per cent. The German government also announced that it would send in "1,000 anti-tank weapons and 500 Stinger anti-aircraft defense systems to Ukraine. [It also] authorised the Netherlands to send Ukraine four hundred (400) German-made rocket-propelled grenade launchers, and asked Estonia to ship over nine Howitzers." Besides increasing military spending, Germany also sided with the European Union's decision to suspend seven Russian banks from the SWIFT messaging system for global financial transactions, baring the ones associated with energy, from the SWIFT messaging system for global financial transactions. The Polish Prime Minister was critical of this decision by the EU to exempt Sberbank and Gazprombank from sanctions. Although China and Russia have set up their own alternative platforms, around 70 per cent of the transactions continue to be conducted through the SWIFT system.
Alternate or Plausible avenues of energy
The International Energy Agency (IEA) came out with the "10-Point Plan to Reduce the European Union's Reliance on Russian Natural Gas" which highlighted, among others, not signing newer contracts with Russia; looking for newer suppliers; alternate sources of energy; and opting for low-emission, clean and efficient alternatives, like nuclear energy and wind energy. The adoption of energy efficiency measures was also suggested in homes and industries. These objectives are in line with the EU Green Deal to reduce emissions in the future.
Over the course of the unfolding Ukrainian crisis, Europe's reliance on its energy trade from Russia might face numerous threats. Any sudden halting of the LNG pipelines would be catastrophic for the German economy.  The primary pipelines, originating from Russia, on which Europe depends are the "Yamal-Europe, which crosses Belarus and Poland to reach Germany, and the Nord Stream 1, which goes directly to Germany via the Baltic Sea." 
Source – US Energy Information Administration
In the case of France, it derives less than 20 per cent of its energy needs through LNG, with nuclear energy alone constituting 70 per cent. As the dependence on the energy trade with Russia through LNG pipelines is under the international community's close radar, pressure has been building on Europe to diversify either its source of energy supply or look at alternate sources of energy because of the sky-rocketing prices. The US ban on Russian oil imports and subsequent calls of diversifying and phasing out oil and gas imports from Russia, all amidst the Ukrainian crisis, has affected the sharp climb of energy prices. There is also the fear of Russia closing the fuel pipelines as a reaction to the sanctions against it, as well as the military support provided to Ukraine. While addressing the German Economic Minister Robert Habeck, Stefan Liebing, the chair of the German-African Business Association, urged Habeck to consider exporting LNG from "African countries such as Algeria, Nigeria, Egypt and Angola, which could help free Europe from its dependence on Russian gas." Algeria is a major supplier of LNG to Europe, with substantial reserves. It supplies Italy and Spain through its undersea pipelines and has an LNG terminal. From there, natural gas could be transported to Germany via pipelines. The Libyan gas field are another source of energy supply connected to Italy. There has been talks to develop the Eastern Mediterranean Pipeline Project to supply the required energy from offshore gas fields of Italy to Europe.
Source – Deutsche Welle
The major natural gas reserves lie with Nigeria, which contains about a third of Africa's reserves. The Trans-Saharan pipeline, which could supply around 30 billion cubic meters of gas from Nigeria, is "equivalent to about two-thirds of Germany's 2021 imports from Russia". It has been proposed to join the existing LNG pipelines such as the "Trans-Mediterranean, Maghreb-Europe, Medgaz, and Galsi pipelines that supply Europe from transmission hubs on Algeria's Mediterranean coast." The Maghreb-Europe Gas Pipeline in Algeria "conveys natural gas through Morocco to Spain and Portugal, and the Medgaz pipeline links Algeria directly to Spain." However, the operationalisation of the Trans-Saharan pipelines, which are still in the initial stage, would take some time to fill the energy gap for Europe in the short run. Alternatively, Nigeria holds around 200 trillion cubic-foot reserves of gas and is a great option for exporting gas to Europe. This energy rush has led to a subsequent worldwide increase in the price of goods and delays in the supply chain.
Europe also relies on shipping for LNG imports from West Africa. Yet, in the case of Germany, it doesn't have any LNG import terminals. Similarly, LNG loading ports with floating liquification plants can be used to transport offshore gas to LNG tankers, such as in the Greater Torture Ahmeyin field. African states with huge gas reserves also see the opportunity of widening the energy market to "fill the gap of around 150-190 billion cubic metres caused by the Russian energy." It is also important to secure the energy supply from terrorist activities and violence caused by armed groups in the region, which leads to insecurity and instability in supply. An example of this is Mozambique, in the Cabo Delgado area, that has deep reserves of gas. The importance of security of supplies was reiterated by the Economy Minister of Germany, Robert Habeck, who also signalled the necessity to diversify resources and has delayed Germany's plan to go carbon neutral, by looking towards nuclear energy and coal.
Additionally, the Southern Gas Corridor (SGC), which had been initiated by the European Commission, would be linking the Caspian Sea to markets in Europe, and aims to increase and diversify European energy supply." It was stated to be capable of supplying 10 billion cubic meters (bcm) by the end of 2020, which had the potential to be expanded later. Similarly, other gas pipelines connecting Central Asia and the Mediterranean region are "the Trans Anatolia Natural Gas Pipeline (TANAP) and the Trans-Adriatic-Pipeline (TAP) to transport gas from Azerbaijan to Italy via Georgia, Turkey, Greece, Albania and the Adriatic Sea, by listing them on the PCI [Project of Common Interest] lists."
The United States of America has proposed to relax sanctions on Venezuela to open up alternate routes for energy trade. Qatar has also been identified as a supplier of energy to Europe. However, Qatar has clarified that it is operating presently at full operational capacity limit, and thereby cannot replenish the complete requirement of European countries who previously traded with Russia for gas. Hence, this makes the diversification of the energy needs of a country more significant.
Even within the EU, the stress has been on expanding the supply of energy and building new LNG terminals and interconnectors. The rise in LNG supply prices has led to unintentional stress in the shipping industry, as it has also brought global production outages and shipping delays. LNG cargoes headed for Asia through the maritime routes have been rerouted to European ports to cater to consumers willing to shell out a larger sum, amidst the surge in gas prices. This has also led to stockpiling of LNG resources to prepare for the next winter in Europe, where gas is crucial in heating homes. Shell and Total, the leading gas and oil agencies, have been working on regularising the flow of gas tankers from the US, Nigeria and Qatar, towards Asian markets. This is because Europe is well connected by LNG pipelines and can be substituted, when necessary, with cargoes from other sources. Besides, Japan and South Korea are the major importers in the Asian market, and Japan makes use of LNG to meet the energy gap from nuclear energy production.
LNG imported through LNG terminals is manner of diversification from pipelines. Furthermore, the European Commission had presented the EU Strategy for LNG and gas storage in 2016, which talked of improving energy security and diversification of sources of supply. But due to the limited supply by Russia, Europe had lesser storage of gas even in the winter months. A limitation of this is that there can be only a finite amount of storage to be kept in contingency for the next winter. In the case of Germany, the German President, while addressing the German Parliament, revealed that Germany would increase their gas storage capacity up to 2 bcm and would import gas in coordination with the EU.
As gas imports have gradually reduced, in addition to the sabotage on the Nord Stream 1 pipeline in September, Germany has opted to diversify its energy resources. European LNG-dependent European states have started concentrating on other avenues for energy generation. Wind energy and solar energy are seen as promising alternates to LNG and oil, though with the caveat of being dependent on weather conditions. However, these would require an ample amount of energy backup. The usage of coal for power generation purposes has been proposed as an option to decrease the dependence on Russian energy. Despite coal being known as the dirtiest fossil fuel, there has been the push towards its usage for electricity generation. In the short term, it is seen as a viable option to substitute the continent's gas needs. Russia has also been the biggest supplier of coal to Europe, nudging states in Europe towards Colombia, South Africa, Australia, Indonesia and the U.S. Despite the sanctions being imposed, shipments of coal from Russia were still being sent to the U.K., Germany and Latvia.
Nuclear energy is another alternative energy generation method which Europe could expand on, and in 2022 it accounted for 24.6 per cent of electricity produced in the EU. Europe has pledged to phase out the dependence on Russian energy imports by 2030 according to the Versailles Declaration, and to develop "three key dimensions: a) Bolstering […] defence capabilities; b) Reducing […] energy dependencies; and c) Building a more robust economic base." However, that goal can only be met in the long term.
In the case of Germany, as the energy crisis is deepening its impact on its economy, German Chancellor Olaf Scholz has authorised the country's three remaining nuclear power plants to continue working through mid-April 2023. The initial plan was to phase out the rest of the nuclear power plants by the end of 2022. The picture below depicts the nuclear power plants of Germany, which are Isar 2, Neckarwestheim 2 and Emsland.
Sites of Germany's Nuclear Power Stations
Mr Olaf Scholaz from the Social Democrat (SDP) had to overrule his part's alliance partner the Greens oppositions of the operation of the three nuclear power plants. However, as nuclear energy accounts for six per cent of Germany's energy sources, the option of nuclear energy can not be done away with. The chancellor also requested that ministries produce a viable law to increase energy efficiency and establish a phase-out of coal by 2030. In order to secure the security of the energy supply, Scholz also stressed on the development of new hydrogen-capable gas plants. Russia's energy supply failure forced Germany to change the composition of its energy mix.
It can be reiterated that to ensure the energy security of a country, it is crucial to diversify its energy imports for the smooth functioning of the economic activities and domestic needs of a state. Additionally, to mitigate climate related crisis in the long-term, it is also important to attempt to diversify towards greener and more sustainable sources of energy generation.
The views expressed are those of the author and do not reflect the position of the Centre for Air Power Studies.
Bangladesh-Nepal Energy Cooperation: Harnessing the New Opportunities
The Ukraine war has shown the world the urgency of enabling alternative sources of energy. There are major powers in the western part of the world that are suffering heavily due to the global energy crisis. Bangladesh is not an exception. The country has a high degree of resilience in the energy sector. But the current global instability in the energy market has also facilitated the crisis to Bangladesh. Here Bangladesh is in search of newer opportunities and Nepal can be a handy option. The newly appointed Nepalese Ambassador to Dhaka urged to make cooperation in the energy sector with Bangladesh. He expressed his views with the prime minister of Bangladesh.
The relationship regarding energy cooperation between the two states has gained a structure over the past few years. With the ratification of an energy cooperation agreement to regulate investment, development, and trade in hydroelectricity between the two nations in August 2018, the bilateral relationship between Bangladesh and Nepal gained fresh momentum. By 2040, Bangladesh would import up to 9,000 MW of hydropower from Nepal according to this agreement. A Joint Working Group (JWG) to enhance collaboration and a Joint Steering Committee (JSC) to assess the JWG's progress were also established by the agreement. The two committees' tasks include holding frequent meetings and accelerating the agreement's implementation. The JWG has held numerous rounds of deliberations, while the JSC has held two meetings. Even there was talk for a tripartite agreement that includes India going on to give the cooperation an effective momentum.
However,with an average GDP growth rate of 7.5% over the past ten years, Bangladesh has established itself as one of the world's fastest-growing economies. The goal of becoming a high-income nation by 2041 should be paired with ongoing energy production to meet the rising demand from the infrastructural and industrial sectors. Bangladesh is rushing to import energy from other nations to replace the scenario where non-renewable natural gas accounts for 75% of its overall fuel use, in order to slow the declining gas reserve. There are quite a few options to deal with but having a historic connection and taking into account the distance and feasibility, Bangladesh-Nepal energy cooperation can be a handy alternative for Bangladesh in the near future to deal with the growing energy consumption market. The write-up will put shed on the shared energy sectors and the potential of it. These cooperative actions will bring some positive ramifications for Bangladesh.
Message for the Cooperation
The ambassador of Nepal to Bangladesh Ghanshyam Bhandari met the Prime Minister of Bangladesh Sheikh Hasina and assumed that Nepal will provide 40–50 MW of electricity to Bangladesh, and the supply will increase further when the construction of a mega power project. The ambassador claimed that a mega power project is currently being implemented in his nation. Ihsanul quoted the ambassador as saying, once the project is finished, Nepal will be able to sell more electricity to Bangladesh.
Sectors of Cooperation
Newer Ports for Newer Connections and Newer Use
Meanwhile, Bangladesh is ready to purchase 500 MW of the 900 MW Upper Karnali hydropower project's electricity. Since Banglabandha Land Port is closer to Burimari Port, Bhandari also stated that his nation is interested in exploiting it for trade.
Inclusion of India in the Bilateral Forum to Strengthen the Sustainability
Bangladesh has asked its neighbor India to sign a trilateral agreement so that it can import hydroelectricity from Nepal at a far lower cost. According to representatives of the Bangladesh Power Development Board and the Power Division, Bangladesh will first be able to acquire 50MW of hydroelectricity from Nepal if the deal is signed (BPDB). According to The Kathmandu Post, citing Energy Secretary Sushil Chandra Tiwari, Nepal too has submitted a second letter to the Indian authorities on the same matter as a collaborative effort. Besides, the Nepal Electricity Authority and the Bangladesh Power Development Board consented to recommend a trilateral power trade agreement from India's NTPC Vidyut Vyapar Nigam Ltd (NVVN) at the beginning of August of this year in order to allow the export of 40 to 50 megawatts of power generated in Nepal to Bangladesh. Since India is located between Nepal and Bangladesh and the two nations do not share borders, India's help will be essential to facilitating the exchange of electricity between them.
Moreover, the 900MW Upper Karnali Hydropower Project will be built in Nepal by the Indian GMR Group, which has established GMR Upper Karnali Hydropower Limited to carry out the project's development. Bangladesh has also taken the choice to purchase 500MW of electricity from the project. In addition, Bangladesh has consented to the cooperative development of the 383MW Sunkoshi-3 Hydropower Project. In a larger vision shared by Nepal and India, Bangladesh would play a significant role in a sub-regional power market. The Baharampur-Bheramara cross-border transmission line, which connects Bangladesh and India, will be used by the nations to exchange power. The 500MW of electricity can be exchanged thanks to the transmission line, which was officially opened in 2013. Although Nepal and Bangladesh have determined that the Bheramara High Voltage Direct Current is a viable option for sending a small amount of power from Nepal to Bangladesh, it will not be a long-term solution for increasing power exports.
Lower Cost and Higher Utilization
Currently, Bangladesh's average cost of producing one unit of electricity is Tk 10, compared to Tk 37 for diesel-based power and Tk 17 for furnace oil-based power. The BPDB is having trouble paying its debts to commercial generating companies as a result of the high cost of power, which prevents them from importing fuel to power plants. However, BPDB officials expressed confidence that Nepalese hydropower would be a less expensive option, with a price of no more than Tk5 per unit. Currently, at a cost of Tk6 per kWh, the BPDB imports 1160 MW of power from India. In the case of Bangladesh
Role Model of Bilateral Energy Cooperation?
Bangladesh and Nepal can be a role model for other smaller states in the region and in the global domain, that cooperation can ensure sustainability whatever the size of the economy is. Besides there will be some other ramifications which will harness newer opportunities. Firstly, Bangladesh can satisfy the rising demand needed to sustain its industrial expansion. In a global order with a disturbed supply chain, the initiatives can make sure the enlargement of the industrial sector. Secondly, Bangladesh can diversify the energy mix to reduce over-dependence on natural gas. The reserve of natural gas is deteriorating so the cooperation may ensure the domestic and industrial drudgeries moved on.
Thirdly, the price of production will decrease sharply due to the lower production cost. Previously, the price of energy is under pressure due to Bangladesh's deteriorating natural gas supply and the fluctuating cost of its inputs, but experts believe Nepal will continue to deliver a steady supply of hydropower. Fourthly, as energy is a strategic good, importing it from a variety of sources will improve Bangladesh's regional outlook by reducing its reliance on one particular entity. In this way, in addition to giving Bangladesh a cushion for energy reliability, Bangladesh would also receive some additional economic and strategic benefits from purchasing power from Nepal.
Fifthly, the economic worth of the export should also be acknowledged. The majority of Nepal's exports are low-value agricultural and raw materials, and the country's overall exports are not even enough to cover its imports of petroleum products. Nepal exports only 8.6% of GDP, with a massive trade deficit of 38.1% of GDP, compared to Bangladesh's 16.6% and India's 13.7% of GDP. Exports have been essentially flat over the past ten years, despite the government implementing several policy initiatives, such as NTIS 2016 and payment incentives based on value-addition. Sixthly, the power export serves both to reduce the growing trade deficit and to attract much-needed foreign capital to the hydroelectricity industry. Just 1600 MW of power may be exported yearly to double the export revenues, which were less than US$ 1 billion in FY 2018–19. Additionally, the export of 1600 MW will not have an impact on Nepal's capacity to meet its domestic demand because the country has enormous hydropower potential.
Finally, Bangladesh can utilize the concept of "commodity". Nepal's 15th Five-Year Development Plan (2019/20-2023/24) lays out plans to turn electricity into a commodity that can be exported. In five years, Nepal intends to increase its current 1250 MW of electricity production to more than 5000 MW, making Nepal an energy surplus nation. Bangladesh, on the other hand, wants to make investments to generate, and import surplus energy from Nepal. Eighthly, regional organizations like SAARC, BBIN, and BIMSTEC can be extremely beneficial by establishing a shared energy corridor that will be extremely beneficial for the economies of all the neighboring nations. Not only are Bangladesh, India, and Nepal members of all three forums, but they also actively support the liberalization program.
People in this area are eagerly awaiting coordinated, practical efforts. An agreement between Bangladesh and Nepal should be signed right away as the first step in fostering energy cooperation. A more comprehensive framework should be developed that includes private investment, public sector involvement, the building of transnational transmission lines, research and development and technology transfer, particularly in the renewable energy sector, as well as sector-specific training and development programs. All of these in the long term will harness the ever-emerging opportunities in the domain of Bangladesh-Nepal energy cooperation and give the two states stable energy and economy.