Horror in Sri Lanka and Love Fest in Vladivostok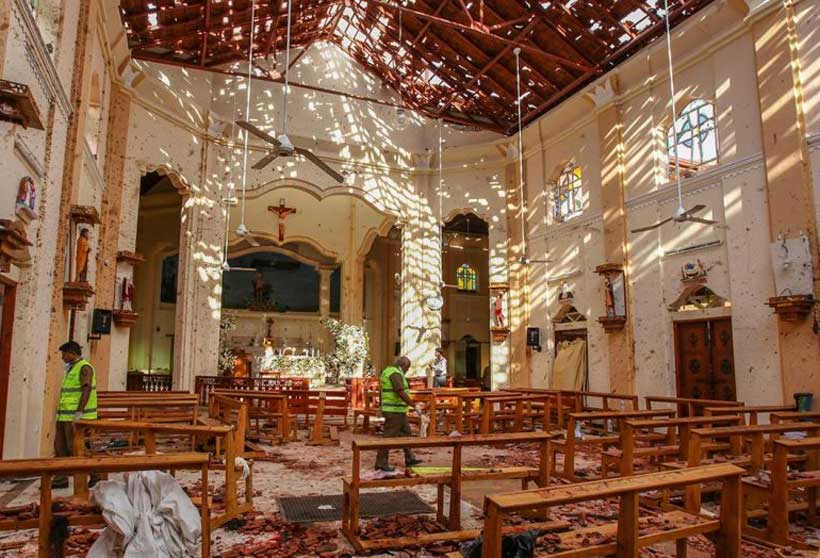 The horrendous Easter bombings in Sri Lanka make little sense; the question remains, why? Following 30 years of civil war between the majority Buddhist Sinhalese (75%) and the minority and mostly Hindu Tamils (11%), who felt discriminated against after the country won independence from the British, it had enjoyed a decade of peace.
The Muslims are another minority in Sri Lanka. They have been under attack in recent years by a new aggressive Buddhism rearing its head. So why should Muslims attack Christians a fellow Abrahamic minority when there has never been any discord between them, and when they could be natural allies.
After ISIS claimed responsibility displaying faces-covered photos of the bombers (except for the leader whose face was uncovered), the murkiness of the circumstances precipitated out. He who pays the piper calls the tune they say, and the local group (National Thowheed Jam'aath) who were the instruments, did not have the wherewithal or the resources on their own — just a leader radicalized by attacks on Muslims by the extremists among Sinhalese Buddhists a year ago.
According to ISIS, it was revenge for the New Zealand mosque bombings but it was also designed to hit the tourist trade. Then too, Zahran Hashim the leader of the group, and who himself is thought to have carried out the attack on Colombo's Shangri La Hotel was of Tamil background. The cycle continues.
Needless to say the attack on Christians also wrong-footed the security forces for they had intelligence reports since January, but clearly had little or no security presence. Will there be retribution? That is what Muslims fear (and ISIS wants) for it generates more recruits to continue the madness.
How did ISIS emerge? It might be repetitious to say so, but it takes the brutality of war to generate extremists. Think of the IRA, or the Tamil Tigers who invented the suicide bomber. The crazed path of destruction created in the Middle East and North Africa by the US will leave a trail many years hence.
And not only there, as the revolution fomented in Ukraine has led to a civil war, with Russia backing the ethnic Russians of the Donbass region in East Ukraine. Just this week, Russian president Vladimir Putin issued an order simplifying the procedure for them to obtain Russian passports. Is this another step towards eventual annexation?
Meanwhile, Mr. Putin has decided to fill the void left when Donald Trump in Vietnam walked away from what he called a bad deal with Kim Jon Un of North Korea. Kim had demanded an end to all economic sanctions before he would begin to dismantle his nuclear weaponry. Kim had a point: it is clearly not easy to replace destroyed armaments unlike sanctions.
Putin is now playing the role of global power broker with North Korea drawing the attention Trump had received briefly until the falling out. A new bromance? Perhaps, and one important enough for Putin to travel across seven time zones to Vladivostok for the meeting. Kim was met with great ceremonial pomp and treated to a lavish banquet laden with delicacies; thus indulging his twin weaknesses for deference and good food. No cheeseburgers, thank you — in marked contrast to Trump's favorite food.
What does Putin get? Along with being seen as an influencer in North Korea, he could well become its intermediary, the go-to guy. The wily Putin seldom loses. He waits and watches, watches and waits. For Kim, his two neighbors Russia and China have been his strongest support for generations, to which he now returns.
He tried to emulate China, wanting capital and western firms to invest and kickstart a commercially moribund economy. But Trump's price was too high. One wonders whether Trump will expound on the Art of the Missed Deal if he loses the next election. But then the 'curiouser and curiouser' Democrats might ensure that he does not have to.
Strategies for combating international terrorism in Central Asia
After the collapse of the Soviet Union, Central Asia has been cast as the site of a new "great game". Central Asia has been largely influenced by international developments and the emergence of persistent sources of instability and tension in other parts of the world, including the Middle East and North Africa. Some states in the region have succeeded in expanding their relationships with other actors. For example, Kazakhstan has tried to advance its goals by participating in important international issues and designing appropriate policies. Although Kazakhstan has succeeded in this path, most of the countries in the region face major challenges.
At the moment, Central Asian states are facing serious menaces to their security from various challenges like drug trafficking, water disputes, religious fundamentalism and expansion of terrorist and takfiri groups such as ISIS.
Given the increased risk of terrorist groups infiltrating the region, the key question is: "What strategies exist to counter international terrorism in the Central Asian region?" This study suggest that an integrated long-term strategy is an effective and comprehensive way to combat international terrorism.
Central Asia and international terrorism
The war in Syria and Iraq has significantly altered modern terrorism, with radical Islamic militants from Central Asia being no exception. Most importantly, for the first time travelling outside of the region to fight in the ranks of militant and terrorist organisations became a mass phenomenon. In Syria, the radical Islamic militants from Central Asia have established terrorist organisations of their own. These terrorists have Salafi-Wahhabi inclinations and are among the backers of al-Qaeda, al-Nusra Front, and Daesh Takfiri groups. They have turned into a potential threat for countries in Central Asia as these international and organized terrorists may one day find their way to other regions and states after Syria.
Activities of extremist networks which send their members and devotees to Syria have a determining role in the region. Many of the foreign rebels operating in Syria had links to these groups in their own countries. A portion of them are being encouraged by their relatives and friends in Syria to join the ranks of the Takfiri militants, especially older brothers motivate the younger ones to join the terrorists.
The terrorists' method for recruiting forces is almost the same in most of the countries in the Central Asia. They usually do this through local sources and Islamist groups and organizations that have close ties with al-Qaeda, Salafists and Wahhabists. However, this is not done openly.
A number of terrorist groups are tasked with recruiting individuals to send them to fight in Syria. In fact, all terrorist groups, including al-Qaeda and the al-Tahrir Party are busy with the recruitment. The Takfiri groups of al-Nusra Front and the so-called Islamic Jihad Union are also employing nationals from Central Asia. In some countries, the process of employment is done through indigenous people. For instance, one-third of all Kyrgyz people who have traveled to Saudi Arabia in pursuance of religious education have turned into extremist Salafi-Wahhabi preachers in Kyrgyzstan. That is why today the Kyrgyz are employing their people to prevent this.
The Challenges of Combating Terrorism in Central Asia
Fighting terrorist threats in Central Asia is a complex issue. To counter these threats, Kazakhstan and other Central Asian governments have been reevaluating their national counter-terrorism strategies. Counter-terrorism cooperation under the Collective Security Treaty Organization and the Shanghai Cooperation Organization has its limits because not all the Central Asian governments are members of the organizations. Also these strategies have been mainly established to counter-terrorism within the member states, not the ones stemming from other regions.
On the other hand, some external actors play a destructive role in improving the security situation in the region. Indeed none of the great powers are not serious fight against terrorism. At present, the security conditions of the region can be made more complicated for several reasons:
First, the spread of terrorism and extremist groups;
Second, U.S. competition to increase penetration;
Third, ISIS's willingness to be present in the region;
Fourth, the presence of people from the countries of Central Asia, Afghanistan and Pakistan in the ranks of ISIS militants in Iraq and Syria;
Iran and Fighting Terrorism in Central Asia
The rising threats of extremism in Central Asia represent a strong menace for Iran interests. Due to the increasing presence of ISIS forces in Afghanistan, the security of Central Asia remains a top priority on the Iran security agenda. The Iran-Central Asia Strategy should include in its objectives the challenges of foreign fighters and radicalization, drug trafficking and organized crime, and conflicts that require cooperation between Central Asia and Iran.
No one and no country can deny the constructive and positive role of Iran in fighting the scourge of terrorism in the region and the world. Iran's efforts and assistance to regional countries have helped reign in the violence and bloodshed of ISIS terrorist group in various parts of the world by bringing the self-proclaimed statehood of ISIS to an end in Iraq and Syria. The Islamic Republic of Iran will continue to advocate dialogue, cooperation and trust among regional countries as the only viable way to end terrorism and devastating wars in the Middle East. In result no country would benefit from weakening Iran in the region.
In the past years, Iran has acted as a buffer zone and has prevented the entry of terrorist groups from Middle East to Central Asia. Iran has always tried to fight with terrorist and takfiri groups. Among foreign actors in the region Iran and Russia have a good cooperation in the fight against terrorism. Iran and Russia are winning the Fight against Terrorism in Syria. Undoubtedly Iran and Russia can offer their experience in combating terrorism to Central Asian countries.
Conclusion
No doubt, security, peace and respect for the sovereignty of countries, as well non-interference in their internal affairs, and an effective fight against terrorism without double standards will be in the interest of all countries in the world.
Fight against Terrorism Requires a holistic and coordinated approach. For the implementation of the international Counter Terrorism Strategy in Central Asia need a Regional Joint Action Plan. Integrating counter-terrorism strategy to political, economic and social development policies is an important part of the comprehensive approach.
In order to combat terrorism in Central Asia, there are a few issues to consider:
1. All States in region to combat terrorism must take coordinated action.
2. Fighting terrorism in Central Asia will not succeed without creating peace and stability in Afghanistan.
3. Combating terrorism requires the formation of a regional and international coalition with States that really have a concern for countering terrorism, not the countries that have been sponsors of terrorist groups.
4. The fight against terrorism requires the use of past experiences in this regard. Iran and Russia have considerable experience in combating terrorism.
From our partner Tehran Times
Fighting Terrorism Online: EU Internet Forum committed to an EU-wide Crisis Protocol
The participants of the 5th EU Internet Forum, hosted by Commissioners Avramopoulos and King, have committed to an EU Crisis Protocol – a rapid response to contain the viral spread of terrorist and violent extremist content online. The Commission, Member States and online service providers, including Facebook, Twitter, Google, Microsoft, Dropbox, JustPaste.it and Snap have committed to working together on a voluntary basis within the framework set out by the Crisis Protocol, while ensuring strong data protection and fundamental rights safeguards. The EU Internet Forum also discussed the overall progress made in ensuring the removal of terrorist content online since its last meeting in December 2018 as well as how to strengthen cooperation on other challenges, such as child sexual exploitation online.
Commissioner for Migration, Home Affairs and Citizenship Dimitris Avramopoulos said: "Since I launched the EU Internet Forum 4 years ago, it has gone from strength to strength, offering Member States and online platforms an effective framework to work together to tackle terrorist content online. We have managed to build a strong relationship of trust and mutual understanding with the internet platforms. I am pleased with the progress we are making and the remarkable results we have achieved. Today, we are taking this cooperation another step further with an EU Crisis Protocol. With this, we will be ready to act quickly, effectively and in a more coordinated way to stop the spread of terrorist content."
Commissioner for the Security Union Julian King added: "The events in New Zealand earlier this year were a stark reminder that terrorist content spreads online at a tremendous speed. While our response might be quick, it isn't quick enough. The Protocol is an EU response to contain the havoc created by such events – in a coordinated way."
In the aftermath of the terror attack in Christchurch, New Zealand, government leaders and online platforms agreed on the Christchurch Call for Action. On this occasion, President Juncker announced the development of an EU Crisis Protocol in the context of the EU Internet Forum. The EU Protocol will allow Member States and online platforms to respond rapidly and in a coordinated manner to the dissemination of terrorist content online in the event of a terrorist attack.
The EU Crisis Protocol endorsed by the EU Internet Forum today will:
Provide a coordinated and rapid reaction: Member States' authorities, together with Europol, the Global Internet Forum to Counter Terrorism (GIFCT) and online service providers will be able to respond quickly, in a coordinated manner to ensure that the spread of terrorist or violent extremist content is swiftly contained.
Facilitate public and private sector cooperation: In the event of a crisis, law enforcement authorities and online service providers will share relevant information on the online content (e.g., URLs, audio-visual media, and metadata) on a voluntary basis, in a secure way and in real time.
Facilitate a voluntary arrangement: The Protocol does not replace national legal frameworks or existing national crisis management mechanisms. It should apply only to extraordinary situations where those national measures are no longer sufficient to coordinate a rapid and cross-border response.
The EU Internet Forum also discussed the overall progress made in ensuring the removal of terrorist content online since its last meeting in December 2018 and looked at the emerging challenges. This included, for the first time, a discussion on the global threat of online child sexual abuse and exploitation. Cooperation between public authorities and online platforms is key to fight against these horrible crimes effectively. Participants also took stock of the work to tackle the challenges presented by right wing extremism and the radicalising effect of violent political discourse.
Background
The EU Internet Forum was launched by Commissioner Avramopoulos in December 2015 to address internet misuse by terrorist groups. It brings together EU Home Affairs Ministers, the internet industry and other stakeholders who work together voluntarily to address this complex issue. Since its creation, the EU Internet Forum meets annually to take stock of the progress made in removing terrorist content online and to discuss emerging challenges. In 2015, an efficient referral mechanism to flag and remove terrorist content online was created at Europol.
In 2016, at the EU Internet Forum, the industry announced the creation of the "database of hashes" to make removals permanent and irreversible. The database is a critical tool in stemming the spread of terrorist content online. Since its launch, the database has gathered over 200,000 hashes (pictures, videos, etc.) and has helped both large and small platforms to remove such content quickly.
President Juncker announced the development of the EU Protocol in Paris earlier this year when he attended a meeting of government leaders and CEOs of major online platforms that was co-hosted by French President Emmanuel Macron and New Zealand Prime Minister Jacinda Ardern.
A first exercise to operationalise the Protocol already took place at Europol on 11 September 2019.
The EU Crisis Protocol will contribute to efforts undertaken at global level in the context of the Christchurch call, in particular the Crisis Response Protocol as announced in September at the margins of 2019 UNGA.
New technologies, artificial intelligence aid fight against global terrorism
Although terrorists have become skilled at manipulating the Internet and other new technologies, artificial intelligence or AI, is a powerful tool in the fight against them, a top UN counter-terrorism official said this week at a high-level conference on strengthening international cooperation against the scourge.
Co-organized by Belarus and the United Nations Office of Counter-Terrorism (UNOCT), "Countering terrorism through innovative approaches and the use of new and emerging technologies" concluded on Wednesday in Minsk.
The internet "expands technological boundaries literally every day" and AI, 3D printing biotechnology innovations, can help to achieve the Sustainable Development Goals (SDGs), said Vladimir Voronkov, the first-ever Under Secretary-General for the UN Counter-Terrorism Office.
But it also provides "live video broadcasting of brutal killings", he continued, citing the recent attack in the New Zealand city of Christchurch, where dozens of Muslim worshippers were killed by a self-avowed white supremacist.
"This is done in order to spread fear and split society", maintained the UNOCT chief, warning of more serious developments, such as attempts by terrorists to create home-made biological weapons.
He pointed out that terrorists have the capacity to use drones to deliver chemical, biological or radiological materials, which Mr. Voronkov said, "are even hard to imagine."
But the international community is "not sitting idly by", he stressed, noting that developments in this area allow the processing and identification of key information, which can counter terrorist operations with lightning speed.
"The Internet content of terrorists is detected and deleted faster than ever", elaborated the UNOCT chief. "Fifteen to twenty minutes is enough to detect and remove such content thanks to machine algorithms".
Crediting quantum computing coupled with the use of AI, he explained that accelerated information processing enables terrorist tracing.
Mr. Voronkov added that the use of blockchain registration – a growing list of records, or blocks, that are linked using cryptography – is also being explored to identify companies and individuals responsible for financing terrorism.
"It is necessary to increase the exchange of expert knowledge on technologies such as 3D printing, synthetic biology, nanotechnology, robotics, the synthesis of the human face and autonomous weapons", he underscored. "This will help to better identify and respond to risks before it is too late".
The two-day conference was divided into three themed sessions that focused at global, regional and national levels on the misuse of new technologies and AI by terrorists; approaches and strategies to counteract terrorist propaganda; and the misuse of scientific innovations.