The Self-Aggrandizing Tenets of the Modi Doctrine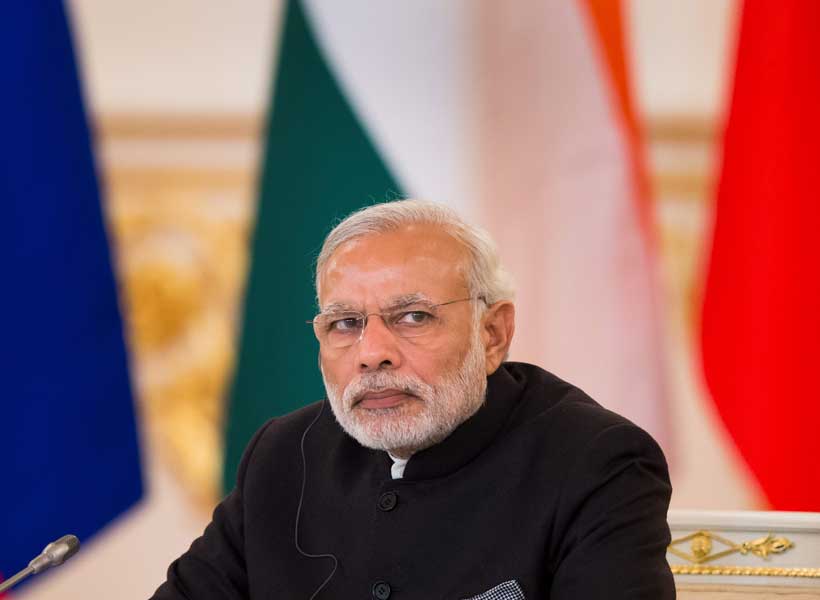 As Mr. Modi confidently pushes forth his re-election bid in the ongoing Indian elections, numerous analysts have offered various summations of his outgoing government's performance. These include a broad range of analyses on his characteristic 'hands-on' approach to foreign policy, which in contrast to his predecessors' has been self-styled as a major paradigm shift.
This perspective is evident for instance in Professor Harsh Pant's recently released book titled 'Indian Foreign Policy under the Modi Era'. One of Mr. Modi's long-standing proponents, Prof. Pant has credited this Indian Prime Minister with not only injecting a certain impetus and vigor to India's foreign relations, but also with fundamentally altering the more passive and risk-averse approaches of the past. This has entailed India taking on a more leading as opposed to a balancing role in its relations with major powers at the global level, while subsequently consolidating its own leadership role within the South Asian and Indian Ocean regions.
These aspects are argued as being evident in the renewed emphasis on greater cooperation with ASEAN countries, as well as the revival of the BIMSTEC. Both these moves have been credited as forming an integral part of Mr. Modi's 'Act East' policy, which has been widely acknowledged as a much needed advancement of India's long floundering 'Look East' policy. As part of India's own bid to contain China's rising influence and its threats of encirclement, India's pivot to the East has in turn also been supported by the US, Japan and Australia as part of what is now referred to as the 'Quadrilateral Alliance'. These developments are just one example of what many including Prof. Pant have hailed as a more assertive and successful use of India's soft power capabilities.
Simultaneously, Mr. Modi's hard-line stance on Pakistan too has been lauded by his supporters along similar lines. Veering between surprise visits and unprecedented military strikes, his approach towards Pakistan has been to stay one step ahead by remaining both evasive and unpredictable. What this has done is effectively negate any possibility of Pakistan playing a stabilizing role in the region while more or less ignoring its very existence. This stands in stark contrast to the cautious optimism and measured restraint employed by his predecessors, who were still willing to engage in at least in some form of dialogue, instead of completely ignoring and shutting out South Asia's second largest economy and military power.
As a result, Mr. Modi's readiness to use military force and create space for cross-border operations within the nuclear threshold has been lauded as bold and necessary by his proponents. By exerting the kind of hard power that is perhaps more characteristic of a regional hegemon, the ensuing notions of 'surgical strikes' and 'swift military response' have come to form a key part of India's foreign policy discourse on Pakistan. Something that is related directly to the self-aggrandizing narrative of India's emergence as a potential global power, or as Mr. Modi himself has oft repeated, a 'super-power in the making.'
Yet, while these allusions to India becoming a major world power find rapturous applause amidst the country's ongoing election rallies, there are still a number of limitations that remain more or less self-imposed by this approach to outside observers. This is evident in the fact that even though India's Act East policy may have led it to reach as far East as the Western shores of the United States, it has done so at the detriment of a whole slew of opportunities to its more immediate West. This in turn has caused India to arguably ignore and fail to adapt to a series of key developments amidst the changing global status-quo
For instance, by relegating SAARC to near redundancy and by trying to ignore Pakistan's very existence, Mr. Modi's policies have arguably allowed a fast rising China to gain even greater influence not only in Central Asia, but also within its own traditional spheres of influence within the South Asian and Indian Ocean regions. This head in the sand approach and reluctance to engage with countries which it fears it cannot control, points instead to a stubborn and near defeatist approach to diplomacy. An approach which seems a far cry from the above espoused goal of becoming a regional let alone global power.
This lack of progress is further evident in the recent aftermath of the attempted aerial strikes by India into Pakistani territory following the Pulwama crisis. In what is increasingly being termed as a grave miscalculation on India's part, the very public loss of men and resources is perhaps trumped only by the severe loss of prestige and credibility to India's aspired role as a regional leader. Hence, considering what Mr. Modi has to show for all his pro-activity and bluster, India's lack of leadership is becoming increasingly apparent in a region where its ambivalence and a clear absence of direction are already negating the decades of progress made by his predecessors.
Ironically however, as Mr. Modi's numerous proponents and speech writers had probably realized early on, the electoral value of this self-aggrandizing narrative still carries immense relevance at home, despite its apparent hollowness to outside observers. After all, what would politics be without its many delusions of grandeur and self-aggrandizement amongst its most seasoned practitioners such as Mr. Modi.
Increasing Need for Global Cooperation and Solidarity- Interview with Dr. Tandi Dorji
Covid-19 has invoked challenges worldwide that require us to formulate innovative solutions. Dr.Tandi Dorji , the foreign minister of Bhutan talks about the need to foster and increase transnational cooperation during these trying times.
Dr. Tandi Dorji has played a significant role in fostering Indo-Bhutan relations, and in the interview, he discussed future areas of collaboration, cultural understanding, and international engagement among the youth of the two countries. Having been a public health researcher before, Dr. Dorji reflects that the pandemic has rendered the population of Bhutan really vulnerable, and thinks that a challenge of such nature and scale can be surmounted only with global solidarity, cooperation and diligent efforts.
Some nations have a lot of financial, technical and human resources to tackle the pandemic, but others with weak public health systems and constrained by lack of resources cannot be sustained by sole efforts. There is a need to recognize this disparity and acknowledge that a weak link could jeopardize efforts aimed at global collaboration. Governments, health organizations, private sectors, scientists and researchers need to work with a common aim.
Countries that have research and financial capabilities need to come forward and support organizations like WHO that are responding to the current crisis through vaccine research. The collaborations in vaccine research need to be speeded up, and in order to make them more accessible and affordable for all countries, there needs to be a proper regulatory framework put in place.
This calls for a renewal in diplomatic efforts and increased funding programs by nations that already possess resources to tackle the crisis.
As someone who studied and lived in India for more than 15 years of his life, Dr. Dorji really appreciates the cultural richness and diversity present across states in India. He says that cultural understanding can play a very vital part in creating empathy within a population for the other side's paradigm and mindsets. Being informed of a person's or a culture's peculiarities enables us to comprehend them better.
Cultural differences, according to him, have not prevented people from working together. Rather, the fact that different countries in the past have come together under the purview of common international frameworks has provided opportunities to different cultures to reach out to one another, and to understand as well as accept the differences among them.
Dr. Dorji also believes that the principles and values that construct out society play a crucial role in informing our education system, so the need of the hour is to collectively create an environment that would make the youth feel more involved and develop the ability in them to engage in constructive discussion and exercise other forms of proactive citizenship, including in the areas of foreign affairs and international relations.
From politics to economics to health, the world has become a lot more interconnected than before, and to succeed in this global age it is very important to instil in students the ability to think globally, communicate across cultures, and act on issues of global significance; and while school education could play a role by incorporating foreign affairs and international relations in the curriculum, to foster greater awareness and intercultural empathy among nations we would also need to enable young minds to understand how the foreign policy objectives constructed by a nation affects their daily lives and the society at large.
More exchange programs between the schools and colleges of India and Bhutan in the fields of sports, culture and science and more youth-focused programs is one way to enhance the probability of intercultural understanding.
Dr. Dorji also says that India being one of the largest economies of the world, and predicted to become the second largest by 2050, there is much scope for collaboration between India and Bhutan within sectors such as Science, technology, tourism, Information technology, space and satellites, and pharmaceuticals. Indian investments in such sectors could be explored in the near future.
His Majesty the King of Bhutan (Jigme Khesar Namgyel Wangchuk) has particularly stressed the importance of STEM in harnessing technological advances, which can only happen by investing in these subjects. Economies are progressing and the world is gradually becoming more digital, so the national labour market is also going to require skills with an added emphasis on technical abilities, and it is highly important that our children are prepared to participate in discoveries and technologies that would unfold in future. One of them is space, and although Bhutan lacks resources and is a small country, it is important for more Bhutanese young people to realise the value of, and take up space studies.
The government, as per Dr. Dorji, shall be ready to encourage and promote the same.
Dr. Tandi Dorji concluded by saying that he appreciates the strong cultural heritage of India and how the country has managed to preserve and promote it.
Reimagining Pakistan Transforming a Dysfunctional Nuclear State- Book Review
Pakistan: A Lost Cause?
In his book, 'Reimagining Pakistan', Husain Haqqani discusses the origins of Pakistan as a state while laying bare the genesis of the state it has evolved into, ultimately culminating with his formula, for a reimagined Pakistan. As he rightly points out, Jinnah, when calling for a separate state of Pakistan, invoked religion as a way of giving a semblance of unity and solidity to his divided (by ethnicity, language, geography) Muslim constituents. Consequently, his demand for Pakistan was perforce "specifically ambiguous and imprecise" (p.7) (Jalal)so as to command general support. This base of religious nationalism also became the country's foundation for successive governments.
Then, taking a look behind the scenes, Haqqani says, even as the new state of Pakistan, was formed disadvantageously, with no functioning capital city, government or financial resources, its ill prepared founders unlike their Congress counterparts had no plans for the smooth functioning of a new country. Even, the concept of a common Governor General with India was rejected and Jinnah became the first head of state thereby losing for Pakistan all advantages financial and otherwise of having a moderating influence of a common governor general. Delineating the chemistry of Pakistani politics since independence, Husain with absolute clarity tells us that almost from the beginning part of the state apparatus used religion and religious groups for political ends. This unleashed a rampaging genie of religious–political chaos from time to time with the army stepping in to return the rampaging genie to its proverbial bottle. In this context Haqqani tells us that it was Zia's US backed "religious militancy" (p.100)in the form of jihad which Pakistan is dealing with till this day.
The author succinctly says Pakistan has thus become home to the world's "angriest Muslims" (p.112), with successive civilian and military governments choosing to appease "dial-a-riot" (ibid)Islamist hardliners, rather than confronting them. Drawing upon Shuja Nawaz's telling comment that "Pakistan's history is one of conflict between an under developed political system and a well – organized army"(Nawaz), Husain invokes this argument to point to consistent authoritarianism in the history of Pakistan when he refers to its four key military dictators.
The author also invokes Bengali leader Suharwardy's prophetic commentary on possible economic chaos in Pakistan, wherein he had warned that there would be no commerce, business or trade if Pakistan were to keep "raising the bogey of attacks" (p.58), and engage in constant "friction with India" (ibid). Husain in his book, 'India vs Pakistan – Why can't we just be Friends' talks of this pathological obsession with India and the consequent pressure points in their relationship. Ignoring, Jinnah's vision of two countries, with porous borders, "like the United States and Canada" (Jinnah, p.58).Unfortunately, with policy making playing second fiddle to national pride and morale, the narrative in Pakistan has become that of a victim not only of conspiratorial enemies but also an army which expands the magnitude of threats to match its size.
Hence, as the author points out most Pakistani leaders, except Ayub Khan have shown little interest in economic matters. Ignoring fundamentals of economics, aid gathered internationally by Pakistan as rentier to the western world, was frittered away in building military capacity just as it sank ever lower in terms of human development indices. With the culture being one of extolling the "warrior nation" (p.62) over the "trader nation" (ibid), Pakistan then fell into a state of "ideological dysfunction" (p.63). Like Husain says, Justice Munir of the Munir Commission in 1953 was prescient when he said that, "you can persuade the masses to believe that something they are asked to do is religiously right or enjoined by religion, you can set them to any course of action, regardless of all considerations discipline, loyalty, decency, morality or civic sense"(p.83). The author quickly links this up to "Islamist Rage" (p.96), with jihad as a panacea for all the ills that befell the nation. Before long, the self-proclaimed Pakistani upholders of the honour of Islam and its prophet re-wrote their history with falsehoods to fit a fictional narrative born from an inherent insecurity which even acquisition of nuclear weapons could not assuage.
Ultimately, in his quest to offer a roadmap for a reimagined Pakistan, the most telling suggestion that comes from Haqqani is his exhortation that Pakistan should embrace its "multi-ethnic" (p.274) and "multi lingual reality" (ibid)just like Belgium did many years back and forever rid itself of the spectre of disintegration. He would thus, like his country to draw away from its focus on survival and resilience, a concept partially imparted by its military moorings and truly reimagine itself as a non- confessional state where the "individual can be pious and the society can be religious"(p.120). Going further, to him Pakistan has to have a national identity other than its self -obsessive and ever draining competition with India and not forever depend on God alone to ensure its survival.
Thus, wanting Pakistan to stop its "march of folly"(Tuchman), by creating a national identity which bypasses the nexus between power and bigotry, quoting Ayesha Jalal he talks of the damaging lack of territorial nationalism in the definition of Pakistan as an Islamic State. In this context he traces the breaking away of East Pakistan and possible future disintegration of Pakistan along ethnic lines just as it happened in say, Russia. Undeniably, Haqqani exhibits great courage when he says that if Pakistan has to have a future different from its past, it must identify the various confabulations of its leaders so as to not fulfill Barbara Tuchman's "march of folly", due to "governmental folly and obstinacy" (p.244).
All this notwithstanding, in this book Husain has laid bare the origins and development of Pakistan, in to what it is today. As an expert on radical Islamic movements, he traces the stranglehold that the jihadists and Islamic movements have on the state players and also tells us that it is the army which acts as a check and balance whatever else the other negatives might be in allowing the army to play such a pivotal role in the formation of the Pakistan nation and creation of jihadist movements. Quoting extensively from primary and secondary sources, he shows the proverbial mirror to the collective psyche of his nation. Jinnah's speeches and Munir Commission's findings are excellent primary sources in this regard, while among others Ayesha Jalal and Shuja Nawaz add credibility and meaningful insights to Husain's process of reasoning. At the same time research and data is indeed exhaustive and the research team not lacking in extending support to his rubric, while Haqqani himself does not draw away from some uncomfortable truths that Pakistan must face. Even though, Husain has done a remarkable and honest job in analysing the dysfunctional aspects of the state of Pakistan, where the book lacks is that though the title suggests we are going to read about a roadmap to reimagine Pakistan, the emphasis is more on how the state was formed, its ideological moorings, and the role of the various players as it evolved over time. The suggestions for reimagining obviously need more reimagining as the suggestions provided by the author are not in the form of a coherent roadmap and his suggestions are few and far between besides being scattered randomly at times, through the course of the book. Also, to my mind, the author does not face the real tough questions as to how the cat (army) is to be belled, the monolithic behemoth that it has become. Over here, G Parthasarthy's comment, "Every country has an army but in Pakistan, an army has a country"(G.Parthasarthy), comes to mind, something which its leaders would do well to remember. Besides this Husain does not seem to hold the western powers to account as they were probably just as much to blame for the current state of affairs when they played the renewed "great game"(Hopkirk)in this part of the world. From his unique perspective as an advisor to four ex-prime-ministers and the ambassadorship to U.S.A at a time when there was a global war on terrorism(Haqqani, Hudson Institute ), Haqqani should have dwelt as much on reimagining as he did on cautioning his homeland from its precipitous "march to folly" (p.264)(.Tuchman). Perhaps a second volume could take up this slack wherein the excellent foundational analysis of the state of Pakistan is the launch pad for a futuristic road map for reimagining.
Reimagining Pakistan Transforming a Dysfunctional Nuclear State by Husain Haqqani, Harper Collins ,2018
Emerging Muslim Blocs and Pakistan's Foreign Policy Dilemma
Over the years, Arab nations like Saudi Arabia and the United Arab Emirates had established substantial influence over the Muslim world, and were essentially 'leading' the Muslim world through the genesis of the Organization of Islamic Cooperation (OIC). Through the OIC, resolution of conflicts penetrating towards Muslim minorities in states like the Philippines were directed. In addition, financial aid was provided to developing Muslim countries like Pakistan. Nevertheless, in the contemporary notion, the Arab states heading the OIC have diverted their priorities to complement their political and economic interests; which can be attained through close alliances and diplomatic ties with USA, Israel and India. Consequently, a new bloc of non-Arab states, namely: Turkey, Iran and Malaysia have emerged to fill the vacuum, because they collectively share concerns over the foreign policy of the Saudi Arabia and UAE led Muslim bloc. Where, they lack involvement in resolving standing conflicts that impact the stability of Muslim countries, such as the Kashmir conflict between Pakistan and India and the Israel-Palestine conflict. Hence, the new Muslim bloc aims to bring about a renaissance for unity and prosperity in the Muslim world, which is deteriorating due to the Saudi and UAE led bloc.
In fact, the UAE has acknowledged Israel as a legitimate state whilst establishing full diplomatic ties, and Saudi Arabia, Oman and Bahrain are assumed to follow its footsteps in a matter of time. UAE is changing the dynamics of its non -renewable oil based economy, since oil will eventually dissipate. Hence, it is now investing in technological developments, such as the Masdar sustainable city project in Abu Dhabi. Since Israel is a technological hub, this decision was based on economic interests. In addition, the billion dollar deal between Iran and China for the development of Chabahar port poses a threat to the security of these Arab states. Meaning, establishing closer ties with the West through recognition of Israel was an attempt to stabilize the potential security threat. As, UAE will gain access to news weapons, such as: F-35 stealth fighters and advanced drones. Along these lines, Saudi Arabia and the UAE no longer carry ambitions of leading and protecting the Muslim world; instead, due to the changing economic and security dynamics of the region, they preferred national interests over the interests of the Muslim states.
Being home to the second largest Muslim population and the only nuclear power in the Muslim world, both blocs carry the aim of integrating Pakistan. However, Pakistan may find itself in the midst of a dilemma. As, one bloc serves its ideological purpose, whilst the other bloc carries numerous economic incentives. On one end, the Saudi and UAE led bloc offers economic allurement, such as: loans, deferred oil payment and job opportunities to millions of unemployed Pakistanis. Nevertheless, not calling an OIC meeting for the Kashmir cause and recognizing the state of Israel challenges the ideological existence of Pakistan. Since, Pakistan regards the annexation of Kashmir as illegal, and condemns India for the human rights violations in that region. Furthermore, according to Quaid's vision, Israel cannot be accepted as a legitimate state unless Palestinians are provided with an equal opportunity for the creation of their own state. As a result, lack of action in the Kashmir and Palestinian genocide paves as obstacle in Pakistan adapting the Saudi and UAE led bloc. On the contrary, the Turkey led bloc has openly sided with Pakistan on its stance on the human rights violations occurring in Kashmir. In addition, they also raise their voice against Israel's war crimes. Furthermore, Iran- a state in the emerging Turkey led block- is capable of supplying Pakistan with large amounts of power and energy. This can benefit the industrial growth of Pakistan, whilst improving the economic conditions of Pakistan as well. Henceforth, Pakistan has a like-minded foreign policy ideology with Turkey, Malaysia and Iran, and Iran can potentially provide economic incentives through power and energy supplies as well. Nevertheless, the benchmark of economic inducement provided via the Saudi and UAE led block is high, and can outweigh the Turkey led block.
Despite Pakistan's attempt to form an appropriate balance between these blocs, the strategic and ideological interests of Pakistan over the region of Kashmir led to the apparent notion of Pakistan siding with the Turkey led bloc. In a statement by Pakistan's Foreign Minister Shah Mehmood Qureshi, avoiding an OIC meeting in accordance with the Kashmir conflict presumed the fact that the Saudi and UAE led bloc have kept their mutual business interests with India over the occurrence of human rights violations in Kashmir. Consequently, out of circumstance Pakistan is compelled to bring forward a meeting with states sharing Pakistan's stance on the Kashmir cause (i.e. Turkey, Malaysia and Iran). This was a major shift in Pakistan's foreign policy, because Pakistan has generation after generation viewed Saudi Arabia as the leader of the Muslim Ummah. In fact, Pakistan fought several proxy wars for Riyadh, despite the notion that it left Pakistan economically vulnerable. Nevertheless, Saudi's lack of commitment towards Pakistan's interests, compelled Pakistan to divert its foreign policy. Not surprisingly, as a response Saudi Arabia withdrew the deferred payment of oil and asked for the immediate return of US$1 billion. As a result, Pakistan's chief of Army Staff had to make an immediate visit to Saudi Arabia, in order to stabilize the rising tensions. This entailed that Pakistan could not bear the economic burden of impaired relations.
Thus, despite the fact that Pakistan attempted to change the direction of its foreign policy to suit its ideological interests, it was taken over by the storm of economic dependence. Pakistan lacks the financial stability to tarnish their relations with the Saudi and UAE led bloc and shifting towards the Turkey led bloc. As, that could mean the return of millions of employees and the immediate payment of loans, which the government of Pakistan cannot afford. Implying how Pakistan is incapable of changing its foreign policy on its own, and is influenced by external dynamics instead. Henceforth, a stable economy can enable Pakistan to exercise a foreign policy based on its ideological purpose.