The meeting between Kim Jong-Un and Vladimir Putin
It was precisely the clear failure of the meeting held in Hanoi between the North Korean leader and President Trump, which accelerated North Korea's search for a meeting with the Russian Federation and later with all its traditional regional allies.
In the talks with President Trump, in particular, Kim Jong-Un failed to lighten the economic sanctions against his country. This is the political and strategic theme at the core of the North Korean issue.
Firstly, Kim Jong-Un wants Russia's consent to its denuclearization project, which consists in the gradual lifting of sanctions in relation to the process of relinquishing his nuclear capacity.
It is exactly the request that Kim Jong-Un made to President Trump and that the US President refused.
According to North Korea, the lightening of sanctions should also be connected to an international economic aid program.
A roadmap that has long been supported by the Russian Federation.
In the absence of US reliable support for the bilateral negotiations with Kim Jong-Un, said roadmap could lead to Russia's direct entry into the North Korean denuclearization process.
The North Korean leader also wants to balance – with Russia – its traditional relationship with China.
He also wants to internationalize the North Korean nuclear issue to increase pressure on the United States.
It should be recalled that, within the UN Security Council, Russia voted Resolution No. 1718, which reaffirmed and resumed the North Korean sanctions against the 2016 nuclear tests. It also largely voted against North Korea in all the 21 UN Resolutions concerning North Korea.
It may have been a mere external aggregation vote on a topic of international resonance, albeit without particular importance, but the North Korean issues are fully at the core of Russian interests.
In all likelihood, Russia has no intention of supporting a nuclear and autonomous country on its border and on a maritime axis of the utmost importance for Russian geopolitics.
It does not even want to evaluate the additional clout of a small nation that can increase its importance in bilateral negotiations, precisely thanks to its nuclear capacity.
For Russia, the North Korean issue can still be resolved by eliminating the US nuclear protection for South Korea and Japan, with a view to denuclearizing North Korea as well.
Simultaneous denuclearization processes controlled by a body such as the Six-Party Talks, which could also result in an autonomous organization for collective security in East Asia.
Hence, Russia does not want a Korean peninsula with nuclear weapons.
Nevertheless, it wants the North Korean nuclear capacity to keep the US and South Korean ones away, seen as a direct strategic threat to Russia's Eastern territories.
Furthermore – like China -Russia wants above all a stable North Korea.
It would be terrible for both Russia and China to deal with such an economically and socially destabilized North Korea that could not even defend them from a nuclear or conventional attack from South Korea, supported by the US bases in Japan and in the rest of the Pacific region.
Or to face the humanitarian and migration disasters of the North Korean populations, looking for survival in China or Russia.
For Russia, a nuclearized Korea is even more independent of China and this is very important for Russia.
Russia has long been cherishing no illusions about China and wants an efficient buffer state in the Korean region.
At legal level, the Russian Federation still recognizes North Korea as an autonomous party to the NPT, considered that Russia has always regarded all the countries that produced and tested nuclear weapons before January 1, 1967 as members of the Nuclear Non-Proliferation Treaty.
Hence, Russia considers North Korea -as well as Israel, India and Pakistan – "non-nuclear countries".
Russia, however, does not deem the North Korean arsenal unlawful, but it wants also the "non-official" nuclear countries to abide by the NPT rules.
Hence the denuclearization of the entire Korean peninsula, in particular, remains inevitable for Russia.
This is a primary goal also for China: in fact, the THAAD anti-missile battery deployed by the United States in South Korea in July 2016 can do little against North Korean missiles but, coincidentally, it is deadly for the Chinese ones.
Furthermore, in the Russian logic, South Korea cannot be regarded as a non-nuclear country, considering that it uses the US nuclear umbrella.
For the time being, however, the Russian Federation may offer little to North Korea, in the absence of an explicit bilateral military cooperation treaty.
In fact, the 2000 Treaty between the two countries, which replaced the 1961 one, has no provision concerning military support.
Conversely, the Treaty between North Korea and China envisages Chinese aid if a third country attacks North Korea.
In this case, however, China does not seem to fully agree, considering the signs that its diplomacy is currently sending.
Finally, what about depriving North Korea of its nuclear umbrella, possibly after a treaty with the United States?
Many think that nuclear protection for North Korea could come from China itself and the latter could even offer a technologically better nuclear umbrella than the North Korean one.
Nevertheless, if the United States left South Korea, shortly afterwards South Korea and Japan would produce – on their own – their nuclear arsenal always targeted against North Korea, China and Russia.
Hence, Russia's mediation solution could be the most likely and rational one in the future: Russia wants the North Korean stability, with or without its own nuclear umbrella.
Russia could also support the idea of recognizing North Korea as a "small nuclear State", in line with China, which supports a reduction, but not an elimination, of the North Korean nuclear arsenal.
Hence Kim Jong-Un' stable regime guarantees the reliability of the North Korean border with the Russian Federation – an essential problem for Russia -thus avoiding the huge flows of migrants from the South to the Russian territories.
In this case, also the United States would avoid putting into operation all the nuclear weapons that South Korea could host.
However, let us revert to Vladivostok, the venue of the current Summit between North Korea and the Russian Federation.
Almost certainly, there will be no written documents between the parties.
In spite of sanctions, Russia will continue to need North Korean manpower, while North Korea has long been asking Russia to build the long-planned automotive infrastructure on the border.
Russia, however, wants denuclearization, albeit with the strong multilateral guarantee of North Korea's border security and stability. Nevertheless Russia is also interested in a resolution of the issue alternative to the one proposed by the United States, which we do not know when will step back into the spotlight.
In fact, in 2017, Russia proposed a roadmap to reduce tension on the Korean peninsula – a proposal also backed by China at the time.
Russia's and China's double freeze envisaged that North Korea would stop its nuclear and missile tests, while the United States and South Korea would have to eliminate or, at most, reduce joint military exercises significantly.
A proposal that can be renewed.
Last autumn, within the UN Security Council, Russia had raised the possibility of reducing sanctions against North Korea in exchange for a drastic and autonomous denuclearization of the country.
Certainly, although no joint documents or statements were issued in the Vladivostok Summit, Russia and North Korea want North Korea's nuclear disarmament to take place gradually and also with US simultaneous positive moves.
Furthermore, for Russia, there are no predictions or signs of political stability regarding the US Presidency.
Nevertheless, for obvious geopolitical reasons, Russia wants above all the stability of North Korea.
The United States also believes that Kim Jong-Un was convinced to hold a dialogue by the threat of further strengthening sanctions, but in fact Kim Jong-Un's new policy line is not born of fear, but must be seen within a larger project.
Nevertheless, if – as expected – the sanctions against North Korea reached a peak, Russia could support North Korea's economy also on its own.
Indeed, the talks in Vladivostok tackled a wide range of economic and humanitarian cooperation issues.
Obviously, Vladimir Putin told Kim Jong-Un that he would report to the USA about the main topics of the meeting held in Vladivostok.
While the strategic problems in the West are evident and particularly important for Russia's economic and political stability- considering the issues of Crimea and of the relations with Turkey, as well as the US and NATO deployment of forces on the border with the Russian Federation – it should be recalled that Vladimir Putin is particularly interested in controlling his Eastern borders, which shall protect Russia's future economic and strategic development.
The SCO needs strategic consensus and cooperation in an era of uncertainties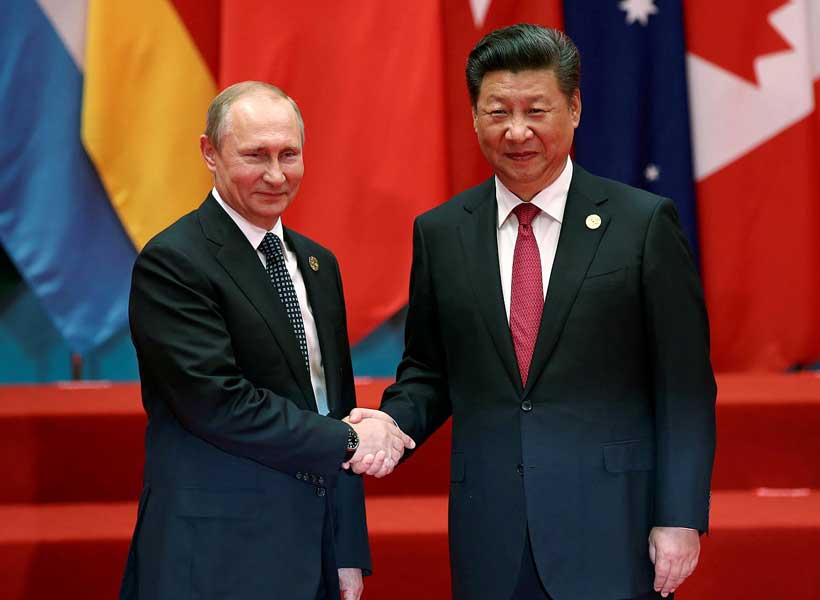 During his latest state visit to Russia, Chinese President Xi Jinping and his Russian counterpart Putin agreed to bring the two countries' relationship to a "new era of greater development at a higher level". Given this, the two core member states and the driving force of the Shanghai Cooperation Organization (SCO), China and Russia, will be expected to facilitate a broader prospect for the cooperation among the SCO member states in accordance with the "Shanghai spirit" during the 19th meeting of the Council of Heads of State of the SCO that was scheduled on June 4in Bishkek.
Founded in 2001, the original six-states of the SCO—China, Russia, Kazakhstan, Kyrgyz, Tajikistan and Uzbekistan—signed "The Shanghai Cooperation Organization Charter". It puts the priorities on mutual trust and neighborliness among the member states; and joint efforts to ensure peace, security and stability in the region; and to build up a democratic, fair and rational international order. Since then, these are enshrined into the "Shanghai Spirit" that upholds internally mutual trust, reciprocal consultations, respect for cultural diversity and common development and externally non-alignment, non-targeting any third party, and inclusiveness. From the very beginning, it has been an important mission for the organization to fight against the "three evils", which refer to terrorism, separatism, and extremism. The concept was first defined in June 2001 during the first SCO summit. Since then, taking regional security and stability as a priority, the SCO has been making unremitting efforts to crack down on the "three evils" in joint efforts to advance the cooperation and development.
True, the SCO has undergone a substantial development since its inception and now becomes a comprehensive regional organization with the profound dimensions beyond the region. Looking into the geographical locations of the eight SCO member states, it is surely the largest regional security organization in the world, accounting for nearly half of the world's population and over 1/5 of global GDP, not to mention two permanent members of UN Security Council—China and Russia; and two most populous nations on the Earth—China and India. During the previous 17 years, the SCO has developed into a vigorous platform with upholding the Shanghai Spirit based on the inclusiveness and common development. According to the current SCO Secretary-General Vladimir Norov, the SCO will continue close cooperation with the aim of implementing the UN Global Counter-Terrorism Strategy including joint activities and recommendations of the relevant UN Security Council resolutions. For sure, with its all full members alongside four observer states and six dialogue partners, the SCO has acted actively as an international cooperation organization. Considering the uncertain circumstances of the world, the 19thSCO summit will focus on security and development among other cooperative tasks.
Here, security involves a much broader spectrum. In effect, the SCO has highlighted joint efforts to ensure peace, security and stability in the region. During the latest summit between Xi and Putin, they assured that the comprehensive strategic partnership of coordination of the two countries has not only benefited the two peoples, but has also become an important force for safeguarding global security and strategic stability. To that end, China and Russia would continue to strengthen coordination on major international and regional issues, jointly deal with the challenges of unilateralism and protectionism, and maintain global peace and stability. As Putin put it, since Russia is ready to provide China with sufficient oil and gas, including more soybeans and other farm produce exported to China, the two sides expect a faster alignment between the Eurasian Economic Union and the Belt and Road Initiative. This requires security cooperation involving all member states of the SCO.
If we take a close look into the Qingdao summit of the SCO which was held in 2018, it highlighted the security cooperation in the fields such as cross-border organized crime, gun smuggling, drug trafficking and internet security as they have become the new security challenges for the region and beyond. , now all the SCO member states agree to expand the fields of security cooperation to drug trafficking and organized crime. To that end, China and Russia have closely worked alongside all other members with a view to building an efficient intelligence-sharing system among SCO member states. Now as a highly integrated security organization, the SCO needs to collectively deal with the common challenges according to their shared responsibilities.
In an era of globalization, which is full of challenges and opportunities as well, all member states of the SCO are aware that while security acts the condition for development, the latter is the insurance of long-term stability. Due to this, one of the Shanghai Spirit's original goals is to seek common development. Since 2013, Xi has urged the Belt and Road Initiative (BRI) taken deep roots and substantially benefit the SCO member states and beyond. As the BRI is the basic path to realizing common wealth, the SCO has not only continued to sublimate the Shanghai Spirit, but also to serve the interests of all the member states and the whole region as well.
During the meeting at the presidential residence in Bishkek, capital of Kyrgyzstan, right after Xi Jinping and his entourage arrived on June 13, Chinese President Xi and his Kyrgyz counterpart, Sooronbay Jeenbekov discussed joint efforts to promote bilateral ties. Xi also stated that China is ready to share experience in state governance with Kyrgyzstan to achieve common development and prosperity, hailing the solid outcomes in the joint construction of the Belt and Road. The two sides agreed to step up coordination within multilateral frameworks, including the SCO and the Conference on Interaction and Confidence Building Measures in Asia, stick to multilateralism, and oppose protectionism and unilateralism, so as to contribute to building a community with a shared future for humanity.
Now the SCO Summit takes place in Kyrgyz located in central Asia and aims to synchronize its position towards Eurasian unity. The SCO serves a platform for jointly upholding multilateralism and the free trade system and opposing unilateralism and bullying tactics. To that end, the SCO and BRI would like to be integrated with the pace of the security and development in which a new vision of common, comprehensive, cooperative and sustainable path would suit Asia and boost the common interests of all. For China, Xi is obviously looking forward to receiving the firm and frank supports from the SCO to take further measures by Beijing in safeguarding peace and stability and cracking down three evils in China's borders areas, such as Xinjiang Uygur Autonomous Region and Tibet.
Civilisationalism: Ignoring early warning signs at one's peril
A controversy about a University of British Columbia invitation to a Chinese advocate of forced re-education and assimilation of ethnic minorities highlights the risks involved in ignoring early stage civilisationalism, the emerging system of principles of governance underwriting a new world order that defines states in civilizational rather than national terms and legitimizes violations of human rights.
While the invitation sparked opposition that raised freedom of speech issues, it also spotlighted the consequences of US, European and Muslim failure to recognize initial indications that China was moving away from its long-standing policy of promoting inter-communal harmony by preserving minority cultures and ensuring that they benefitted from economic growth.
The erosion of China's long-standing policy has consequences far beyond the boundaries of Tibet and China's troubled north-western province of Xinjiang that is home to its Turkic Muslim population. It legitimizes repression of minority rights across the globe raising the spectre of inter-communal strife in societies that have long sought to foster variations of multi-culturalism and social harmony.
Calls for a rethink of China's ethnic policy emerged in 2012 after two men set themselves on fire outside Tibetan Buddhism's holiest temple in the center of Lhasa, the Tibetan capital. The International Campaign for Tibet, an advocacy group, last year published the names of 155 Tibetans who have self-immolated since 2009.
Back in 2012, military officials, businessmen, intellectuals, netizens, and dissidents asserted that the self-immolations attested to a failure of policy in what was a public debate of a long secretive and sensitive topic.
The debate was fuelled by concerns that China's official recognition of 56 different nationalities resident within its borders risked it becoming another example of the post-Communist break-up of states such as the Soviet Union, Czechoslovakia and Yugoslavia.
It was also informed by a series of incidents in Xinjiang and other parts of China, including inter-communal violence in 2004 between Han Chinese and Hui Muslims, widely viewed as China's most integrated Muslim community, that left some 150 people dead.
It was in that environment that Hu Angang, an economist and founding director of Tsinghua University's Center for China Studies, one of China's most influential think tanks, urged the government to adopt an imposed melting pot approach that would create a "collective civic culture and identity." It was an invitation extended to Mr. Angang that sparked controversy at the University of British Colombia.
Mr. Hu's policy recommendations, articulated in a widely published article co-authored in 2011 by fellow researcher Hu Lianhe, a pioneer of terrorism studies in China who has since become a senior official of the Chinese communist party's United Front Work department in Xinjiang, appear to have provided a template or at least a framework for China's brutal crackdown on Turkic Muslims.
Xinjiang serves as a prime example of the risks of failing to respond to civilisationalism's early warning signs.
Up to one million people are believed to have been detained in re-education camps dubbed "'vocational education' and employment training centres" by the government where inmates are taught Mandarin, allegedly forced to violate Muslim dietary and religious practices, and browbeaten with the notion that Xi Jinping thought, the precepts of China's president, supersede Islamic teaching.
Messrs. Hu warned that regional ethnic elites and interests enabled by China's acceptance of what amounted to minority rights could lead to separatism on the country's strategic frontiers. They suggested that the central committee of the Communist party had recognized this by pushing in 2010 for "ethnic contact, exchange and blending."
To achieve that, the two men advocated removing ethnicity from all official documents; demographic policies that would water down geographic concentration of ethnic minorities and ensure a 'proper' population mix; emphasis on the use of Mandarin as the national language; promotion of China as the prime identity of minorities; and taking steps to counter religious extremism.
James Leibold, a China scholar, who raised alarm bells early on and focused attention on Messrs. Hu's analysis and the Chinese debate, lamented at the time that "few in the West…seem to be listening."
Mr. Leibold echoed his warning six years later when Mr. Lianhe last August stepped for the first time onto the international stage to defend the Chinese crackdown at a meeting of the United Nations Committee on the Elimination of Racial Discrimination (CERD).
"The emergence of Hu Lianhe portends a significant shift in both the institutional and policy direction emanating out of Beijing, and suggests that what is happening in Xinjiang is the leading edge of a new, more coercive ethnic policy under Xi Jinping's 'New Era' of Chinese power, one that seeks to accelerate the political and cultural transformation of non-Han ethnic minorities," Mr. Leibold said.
Describing Mr. Lianhe as an influential party official and intellectual, Mr. Leibold suggested China was acting in Xinjiang and Tibet on the official's assertion in 2010 that "stability is about liberating man, standardizing man, developing man and establishing the desired working social order." Mr. Lianhe advocated adopting his approach across the country.
In Xinjiang, standardization translates into government announcements that local officials are visiting Uyghur homes during this year's fasting month of Ramadan to ensure that they are not observing the religious commandment.
"We must take effective action to end the gossiping about high level Party organs; finding fault, feigning compliance, and praising in public while singing a different tune in private or when alcohol is on the table", Mr. Leibold quoted a confidential memo written by local officials in Xinjiang as saying.
In hard-line remarks to this weekend's Shangri-La Asian Security Dialogue in Singapore, Chinese defense minister Wei Fenghe, wearing a military uniform with a chest full of ribbons, asserted that "the policy in Xinjiang is absolutely right because over the past two years there is no single terrorist attack in Xinjiang.
The living standards of the local people have improved. The number of tourists to Xinjiang is over 150 million people…. The average GDP of people in Xinjiang is 7,500 US dollars… Xinjiang has carried out vocational education and training centres to ensure that there are no terrorist attacks, to help these people deradicalize and help these people have some skills. Then they can better reintegrate into society. Isn't that a good thing?" General Wei asked.
It is good thing on the assumption that economic progress can ultimately and sustainably trump cultural and/or ethnic aspirations and that it justifies a policy that critics have dubbed cultural genocide by in the words of Mr. Leibold abolishing "non-Han cultural, linguistic and religious practices" and eroding social trust.
The policy's success depends on the sustainable Uyghur internalization through re-education and repression of religious and cultural practices as a survival strategy or out of fear.
General Wei's defense of the policy notwithstanding, renowned China scholar Yitzhak Shichor concluded in a recent study that the defense minister's People's Liberation Army (PLA) has so far refrained from involvement in maintaining internal security in Xinjiang, making it the responsibility of para-military forces.
"That could change if the civilian police force and PAP fail in their mission," Mr. Shichor quoted former US army and military intelligence China expert Dennis J. Blasko as saying. Mr. Blasko was referring to the People's Armed Police by its acronym PAP.
General Wei and Mr. Hu's Xinjiang's statements are but the most extreme example of civilizationalist politics that have globally given rise to Islamophobia; Hindu nationalism; rising anti-Semitism; jihadist massacres of minorities including Christians and Yazidis, lax attitudes towards white supremacism and efforts by some leaders to recreate ethnically and/or religiously homogeneous societies.
Civilisationalists' deemphasizing of human, women's and minority rights means reduced likelihood that incidents of radicalization and ethnic and religious conflict can be pre-empted. The risk of conflict and societal strife are enhanced by increased obsession with migration that erases escaping to safer harbours as an option.
Security in the Korean Peninsula remains fragile
North Korea's nuclear program was initially conceived useful to provide necessary wiggle room to Pyongyang to attain the objectives of normalizing relations with the US ensuring its security as well as lessening its overdependence on China. However, the country later pursued a hard-line approach in the face of heightened US sanctions. In this context, the first summit meeting between the heads of North Korea and the US in Singapore on June 12, 2018 was conceived to break new grounds in ushering in peace in the Korean Peninsula by ending long-years of isolation of North Korea from US and its allies and heralding the process of denuclearization in the peninsula.
However, many relevant questions needed answers as the process of dialogue ensued. For instance, the North Korean regime sought answers whether the denuclearization process would involve the simultaneous process of wrapping up of American extension of nuclear deterrence and missile defence system to South Korea? Second, whether the withdrawal of US troops from the Korean Peninsula was to be discussed? Third, the question that bothered the US leaders and officials alike was whether North Korea would be sincere to the denuclearization process and objectives? Based on its perception of the other party to the negotiation, US chose to insist on the unilateral abandonment of North Korean nuclear program and refused to waive sanctions until North Korea denuclearized completely. The negotiation process has been conceived as a zero sum game by Washington whereas Pyongyang is expecting returns for each move it takes. This has brought the process of negotiations to a stalemate and mutual distrust has reached its peak.
The American approach seems to be guided by the conviction that a deep-sense of insecurity, aggressive nationalism, and consolidation of power by the leader Kim-Jong-un drives North Korea's nuclear ambitions. While many experts argued that the nuclear program was intended to serve as a deterrent against foreign military intervention to the internationally isolated North Korean regime, the regime must have been emboldened to pursue a hard-line approach toward developing nuclear arsenal by learning from the instances how relinquishing Libya's nuclear program would have made it easier for the US-supported uprising to topple and assassinate Muammar Gaddafi. On the other side, many skeptics who suspect that North Korea would not disarm argue that the country has been relentlessly pursuing nuclear program for coercive purposes rather than for deterrence with an objective to drive a wedge between the US and South Korea and forge a unified Korea. The obfuscated perceptions that each carried about the other stifled the negotiation process.
John R. Bolton, the White House national security adviser condemned recent North Korean short-range ballistic missiles tests and said how the tests clearly violated United Nations Security Council resolutions and President Trump expressed his unhappiness with the tests initially but then played down their importance. On the other side, North Korea has not only blamed the US for its continuing sanctions campaign as well as the seizure of one of the country's biggest cargo ships, it has not cringed from accusing the latter of showing bad faith in negotiations by conducting nuclear and missile tests and military drills as a way to forcefully subjugate North Korea while it advocated dialogue at the same time. It has been alleged that the US had conducted a subcritical nuclear test on February 13, just days before the second summit meeting. North Korea points to how high-ranking US officials did not budge from insulting the dignity of its supreme leadership and calling North Korea a "rogue regime". Meanwhile, the South Korean Chosun Ilbo newspaper reported that Kim Hyok-chol and foreign ministry officials who conducted working-level preparations for the summit meeting in Hanoi in February were executed a month later.
While the US accused the North Korean regime from backing away from its promises and questioned the regime's sincerity in following up the first summit's denuclearization targets, North Korea considered that the summit in Singapore is the first move towards peace in the Korean peninsula to be followed by more such dialogues. The Korean regime alleged the US was expecting too much from a single summit without reciprocating to Pyongyang's initial efforts at destroying the tunnels at the Punggye-ri nuclear test site (the only nuclear site), freezing of nuclear and missile tests and returning of American prisoners. North Korea argues for a peace treaty to formally end the Korean War (1950) and security guarantees from the US that would prevent America from attacking North Korea in future. While Russia and China wish to see a denuclearized North Korea for regional peace and trade but they view the American stringent measures as attempts to dwarf the influence of potential threats and spread its own. While Russia and China would seek to prevent North Korea from succumbing to US-led sanctions, Iran was skeptical and critical of the American move from the beginning and warned North Korea against trusting the American President who could cancel the agreement within hours. Mounting American pressures on North Korea without considering efforts at reaching out to the long-isolated country with deeper engagements would only build mutual distrust and would force Pyongyang to look out for assistance from countries which share similar concerns on American hegemony. While it is evident that the US policy of putting North Korea under sanctions until it denuclearizes itself is aimed at forestalling brewing tensions in the Korean Peninsula with rising threats from the regime's muscular ambitions of developing nuclear and missile programs, the unilateral thrust in the policy is unlikely to yield results unless US considers negotiating peace a steady as well as a reciprocal process.