Economic Principles of Electoral Behavior in India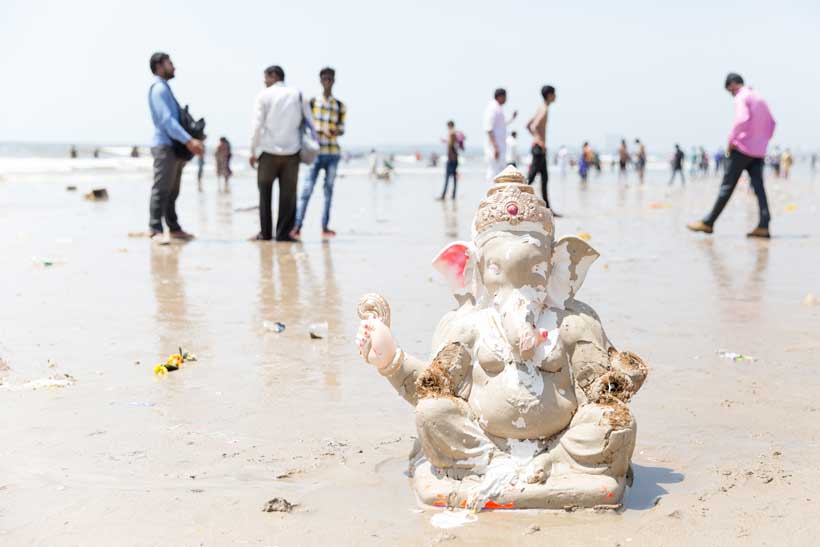 Though the critical functions of money in sustaining the economic system as a medium of exchange, unit of account and store of value is well known, there has been little discussion on the close similarity between the principles underlying the functions of money in the economy and that of faith and religion in the electoral behavior and political economy of India. The economic dimensions of voting behavior in India is extremely unique as it reflects a complex decision making process by the electorate intermixing the principles of economics with that of faith and religion.
Theoretical analysis of electoral behavior are largely based on electoral experiences in the democracies of Western Europe and North America focusing on political psychology of voters without much attention to the underlying economic principles. They are more of a political analysis of how electorate makes informed political choice despite their relatively low level of political sophistication and understanding of the intricacies of the power strategies of political parties . Psychological analysis of electoral ergonomics have also identified the role of emotions and affective influence in voting behavior i.e surprise, anger, anxiety, fear, pride, influence of political campaigns, pre-poll surveys, altruism, emotions and emotional bias.
In the Indian context, though there is little doubt that faith and religion is a major determinant of voting behavior, the huge anticipated economic benefits offered by the political parties to the poor and vulnerable through their election manifesto makes voting as a major economic decision making process. As electoral choice have a deep bearing on the welfare schemes for the poor, voters find themselves as major stakeholders in the electoral process. It is in this context that the economic dimensions of voting behavior in India assumes major importance as it is seen as a choice with serious welfare implications to the vast majority of the poor.
The anticipated economic benefits of electoral choice tends to make voting as a new form purchasing power with the electorate who tend to utilize vote carefully as an economic decision making process as an electoral choice exercised through votes is capable of performing most of the basic functions of money in the modern economy. Thus the electorate in India have realized that while money represents the economic purchasing power which empowers them with the capacity to purchase goods and services, vote represents political purchasing power which empowers them to choose the political leaders and party which would form the government. Thus for the general public and particularly for the vast majority of poor, electoral choice in India is a highly complex balancing act between political choice and economic decision making .
While one of the basic functions of money is to serve as a "medium of exchange", faith and religion have emerged as a "medium of exchange" for votes in the modern elections. One of the adverse fall out of this development in the political economy of the country is that issues relating to faith and religion have taken precedence over critical economic issues facing the country like poverty , corruption and governance reforms, pollution control and environmental safety, ensuring basic needs like food security, housing, water supply and sanitation, improved infrastructure in education, health etc.
The transition of a system of electoral preferences of voters from critical socio- economic issues towards those based on faith and religion is in fact rooted on the economic principles of the" medium of exchange" governing the role of money in the modern economic system with votes acting as a powerful medium of exchange based on preferences of faith and religion.
Another powerful role played by faith and religion in electoral politics is identical to the pivotal role played by money in the modern economic system as a "unit of account" where the value of goods and services are expressed in terms of money serving as a common denominator as well as facilitating comparison of different prices reflecting the relative value of different goods and services.
The thrust of the political economy of voting as a "unit of account" is based on the value attached to issues relating to faith and religion enabling the voter to make an assessment of the "comparative advantage" of voting for a political party based on his preferences of faith and religion. Thus for the larger majority of voters, each political party assumes an "invisible value" as a " unit of account" in electoral politics causing considerable inter-party competition to maximize its value as a unit account among the electorate.
While money is saved as a non-perishable "store of value", both voters and political parties look upon faith and religion as a " commodity" with high store of value and long shelf-life which can be utilized for exchange of goods and services if the party is elected to power. The large number of socio-economic welfare schemes included in the political manifesto of various political parties prior to the election is based on the assumption that each political party should maximize its image among the electorate as an attractive "store of value" for various segments of society for which faith and religion becomes an indispensable and the most attractive ingredient.
Considering the major socio-economic issues confronting the country particularly the growing unrest among debt ridden farmers and unemployed youth, there is need to refocus attention to resolve these critical issues rather than harping on divisive issues with little economic content. Some political parties of the country have grossly underestimated the economic decision making potential of the Indian electorate and are under the illusion that issues on faith and religion are more important than critical socio-economic issues facing the country.
Explainer: African Leaders Should Accelerate Industrialization Without Short-Haircut Processes
At the end of their four-day deliberations, African leaders and participants have issued a joint statement relating to the future of economic diversification and industrialization in Africa. The summit provided the opportunity to take stock of the progress made during the year on the drive towards industrialization, it also provided a policy dialogue platform to firmly recommit to accelerating structural transformation.
Convening in Niamey, Niger, the Extraordinary Summit on Economic Diversification and Industrialization, the ministers and participants collectively, in a the report, suggested that the key policies and regional integration issues should be drastically addressed to support industrialization in Africa, reminding further that Africa is widely seen as a future investment and development frontier given its extraordinary economic potential in Africa.
It was, however, acknowledged that it was held at the backdrop of a completely uncertain global landscape owing to the prolonged effects of the coronavirus pandemic, the pressing challenges posed by climate change and the Russia-Ukraine conflict that have disrupted the global supply chains with huge consequences globally and more fundamentally on African economies.
According to the summit reports these circumstances have revealed the extreme fragility of African economies against external shocks and reinforced the need for structural changes necessary for the acceleration of productive transformation through a determined shift towards sustainable and resilient industrialization in the years and decades ahead, the statement says.
The summit highlighted the role governments and other non-government actors play in addressing the constraints to industrial development, strategies for countries to re-invigorate the role of development finance institutions to promote industrial financing while drawing lessons from existing challenges, strategies for the countries to deal with global issues such as climate change in their efforts to industrialize, and reflected on the experience on industrial policy, design, implementation and monitoring its new industrial strategies.
Ms. Aissata Tall Sall, Minister of Foreign Affairs and Senegalese Abroad and the current Chairperson the Executive Council, underscored the critical role of the private sector in supporting innovation in high-potential areas such as agriculture, agro-industry, health, education, infrastructure, and especially energy, which remains a crucial issue in advancing industrialization.
She observed that "this decision has a high strategic significance because the aim of the industrialization and productive transformation process in our countries is to improve their capacity to take advantage of the many human and natural resources that the continent has to offer. Indeed, the industrialization of Africa can unlock the continent's potential for inclusive growth by expanding access to the economic opportunities thus created to all segments of the population, especially women and youth. In addition to these challenges, all of which are important, there is the issue of mobilizing domestic resources to finance our economies, as well as the fight against illicit financial flows that encourage tax evasion and corruption."
Massoudou Hassoumi, Niger's Minister of Foreign Affairs and Cooperation emphasized on the urgency for inclusive industrialization that harness the demographic divide of the youth, which he noted would also sustainably address issues of irregular migration, manipulation and recruitment into outlawed groups.
He added that "industrialization and economic diversification are therefore a lasting economic legacy that we must leave to the younger generation, because it is a solution to the challenges of the moment, especially those related to insecurity. In this regard, it is important to reiterate the African position for a fair and equitable transition to defend the right of our countries to exploit their available resources such as gas, alongside their efforts to develop the energy mix."
To accelerate the progress made in operationalizing the African Continental Free Trade Area, Moussa Faki Mahamat, Chairperson of the African Union Commission restated the need to conclusively address the structural challenges that hinder the optimal functioning of the common market.
"The major challenge here is to be able to strengthen trade between African countries that are more open to the outside world through agreements that have already been signed and that manage the bulk of their trade. It is therefore a matter of developing the capacity to successfully transform our productive structures with a view to increasing the complementarity of intra-African trade. It would also be necessary to ensure convergence by reducing the major gaps between Member States and between the Regional Economic Communities in terms of development and level of integration. The AU Commission's State of Integration in Africa 2022 report has highlighted the reality of such gaps," according to Moussa Faki Mahamat.
Africa possesses 60% solar irradiation in the world, 70% of cobalt global production and significant reserves of other battery minerals, world class carbon sink assets in our forests and peatlands, huge green hydrogen potential, which Antonio Pedro, UNECA Acting Executive Secretary noted can position the continent to become a powerhouse and a globally competitive investment destination for multi-sectoral investments combining climate action, job creation and industrialization.
"As we drive industrialization, we also need to realize that industrialization is not an event, but it is a process, and a long one at that. And, of course, we should be mindful that industrialization is not the business of Ministries of Industry alone. Instead, the implementation of true industrial policy requires a whole of government and beyond approach and action. It requires aligning industrial, trade and other sectoral policies and putting science technology and innovation at the centre to ensure that we remain globally competitive beyond our initial endowments and comparative advantages," noted Antonio Pedro.
To rally the support of the private sector, Dr. Amany Asfour, started the commitment by the AfroChampions Initiative to mobilize the private sector to enhance the public-private partnership as the continent moves from commitment to action on industrialization and trade. Empowering the private sector through market-based solutions and resolving finance barriers remains critical.
Among the recommendations of the minsters of the appointment of the African Union Champion for Sustainable Industrialization and Productive Transformation to provide political leadership, awareness and ensure effective implementation of Africa's industrial development. And further considering endemic factors that have stifled the Africa's economic transformation, it is important to reassess the continent's capabilities in the face of external shocks.
In this regard, it is important for the African Union members to set up innovative and inclusive institutions capable of designing and implementing effective industrial policies and processes that will advance socio-economic transformation, as stipulated in global and continental frameworks such as the African Union Agenda 2063, the United Nations Sustainable Development Goals and the Third Industrial Development Decade for Africa.
Bregret Reigns Britain: Blaming Brexit over Economic Exigency?
Sometimes I blunder that the UK is still a part of the European Union (EU). Whether when discussing a unified policy stance on sanctions targeting Russia or a common polity on sustainable energy strategies for a resilient future of Europe. Brexit may be a figment of the recent past, but its tremors are certainly not bygone. And the European cohesion, which should've been envied at a time when Russia is wreaking havoc on its energy security, seems ephemeral as Britain's vexed relationship with the EU refuses to recede. However, amid the boiling economic crisis in Britain and the rest of Europe, public sentiments betray an inherent admission: Britain's exit from the Union might have been a mistake. But the connotation of this public rhetoric is just as awry as the Brexit chatter leading up to the 2016 referendum.
The opinion of Britons has been notoriously fickle throughout history. But the outcome of the Brexit referendum was razor-thin at inception. Now, a stagnant economy; a revolving-door political leadership; and decades-high inflation are turning the tide against the championed narrative of the Conservatives. According to a recent opinion poll by YouGov – a leading market research and data analytics firm headquartered in Britain – 56% of the Britons surveyed concurred that leaving the EU had been a mistake. Only 32% believed that Brexit was a good idea. However, while many Brexit critics would jump onto this opportunity to bash the Tories, this perception is misguided, a product of frustration of an irate populace looking to blame something for their woes. And Brexit has been a notable feature of the ruling government.
Britain installed its fourth prime minister since 2016 last month. But the damage was already done a few months back. Britons were already reeling from soaring energy prices and acute food shortages. The economic slowdown was heralding an unfamiliar era of high-interest rates and unemployment. Then entered Liz Truss, the former prime minister who eschewed economic orthodoxy with her trickle-down tax-cut plans. Her disastrous stint in office – that barely lasted 50 days – tipped the pound into a free fall, sparked a liquidity crisis for pension funds, and sent government borrowing costs spiraling to harrowing levels. While the incumbent Prime Minister Rishi Sunak has managed to calm the turbulent economy, the wreckage is still visible in the mortgage market.
Earlier this year, mortgage rates in Britain typically remained below 2.5%. Since October, however, the average two-year fixed rate mortgage is hovering around 6.25% – slightly down from the peak of 6.65% on Oct. 20. The lowest two and three-year fixed rates are still above the 5% mark, according to Moneyfacts Group, a financial information company. Unlike the United States, British mortgages run for shorter terms. For instance, about 2 million mortgages in Britain would reach the end of their fixed terms by the end of next year, pushing many Britons to refinance at rates more than double their initial settlements. An estimated 1.6 million borrowers in Britain have variable mortgages, which track the central bank's policy rate. Thus, as inflation keeps running ablaze, no respite seems on the cards.
The annual rate of inflation in Britain has reached a multi-decade high of 11.1%. And at its last policy meeting, the Bank of England (BoE) – the central bank of Great Britain – hiked its interest rates by 75 basis points, taking the policy rate to 3% – the highest level since the financial crisis of 2008. Andrew Bailey – governor of the Bank of England – doubled down on his commitment to raising interest rates higher to deter double-digit inflation fuelled by pandemic-induced supply chain logjams and the mercurial energy prices triggered by the Russian retaliation against Western sanctions. While the logistics backlogs seem to be improving, the Russian dilemma shows no sign of resolution. And as the Western coalition prepares to implement a price cap on Russian energy supplies, economic difficulties would only worsen for the British citizenry.
According to the Office for Budget Responsibility (OBR), a fiscal watchdog group in Britain, inflation-adjusted disposable income is projected to slump by circa 7% over the next two years under the government's new budget plan. Introduced as the "autumn statement," the 55 billion pound ($65.4 billion) budget virtually reversed every plan by Ms. Truss. Mr. Jeremy Hunt – the new chancellor of the Exchequer – has frozen the annual taxable income threshold until April 2028 rather than having those bands adjust to the inflation rate. Consequently, the top tax rate of 45% would now be applicable on earnings starting from £125,140 instead of the current level of £150,000. The government has also raised the windfall tax rate on energy firms from 25% to 35% until March 2028. Hence, economists believe that aggressive rate hikes coupled with such steep tax increments could trigger a brutal recession – perhaps the most debilitating since the 1930s.
So blaming Brexit for the economic turmoil battering Britain is not an accurate depiction of the public sentiment regarding Brexit. And it is chiefly because the throes of the British economy are tricky to quantify under a defining rubric.
True, the UK is struggling with labor shortages. But this issue is not entirely driven by Britain's inability to replace workers from Europe, who left after Brexit. A substantial portion of workers are Britons, who left during the pandemic and never returned to the labor force. Many started their own businesses; some settled into the groove of remote work.
Admittedly, Britain's sluggish growth further worsened when investments diverted to other epicenters of commerce in Europe after Brexit. Britain is the only member of the Group of Seven (G-7) advanced economies with an economy smaller than its pre-pandemic level. Recently, India replaced Britain as the world's fifth-largest economy; Paris supplanted London as Europe's highest-valued stock market, according to data published by Bloomberg. But Britain's productivity has been in decline since 2009; public funding has been in the dumps ever since austerity policies were implemented in the aftermath of the 2007 financial collapse. High-interest rates are visibly hurting the domestic outlook of the British economy. But it is mainly because people were so conditioned to the ultra-low interest rates over the past decade that their perspective is dovishly askew.
Nonetheless, the British government has the incentive to structure a trade mechanism with the EU. While the hardliner Conservative MPs who voted Sunak into the office would definitely resent (and veto) an intimate relationship – like that enjoyed by Switzerland and Norway – with the single market, a settlement of disputes revolving around the hybrid trade status of Northern Ireland is imperative to Britain's economic revival. Yet, if the Labour Party manages to topple the Tories in the next general elections, a closer alignment with Brussels should be in the vanguard. Because while Britain's economic debacle might not be entirely Brexit's unraveling, the UK cannot resurface without improving relations with Europe in an openly hostile neighborhood with a bleak future.
Global Recovery: Mobilize SME, Digitize Economies and Commercialize Exportability
Like an open book, all such deployment ideas are already available for last many years to allow immediate mobilization of any national small medium business economy. On the world stage, as a recovery, nations can digitize on fast tracks any selected sectors of economies and get ready to dance on global digital platforms. Nations can become examples on creating superior exportable goods and services while commercializing innovative ideas on the global stage. There are no secrets on how to achieve all this, but there are huge secrets why it is still not being done despite all the economical struggles?
How to capture opportunity losses; the biggest tragedy of any disconnected economic progress is watching the world 'continuously' advancing, consuming and growing, while nations 'persistently' despite extraordinary resources abandoned, talented citizenry only herded and left as spectators, trade associations, chambers and government agencies remain disconnected. Therefore, needed are precise world-class goals, as national symbols of unity, diversity and tolerance. So, what are the top missing rules to mobilize a nation on economic development fronts and what is stopping?
How to grow economic development? The fastest way is via right meaningful collaborations, alliances and brokering of deals, the fears of communications must be eliminated, the trepidations of opening global markets is just a mindset issue but not having bold open dialogue on fast track vibrant programs is a killer. Establish, define and articulate a long term agenda and drive like a formula car.
National mobilization of SME entrepreneurialism is a step by step methodology, if there is still no progress after a decade, which only raises serious questions about available skills to lead such a charge. Similarly, 50% mobilization of the qualified SME if allowed to dance on global digital platforms creates productivity, performance and profitability and therefore brings foreign exchange to improve national grassroots prosperity. If local economic development teams do not openly engage, adapt and utilize available blueprints and related mobilization expertise little or nothing will happen.
This is not about good or bad management; this is about core competency to move national economies towards pragmatic progress, particularly, when national mobilization of entrepreneurialism is already an entrepreneurial movement. This is far apart from the traditional bureaucratic procedural paperwork and especially in most cases not necessarily new funding dependent rather execution hungry and deployment starved. In most cases, the lack of knowledge on the global age demands and transformation of digital platforms, that leaves the SME behind. Study more why will population-rich-nations lead knowledge-rich-nations?
Matter of choice: Unless immediately exercised the required departmental tests and measure capabilities matching right mindset and speedy execution requirements, just piling up degree-holders and highly preferred staffing without precision is in reality what is destroying economic development. So, choose economic progress or choose bad HR, the economic recovery has no time to waste. Explore new options on how to acquire mastery on such affairs. What level of efficiency is required to become a productive nation to cope with the consumption hungry world?
Furthermore, to play in global commerce, the global age speed of communication acts as a power of progress rate. There is no room for departmental responses to take days, weeks and months, but must face global age demands as a thriving 24x7x365 living world waiting for immediate response. What will it take to create a LIVE economic development recovery program of highly integrated departments? What levels of expertise are required to start deployments of such thinking? Better understand how other nations are doing, study a new world of G20 and national mobilization of small medium business economies
Capitalism is not failing; it is economic development. Unless mandated differently, the circus will go on. The skills gaps are not about lack of degrees; rather, global age experiences to understand how the pyramid of global consumption works, how to open new markets and how to produce real value to stand up to the global age of competitiveness. Skills are not about degrees, but now translated into global age skills as art of communication, presentation and global age level understanding of diversity, tolerance and entrepreneurial mindsets.
Why blind leading blinds; why high priced and fancy studies on SME always select 'access to finance' as the mother lode problem but they critically lack centricity of entrepreneurialism as such studies are academic driven. Hence the biggest disconnect, SME founders are not interested in loans but sales. Sales are more about value creation and globally accepted production standards to cope with global age competitiveness, where they do not require consultants rather developed skills to become better executives and better producers. They need help but not the loans, they need skills and knowledge and not the procedural and conflict resolution compliances. They know too well what to do but need to know how to do it better. Cookie cutter complex forms and rubber stamping will never do the trick, they need entrepreneurial dialogue, but not from academia but real entrepreneurs. They strive for meritocracy and not bureaucracies.
No, this is not an academic study but an entrepreneurial response to grand economic failures by the majority of nations on up-skilling SME and re-skilling manufacturers at national digitized levels. Furthermore, failing to understand the difference between the job seeker and job creator mindsets is the first step to get eliminated from any serious dialogue on the subject of SME economic recovery. Failing to articulate on the national mobilization of entrepreneurialism is the second step to get eliminated from any economic development activity as a whole. Study more on Google.
Proof is mandatory; when it takes 10 days to debate, strategies and finalize a national mobilization programs, and when it takes 100 days or organize digital platforms to deploy 10% to 50% selected SME on digital platforms and 1000 days to turn around small medium business economies so why still there is no show after last 5 or 10 years. If there is nothing wrong, why are the restless citizens marching in protest? Why are economies openly collapsing and what is stopping them to correct the course and how much it has to do with core competencies at the source of economic development? Is it possibly now a time for the first industrial revolution of the mind
Next key steps: What can current teams learn and what can they deploy within 90 days in any sector or any national economic realignment. How can they be framed as a customized national mobilization of entrepreneurialism model? How can they select and identify 5K to 50K SME and get them ready for a digital platform? How can they start intense programs to up skill and re-skill all layers of the economic departments to become a global age expert and start thinking of future applications and methodologies of economic growth? What does it take to acquire mastery on national mobilization of entrepreneurialism within a specific SME sector or across the nation? The rest is easy.