Innovative smartphone app to improve rainwater harvesting in Africa
It is now possible to calculate the amount of rainwater that can be harvested from the roof of houses thanks to a new smart phone app developed by UN Environment and the United Nations Educational, Scientific and Cultural Organization.
The app, a first of its kind, is based on actual meteorological data collected from weather stations across Africa. The data is specific to locations closest to the weather stations, which the app presents as the nearest city.
Promoting rainwater harvesting is becoming increasingly important to ensure greater water security. It offers an adaptation strategy to climate change, providing an opportunity to store rainwater under increasing conditions of high rainfall variability.
Rainwater harvesting can also improve livelihoods of women and children by reducing time spent on fetching water: women still spend 16 million hours a day collecting water in 25 sub-Saharan countries.
It can improve household sanitation and health with an improved drinking water source. Rainwater harvesting also contributes to food security, providing water during dry seasons for small-scale agriculture. Although not every single drop of rain can and should be harvested, rainwater is still an underutilized water source in Africa.
The lack of water is a real challenge across Africa. On average, a person needs eight glasses of water (2 liters) per day. According to the Vital Water Graphics report by UN Environment and GRID Arendal, "more than 2.8 billion people in 48 countries will face water stress or water scarcity conditions by 2025. An area is experiencing water stress when annual water supplies drop below 1700 m3 per person".
In many such countries, rainwater can be harnessed easily for domestic and agricultural use. Harvested rainwater can also benefit the environment and ecosystem when used to enhance groundwater recharge and restore vegetative cover. The low cost of rainwater harvesting technologies can be a more attractive investment option in rural areas compared to investing in a main water supply system.
The new app demonstrates opportunities for rainwater harvesting. For example, a person in Turkana county in Kenya can enter her location (Kenya, Lodwar), the length and width of the roof of the house (in metres), the number of family members, and the quantity of water used per day. The app returns the estimated amount of rainwater that can be harvested, and the quantity of water for a family. It also proposes the size of the rainwater harvesting system as well as its estimated cost. Simple sketches showing rainwater systems and how to recharge groundwater are also included in the app. Rainwater harvesting systems can be easily constructed using appropriate technology and locally available materials.
Rainwater can be collected in relatively simple ways. Rainwater that falls in ditches, on rooftops or on other surface areas is collected in storage facilities, such as water tanks or ponds. This water is stored and used for domestic and agricultural purposes. There are also other ways of rainwater harvesting, such as storing it in the ground where it can be used as groundwater for human consumption or for nature.
Ann Kiria, chair of a young women's group in Kajiado in Kenya said, "water harvesting has benefited our community where women have played a key role in constructing water tanks. With the knowledge we have acquired, building a water tank to harvest rainwater is no more out of reach".
Currently the smart phone application is available for Android (Play Store) system for free. You can download it by searching for RWH Africa Interactive Tool.
A web version is also available at http://www.rainwaterharvesting.africa. An IOS (App Store) version will follow soon.
Interesting archaeological discovery in Israel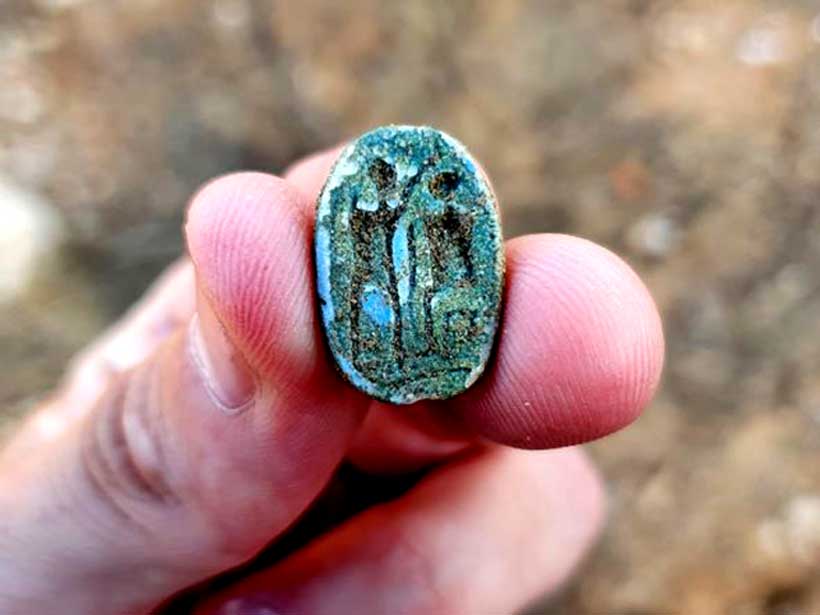 An ancient scarab from three thousand years ago was surprisingly discovered during a school trip to Azor, near Tel Aviv, Israel. The scene depicted on the scarab probably represents the conferral of legitimate power and authority on a local ruler.
"We were wandering around, when I saw something that looked like a small toy on the ground," told Gilad Stern of the Education Centre of the Israeli Antiquities Authorityntre, who was leading the school trip. "An inner voice told me: 'Pick it up and turn it over.' I was amazed: it was a scarab with a clearly engraved scene, the dream of every amateur archaeologist. The pupils were really enthusiastic!".
The visit of the Rabin Middle School eight graders took place as part of a tour guide course organised by the Education Centre of the Israel Antiquities Authority for the third consecutive year. The course enables students to teach the residents of Azor about the local archaeological heritage.
The scarab was designed in the shape of the common dung beetle. The ancient Egyptians saw in the gesture of the tiny scarab, which rolls a ball of dung twice its size where it stores its future offspring, the embodiment of creation and regeneration, similar to the gesture of the Creator God.
According to Dr. Amir Golani, an expert of the Israeli Antiquities Authority specialized in the Bronze Age period, "the scarab was used as a seal and was a symbol of power and status. It could be inserted into a necklace or a ring. It is made of silicate earthenware covered with a bluish-green glaze. It could have fallen from the hands of an important and influential personage passing through the area, or it could have been deliberately buried in the ground with other objects and after thousands of years returned to the surface. It is difficult to determine the precise original context."
The lower, flat part of the scarab seal depicts a figure seated on a chair in front of a standing figure, whose arm is raised above that of the seated person. The standing figure has an elongated head, which seems to represent the crown of an Egyptian pharaoh. It is possible that we are seeing here a snapshot of a scene in which the Egyptian pharaoh confers power and authority on a local Canaanite.
"This scene fundamentally reflects the geopolitical reality that prevailed in the Land of Canaan during the Late Bronze Age (approx. 1500-1000 BC), when local Canaanite rulers lived under Egypt's political and cultural hegemony (and sometimes rebelled against it)" – said Dr. Golani. "It is therefore very likely that the seal dates back to the Late Bronze Age, when the local Canaanites were ruled by the Egyptian Empire".
Scarab seals are indeed distinctly Egyptian, but their widespread use extended beyond the borders of ancient Egypt. Hundreds of scarabs were discovered in the Land of ancient Israel, mostly in tombs, but also in settlement layers. Some of them were imported from Egypt, many others were imitated in ancient Israel by local craftsmen under Egyptian influence. The level of workmanship of the particular scarab found is not typical of Egypt and may be a product of local craftsmen.
Towards Efficient Matrix Multiplication
Algorithms have, over the years, helped mathematicians/scientists solve numerous fundamental operations. From the early use of simple algorithms by Egyptian, Greek, and Persian mathematicians to the shift towards more robust AI-enabled algorithms, their evolution has manifested incredible progress in the technological realm. While Artificial Intelligence (AI) and Machine Learning (ML) are extending their reach and contributions in various military and civilian domains, it is interesting to witness the application of the technology on itself, i.e., using ML to improve the effectiveness of its underlying algorithms.
Despite the increased familiarisation with algorithms over time, it remains fairly strenuous to find new algorithms that can prove reliable and accurate. Interestingly, 'Discovering faster matrix multiplication algorithms with reinforcement learning,' a recent study by DeepMind, a British AI subsidiary in London, published in Nature, has demonstrated some interesting findings in this regard. It revealed new shortcuts simulated by AI for faster mathematical calculations vis-à-vis matrix multiplication.
DeepMind developed an AI system called 'AlphaTensor', to expedite matrix multiplication. Matrix multiplication – which uses two grids of numbers multiplied together – is a simple algebraic expression often taught in high school. However, its ubiquitous use in the digital world and computing has considerable influence.
'AlphaTensor' was tasked with creating novel, correct, and efficient algorithms to carry out matrix multiplication with the least number of steps possible. The algorithm discovery process was treated as a single-player game. It used AlphaZero – the same AI agent which gained global traction when it displayed extraordinary intelligence in board games like Chess and Go.
AlphaTensor conceptualised the board into a 3-D array of numbers which, through a limited number of moves, tried to find the correct multiplication algorithms. It uses reinforcement learning, where the neural networks interact with the environment toward a specific goal. If the results are favourable, the internal parameters are updated. It also uses Tree Search, in which the ML explores the results of branching possibilities to choose the next action. It seeks to identify the most promising action at each step. The outcomes are used to sharpen neural networks, further helping the tree search, and providing more successes to learn from.
As per the paper's findings, AlphaTensor discovered thousands of algorithms for various sizes for multiplication matrices, some of which were able to break decades-long computational efficiency records of the previously existing algorithms. They overshadowed the towering complexity of the best-known Strassen's two-level algorithm for multiplying matrix. For example, AlphaTensor found an algorithm for solving a 4 x 4 matrice in 47 steps overperforming the Strassen algorithm, which used 49 steps for the same operation. Similarly, if a set of matrices was solved using 80 multiplication steps, AlphaTensor reduced it to only 76 steps. This development has caused quite a stir in the tech world as it is being claimed that a fifty-year old record has been broken in Computer Science.
However, the episode underlines some important implications. Given that matrix multiplication is a core component of the digital world, companies around the world have invested considerable time and resources in computer hardware for matrix multiplication. Since it is used across a wide range of domains, including computing, processing images, generating graphics, running simulations, digital communication, and neural networks etc. – to name a few, even minor improvements in matrix multiplication's efficiency could have a notable and widespread impact in the concerned fields.
The findings manifest the potential of ML to solve even more complicated mathematical problems. The automatic discovery of algorithms via ML offers new capacities to surpass the existing best human-designed algorithms. It introduces new ML techniques, which have the potential to increase computing speed by 20 percent leading to much more feasible timelines. It is pertinent to mention that a lesser number of operations lead to not only lesser time but also less amount of energy spent.
The finding has presented a model to gamify ML to solve mathematical operations. It exhibited that AlphaZero is a potent algorithm that could be used beyond winning traditional games and be applied to solving complex mathematical operations/tasks.
This DeepMind discovery can pave the way for future research on understanding matrix multiplication algorithms and be an inspiration to use AI for algorithm discovery for other computing tasks and set the stage for a possible breakthrough in the field.
The increased efficiency of matrix multiplication has once again brought into light the ever-expanding potential of AI. To be fair, such developments do not infer that human programmers would be out of the job soon; rather, at least for now, it should be seen as an addition of an optimisation tool in the coder's arsenal, which could lead to more innovative discoveries in the future with remarkable implications for the world.
Kissinger and the current situation considering the development of Artificial Intelligence and the Ukrainian crisis
Kissinger has recently published some reflections on the course of world politics in recent decades, with references to the return of the 20th century conflicts brought to light by the development of new weaponry and strategic scenarios mediated by Artificial Intelligence. Kissinger has also referred to the situation in Ukraine and the equilibria between the United States, Russia and China.
Kissinger has stated that instant communication and the technological revolution have combined to provide new meaning and urgency to two crucial issues that leaders must address:
1) what is essential for national security?
2) what is necessary for peaceful international coexistence?
Although a plethora of empires existed, aspirations for world order were confined by geography and technology to specific regions. This was also true for the Roman and Chinese empires, which encompassed a wide range of societies and cultures. These were regional orders that co-evolved as world orders.
From the 16th century onwards, the development of technology, medicine and economic and political organisation expanded Europe's ability to project its power and government systems around the world. From the mid-17th century, the Westphalian system was based on respect for sovereignty and international law. Later that system took root throughout the world and, after the end of traditional colonialism, it led to the emergence of States which – largely formally abandoned by the former motherlands – insisted on defining, and even defying, the rules of the established world order – at least the countries that really got rid of imperialistic domination, such as the People's Republic of China, the Democratic People's Republic of Korea, etc.
Since the end of World War II, mankind has lived in a delicate balance between relative security and legitimacy. In no previous period of history would the consequences of an error in this balance have been more severe or catastrophic. The contemporary age has introduced a level of destructiveness that potentially enables mankind to self-destruct. Advanced systems of mutual destruction were aimed at pursuing not ultimate victory but rather at preventing others' attack.
This is the reason why shortly after the Japanese nuclear tragedy of 1945, the deployment of nuclear weapons began to become incalculable, unconstrained by consequences and based on the certainty of security systems.
For seventy-six years (1946-2022) while advanced weapons grew in power, complexity and accuracy, no country was convinced to actually use them, even in conflict with non-nuclear countries. Both the United States of America and the Soviet Union that accepted defeat at the hands of non-nuclear countries without resorting to their own most lethal weapons: as in the case of the Korean War, Vietnam, Afghanistan (both the Soviets and the Americans in that case).
To this day, such nuclear dilemmas have not disappeared, but have instead changed as more States have developed more refined weapons than the "nuclear bomb" and the essentially bipolar distribution of destructive capabilities of the former Cold War has been replaced by very high-tech options – a topic addressed in my various articles.
Cyber weapons and artificial intelligence applications (such as autonomous weapon systems) greatly complicate the current dangerous war prospects. Unlike nuclear weapons, cyber weapons and artificial intelligence are ubiquitous, relatively inexpensive to develop and easy to use.
Cyber weapons combine the capacity for massive impact with the ability to obscure the attribution of attacks, which is crucial when the attacker is no longer a precise reference but becomes a "quiz".
As we have often pointed out, artificial intelligence can also overcome the need for human operators, and enable weapons to launch themselves based on their own calculations and their ability to choose targets with almost absolute precision and accuracy.
Because the threshold for their use is so low and their destructive ability so great, the use of such weapons – or even their mere threat – can turn a crisis into a war or turn a limited war into a nuclear war through unintentional or uncontrollable escalation. To put it in simple terms, there will no longer be the need to drop the "bomb" first, as it would be downgraded to a weapon of retaliation against possible and not certain enemies. On the contrary, with the help of artificial intelligence, third parties could make sure that the first cyber-attack is attributed to those who have never attacked.
The impact of this technology makes its application a cataclysm, thus making its use so limited that it becomes unmanageable.
No diplomacy has yet been invented to explicitly threaten its use without the risk of an anticipated response. So much so that arms control Summits seem to have been played down by these uncontrollable novelties, ranging from unmarked drone attacks to cyberattacks from the depths of the Net.
Technological developments are currently accompanied by a political transformation. Today we are witnessing the resurgence of rivalry between the great powers, amplified by the spread and advancement of surprising technologies. When in the early 1970s the People's Republic of China embarked on its re-entry into the international diplomatic system at the initiative of Zhou Enlai and, at the end of that decade, on its full re-entry into the international arena thanks to Deng Xiaoping, its human and economic potential was vast, but its technology and actual power were relatively limited.
Meanwhile, China's growing economic and strategic capabilities have forced the United States of America to confront –
for the first time in its history – a geopolitical competitor whose resources are potentially comparable to its own.
Each side sees itself as a unicum, but in a different way. The United States of America acts on the assumption that its values are universally applicable and will eventually be adopted everywhere. The People's Republic of China, instead, expects that the uniqueness of its ultra-millennial civilisation and the impressive economic leap forward will inspire other countries to emulate it to break free from imperialist domination and show respect for Chinese priorities.
Both the US "manifest destiny" missionary impulse and the Chinese sense of grandeur and cultural eminence – of China as such, including Taiwan – imply a kind of subordination-fear of each other. Due to the nature of their economies and high technology, each country is affecting what the other has so far considered its core interests.
In the 21st century China seems to have embarked on playing an international role to which it considers itself entitled by its achievements over the millennia. The United States of America, on the other hand, is taking action to project power, purpose, and diplomacy around the world to maintain a global equilibrium established in its post-war experience, responding to tangible and imagined challenges to this world order.
For the leadership on both sides, these security requirements seem self-evident. They are supported by their respective citizens. Yet security is only part of the wide picture. The fundamental issue for the planet's existence is whether the two giants can learn to combine the inevitable strategic rivalry with a concept and practice of coexistence.
Russia – unlike the United States of America and China – lacks the market power, demographic clout and diversified industrial base.
Spanning eleven time zones and enjoying few natural defensive demarcations, Russia has acted according to its own geographical and historical imperatives. Russia's foreign policy represents a mystical patriotism in a Third Rome-style imperial law, with a lingering perception of insecurity essentially stemming from the country's long-standing vulnerability to invasion across the plains of Eastern Europe.
For centuries, its leaders from Peter the Great to Stalin – who, by the way, was not even Russian, but felt he was so in the internationalist spirit that led to the creation of the USSR on 30 December 1922 – have sought to isolate Russia's vast territory with a safety belt imposed around its diffuse border. Today Kissinger tells us that the same priority is manifested once again in the attack on Ukraine – and we add that few people understand and many others pretend not to understand this.
The mutual impact of these societies has been shaped by their strategic assessments, which stem from their history. The Ukrainian conflict is a case in point. After the dissolution of the Warsaw Pact, and the turning of its Member States (Bulgaria, Czechoslovakia, German Democratic Republic, Poland, Romania, Hungary) into "Western" countries, the whole territory – from the security line established in central Europe up to Russia's national border – has opened up to a new strategic design. Stability depended on the fact that the Warsaw Pact in itself – especially after the Conference on Security and Cooperation in Europe held in Helsinki in 1975 – allayed Europe's traditional fears of Russian domination (indeed, Soviet domination, at the time), and assuaged Russia's traditional concerns about Western offensives – from the Swedes to Napoleon until Hitler. Hence, the strategic geography of Ukraine embodies these concerns emerging again in Russia. If Ukraine were to join NATO, the security line between Russia and the West would be placed within just over 500 kilometres of Moscow, actually eliminating the traditional buffer that saved Russia when Sweden, France and Germany tried to occupy it in previous centuries.
If the security border were to be established on the Western side of Ukraine, Russian forces would be within easy reach of Budapest and Warsaw. The February 2022 invasion of Ukraine is a flagrant violation of the international law mentioned above, and is thus largely a consequence of a failed or otherwise inadequately undertaken strategic dialogue. The experience of two nuclear entities confronting each other militarily – although not resorting to their destructive weapons – underlines the urgency of the fundamental problem, as Ukraine is only a tool of the West. Dario Fo once said that China was an invention of Albania to scare the Soviet Union. We can say that Ukraine is currently an invention of the West to scare Russia – and this is not a joke. An invention for which Ukrainians and Russians are paying with their blood.
Hence the triangular relationship between the United States of America, the People's Republic of China, and the Russian Federation will eventually resume, even if Russia will be weakened by the demonstration of its intended military limitations in Ukraine, the widespread rejection of its conduct, and the scope and impact of sanctions against it. But it will retain nuclear and cyber capabilities for doomsday scenarios.
In the US-Chinese relationship, instead, the conundrum is whether two different concepts of national greatness can learn to peacefully coexist side by side and how. In the case of Russia, the challenge is whether the country can reconcile its vision of itself with the self-determination and security of the countries in what it has long called its "near abroad" (mainly Central Asia and Eastern Europe), and do so as part of an international system rather than through domination.
It now seems possible that an order based on universal rules, however worthy in its conception, will be replaced in practice, for an indefinite period of time, by an at least partially decoupled world. Such a division encourages a search at its margins for spheres of influence. In such a case, how will countries that do not agree on global rules of conduct be able to operate within an agreed equilibrium design? Will the quest for domination overwhelm the analysis of coexistence?
In a world of increasingly formidable technology that can either elevate or dismantle human civilisation, there is no definitive solution to the competition between great powers, let alone a military one. An unbridled technological race, justified by the foreign policy ideology in which each side is convinced of the other's malicious intent, risks creating a catastrophic cycle of mutual suspicion like the one that triggered World War I, but with incomparably greater consequences.
All sides are therefore now obliged to re-examine their first principles of international behaviour and relate them to the possibilities of coexistence. For the leaders of high-tech companies, there is a moral and strategic imperative to pursue – both within their own countries and with potential adversary countries – an ongoing discussion on the implications of technology and how its military applications could be limited.
The topic is too important to be neglected until crises arise. The arms control dialogues that helped toning down and showing restraint during the nuclear age, as well as the high-level research on the consequences of emerging technologies, could prompt reflection and promote habits of mutual strategic self-restraint.
An irony of the current world is that one of its glories – the revolutionary explosion of technology – has emerged so quickly, and with such optimism, that it has outgrown its dangers, and inadequate systematic efforts have been made to understand its capabilities.
Technologists develop amazing devices, but have had few opportunities to explore and evaluate their comparative implications within a historical framework. As I pointed out in a previous article, political leaders too often lack adequate understanding of the strategic and philosophical implications of the machines and algorithms available to them. At the same time, the technological revolution is eroding human consciousness and perceptions of the nature of reality. The last great transformation – the Enlightenment – replaced the age of faith with repeatable experiments and logical deductions. Now it is supplanted by dependence on algorithms, which work in the opposite direction, offering results in search of an explanation. Exploring these new frontiers will require considerable efforts on the part of national leaders to reduce, and ideally bridge, the gaps between the worlds of technology, politics, history and philosophy.
The leaders of current great powers need not immediately develop a detailed vision of how to solve the dilemmas described here. Kissinger warns that, however, they must be clear about what is to be avoided and what cannot be tolerated. The wise must anticipate challenges before they manifest themselves as crises. Lacking a moral and strategic vision, the current era is unbridled. The extent of our future still defies understanding not so much of what will happen but of what has already happened.